2020 Democrats campaign across the US
7:57 p.m. ET, March 30, 2019
Our live coverage has ended for the day. Check out CNN Politics for more of today's news or follow the rest of the posts below for a recap of today's campaign trail moments.
6:57 p.m. ET, March 30, 2019
Wayne Messam officially launches 2020 presidential campaign
Wayne Messam, the mayor of Miramar, Florida, formally launched his presidential campaign on Saturday at Florida Memorial University, touching on a variety of topics from his platform including tackling student debt, gun violence and climate change.
Messam, who released a video on Thursday announcing his intentions, discussed his proposal to eliminate $1.5 trillion in student debt, saying that the US education system is a "debt trap" for young Americans and will impact them throughout their lives.
"As president, I will push for national student loan debt forgiveness, paid for by repealing the Trump tax cuts for the wealthiest in this country," Messam said. "It is time for the federal government to cancel all federal and private student loans."
Messam said repeatedly in his speech that "Washington is broken" and he is running for president to change that.
"I believe law enforcement should remove mass shooting weaponry from the hands of those suffering from mental illness, those who have a history of domestic abuse, and anyone on the terrorist watch list," Messam said.
Messam said preventing mass shootings will be the first priority for his administration.
"It will be my goal as your president to cut gun deaths in half by the end of my first term, with the goal to eliminate this threat entirely by the end of my presidency," Messam said. 
Messam also pushed for urgent action around climate change, saying it is not a hoax but "the premier danger to our very existence and the future of our children and grandchildren."
"I've built a construction business overseeing nearly a half a billion dollars in projects and I helped build the greenest school in Florida, so I know how to create jobs taking action to prevent climate change," Messam said.
3:07 p.m. ET, March 30, 2019
Warren in Iowa: 'Farmers' rights are human rights'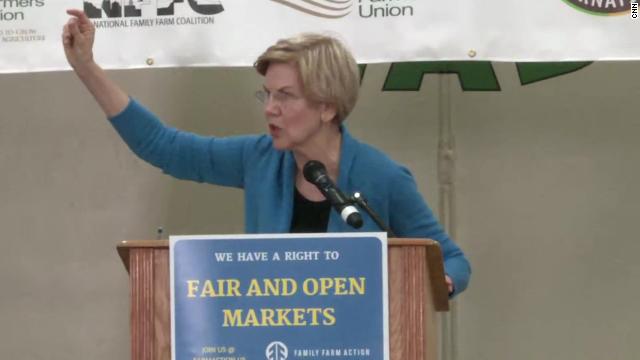 Democratic candidate Elizabeth Warren electrified a crowd of more than 100 farmers on Saturday, telling them "farmers' rights are human rights, I'm with you on that," at the Iowa Family Farm Actions Farmers Bill of Rights Rally in Storm Lake, Iowa.
The 2020 hopeful showed up to lay out her latest policy to target large companies -- this one with a laser focus on the agricultural industry. Squeezed between bales of Hay, Warren slammed Washington for "working just great for giant agribusinesses, just not for farmers who work the land." 
The Massachusetts Democrat broke down her policy which attacks corporate consolidation, pledging to undo the Monsanto-Bayer merger, which she says will leave families with less choices, less money and less independence.  
"Farmers' rights are human rights, I'm with you on that. It also means we need to enforce the anti-trust laws that already exist in the United States. We have got to fight back against consolidation, and I make you a promise. You put me in the White House, I will unwind the Bayer-Monsanto merger. We can do this."
Warren also spoke against foreign governments buying American land, calling it a threat to farmers, and the country's "national defense and good security." 
The largest applause line of the day came when she called for individual farmers to be able to repair their equipment on their own. Overall, she called for "big, structural change" to save an industry being squeezed by corporations.
2:38 p.m. ET, March 30, 2019
Beto O'Rourke officially kicks off his 2020 campaign in El Paso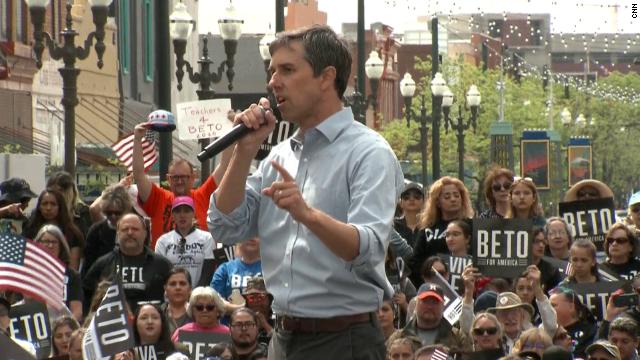 Former Democratic Rep. Beto O'Rourke officially kicked off his 2020 Democratic presidential campaign in El Paso, Texas on Saturday. 
"This is our moment of truth," O'Rourke said, adding, "The challenges before us are the greatest of our lifetimes."
"Like so many of you here, like so many more across the country, at this defining moment, Amy and I want to know that we've done everything within our power for this country," O'Rourke said. He added, "this is a campaign for America, for everyone in America."  
O'Rourke said the decision to announce "comes at some sacrifice to our family, especially to our kids," but said, "we also know that our children and that your children and the generations that follow them are depending on us now at this moment."
Immigration was a strong theme in his speech, and O'Rourke told the crowd, "El Paso to me represents America at its very best."
"For more than 100 years this community has welcomed generations of immigrants from across the Rio Grande, some having traveled hundreds of miles, some having traveled thousands of miles trying to escape brutality, violence, poverty better life in this country for themselves and their kids," he said.
O'Rourke noted El Paso has been one of the safest cities in the US for the past 20 years, and said, "We are safe not despite the fact that we are a city of immigrants and asylum seekers — we are safe because we are a city of immigrants and asylum seekers. We have learned not to fear our differences but to respect and embrace them."
"That's why I am so glad to be here with you today in my hometown, in my home state, to announce that I'm running to serve you as the next President of the United States of America," which drew loud cheers from the crowd. 
12:35 p.m. ET, March 30, 2019
Where 2020 Democrats are this weekend
It's the last week of fundraising before the quarter one deadline this Sunday, so candidates are expected to spend much of their time raising money. That deadline is an important test for some of the campaigns trying to show strength and viability.
It's also the Heartland Forum in Storm Lake, Iowa, on Saturday, which means many candidates are heading to Iowa. The event focuses on rural issues, giving candidates a chance to appeal to rural voters.
Here's what to watch for:
Beto O'Rourke is holding kickoff rallies for his campaign on Saturday in Texas.
Elizabeth Warren, Amy Klobuchar, John Delaney, and other 2020 hopefuls are in Iowa Saturday for the Heartland Forum, focusing on rural issues. Klobuchar and Warren were also in Iowa Friday before the forum, campaigning across the state.
Kamala Harris and Cory Booker are speaking Saturday evening at the Human Rights Campaign Dinner in Los Angeles.
12:34 p.m. ET, March 30, 2019
This Florida mayor announced his campaign this week
Wayne Messam, the little-known mayor of Miramar, Florida, announced Thursday that he is running for president — but few outside of South Florida have heard of him.
In his announcement video, the mayor of the 140,000-person city railed against what he calls a "broken" federal government in Washington, DC.
His entrance into the race makes him the longest of longshots in an already crowded field of Democrats vying to take on President Donald Trump in 2020.
Here's the rundown:
Who he is: Messam, 44, has been mayor of Miramar since 2015.
His personal story: As described in his campaign video, Messam's parents immigrated to the US from Jamaica, and his father worked as a contract sugar cane cutter in Florida. Messam went on to play on the National Championship-winning Florida State University football team in 1993.
What he is doing now: On top of being Miramar's first black mayor, Messam also currently owns a construction business with his wife.
His politics: Messam is progressive on guns, immigration and the environment, and he supported Hillary Clinton in the 2016 election.
12:34 p.m. ET, March 30, 2019
Warren and Klobuchar are campaigning in Iowa this weekend
Democratic candidates Elizabeth Warren and Amy Klobuchar are attending the Heartland Forum in Iowa this weekend alongside other 2020 Democrats — and they're both hitting the campaign trails around the state while they're there.
Warren held two meet and greets on Friday, and will speak at the Family Farm Action Rally today before speaking at the Heartland Forum.
Klobuchar will hold meet and greets today in Hornick and Sioux City before going to speak at the forum in the afternoon. On Friday, she also had a meet and greet in Stanton, Iowa, and discussed flood damage in Pacific Junction.
12:34 p.m. ET, March 30, 2019
Beto O'Rourke will hold 3 kickoff rallies across Texas today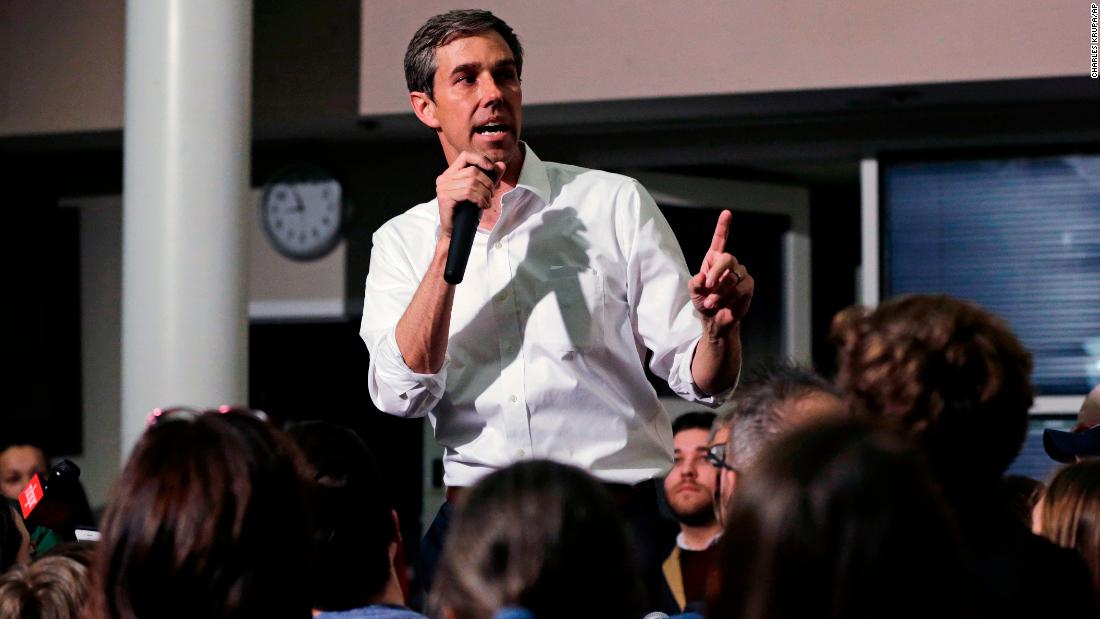 Beto O'Rourke is holding kickoff rallies for his campaign on Saturday in Texas.
Since he announced his campaign two weeks ago, O'Rourke has largely stuck to smaller — but crowded — venues, visiting eight states.
He starts his Saturday with a rally in El Paso, then goes on to Houston and Austin in the evening.
4:36 p.m. ET, March 30, 2019
At least 15 Democrats are officially running for president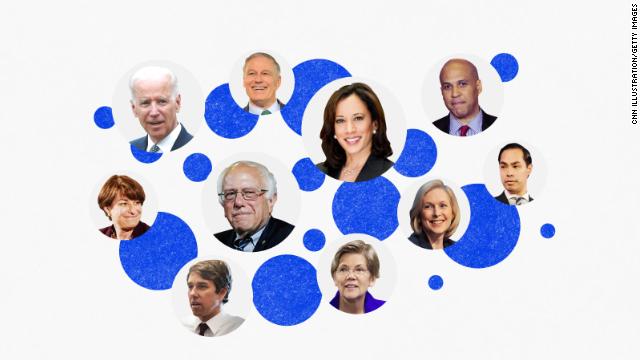 The 2020 field is taking shape, with candidates revealing their intentions on a seemingly everyday basis.
Here's are the 15 Democrats who have officially announced their candidacy:
Sen. Cory Booker
Former Secretary of Housing and Urban Development Julián Castro
Former Maryland Rep. John Delaney
Rep. Tulsi Gabbard
Sen. Kirsten Gillibrand
Sen. Kamala Harris
Former Gov. John Hickenlooper
Gov. Jay Inslee
Sen. Amy Klobuchar
Miramar Mayor Wayne Messam
Former Rep. Beto O'Rourke
Sen. Bernie Sanders
Sen. Elizabeth Warren
Spiritual author Marianne Williamson
Businessman Andrew Yang