2020 Democrats campaign across the US
7:23 p.m. ET, March 24, 2019
Beto O'Rourke hits Obama on deportations at event in Las Vegas
Beto O'Rourke criticized former President Barack Obama for deportations, at a house party in Las Vegas.
"The action doesn't always match the rhetoric, not just from Republicans but from Democrats as well. In just one year of the President Barack Obama administration, 400,000 of the undocumented immigrants here in this country were deported back to their country of origin -- many of them posing no real or violent or criminal threat to this country," the 2020 Democratic presidential candidate said.
"Families torn apart -- perhaps, if you want to assume a motive, with the best intentions, of demonstrating security, whatever that means, by breaking up families, in order to purchase some real reform and relief for millions more.
"I've got to assume, because he's a great man, the greatest president of my lifetime, I know that from his rhetoric that's what he intended to do. But you know what the result was: nothing. More of the same."
Addressing what makes him different from previous presidents who've promised to overhaul immigration but failed, O'Rourke pointed to being from a binational community, "and I proudly remind people that our strength, our success, and, yes, our safety is premised on the fact that we are home to people from all over the world ... choosing us."
"That's why we're safe and secure -- not a wall, not militarization, and definitely not deportations," he said.
12:52 p.m. ET, March 24, 2019
Gillibrand shares kickoff rally song playlist 
Sen. Kirsten Gillibrand doesn't want you to hear "through the grapevine" what songs were played Sunday at her first campaign rally.
Instead, she published the list of tunes -- which includes Gladys Knight and the Pips' 1960s hit "I Heard it Through the Grapevine" -- on Spotify so you can review it yourself.
"Whether you're coming to our kickoff rally in New York at noon or following along online, here's a sneak preview of the soundtrack!" the Democratic presidential hopeful tweeted Sunday ahead of her rally in New York City.
The 49-song playlist (as of publishing) is replete with tracks by a variety of artists and contains a number of songs about women empowerment, including Beyoncé's "Run the World (Girls)," Aretha Franklin's "Think" and Alicia Keys' "Superwoman." 
8:26 p.m. ET, March 23, 2019
Booker says police shootings are not as 'simplistic' as they look and called for racial bias trainings for officers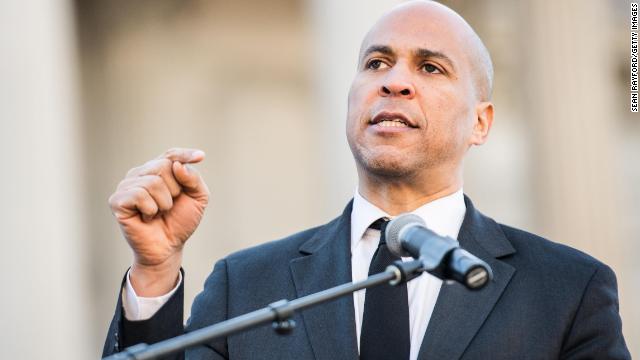 Sen. Cory Booker on Saturday addressed the issue of police shootings of minorities, saying that "everything is not as simplistic as it looks" and calling for racial bias training for police officers as well as more conversations around the issue.
"Everything is not as simplistic as it looks and getting people together around a table and affirming that most of us in America -- 99.9% of us -- think that too many young black people are being shot in America were unarmed," Booker said in response to a question about the issue at a campaign event in Columbia, South Carolina. 
"But pulling people together to come to the table and find the kind of solutions that will actually make a difference in this problem, that is the kind of president I will be," he said.
Earlier in his response, the Democratic presidential contender said that in order to "manage" the issue, "you've got to measure it and you've got to have dashboards set up."
"And so I've already put bills forward -- police accountability bills forward -- as a United States senator. We need to make sure that our police are getting implicit racial bias training," Booker said.
The New Jersey senator, who is black, also said that growing up, his parents talked to him about how to interact with police officers should he get pulled over while driving.
"They wanted to tell me how to survive and it wasn't from -- they were worried about me getting pulled over by the police and me being perceived as a threat and that being used as an excuse to shoot me," he said. "And it's a conversation that a lot of black parents have with black boys, in particular, that it makes it harder for them to rest at night."
5:33 p.m. ET, March 23, 2019
Buttigieg says he will be 'pulling the trigger' on official campaign launch soon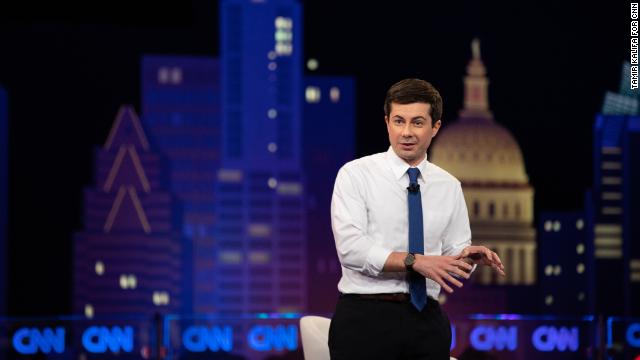 Having already traversed across early battleground states, Mayor Pete may not be just "exploring" for much longer.
South Bend, Indiana, Mayor Pete Buttigieg, who has made several stops in South Carolina Saturday, was asked by CNN's Dan Merica why he has not moved beyond his "exploratory committee" phase to formally throw his hat in the 2020 ring.
"Well, all of the indicators are pointing in the right direction, but a launch is something you only get to do once, and we're not going to do that until we have all of the pieces in place," said Buttigieg, who recently announced he reached the fundraising threshold to appear in the Democratic debates.
"I'd say we're going to be pulling the trigger sooner rather than later."
3:42 p.m. ET, March 23, 2019
Jon Bon Jovi to host fundraiser for Cory Booker in New Jersey
Jon Bon Jovi will be there for Sen. Cory Booker.
The rockstar, along with New Jersey Gov. Phil Murphy and first lady Tammy Murphy, is hosting a fundraiser tomorrow night in Red Bank, New Jersey, for Booker so the Democratic senator's 2020 campaign won't be 'livin' on a prayer" in terms of money.
A $1,000 donation will get you into the cocktail party; $2,800 includes the cocktail reception and a photo with Booker.
For $28,000, donors will get dinner, along with entry to the cocktail reception and that photo op with Booker.
Bon Jovi, a New Jersey native, and Booker's relationship stretches back to when Booker was mayor of Newark.
3:33 p.m. ET, March 23, 2019
Harris announces first major policy initiative of her campaign
Sen. Kamala Harris announced the first major policy initiative of her presidential campaign Saturday, pledging to supporters that she'll increase federal spending for teacher salaries during her first term.
"We are not paying our teachers their value," Harris told supporters at a rally in Houston, adding that she's met teachers around the country who are working multiple jobs to pay for personal and work-related expenses.
"You can judge a society by the way it treats its children," she said. "And one of the greatest expressions of love that a society can give to its children is educating those children with the resources they need. And teachers are our greatest resource in that endeavor."
The federal plan -- which put teachers front-and-center in her campaign -- is set to be a major policy departure from how teacher pay has been determined in the past, as teacher pay has previously been handled by state and local governments.
Harris' proposed federal investment in teacher pay would be the largest in American history.
The campaign said it plans to unveil the details of the full policy next week.
3:36 p.m. ET, March 23, 2019
'Friday Night Lights' actress Connie Britton to join Gillibrand for 2020 campaign kick-off event
Actress Connie Britton will be one of the speakers at Democratic Sen. Kirsten Gillibrand's 2020 campaign kick-off event tomorrow outside the Trump International Hotel in New York.
The "Friday Night Lights" and "Nashville" star has been friends with the New York senator since their time together at Dartmouth College. The two were roommates during a study abroad program in Beijing, China.
When Gillibrand officially announced her Democratic campaign, Britton tweeted her support:
Britton also held a March 10 fundraiser for Gillibrand in Los Angeles, according to an invitation CNN obtained from a Democratic donor.
CNN's Athena Jones and Dan Merica contributed to this report.
2:31 p.m. ET, March 23, 2019
O'Rourke says he believes 'beyond a shadow of a doubt' Trump colluded with Russia to win election
Democratic presidential candidate Beto O'Rourke said Saturday that he believes "beyond the shadow of a doubt" President Donald Trump colluded with Russia to influence the 2016 election, stopping short of saying Trump should face impeachment proceedings.   
"You have a president, who, in my opinion, beyond the shadow of a doubt, sought to -- however ham-handedly -- collude with the Russian government -- a foreign power -- to undermine and influence our elections," O'Rourke said at a town hall in Charleston, South Carolina.
"If you are wondering about collusion then when you saw the President of the United States standing next to leader of Russia on that stage in Helsinki, Finland, defending him and taking his word for it against our own intelligence community in our country, in (conservative columnist) George Will's words not mine, that is collusion in action. Ultimately, I believe this will be decided at the ballot box in 2020 by you, by me, by all of us in this country," he added.
O'Rourke's comments come as lawmakers await a briefing by the Justice Department on the "principal conclusions" of special counsel Robert Mueller's report on Russian interference in the 2016 election.
The presidential hopeful also commented on the so-called "school-to-prison pipeline," drawing a large applause from attendees as he discussed the incarceration rate of minority students.
"As a white man in this country, it is only belatedly and only in part that I've begun to understand the struggles of others. A criminal justice system that is the largest prison population on the face of the planet per capita disproportionally comprised of people of color -- many of whom arrived there on a school house to jail house pipeline that began not in high school but at five-years-old years old in a kindergarten classroom where a child of color stands five times the chance of being disciplined, suspended, expelled," O'Rourke said.
8:59 a.m. ET, March 23, 2019
It's a busy campaign weekend in New Hampshire
At least four 2020 Democrats will hold meet-and-greets, town halls and round tables in New Hampshire this weekend.
They are...
Tulsi Gabbard
Amy Klobuchar
John Hickenlooper
Elizabeth Warren