Election day in Kentucky, Mississippi and Virginia
10:05 p.m. ET, November 5, 2019
Democrats will take control of Senate in Virginia, CNN projects
Democrats will win at least 21 seats in the Virginia state Senate, taking control of the chamber, CNN projects.
Democrats have poured a record-breaking amount of money into the state Legislature races. Virginia has long been a bellwether for national wins but has drifted left in recent years.
Some background: Republicans controlled the state Senate with 20 seats to Democrats' 19. Republicans have held on to the Senate since 2014 and House since 1999 by slim margins.
12:04 p.m. ET, November 6, 2019
Virginia lawmaker: "I think we are about to make history"
Jubilant is one way to describe the scene at the Hilton Hotel in downtown Richmond, Virginia.
Democrats started streaming into the event shortly after the doors opened at 7 p.m. ET. At first nervous optimism quickly turned into bright smiles, hugs and high-fives as one by one Democrats became more and more confident that the races were tilting in their favor.
While Democrats in the room were not prepared to declare victory quite yet, there was a strong sense in the building that the party was in a strong position to regain control of both houses of the state's General Assembly.
"Based on the numbers and turnout, we are feeling really excited — and I think we are about to make history," said Sen. Jennifer McClellan who easily cruised to re-election and is considered a possible statewide candidate.
On the Republican side, there was very little reason for optimism. The GOP did not organize an election night party and one GOP operative involved in several races simply said.
"Not good, Dems having a good night," the GOP source said.
9:48 p.m. ET, November 5, 2019
Kentucky GOP rushing to distance themselves from Bevin
Kentucky Republicans are rushing to distance themselves tonight from GOP Gov. Matt Bevin, pointing out his high disapproval ratings. They note that other GOP candidates are winning.
Senate Majority Leader Mitch McConnell, who also appeared with President Trump last night in Kentucky, told aides earlier today he expected Bevin to pull this out.
Tonight, one GOP Kentucky adviser said of Bevin: "Turns out it's not too popular to cut teacher pensions — among other fights he picked."
It's far too soon to say whether this spells trouble for McConnell next year — he knows how to win hard races — but this is not what Kentucky Republicans were hoping for tonight.
10:11 p.m. ET, November 5, 2019
Energetic crowd gathers as Beshear awaits results
Louisville Mayor Greg Fischer energized a crowd gathered tonight at a watch party for Democrat Andy Beshear, who is running against Kentucky Gov. Matt Bevin.
They cheered "Go Andy go."
Beshear was elected attorney general of Kentucky in 2015, and is the son of Steve Beshear, who was the 61st governor of Kentucky, serving from 2007 to 2015.
About Bevin: In 2014, Bevin ran for a seat in the US Senate but was defeated in the GOP primary by incumbent Mitch McConnell.
9:39 p.m. ET, November 5, 2019
What it's like at Tate Reeves' headquarters tonight
Things are just starting to get underway at Lt. Gov. Tate Reeves' headquarters in Mississippi. 
Before retreating into another room with his team once the polls closed, Reeves was hanging around the media setting up in the ballroom of the Westin in downtown Jackson.
The Republican lieutenant governor spoke with everyone, waving at reporters as they walked around. He gave giving live interviews with local affiliates TV stations. 
9:24 p.m. ET, November 5, 2019
Democratic socialist Lee Carter tweets that his GOP challenger "threw in the towel" in Virginia race
Virginia Delegate Lee Carter, a Democratic socialist, tweeted that his GOP challenger, Manassas City Councilman Ian Lovejoy, has conceded their race.
Carter, along with Qasim Rashid, a Muslim activist and author, who is running to unseat a GOP incumbent in the state Senate, and Elizabeth Guzmán, another Democratic delegate up for reelection, got a boost on Monday from Sen. Bernie Sanders, who hosted a "Get Out the Vote" event for the trio in Manassas. Guzmán is leading her race; Rashid is trailing in his.
A Marine veteran, Carter won his first election in 2017 when he defeated Jackson Miller, a Republican who served as the House majority whip.
Virginia Republicans held a narrow majority in the House of Delegates going into Election Day, 51-48. Democrats look to be on a path to flipping that chamber and the state Senate, which would give the party unified control of the state government headed into 2020.
9:30 p.m. ET, November 5, 2019
She could be Salt Lake City's first Latina mayor if she wins tonight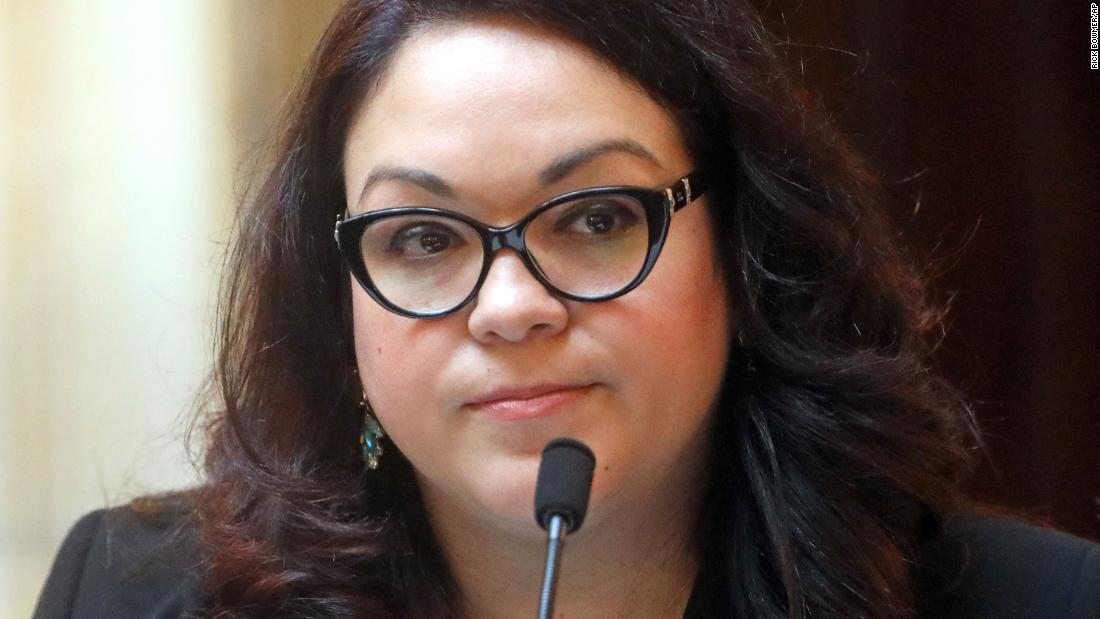 Luz Escamilla could make history tonight by becoming Salt Lake City's first Latina mayor if she wins tonight.
Escamilla, 41, has spent the last weeks of her campaign facing her opponent, Salt Lake City Councilwoman Erin Mendenhall, 39, in numerous debates.
She and Mendenhall are both Democrats. They were the top candidates who moved to the general election after the primary in August. The state is largely dominated by Republicans but the city has elected Democratic mayors for decades.
Mendenhall has extensive experience in city government and has a similar platform than Escamilla.
About Salt Lake City: Latinos are the largest minority in the state and they are 20% of Salt Lake City's roughly 200,000 residents, according to the latest US Census statistics. Other Latinas are involved in state and local politics, but none has led Utah's capital city.
Hear more about Escamilla's story here:
8:51 p.m. ET, November 5, 2019
Kentucky governor's race is close with Democrat Andy Beshear leading
With 97% of precincts reporting as of 8:50 p.m. ET, Democrat Andy Beshear is leading incumbent Republican Gov. Matt Bevin in Kentucky.
Beshear commands 49.4% of the vote to Bevin's 48.7%.
8:30 p.m. ET, November 5, 2019
Social media companies are taking down posts that spread disinformation about voting
Facebook and Twitter are evaluating and taking down posts that spread disinformation about how and when to vote on Election Day
A senior official from the National Association of State Elections Directors (NASED) told reporters Tuesday that they flagged election disinformation to both social media companies. 
Ahead of last year's midterm elections, Facebook and Twitter declared such posts against their policies and created methods for states to flag election-related misinformation for removal.
"I have [reported disinformation] today and over the last couple days. We've seen a couple things on Twitter. We've seen a couple of things on Facebook," the official said.
"I've seen one that was 'it's raining, so election day has moved to Wednesday,'" the official said. "I saw one from a county in a state that voting machines in a precinct were not functioning and that the lines were super long, which we knew was misinformation because that particular county uses vote centers and therefore doesn't have precincts." The official declined to name specific states.
A Facebook representative told CNN the company has been taking down posts that violated that policy over the past few days. A Twitter representative declined to confirm that it was actively taking down posts, but confirmed that was part of its policy.
Jared Dearing, executive director of Kentucky's Board of Elections, confirmed to CNN he'd turned over potential voter disenfranchisement posts to social media companies this election.
The nonprofit Common Cause found at least 18 Twitter users who had tweeted some variant of the idea that while one party votes on Tuesday, the other votes on Wednesday, and flagged them all to Twitter.
The posts appear to be individuals either joking or trolling, rather than a coordinated effort. In a call with reporters today, a senior DHS official said of coordinated disinformation campaigns, "We're not aware of anything acute, specific to today, in todays' election, but I think [the FBI] and we have been consistent in saying ongoing social media disinformation campaigns remain a top priority for us."
The FBI didn't immediately offer comment, but will likely not comment and let the DHS official speak for both agencies.