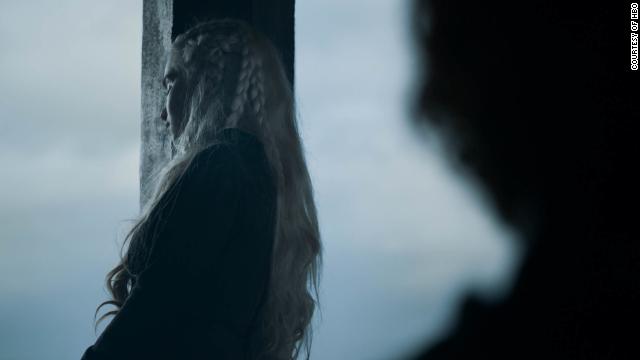 The penultimate episode of Game of Thrones, "The Bells," served up special effects designed to convey the horrors of war, with a side of overly predictable storytelling, inconsistent values, and disregard for the many plot threads woven together over previous seasons.
For a dynamic show that began as a lush tapestry, the conclusion looks more like a few strings knotted together.
In its last few episodes, the show has devoted more energy to granting its major characters a curtain call than grappling with the complex aspects of power that formerly guided the narrative. Fans invested in the slipperiness of prophesy continue trying to imbue every action with significance but it's likely there is none, and this final season lacks the subtlety and commitment to carry through Martin's intricate vision.
Take the valonqar prophesy, told (partially in the HBO series and fully in Martin's books) to Cersei when she was a little girl: "When your tears have drowned you, the valonqar shall wrap his hands about your pale white throat and choke the life from you."
Fans devoted years of creative energy to imagining possible scenarios for this prediction about a "little brother," only to have it mean absolutely nothing in the end: Jaime might have placed his hands around Cersei's neck in their final moments, but it certainly wasn't to strangle her.
Through the end of Season Six, when she claimed the Iron Throne for herself, Cersei Lannister represented one of the show's most multifaceted figures; in the past two seasons, writers have utterly flattened her character. And, so much for Jaime Lannister's epic redemption arc. While it was moving to watch the twins hold each other one last time, the death of these two powerhouse characters under an avalanche of boulders was profoundly unsatisfying. 
Although Jaime and Tyrion's efforts to save Cersei ring true, Tyrion's own storyline has been impoverished for two seasons as well. Meanwhile, Arya Stark traveled for seven seasons across two continents committed to assassinating Cersei, only to be talked out of it by a single sentence when she finally stood in the same building as her prey.
And Daenerys. From a tactical standpoint, the ease with which she and Drogon lit up the Iron Fleet and King's Landing, one episode after Euron Greyjoy put three scorpion bolts in a row into Rhaegal, strains credulity. But the leapfrogging necessary to get Daenerys to her new emotional state beggars belief even more.
The show placed a character who ended slavery in multiple cities, chained up her dragons for killing a single innocent child, followed the advice of her small council at every turn, and poured all her resources into rescuing the North, solidly on the path of irrationality a handful of episodes ago, and it carried through in a predictable way her completion as "Mad Queen."
While some fans rationalize Daenerys' choice to light most of King's Landing on fire as an understandable skepticism that the bell-ringing actually signaled Cersei's surrender, it seems that the writers were actually doing the opposite. Instead of explaining who rang the bells, or contextualizing Daenerys' decisions through dialogue, they've simply framed her as unhinged and supported this viewpoint through the pained facial expressions of Jon and Tyrion.
Martin said in an interview that he wants his ending to feel like J.R.R. Tolkien's bittersweet conclusion to The Lord of the Rings. At this point, the bittersweet feeling for "Game of Thrones" audiences is less about the trauma of their favorite characters and more about the dissatisfaction of having invested almost a decade in a show that talked about breaking wheels but seems instead to be just quietly letting the air out of them. 
Lindsey Mantoan is an assistant professor of theatre at Linfield College. She is the co-editor with Sara Brady of "Vying for the Iron Throne: Essays on Power, Gender, Death, and Performance in HBO's Game of Thrones" and the author of "War as Performance: Conflict in Iraq and Political Theatricality."