Who won the Democratic debate
10:40 p.m. ET, June 26, 2019
What Cory Booker is missing about health and race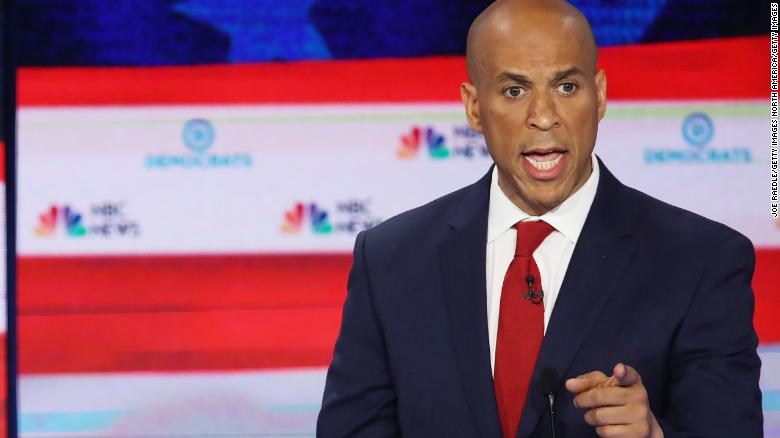 Senator Booker talks passionately about health care access and the low-income black and brown community he lives in.
And while nationwide roughly 26% of blacks and 23% of Hispanics live in poverty, the majority of blacks and Hispanics do not. The focus on the problems of the poor, significant though they are, ignores the very real health problems associated with higher income blacks and Latinx. Research has revealed—surprisingly--that racial disparities in health tend to be more pronounced at the upper ends of the socioeconomic (SES) spectrum.
Despite having access to above average social and economic resources, nonpoor blacks and Latinx report significantly worse health outcomes when compared to non-poor whites. (Non-poor is defined as households with income greater than $55,000.) That is, black-white racial disparities in health are often more pronounced among higher than lower SES status populations--and upward mobility does not seem to bring similar improvements in health for blacks as it does for whites.
For Hispanics, particularly those born outside the United States, the association between higher SES status and health is so tenuous that investigators have coined the term "Hispanic health paradox" to describe this particularly troubling finding. While the problems of racial disparities in health means a great deal to poor black and brown Americans, Senator Booker, by focusing solely on the poor misses an even greater problem.
Dorothy A. Brown is a law professor at Emory University. Follow her on Twitter @DorothyABrown
10:25 p.m. ET, June 26, 2019
Moderators, calm down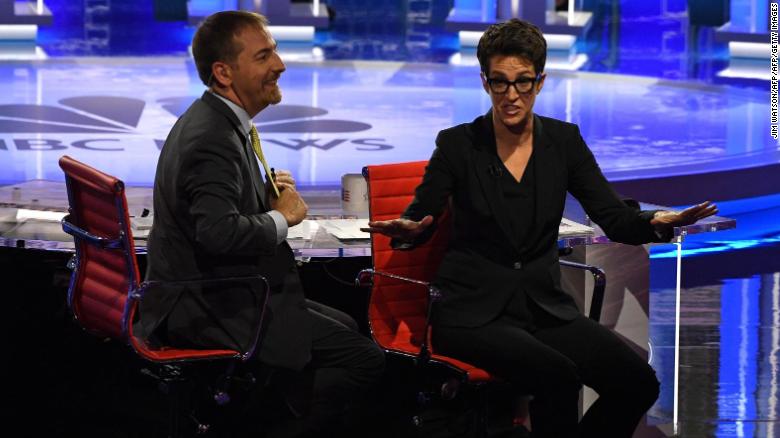 The NBC moderators make a mistake by cutting off candidates and insisting on short answers even when candidates are battling to get a word in. There's a right and a wrong way of handling crowded debates; earlier this year, I moderated a 90-minute debate between 10 candidates for the office of Public Advocate, the official whose main job is to step in to run New York City if the mayor resigns or becomes incapacitated.
As our successful 10-candidate debate showed, time rules like a 60-second response or a 30-second rebuttal work best when they are used as a guideline and framework to get a good conversation going. If a helpful and informative exchange breaks out, the moderator should relax the rules and let the conversation happen.
Unfortunately, the NBC moderators are taking a different approach. "We will be ruthless if necessary," Rachel Maddow warned. That's the wrong approach. 
Errol Louis is the host of "Inside City Hall," a nightly political show on NY1, a New York all-news channel. Follow him on Twitter @Errol Louis
10:35 p.m. ET, June 26, 2019
Julián Castro schools Beto O'Rourke, makes his mark
By dominating on the issue of immigration, Julián Castro has breathed fresh new life into his struggling campaign. He is the first candidate to come out with a comprehensive immigration reform plan. He is also the first to propose decriminalizing crossing the border.
He was not only able to tout his strong work on the issue but was also able to school his fellow Texan, Beto O'Rourke. Immigration has been put front and center in the minds and hearts of Americans due to the heartbreaking reports coming from the border. First came the news of children in detention centers not having the basics such as soap and toothbrushes -- and then last night, we learned of the tragic death of Oscar Martinez and his daughter Valeria.
Castro also thus far has the memorable lines, "I believe in reproductive justice" and "let's not criminalize desperation." Castro needed this debate to make his mark. He did just that.
Patti Solis Doyle, a CNN commentator, served as an Assistant to the President and Senior Adviser to then-first lady Hillary Clinton, was chief of staff on Clinton's 2000 and 2006 Senate campaigns, and Clinton's presidential campaign manager in 2007 and early 2008. She is president of Solis Strategies, a Washington-based consulting firm that specializes in serving non-profits, NGO's and corporations. Follow her @pattisolisdoyle
9:57 p.m. ET, June 26, 2019
Warren, Klobuchar and Gabbard bring it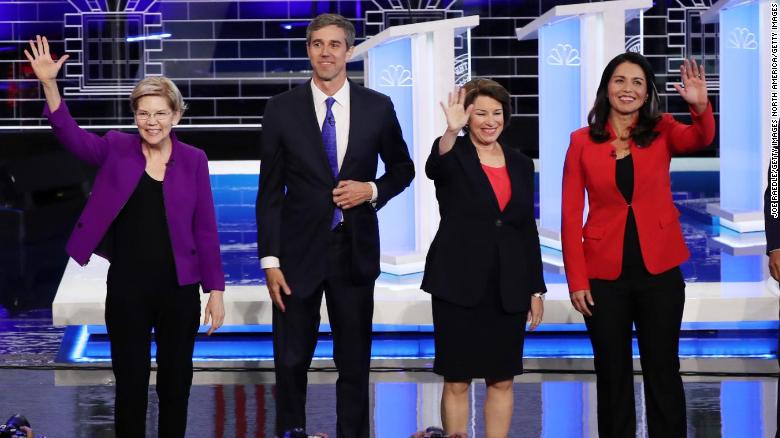 One man's opinion: The most welcome element of tonight's Democratic debate so far is the presence of three women on stage. They are fresh and effective in the their early entries. Elizabeth Warren is once again the best in analysis, Amy Klobuchar seems back, and Tulsi Gabbard — well, where has she been in the national dialogue?  We need to see more of her. Among men, the positive surprises are Cory Booker and Julian Castro.  
David Gergen has been a White House adviser to four presidents and is a senior political analyst at CNN. A graduate of Harvard Law School, he is a professor of public service and director of the Center for Public Leadership at the Harvard Kennedy School.
9:58 p.m. ET, June 26, 2019
Who's had a strong moment so far?
9:47 p.m. ET, June 26, 2019
Candidates bungle the good economy question
The biggest question in this first debate was how the candidates would handle the "problem" of running against a good economy.
Most, including Elizabeth Warren, Beto O'Rourke and Cory Booker, decided, essentially, to tell voters they are wrong.
When asked about the fact that 70% of Americans believe the economy is working, many candidates said it isn't. Making discrete points that the economy is working better for certain people, or that the metrics we use to measure a good economy -- GDP and the stock market, for example -- are incomplete isn't wrong or insignificant, but they don't account for how most people feel. 
You can't overstate the deleterious impact Thomas Frank's "What's the Matter With Kansas" had on the Democratic party, cementing it as one that can appear condescending to average voters. Granted, there are limited strategies available to candidates to combat facts like record low unemployment, but telling voters that they know better than them is the worst -- and one that just doubles down on Frank's troubling 2004 question. 
SE Cupp is a CNN political commentator and the host of "SE Cupp Unfiltered." Follow her on Twitter @secupp
9:28 p.m. ET, June 26, 2019
Commentators share first impressions
9:15 p.m. ET, June 26, 2019
The elephant not in the room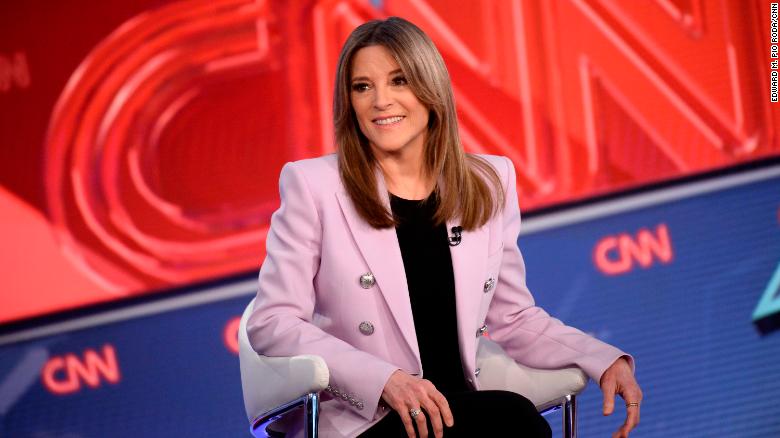 Before tonight's debate, gadfly candidate Marianne Williamson's campaign sent this note to reporters:
"At the end hold hands with everybody that you are watching the debate with, say a quick Namaste and be happy that you have so many more Democratic Debates to look forward to covering."
Reminder: The Democratic National Committee put this person (who dabbles in anti-vaxxer propaganda and told AIDS patients to think their way to good health) in a debate instead of Steve Bullock, the Governor of Montana. I'd say their attempts to bridge gaps with rural America are going swimmingly.
Elizabeth Warren should win this debate easily. She has to live up to high expectations, never a good place to be. It's Beto O'Rourke's last ride -- flop tonight and he's done. The candidate who runs to the spin room first is probably the most desperate for a do over.
The person who says this FIRST will own the news cycle: "Let me address the elephant not in the room: We'll lose to Trump if we nominate Joe Biden and here's why..."
Scott Jennings, a CNN contributor, is a former special assistant to President George W. Bush and former campaign adviser to Sen. Mitch McConnell. He is a partner at RunSwitch Public Relations in Louisville, Kentucky. Follow him on Twitter @ScottJenningsKY. 
8:04 p.m. ET, June 26, 2019
Pre-debate advice from our commentators