Who won the Democratic debate
1:49 a.m. ET, June 27, 2019
Warren engaged in class warfare
Right out of the gate, Sen. Elizabeth Warren was echoed by other debaters as she engaged in class warfare, trying to drive a wedge between Americans when we need to come together.
Warren said the economy was benefiting a "thinner and thinner slice at the top," yet as Heritage Foundation analyst Adam Michel pointed out, for Americans with high school degrees, the unemployment rate is the lowest it's been since before the Great Depression.
Warren also bashed oil companies as profit-hungry corporations profiting at the expense of the poor, yet with greater American drilling, gas prices have dropped, and CNN reporter Chris Isidore notes, "Most of the decline is because of falling oil prices, in part thanks to booming US oil production." This helps families take more summer road trips and it keeps us less dependent on foreign sources of oil, including from the Middle East. 
Multiple candidates decried a rise in income inequality, yet as economist Michael Strain wrote, inequality has "narrowed by 5% over the last decade."
The "pay gap" question asked by moderator Lester Holt was also inherently biased. As I wrote earlier for CNN, that line of thought fails to take into consideration multiple variables that show the gap is nearly nonexistent.
Bottom line is, look at the numbers. Since January 2017, the US economy, as of March, has added nearly 3 million new jobs for women, and during President Donald Trump's first year in office, the number of American women in poverty fell by nearly 600,000.
Carrie Sheffield, a conservative commentator, is the founder of Bold, a digital news network committed to bipartisan dialogue. She is also national editor for Accuracy in Media, a conservative media watchdog organization, and a visiting fellow at Independent Women's Forum. Follow her on Twitter: @carriesheffield
1:52 a.m. ET, June 27, 2019
The middle was missing
There is no doubt that the election in 2020 will be a change election. The polarization of the Trump Presidency has united Democrats and most independents around the urgent necessity of change in America. Tonight's face-off has highlighted the central debate in the Democratic primary process: radical structural change that pleases progressives or incremental change that appeals to moderates and independents who tend to decide elections.
That was the debate within the debate tonight. Elizabeth Warren dominated early (helped by MSNBC moderators, who called on her repeatedly), with a strong economic populist message. On immigration, Julian Castro owned the stage for a time by taking the most progressive position on decriminalizing undocumented immigration at our southern border.
The more moderate candidates struggled a bit to gain attention, but particularly on health care, they made a strong appeal to the middle--the bulk of voters in America-- to retain the ability to keep existing private health insurance. 
As excited as many will be by the performance of Warren and Castro, I suspect just as many are concerned by what can be characterized as ripping away both existing coverage and open borders with no security.
Warren is the winner tonight, but in no small part because the power of the middle didn't show up. The second debate, where I suspect MSNBC will focus on former VP Biden, will offer a chance for the middle to fight back. 
This fight will define the process through Iowa, New Hampshire and on to the Democratic Convention. Are Democrats willing to take the big risk for big change or will they take the safer route of incremental progress if that gives them a better chance of beating Trump?
Joe Lockhart was White House press secretary from 1998-2000 in President Bill Clinton's administration. He co-hosts the podcast "Words Matter." Follow him on Twitter at .@JoeLockhart
1:53 a.m. ET, June 27, 2019
Warren and Klobuchar stand out in a crowd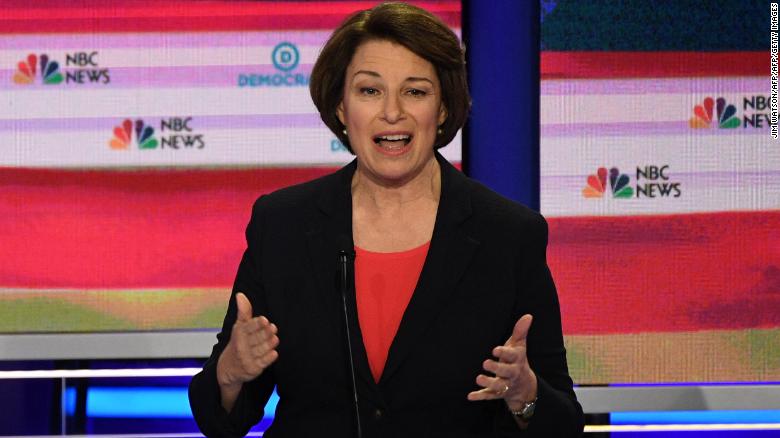 It's nearly impossible to stand out in a crowd but Senator Elizabeth Warren and Sen. Amy Klobuchar are doing exactly that in the unprecedented field of 20-plus Democrats who are running for president in 2020. 
In the fast and furious Democratic primary debate, every candidate was vying for an edge. A few showed off their ability to speak Spanish (Beto O'Rourke and Cory Booker with horrible "gringo" accents). They are hungry for Latino votes. They know the road to the White House runs through the black and Latino communities. I get it. Still, I'm not convinced speaking bad Spanish will win too many votes in the end. It's more likely that focused thinking around what most Americans want: jobs, healthcare, better futures will be the key to winning votes.
Warren's agenda has a clear focus: giant corporations have been allowed to "do whatever they want" to gain profits at the expense of working people, she said. Nearly all of Warren's policies focus on putting more of the power back in the hands of working people. Her vision to make America the leader in green technology economies to capture 1.2 million jobs is a plan that will resonate with voters. 
Klobuchar, who also seemed thoughtful and informed at the debate, especially on immigration, showed how she's starkly different from President Trump: "Immigrants do not weaken America," she told us. "They make us stronger." Her comments might not appease those on the far left who seem to want open borders for all immigrants but Klobuchar's plan to continue President Obama's efforts to create paths to citizenship for immigrants who can contribute to our nation is what most voters want.
Klobuchar avoided the pitfall of attacking her follow Democrats – Julián Castro and O'Rourke did not. They bickered way too much, especially around immigration policy.
In truth, the debate was way too much work for most voters to learn much more about any of the candidates. And I'm still undecided on who can beat Trump. But at evening's end, Warren sounded like the best bet. Let's see what tomorrow brings, when the rest of the candidates get their chance to face America.
Roxanne Jones, a founding editor of ESPN Magazine and former vice president at ESPN, has been a producer, reporter and editor at the New York Daily News and The Philadelphia Inquirer. Jones is co-author of "Say it Loud: An Illustrated History of the Black Athlete." She talks politics, sports and culture weekly on Philadelphia's 900AM WURD. Follow her on Twitter: .@iamroxannejones 
11:21 p.m. ET, June 26, 2019
What about Mitch McConnell?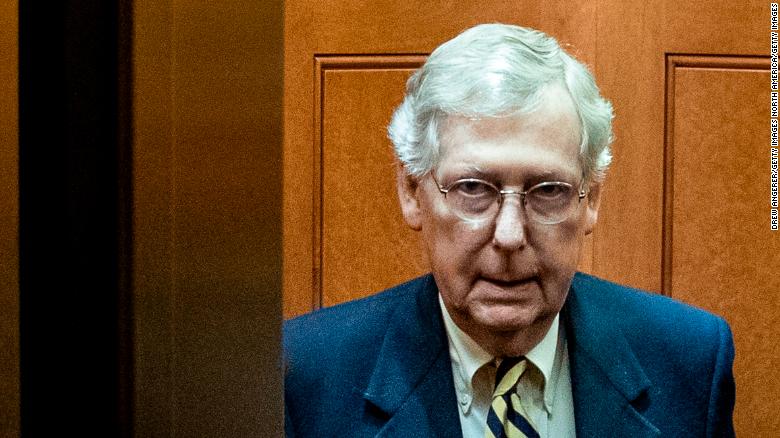 Sen. Elizabeth Warren is running one of the most thoughtful campaigns right now and proving herself as a viable 2020 contender. While many presidential hopefuls have focused much of their efforts – particularly this early in the primary season – on personality and name recognition, Warren hit the campaign trail armed with tangible policy solutions to pressing issues that American families truly care about. Warren produced plans for student loan debt, affordable housing, and childcare.
But the senator has failed to generate a clear answer on confronting one important obstacle – Sen. Mitch McConnell. Now, more than ever, Democratic hopefuls must provide answers on the issues they would prioritize, how they would get their policy agenda through, and what executive powers they would wield--especially since McConnell won't be going anywhere anytime soon.
Tonight, Warren was asked about overcoming the Kentucky Republican's vise grip on the Senate, but her response – although passionate – lacked substance. Warren has plans and has driven the policy debate, but tonight her plans hit a brick wall. Without dealing with the reality of Mitch McConnell her plans are nothing more than false hopes. 
Bakari Sellers is a former Democratic member of the South Carolina House of Representatives and a CNN commentator. Follow him on Twitter @Bakari_Sellers.
11:18 p.m. ET, June 26, 2019
That's a wrap! Who walked away the winner?
11:10 p.m. ET, June 26, 2019
To get noticed, candidates tacked toward the extremes
As a retired federal law enforcement officer who once served south of the border, portions of the first Democratic presidential primary debate pained me. The lineup of Democratic lesser-known hopefuls clearly recognized the podium-filled stage was overcrowded, and arrived in Miami desperate to separate from the pack. Tacking toward the extreme gets one noticed in a crowded primary field.
Former Congressman Beto O'Rourke and Senator Cory Booker both spouted rehearsed lines in Spanish. It was their way of attempting to appeal to the Latino community – "Hey, I'm one of you!" Must have sounded like nails on a chalkboard to native speakers. I say this as a Spanish speaker. This was how they plan to separate themselves from the heartless Republicans who are somehow responsible for the deaths of Óscar Alberto Martinez Ramirez and his 2-year old daughter Valeria.
The bodies of these two migrants recently washed up on the banks of the Rio Grande River --an image captured in a heart-wrenching viral photograph that has become political fodder to attack Trump administration's border policies. And there was no moderator caution to dispense with the staged moralism and offer a bipartisan plan to solve the humanitarian/security crisis at our border.
James A. Gagliano is a CNN law enforcement analyst and a retired FBI supervisory special agent. He also is an adjunct assistant professor at St. John's University in Queens, New York. Follow him on Twitter: @JamesAGagliano. 
10:56 p.m. ET, June 26, 2019
Attention Cory Booker & Beto O'Rourke: Latino voters don't care that you speak Spanish
Live from Miami, it is Elizabeth Warren and everyone else – including a few presidential aspirants who needed a name ID on the screen to help viewers recognize them. At its midpoint, this debate illustrated both the advantages and pitfalls of having such a large and diverse field. 
On the plus side, the first half of the first debate was refreshing. There was no bullying, no name-calling, and no childish nicknames. This was an opportunity for the Democratic field to put their best foot forward, and to their credit they all engaged in substantive policy discussions. Perhaps it was because the moderators seemed to come back to Warren quite frequently, but she stood out as the most prepared on myriad topics, taking on income inequality with the same ease that she discussed Medicare for all and reproductive rights. She clearly has benefited from being a policy wonk as well as a professor. As the front-runner in Wednesday's lineup, she has the most to lose, and so far she has more than held her own.   
On the downside, this was not truly a debate. Given the large number of candidates and multiple moderators, it was more of an opportunity for each candidate to present themselves and stand out to potential voters. As the questions whipped around the debate stage, with answers limited to one minute, at times it felt like political speed-dating. 
Note to Cory Booker and Beto O'Rourke, it is wonderful that you can speak Spanish. But Latino voters do not really care whether a candidate speaks Spanish, we care about health care, jobs and the economy, and immigration (in that order). Coming from these candidates, their speaking Spanish felt like pandering to the Miami home crowd, and it was a waste of valuable air time.   
Also noted: The Texans did not come to play. Castro challenged his fellow candidates to sign on to his pledge to decriminalize illegal immigration (and enforce civil penalties instead). He assailed O'Rourke for their differences on immigration policy, at one point muttering "If you did your homework..." 
Castro needs his breakout moment, but it was probably not wise to engage in such sparring and over-talking so early on. It was also interesting that it was on this topic – immigration – that nearly all the candidates seemed to want to jump in and score points, giving the debate its first "moderators lose control" moment.
Raul A. Reyes is an attorney and member of the USA Today board of contributors. Follow him on Twitter @RaulAReyes. 
10:36 p.m. ET, June 26, 2019
Who is shining in the second hour?
10:33 p.m. ET, June 26, 2019
It's a good thing they're not talking about Donald Trump
Donald Trump was prepared to dominate the first Democratic debate. Once again he failed to meet his own expectations. With a few notable exceptions, including Senator Amy Klobuchar's reference to Trump gloating in the White House, the debate is so far--perhaps surprisingly--about substantive issues.
This is smart both on the part of the candidates and the moderators. This was the first introduction of a number of the candidates to the American public and we now know more about what they want to do on health insurance, on the economy, on guns, on immigration. We need that and should demand that from these debates. 
There is plenty of time to talk about Donald Trump, but determining who will beat him isn't about who has the best one line attack about his morality. It is about who has a better vision for the future of the country.  
Jen Psaki, a CNN political commentator, was the White House communications director and State Department spokeswoman during the Obama administration. She is vice president of communications and strategy at the Carnegie Endowment for International Peace. Follow her at @jrpsaki.