Opinion: Who won the Democratic debate
12:32 p.m. ET, August 1, 2019
Cory Booker kept his eyes on the prize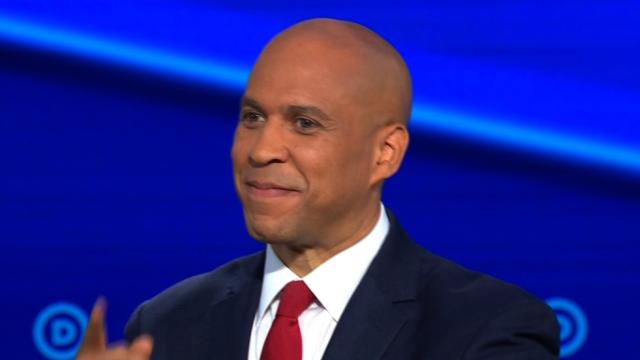 "Godfather II" is the rarest of movies: a film in which the sequel is better than the original. Joe Biden v. Kamala Harris II is no Godfather II. Both the former Vice President and the California senator had uneven debate performances, but nothing happened that changed the fundamental structure of the race.
Biden spent far too much time deep in the weeds, critiquing Harris' health care proposal. Harris responded by going even deeper, and their colleagues got even more obscure. You've heard of missing the forest for the trees? This was a microscopic examination of the veins on the leaves of a tree.
Biden's job was to make every sentence -- to paraphrase Biden himself -- a noun, a verb and an attack on President Donald Trump. Instead, he dug deep into his opposition research, which gave him effective counterpunches against his fellow Democrats, but took his eyes off the prize.
It took Sen. Cory Booker to show him how it's done. The New Jersey senator and former Newark mayor had the performance his admirers have longed for. More than any other candidate, he consistently brought the fight back to Trump, rather than participating in the circular firing squad former President Barack Obama has warned about.
Speaking of Obama, I was stunned at how disrespected he was tonight. On immigration, criminal justice and trade, Democrats denigrated the record of the man who saved the American economy, rescued the auto industry, signed the Paris Climate Accord and placed two impressive female justices on the Supreme Court. It was sad and stupid. 
Biden, late in the debate, finally used Obama as both a sword and a shield, noting that the former President had numerous lawyers scrutinize every scrap of his long record -- and Obama still chose him as Vice President.
As a Democratic strategist, I am not thrilled. This was a rear-view mirror debate -- far too focused on the Democrats' past, too little focused on Trump's disastrous present. No one mentioned that Trump has proposed cutting hundreds of billions from Medicare and Medicaid, and only Booker had the presence of mind to tell the nation that Trump is in court seeking to repeal the Affordable Care Act and its popular protections for folks with pre-existing conditions.
Gov. Jay Inslee of Washington brought passion and climate change to the stage, at one point fairly screaming, "The house is on fire!" And Colorado Sen. Michael Bennet shed his senatorial bearing and returned to his previous job as Denver schools' superintendent. I hope both qualify for the next debate in Houston in September. And between now and then, I hope each candidate can figure out that the other Democrats on the stage are their opponents, but Trump is their enemy.
Paul Begala, a Democratic strategist and CNN political commentator, was a political consultant for Bill Clinton's presidential campaign in 1992 and was counselor to Clinton in the White House.
12:30 p.m. ET, August 1, 2019
Harris a strong candidate who had a weak night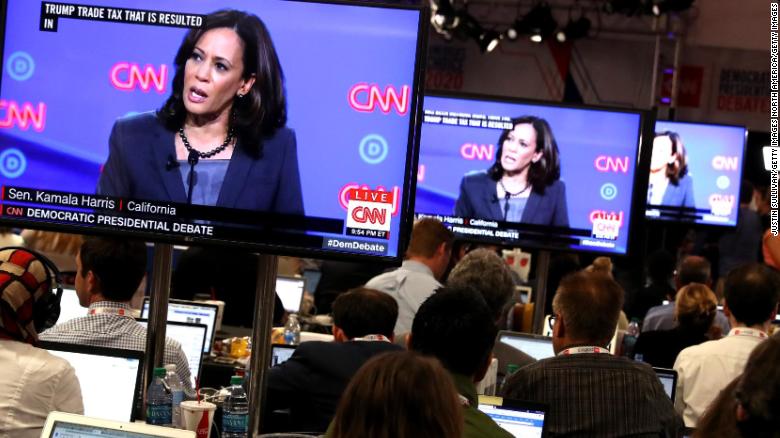 As a former prosecutor, Senator Kamala Harris is a naturally good debater and a good candidate. She displayed strength in prosecuting the case against Joe Biden on bussing. She displayed strength in questioning Justice Brett Kavanaugh during his nomination hearing and she showed tenacity while questioning Attorney General William Barr as he appeared in front of her committee to discuss the Mueller report. Voters can visualize her prosecuting the case against Donald Trump.
Her record as a prosecutor, however, also leaves her open to significant attack. Senator Harris was on defense much of the night. And it is very clear that she is much more comfortable on offense. Senator Harris did have a good night.
Patti Solis Doyle, a CNN commentator, served as an Assistant to the President and Senior Adviser to then-first lady Hillary Clinton, was chief of staff on Clinton's 2000 and 2006 Senate campaigns, and Clinton's presidential campaign manager in 2007 and early 2008. She is president of Solis Strategies, a Washington-based consulting firm that specializes in serving non-profits, NGO's and corporations. Follow her @pattisolisdoyle 
12:29 p.m. ET, August 1, 2019
A Democrat ranks the debaters
Here's my ranking of the candidates' performance in the second debate:
1.) Cory Booker
2.) Joe Biden
3.) Julián Castro
4.) Michael Bennet
5.) Kamala Harris
6.) Kirsten Gillibrand
7.) Jay Inslee
8.) Tulsi Gabbard
9.) Andrew Yang
10.) Bill de Blasio
Top five after two nights:
1.) Cory Booker: he put himself back in the race.
2.) Joe Biden: because no one emerged as his chief rival and he showed he could fight back.
3.) Pete Buttigieg: despite his youth, he seems the most sensible of the pack.
4.) Elizabeth Warren: still a compelling debater, but not sure she took any Bernie voters.
5.) Michael Bennet: because he won't make the next debate and that's too bad.
Joe Lockhart was White House press secretary from 1998-2000 in President Bill Clinton's administration. He co-hosts the podcast "Words Matter." Follow him on Twitter at @JoeLockhart
12:29 p.m. ET, August 1, 2019
A Republican ranks the debaters
Here's my ranking of the candidates' performance in the second debate:
1.) Joe Biden
2.) Kamala Harris
3.) Cory Booker
4.) Tulsi Gabbard
5.) Julian Castro
6.) Michael Bennett
7.) Andrew Yang
8.) Kirsten Gillibrand
9.) Jay Inslee
10.) Bill de Blasio
Top five after two nights:
1.) Joe Biden
2.) Elizabeth Warren
3.) Bernie Sanders
4.) Kamala Harris
5.) Cory Booker
Alice Stewart is a CNN political commentator and former communications director for Ted Cruz's 2016 presidential campaign. 
12:29 p.m. ET, August 1, 2019
Biden has a bad habit of deflecting
Former Vice President Joe Biden had me in his corner until he hid behind former President Barack Obama on the issue of deportations during his administration. When New Jersey Sen. Cory Booker and New York Mayor Bill de Blasio challenged him, Biden blinked, refusing to say if he ever tried to stop those deportations, or if he voiced the strong opposition that he professes today. Instead, Biden blamed Obama, saying deportations were a presidential decision.
Weak move. And it wasn't his only momentary lapse. 
The former vice president again dodged questions of race and justice, refusing any suggestions that his 1990s "tough-on-crime" bills brought the devastation to black and Latino communities that is still being felt today. 
Biden has a bad habit of deflecting and condescending on too many issues: his opposition to school busing in the 1970s, his role in helping open the doors that have put a world-record 2.2 million in prison or jail in the US – 37.6% of whom are black and 32.3% of whom are Latino, his immigration stance, or his touchy-feely, condescending treatment of women, which was on full display Wednesday night. 
Telling Sen. Kamala Harris "go easy on me, kid" at the beginning of the debate was cringeworthy and beyond insulting. Has Biden learned nothing from Anita Hill, or the women who have accused him of touching them inappropriately? Though Biden said he never intended to offend those women, his comment tonight raises the question -- is he really listening to women at all?
After Biden's dodgy performance, Sens. Elizabeth Warren, Bernie Sanders, Kamala Harris, former Sec. Julian Castro and Rep. Tulsi Gabbard all move up as my top contenders for the Democratic nomination. It's good to have options.
Roxanne Jones, a founding editor of ESPN Magazine and former vice president at ESPN, has been a producer, reporter and editor at the New York Daily News and The Philadelphia Inquirer. Jones is co-author of "Say it Loud: An Illustrated History of the Black Athlete." She talks politics, sports and culture weekly on Philadelphia's 900AM WURD.
12:29 p.m. ET, August 1, 2019
Biden got the memo, his challengers didn't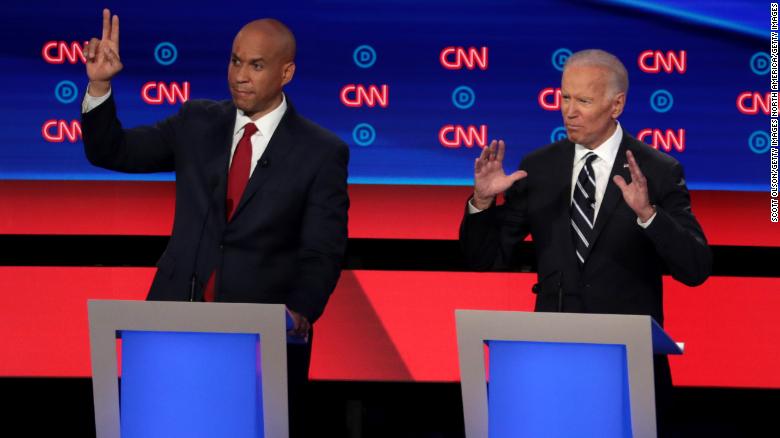 It looks like Joe Biden got the memo. This time he came prepared for the onslaught of attacks and wasn't afraid to hit back when necessary. Biden still needs to work on more crisp, simplified defenses of his record on immigration and criminal justice, but overall his performance should alleviate concerns about his ability to handle the campaign moving forward.
He started strong, looking into the camera and directly rebuking President Trump's attacks on diverse Americans and telling him, "Just look at this stage, made up of diverse people from diverse backgrounds... Mr. President, this is America. And we are stronger and great because of this diversity…not in spite of it…So Mr. President, let's get something straight. We love it. We are not leaving it. We are here to stay and we're certainly not going to leave it to you." Ame
In his closing statement he restated that America is in a fight for its soul--and he's absolutely correct. Given the existential threat many of us believe Trump poses to our constitutional republic, it puzzles me that there wasn't more emphasis placed on the contrast between the Democrats' vision and the damage Trump's presidency is doing to this country. Instead, friendly fire dominated the debate.
At various points, Biden's Democratic primary challengers wasted debate time by actually questioning the former vice president's role in the Obama administration's policies. As Biden ably pointed out, no one on that stage expressed their dissatisfaction with his leadership or prior record while he was Obama's vice president, so why the feigned outrage now?
They spent more time sniping at each other over wonky policy differences than making their cases to the American people as to why they would make a better president than Donald Trump.
This is not a winning strategy in the long run. 
Getting into the policy weeds doesn't motivate voters. Convincing voters, you'll fight for them, as well as for the soul of America, will. 
Tara Setmayer, a CNN political commentator, is the host of the "Honestly Speaking With Tara" podcast. Follow her on Twitter @tarasetmayer.
12:32 p.m. ET, August 1, 2019
Mayors' weak spots exposed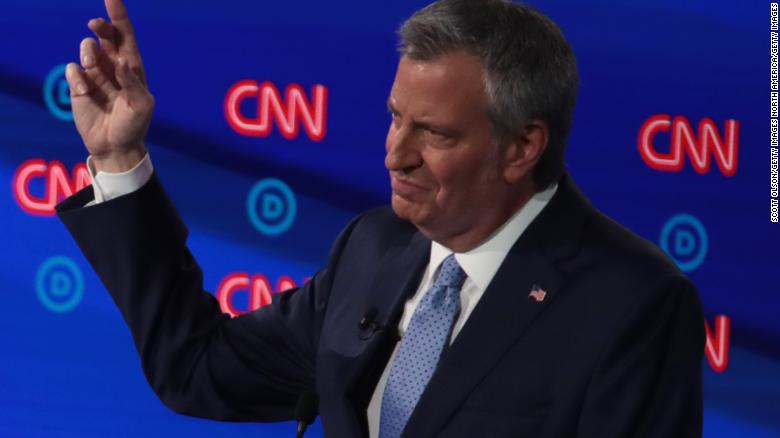 There was more than enough blame to go around the debate stage on issues of race and policing. Cory Booker, the former mayor of Newark, chastised Joe Biden for his role in passing the 1994 crime bill, which has been criticized for helping to cause incarceration rates to soar. But Biden answered with a seldom-mentioned black mark on Booker's record: the fact that his police department was placed under a consent decree by the federal Justice Department during the Obama administration for egregious abuses.
An eye-popping 75% of police stops of pedestrians in Newark were found to lack constitutional justification, and 20% of police uses of force were deemed unjustified. Booker pushed back at Biden, calling the Newark cops a problem that he inherited and worked hard to improve. But the exchange illustrates the vulnerability of Democratic candidates with executive experience.
Mayor Bill de Blasio of New York City has an even more acute Achilles heel. At the start of the debate, protesters from New York -- including Rev. Kirsten Foy, a former aide and ally of de Blasio -- interrupted the proceedings by standing and chanting "Fire Pantaleo!", a reference to the NYPD officer, Daniel Pantaleo, who killed Eric Garner, an unarmed man, in a grisly scene, caught on video, that included Garner gasping "I can't breathe" 11 times as Pantaleo choked him.
De Blasio has drawn enormous criticism in New York for taking no action against Pantaleo -- not even a discretionary 30-day suspension without pay -- while federal Justice Dept. investigators dithered and delayed for five years before declining to prosecute Pantaleo.
Moderator Jake Tapper asked a question that I and other New York journalists have asked de Blasio: "Why is that police officer still on the force?" 
De Blasio said that the Garner family would get justice in the next 30 days.
But he got an earful from his debate rivals.  
"That police officer should be off the streets," Julián Castro said. "If I was the mayor, I'd fire him," said Sen. Kirsten Gillibrand.
All of which proves that building a candidacy for president based on one's experience running an American big city can be a risky, two-sided proposition. That's part of the reason that no big-city mayor has ever made it to the White House.
Errol Louis is the host of "Inside City Hall," a nightly political show on NY1, a New York all-news channel.
1:00 a.m. ET, August 1, 2019
Enough with the crowded stage, time to get serious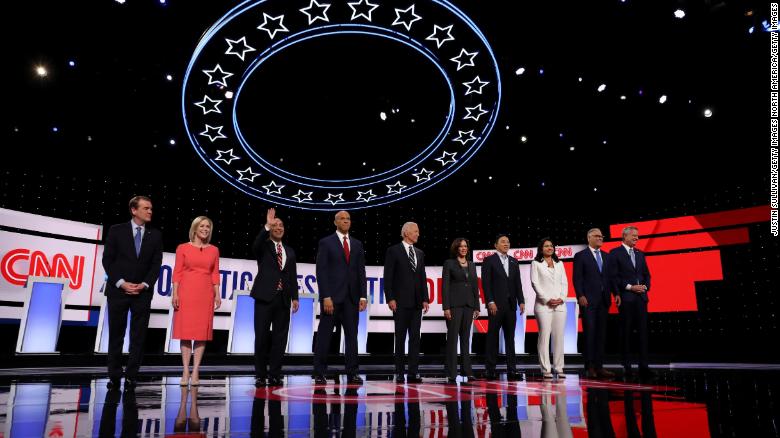 Nobody will crown former Vice President Joe Biden as the world's best debater, but he emerged fortified from this second round. Sen. Kamala Harris endured the slings and arrows that come from placing near the top of the pack. And it was a tough night for her, but despite her uneven performance, she and Sen. Cory Booker, showed they are energetic, smart and charismatic. They pass this year's crucial test: You can picture them holding their own, one-on-one against a ruthless Donald Trump.
But we should be honest: This is no way to select the best person for the world's most important job.
Let's hope the Democratic Party is strict in enforcing its rules, and winnows the field aggressively for the next debate round, which will have a higher bar for candidates to qualify. With 20 people running for the nomination, these debates became a desperate quest to stand out, a chase for a sound bite, for a zinger, for something, a soundbite, a quip that might resonate with television producers and social media users.
Booker told Biden, "You're dipping into the Kool Aid and you don't even know the flavor." Sen. Kirsten Gillibrand's said she planned to "Clorox the Oval Office"-- clever, but probably not enough to keep her in the race.
The memorable lines were not just cute. Many were fiery--burning with meaning. Sen. Michael Bennet, who deserves to have a higher place in the polls, was masterful at bringing the debate back to Trump. Trump's racist rhetoric alone, Bennet said, is reason enough to vote Trump out. "We have a moral obligation," he said, "to defeat Donald Trump, he has to be a single term president."
Democrats do a good job when they stake out the moral high ground in a sharp contrast with Trump, while highlighting the best approach among their own ideas for moving forward.
Unfortunately, the field of candidates is far too big. Voters need a debate where they will hear more details, not just soundbites, from the top three--maximum four--candidates of the two nights. A debate featuring, Biden, Elizabeth Warren, Pete Buttigieg, Bernie Sanders, Kamala Harris, Cory Booker and, on the wings of the stage, Amy Klobuchar and Michael Bennet. Something like that. Then this will get serious. And seriously interesting.
 Frida Ghitis, a former CNN producer and correspondent, is a world affairs columnist. She is a frequent opinion contributor to CNN, a contributing columnist at the Washington Post and a columnist for World Politics Review. Follow her on Twitter @fridaghitis. 
2:03 a.m. ET, August 1, 2019
Democratic candidates get amnesia on stage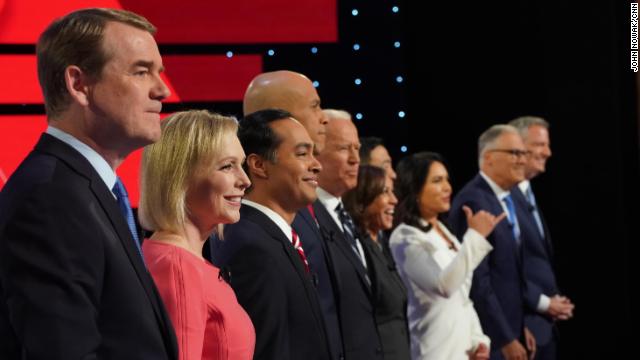 The 10 candidates at tonight's Democratic presidential debate were engulfed in a cloud of group amnesia, attempting to rewrite personal and party histories around key policies. But everyday Americans are smarter than this and see through the pandering.
For example, Sens. Kamala Harris and Kirsten Gillibrand tried to accuse Joe Biden of sexual and racial bias, yet they never said a peep when Barack Obama chose Biden for vice president.
If these women were truly disturbed about Biden, they would have shown courage and challenged Obama. Same when Gillibrand appeared to ignore the sexual misconduct allegations against former President Bill Clinton--accepting Clinton's fundraising help and serving in his administration--and then turned on him when it was politically expedient. 
Tonight, Biden threw the Trans Pacific Partnership under the bus, even though the deal was developed under his watch--to the point that Biden had been called by NBC News in 2015 "a key surrogate for the Obama administration in their effort to build support on Capitol Hill" for the measure. It was President Donald Trump who pulled the United States out of TPP.
Biden and others onstage tried to attack President Trump for defending our southern border; Biden neglected to note data from the US Border Patrol showing that 26% more migrants died at the southwest border during Biden's first two years (785) as vice president than during the Trump administration (581). Biden also didn't mention that while he was vice president, migrant children in Border Patrol custody were physically and sexually abused between 2009 and 2014,  according to a 2018 report by the American Civil Liberties Union (ACLU) and the International Human Rights Clinic at the University of Chicago Law School.
It is President Trump who declared a national emergency, has forced Mexico, Guatemala and even the US Congress to step up and prevent the further escalation of human trafficking and violence against women and children at our border. 
And when Rep. Tulsi Gabbard tried to criticize President Trump for standing up to Iran's quest for regional hegemony in the Middle East, even Democrat Adam Parkhomenko, an adviser to Hillary Clinton, pointed out Rep. Gabbard's defense of  Syria's brutal dictator, Bashar al-Assad, who she has refused to call an enemy of the US. In calling President Trump racist for telling the truth about Baltimore's challenges, Sen. Cory Booker didn't mention that Baltimore's own former mayor (a black woman) called out the city's rat problem, Rep. Elijah Cummings once called his own Baltimore district "drug-infested," and children in his own district "walking around like zombies." Sen. Bernie Sanders compared Baltimore to a third-world country in 2015, yet Booker didn't say a word.
In actuality, President Trump is rebuilding Baltimore through criminal justice reforms like the FIRST STEP Act, opportunity zones, record low unemployment and poverty rates among black Americans.
Despite his bout of amnesia, Booker did have one moment of clarity: "The person who is enjoying this debate the most right now is Donald Trump." 
Carrie Sheffield, a conservative commentator, is the founder of Bold, a digital news network committed to bipartisan dialogue. She is also national editor for Accuracy in Media, a conservative media watchdog organization, and a visiting fellow at Independent Women's Forum. Follow her on Twitter: @carriesheffield