Opinion: Who won the Democratic debate
1:19 a.m. ET, August 1, 2019
Castro stands up for issues that matter to Latinos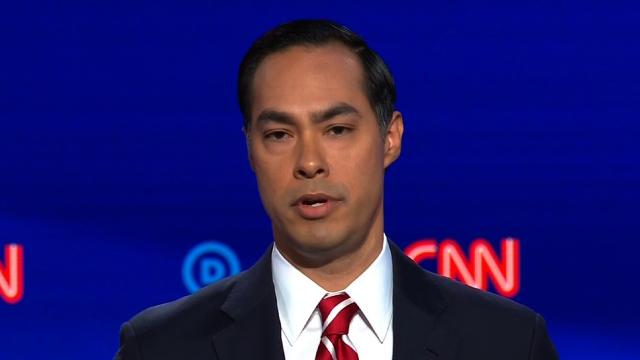 Wednesday night's Democratic debate is the last call for what Vox termed the "mega-debate."  
By September, the standards to qualify for the big stage will be significantly higher, so tonight was likely the last we may be seeing of several candidates who have so far failed to make it to the top-tier in polling or have a breakout moment. 
To his credit, Julián Castro made a solid case for decriminalizing illegal entries into the US. Repealing "Section 1325," he explained, is important because the Trump administration has used this law as the legal basis for family separations – and getting rid of this provision will ensure that this never happens again.
When Joe Biden disagreed, Castro clapped back with "It looks like one of us has learned the lessons of the past, and one of us has not."  
As other candidates basically agreed with Castro on decriminalizing unauthorized entries, former Vice President Biden seemed out of touch with his own party, especially when he stated that people who emigrate to the US need to "get in line." 
In fact, the nonpartisan American Immigration Council has noted that, for many potential immigrants, there is no line. However, Castro did not seal the deal on this particular question.
Perhaps due to time constraints, he did not emphasize that, under his plan, unauthorized migrants would still be subject to deportation; unauthorized migrants will be tagged with a civil violation, not a criminal misdemeanor. (Cory Booker made this point when the discussion moved on to the question of eliminating immigrant detention.) 
As he moves ahead with his campaign, Castro must point out that undocumented people will still face deportation if warranted, to let Americans know that repealing "Section 1325" does not amount to "open borders." It simply prevents the horror of immigrant family separations from occurring again. 
Castro also noted that he favored a "Marshall Plan" for tacking the ongoing problem of migration from Central America, smartly drawing a distinction with the Trump administration's deterrence-based immigration strategies.  And in his opening statement, he mentioned the crisis in Puerto Rico, a topic that went completely unmentioned on Tuesday night.  So at the halfway point of the evening, a good job by Castro in standing up for issues that matter to Latinos. 
Raul A. Reyes is an attorney and a member of the USA Today board of contributors. Follow him on Twitter @RaulAReyes. 
11:39 p.m. ET, July 31, 2019
Attacking Biden over 1994 crime bill isn't quite fair
When the opportunity finally availed itself, Sen. Cory Booker and former Sec. Julián Castro found the pitch they wanted to hit, each taking swings at former Vice President Joe Biden's criminal justice record. As one of the self-described architects of the 1994 Violent Crime Control and Law Enforcement Act, Biden has faced an uphill battle in defending his record. But what was once viewed as an appropriate antidote to spiraling violent crime rates, unfathomable murder statistics and the horrors of the crack pandemic, is now viewed through the prism of a 2019 progressive lens.
Opportunistic opponents of Biden see the value in tagging the 76-year old with the bill's devastating trajectory. The law of unintended consequences, along with the impact of earlier crime bills, conspired to incarcerate multitudes of black and brown men from America's inner-cities. Well-meaning enforcement actions resulted in far too many broken homes, impoverished neighborhoods and a swollen prison population.  
While it may be fair to link causality to congressional action, it is not fair to Biden, and the rest of the early 1990s Congress, to judge their actions bereft of historical context. Legislators back then felt compelled to take action; the rampant criminality that plagued big cities like New York was too omnipresent to ignore. And Biden and his colleagues were urged into action by the unlikeliest of partners -- including some members of the Congressional Black Caucus.
So, it is disingenuous to paint Biden as a tone-deaf, out-of-touch political relic and signatory to a racist, classist piece of legislation. But in the rough-and-tumble world of the sport that is American politics, that is exactly what his opponents will continue to do.
James A. Gagliano is a CNN law enforcement analyst and a retired FBI supervisory special agent. He is also an adjunct assistant professor at St. John's University in Queens, New York. Follow him on Twitter: @JamesAGagliano. 
10:53 p.m. ET, July 31, 2019
Dems' laser focus on Biden's electability has a cost
Joe Biden will feel good about tonight's debate because he performed well enough. For the former Vice President, this meant avoiding big gaffes, not stumbling when facing tough policy questions, and demonstrating that he can be competent when push comes to shove in fall 2020.
To be sure, many other Democrats will feel that there were enough moments of weakness in Biden's performance to hint that someone as talented as Senator Elizabeth Warren will be extremely effective against him when they face off on the stage. But after Biden's first debate stumble with Senator Kamala Harris, his team will breathe a sigh of relief tonight, and the early polls will probably remain favorable for him. 
This is the measure -- polls -- that Democrats are using on Biden, and it says a great deal about the mental state of the party. The desperation to defeat President Trump, and everything that he represents, is so great that Democrats' main concern is finding someone who polls well, who can hold his or her own on the debate stage, and who can make it through the grueling challenges of the campaign trail. 
That practical focus on competence comes at a cost. It makes the big ideas that are so integral to historic campaigns secondary, it discourages the party from taking risks that might allow it to undermine some of the institutional and electoral roots of Trumpian politics, and it makes a big bet on anticipating what "electable" will mean in the current political environment.
Julian Zelizer is a professor of history and public affairs at Princeton University and author, with Kevin Kruse, of the new book "Fault Lines: A History of the United States Since 1974." Follow him on Twitter @julianzelizer.
9:55 p.m. ET, July 31, 2019
De Blasio's 'punching up' looks desperate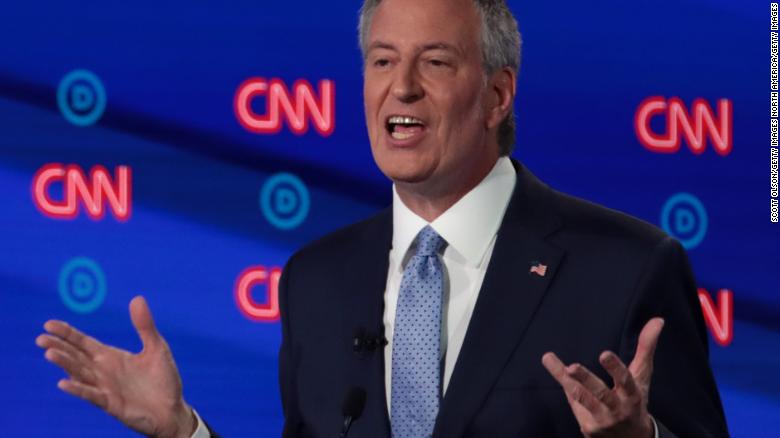 Punching up is a debate tactic, not an overarching strategy. But in Bill de Blasio's case, punching up appears to be the only strategy. Constantly provoking Joe Biden, the frontrunner, doing the moderators' jobs, challenging him with questions, doesn't make him look tough. It makes him look desperate.
How desperate? He asked Biden to defend himself against hecklers disrupting the debate. More than once. When asked whether Eric Garner's family will ever see justice, de Blasio promised his family they soon would. But then, inexplicably, he tried to implicate Joe Biden, who was not mayor at the time of Garner's death at the hands of a New York City cop -- who has not been fired -- in failing to deliver that justice. Reminder, de Blasio was mayor at the time, and Biden was Vice President. There's punching up, and then there's punching desperate. 
SE Cupp is a CNN political commentator and the host of "SE Cupp Unfiltered."
9:41 p.m. ET, July 31, 2019
Gabbard criticizes Harris' record
9:22 p.m. ET, July 31, 2019
The Democrats are getting better at this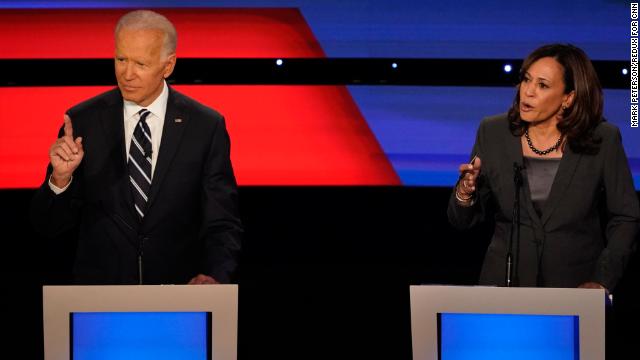 The good news is Democrats, as a group, are getting better at this. Candidates like Sen. Kirsten Gillibrand, Secretary Julián Castro and Sen. Michael Bennett are motivated by the need to survive. They need to bring their A game tonight, so that they can wake up tomorrow and make the final push to qualify for the September debates.
For former Vice President Joe Biden, the first debate was a wakeup call, and so far, he has come to the debate crisp, energized and far more prepared for the punches coming his way.
Regardless of the motivation, across the board, Democrats appear to be more prepared to answer tough policy questions and more effective at handling attacks. Even Sen. Harris, who is not having the breakout night she did during the first debate, is learning how to handle attacks. That is invaluable if she becomes the nominee.
The primary makes candidates better. They aren't ready for the general election yet, but Democrats can feel better after tonight.
Jen Psaki, a CNN political commentator, was the White House communications director and State Department spokeswoman during the Obama administration. She is vice president of communications and strategy at the Carnegie Endowment for International Peace. Follow her at @jrpsaki.
9:36 p.m. ET, July 31, 2019
Biden gets his groove back – can he keep it?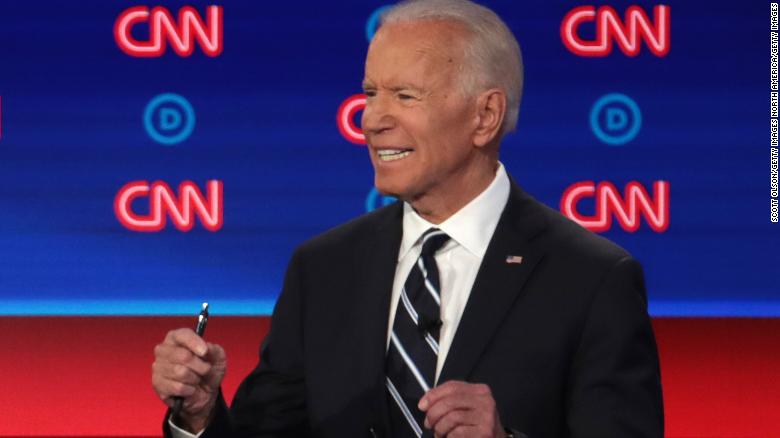 Vice President Joe Biden's opening statement was pitch-perfect. "I am running for president to restore the soul of this country," he said, addressing voters and keeping with his campaign theme that electing him president will turn the Trump presidency into an anomaly in US history. Then Biden addressed the President directly, telling him of this country, "We love it. We are not leaving. We are here to stay, and we're certainly not going to leave it to you."
In the early stage of the debate he looked sharp and focused, wearing the mantle of front-runner comfortably, even as his challengers sought to wound him. It was a striking difference from his lackluster performance in the first debate. There was nothing sleepy about early-debate Joe.
He predictably declared that "Obamacare is working," proposing affordable improvements and effectively poking holes in his challengers' plans.
The question is how well Biden's mojo will hold up as the evening progresses. If he can keep the pace, the poise and the tone, he will consolidate his place as a front-runner.
Frida Ghitis, a former CNN producer and correspondent, is a world affairs columnist. She is a frequent opinion contributor to CNN, a contributing columnist at the Washington Post and a columnist for World Politics Review. Follow her on Twitter @fridaghitis. 
9:25 p.m. ET, July 31, 2019
This is the exchange of the night so far
9:01 p.m. ET, July 31, 2019
Biden-Harris rematch is on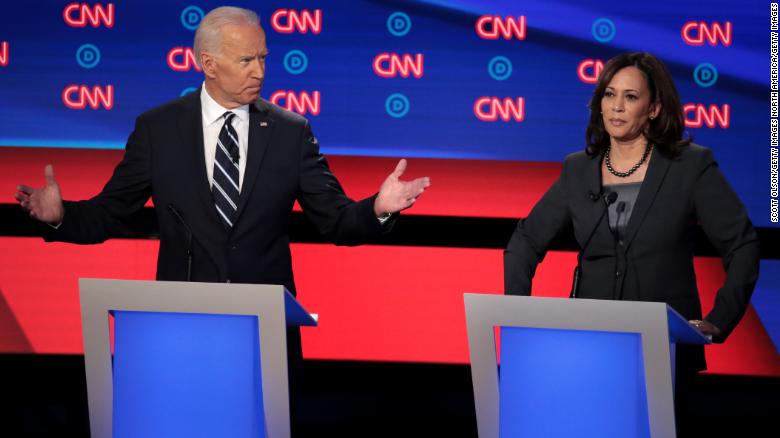 Joe Biden came out strong right out of the gate with a strong opening and a direct attack on President Donald Trump. And, as we all expected, the Joe Biden/Kamala Harris rematch is on. This time, however, the terrain is much more comfortable for Biden and in an area where Harris is vulnerable – health care.
Biden gets to tout his role as VP to President Obama and their greatest legislative achievement, the Affordable Care Act. Biden once called its passage a "big f-----g deal." Biden's comeback on the debate stage may not be quite as big a deal but it's pretty big.
Patti Solis Doyle, a CNN commentator, served as an Assistant to the President and Senior Adviser to then-first lady Hillary Clinton, was chief of staff on Clinton's 2000 and 2006 Senate campaigns, and Clinton's presidential campaign manager in 2007 and early 2008. She is president of Solis Strategies, a Washington-based consulting firm that specializes in serving non-profits, NGO's and corporations. Follow her @pattisolisdoyle