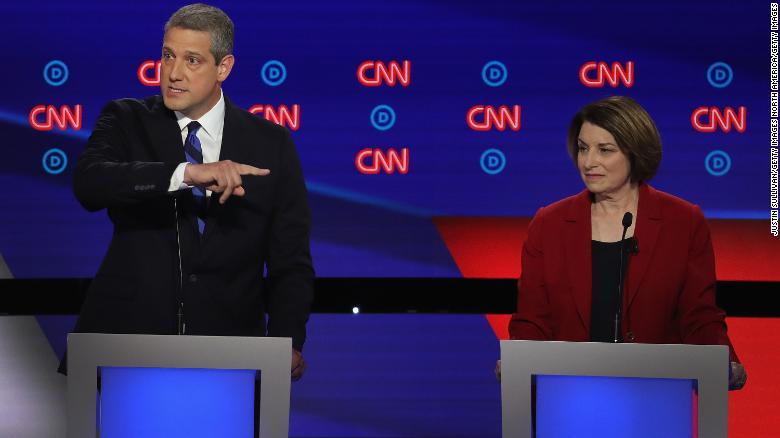 There were no break-outs, no serious stumbles, no ambushes like we saw in the first round of Democratic debates a few weeks ago. But Tuesday's opener in the second round did have significance: the moderates of the Democratic Party finally found their collective voice.
After those first debates, there was an audible shudder among many Democratic strategists and activists who worried that the far left of the party was seizing control, that Trump was successfully undermining the party with his racist attacks, that Joe Biden's halting performance raised questions about his age, and that there was no Plan B if Biden stumbled again. Despite polls to the contrary, many worried they were on the road to doom.
Thanks largely to the arrival of Montana Governor Steve Bullock on stage and a better performance by Maryland Congressman John Delaney, the moderates' push for less revolutionary, more realistic policy changes sent a message to the broader public that the party hasn't lost its way but is having a healthy debate about what that way should be. Bullock was an especially fresh voice of common sense that will appeal in large swaths of the country.
By the end of the evening, what emerged on stage was a coalition of five moderates: Bullock, Delaney, Amy Klobuchar, Tim Ryan, and John Hickenlooper. No doubt some will disappear before the third round and there will be fewer moderates among the debaters tomorrow night. But the struggle for the soul of the Democratic Party has now been joined for all to see. Some party chieftains may not like the struggle, but ultimately it could be exactly what the party needs to forge stronger bridges across the divide. 
David Gergen has been a White House adviser to four presidents and is a senior political analyst at CNN. He was the founding director of the Center for Public Leadership at the Harvard Kennedy School, where is a Professor of Public Service. Follow him on Twitter: @David_Gergen