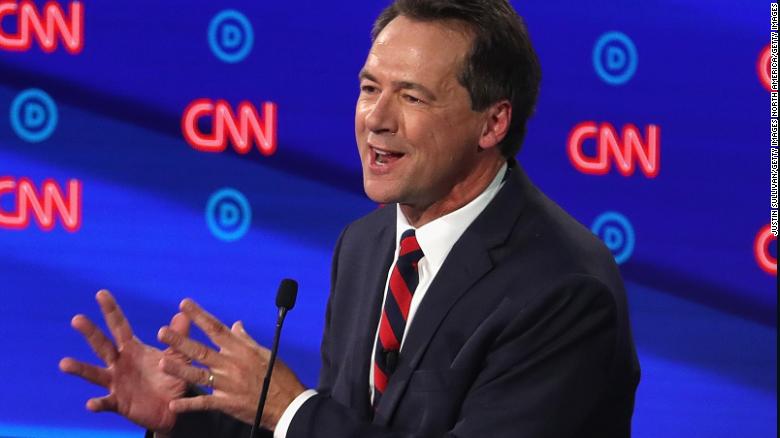 Montana Governor Steve Bullock came out of the gate strong in his first appearance on the Democratic debate stage. On a night that crystallized the policy differences between the left and center, Bullock spoke with credibility as the only presidential candidate to have won in a state that Donald Trump carried by 20-points.
He's an easy target for the Twitterati to dismiss as a red-stater out of step with the party's progressive wave. But with an opening statement that slammed "wish-list economics," Bullock represents an almost forgotten tradition that scrambles the divisions that have come to define our times: he's a western progressive, someone who has taken on big-money special interests while defending farmers and rural families who just "want a fair shot."
He framed questions by blowing past the either-or divisions, surprising Bernie Sanders by pointing to his background as a union-side labor negotiator before becoming his state's attorney general. He's a gun owner and hunter who briefly silenced the audience by making the gun violence epidemic personal, citing the death of his 11-year old nephew on a school playground.
He defended the public option expansion of Obamacare over the actual government takeover of health care through the elimination of private insurance. He talked about the reality of climate change by pointing out that the fire season is now 80 days longer. And he dismissed the talk of decriminalizing border crossings as "playing into Trump's hands." 
So much of the partisan debates of the day are not actually red state versus blue state, but urban versus rural. A two-term red state Democratic governor offers a way out of those divides. He brought to the debate stage the great practical benefit of executive experience and a degree of empathy for Trump voters that can help flip back pivot counties and begin to heal the great divides that are hurting our country.  
He had some stumbles and could seem stilted and there's a long road ahead to even the second tier of candidates.  But he offers a practical perspective that's been missing from Democratic debates. 
Steve Bullock is still barely known but that should change after a confident performance that offers a vision of an America that doesn't need to be hopelessly divided between red states and blue, urban and rural.
John Avlon is a CNN senior political analyst and anchor. Follow him on Twitter: @JohnAvlon.