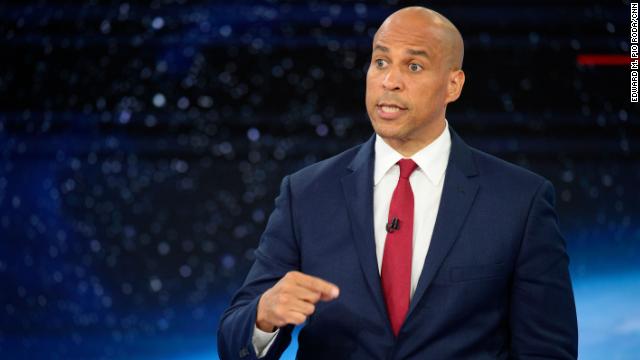 There's an impressive ease with which Senator Cory Booker talked about the environment. He switched from broad, insightful statements about climate being "the lens, through which we must do everything that we do," to the details of next-generation nuclear energy. It was clear that he has thought deeply about these topics, and he mixed in much-needed humor as the end of the seven-hour event approached. 
Discussing climate change effectively requires a combination of heart and wonkiness. Climate change is affecting people in very personal, emotionally challenging ways, costing homes and livelihoods. Yet it's also about numbers and data. Wednesday night, Senator Booker proved he understands both. He connected with people's personal experiences, while citing data and quantitative targets. He fittingly summed up his approach by saying: "in God we trust, but everybody else bring me data."
Four points stood out in Booker's climate plan:
Addressing climate change should go hand-in-hand with addressing environmental justice, agriculture, and other pressing societal-scale challenges. His integrative approach can be economically efficient and effective, and can build broad support among voters.
Our strength is as a research and development (R&D) intensive economy. Increasing clean technology R&D is essential for keeping our competitive edge. (I would add that market-expansion is also needed, to bridge lab development and early market growth, as seen in the cases of solar energy, batteries, electric vehicles and several other technologies.)
Freedom is a sacred value. Policy should open up more choices for people, not limit the options. This will happen with policies that drive technological innovation.
He cited Brené Brown in saying that "You can't hate up close, so pull people in." Strong policy proposals are needed for helping communities and workers affected by climate change, and many candidates came forward with ideas. But conversations are also needed to understand differing perspectives and collectively design a transition that works for affected populations.
Booker gave the impression that he could have gone on much longer, and maybe he will get the chance to.  
Jessika Trancik is an Associate Professor in Energy Systems at MIT's Institute for Data, Systems, and Society.