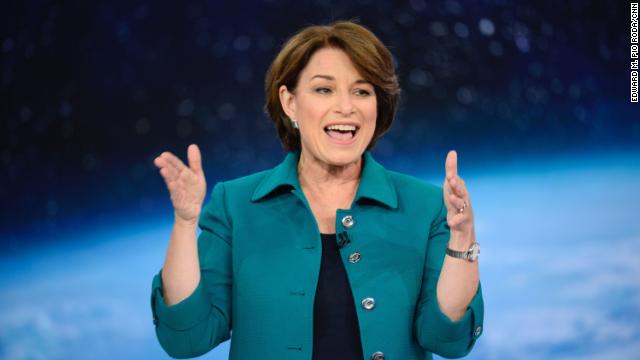 Lyrics from the "Smokey and the Bandit" theme song ran through my head as 2020 Democratic candidates breathlessly laid out their climate change plans during the CNN town halls Wednesday night:  "We've got a long way to go and a short time to get there." 
The plans are big and bold, unwavering and unsustainable. The Democrats' passion was unmistakable, but it was exhausting to hear the cavalcade of candidates race to the left in their efforts to save the world from their perceived existential threat of climate change. 
It's too much. 
Congressman Beto O'Rourke put the fear of God in his 8-year-old son, suggesting they could not live in El Paso in the future because it will "not sustain human life... unless something dramatically and fundamentally changes." 
Sen. Bernie Sanders has the most expensive climate change plan with a $16 trillion price tag. Sanders emphasized the rush to take drastic steps, saying, "if we don't get our act together and make massive changes away from fossil fuel to energy efficiency and sustainable energy within the next 11 years, the damage done to our country and the rest of the world will be irreparable." 
Not surprisingly, Sen. Elizabeth Warren has a strategy to make this change. It's a $3 trillion plan focusing on green manufacturing, research and development and cutting carbon emissions by 70% by 2035. She also took aim at the industries responsible for light bulbs, cheeseburgers, and plastic straws.
Sen. Kamala Harris said she would like to work across the aisle. But, if elected, she would take executive action to implement the Green New Deal if needed. She criticized President Trump's roll-back of federal regulations -- a move that is popular with his base and one that will win him tremendous support in his re-election.
If elected, each candidate said on day one, they would re-enter the Paris Climate Accord, a sweeping multi-national climate agreement. Sen. Cory Booker referred to this as the "cost of entry" to run for president. Former Vice President Joe Biden went on to say re-entering the agreement includes holding the rest of the world accountable for their role in climate change. He actually has a good point there.
When it comes to energy resources, I am a firm believer in "all of the above," not just above the ground. Yet many Democratic candidates re-affirmed their support to ban offshore drilling and fracking on federal lands. Given American's vast resources, it makes no sense.
The overall progressive race to the left delivered quite a gift to the right.  
The one Democrat who actually made sense on the climate change topic was Sen. Amy Klobuchar. She doesn't over-promise, doesn't over-dramatize, and doesn't abandon heartland positions to satisfy climate change activists.
 
Alice Stewart is a CNN Political Commentator and former Communications Director for Ted Cruz for President.