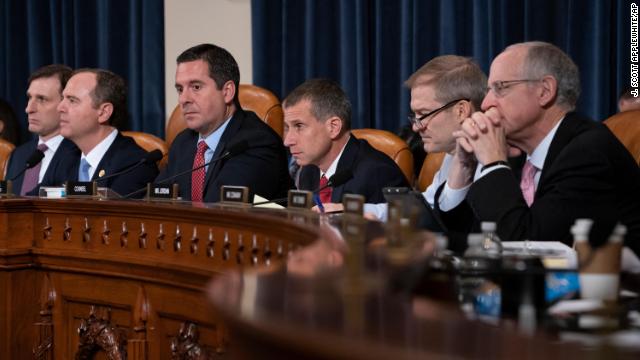 We heard a lot from House Republicans in today's historic impeachment inquiry hearing. 
We heard them whinge about the unfairness of the process – even though they had as much time to question witnesses as the Democrats did. 
We heard them attack the anonymous whistleblower, even though his/her allegations have been corroborated. We heard them attack Joe Biden's son for doing business overseas, even though Trump's children – and Trump himself – have business interests around the globe. 
We heard them accuse the witnesses – nonpartisan, patriotic career diplomats – of trafficking in hearsay. Even though potential witnesses, who had direct conversations with the President and could confirm or deny the hearsay, have been blocked from testifying by Mr. Trump. 
What we heard – and saw – was the death of the Republican Party's commitment to truth, principle, dignity, and the Constitution. They have surrendered the party of Lincoln to a con man, the party of Reagan to a Russian stooge, and the party of Eisenhower to a cult of personality. 
Here's what we did not hear Republicans say today:
"Donald Trump is innocent."
"President Trump would never leverage life-saving, taxpayer-funded military aid to extort and bribe an ally."
"Wait. Ambassador Taylor: you say a close aide heard the President personally pushing for investigations into the Bidens? Well, that's a new piece of evidence, and I must say it is troubling."
"I am going to keep an open mind about this until all the facts are in."
"The only way the Republican Party could be mortally wounded by this scandal would be for the public to think that we Republicans don't have the courage, the stamina and the determination to clean our own house."  That's what Howard Baker, a principled Republican, said of Watergate. 
That we cannot even imagine Republicans saying any of these things shows the rot – moral, intellectual, political – that has infected the GOP. In addition to impeachment, Republicans need a fundamental ethical reboot.
Paul Begala, a Democratic strategist and CNN political commentator, was a political consultant for Bill Clinton's presidential campaign in 1992 and was counselor to Clinton in the White House.