Live commentary on the impeachment hearings
6:45 p.m. ET, November 13, 2019
Devastating statements against Trump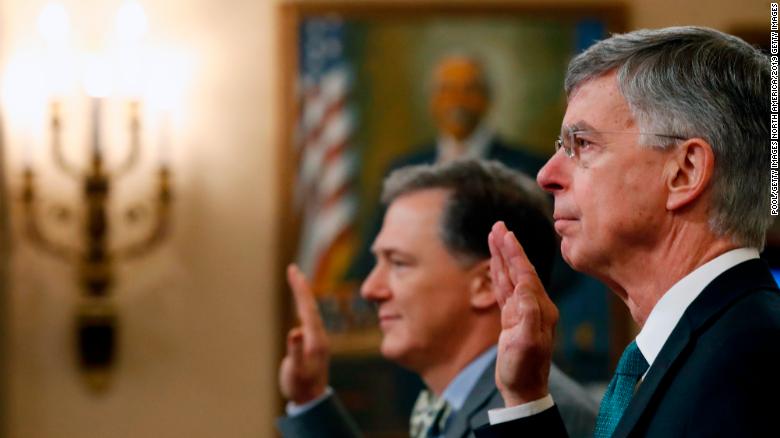 The opening statements from Bill Taylor and George Kent this morning were devastating to the President because of the two career diplomats' stature and the powerful way in which they delivered their remarks. 
It's almost impossible to dispute that there was a deal on the table that would trade the release of aid to Ukraine for Ukrainian investigations that would help Trump win the next election. It's indefensible behavior on the part of the President and I doubt Republicans will spend a lot of time trying to defend it.
Perhaps the most significant testimony, though, was about US foreign policy. Both Kent and Taylor warned against abandoning our commitment to Ukraine as an important strategic ally. To do so would be the latest example of the President tilting US foreign policy in the direction of helping Russia at the expense of our traditional allies. Whether it was Trump's servile turn at the Helsinki press conference with Vladimir Putin last year, or his abandonment of our Kurdish allies in Syria or his trying to bully our allies into readmitting Russia to the G-8, the message has been clear.
Both Kent and Taylor make the important point that it's not just abuse of power, it's the reorientation of US foreign policy toward Russia and against America's national interests.
Joe Lockhart was White House press secretary from 1998-2000 in President Bill Clinton's administration. He co-hosts the podcast "Words Matter." 
3:01 p.m. ET, November 13, 2019
Bill Taylor is everything Democrats hoped Robert Mueller would be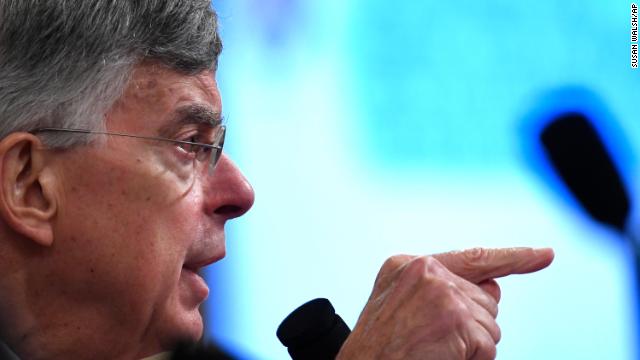 US diplomat Bill Taylor ended up being everything Democrats hoped special investigator Robert Mueller would be -- a daring patriot who emerges from the halls of American government, a man of the law driven by his deep desire to deliver the truth and save American democracy.
Taylor's testimony today before the House Intelligence Committee demonstrated that he was indeed that man.
Taylor testified that Gordon Sondland said President Donald Trump cared more about investigations of the Bidens than he did about Ukraine. Taylor's testimony left no room for ambiguity and made it clear to the House that Ukrainians face a lethal threat at home from Russia.
The damage that Taylor did to the Trump administration was what many hoped Mueller's report would do -- but ultimately didn't.
Speaking for myself, Taylor is the patriot I've been waiting for – right down to his attention-grabbing radio voice.
Anushay Hossain is a journalist and political analyst based in Washington. Follow her on Twitter and Instagram. 
1:14 p.m. ET, November 13, 2019
The questions that linger
12:53 p.m. ET, November 13, 2019
Devin Nunes stayed on brand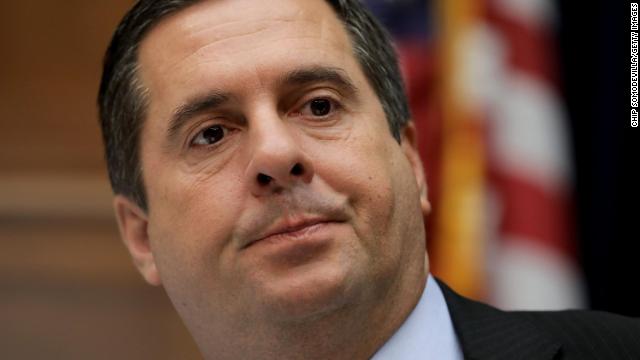 In his opening remarks at Wednesday's impeachment hearing, Rep. Devin Nunes stayed true to his partisan brand: distract, deflect and discredit. 
His comments were a jumble of past and present Republican talking points about the Mueller investigation and the ongoing Ukraine scandal. To ensure that the waters were muddied, he threw in mentions of the "impeachment sham," Hunter Biden, and the Steele dossier. He accused Democrats of being the "last people on earth with the credibility to hurl more preposterous accusations at their political opponents." Aside from the idiocy of such overreaching bombast, has he forgotten that President Donald Trump recently called his Republican political opponents "human scum?"  
The impeachment hearings are a gravely serious matter. Nunes nonetheless disparaged the process as a "televised theatrical performance." He welcomed Ambassador Bill Taylor and Deputy Assistant Secretary George Kent as witnesses who had passed "star-chamber auditions," sardonically informing them that they have been cast in a "low-rent Ukrainian sequel" to the "Russia hoax" drama. 
This was a disgraceful way to speak to two State Department officials with decades of experience in protecting America's interests abroad. Given that Republicans and the press have found absolutely no evidence of these two gentlemen having any political ax to grind, Nunes' "welcome" to Taylor and Kent was insulting.   
If Nunes hoped to somehow put the Democrats on the defensive with his opening statement, he failed. The public heard nothing new -- nothing that they could not have heard any given night on Fox News. Nunes' words were embarrassing, unseemly, and notably lacking in any proactive defense of the President. This was his chance to frame day one of the hearings, to lay out a solid case against impeachment, and to explain why and how the President's actions were allegedly being mischaracterized. That Nunes was unable to do so speaks volumes and exposes the absence of any acceptable explanation for Trump's conduct regarding Ukraine.   
Raul A. Reyes is an attorney and a member of the USA Today board of contributors. Follow him on Twitter @RaulAReyes.
12:34 p.m. ET, November 13, 2019
How this looks for Sondland
12:33 p.m. ET, November 13, 2019
Will this keep the attention of TV viewers?
The Trump presidency has been good for television ratings. But whether the impeachment hearings can keep the attention of viewers who have been saturated with White House drama for three years is an entirely different question.
As hearings kicked off Wednesday morning, all three networks broke into their daytime programming to air the House Intelligence Committee hearings. But did regular viewers of The View, for example, stick around in the absence of their favorite show for a lengthy recitation of Ukraine's geopolitical history and US diplomatic interests in Kiev? Last week over 3 million people watching The View saw the contentious appearance of Donald Trump Jr. -- a recent ratings high. We'll find out shortly how many people tuned in to learn about the funding of Javelin anti-tank missiles and counter-battery radar -- but I have my doubts.
Of course, most Americans still get their news from television -- local television, cable news and national evening news. Although that number has been falling over the last few years, when broken down by age demographic, television dominates among older Americans who also have the highest voter turnout. According to Pew, 81% of those over 65 years old often get their news from television and according to census data are almost twice as likely to vote as their youngest cohorts.
This is all to say: when it comes to impeachment hearings, both Democrats and Republicans would be wise to remember that for most voters, the medium is the message. 
Sarah Isgur is a CNN political analyst. She has worked on three Republican presidential campaigns and is an adjunct professor at George Washington University's School of Media and Public Affairs. She is a graduate of Harvard Law School. 
12:09 p.m. ET, November 13, 2019
What lawyers are saying
1:15 p.m. ET, November 13, 2019
Bill Taylor tried to save Trump from himself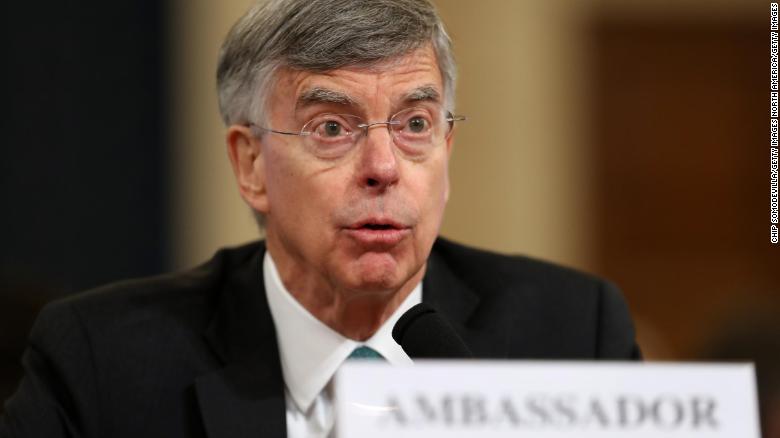 While it's unsurprising that Republicans would attempt to smear the integrity or independence of witnesses like Bill Taylor — given how bad the substance of their allegations are — what struck me most during Taylor's live testimony was how spectacularly that argument fell apart. 
His accounting of just how hard he was working behind the scenes to save Trump from himself -- to prevent the President from doing the exact things that could lead to his impeachment over Ukrainian aid negotiations -- made it clear that, if anything, he was Trump's best ally, not someone who was biased against him.
Someone who was out to get Trump, or was even ambivalent about him, might have let him do what he wanted without protest. Taylor, instead, protested early and often, perhaps allowing Republicans to consequently defend the President by saying aid was eventually released, without the quid pro quo. 
SE Cupp is a CNN political commentator and the host of "SE Cupp Unfiltered." 
11:40 a.m. ET, November 13, 2019
Taylor's testimony sets a bigger stage