Commentators: Who won the 2nd Democratic debate?
6:09 p.m. ET, June 28, 2019
Kamala brought the fireworks while Biden fizzled
We learned a lot about the candidates last night, but the most important takeaway is that Sen. Kamala Harris is ready for the fight, and former Vice President Joe Biden is not.
Harris, who has shown her prowess grilling everyone from Supreme Court Justice Brett Kavanaugh to US Attorney General William Barr, came out of the gate with high expectations and went on to exceed them. She lit up the stage every time she spoke, which was often. And she came across as poised, poignant, and punchy, with the confidence of a chief executive. 
When everyone was shouting and arguing over each other, Harris -- like a teacher taking control of an unruly class -- delivered the line of the night: "America doesn't want a food fight they want to know how to put food on the table"
And she showed no fear by directly attacking Biden's record on race.
Biden, who had a terrible night, proved why it's a miserable job being a part of the old guard when it seems the Democratic party is leaning toward diversity and a progressive vision for America. His fellow Democrats showed little deference, and Biden played defense much of the evening, too often leaning on his Obama crutch.
Two lines in particular characterized the depth of his challenge. Defending himself on race issues he responded with a line that sounded as figurative as literal: "My time's up, I'm sorry." And when Rep. Eric Swalwell reminded him of times he talked about passing the torch, Biden painfully and unconvincingly declared, "I'm still holding onto that the torch." Translated, "You can have my torch when you tear it from my dead, cold hands."
Mayor Pete Buttigieg had a great night demonstrating why he has come from nowhere to be a top-tier candidate in a field crowded with better-known personalities. When he speaks, Buttigieg sounds thoughtful and earnest, without a hint of the over-rehearsed soundbite that often comes with more seasoned politicians.
It's refreshing to hear a Democrat talk about faith and values. And having recently come under fire after a white officer fatally shot a black man in South Bend, Indiana, Buttigieg took responsibility for the lack of diversity on the police force by admitting, "I couldn't get it done."
While many commended Buttigieg for his honesty, John Hickenlooper took advantage of the moment by pointing out that when he was mayor of Denver, Colorado, he diversified the police force and implemented de-escalation training years ago. Hickenlooper said, "The question they are asking in South Bend and across the country is why has it taken so long?" Ouch.
Many of the candidates had a decent showing, but what will be remembered after Thursday night is that Harris brought the fireworks, while Biden fizzled. Oh, and that Marianne Williamson will win with love. 
Mark McKinnon is a former adviser to George W. Bush and John McCain, and creator and host of the documentary TV series "The Circus" on Showtime. Follow him on Twitter @mmckinnon.
6:10 p.m. ET, June 28, 2019
Harris stole the show -- but all the candidates got one thing right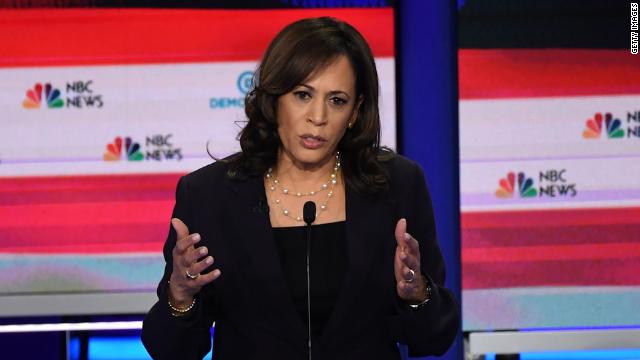 They don't call it the "big tent" party for nothing. At Thursday night's Democratic debate, viewers got a look at a former Vice President, a few members of Congress, a Midwestern mayor, an entrepreneur, a former governor and a new-age guru. The challenge for this diverse group was to stand out in a positive, engaging way.
One thing was clear. These candidates were certainly ready to take each other on -- as well as the current President. Unlike Wednesday night's much more genial gathering, members of this group jumped in, interrupting and assailing each other's policies, almost from the very start. In a way, you cannot blame them; they had the advantage of anticipating what a few of the questions would be -- so they were ready to rumble.
The evening's star was Kamala Harris. She seized her moment, delivering sharp, impassioned answers that did not avoid the questions (looking at you, Bernie Sanders). She made easy-to-remember points, noting that Americans should only have to have one job to earn a decent living.  
She criticized Trump's tax cuts for benefiting the rich. When her fellow candidates became too rambunctious, she shut them all down, saying "America does not want to witness a food fight. They want to know how we're going to put food on their table."  And then she took issue with Biden's past position on busing, offering up an anecdote that was impossible for him to defend: Her personal story of being a child of busing herself was the viral moment of the night, hands down.  
The runner-up at this debate was Pete Buttigieg. He presented himself very capably, more earnest new potential leader than youthful upstart. The greatest disappointment was Kirsten Gillibrand, for way too much interrupting and overtalking –-not a good look when you are trying to sell yourself to people who may be seeing you for the first time. And let's just say that Biden and Sanders did not have their best nights.  
In general, all of these Democrats deserve commendation for discussing immigration in a thoughtful way, with policy ideas instead of ugly rhetoric. Whether the topic was migrant children or decriminalizing unauthorized entries, everyone on the stage demonstrated that they grasp the nuances and realities of this complex issue far more than our current president.  
Raul A. Reyes is an attorney and member of the USA Today board of contributors. Follow him on Twitter @RaulAReyes. 
2:11 a.m. ET, June 28, 2019
Kamala Harris might just snatch the torch from Biden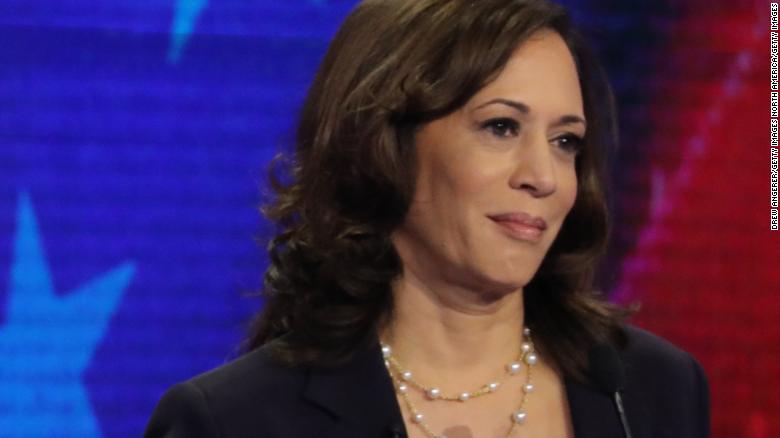 The Rev. Jesse Jackson closed a 1984 Democratic primary debate hosted by the League of Women Voters with the following declaration: "If we in fact have new leadership that replaces old leadership, but basically going in the same direction….that's just a new face, or a new name for an old game." 
Jackson fell short in his bid for president, but his words from 35 years ago still ring true. 
America desperately needs a new generation of leadership. And while Rep. Eric Swalwell encouraged former Vice President Joe Biden to "pass the torch," the begrudging response from the senior leaders revealed that they aren't planning to loosen their grip any time soon. 
Fortunately for the Democratic Party, Sen. Kamala Harris just might snatch that torch.  
Harris stole the show tonight and was the clear adult in the room. Like a true career prosecutor, she was relevant and disciplined. Most important, her policy solutions – such as giving every working American up to $500 a month through a massive middle-class tax cut – offered the economic reassurance that families need. 
Tonight, Harris put to bed any concerns about her electability and proved she has the fearlessness to stand toe-to-toe against Trump.
Bakari Sellers is a former Democratic member of the South Carolina House of Representatives and a CNN commentator. Follow him on Twitter @Bakari_Sellers.
2:28 a.m. ET, June 28, 2019
Biden needs to sharpen up his responses on race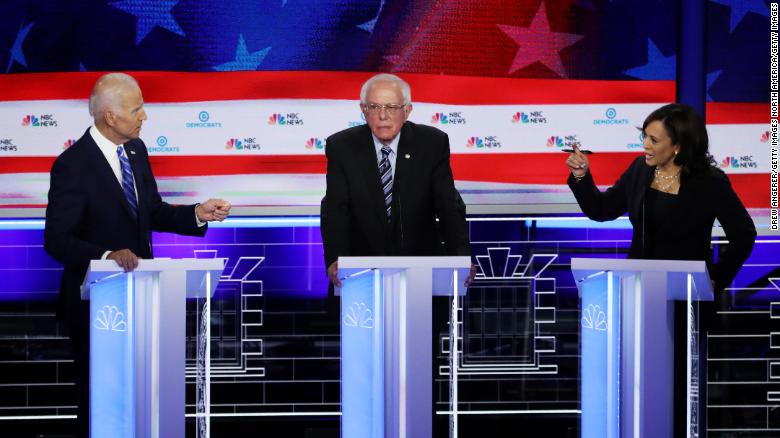 Who would've thought that the most talked about moment of a Democratic presidential primary debate in 2019 would be an issue about race from the 1970s. But here we are. 
Former Vice President Joe Biden's recent, ill-advised comments about his ability to work with segregationists in the Senate back then -- invoked as an example of civility and his ability to reach across the aisle -- have plagued his campaign for almost two weeks leading into the first debate. Biden's inability to put an end to the controversy opened him up to an attack that he was tone-deaf on the issue of race. Sen. Kamala Harris used her oratory skills as a former prosecutor to take Biden to task and handily won the exchange, giving her the coveted debate "moment" candidates yearn for.
Whether Biden's position was mischaracterized or not, he has to be better prepared to fend off the predictable attacks he's going to face as the current frontrunner. Biden's biggest advantage is the idea of his electability and experience. But if he continues to allow his opponents to have moments on the national debate stage at his expense, those assets will be undercut. 
A competition over who's more "woke" in the Democratic primary isn't a winning strategy for the general election. But if Biden becomes the nominee, Democrats run the risk of depressing the minority vote in key states like Michigan, which contributed to Hillary Clinton's loss in 2016. 
Heading in to the next debate, Biden needs to sharpen his responses and remind voters why he is best suited to defeat Donald Trump.
Tara Setmayer is a former GOP Communications Director, Host of "Honestly Speaking with Tara" podcast and a CNN Political Contributor
10:01 a.m. ET, June 28, 2019
A top tier of Democratic candidates has emerged
The second night of Democratic debates proved even more chaotic and noisy than the first but through the din, a few things did became clearer:
— Two tiers have now emerged among the candidates — the first comprising Joe Biden, Bernie Sanders, Elizabeth Warren, Pete Buttigieg, and Kamala Harris, and the second for everybody else. They all turned in superior performances in these initial debates. Perhaps Cory Booker and Julian Castro can still move up but no one else seems likely. 
— Among the top five, however, there may well be more fluidity. Biden had lots of physical vitality in his first outing but seemed occasionally slow in processing questions, and he spent more time defending his past than envisioning a future. Whether he will wear well over the course of a year and a half on the campaign trail is simply unknowable.
— The question arises about who — if anyone — among the other top four can turn this into a two person race with Biden. Sanders seems the least likely: the country just doesn't seem in the mood for a radical. 
— The other three are much more interesting possibilities. Warren has the most coherent, thoughtful plans for the future and is a good debater. Harris has the most commanding presence and a dose of charisma to boot. Buttigieg is consistently the best at relating to a younger generation. But Biden showed in this first appearance that he will not easily give up the crown. He is a proud man who flashed a degree of anger when challenged on his record. 
— Bottom line: the number of Democratic candidacies will surely start to shrink by summer's end, but the jockeying among the top five will likely become ever more intense. While Biden remains the favorite, he may soon be hearing hoofbeats of more than one rival behind him.
David Gergen has been a White House adviser to four presidents and is a senior political analyst at CNN. A graduate of Harvard Law School, he is a professor of public service and the founding director of the Center for Public Leadership at the Harvard Kennedy School.
2:26 a.m. ET, June 28, 2019
Democrats detail an agenda that will alienate independent voters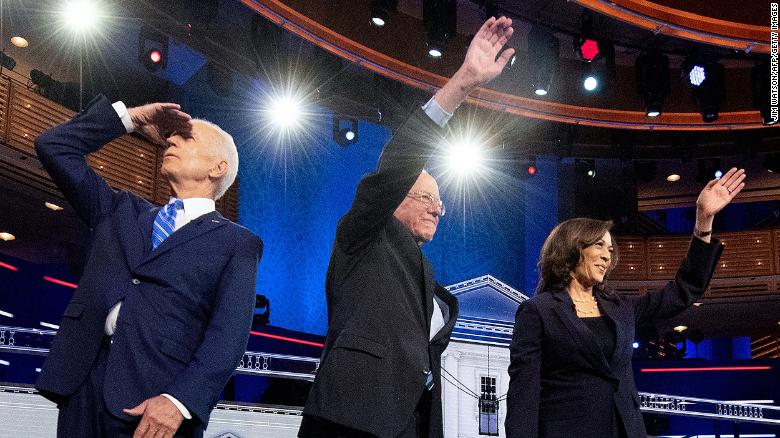 Listen closely to California Sen. Kamala Harris, and she'll tell you exactly what the Democrats are thinking: we're a part of the government, and we're here to help (whether you want it or not).
First, she admonished her fellow candidates to stop fighting.
"Hey guys…America does not want to witness a food fight. They want to know how we're going to put food on their table," she scolded early on.
Then came her big moment to prosecute the front runner, Joe Biden. Her ambush on his position on busing should have been predictable for Biden, but he clearly wasn't ready and had no plan to counterattack Harris on her controversial record as California's attorney general (which would have been the smart play).
But her closing caught my attention, as it recalled a sentiment she made in her food fight quip – the government is going to take care of you.
"I have what I call a 3 a.m. agenda, that is about everything from what we need to do to deliver health care to how you will be able to pay the bills by the end of the month."
She started with talking about the government putting food on your table and ended with talking about the government paying your bills.
There was great honesty in those lines – I would argue that Democrats view government as a welfare state, not as a vehicle to create an economic environment where families can provide for themselves. This fundamental difference in the two parties will be on display in 2020. Democrats have sweeping government solutions for everything, and some candidates already admitted they will raise taxes to pay for it.
On Wednesday, Julian Castro said his health care plan would cover abortions for transgender people, and tonight, every Democrat on stage agreed that his or her health care plan would cover undocumented immigrants. These two moments sent a strong message to independent voters in swing states, and I am not sure Democrats are going to like how it was received.
Harris and the rest of her cohorts gave passionate defenses of a massive expansion of the federal government, even covering people who aren't citizens. This sentiment will make up the core of the Republican attack over the next year and a half – they will raise your taxes to pay for stuff for other people. Period.
Scott Jennings, a CNN contributor, is a former special assistant to President George W. Bush and former campaign adviser to Sen. Mitch McConnell. He is a partner at RunSwitch Public Relations in Louisville, Kentucky. Follow him on Twitter @ScottJenningsKY. 
5:22 p.m. ET, June 28, 2019
I saw several candidates who could beat Trump
All of you who thought Julian Castro won last night's debate? Let me introduce you to Kamala Harris. The California senator dominated without shouting, commanded the stage without interrupting, and riveted the audience without setting herself on fire. 
No one laid a glove on Joe Biden - until Harris, in her controlled but forceful way hammered him for his comments about working with Southern segregationists and his opposition to federally-mandated busing in the 1970's. Biden's defense was earnest, but Harris was having none of it. She spoke passionately and powerfully about her own experience as a minority child who was bussed to school.
Watching this, I had the sense that Harris could beat Trump. 
Biden did well -- there were no gaffes, and he showed flashes of fire. He seems eager to take on Trump as well. Mayor Pete Buttigieg had his best moment when speaking as a Christian about how hypocritical it is for Republicans to claim the mantle of religion and then put children in cages. 
Michael Bennet, the Senator from Colorado, had moments of passion, especially when speaking about health care and immigration. And Bernie Sanders showed the spark that ignited his 2016 campaign. 
I went to bed Wednesday night depressed about the nine candidates on the stage who weren't Elizabeth Warren. On Thursday night I saw several Democrats who could take back the White House from Donald Trump.  
Paul Begala, a Democratic strategist and CNN political commentator, was a political consultant for Bill Clinton's presidential campaign in 1992 and was counselor to Clinton in the White House. Follow him on Twitter @PaulBegala.
9:56 a.m. ET, June 28, 2019
It's a new day, Joe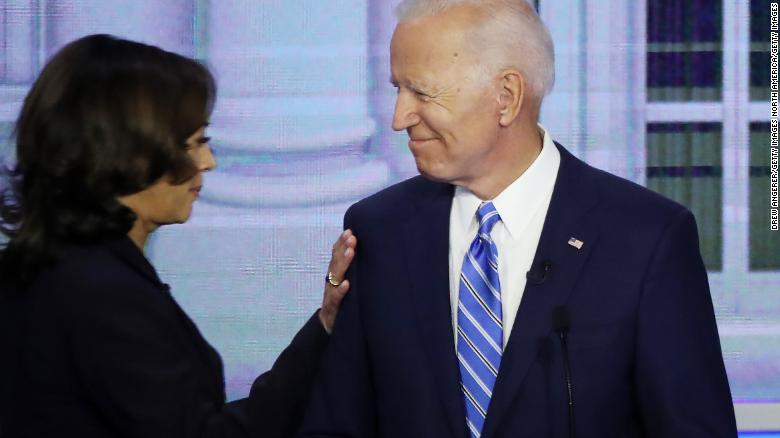 Joe Biden may be a front-runner but he sure didn't look like it at the Democratic debate last night. He looked tired, deflected direct questions early on and no matter what he did, could not handle the fire that Kamala Harris threw at him: questions about why he opposed school busing in the 70s, or, why he continues to tout his ability to compromise back in the day with his racist, segregationist colleagues.
And despite his decades of political experience, Biden found himself at one point drawn into a childish squabble with other candidates which led to a free-for-all — until thankfully Senator Kamala Harris jumped in and broke up the scrum, reminding her peers that Americans do not want to see a food fight on the stage. They want to hear how the candidates can help them put food on the table. Amen, sister.
For a minute it looked like the former vice president was back on track when he spoke about immigration and his work to not only provide health care for undocumented immigrants but to end family separations. His answers were informed and focused. 
Could be that the road has been too smooth for Biden, so far. He took his time jumping into the presidential race and was immediately rewarded with media fanfare, record fundraising and an instant lead in the polls. 
Well, it's a new day Joe. The Democratic field is full of serious, compelling candidates. Harris, Sen. Elizabeth Warren and Mayor Pete Buttigieg are gaining ground and looked strong in the first debates. And they are coming for you. Voters are looking for a fresh conversation in the aftermath of movements like #BlackLivesMatter, #MeToo, the Woman's March and too-frequent school shootings and police killings of unarmed black and brown citizens. 
Early on, many predicted that Biden was the best bet to beat President Trump. But last night, Biden didn't even look, or sound, like he would be able to win the Democratic primary.
The road is about to get bumpy for Joe Biden.
Roxanne Jones, a founding editor of ESPN Magazine and former vice president at ESPN, has been a producer, reporter and editor at the New York Daily News and The Philadelphia Inquirer. Jones is co-author of "Say it Loud: An Illustrated History of the Black Athlete."
Correction: An earlier version incorrectly described Pete Buttigieg's title. 
2:01 a.m. ET, June 28, 2019
This time: rowdy, dramatic, heated--and with an MVP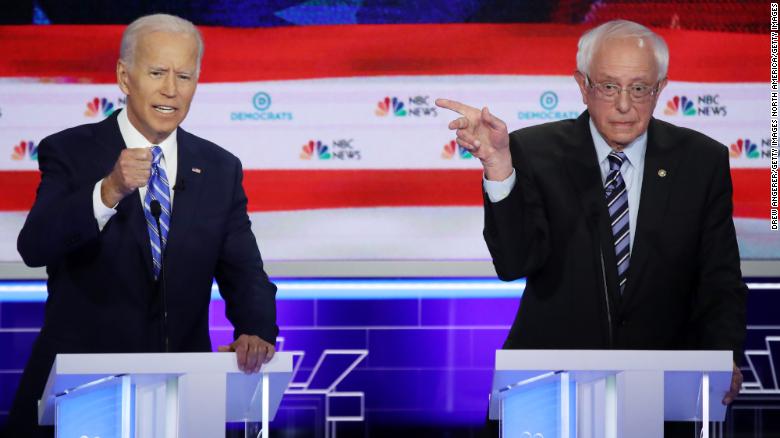 This second debate could not have been more different than the first. It was heated. It was dramatic. It was rowdy. And there were a lot of attacks, against President Donald Trump and the Democratic front runner, Joe Biden. If Biden thought he could win the nomination by only focusing on Trump, and singing "Kumbaya" when it comes to his primary opponents, he got a rude awakening. Rep. Eric Swalwell told Biden to pass the torch. Sen. Kamala Harris downright torched him. She drew blood.
In fact, the Most Valuable Player trophy goes to Harris. She owned the stage. She put into practice the skills she's honed as a prosecutor and as a senator.
Biden was visibly shaken when she confronted him on issues of race and his past actions. I couldn't help but imagine what it would be like to have her debate Trump.
Kamala Harris is everything Trump is not:
Empathetic.
Humane.
Smart as hell.
Lawful.
Knowledgeable.
Eloquent.
Unifying.
Composed.
Adult.
Sane.
Not racist.
Not misogynist.
Not "pendejo".
Ana Navarro is a Republican strategist and CNN political commentator. Follow her on Twitter @ananavarro. The opinions expressed in this commentary are hers. View more opinions on CNN.