Commentators: Who won the 2nd Democratic debate?
2:29 a.m. ET, June 28, 2019
Buttigieg finally connects on police issue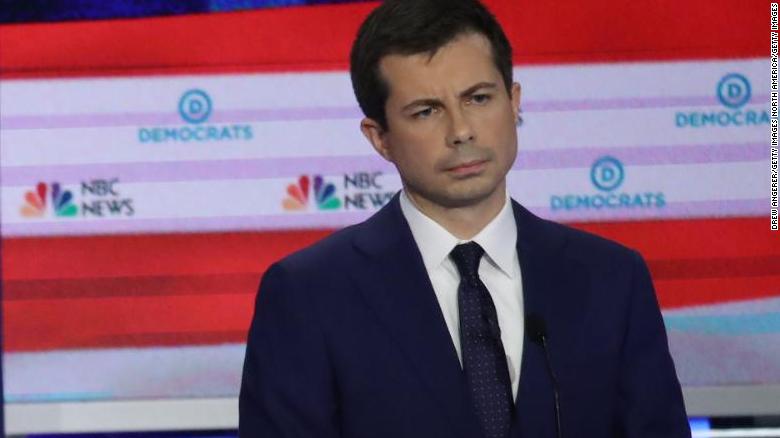 I wrote earlier this week that Mayor Pete Buttigieg needed to be more revealing about his feelings, as well as his thoughts, surrounding the police-related shooting that has created a furor in South Bend, Indiana.
His answer tonight connected much more effectively. Once again, he took responsibility for his failure as mayor to fully address the underlying issues. But he also spoke of the incident in very human terms; of the man who was killed, his family and the impact on his community.
He drew jibes from two of his opponents, former Colorado Governor John Hickenlooper, who set up a contrast by boasting of his own handling of police staffing and police-community relations; and Rep. Eric Swalwell jumped in to demand why Buttigieg didn't fire his police chief.
Even so, Buttigieg's answer was his best, strongest and most affecting on the police issue.
David Axelrod, a CNN commentator, was senior adviser to President Barack Obama and chief strategist for the 2008 and 2012 Obama presidential campaigns. Follow him on Twitter @DavidAxelrod.
2:29 a.m. ET, June 28, 2019
Biden should be afraid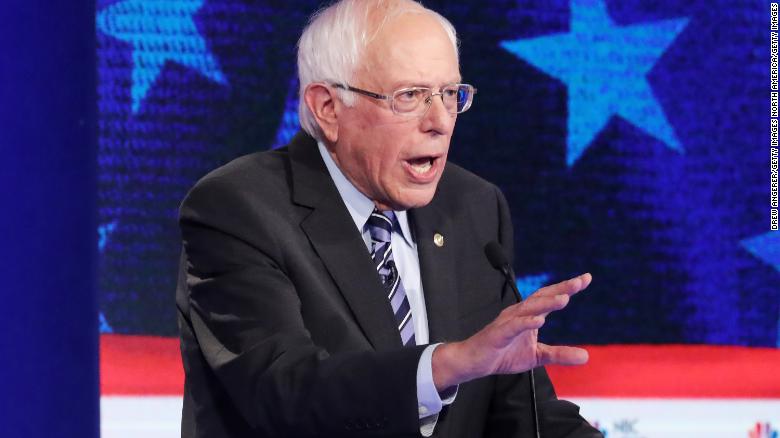 It's an old sexist barb: "She's too shrill."
Women on the campaign trail have been subjected to it for decades, because -- let's face it -- some people are uncomfortable with an opinionated woman.
But, there's plenty of stylistic criticism that's fair. In my opinion, Elizabeth Warren comes off as too professorial, a critique I also levied at Barack Obama.
Hillary Clinton came off as entitled. Maybe because she thought she was.
Kirsten Gillibrand to me can be, yes, shrill — not because she's a woman, but because she feels affected and inauthentic. Her ALL CAPS passion feels like it's put on — of course, her policy 180-degree turns over the years haven't helped. 
Men are similarly critiqued. Bernie Sanders is too angry. Beto O'Rourke is goofy. Eric Swalwell looks like a kid.
What we learned about Kamala Harris tonight is that she is one of those rare, gifted orators who can speak passionately, but not shrilly. She can talk tough without sounding forced, she can be forceful without seeming entitled. Her responses were eloquent and informative, pointed but not canned. She owned that stage.
Putting her policies aside, she is possibly the most capable communicator in the Democratic field. And Joe Biden should be very afraid. 
SE Cupp is a CNN political commentator and the host of "SE Cupp Unfiltered."
10:34 p.m. ET, June 27, 2019
Who is breaking through?
10:00 p.m. ET, June 27, 2019
First-half winner scores in midst of a food fight
Senator Kamala Harris came out strong in the first quarter of tonight's debate. Her powerful one-liners ("America doesn't want to witness a food fight; they want to know how we're gonna put food on their table") make clear her skill as an effective and charismatic debater. Harris' answer on income inequality and taxes was better than both Senator Bernie Sanders' and former Vice President Joe Biden's.
If she continues to perform in the second half of the debate like she has in the first half, she will be the clear winner of this debate, which means she will solidify herself as a top-tier candidate heading into the summer. 
Patti Solis Doyle, a CNN commentator, was an assistant to the President and senior adviser to then-first lady Hillary Clinton, was chief of staff on Clinton's 2000 and 2006 Senate campaigns, and Clinton's presidential campaign manager in 2007 and early 2008. She is president of Solis Strategies, a Washington-based consulting firm that specializes in serving nonprofits, nongovernmental organizations and corporations. Follow her @pattisolisdoyle. 
10:01 p.m. ET, June 27, 2019
Moderators should facilitate debate, not shut it down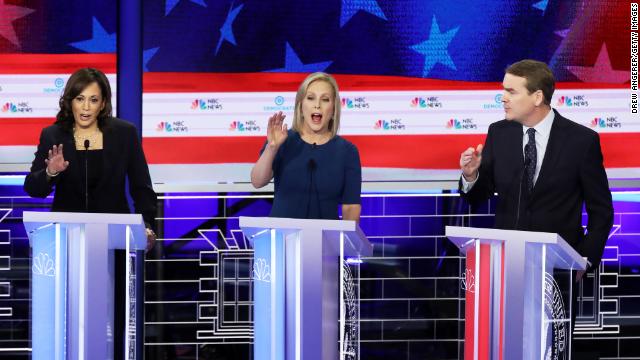 It was inevitable that the moderators would lose control of the debate. They are too wedded to the randomly selected 60-second limit on responses, which is always a mistake. (Why not allow 75 seconds? Why not 100?). They also seem to have made no provision for candidates who want to correct, rebut or challenge one another. The result is an uncomfortable string of candidates butting in, talking over the moderator or otherwise trying to engage the issues. Note to NBC producers: spontaneous, lively engagement between candidates is what viewers are hoping for. Don't shut it down, help it happen!
Errol Louis is the host of "Inside City Hall," a nightly political show on NY1, a New York all-news channel. Follow him on Twitter @Errol Louis
9:59 p.m. ET, June 27, 2019
Kamala Harris's home run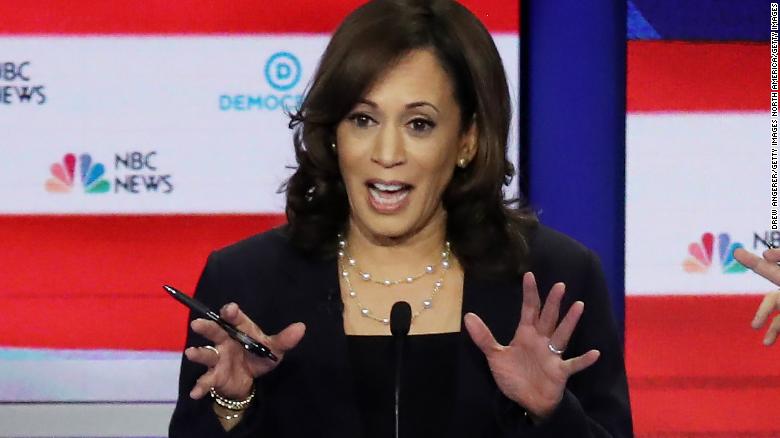 I'm enjoying this debate a lot more than last night's JV game. From the jump, frontrunner Joe Biden zeroed in on his target. The first words out of Biden's mouth were "Donald Trump." He went on to excoriate what he called "Donald Trump's tax cut for the wealthy."
Bernie Sanders and Kamala Harris, too, seem to be keeping their eyes on the prize. Rather than ripping each other, they are drawing strong distinctions with the current President.
Then Eric Swalwell took a cute but snide shot at Joe Biden's age, noting that when Swalwell was six, Biden called for passing the torch to a new generation. Biden refused to take the bait, and responded with a passionate plea for free community college and freezing student debt for low-income Americans. 
The debate soon descended into a free-for-all, with multiple politicians talking over each other. But when the smoke cleared, Kamala Harris had the first home run of the night. "Guys," she said, "America doesn't want to witness a food fight; they want to know how we're gonna put food on their table."  That's how you create a Moment in a debate.
 Paul Begala, a Democratic strategist and CNN political commentator, was a political consultant for Bill Clinton's presidential campaign in 1992 and was counselor to Clinton in the White House. Follow him on Twitter @PaulBegala.
This post has been updated to correct Kamala Harris's quote.
9:21 p.m. ET, June 27, 2019
First impressions
8:55 p.m. ET, June 27, 2019
What are we looking out for tonight?
6:45 p.m. ET, June 27, 2019
The Democratic candidates, in their own words: Part II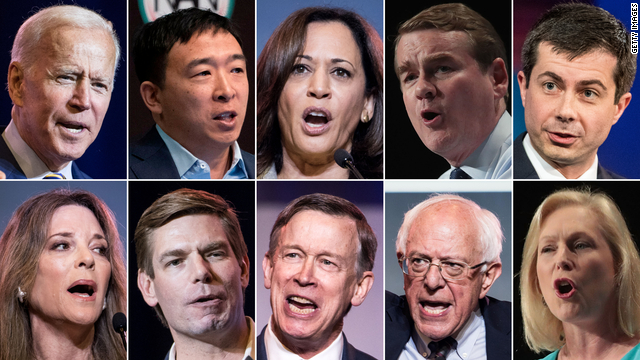 To learn more about the 2020 Democratic candidates you'll see on tonight's debate stage, read the op-eds they've written for CNN Opinion since primary season began.
Though multiple polls of Democratic voters indicate that beating President Donald Trump is the top priority, South Bend Mayor Pete Buttigieg wrote that the election cannot just be about the current occupant of the White House. Instead, he said, it must be about "the seismic changes our nation is facing -- both globally and at home -- and ensur[ing] every American has the opportunity to succeed."
Vermont Sen. Bernie Sanders argued that for everyone to succeed, banks have to stop ripping off hardworking Americans. There is a solution, he wrote: with his Loan Shark Prevention Act, introduced with New York Rep. Alexandria Ocasio-Cortez, Congress would be able "to put an end to predatory lending."
Meanwhile, entrepreneur Andrew Yang, addressing the role of automation in the US economy, wrote that the next Industrial Revolution will soon take hold in the US -- and the fate of manufacturing workers in years past will again become reality -- this time for retail, call center and fast food workers. Former Colorado Gov. John Hickenlooper advocated for a new national strategy for the American workforce -- one that would mean "an investment of historic proportions in skills training and apprenticeships."
But activist and author Marianna Williamson cautioned that any political or economic strategy must take into account that politicians in Washington have been disempowering Americans for far too long. This "new aristocracy," as she called it, "has hijacked America's value system, leading us to swerve from our democratic and deep human values."
New York Sen. Kirsten Gillibrand argued that taking back democracy requires bravery. But, more importantly, it requires leading not "from weakness or ego but from strength and character." Colorado Senator Michael Bennet wrote that the American people would also play a critical role in this democratic process. It won't be easy, he wrote, but "it's more naïve to think we can keep doing what we're doing and expect anything meaningful to change for our country."
And California Rep. Eric Swalwell reasoned that some "new generational optimism and energy" would be critical to restoring "the promise of America for all Americans – not just those in the penthouses and golf resorts."
To read what the candidates who debated last night wrote in their op-eds for CNN Opinion, click here.