Commentators: Who won the 2nd Democratic debate?
2:28 a.m. ET, June 28, 2019
The fairness issue candidates need to address
Sen. Kamala Harris pointed out that President Trump repeatedly brags about the economy -- even though the metric he often uses, the stock market, doesn't apply to many Americans. Harris was right to say, "He talks about the stock market. Well, that's fine if you own stocks. So many families in America do not."
Gallup statistics show us that 54% of Americans owned stocks from 2009 to 2017, down from 62% from 2001 to 2008. Harris was smart to point out that lots of Americans aren't benefiting from the stock market.
You have to be in it to win it, and there's a huge racial disparity in stock ownership. From 2009 to 2017, 60% of whites owned stocks, compared to just 36% of blacks and 37% of Hispanics, according to Gallup.
Americans who do own stock either own it directly, or through their union or employer provided retirement account. Both forms of ownership come with tax breaks. Your retirement account is not taxed immediately, although money taken out in retirement faces an ordinary income tax at a maximum of 37%. On the other hand, money held directly in the stock market, when sold at a gain, are taxed at up to a maximum of 23.8% – much less than what wage income is subject to. It should be no surprise that the top 10% of households own 70% of stock that is eligible for the lower tax rates. Thus, the stock market allows the wealthiest among us to keep more because of lower tax rates.
One way to decrease income inequality is to tax income from stocks held outside of retirement accounts at the same level as wages -- an idea that was at the core of the Tax Reform Act of 1986. Seems like back to the future is where we need to go.
Several candidates talked about income inequality and corporate tax reform, but none discussed the travesty of taxing income from stocks at a lower rate than income from wages. The time has come for that to change. 
Dorothy A. Brown is a law professor at Emory University. Follow her on Twitter at @DorothyABrown.
2:27 a.m. ET, June 28, 2019
The ungainly albatross around Biden's neck
Folks like me -- a conservative who didn't vote for Trump in 2016 -- have remained cautiously optimistic that the political left can provide a viable alternative to the President in the 2020 election. But many Democrats, who have been moving left, talking of decriminalizing unauthorized border crossings, imposing 70% marginal tax rates, paying reparations for slavery, and allowing third-trimester abortions, have some of us concerned that no viable alternative on the left may exist.
But then appeared one Joe Biden.
Yes, he is gaffe-prone. And yes, his recent flip-flops – anyone remember his head-spinning shifts on the Hyde Amendment?– and his support for making illegal border crossings a civil offense are, well, disconcerting.
But what is most worrying for voters like me is this: Joe Biden comes with baggage. Lots of baggage. Like his opposition to busing in order to desegregate the schools I attended in the '70's Deep South. None of this, however, was much of a concern for Democrats when he ran as loyal wingman to the party's transcendent star, Barack Obama, in 2008. But America has changed in the last decade, and Biden's support for the 1994 crime bill – which many prominent black leaders supported at the time -- is yet another ungainly albatross draped around his 76-year-old neck.
Biden may not survive this primary process. And if he doesn't, his party will have helped to reelect Donald Trump.
Say it ain't so, Joe.
James A. Gagliano is a CNN law enforcement analyst and a retired FBI supervisory special agent. He also is an adjunct assistant professor at St. John's University in Queens, New York. Follow him on Twitter: @JamesAGagliano. 
2:28 a.m. ET, June 28, 2019
Buttigieg's refreshing candor
Mayor Pete Buttigieg had two big memorable moments tonight. Both told us something unique about his candidacy. 
The first was when he called out the hypocrisy of the Republican party for wearing the cloak of Christianity while allowing families to be divided at the border. The second was when he admitted that the police force in South Bend, Indiana, lacked diversity because he "couldn't get it done".
Both moments told us that he is not afraid. He doesn't fear engaging in discussions about religion, a topic that is often ceded to Republicans. And he isn't fearful of admitting when he has failed and that he needs to do better. 
Both moments were refreshing because they weren't about shouting statistics or accomplishments over his peers, but about his own character.  
Jen Psaki, a CNN political commentator, was the White House communications director and State Department spokeswoman during the Obama administration. She is vice president of communications and strategy at the Carnegie Endowment for International Peace. Follow her at @jrpsaki.
2:29 a.m. ET, June 28, 2019
Trump's failed presidency united debaters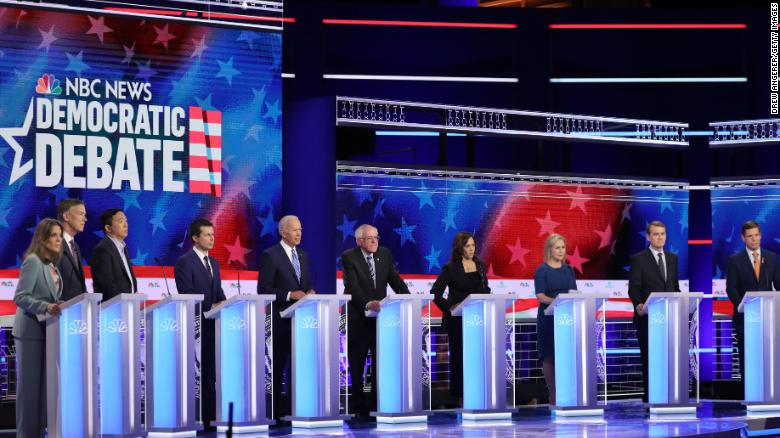 It's not very often these days that someone praises our institutional political parties. But tonight, the DNC deserves some praise for producing two debates that provided Democrats around the country with exactly what they were looking for.
First, the debates exposed the pretenders. From Congressman Eric Swalwell to Marianne Williamson to Mayor Bill de Blasio, the debates showed who most definitely won't be the nominee. 
They provided a platform for ideas from other people, who will also not be the nominee, like Governors Jay Inslee and John Hickenlooper and Senator Michael Bennet.
Candidates who do have a chance -- Cory Booker, Julián Castro and even Elizabeth Warren -- had a chance to show their stuff for the first time to a wide audience. On the second debate night, the focus on the failed presidency of Donald Trump scratched the itch of all Democrats.
Tonight's faceoff showed that former Vice President Joe Biden will have to earn the nomination; this will not be a coronation. Tonight's performance, particularly, by Senator Kamala Harris made clear that there is nothing inevitable in this race.
Most important, we're sure Democrats will have a choice when we finally get to voting. For example, Bernie Sanders will argue for "revolution" and Elizabeth Warren for outlawing the private insurance market. More moderate candidates like Biden will argue for extending the benefits of Obamacare and keeping what is working. And there's a lot to like in between.
Let's hope the next debates do the same: Expose more of the pretenders and elevate the leaders and ideas that can and will defeat Trump.
One last point, it's June 2019. We have a long way to go.
Joe Lockhart was White House press secretary from 1998-2000 in President Bill Clinton's administration. He co-hosts the podcast "Words Matter." 
12:42 a.m. ET, June 28, 2019
Expect to hear a lot of this from Biden
As in last night's debate, the best discussion and clearest distinctions emerged on the issue of immigration and the crisis of families arriving at the border seeking asylum. 
Sen. Kirsten Gillibrand, reflecting a common theme, attacked the actions of the Trump administration. "He's torn apart the moral fabric of who we are," she said.
Marianne Williamson, who has never been elected to office, chided the other candidates for not dealing with the instability in Central America that is driving much of the migrant crisis. "Where have you been, guys?" she asked. That drew a sharp response from former Vice President Joe Biden, who ticked off the programs and foreign aid the Obama administration poured into the region to stem the tide of migration. "We all talk about these things. I did it. I did it," he said. That's a refrain we should expect to hear from him on other issues, tonight and throughout the campaign.
Errol Louis is the host of "Inside City Hall," a nightly political show on NY1, a New York all-news channel. Follow him on Twitter @Errol Louis
2:29 a.m. ET, June 28, 2019
Buttigieg finally connects on police issue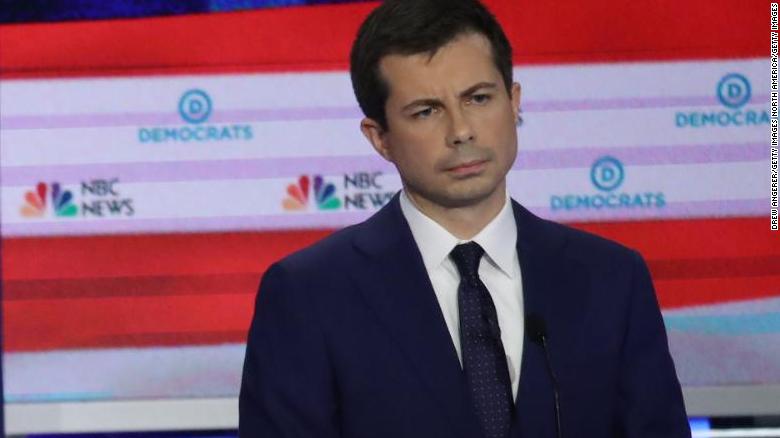 I wrote earlier this week that Mayor Pete Buttigieg needed to be more revealing about his feelings, as well as his thoughts, surrounding the police-related shooting that has created a furor in South Bend, Indiana.
His answer tonight connected much more effectively. Once again, he took responsibility for his failure as mayor to fully address the underlying issues. But he also spoke of the incident in very human terms; of the man who was killed, his family and the impact on his community.
He drew jibes from two of his opponents, former Colorado Governor John Hickenlooper, who set up a contrast by boasting of his own handling of police staffing and police-community relations; and Rep. Eric Swalwell jumped in to demand why Buttigieg didn't fire his police chief.
Even so, Buttigieg's answer was his best, strongest and most affecting on the police issue.
David Axelrod, a CNN commentator, was senior adviser to President Barack Obama and chief strategist for the 2008 and 2012 Obama presidential campaigns. Follow him on Twitter @DavidAxelrod.
2:29 a.m. ET, June 28, 2019
Biden should be afraid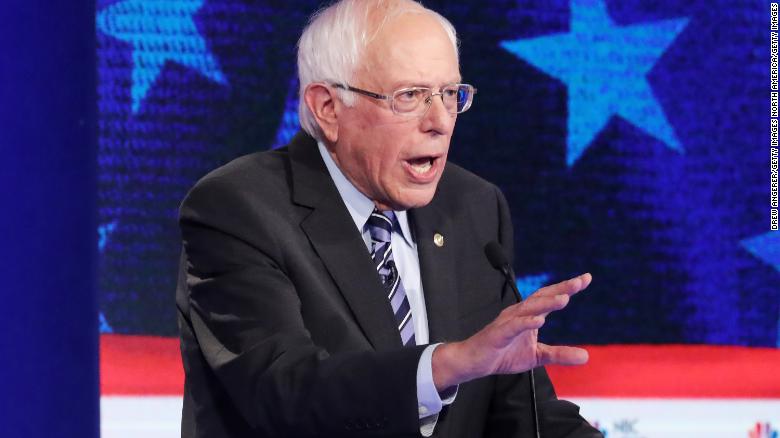 It's an old sexist barb: "She's too shrill."
Women on the campaign trail have been subjected to it for decades, because -- let's face it -- some people are uncomfortable with an opinionated woman.
But, there's plenty of stylistic criticism that's fair. In my opinion, Elizabeth Warren comes off as too professorial, a critique I also levied at Barack Obama.
Hillary Clinton came off as entitled. Maybe because she thought she was.
Kirsten Gillibrand to me can be, yes, shrill — not because she's a woman, but because she feels affected and inauthentic. Her ALL CAPS passion feels like it's put on — of course, her policy 180-degree turns over the years haven't helped. 
Men are similarly critiqued. Bernie Sanders is too angry. Beto O'Rourke is goofy. Eric Swalwell looks like a kid.
What we learned about Kamala Harris tonight is that she is one of those rare, gifted orators who can speak passionately, but not shrilly. She can talk tough without sounding forced, she can be forceful without seeming entitled. Her responses were eloquent and informative, pointed but not canned. She owned that stage.
Putting her policies aside, she is possibly the most capable communicator in the Democratic field. And Joe Biden should be very afraid. 
SE Cupp is a CNN political commentator and the host of "SE Cupp Unfiltered."
10:34 p.m. ET, June 27, 2019
Who is breaking through?
10:00 p.m. ET, June 27, 2019
First-half winner scores in midst of a food fight
Senator Kamala Harris came out strong in the first quarter of tonight's debate. Her powerful one-liners ("America doesn't want to witness a food fight; they want to know how we're gonna put food on their table") make clear her skill as an effective and charismatic debater. Harris' answer on income inequality and taxes was better than both Senator Bernie Sanders' and former Vice President Joe Biden's.
If she continues to perform in the second half of the debate like she has in the first half, she will be the clear winner of this debate, which means she will solidify herself as a top-tier candidate heading into the summer. 
Patti Solis Doyle, a CNN commentator, was an assistant to the President and senior adviser to then-first lady Hillary Clinton, was chief of staff on Clinton's 2000 and 2006 Senate campaigns, and Clinton's presidential campaign manager in 2007 and early 2008. She is president of Solis Strategies, a Washington-based consulting firm that specializes in serving nonprofits, nongovernmental organizations and corporations. Follow her @pattisolisdoyle.