Who won the Democratic debate?
8:56 a.m. ET, September 13, 2019
Joe Biden is the frontrunner for a reason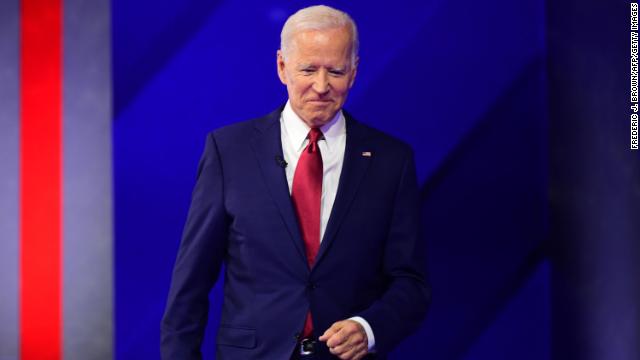 With each debate, former Vice President Joe Biden's performance has improved. He handled the predictable incoming questions much better than past debates with greater passion and authenticity. Biden finally began to remind voters of his experience and accomplishments, not only as a senator, but as vice president, proudly serving at the side of the Democrats' most popular living president. No one else in this race has that resume.
Going forward, Biden needs to continue to focus on his proven ability to get things done, his readiness to lead on day one and his ability to restore normalcy to the presidency. He may have flubbed a few answers, but I attribute that more to the debate format than his competency. The bigger picture is what matters -- not nitpicking at inconsequential gaffes. 
When he's speaking from the heart, rather than as a policy wonk, Biden thrives. His final answer of the evening about personal setbacks was a perfect example. Biden was relaxed, empathetic, personally raw and relatable. Biden's campaign needs to put him in more situations that showcase these attributes. There's a reason the former vice president is the frontrunner and his camp must capitalize on those assets. The country is crying out for decency, stability and respectability to once again occupy the Oval Office.
Now that the third debate is in the books, it's clearly time to pare the debate stage down. Too many candidates vying for time and viral moments has, at times, led the debates to devolve into reality TV style catfights. Julian Castro's obnoxious display drew justifiable castigation from his fellow Democratic rivals, specifically Mayor Pete and Senator Klobuchar.  Taking cheap shots at one another for superficial applause or virtual high fives on social media isn't going to help anyone defeat Donald Trump. 
Tara Setmayer is a former GOP communications director, host of the "Honestly Speaking with Tara" podcast and a CNN political contributor. 
1:35 a.m. ET, September 13, 2019
Second tier's strong showing didn't change the race's basic dynamics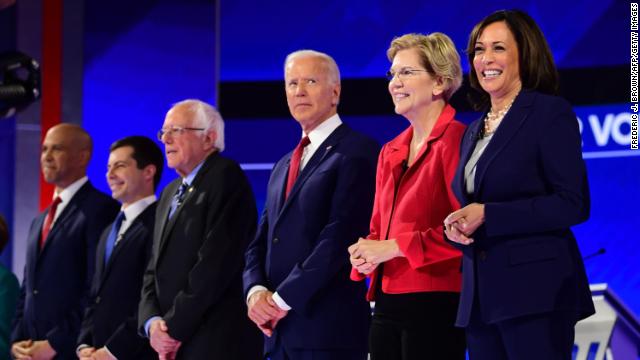 If you had been paying no attention to Democratic politics until Thursday night and then watched the full three hours of debate, you would probably have had a hard time figuring out who the frontrunners are. Indeed, it often seemed that the second tier candidates were the more compelling.
Cory Booker and Kamala Harris both came charging out of the gate in the opening round, Booker in passionate calls for unity, and Harris looking straight into the camera with a scathing attack on Donald Trump. Amy Klobuchar and especially Pete Buttigieg were both highly effective in arguing that Democrats should trust Americans to make their own choices on health insurance. 
Beto O'Rourke was gripping on gun control, and Julian Castro — despite what appeared to be a nasty swipe at Joe Biden--had a generally smooth performance as well, especially on policy questions. 
One wondered if the lower tier candidates, knowing their chances have been dimming, had the good sense to relax and be more themselves (always a good idea on television).  In contrast, the three front runners — Biden, Elizabeth Warren, and Bernie Sanders — seemed rushed and frequently defensive. They were on top of the facts but they tried to stuff too much into their answers. All three are better in one-on-one TV interviews when they are less hot and more conversational.
Democratic commentators were mostly gleeful after the debate. There were indeed moments they could celebrate. But they are kidding themselves if they think any of the candidates is yet ready to slug it out with Trump. Just for starters, it is still devilishly difficult to know how much their promises will cost and how they will be paid for by just taxing the rich. If they wait much longer to define their budget plans, they will find Republicans defining them for them — and it won't be pleasant. 
Bottom line: this third debate probably didn't change the basic dynamics of the race. But it did give some hope to second tier candidates: a couple of them could make a vice presidential short list — and one of them may still catch fire before Iowa and New Hampshire. 
David Gergen has been a White House adviser to four presidents and is a senior political analyst at CNN. A graduate of Harvard Law School, he is a professor of public service and founding director of the Center for Public Leadership at the Harvard Kennedy School.
3:48 a.m. ET, September 13, 2019
No candidate has shown they have what they need to take on President Trump yet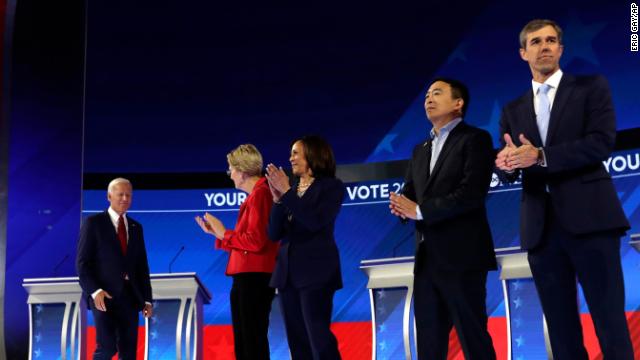 Round three of the Democratic presidential debate was devoid of knockout punches, but full of jabs on health care, gun control, and immigration. With the primary goal to energize the base and motivate moderates, Thursday night's debate did not move the "record player" needle one bit in terms of top tier candidates.
After spending previous debates smack dab in the crosshairs, former Vice President Joe Biden flipped the script, putting Sen. Bernie Sanders and Massachusetts Sen. Elizabeth Warren on defense over how to pay for their Medicare-for-All plans. Neither had a strong answer. In politics: if you're on the defense, you're losing.
Sen. Amy Klobuchar was solid in taking it to Sanders and his Medicare-for-All bill, saying it's not a bold idea, "it's a bad idea," and making her case that she wants to be a president for "all of the country."
Sen. Kamala Harris spent the most time taking it directly to President Donald Trump on health care and denoucing his divisive rhetoric. One thing's for sure, referring to him as a "small dude" will guarantee she is next in line for a Trump-style nickname.
Sen. Cory Booker and former Texas Congressman Beto O'Rourke took turns calling President Trump a racist. O'Rourke went on to blame Trump for inciting the gunman in last month's mass shooting in El Paso that killed 22 people. Furthering his call for gun confiscations, O'Rourke said "hell yes, we're going to take your AR-15, your AK-47."
Mayor Pete Buttigieg delivered another strong argument in his "Medicare for all who want it" message by stressing that a public alternative will ensure "the American people will figure that out for themselves."
Former Housing and Urban Development Secretary Julian Castro took a cheap shot at Biden on his age and memory, by implying Biden could not remember something he said moments earlier. It was a calculated risk that failed. Policy differences are one thing, getting personal is another. Plus, if you're going to deliver a low blow, be right on the facts. Castro was not.
Entrepreneur Andrew Yang had me, yet again, wondering how he has garnered the support he has. His gimmick to give 10 families $1,000 a month from his campaign will no doubt build an email list, but it will also have difficulty passing the campaign finance law smell test.
The challenge moving forward is for Democrats to continue to highlight their divisions on policy without hindering the inevitable call for unity in the party. It's a delicate dance of primaries. As of now, there is no clear candidate who has demonstrated they have what it takes to take on President Trump. 
Alice Stewart is a CNN political commentator, Resident Fellow at the Kennedy Institute of Politics at Harvard University, and former Communications Director for Ted Cruz for President.
12:57 a.m. ET, September 13, 2019
Criminal justice reform finally enters the debate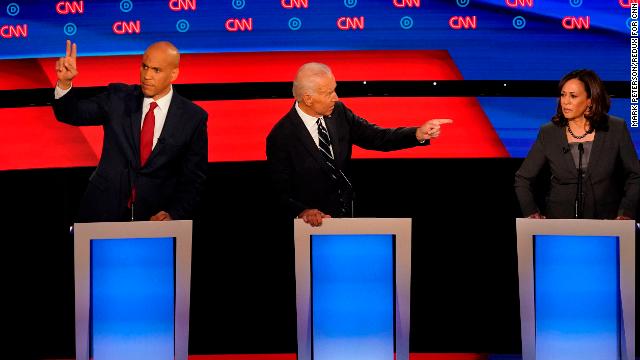 We are now in an era where every major Democratic candidate for the presidency is competing for the boldest plans to fix a failing criminal justice system that tears apart too many families and destroys too many lives.
Democrats have not always stood boldly against the incarceration industry. There was a time when candidates for office up and down the ballot would compete over who could be tougher on crime. But in this election, Democrats are competing to offer more freedom, more compassion, and more rehabilitation - not just more punishment.
On Thursday's debate stage, in response to a question posed by a young African-American moderator, Linsey Davis, a few candidates finally got a moment on the debate stage to highlight their criminal justice plans.
● Sen. Kamala Harris: "My plan has been described by activists as being a bold and comprehensive plan that is about ending mass incarceration, about taking the profit out of the criminal justice system. I plan on shutting down for-profit prisons on day one. It will be about what we need to do to hold law enforcement, including prosecutors, accountable. And finally, my plan is about making sure that, in America's criminal justice system, we de-incarcerate women and children, that we end solitary confinement and that we work on keeping families intact." 
● Sen. Cory Booker: "I joined together and led in the United States Senate the only major bipartisan bill to pass under this president, for criminal justice reform, that has already led to thousands of people coming out of jail. If 87 members of the United States Senate says that these sentences are way too long, and we changed it, but we didn't make it retroactive, we could literally point to the people that are in jail unjustly right now. Everyone on this stage should say that we are going to give clemency to these 17,000 people. And I challenge you. Don't just say a big statement; back it up with details of the people in prison right now looking for one of the most sacrosanct ideals of this nation, which is liberty and freedom. We need to reform this system and we must do it now. Every day we wait is too long."
● Joe Biden: "We're in a situation now where there are so many people who are in jail and shouldn't be in jail. The whole means by which this should change is the whole model has to change. We should be talking about rehabilitation. Nobody should be in jail for a nonviolent crime. As -- when we were in the White House, we released 36,000 people from the federal prison system. Nobody should be in jail for a drug problem. They should be going directly to a rehabilitation. We build more rehabilitation centers, not prisons.
● Sen. Amy Klobuchar: "As a senator and as your president, I will make sure that we don't just do the First Step Act when it comes to criminal sentencing, that we move to the Second Step Act, which means the 90% of people that are incarcerated in local and state jails, let's reduce those sentences for nonviolent offenders and let's get them jobs and let them vote when they get out of prison"
The tide is certainly changing - I even saw a few Republicans agreeing with what was said on stage. After the passage of last year's First Step Act, which saw close to 100% of Democrats in Congress voting in favor of criminal justice legislation that President Donald Trump signed into law, this issue is ripe for progress.
Seventy million Americans with a criminal conviction,  10 -12 million cycling through jails every year, 4.65 million on probation, parole and community supervision, and 2.2 million behind bars - there are many more steps and much more work to be done.
Van Jones is the host of the "The Van Jones Show" and a CNN political commentator. He is the CEO of the REFORM Alliance.
1:29 a.m. ET, September 13, 2019
Booker brought welcome humanity -- and got off some good lines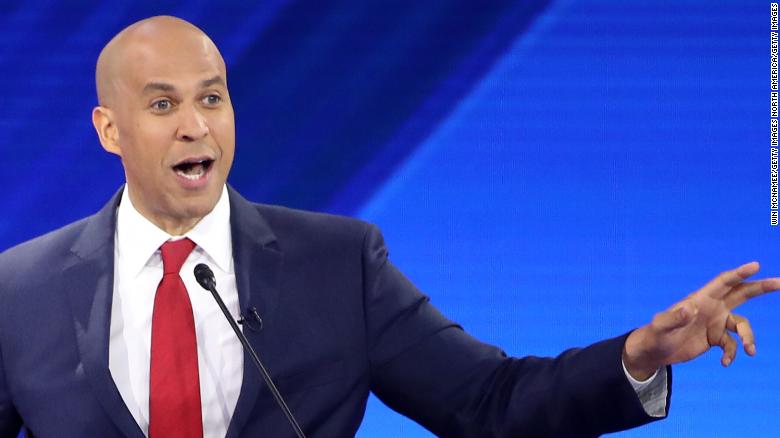 Senator Cory Booker had a great night. Clearly he was having the most fun on stage. He was passionate and informed about the issues many voters care about most: health care and justice reform. He was poised, sticking to policy and offering solutions instead of wasting time attacking his fellow Democrats -- take notes Julian Castro. 
And in a nice respite, the New Jersey senator gave us much-needed comic relief all night. I mean, Canadian Prime Minister Justin Trudeau's perfectly-coiffed hair really is a bit "menacing," as Booker joked.
Booker, more than any Democrat on that stage, was able to make us feel the humanity and urgency of the complex issues before voters. Over and over he brought the talk back around to everyday Americans. Debating the merits of Medicare for All and other health care plans, Booker reminded us that there are children in his community who need affordable insulin, "right now." They can't wait years.
If this election were only about breaking down systemic racism and passing expansive justice reform laws, Booker would get my vote in a second. But while those are top concerns for me -- and many other voters -- they won't decide my vote.
Booker may get bounce from his debate performance, but it's hard to imagine it will be enough to earn him a top spot. Still, it makes me hopeful for the nation that there is a candidate with a unifying voice like his who can see the humanity in us all.
Roxanne Jones, a founding editor of ESPN Magazine and former vice president at ESPN, has been a producer, reporter and editor at the New York Daily News and The Philadelphia Inquirer. Jones is co-author of "Say it Loud: An Illustrated History of the Black Athlete." She talks politics, sports and culture weekly on Philadelphia's 900AM WURD. 
1:30 a.m. ET, September 13, 2019
Andrew Yang's outrageous stunt
Andrew Yang's stunt of giving money to voters out of his campaign account is wild, and probably illegal. Of course, most of the Democratic candidates' policies (free college, full debt retirement, free health care for undocumented immigrants) are indirect bribes already. I guess Yang has decided to stop beating around the bush and just go for it.
Scott Jennings, a CNN contributor, is a former special assistant to President George W. Bush and former campaign adviser to Sen. Mitch McConnell. He is a partner at RunSwitch Public Relations in Louisville, Kentucky. Follow him on Twitter @ScottJenningsKY.
1:29 a.m. ET, September 13, 2019
Moderates gain ground from the socialists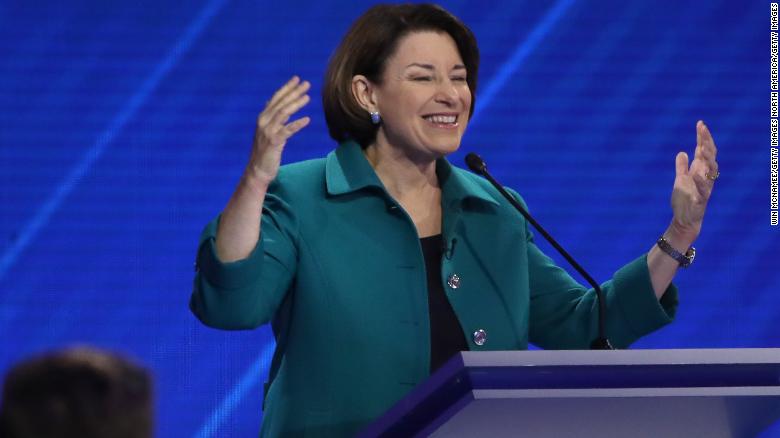 For the first time, the socialists were on their heels and the moderates were on the attack. In the ABC debate, we finally had a vigorous, honest debate about Medicare for All. Gone were the disingenuous digs of prior debates ("You're repeating Republican talking points!") In their place was a substantive critique about cost, choice, and banning employer-provided health care. 
Joe Biden had his best debate. He used stats ("My plan for health care costs a lot of money... It doesn't cost $30 trillion.") and wit ("For a socialist, you've got a lot more confidence in corporate America than I do"). Those who worry about Biden's ability to stand up to Donald Trump, fear not. Biden more than held his own against both Bernie Sanders and Elizabeth Warren – each of whom is 10 times smarter than Trump.
Kamala Harris did the best job of consistently taking the fight to Trump, a better strategy than fly-specking rivals' campaign proposals that are never going to become law. Instead of merely talking about taking on Trump, then attacking her fellow Democrats, she actually did hammer Trump. I wonder if her strategy was to bait Trump into another Twitter meltdown.
Beto O'Rourke and Amy Klobuchar came from the back of the pack to shine. They showed authenticity, decency, and passion. When Pete Buttigieg spoke about coming out as a Navy officer, it was riveting. Cory Booker was the wit and the conscience of the group, but then went against his better angels by personally attacking Joe Biden in the post-debate spin room.
Julian Castro was by far the loser. Not even close. He dishonestly and dishonorably implied that Biden was losing his marbles. Three times he repeated a charge that Biden was "forgetting what you said two minutes ago." The charge was low – and false. One hopes Castro will look back on this night with regret when his campaign is over. One suspects that ending will arrive sooner after that disgraceful crack.
Paul Begala, a Democratic strategist and CNN political commentator, was a political consultant for Bill Clinton's presidential campaign in 1992 and was counselor to Clinton in the White House.
1:33 a.m. ET, September 13, 2019
On race and criminal justice, facts tell a different story than Democrats
In their conversation about race and criminal justice, tonight's Democratic presidential debaters left out important facts about the historic gains for African-Americans under the leadership of the Trump White House.
The Trump administration worked with both parties in Congress to pass the criminal justice reform of the First Step Act. Since then, 91% of of the first group of people who have received reduced sentences under the act have been African-American.
In August, black unemployment fell to a record low 5.5%, with the Census Bureau reporting that inequality is declining and that the median wages for all Americans are increasing. The black poverty rate hit a new record low of 20.8% in 2018, with the White House Council of Economic Advisers reporting that the "poverty rates for black and Hispanic Americans in 2018 have never been closer to the overall poverty rate in the United States."
President Donald Trump recently announced that faith-based historically black colleges and universities (HBCUs) with religious affiliations "will no longer be restricted from accessing federal funding." His Education Department also forgave $322 million in loans made to four HBCUs damaged in the wake of Hurricanes Katrina and Rita. The Trump White House led the way to create Opportunity Zones to reinvigorate business development in nearly 9,000 economically-challenged communities, and nearly half of all HBCUs are located in Opportunity Zones. 
Democrats have tried to drive a racial wedge in our country, but the facts tell a different story.
Carrie Sheffield is national editor for Accuracy in Media, a conservative media watchdog organization.
12:21 a.m. ET, September 13, 2019
Second tier candidates were the big winners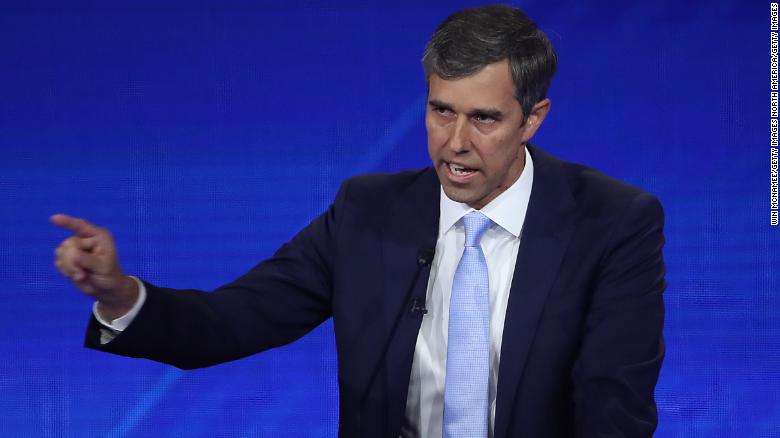 We learned a lot of things in tonight's Democratic debate in Houston. The first? Three hours is too long. Even the most hardened political activists and junkies, I think, struggled to hang in for that last hour. But it was worth it for those who did: the closing question on resilience provided some of the most interesting answers of the night. 
The second lesson is that 10 candidates is better than 20. The criteria that winnowed the field made this a better debate. Apart from Andrew Yang's gimmicky opening, it was a serious debate on serious issues from serious people.
The big winners tonight were the candidates who are just out of the first tier. Beto O'Rourke and Cory Booker proved there is something to their potential, even if it has not translated to support in the polls. Amy Klobuchar, Pete Buttegieg and Kamala Harris were solid and did nothing to suggest they won't be around by the time the Iowa caucuses begin.
Among the frontrunners, Joe Biden showed more life in the first couple of hours than in any other debate. He also showed a little weariness in the third hour -- and a couple of flaky answers -- but I think that will be forgiven by everyone who stuck around for all three hours. Elizabeth Warren and Bernie Sanders did little to distinguish themselves from each other and that is going to continue to be a problem for both of them.
Julian Castro's ham-handed attack on Biden -- questioning his short-term memory -- made him tonight's big loser. It didn't work, and time has run out on him.  Andrew Yang remains a novelty who fills time and gets a few laughs but adds little to the debate.
As far as where this leaves us, Biden will remain the frontrunner and Warren and Sanders will continue to be his strongest and closest contenders. The big story tonight though is there are still a bunch of candidates in the single digits who still have a realistic shot at winning this nomination. That will make the next debate compelling.
Joe Lockhart was White House press secretary from 1998-2000 in President Bill Clinton's administration. He co-hosts the podcast "Words Matter."