Iran attacks bases housing US troops
6:56 p.m. ET, January 7, 2020
Iran's Islamic Revolutionary Guard Corps says it hit air base in Iraq
The Islamic Revolutionary Guard Corps (IRGC) is taking responsibility for a rocket attack at an Iraqi air base housing US troops.
The IRGC said, "It has hit US Ain al-Asad air base in Iraq with tens of missile," Press TV urgent banner read. 
The IRGC has warned the US of more "crushing responses in case of new aggression," a banner on Iran's state-run Press TV said. The IRGC said it will target any regional state that becomes a platform for US aggression, a second banner read.
The warning follows the IRGC claiming responsibility for hitting the Ain al-Asad air base, which houses US forces in Iraq, with tens of missiles.
6:54 p.m. ET, January 7, 2020
10 rockets hit Al Asad Air Base in Iraq
At least 10 rockets hit Al Asad Air Base in western Iraq where US forces are based, Qatri al-Obeidi, one of the Sunni commanders of the Paramilitary Forces in the nearby town of al-Baghdadi, told CNN.
The commander said the shelling has stopped for now. 
Al Asad Air Base is about 124 miles west of Baghdad.
5:58 p.m. ET, January 7, 2020
McConnell, Pelosi and Schiff depart Iran briefing
Three of the eight "Gang of Eight" members were seen departing a briefing on Iran this evening.
Senate Majority Leader Mitch McConnell, one of the three lawmakers seen leaving, said it was a "good meeting." The others — House Speaker Nancy Pelosi and House Intelligence Chair Adam Schiff — did not speak.
National Security Agency Director Gen. Paul Nakasone conducted the briefing, a US defense official said.
5:10 p.m. ET, January 7, 2020
Pompeo orders diplomats not to meet with Iranian opposition groups amid tensions
Secretary of State Mike Pompeo sent a cable to all US missions overseas ordering diplomats not to meet Iranian opposition groups without specific approval because it could undermine the Trump administration's diplomatic efforts with the Iranian regime, according to a copy of the cable that CNN obtained. 
"Many exiled Iranian opposition groups try to engage U.S. officials regularly to gain at least the appearance of tacit support and enhance their visibility and clout. Direct U.S. government engagement with these groups could prove counterproductive to our policy goal of seeking a comprehensive deal with the Iranian regime that addresses its destabilizing behavior," Pompeo wrote in the cable.
The cable was first reported by Bloomberg.
The cable lists a number of Iranian opposition groups, including Mujahedeen-e-Khalq (MEK) and five other Iranian opposition groups which are off limits without specific approval. John Bolton, President Trump's former national security adviser, has previously said the MEK is a "viable opposition" to the current Iranian regime.
Last month, Rudy Giuliani, Trump's personal attorney, met with Iranian opposition groups that are linked to the MEK. Bolton and Giuliani have also given paid speeches on the group's behalf. During one of those speeches last year, Giuliani called for regime change in Iran.
The MEK, which was previously on a US terrorism list, paid Bolton to give speeches on its behalf and once employed Giuliani.
Pompeo warned that it would be "counterproductive" to engage these groups. He said that some of them have a history of using violence to achieve political objectives and that some of them seem to overthrow the Iranian regime.
Given the escalating tension with Iran in the wake of the strike which killed Qasem Soleimani, the cable sent a clear message that the Trump administration wants to avoid the perception that they are conspiring with groups to push for regime change.
In recent days, Trump administration officials have not laid out any specific steps they are taking to engage in diplomacy with Iran, though they have said that they are willing to do so. Iran, over the last year, has not acted upon any of Trump's comments saying that he is willing to meet Iranian leadership.
In the cable, Pompeo cited the administration's willingness to seek a "comprehensive deal" with Iran that covers a range of Iranian activities including "its destabilizing behavior, including its nuclear program, missile program, support for terrorism, and malign regional behavior."
The State Department has not replied to a request for comment.
5:51 p.m. ET, January 7, 2020
Lawmakers arrive for Iran briefing
Four of the eight "Gang of Eight" members have arrived to the Senate Sensitive Compartmented Information Facility for a briefing on Iran.
House Intelligence Chairman Adam Schiff, House Speaker Nancy Pelosi, Senate Intelligence Chairman Richard Burr and Senate Intelligence ranking Democrat Mark Warner have arrived.
Pelosi did not answer questions as she entered.
3:33 p.m. ET, January 7, 2020
Iraq's prime minister confirms receiving US letter "indicating withdrawal"
Iraqi Prime Minister Adil Abdul Mahdi confirmed receiving a letter from the US Command on Monday that the Pentagon later said was sent by mistake.
"Yesterday, we received the letter from the US Command that addressed the withdrawal. Four or five hours later, it was announced it was a mistake. The letter clearly indicates withdrawal from Iraq," Abdul Mahdi said during his speech addressing the Iraqi cabinet today.
The prime minister is demanding clarification from the United States. 
"When we hear the defense secretary say this was a mistake, how should we deal with something like this in the future? If we get a request, do we ask them if it's authentic or not?" Abdul Mahdi asked.
The prime minister said he received two versions of the letter — one in Arabic and another in English. 
"The Arabic translation in one of the paragraphs contradicted the English one," he said in the cabinet meeting.
"When we told them the Arabic text is different from the English, they sent us another version that matched the English version," Abdul Mahdi explained.
"This is not a paper that fell out of a photocopy machine or something that came by accident. They told us this is a draft but this is what a received. How do we act as a state?" he said.
3:41 p.m. ET, January 7, 2020
Trump says Iraq should eventually run their own affairs, but adds "this isn't the right point"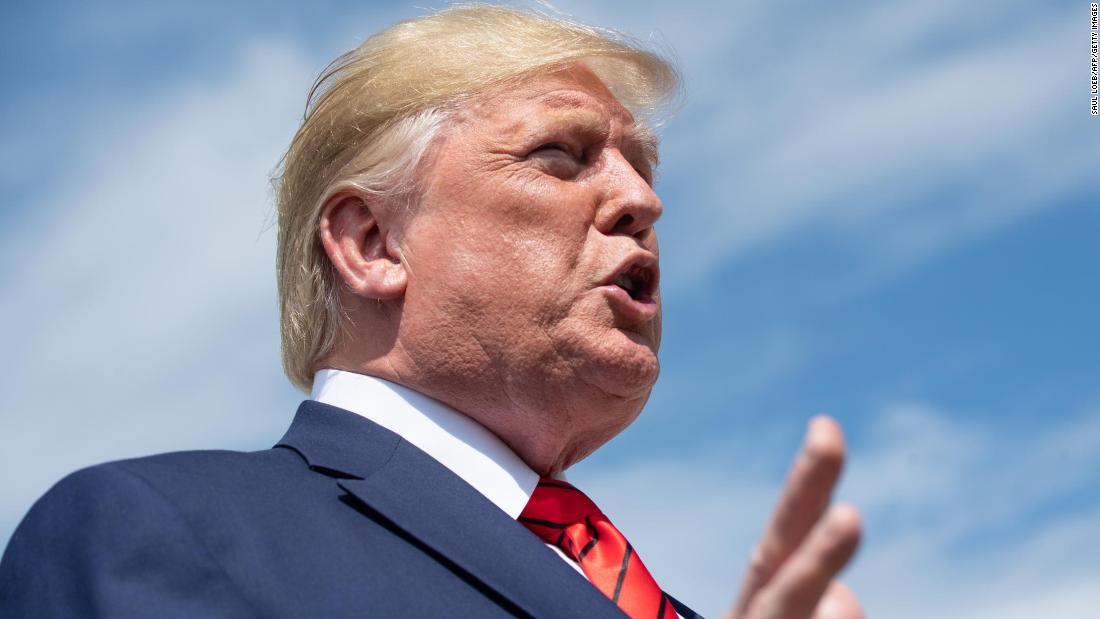 President Trump said today that Iraq should eventually be able to run its own affairs, adding that he wants the US to be reimbursed for what it built in the country.
"I think we've done a fantastic job but eventually we want to be able to let Iraq run their own affairs. And that's very important. We want to get out, but this isn't the right point," Trump said in the Oval Office.
He added, "If we do get out, you know, we've spent a tremendous amount of money on building airports and building — it's one of the largest embassies we have in the world — and we want to be reimbursed for the various costs that we've had. And they're very significant."
He also said his threat of sanctions against the country would only become a reality if the US is "not treated with respect."
Watch the moment:
3:32 p.m. ET, January 7, 2020
Trump says US is prepared for an attack
President Trump wouldn't say Tuesday whether there were any signs of an imminent retaliation by Iran on the US following the US targeting of Iranian general Qasem Soleimani.
Asked in the Oval Office whether there were any signs of imminent retaliation by Iran, Trump pivoted, saying, "Well don't forget, in our case, it was retaliation, because they were there first. … just in the very short period of time, two people dead, people badly injured, and then before that there were other attacks. And look at what he was planning."
Trump added that what Soleimani was planning to do to the US, which remains classified, will be discussed Wednesday morning with Secretary of State Mike Pompeo and the joint chiefs of staff.
Trump asserted that the US is prepared for an attack by Iran.
"We're prepared. We're totally prepared," Trump said. "And likewise we'll attack if we have to as retribution."
Watch the moment:
3:15 p.m. ET, January 7, 2020
Trump denies knowledge of letter on US troop presence in Iraq
President Trump says he doesn't know anything about a letter circulated Monday suggesting inaccurately that the US would withdraw troops from Iraq. 
Speaking in the Oval Office moments ago, Trump said he had no knowledge of the document. His secretary of state, who was also in the Oval Office, called the letter a "mistake."
Trump said he would like to withdraw US troops from Iraq at some point. But he said the timing wasn't right to leave now.
He said he'd only consider sanctions on the country if the US isn't treated with respect.
Watch: