Iran denies plane crash cover-up
2:53 p.m. ET, January 13, 2020
Pompeo reiterates claim of "imminent" attacks Soleimani was plotting
Although he did not mention "imminent" attacks in his remarks at the Hoover Institution today, Secretary of State Mike Pompeo did reference such attacks during the Q&A portion of the event.
Responding to a question about why the American people should trust the intelligence about the reported "imminent" threats from Qasem Soleimani, Pompeo said, "There was in fact a set of imminent attacks that were being plotted by Qasem Soleimani." 
"It was unmistakable," he said. Pompeo said the intelligence community's view was "that the risks were real and growing and that the actions that we took that day reduced that risk. It never eliminates it. But it reduced that risk."
However, Pompeo, a former CIA director, told the audience that "the intelligence community makes mistakes, all the time."
"Right? It happens. But the depth and breadth and intellect, the capacity and reach of America's intelligence capability is enormous. And they do their level best to present this accurately," he said. "I can say to the American people, you should have enormous confidence in the intelligence community, that their efforts are genuine, they are real, they are authentic, they are trying to provide good data sets to, now I'm on the other side, as the policy adviser for the president, receiving this intelligence, informing our decision-making."
2:08 p.m. ET, January 13, 2020
Iraqi Prime Minister's office says there is "no agreement with the US" to keep troops in Iraq
Iraq has no agreement to keep US troops in Iraq to continue the fight against ISIS, the Iraqi Prime Minister's office spokesman William Warda said today.
Warda told CNN the Iraqi government would back the Iraqi Parliament's Jan. 5 vote to expel American troops from the country, in response to a Turkish official saying otherwise in an interview with CNN on Monday. 
Earlier today, İbrahim Kalın, a spokesman for the Turkish president, said, "Although the Iraqi parliament passed an recommendary resolution, I think they [the US and Iraq] have or they are about to reach an agreement to continue the fight against ISIS."
Warda said, "Until this moment, the Iraqi government is committed to implement the Iraqi Parliament decision, which states that all foreign troops should withdraw from Iraq. Foreign troops does not mean only American troops but all other foreign troops presence in Iraq."
He added, "There is no agreement with the US administration on keeping the troops and the government is on the track to implement the decision of the Iraqi parliament." 
1:10 p.m. ET, January 13, 2020
US's killing of Soleimani was "provocative act," Turkey says
Turkish presidential spokesperson and special advisor Ibrahim Kalin has criticized the US killing of Iran's top general, Qassim Soleimani, saying it was a "provocative act" that will only make regional problems "more complicated."
Kalin told CNN Iraq has "turned into a battlefield for power muscling for the US" and other proxy forces in the region. 
Turkish President Recep Tayyip Erdogan's special advisor told CNN that Turkey is concerned about the long-term consequences of the attack — mainly the effects on Iraq's recovery and state structure, the political process in Syria and peace efforts in Yemen.
"When these actions are taken, it may bring some political wins in the short term, but it puts everyone's security at risk," he said.
Kalin also said Turkey is speaking to "American and Iranians to make sure the whole region is not swamped in another cycle of violence". He told CNN that the US and Turkey are "on the same page" on the broader goals in the region, but that Iran is an "important player" that needs to be engaged with. He also said the US and Iraq remain committed to fighting ISIS in the region.  
12:19 p.m. ET, January 13, 2020
Eyewitness: Heavy anti-riot police outnumber protesters in Tehran
Heavy anti-riot police and plainclothes security agents were seen in Enqhelab (Revolution) Square in Tehran on Monday evening local time, an eyewitness tells CNN.
The eyewitness said the protesters who are out in Tehran tonight are nearly outnumbered by the police.
11:37 a.m. ET, January 13, 2020
Mike Pompeo won't testify at a House Iran hearing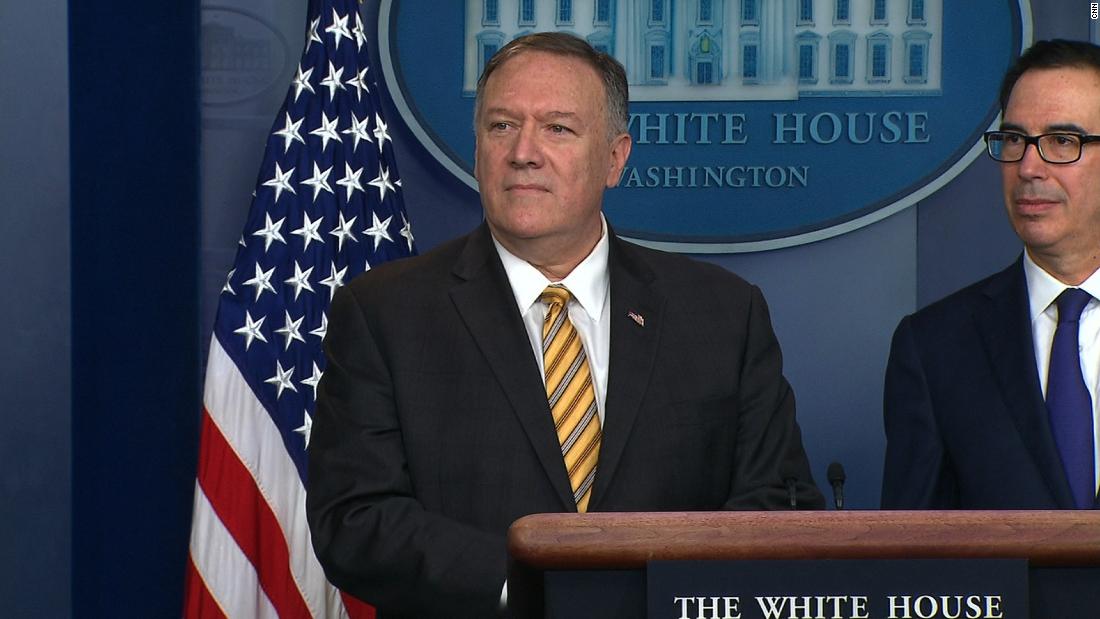 Secretary of State Mike Pompeo will not appear at a House Foreign Affairs Committee hearing about Iran tomorrow, Chairman Eliot Engel announced today.
"I'm disappointed and frustrated that Secretary Pompeo will not appear before the committee tomorrow," the New York Democrat said in a statement.
His statement continued: "Each passing day raises new questions about the strike that killed General Soleimani. Was there really an imminent threat? Was it part of a larger operation? What was the legal justification? What is the path forward? With the wildly muddled explanations coming from the administration, the Secretary should welcome the opportunity to make the case and answer questions before the American people. The committee expects to hear from him soon." 
Where's Pompeo: He's is in California for a series of meetings and speeches through Wednesday. Engel invited the Secretary of State to testify in a letter sent last week.
11:02 a.m. ET, January 13, 2020
Trump continues to claim Soleimani attack was imminent
President Trump is defending his administration's claims that a future attack by Iran's Qasem Soleimani was imminent (although he spelled it "eminent") but added: "it doesn't really matter because of his horrible past!" 
In a second tweet minutes later, Trump wrote that "The Democrats and the Fake News are trying to make terrorist Soleimani into a wonderful guy, only because I did what should have been done for 20 years." Trump adds that "anything" he does will "be scorned by the Rafical Left."
More context: This weekend two of his top national security officials declined to provide any evidence of the intelligence used to justify the US drone strike. In interviews that aired Sunday, Defense Secretary Mark Esper and national security adviser Robert O'Brien both did not cite specific intelligence information when pressed by interviewers. Trump said in an interview Friday that he approved the military attack earlier this month that killed Qasem Soleimani because he believed the Iranian general was targeting the embassies.
Here are Trump's tweets:
10:50 a.m. ET, January 13, 2020
Iran state media: Iranian president designates Pentagon as a "terrorist organization"
Days after Iran's parliament voted unanimously to declare all US forces "terrorists," President Hassan Rouhani signed a bill deeming the Pentagon and "all its subsidiaries" terrorist organizations, state news agency Press TV reported Monday.
"Iran's parliament passed the initial version of the law back in April, which designated the United States Central Command (CENTCOM) a terrorist organization after the US blacklisted the Islamic Revolution Guard Corps (IRGC)," according to Press TV.
Iran's most recent designation came after yet another round of US sanctions and the killing of IRGC commander General Qasem Soleimani on Jan. 3.
10:33 a.m. ET, January 13, 2020
Trump and Merkel spoke yesterday about the situation in the Middle East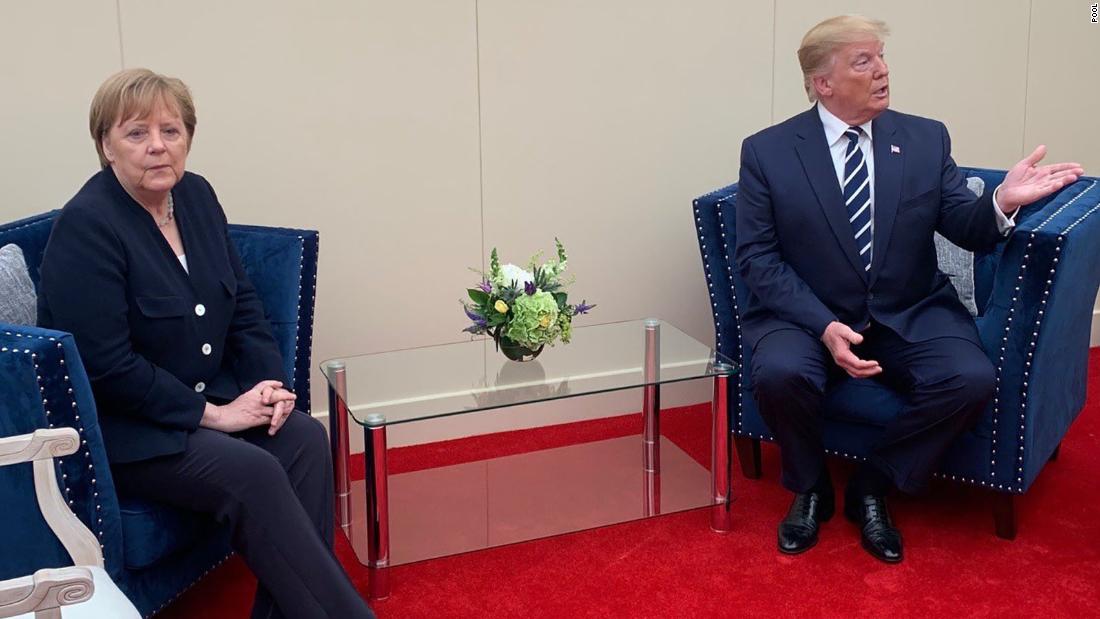 President Trump and German Chancellor Angela Merkel spoke on Sunday about "regional security matters in the Middle East and Libya," according to a readout from the White House.
The two leaders also discussed the situation in the Middle East last Tuesday. They agreed to continue "close coordination moving forward," according to a readout of the Jan. 7 call.
9:13 a.m. ET, January 13, 2020
What this weekend's protests in Iran looked like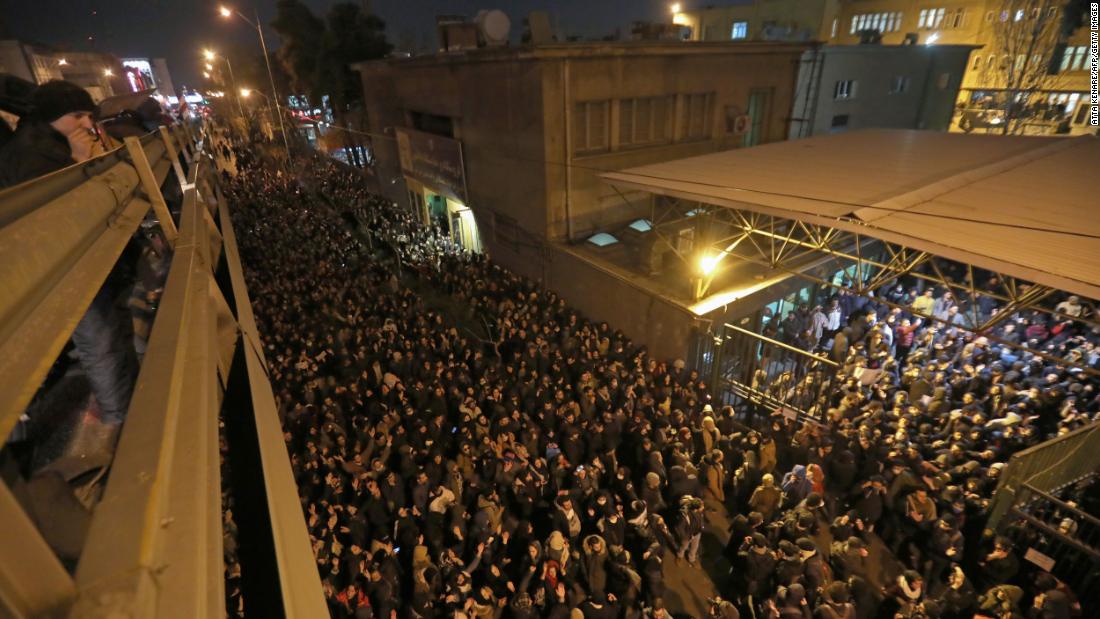 Anti-government protesters took to the streets of Iran Saturday after Tehran admitted that it mistakenly shot down a Ukrainian passenger jet, killing 176 people.
Thousands gathered outside the gates of Amir Kabir University, near the former US embassy in Tehran, to denounce the plane crash the government blamed on human error and "US adventurism."
Some background: Ukraine International Airlines Flight 752 crashed Wednesday after takeoff from Tehran's airport. The crash came hours after Iran fired missiles at Iraqi military bases housing US troops in retaliation for a drone strike at Baghdad airport that killed Iranian commander Qasem Soleimani.