Iran denies plane crash cover-up
5:17 a.m. ET, January 13, 2020
Iran says Trump's Farsi tweet dishonors the Persian language
Iranian Foreign Ministry spokesman Abbas Mousavi has hit back after President Donald Trump tweeted his support of Iranian protesters in Farsi Saturday.
"Hands and tongues smeared with threatening, sanctioning and terrorizing the #Iranian nation, are not entitled to dishonor the ancient #Persian_language," wrote Mousavi in a direct reply to Trump's Farsi tweet. 
Trump sent a message to demonstrators in Iran following a day of protests in both English and Farsi.
"To the brave, long-suffering people of Iran: I've stood with you since the beginning of my Presidency, and my Administration will continue to stand with you," Trump wrote.
"We are following your protests closely, and are inspired by your courage."
5:07 a.m. ET, January 13, 2020
Iranian President admits "human error" to blame for crash
Iranian President Hassan Rouhani told his Ukrainian counterpart Volodymyr Zelensky that human error was to blame for last week's plane crash, according to the Ukrainian Foreign Minister.
"We had the conversation with the Iranian president when he tried to do his best explaining that it was the human error, that no one who is to be punished will escape the punishment," Vadym Prystaiko told British radio Monday morning.
"This is great to hear but we also discussed all the political repercussions and the problems and compensations to the victims of the plane…" he added.
Prystaiko also said that officials from five nations affected by the crash plan to meet in the UK soon.
"In two days I will see in London, we will have a meeting of the five ministers of foreign affairs of the grieving nations, where we will work out what our nations individually, and collectively, what steps were taken to bring the perpetrators to justice and how can we repay those families which suffered," he said.
4:58 a.m. ET, January 13, 2020
France and Russia want to preserve Iran nuclear deal
French President Emmanuel Macron and Russian counterpart Vladimir Putin expressed their shared desire to preserve Iran's nuclear deal during a phone call Sunday, according to a statement released by the Elysee Monday.
"The two presidents expressed their common wish to preserve the framework of the JCPOA and call on Iran to return quickly to full compliance of its nuclear commitments," the statement said.
Macron also spoke with Ukraine's President Volodymyr Zelensky on Saturday.
"The French President expressed his condolences after the tragedy of the Ukrainian International Airlines flight PS 752, in which Iran has recognized its responsibility," the statement said.
"He (Macron) confirmed to his counterpart France's support and assistance in the investigation, so that light can be shed on the circumstances of the tragedy."
3:18 a.m. ET, January 13, 2020
Video posted to YouTube shows Iranians clashing with security forces and others tearing Soleimani poster
Videos posted to social media from Iran appear to show that protests continued in Tehran, the capital, and other cities throughout the country, though CNN could not independently verify the images.
Several images showed protesters defacing posters with the likeness of Qasem Soleimani, the Iranian general killed by a US drone strike on January 3.
One video that appeared to be from Tehran showed people tearing apart a poster with Soleimani's image on it. Another showed what seems to be a billboard with his image being burned, while people cheer and shout "Soleimani is a murderer, his leader is also murderer," a likely reference to Supreme Leader Ali Khamenei.
Footage that is said to be from the city of Kermanshah, in western Iran, shows a much more chaotic scene. Protesters appear to be clashing with Iran's security forces. At the beginning of the video, a flaming object flies in the direction of a crowd shouting "bi sharaf," a Farsi phrase which means "you have no honor."
3:05 a.m. ET, January 13, 2020
Trump revives bad memories in new storm over intelligence
President Donald Trump's reputation for bending truth for political ends and conflicting administration rationales for taking out Iran's top general are stirring a new debate over intelligence with troubling echoes in recent history.
Administration officials are tying themselves in knots to avoid contradicting Trump's statement that Qasem Soleimani was planning attacks on four US embassies and that the President was therefore justified in ordering his killing.
Lawmakers say the hugely significant claim was not included in briefings on Capitol Hill last week by the administration to explain the Soleimani strike, amid a fast widening controversy over whether its risks were justified. Given the serious nature of Trump's claim, arguments that intelligence surrounding the attack is too sensitive to be released is unlikely to quell the controversy.
Discord over the rationale for the Soleimani attack is awakening the ghosts of US foreign interventions that went bad after questionable justifications for war, and raising contemporary questions about the Trump administration's attitude towards trust and truth -- less than two decades after wrongly interpreted intelligence led the United States into a war with Iraq that cost thousands of American lives and killed hundreds of thousands of civilians.
Read more here
2:38 a.m. ET, January 13, 2020
Iranian leaders facing pressure at home and abroad as public anger mounts over downed plane
Iranian riot police used tear gas to disperse thousands of protesters in Tehran's Azadi Square Sunday, as public fury escalates over Iran's accidental shooting down of a Ukrainian passenger plane, killing all 176 people on board.
Protests that began as vigils to mourn those who died in the crash quickly turned into mass anti-government demonstrations, with calls for Supreme Leader Ayatollah Ali Khamenei to step down and for those responsible for downing the plane to be prosecuted.
"Death to the dictator," some chanted in the capital, Tehran, in footage posted on social media. In one video, demonstrators chanted, "Khamenei have shame. Leave the country."
Khamenei has been in office for three decades, and there is no limit to his term.
Videos circulating on social media showed demonstrators in Tehran coughing and fleeing from tear gas as authorities apparently detained protesters while others shouted for police to release them.
Some protesters could be heard shouting "we will kill whoever killed our brothers" in video posted to social media that CNN could not independently verify.
Read more here
2:28 a.m. ET, January 13, 2020
In 1988, a US Navy warship shot down an Iranian passenger plane in the heat of battle
Two days before a Ukrainian passenger plane went down over Tehran in the fog of battle last week, Iranian President Hassan Rouhani reminded the world not to forget about something eerily similar — the shootdown of an Iran Air jetliner by a US Navy ship in 1988.
Iran Air Flight 655, an Airbus A300 with 290 people on board, was blown from the skies by a missile fired from the guided-missile cruiser USS Vincennes as it flew over the Persian Gulf from Iran to Dubai on July 3, 1988 -- another tense time between Washington and Tehran.
Read more here
2:08 a.m. ET, January 13, 2020
Canada's Justin Trudeau: "We will not rest until there is justice and accountability"
Speaking at a vigil on Sunday for victims of the Ukraine International Airlines plane crash, Canadian Prime Minister Justin Trudeau said his country "will not rest until there is justice and accountability."
A total of 57 Canadians were killed when the plane was accidentally shot down by Iran Wednesday.
"All Canadians were heartbroken to hear that Ukrainian International Airlines Flight 752 had crashed. All Canadians were shocked and outraged to learn that it has been brought down by an Iranian missile. This tragedy struck our Iranian-Canadian community, leaving cities like Edmonton reeling," Trudeau said from Edmonton.
"This was truly a Canadian tragedy," he said.
Trudeau also echoed previous statements calling on Iran to commit to a full and transparent investigation.
"We will continue to work with our partners to ensure that a full, transparent investigation is conducted. I want to assure all families and all Canadians -- we will not rest until there are answers. We will not rest until there is justice and accountability."
2:12 a.m. ET, January 13, 2020
Why didn't Iran close down its airspace when plane was shot down?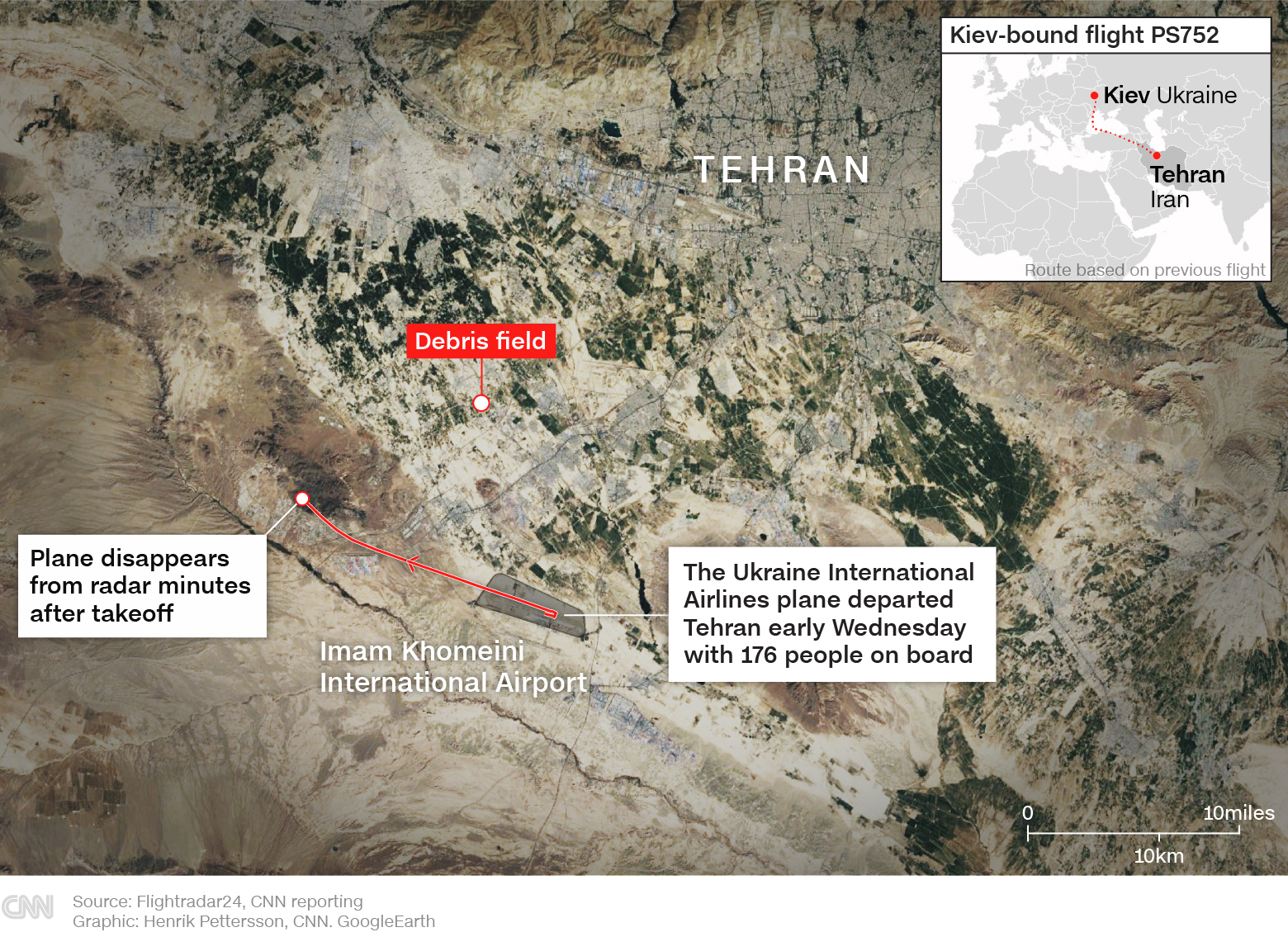 Several aviation experts who spoke to CNN expressed confusion as to why Iran did not stop commercial flights or close its airspace Wednesday after it fired several ballistic missiles at bases in Iraq where US troops were stationed.
The Ukraine International Airlines flight was shot down just hours after the missiles struck their targets in Iraq.
Here's what retired Maj. Gen. James Marks said:
"You have a very hot, contested, busy airspace over Iran," Marks said. "Everybody is on a heightened level of alert, concern, there's a lot of chaos. And they have commercial flights still leaving the Tehran airport, which I think is just amazingly irresponsible."