Iran attacks bases housing US troops
1:12 p.m. ET, January 8, 2020
Iran's president: "If America commits another crime… they will receive a stronger reaction"
Iran's President Hassan Rouhani said the country would be prepared to retaliate against the United States if they "commit another crime."
Speaking during a cabinet meeting today, Rouhani said that "if America commits a crime, no matter how much she threatens us, she must know that we will act decisively as we have already shown." He added that "from now on if America wants to commit another crime, must know that they will receive a stronger reaction."   
He also said the US needs to stop blaming Iran for the world's problems.
"If they (the US) find that they have a problem anywhere in the world, do not say it was ordered by Iran," Rouhani said. "If tomorrow something in another country happens, Americans would say this is the action of proxy forces of Iran. We do not have any proxy forces. From the beginning, Americans had it wrong. The people of the region are aware, free and act on their own. They are not under our control or order."
Rouhani also drew attention to Soleimani's role for the region, saying, "Americans must know that Soleimani had a big role for the region Europe, the west and even America. If it was not for this hero of fighting terrorism, even Europe would have not been safe." 
1:10 p.m. ET, January 8, 2020
Iraqi president says he wants to spare region from military conflict
Iraq's President Barham Salih says he wants the region spared from military conflict and to avoid plunging the country into a new war, according to a statement released by his office today. 
The statement says the president "condemns the Iranian missile strikes that have hit military sites on Iraqi soil, and renews its rejection of the repeated breach of its national sovereignty and turning Iraq into a battleground for the conflicting parties."
The president affirms Iraq previously declared its rejection to be a starting point for aggression against any country, refusing to be a source of threat to its neighbors.
Salih stresses the presence of the international coalition forces in Iraq was based on agreements concluded between the Iraqi government and the countries from which the coalition formed. The agreements were formed for the necessities of combating terrorism.
The statement said that the fate of the presence of these forces is an internal matter concerning the Iraqi government and parliament, according to the legal, constitutional and diplomatic frameworks, and on the basis of national consensus and Iraqi national security priorities.
12:57 p.m. ET, January 8, 2020
US officials are still concerned about threats from Iranian proxies
While President Trump says that "Iran appears to be standing down," US officials are still warning that Iranian proxies remain a threat to the US.
Three US officials tell CNN that the US' current assessment is that a high-profile attack from the regime is unlikely, but their proxies in the region are still a problem.
One defense official said a contributing factor is that the subordinate commanders of Iranian-backed militias in the field are not highly disciplined. In fact, the source said Iranian general Qasem Soleimani kept personally circulating among the forces to keep them in line. 
It is unknown to US officials if Soleimani's successor can keep things under control. 
12:54 p.m. ET, January 8, 2020
Iran and the US exchanged messages through Swiss diplomatic channel
The US and Iran have exchanged recent messages via Swiss diplomatic channel, according to the Swiss Ministry of Foreign Affairs and a source familiar with the channel.
The Swiss statement implied that both sides were involved in the message sending, though it does not detail which country triggered the messaging or if the conversation is ongoing. The source did not specify how recent messages were exchanged.
This diplomatic channel is always available and used regularly for consular issues, and it was relied on heavily during the prisoner exchange late last year. But in a crisis situation, the use of the channel is much more noteworthy, explained a source familiar with the channel. 
Here is the statement, from the Swiss Ministry of Foreign Affairs:
 "Switzerland is deeply concerned about the heavy tensions between the U.S. and Iran and the latest cycle of violent confrontations in Iraq. We call on all sides to exercise maximum restraint and to avoid any further escalation. Switzerland stands ready to support initiatives of the international community that seek de-escalation in the region.
The diplomatic communication channel between the U.S. and Iran that is provided by Switzerland in the framework of the protective power mandate continues to operate. Switzerland confirms that several messages were transmitted through this channel."
12:48 p.m. ET, January 8, 2020
Japan temporarily closes embassy in Baghdad
The Japanese Embassy in Baghdad was temporarily closed Wednesday, according to a Japanese Foreign Ministry travel advisory.
The advisory says the embassy was closed after an evacuation had been completed.
The alert level was raised to 4 — which means evacuation advisory and no entry — in all areas in Iraq, according to the advisory, but the Japanese consulate in Erbil remains open.
"All Japanese nationals in Iraq are strongly recommended to leave immediately," the advisory said.
12:53 p.m. ET, January 8, 2020
Trump called on European allies to ditch the nuclear deal. That could put them in a tough spot.
In his address on Iran's strikes on US targets in Iraq, President Trump told his European allies that it was time for them to wake up to the fact that the nuclear deal was a disaster. 
"Iran's hostilities substantially increased after the foolish Iran nuclear deal was signed in 2013," Trump said. "Instead of saying thank you to the United States, they chanted 'Death to America.' In fact, they chanted 'Death to America' the day the agreement was signed. They Iran went on a terrorist spree funded by the money from the deal and created hell in Yemen, Syria, Lebanon, Afghanistan and Iraq."  
He called out Germany, France, the United Kingdom, Russia and China — five of the eight signees to the Joint Comprehensive Plan of Action, also known as JCPOA or the Iran nuclear deal. (The other three were the European Union, Iran and of course the US, which under Trump has withdrawn from the agreement.) 
The face-off between the US and Iran has put Trump's European allies in an incredibly tight spot.
The JCPOA was considered a European success — and the only real foreign policy success of the European Union. It wasn't just a success on the grounds that it poured cold water on US-Iran tensions. It also provided Europe with a forum in which it could navigate its major priority in foreign policy: keeping a balance between the US and China. 
China is very important economically to Europe. Its inward investment is welcomed across Europe, but especially in the continent's struggling southern economies. China, meanwhile, is more than happy to increase its importance in the world's single largest economic bloc. 
China also has historically good relations with Iran. And for those who've been paying attention, the thing China and Iran both have in common is that Trump is doing his best to poke both in the eye. 
Here's what this all means: Asking Europe to stand by America in its scrap with Iran is asking it to pick a side: does it try to keep its new friends in Beijing and Tehran happy? Or does it stand by its old ally, despite the fact it's led by a man that many European diplomats privately admit is so erratic that he gives them sleepless nights and might not even be in power next year?
12:50 p.m. ET, January 8, 2020
Republican senator says Trump's speech was "measured and firm"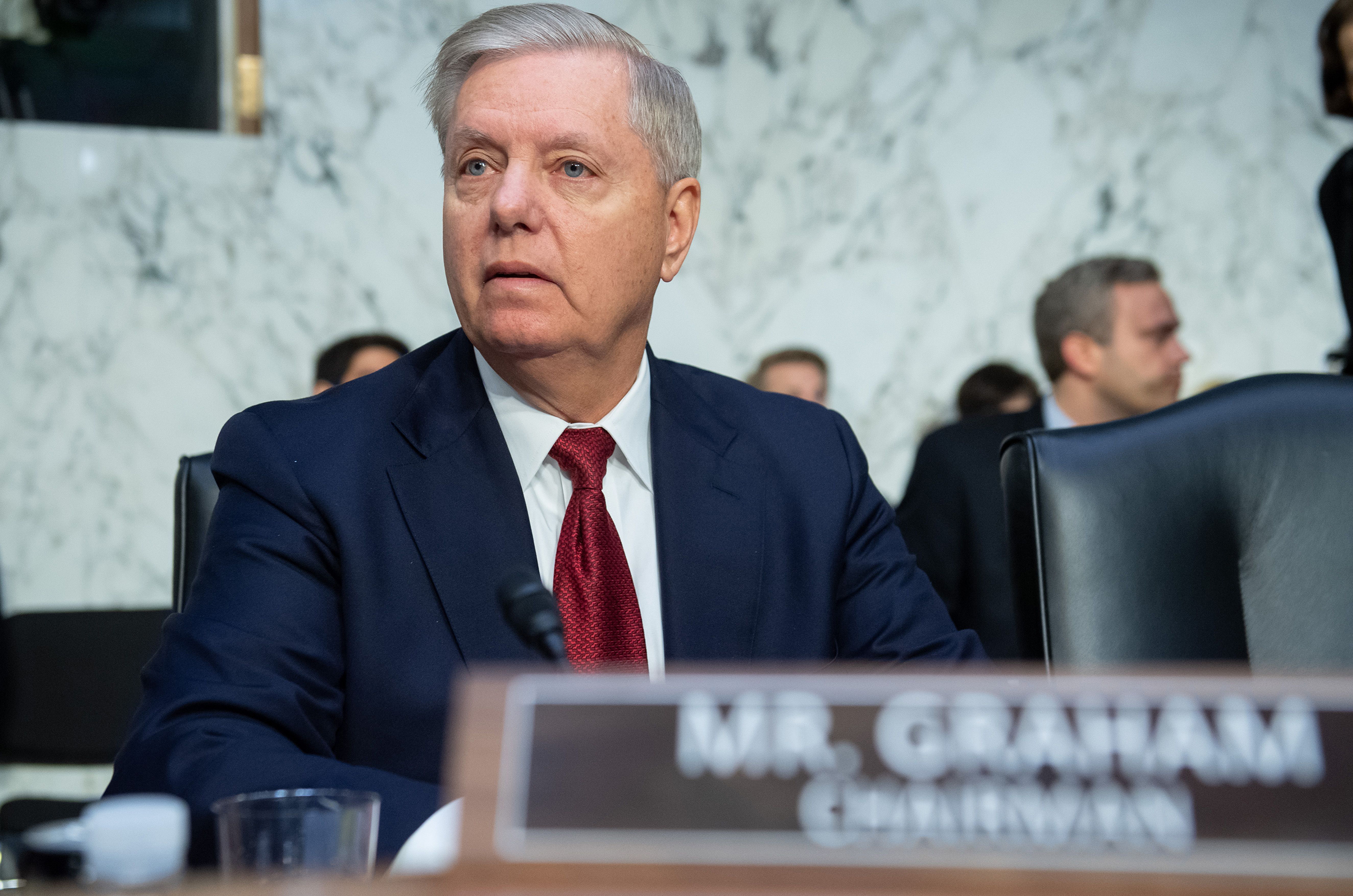 Sen. Lindsey Graham, a Republican from South Carolina, praised President Trump for his speech today following a missile attack on two Iraqi bases that house US troops. 
"A homerun speech by President Trump about the challenges we face with Iran. It was measured and firm," said Graham, a close ally of Trump.
Read the rest of Graham's statement:
"To the Iranian people: President Trump laid out a pathway forward for peace and prosperity. I hope you take it.
To the world: President Trump correctly identified the 40 year history of Iranian hostility and destabilization of the region. I hope you will help President Trump change the regime's behavior so we can avoid a war. 
To the American people and Congress: What President Trump is seeking from Iran is to end 40 years of tyranny, to stop them from being a state sponsor of terrorism, and to abandon their nuclear weapons program once and for all.
All Americans should support President Trump's efforts to resolve the threat from Iran peacefully and fully understand the Maximum Pressure campaign must continue with a credible military component."
12:48 p.m. ET, January 8, 2020
Oil prices plunge as Trump speech eases Iran fears
Oil prices fell sharply today, reversing the initial panic spike caused by fears of a deeper conflict between the United States and Iran.
US crude tumbled 4%, hitting session lows, after President Trump signaled tensions could be easing.
"Iran appears to be standing down, which is a good thing for all parties concerned and a very good thing for the world," Trump said in a highly-anticipated speech.
Crude briefly dipped below $60 a barrel after Trump's remarks, giving back all of the gains from last week's US drone strike that killed a top Iranian commander.
It's a dramatic pullback from the high of $65.65 late Tuesday after Iran lobbed missiles on bases in Iraq that house US troops.
Trump confirmed that no Americans were harmed in that attack, and rather than signaling a US military response, Trump vowed to impose new sanctions on Iran.
12:42 p.m. ET, January 8, 2020
What we know about Trump's claims on the Iran Nuclear deal
President Trump claimed that Iran's hostilities increased after the "foolish nuclear deal was signed in 2013." The agreement was signed in 2015.
Trump also claimed, as he has before, that the deal "expires shortly anyway." While the word "shortly" is subjective, and while some provisions of the agreement are scheduled to expire in five years, some provisions are indefinite. Others run to 2035 and 2040.
"It's not accurate to say the deal expires," said Naysan Rafati, Iran analyst at the International Crisis Group, told CNN in July. "Certain clauses of the deal expire and a lot of the key clauses don't expire."
The deal includes important sunset clauses. Its limits on the number of first-generation centrifuges Iran can possess, and on the research and development of more advanced centrifuges, are scheduled to end in 2025. The 3.67% uranium purity limit is to end in 2030.
So is the 300-kilogram limit on Iran's stockpile of low-enriched uranium, which Iran said last week it has now broken. And so is the ban on building a new heavy-water reactor and on reprocessing spent fuel, which effectively bars Iran from developing a plutonium weapon.
However, some of the limits in the deal extend past 2030 — and some do not expire at all. Centrifuge production sites are to be under continuous surveillance until 2035. Iran's uranium mines and mills are to be monitored until 2040.
Iran is permanently required to provide advance notice of plans to build a nuclear facility. Iran promised that it will not "ever" seek a nuclear weapon. And the International Atomic Energy Agency monitoring of Iran's nuclear activities is to continue indefinitely.