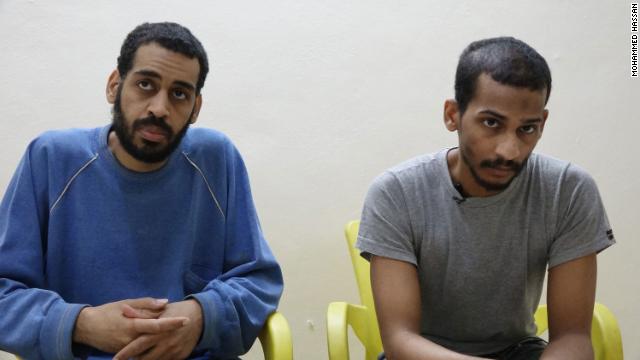 The US military has taken custody of two high profile members of the British ISIS cell known as the "Beatles" as concerns loom over whether the ongoing Turkish offensive could result in ISIS prisoners escaping from undermanned prisons in Syria, according to three US officials.
One of the officials said the transfer was made today.
The second US official said there are plans to bring the two ISIS members, Alexanda Kotey and El Shafee Elsheikh, to the US for prosecution. The two have been held in northern Syria by the US-backed Syrian Democratic Forces (SDF) for more than a year.
The State Department accused their ISIS execution cell of "holding captive and beheading approximately two dozen hostages," including James Foley, American journalist Steven Sotloff, and American aid worker Peter Kassig.
What we know about both ISIS members:
Kotey is accused by the US State Department of having "likely engaged in the group's executions and exceptionally cruel torture" of Western journalists and aid worker hostages.
Elsheikh "was said to have earned a reputation for water-boarding, mock executions, and crucifixions," according to the State Department.
The US effort to take custody has moved in fits and starts in recent months. Complications arose because of British legal issues that could prevent the UK from sharing evidence the US needs to prosecute the men.  
Given the fast moving developments in Syria, Attorney General William Barr, in recent days, asked President Trump to make this a priority and the President signed-off. 
The Washington Post first reported that the two Beatles members were transferred to US custody.