Turkey launches military offensive in Syria
11:03 p.m. ET, October 9, 2019
Pompeo says Trump is "mindful that ISIS might begin to rise up again"
US Secretary of State Mike Pompeo said on Wednesday President Donald Trump "is mindful that ISIS might begin to rise up again."
"There's lots of risks from radical Islamic terrorism all around the world. It's certainly the case that the President is mindful that ISIS might begin to rise up again," Pompeo said, speaking on the TV show "America This Week with Eric Bolling."
In describing the decision to pull out of Syria, Pompeo acknowledged that ISIS is not eliminated.
"That challenge still remains. But the President firmly believes it is now time that we reprioritize, that we, in fact, protect America first, and that we get our force posture in the Middle East just right," he said.
He added that Trump had decided to move the American troops "to make sure they were out of harm's way" after hearing that Turkey had a military offensive planned -- but that the US was not going to abandon the Kurds.
When asked whether Trump could trust Turkish President Recep Erdogan, Pompeo didn't directly answer.
10:59 p.m. ET, October 9, 2019
Turkish foreign minister says the aim is to eliminate "terrorists" in Syria
The Turkish government has refuted accusations that its military operation is targeting Kurds.
Speaking on Turkish TV Wednesday, the country's Foreign Minister Minister Mevlut Cavusoglu said that the government had no problem with its "Kurdish brothers" and its aim was to eliminate "terrorists" in Syria.
He added that "even if we're alone in this matter, we'll do whatever is necessary to bring Syrians back to their land."
Cavusoglu also said the international community should help with this project and that he will talk with his German, British and Canadian counterparts on Thursday. 
Turkey has long been unhappy about the strong Kurdish presence in northeast Syria near the Turkish border. The country's military has already moved into portions of areas previously held by the Kurdish-led and US-backed Syrian Democratic Forces (SDF), but now their longtime plan to create a buffer zone in northern Syria is underway.
6:51 p.m. ET, October 9, 2019
Two high profile ISIS members are in US custody while concerns linger over Turkey's operation in Syria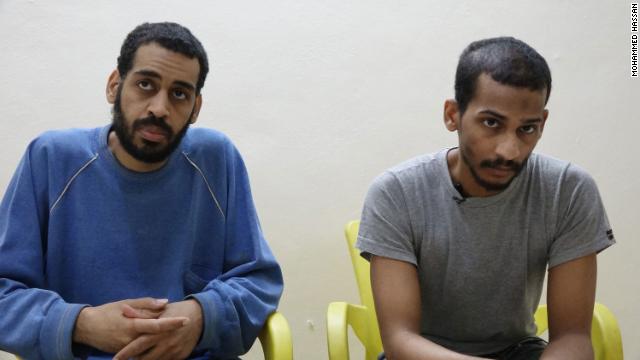 The US military has taken custody of two high profile members of the British ISIS cell known as the "Beatles" as concerns loom over whether the ongoing Turkish offensive could result in ISIS prisoners escaping from undermanned prisons in Syria, according to three US officials.
One of the officials said the transfer was made today.
The second US official said there are plans to bring the two ISIS members, Alexanda Kotey and El Shafee Elsheikh, to the US for prosecution. The two have been held in northern Syria by the US-backed Syrian Democratic Forces (SDF) for more than a year.
The State Department accused their ISIS execution cell of "holding captive and beheading approximately two dozen hostages," including James Foley, American journalist Steven Sotloff, and American aid worker Peter Kassig.
What we know about both ISIS members:
Kotey is accused by the US State Department of having "likely engaged in the group's executions and exceptionally cruel torture" of Western journalists and aid worker hostages.
Elsheikh "was said to have earned a reputation for water-boarding, mock executions, and crucifixions," according to the State Department.
The US effort to take custody has moved in fits and starts in recent months. Complications arose because of British legal issues that could prevent the UK from sharing evidence the US needs to prosecute the men.  
Given the fast moving developments in Syria, Attorney General William Barr, in recent days, asked President Trump to make this a priority and the President signed-off. 
The Washington Post first reported that the two Beatles members were transferred to US custody.
6:27 p.m. ET, October 9, 2019
Trump agrees sanctions are needed, but only if Turkey doesn't act in a "humane" way
President Trump responded to discussions of bipartisan legislation on sanctions against Turkey, sponsored in part by his ally Sen. Lindsey Graham.
Trump said he agreed that sanctions are needed, but only if Turkey doesn't act in a "humane" way. 
"Lindsey and I feel differently," the President said of Graham. "I think Lindsey would like to stay there for the next 200 years and maybe add a couple a hundred thousand people every place. But I disagree with Lindsey on that. But I will tell you that, I do agree on sanctions." 
Trump said he would be "much tougher than sanctions," if Turkish President Recep Tayyip Erdogan "doesn't do it in as humane a way as possible."
Trump didn't explain what he would consider "humane" and added that he's gotten Erdogan "to stop" moving into Syria "from virtually the first day" the President was in office.
"They wanted to fight, and that's the way it is," Trump said, "And they've done it for so long."
Some context: Earlier today, Graham called the situation "a disaster in the making" in a series of tweets and urged Trump "to change course while there is still time."
The South Carolina Republican and Democratic Sen. Chris Van Hollen of Maryland plan to introduce bipartisan legislation to sanction Turkey's economy and military for the Syria operation.
Graham is predicting the legislation will have a veto-proof majority in the Senate, making it impossible for Trump to stop. He has been publicly scathing in his criticism of the President for the Turkey decision.
6:01 p.m. ET, October 9, 2019
Turkish military hit 181 targets in Syria operation
The Turkish Defense Ministry said today its armed forces hit a total of 181 targets in Syria.
"Turkish armed forces hit 181 targets of terror organization by air forces and fire support elements within Peace Spring operation," the ministry tweeted.
About the operation: Turkey began a planned military offensive into northeastern Syria today, launching airstrikes and artillery fire across the border just days after the Trump administration announced it was pulling US troops back from the area.
5:57 p.m. ET, October 9, 2019
Mike Pompeo: "The United States didn't give Turkey a green light" to launch offensive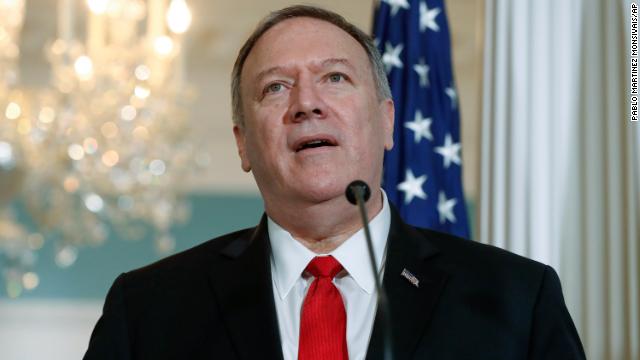 Secretary of State Mike Pompeo has called claims that the US withdrawal of troops from northeastern Syria was a green light for the slaughter of the Kurds "false."
In comments made today, Pompeo also did not explicitly endorse the Kurdish People's Protection Units (YPG) as US allies.
Pompeo claims that "it became very clear" after the phone call with Turkish President Recep Tayyip Erdogan "that there were American soldiers that were going to be at risk and the President made a decision to put them in a place where they were out of harm's way."
"The United States didn't give Turkey a green light," Pompeo said in an interview with PBS NewsHour.
Asked whether he personally changed his thinking about "viewing the YPG as US allies," Pompeo said, "The Turks have a legitimate security concern." 
"We've talked about that. I've talked about that repeatedly. They have a terrorist threat to their south. We've been working to make sure that we did what we could to prevent that terror threat from striking the people in Turkey while trying to achieve what is in America's best interest; the threat from radical Islamic terrorism emanating from Syria, we'll continue to do that," Pompeo said.
Pompeo would not directly answer when repeatedly asked if the US would take responsibility for the outcome of what happens in Syria.
5:55 p.m. ET, October 9, 2019
Syrian Democratic Forces says prison holding ISIS detainees hit in Turkish airstrike
A prison holding ISIS detainees was hit in a Turkish airstrike, the Kurdish-led Syrian Democratic Forces said today.
"One of the prisons that ISIS detainees held in was struck by Turkish airstrike. Turkey is aiming to undermine all successful efforts and achievements that we gained during our fighting against #ISIS," the group tweeted.
What we know about Turkey's military offensive: A senior US defense official told CNN the Turkish offensive has already had a "detrimental effect" on US-led counter ISIS operations.
The Turkish operation "has challenged our ability to build local security forces, conduct stabilization operations and the Syrian Democratic Forces [ability] to guard over 11,000 dangerous ISIS fighters. We are just watching the second largest army in NATO attack one of our best counter-terrorism partners," the source said.
5:32 p.m. ET, October 9, 2019
Kuwait calls on all parties to avoid military option
An official at the Kuwaiti Foreign Ministry said Turkish military operations in Syria are "a direct threat to security and stability in the region."
The official called for a "distance" from a military option today, according to a statement on the Kuwaiti Foreign Ministry's official website.
"Turkish Military operations in northeast Syria are a direct threat to security and stability in the region and an escalation that would undermine the chances of a political solution sought by the international community, which has recently made tangible progress with the arrival of the international envoy to form a constitutional committee that will determine the future of Syrian people," the official said.
The Foreign Ministry official called for restrain to avoid a situation that would further increase the suffering of the Syrian people.
5:14 p.m. ET, October 9, 2019
Saudi Arabia warns of "negative repercussions" on regional security following military action in Syria
Saudi Arabia condemned the Turkish offensive in northeast Syria today, according to an official source cited by state TV.
Saudi Arabia warned that the military action could have negative repercussions on the security of the region.
"An official source pointed out that regardless of the pretexts being promoted by Turkey, the seriousness of this aggression on northeast Syria has negative repercussions on the security and stability of the region," Saudi State TV reported Wednesday.
The country warned that the offensive undermines the fight against the Islamic State terrorist organization in these areas.
Some background: Turkey is reportedly targeting the US-backed Kurdish Syrian Democratic Forces (SDF) — an important US ally in the war against ISIS. Just hours after Turkey launched its offensive, the SDF said it had suspended its anti-ISIS operations in order to deal with the attack, a senior US defense official told CNN.