Ukrainian Boeing plane crashes in Iran, 176 people dead
4:31 p.m. ET, January 8, 2020
Can Iran withhold the black boxes from the US?
A plane's so-called "black boxes" -- the flight data and cockpit voice recorders -- can provide crucial evidence about what happened before a crash.
After the black boxes from Ukraine International Airlines Boeing 737 plane were found, Ali Abedzadeh, the head of Iran's Civil Aviation Authority, told Iran's semiofficial Mehr news agency that the US would not be involved at any stage of the investigation.
"We will not give the black box to the manufacturer [Boeing] or America," he said.
Former FAA chief of staff Michael Goldfarb told CNN that move was not necessarily against protocol.
Under international rules, Iran would be the lead investigator of the crash and Ukraine should participate as the state of registry and state of operator of the aircraft.
But the US -- where Boeing is designed and manufactured -- is not required to be involved in investigations right off the bat, Goldfarb said.
If the black boxes are difficult to discern, if they're damaged, the three best labs in the world are the British, the French and the NTSB in the US. It's very common for those three entities to either be given the lead or called in," he said.
But Goldfarb added there was no way the Iranians could refuse to work with Boeing and do justice to the investigation.
"They have to work with Boeing. Boeing has all the data, owns all the drawings and designs, they have the engineers, they know the plane."
Secretary of State Mike Pompeo has called for "complete cooperation with any investigation into the cause of the crash," saying that the US would continue to follow the incident closely and was prepared to offer Ukraine "all possible assistance."
4:04 p.m. ET, January 8, 2020
Investigation of Boeing jet crash complicated by US-Iran tensions
The escalated hostilities between the US and Iran have only further complicated the thorny task of investigating a Boeing jet crash near the Tehran airport.  
One US transportation official called the situation "unimaginably" complex. The officials did not speculate on the potential cause of the crash but said that the US is interested in the "circumstances" of the incident.  
US government investigators, for example, cannot simply fly into Tehran and meet with their Ukrainian counterparts. That prohibition is due to longstanding sanctions rather than the most recent events, according to two US transportation officials who spoke on the condition of anonymity. 
The Iranian government has control of the investigation under international protocol. If the US were invited to join the probe, American investigators would need a special license granted by the Treasury Department's Office of Foreign Assets Control in consultation with the State Department, according to the two officials.  
That license would be somewhat uncharted territory for US aviation investigators, according to the officials. 
Past international investigations that would have required a license for US involvement have generally involved older aircraft or involved crashes caused by circumstances like running out of fuel; because of that, the US investigators did not involve themselves. The last time a license was pursued, the process took approximately a year, one of the officials said.  
National Transportation Safety Board spokesman Christopher O'Neil said in a statement: 
The NTSB is monitoring developments surrounding the crash of Ukraine International flight 752 and is following its standard procedures for international aviation accident investigations, including long-standing restrictions under the country embargoes. As part of its usual procedures, the NTSB is working with the State Department and other agencies to determine the best course of action."
3:30 p.m. ET, January 8, 2020
US Intel looking at crash of Ukrainian jet in Iran
US intelligence is "taking a look at the crash" of the Ukrainian jet last night, a US official tells CNN, as suspicions rise about what could have caused a Boeing jet to crash near the Tehran airport shortly after takeoff.
If there was a missile fired, there would be a heat signature that would be captured by US military and intelligence systems. So far, a review of the imagery has not found any telltale sign, according to another US official, but the scrutiny continues. 
Intelligence analysts will also review images of the wreckage for indications of explosions from inside or outside the aircraft, as well as other intelligence.
The possibility of such an explosion is not farfetched, according to one expert.
Former NTSB Managing Director Peter Goelz told CNN the initial evidence suggests something other than a mechanical malfunction. 
"I think you've got to look very carefully at the nefarious," he said.
"The plane was at 7,800 feet which would minimize but wouldn't eliminate bird strike," but apparent video of the incident shows what Goelz called "a pretty big fire."
"There's stuff coming off the plane," he said.
2:27 p.m. ET, January 8, 2020
Mourners gather at Kiev airport
Photos of nine Ukrainian crew members who died in the plane crash in Iran on Wednesday were on display in an impromptu memorial erected at Kiev's Borispol International Airport.
The crew were among 176 people on board the Boeing 737 jet, operated by Ukraine International Airlines, that came down shortly after takeoff from Tehran's international airport.
Bouquets of flowers and rows of candles were laid out to commemorate the victims of the crash.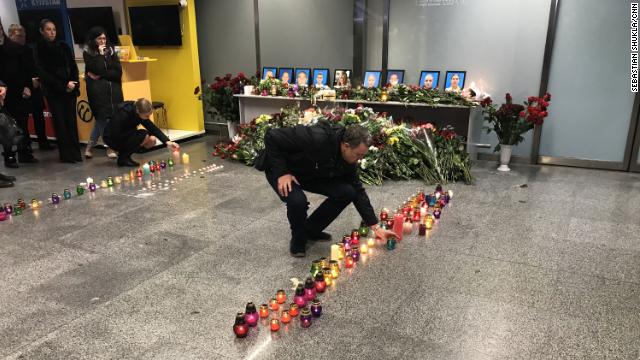 2:28 p.m. ET, January 8, 2020
What went wrong?
It's still too early in the investigation into the Ukrainian Airlines Boeing 737-800 plane crash to speculate about what went wrong, but flight data openly available online could provide some insight.
The Boeing 737-800 climbed to an altitude of nearly 8,000 feet before the aircraft's data suddenly disappeared, per FlightRadar 24.
According to former FAA chief of staff Michael Goldfarb, that is "very unusual" and suggests a "catastrophic" incident, as opposed to engine failure.
An airliner should be able to keep flying even if one engine fails, which means pilots normally have time to communicate and recover the aircraft.
"When the data is lost at 8,000 feet suddenly that implies something catastrophic happened to that airplane and they could no longer communicate with the ground control," Goldfarb told CNN.
There is no indication at this stage of what may have caused a catastrophic incident on board the plane, and all options are still on the table.
Goldfarb said an "uncontained" engine failure -- which would create the type of large fire ball reported by witnesses -- could be to blame, but it was too early to tell. An uncontained engine failure, in which pieces of the engine break apart, releases shrapnel that can destroy the plane.
"Under terrorism, of course, any type of explosive device would obviously cause catastrophic loss of the hull," Goldfarb added.
Alan Diehl, a former accident investigator for the US National Transportation Safety Board, Federal Aviation Administration and Air Force, said that that engine failure would naturally be one of the main focuses of any investigation into the crash, considering the aircraft lost contact just minutes after takeoff.
"That's the second-most dangerous phase of flight, the most dangerous being the approach of landing, statistically speaking. That's when the engines are under maximum stress."
He said investigators always looks at four main causes in a crash -- mechanical, human, environment and lastly hostile actions. "All of those are certainly on the table."
12:55 p.m. ET, January 8, 2020
Engineers among British crash victims remembered as close friends and colleagues
Three Britons are known to have died in the crash. One of them, Saeed Tahmasebi Khademasadi, 35, was a PhD student at Imperial College London, while also working as an engineer for Laing O'Rourke.
In a statement released to CNN, Imperial College described Khademasadi as a "generous colleague," "close friend," and "brilliant engineer with a bright future."
We are deeply saddened at this tragic news. Saeed Tahmasebi Khademasadi was a brilliant engineer with a bright future. His contributions to systems engineering earned respect from everyone who dealt with him and will benefit society for years to come. He was a warm, humble and generous colleague and close friend to many in our community. Our thoughts and sincere condolences are with Saeed's family, friends and colleagues, as well as all those affected by this tragedy."
Sam Zokaei, who was holiday in Iran, also died in the crash. The British passport holder was a reservoir engineer for BP, based at the company's site in Sunbury-on-Thames, west of London.
A spokesman for BP told CNN: "With the deepest regret, we can confirm that one of our colleagues at BP, Sam Zokaei, was a passenger on the Ukrainian International Airlines plane that crashed in Iran this morning, reportedly with no survivors.
"We are shocked and deeply saddened by this tragic loss of our friend and colleague and all of our thoughts are with his family and friends."
11:47 a.m. ET, January 8, 2020
Iran's President tweets condolences over plane crash
Iran's President Hassan Rouhani on Wednesday shared his condolences for the Iranians killed in the Ukrainian International Airlines crash, including a group of students, and a stampede at the funeral for Iranian general Qasem Soleimani, who died in a US drone strike last week.
11:31 a.m. ET, January 8, 2020
Boeing faces more trouble after crash of a Ukrainian 737 jet in Iran
The tragic crash of a Ukrainian airliner near Tehran could spell more problems for Boeing.
The plane, a Boeing 737-800, is not the 737 Max, which has received so much attention since two fatal crashes caused the grounding of the jet worldwide in March of 2018. All those planes remain grounded.
But the 800 version of the jet, also known as a 737 Next Generation or NG, has had its own problems. Following a fatal incident on a Southwest Airlines plane in April 2018, investigators recommended that Boeing modify the model's engines to prevent a repeat accident.
On Wednesday, Boeing's (BA) stock was down 1% in premarket trading, though shares recovered some of their earlier losses.
Read more about Boeing's mounting troubles:
11:18 a.m. ET, January 8, 2020
A visual guide to what we know about the crash
Investigators were scrambling Wednesday to determine the cause of a crash that killed all 176 people on board a plane that came down shortly after takeoff from Tehran's international airport.
The Boeing 737 jet, operated by Ukraine International Airlines, took off early on Wednesday en route to the Ukrainian capital Kiev and disappeared from radar minutes later.
Eighty-two Iranians, 63 Canadians, and 11 Ukrainians died in the crash, which took place between the cities of Parand and Shahriar, according to a tweet from Ukrainian foreign minister Vadym Prystaiko.
There were also 10 Swedes, four Afghans, three Germans and three British nationals among the victims, he said.