Iran's top general Soleimani killed in US strike
5:11 a.m. ET, January 3, 2020
Iraqi PM says US airstrike is a "flagrant violation" of agreement on troops
Iraq's Prime Minister Adil Abdul Mahdi has said the killing of Abu Mahdi al-Muhandis in the US airstrike violates the conditions for the presence of American troops in the country.
Muhandis, Iraq's deputy head of the Iran-backed Shia paramilitary forces known as the PMF, was killed alongside top Iranian military commander Qasem Soleimani in the airstrike.
"It is a flagrant violation of the conditions for the presence of the American forces in Iraq and their role which is supposed to be limited to training Iraqi forces and fighting ISIS within the international coalition forces, under the supervision and approval of the Iraqi government", Abdul Mahdi said in a statement issued Friday.
He went on to call for an extraordinary parliamentary session to convene and decide on the next steps Iraq could take. 
On Thursday evening, US Secretary of Defense Mark Esper said he had received requests from Iraq to downsize the US military presence in the country, currently at about 5,000 troops.
The US confirmed it was sending around 750 additional soldiers to the Middle East on Wednesday, after attacks broke out in Baghdad among hundreds of protesters in response to airstrikes in Iraq and Syria conducted by US forces.
4:46 a.m. ET, January 3, 2020
The airstrike sharply divides US politicians
The news of Qasem Soleimani's death has sharply divided politicians along party lines, with almost uniform praise for US President Donald Trump by Republicans, while Democrats have expressed concerns over the legality and consequences of the strike.
Former Vice President Joe Biden, a Democratic candidate in this year's presidential election, said Trump had "tossed a stick of dynamite into a tinderbox" with the airstrike.
And while Soleimani "deserved to be brought to justice for his crimes against American troops and thousands of innocents throughout the region," Biden warned that "we could be on the brink of a major conflict across the Middle East."
Sen. Bernie Sanders, who is also running for president in the Democratic primary, called it a "dangerous escalation" that brings the US "closer to another disastrous war in the Middle East that could cost countless lives and trillions more dollars."
"Trump promised to end endless wars, but this action puts us on the path to another one," he said.
House Speaker Nancy Pelosi warned that the US could not "put the lives of American service members, diplomats and others further at risk by engaging in provocative and disproportionate actions," in a statement.
Meanwhile, fierce Trump ally Sen. Lindsey Graham praised the President's "bold action against Iranian aggression" in a series of tweets, in which he warned Iran against retaliatory action.
Republican Sen. Marco Rubio of Florida accused Soleimani's Quds Force of choosing "the path of escalation" after Trump imposed economic pressure.
"Iran chose to respond to economic pressure with #IRGC sponsored & directed attacks aimed at killing Americans," Rubio said in a tweet.
"They chose to ignore these warnings because they believed @POTUS was constrained from acting by our domestic political divisions. They badly miscalculated."
Sen. Ben Sasse, a Republican from Nebraska, said "General Soleimani is dead because he was an evil bastard who murdered Americans," in a news release.
4:14 a.m. ET, January 3, 2020
Russia offers "condolences" to Iranians after strike
Russia's Foreign Ministry has said the US airstrike will lead to growing tensions in the Middle East and issued condolences to the Iranian people, according to Russian state-run news agency TASS.
"We consider Soleimani's murder in a US missile strike in the suburbs of Baghdad an adventurous step that will lead to growing tensions throughout the region," a representative of the Russian Foreign Ministry told TASS in a statement.
"Soleimani devotedly served the cause of protecting Iran's national interests. We are offering our sincere condolences to the Iranian people," the statement added.
Earlier on Friday, prominent Russian senator Konstantin Kosachev issued a statement on his official Facebook page, saying the killing of Soleimani is "a mistake" that can hurt the US in the long run and "destroys" all efforts to save the Iran nuclear deal.  
Kosachev wrote: "I believe this is more than killing an important figure, this is a mistake. And the reason for this mistake is the typical American habit of personalizing any problem: 'Remove Saddam (Milosevic, Yanukovych, Gaddafi, Bin Laden, etc.) and everything will be solved.' But this is the logic of the show, not politics. It doesn't work longterm, but it can hit the organizers of the show like a boomerang."
4:53 a.m. ET, January 3, 2020
Airport strike follows US Embassy attack in Baghdad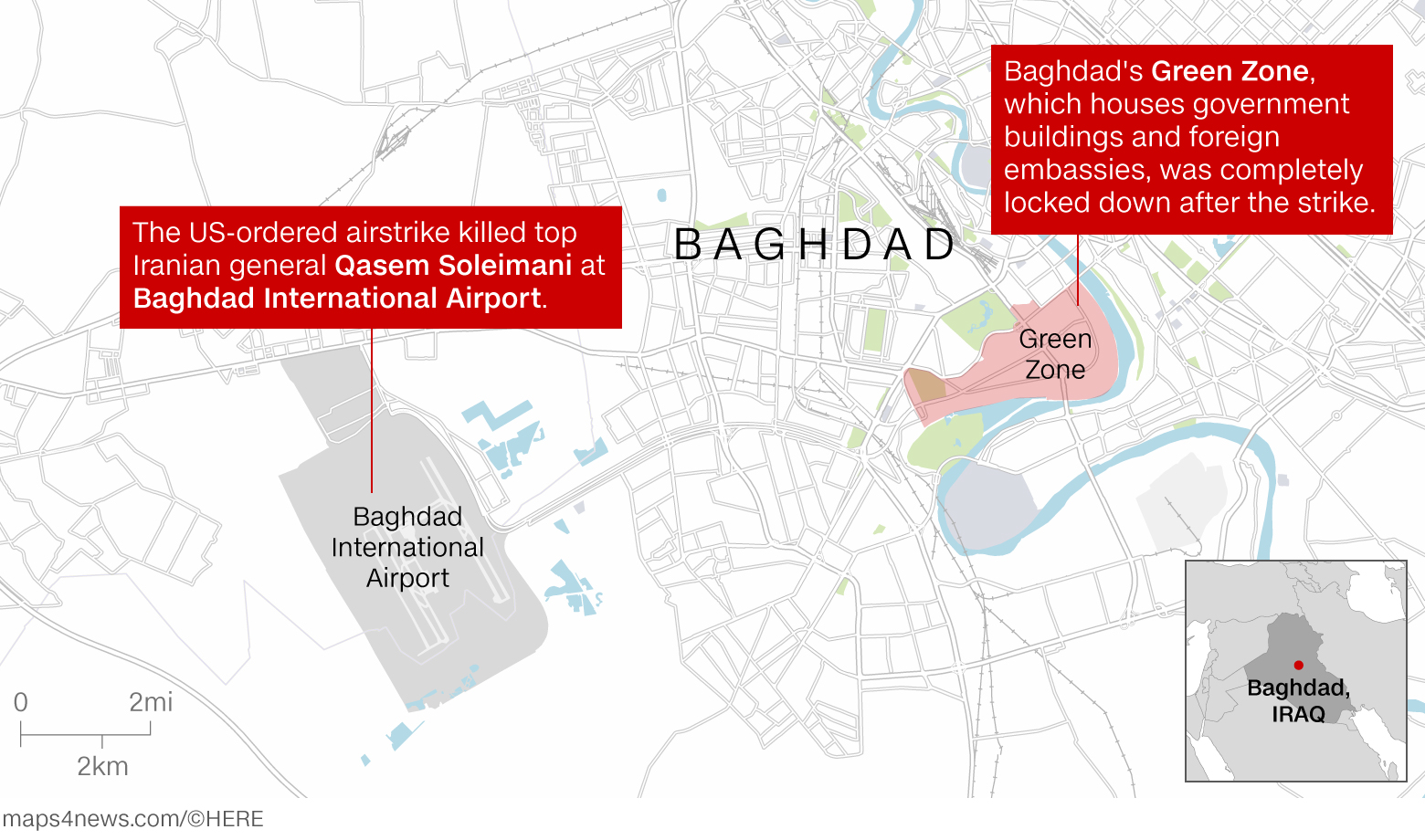 The US airstrike at Baghdad International Airport that killed Qasem Soleimani was only miles away from Bagdad's Green Zone, home to government buildings and the US Embassy, which was attacked by protesters on New Year's Eve.
Protesters attacked the embassy on Tuesday, scaling the walls and forcing the gates of the compound, as hundreds demonstrated against American airstrikes on an Iran-backed militia group in Iraq.
The pro-Iranian demonstrators were mostly from Iraq's Popular Mobilization Units (PMU), a coalition of predominantly Shiite militias. Formed in 2014 to fight ISIS, the PMU were recognized under a 2016 Iraqi law as an independent military force that answers directly to the prime minister.
Despite the Iraqi law, most observers see many of those groups, including Kataib Hezbollah, as maintaining strong links to Iran and its security forces, from which they receive funding and other support, as well as some direction.
Three leaders of powerful militia groups were also seen at the protest, including Kataib Hezbollah leader Abu Mahdi al-Muhandis -- who was later killed alongside Soleimani in Thursday night's airstrike.
3:50 a.m. ET, January 3, 2020
US tells citizens to depart Iraq immediately
The US State Department has urged its citizens in Iraq to depart "immediately" due to "heightened tensions" in the region.
Its statement also told citizens to stay away from the US Embassy in Iraq, which was stormed by pro-Iranian protesters on Tuesday.
The French government has also warned its citizens to stay away from any gatherings in Iran. A statement on the French Embassy's website on Friday advised them to stay "prudent and discreet."
It also recommends people do not take pictures in public spaces.
3:47 a.m. ET, January 3, 2020
China calls for the US to show "restraint"
The Chinese government has called for calm in the Middle East, in its first reaction to the US airstrike that killed Qasem Soleimani.
Geng Shuang, the Chinese Foreign Ministry spokesperson, said at a daily briefing: "We attach high importance to the recent incidents. China has always opposed the use of forces in the international relations, and advocates that all parties should practically abide by the purpose and principle of UN Charter and basic norm of international relations."
"The sovereignty and territorial integrity of Iraq should be respected, and the peace and stability in the Middle East and Gulf area should be maintained," he added.
"We urge all the relevant parties, especially the US, to exercise restraint and prevent the escalation of the tensions."
3:37 a.m. ET, January 3, 2020
Rouhani vows retaliation for strike
Iranian President Hassan Rouhani has given his first reaction to the death of top military commander Qasem Soleimani saying the strike was a "cowardly act" and "another sign of America's frustration and helplessness in the region."
Rouhani, like other top Iran officials, also vowed retaliation for his death. "Undoubtedly, the great nation of Iran and other free nations of the region will take revenge for this terrible crime by the criminal Americans," he said in a public statement published by Iran's official news agency.
Rouhani also honored Soleimani's accomplishments, calling him a hero of Iranian history who defended against terrorism. 
"I condemn this cruel act but at the same time honor the brilliant service of this brave and enduring hero of Iran's history who defended the country's territorial integrity and led the fight against terrorism and extremism in the region."
The President then extended his condolences to the Supreme Leader, commander-in-chief, the people of Iran, the Revolutionary Guards, the victims' loved ones, and especially Soleimani's family, the statement read.
The Pentagon said Soleimani and his Quds Force were responsible for the deaths of hundreds of American and coalition service members, and the wounding of thousands more.
The Pentagon also blamed the Iranian general for orchestrating attacks on coalition bases in Iraq in recent months, including an attack on December 27 that culminated in the deaths of an American contractor and Iraqi personnel.
3:45 a.m. ET, January 3, 2020
Who was Qasem Soleimani, the Iranian commander killed by a US airstrike?
Qasem Soleimani, who was killed by a US airstrike ordered by President Donald Trump at Baghdad International Airport on Friday, was hailed as a hero in Iran -- brave, charismatic and beloved by the troops.
Iran's supreme leader, Ayatollah Ali Khamenei, once called him a "living martyr of the revolution." But the United States viewed Iran's top general as a ruthless killer.
One of Iran's most powerful men, Soleimani cut a highly controversial figure. He was head of the Revolutionary Guards' Quds Force, an elite unit that handles Iran's overseas operations -- and one deemed to be a foreign terrorist organization by the US.
Having started his front-line military career in the Iran-Iraq war during the early 1980s, Soleimani rose to prominence to become an indispensable figure in Iran, playing an instrumental role in spreading its influence in the Middle East.
"He's been in combat his entire life. His soldiers love him. He's a quiet, charismatic guy, a strategic genius and a tactical operator," Lieutenant General Mark Hertling, a national security, intelligence and terrorism analyst, told CNN.
"These are all the kind of things, looking at him from the enemy's perspective, (that) is going to create a great deal of angst in this part of the world."
The Pentagon says Soleimani and his troops were "responsible for the deaths of hundreds of American and coalition service members and the wounding of thousands more."
3:04 a.m. ET, January 3, 2020
What is the US logic to this strike?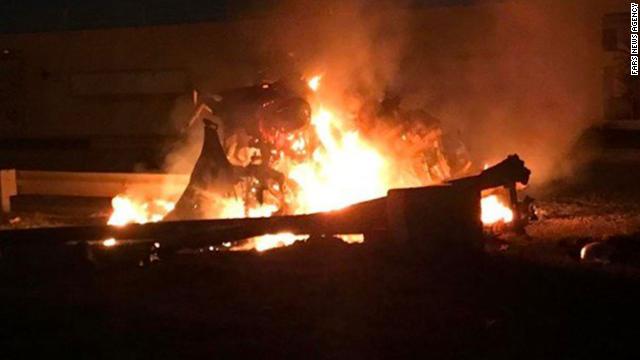 The strike may have been a "target of opportunity" but it clearly had presidential authorisation for longer than just last night. The US clearly wants to send the signal that this is deliberate. But it is escalatory and brings the region to a new brink of unpredictable chaos. So how could they possibly calculate this was a good idea?
Well, Iran has been attacking the US and its allies via proxies for months. They are accused of hitting Saudi oilfields. A US drone before that. Oil tankers in the Gulf. And this week they directed attacks at the US Embassy in Baghdad, the US says.
The US is already being attacked by pro-Iranian forces, their officials could argue, so the US logic might be that any response from Iran will be a worsening of the same asymmetrical paper cuts already being inflicted.
It is true to note that Iran does not have the military might to tackle the US in an open conventional war. US officials may argue that they needed to send a strong signal that this White House was not gun-shy and would fight violence with violence, regardless of any denials from Tehran.
They may have decided the strength of this signal of US resolve, and removing the hardliner's hardliner Soleimani from the equation, was worth the risk of the next weeks of chaos and retaliation. 
But like with all strategies there is a flaw. The Iranians have a plan. They had one for Iraq, where they continue to have influence despite protests, whereas the US doesn't really. They have one for Syria, from which the US keeps wanting to withdraw. They have proxies in Yemen, Lebanon, Syria, all able to extract a price from American allies. They can also extract a price from Israel, where Lebanon's Hezbollah has rockets aimed towards this key US ally, and a direct line to Iran. Iran is strategic, and it is patient.
Iran is also facing a White House where key personnel change annually. There is little Iranian expertise around President Donald Trump at this moment -- key officials often chosen simply for their hardline stance.
Brian Hook, Trump's Iran point man, has limited experience in this -- his only issue.
There is a wealth of expertise in the State Department and other agencies, but their morale is surely not at its peak after recent cuts and turmoil.
So we are left with an emphatic and game-changing signal from the US, made with the belief that the consequences will be unknowable, but probably manageable. One certainty will be that Tehran will seek to exact a price in a way that shatters that belief.