Emma Campbell lost one of her breasts nearly 10 years ago, when she was diagnosed with breast cancer just after giving birth to triplets.
She had to have a second mastectomy last year when the cancer invaded her other breast.
But she refuses to let cancer rob her of her spirit.
"Cancer has shown me how incredibly strong I am," said Campbell, who was also diagnosed with skin cancer in 2014. "Cancer has taught me resilience. Cancer has brought my life into sharp, vivid, technicolored focus. I see life clearly now. I know what matters."
Campbell is one of 12 breast cancer survivors — women of different ages and backgrounds — who are sharing their courageous stories as part of Stella McCartney's annual campaign for Breast Cancer Awareness Month. This year, the fashion designer partnered with acclaimed photojournalist Lynsey Addario, who collaborated with each of the women to take powerful, inspiring portraits that bare their scars both physical and emotional.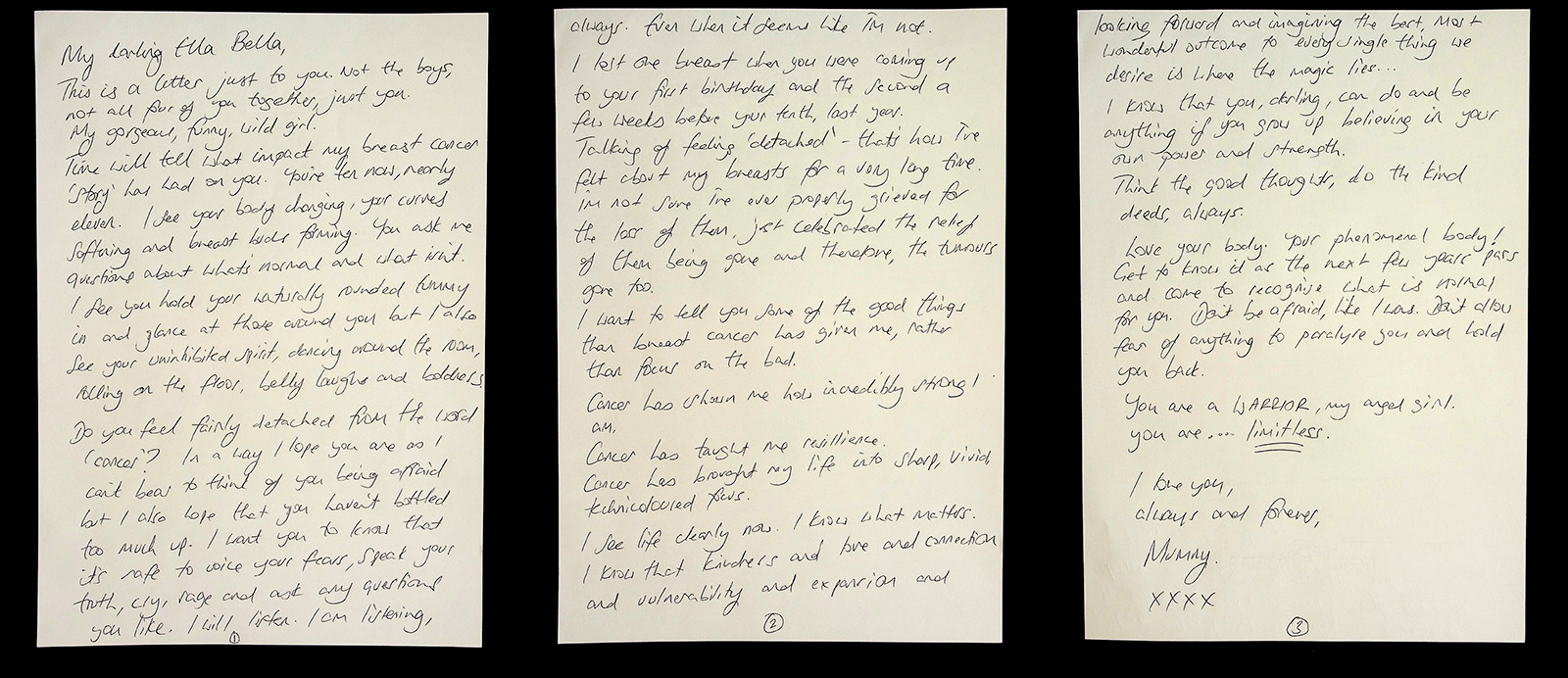 "We don't often see these kinds of images, and I wanted to photograph them in a beautiful, empowering way," said Addario, who shot the portraits in each woman's home in the United Kingdom.
The portraits are paired with a letter from each woman where they tell their story in their own words.
"It was really important to let them tell their stories, and I think the letters and seeing their handwriting makes it even more personal," Addario said.
The idea behind the "A Letter to My Loved Ones" campaign is to empower the women and highlight their resiliency.
"Many of the women expressed the fact that when they first had their mastectomy or when they first realized they were going to lose their breasts, that was a huge part of their femininity being taken away and they were really ashamed, self-conscious, embarrassed. A lot of those words came up over and over," Addario said. "And each one of these women expressed that, over time, they learned to be proud of their scars."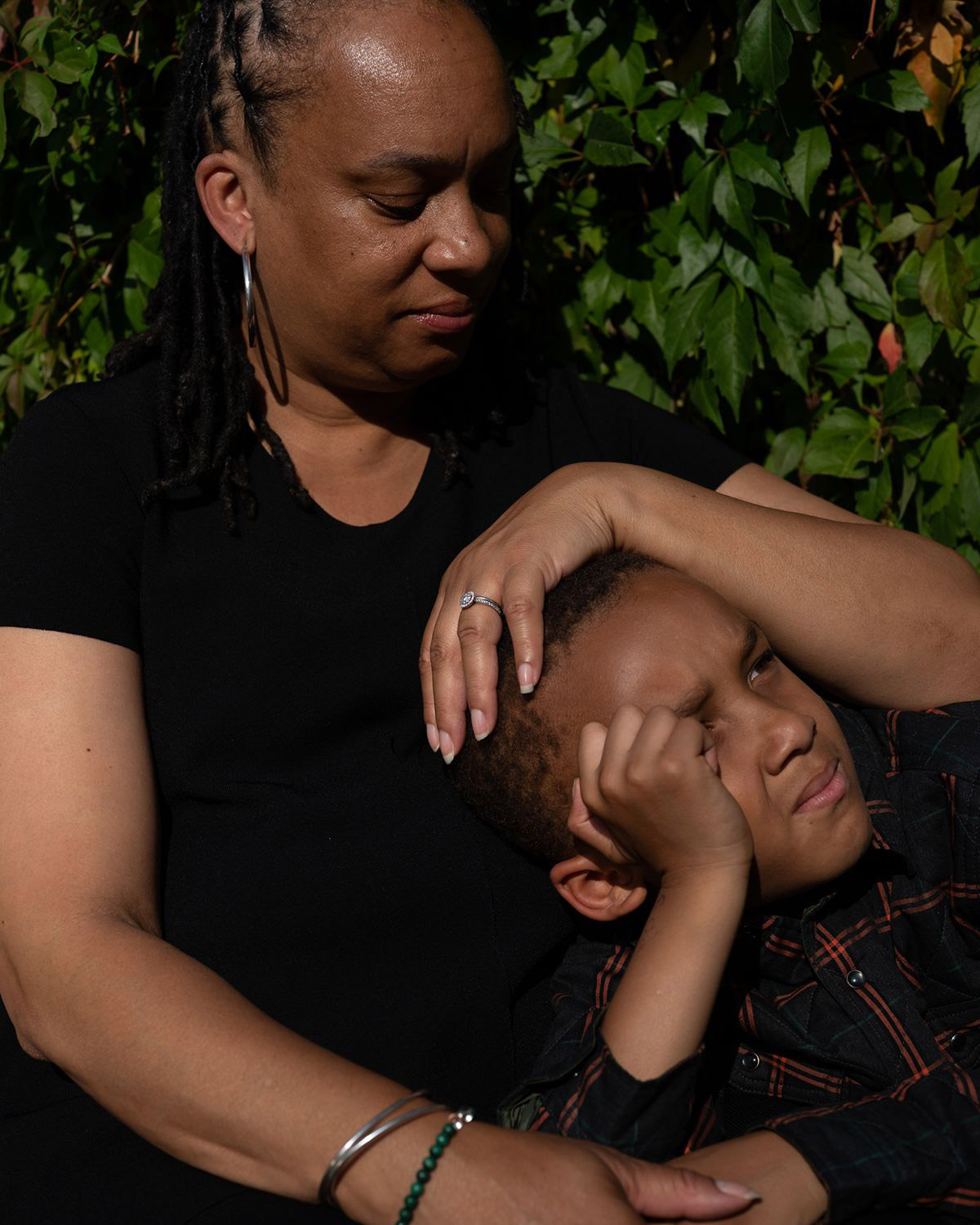 Sharon Marshall-Green with her son Pharrell
Marshall-Green was diagnosed with stage 3 breast cancer in May 2016, 18 days before her 45th birthday. Her treatment included two lumpectomies and eight rounds of chemotherapy. She has four children, three of whom are now adults.
"Pharrell was 4 years old when I was diagnosed," she said, "and I just felt I needed to fight that bit more so I could be there for him, so I could teach and instill those certain same beliefs and strengths that I had with all the other children."
She wrote a letter to her four kids as part of the Stella McCartney campaign.
"I have been through so much since my diagnosis in terms of physical and mental pain, anguish, insomnia, depression and fear," she wrote. "However, in saying all of this I feel I have come out triumphant! The reason I say this is because whilst having treatment I had time to think, evaluate life."
She said she had always been very critical of herself, and her ordeal has taught her to love herself — a lesson she wants to pass down to her kids.
"No one is perfect, but it's important to accept ourselves for who we are and work on the bits of us we don't like. It's OK to have flaws," she wrote.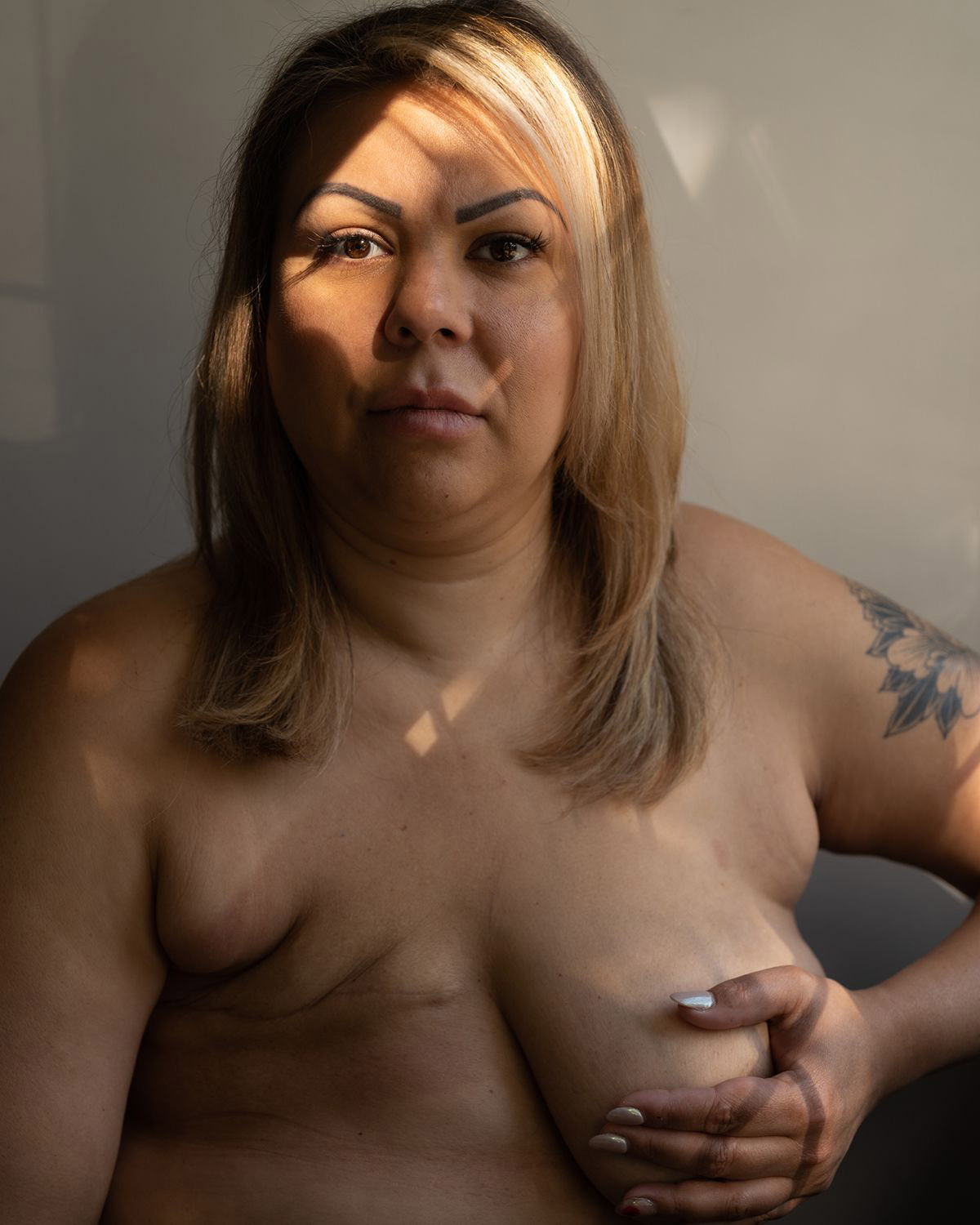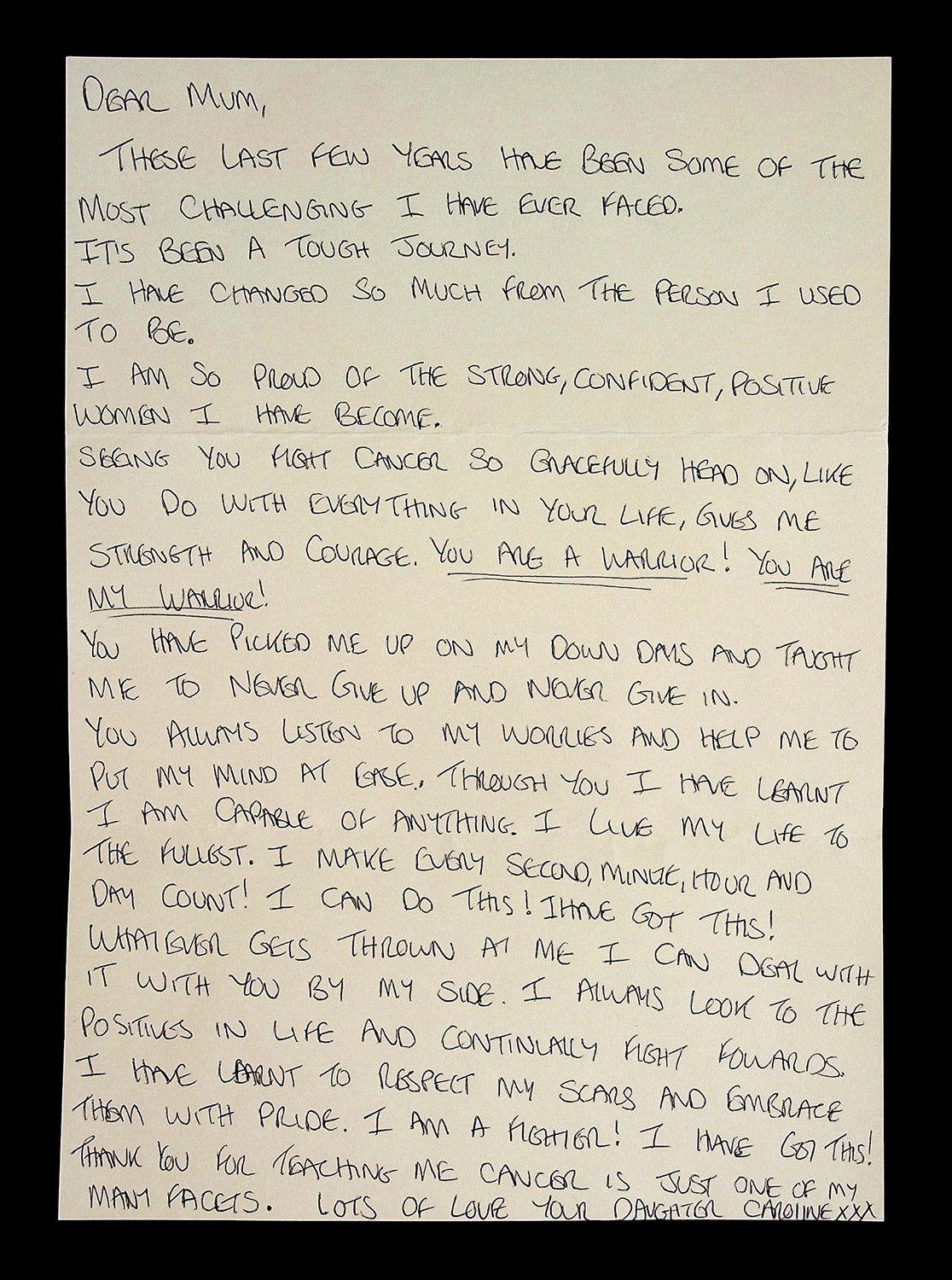 Carolina Boore
Boore was 34 years old when she was diagnosed with stage 2 inflammatory breast cancer, an extremely rare form of breast cancer with no lump to be detected by hand or by mammogram. Instead, there may be swelling, redness and a dimpling of the breast skin that may look and feel like an orange peel.
Boore underwent chemotherapy and had a mastectomy. Two years later, the cancer had spread to her spine.
"I don't live like I did before," she said. "I live every minute to the fullest. I've got a conscious thing of, you've got to make every second, minute, hour, day, count. You have to have and live your best life. I've looked at my life, what I was doing, how I was living. And I was like, am I happy? Do I want more? And I made a lot of changes to how I do things. I accept my secondary diagnosis. I respect it. I know I could be here for five years or I could be here for 25 years."
She wrote her letter to her mother, who was also diagnosed with cancer twice.
"I am so proud of the strong, confident, positive woman I have become," Boore wrote. "Seeing you fight cancer so gracefully head on, like you do with everything in your life, gives me strength and courage. You are a warrior! You are my warrior!"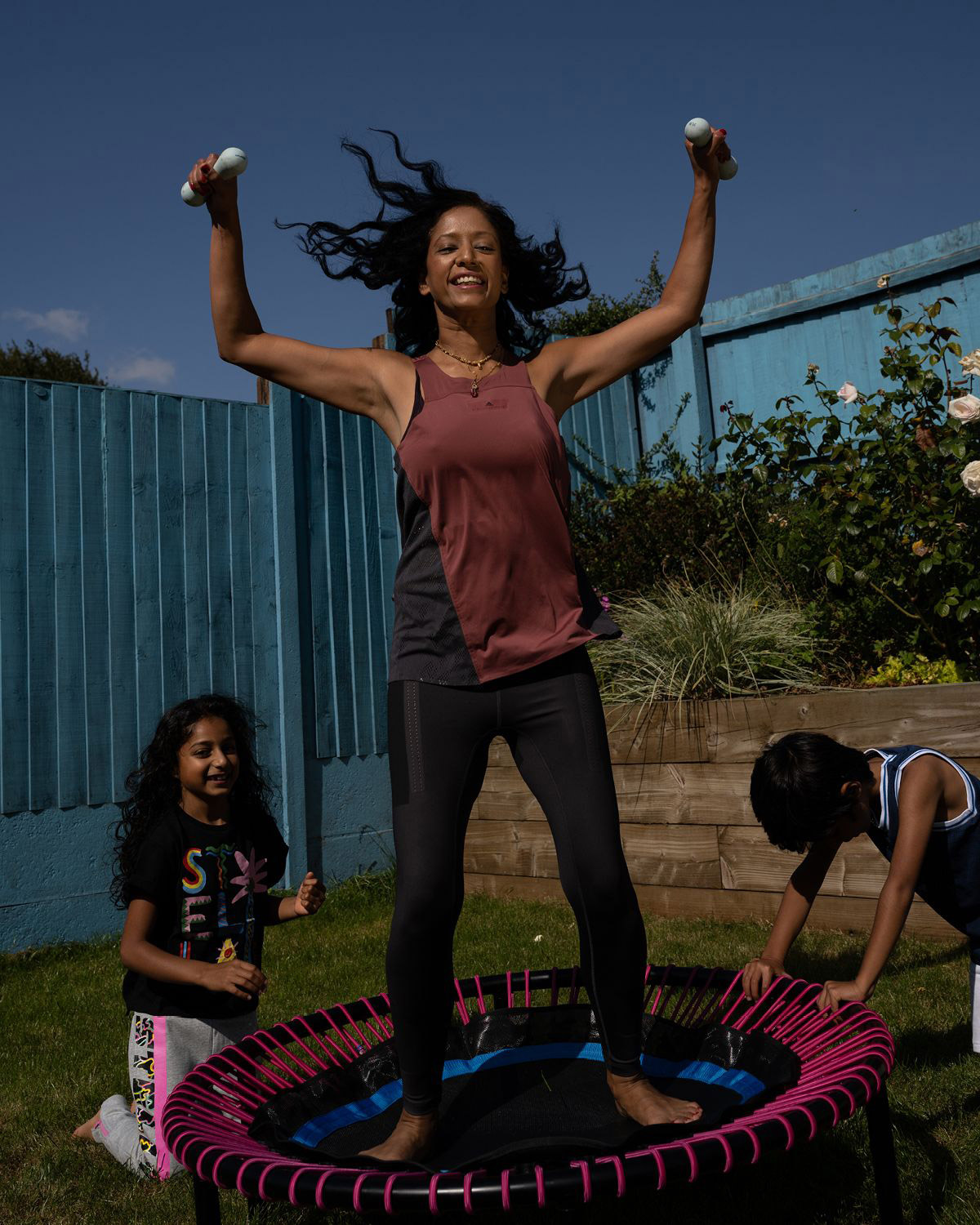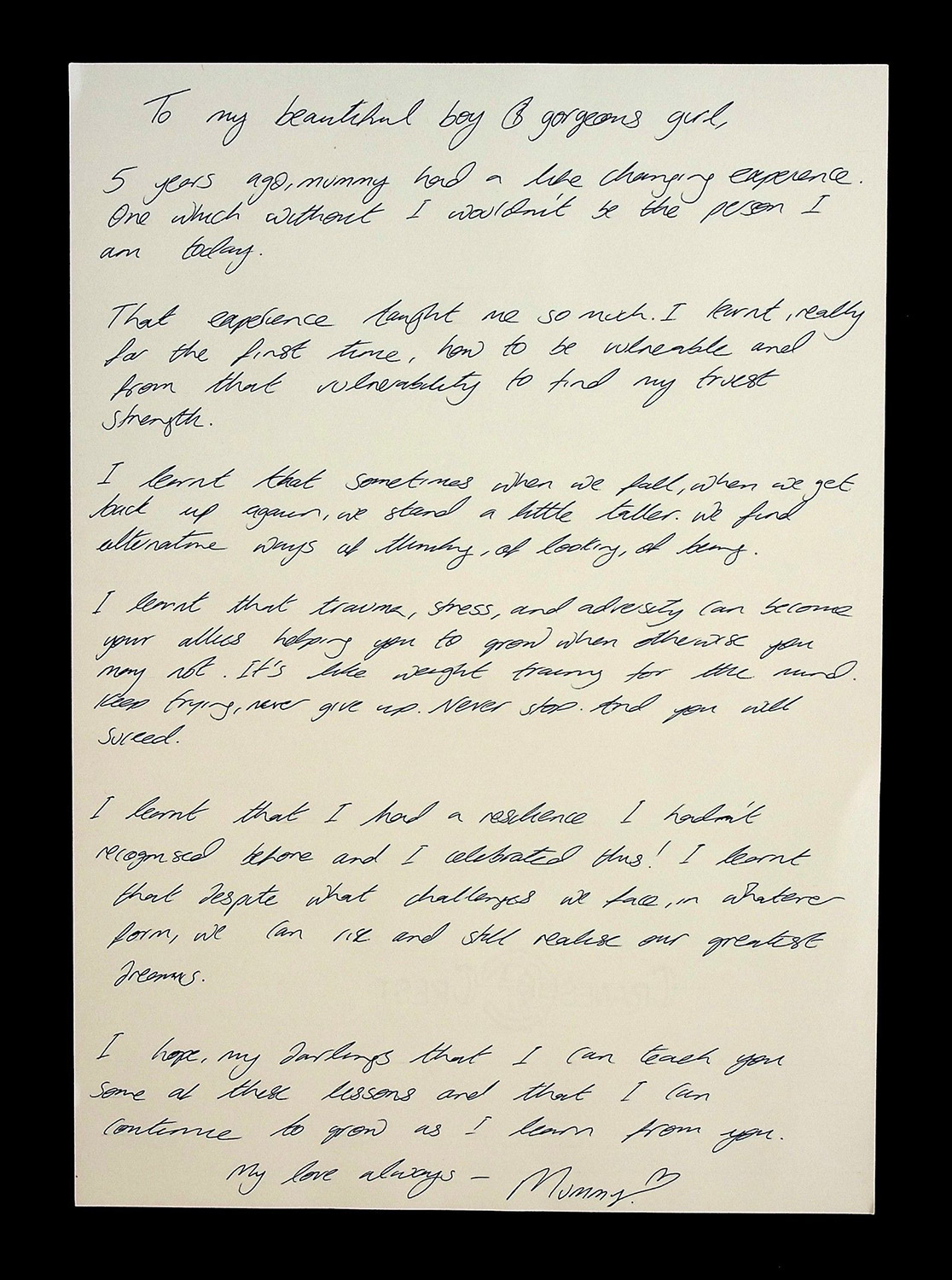 Nisha Tanna with her children Asara, left, and Jaiden
Tanna was diagnosed with stage 3 breast cancer nearly five years ago, just after her 35th birthday. At the time, her daughter was 2 years old and her son was 1.
"I think most of us mothers, new mothers, young mothers, put pressure on ourselves to be the best that we can, look the best that we can, give our children the best that we can," she said. "Going through my treatment, especially initially, there still was this real need to want to do that, to still be this model mother.
"Slowly, as my treatment progressed, there was this huge sense of acceptance of it was OK not to be OK. It was OK to let my hair down and literally take my wig off and just be, and that was enough for the children. It was enough for myself. It was enough for my husband. And I think that's when I felt a real sense of resilience."
She dedicated her letter to her children and described how her diagnosis made her stronger.
"I learnt that sometimes when we fall, when we get back up again, we stand a little taller," she wrote. "We find alternative ways of thinking, of looking, of being. I learnt that trauma, stress and adversity can become your allies, helping you to grow when otherwise you may not. It's like weight training for the mind."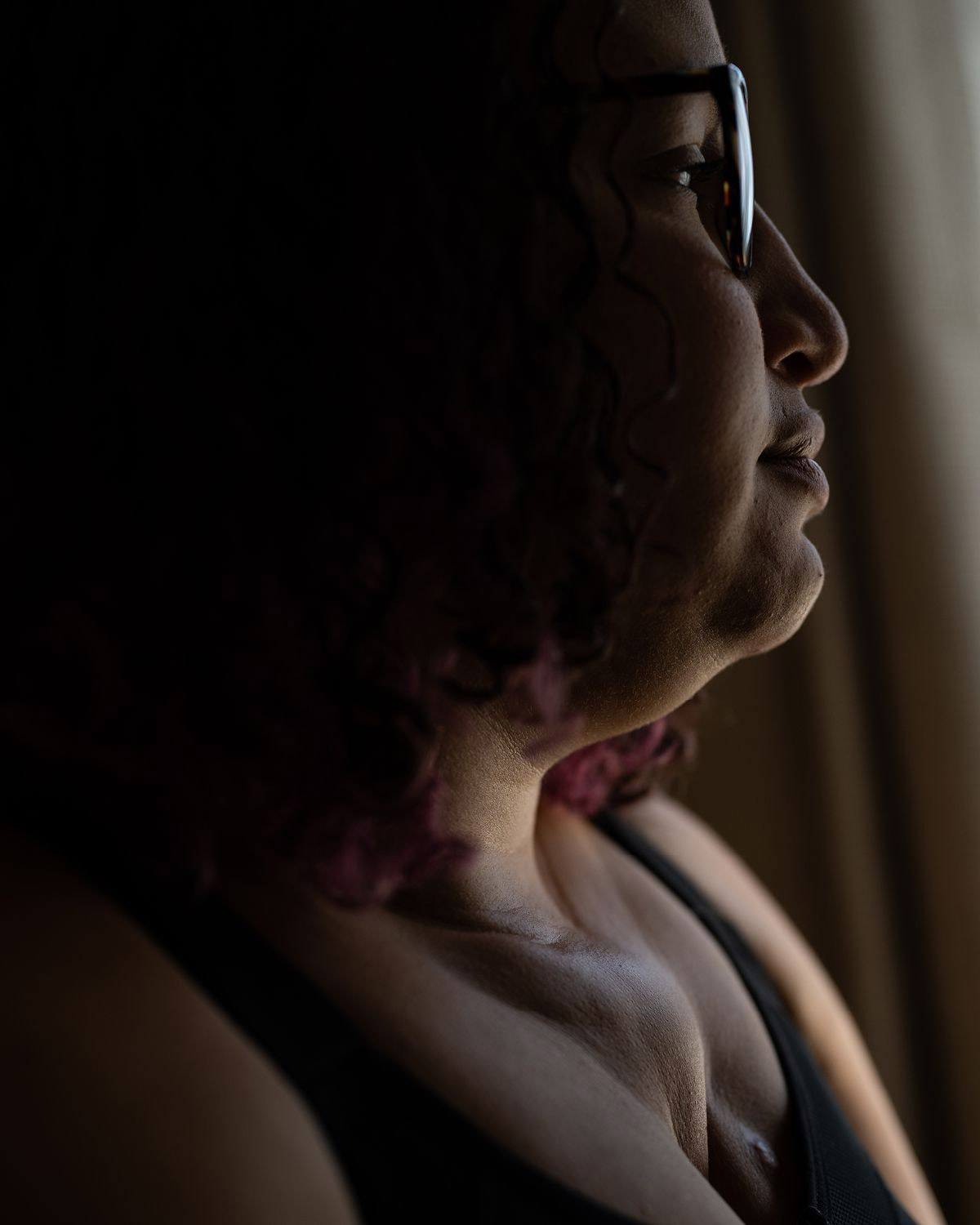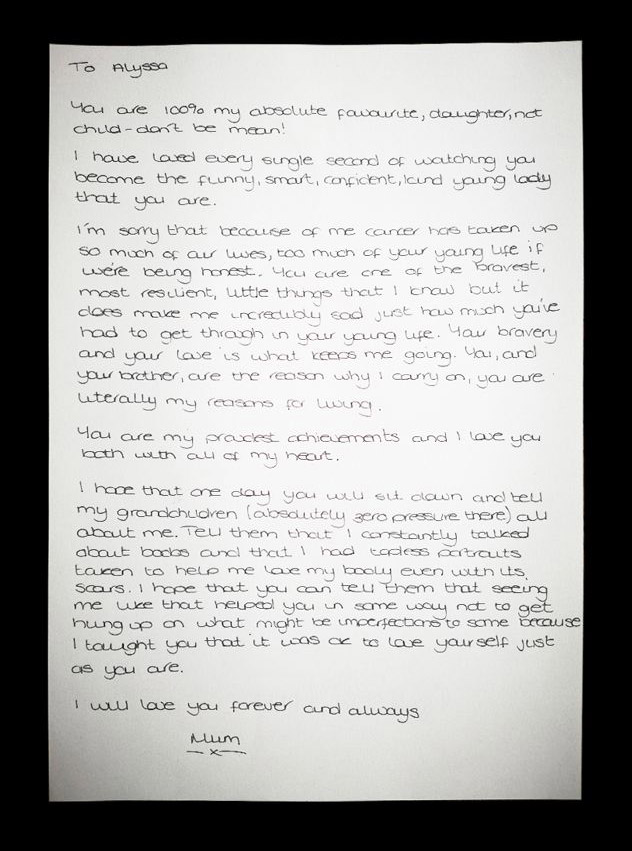 Keely Joseph
Joseph, 37, is fighting stage 4 breast cancer. She had a single mastectomy and reconstruction, and she has been undergoing chemotherapy three times a week to fight the tumors that have spread across her chest.
She has a 17-year-old son and a 10-year-old daughter.
"They know that I love them, but I don't think they realize just how much they mean to me in that they are literally my reason for being," she said. "If it wasn't for them, I would have given up quite easily. I think when you're going through chemo, it's easy to kind of wallow and to get yourself in a really negative state. I was never allowed to do that."
She penned a letter to her daughter, Alyssa.
"I hope that one day you will sit down and tell my grandchildren (absolutely zero pressure there) all about me," she wrote. "Tell them that I constantly talked about boobs and that I had topless portraits taken to help me love my body even with its scars. I hope that you can tell them that seeing me like that helped you in some way not to get hung up on what might be imperfections to some because I taught you that it was OK to love yourself just as you are."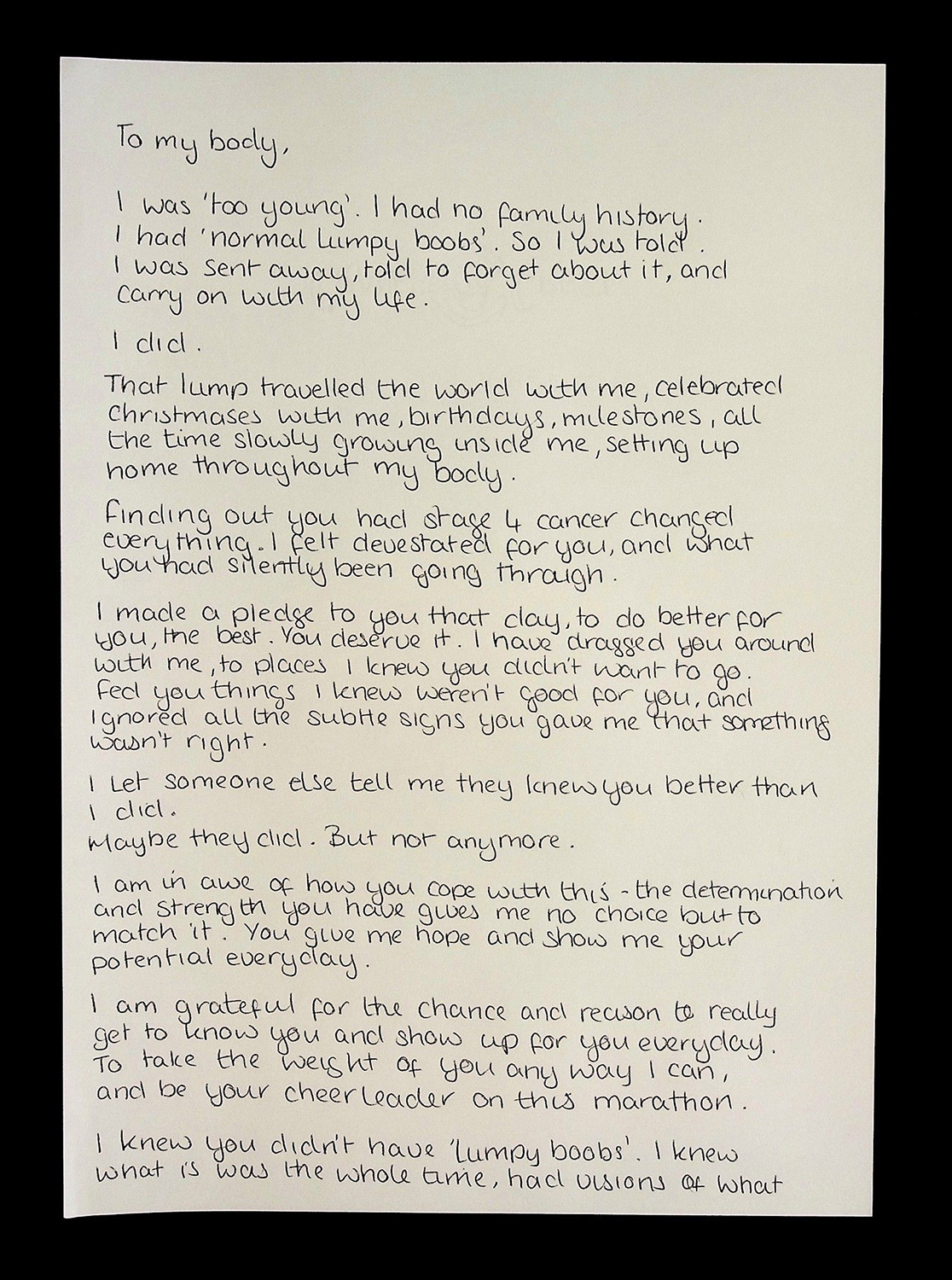 Leanne Hughes
Hughes was diagnosed with stage 4 breast cancer when she was 31. She is fighting it with hormone therapy and oral chemotherapy.
"It's been two and a half years of some real ups and downs," she said. "There's been some really scary moments, and then moments of just like, 'Oh my God, this could be going in the right direction.' It's a never-ending roller coaster. Literally every single month is different."
For the Stella McCartney campaign, she wrote a love letter to her body.
"I was too busy following advice from others as to how I should treat you, focusing on the outside and forgetting to listen to you," she wrote. "I am with you now, whatever you need. To be your biggest advocate and support, nourish and love you unconditionally."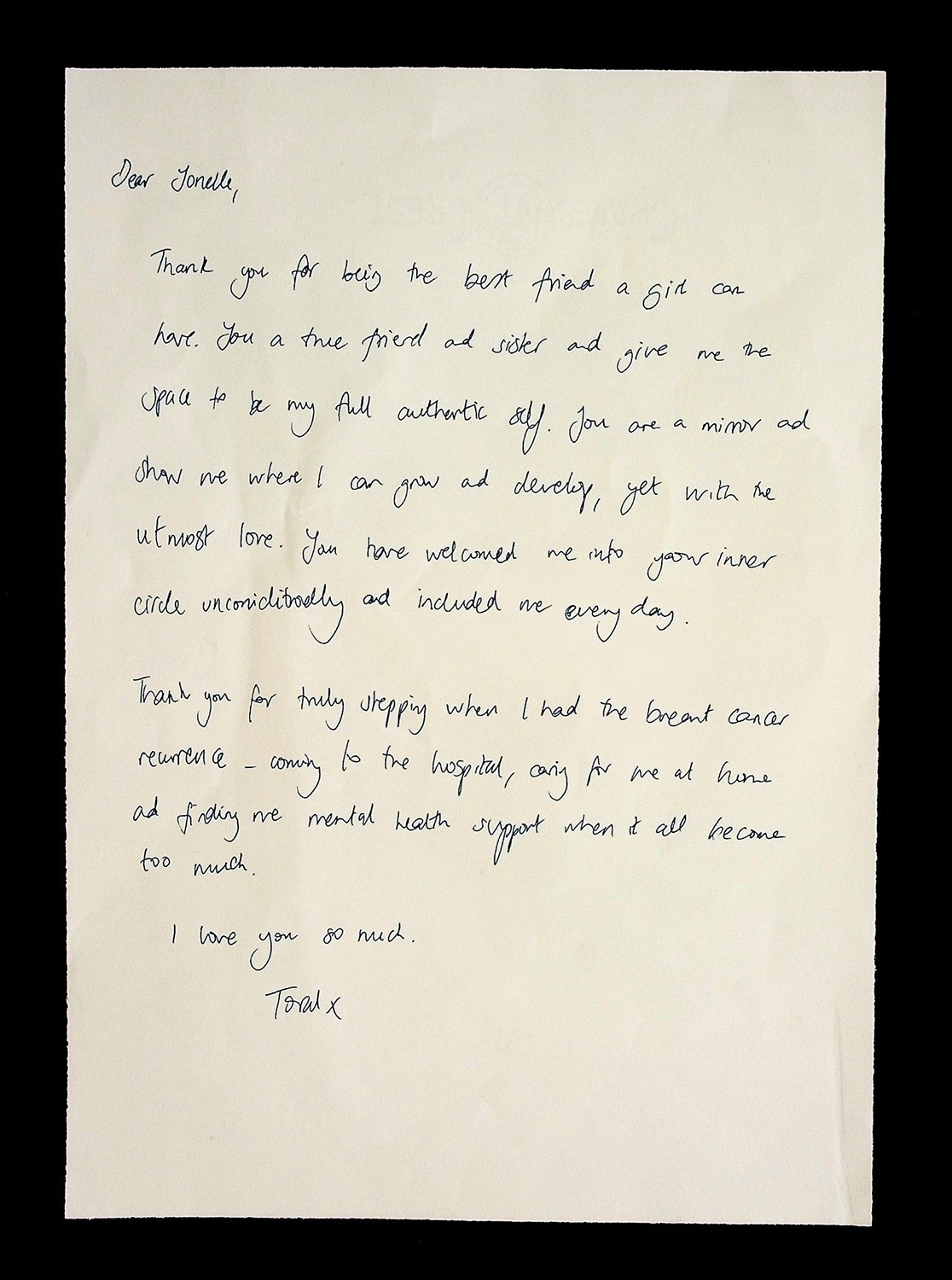 Toral Shah
Shah had a mastectomy just before her 30th birthday. Nearly 13 years later, in 2018, doctors found a new tumor.
"My mastectomy scar felt weird," she recalled. "And I can't tell you anything else other than it just felt weird. So I kept saying, 'It feels weird and I can't explain why.' "
An MRI confirmed the reoccurrence in the same breast. Shah then had a lumpectomy and hormone treatment to fight it.
In her letter, she thanks her friend Jonelle for being there when "it all became too much."
"Thank you for being the best friend a girl can have," she wrote. "You are a true friend and sister and give me the space to be my full authentic self."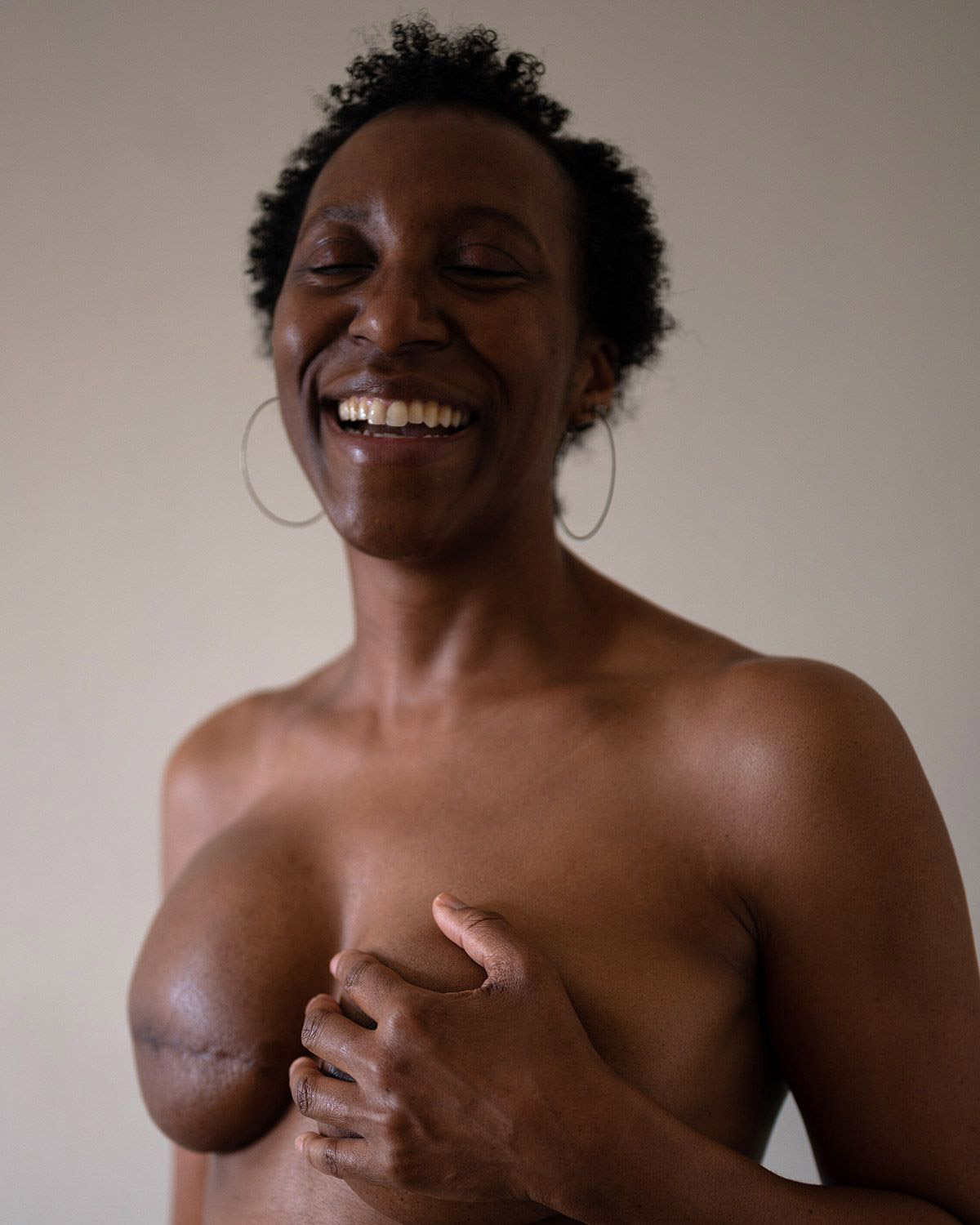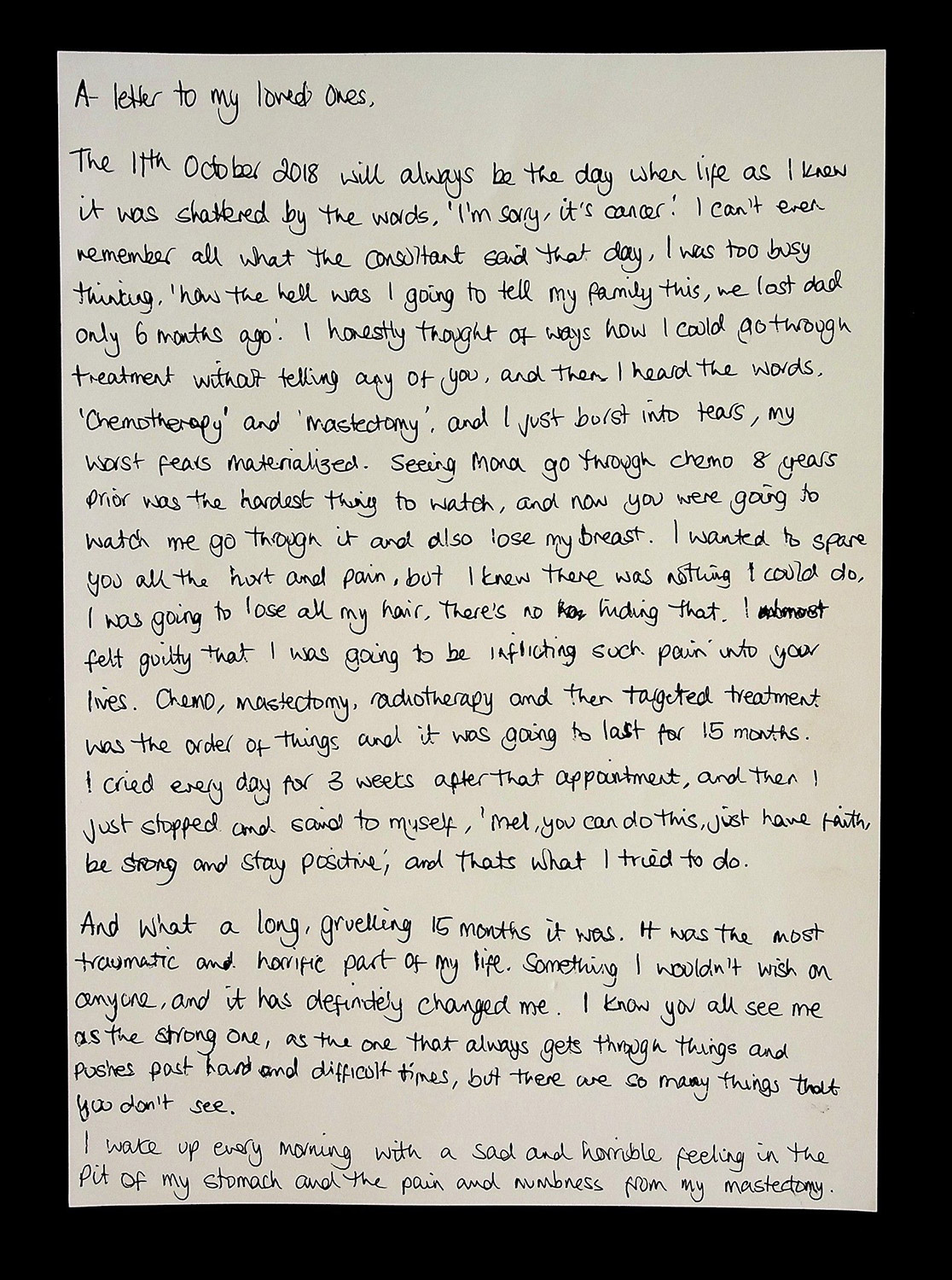 Mel Bastien
Bastien was 46 years old when she was diagnosed with breast cancer in October 2018. She had a total mastectomy with reconstruction in June 2019, followed by radiation therapy.
"I didn't know anyone who had had a mastectomy," she said. "I didn't know where to turn, to be honest. I really felt lost. I didn't tell my family I was having a mastectomy until after I had it."
She went online to try to see what a mastectomy breast looked like. She rarely saw anyone who looked like her. "Nine times out of 10, it just came up with White ladies," she said.
In her letter to her loved ones, Bastien says she's always been a positive person. "I've learnt that being happy and surrounding myself with people that make me happy and are uplifting is the only way to be. I've learnt about toxic people and how toxic behavior can impact my mental state, and I will no longer tolerate this. Going through cancer messes with your mental state, and it's so important to block out and stay away from negativity."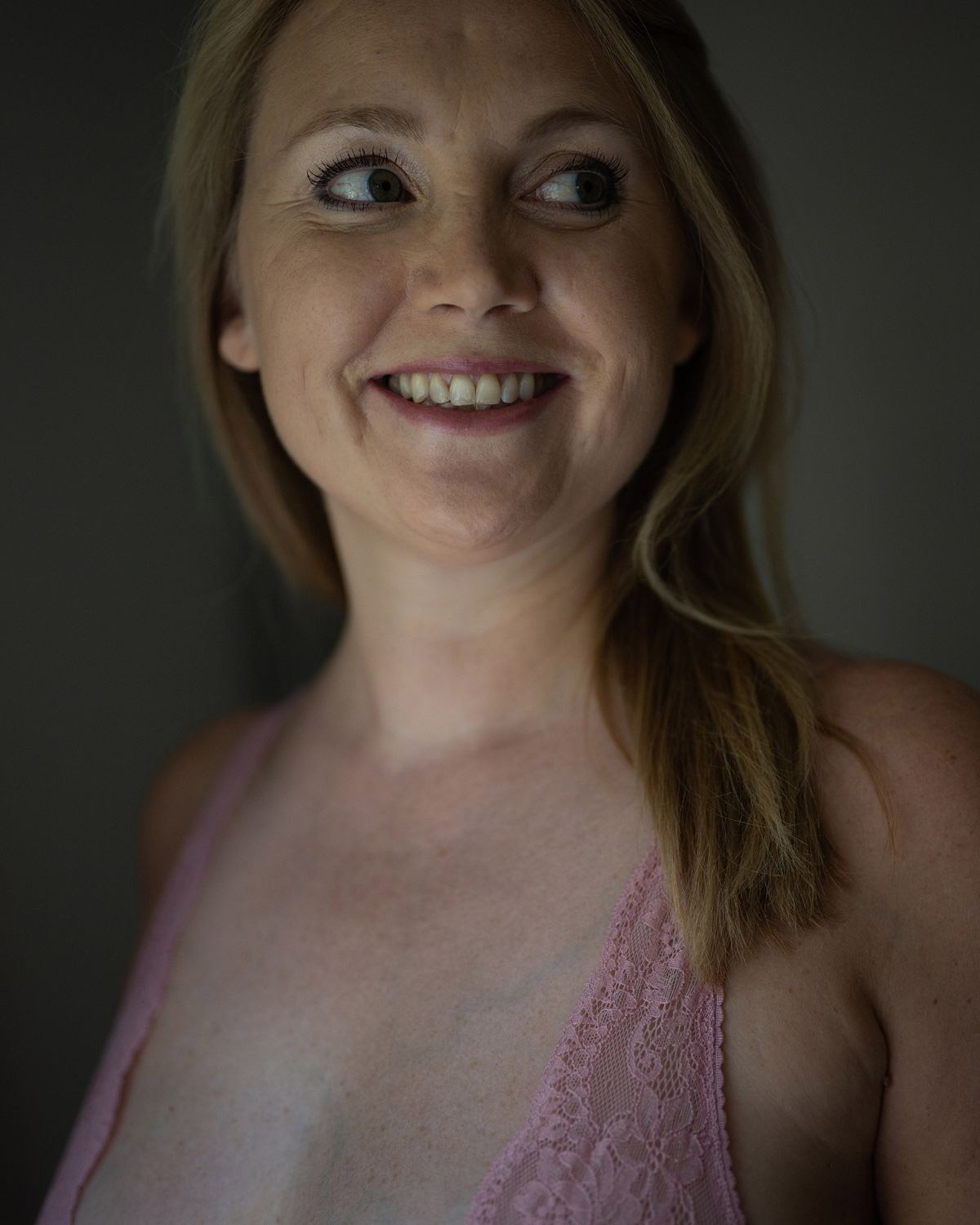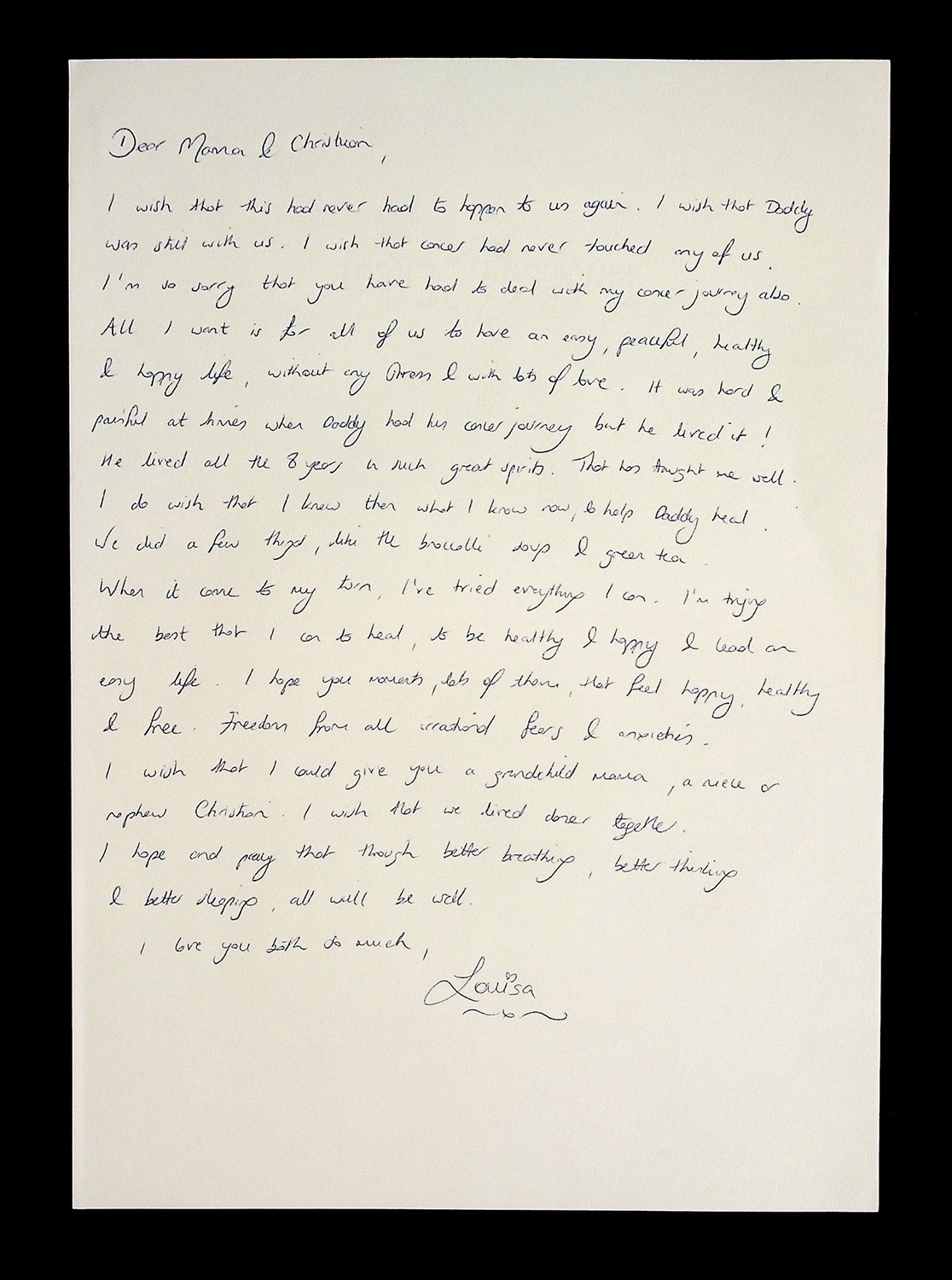 Louisa Rasmussen
Rasmussen was 34 when she was diagnosed with stage 4 breast cancer that had spread to her liver. For treatment, she has been undergoing hormone therapy and taking chemotherapy drugs.
She wrote her letter to her mother and her brother, Christian, referencing her late father who also had cancer.
"It was hard and painful at times when Daddy had his cancer journey, but he lived it!" she wrote. "He lived all the 8 years in such great spirits. That has taught me well.
"I do wish that I knew then what I know now. … When it came to my turn, I've tried everything I can. I'm trying the best that I can to heal, to be healthy and happy and lead an easy life."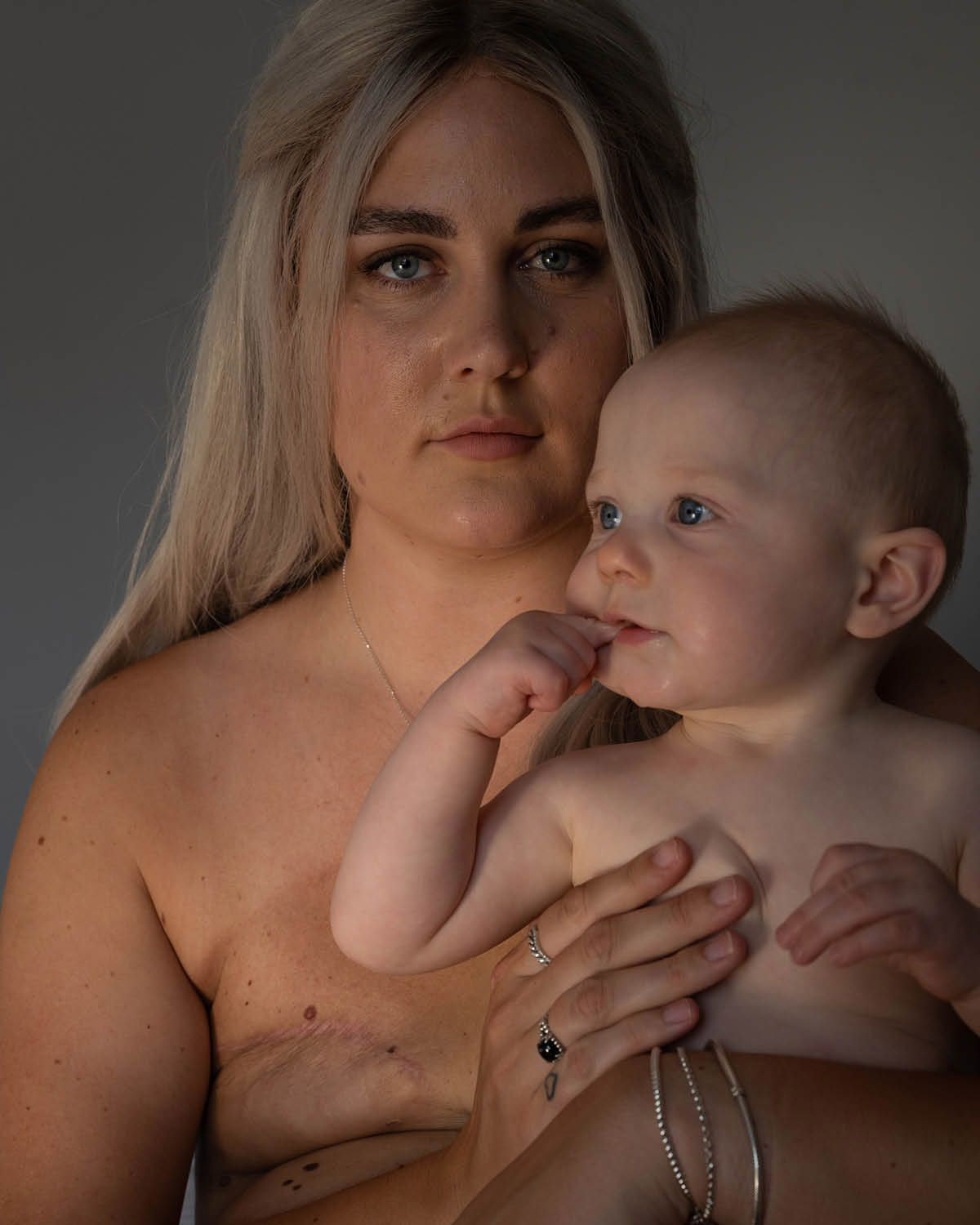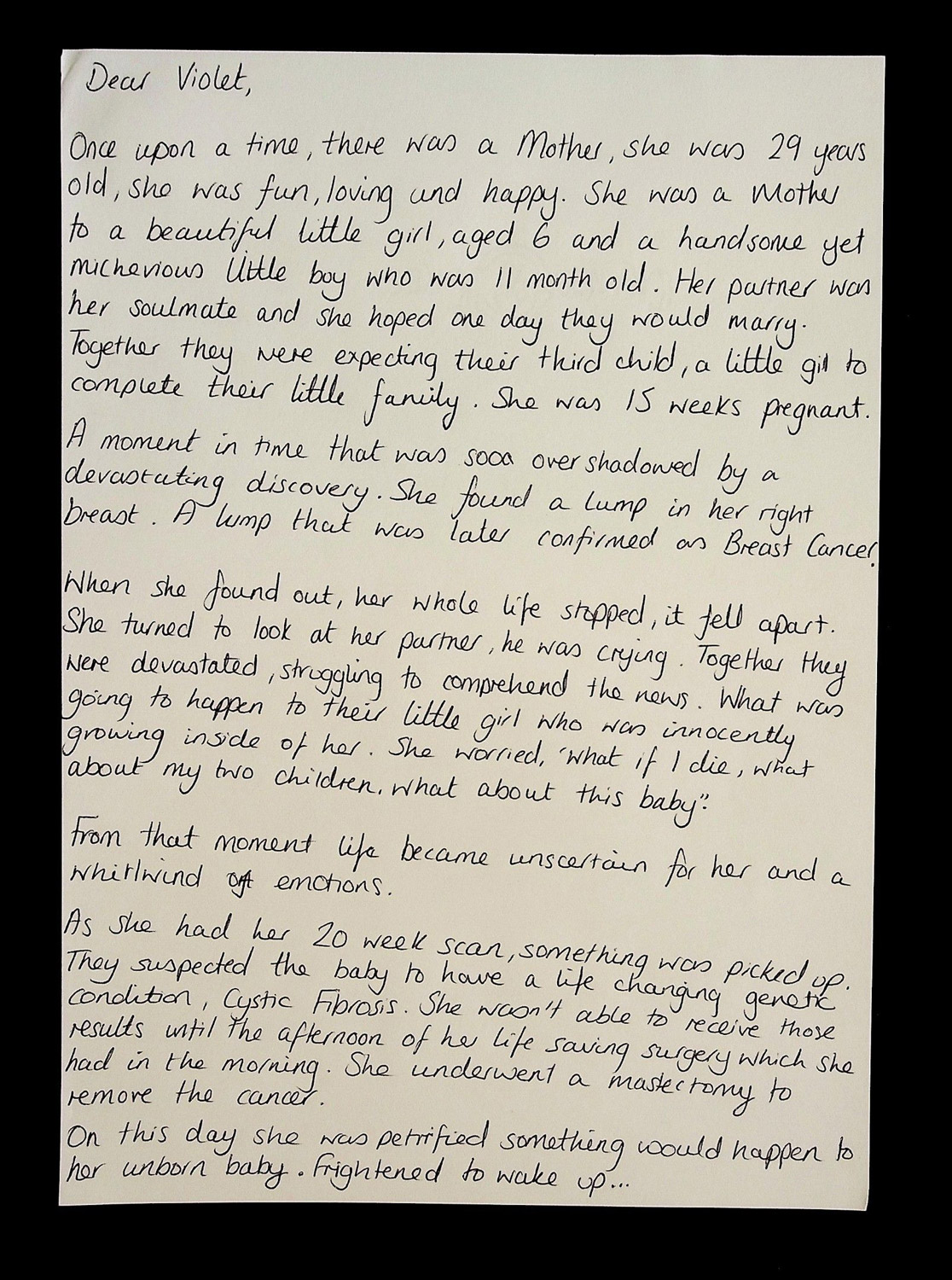 Lizzi England and her daughter Violet
England was diagnosed with breast cancer while pregnant with Violet, her third child. England was 29 at the time.
"One day I noticed a lump and I called the (general practitioner). They got me in quite quickly, but I was met with: 'No, you're too young. The changes are likely to be hormonal. This is not going to be breast cancer. So we want you to come back if you're still worried, and we'll go from there,' " England recalled. "I went back (two weeks later), I was still worried, and they reluctantly sent me for a referral. And yeah, when I was referred, I was diagnosed with stage 2, grade 3, breast cancer."
England had a mastectomy and underwent chemotherapy while she was pregnant. She wrote her letter to Violet, who she called a "little miracle who proved herself to be a warrior from day one."
"You did everything you needed to and more," England wrote. "You were incredible, just like your brother, sister and Daddy."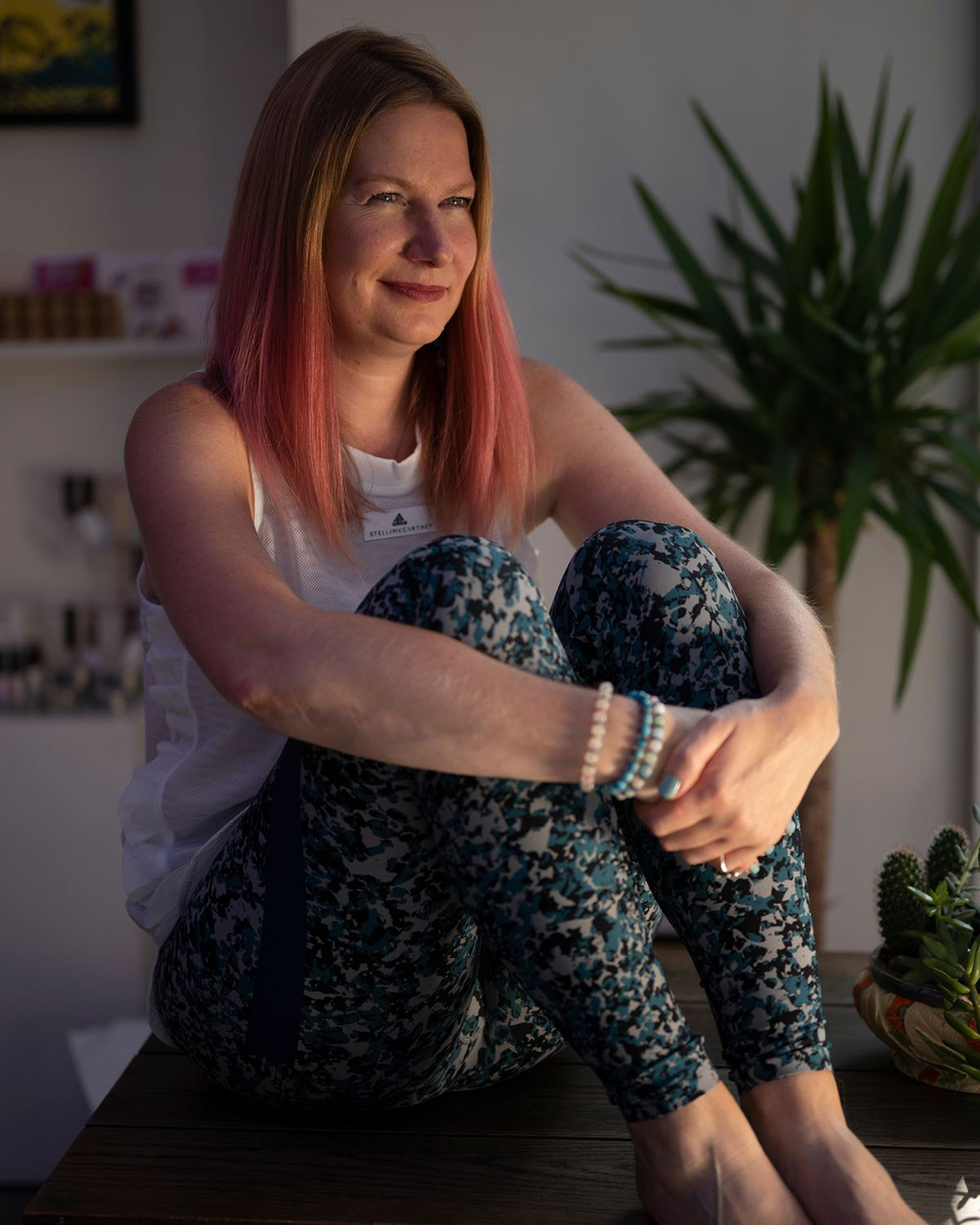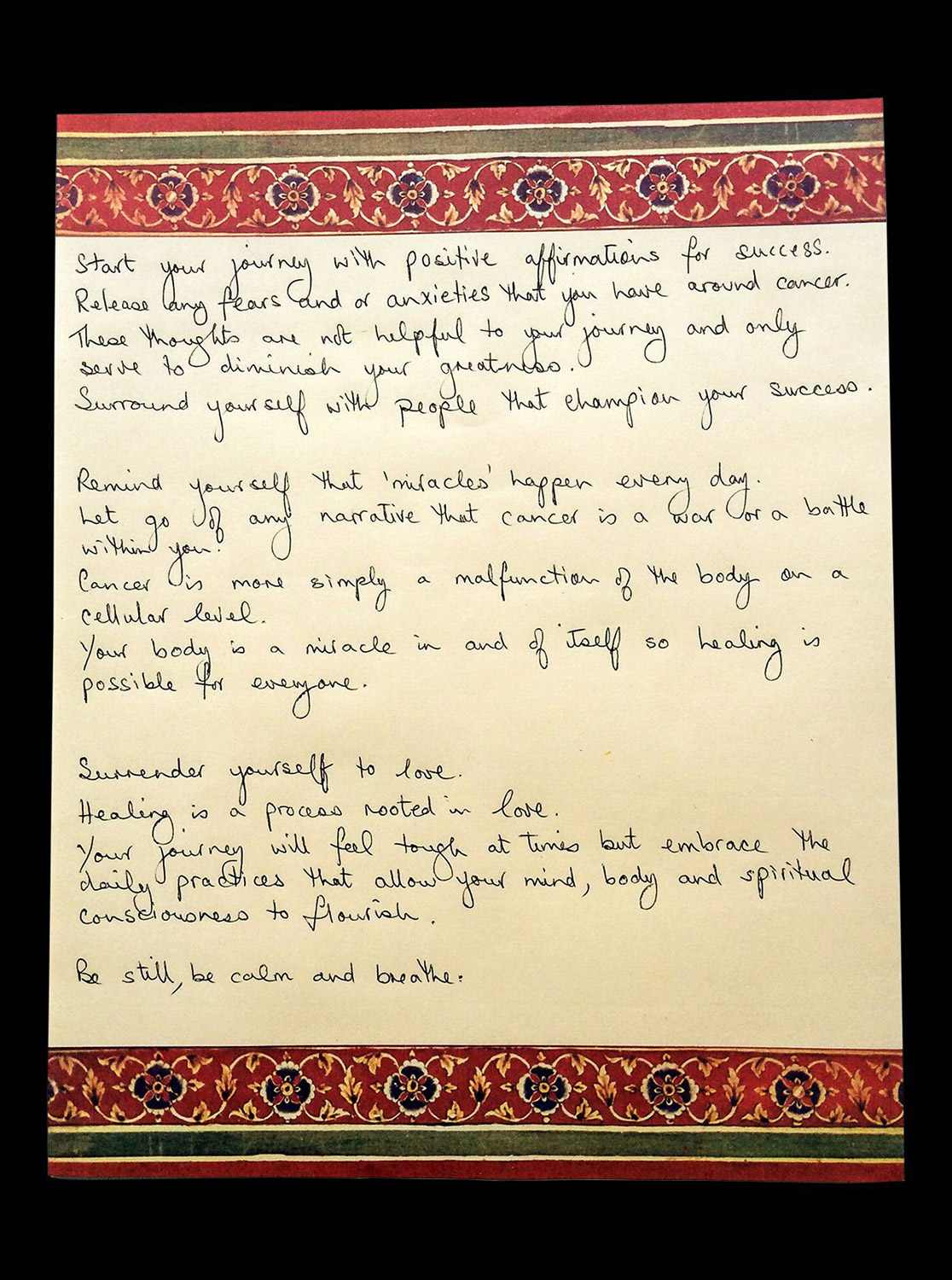 Jane Hutchison
Hutchison was 35 years old when she was diagnosed with breast cancer in 2012.
A year later, she founded the Hello Beautiful Foundation, a UK-based charity.
"We provide cancer patients with free access to counseling, holistic practice, nutritional workshops and functional medicine," she said. "The aim being to help people cultivate a nontoxic lifestyle that is sustainable on a day-to-day basis."
In her letter, Hutchison provides advice that might be helpful to anyone going through what she has.
"Your journey will feel tough at times, but embrace the daily practices that allow your mind, body and spiritual consciousness to flourish," she wrote. "Be still, be calm and breathe."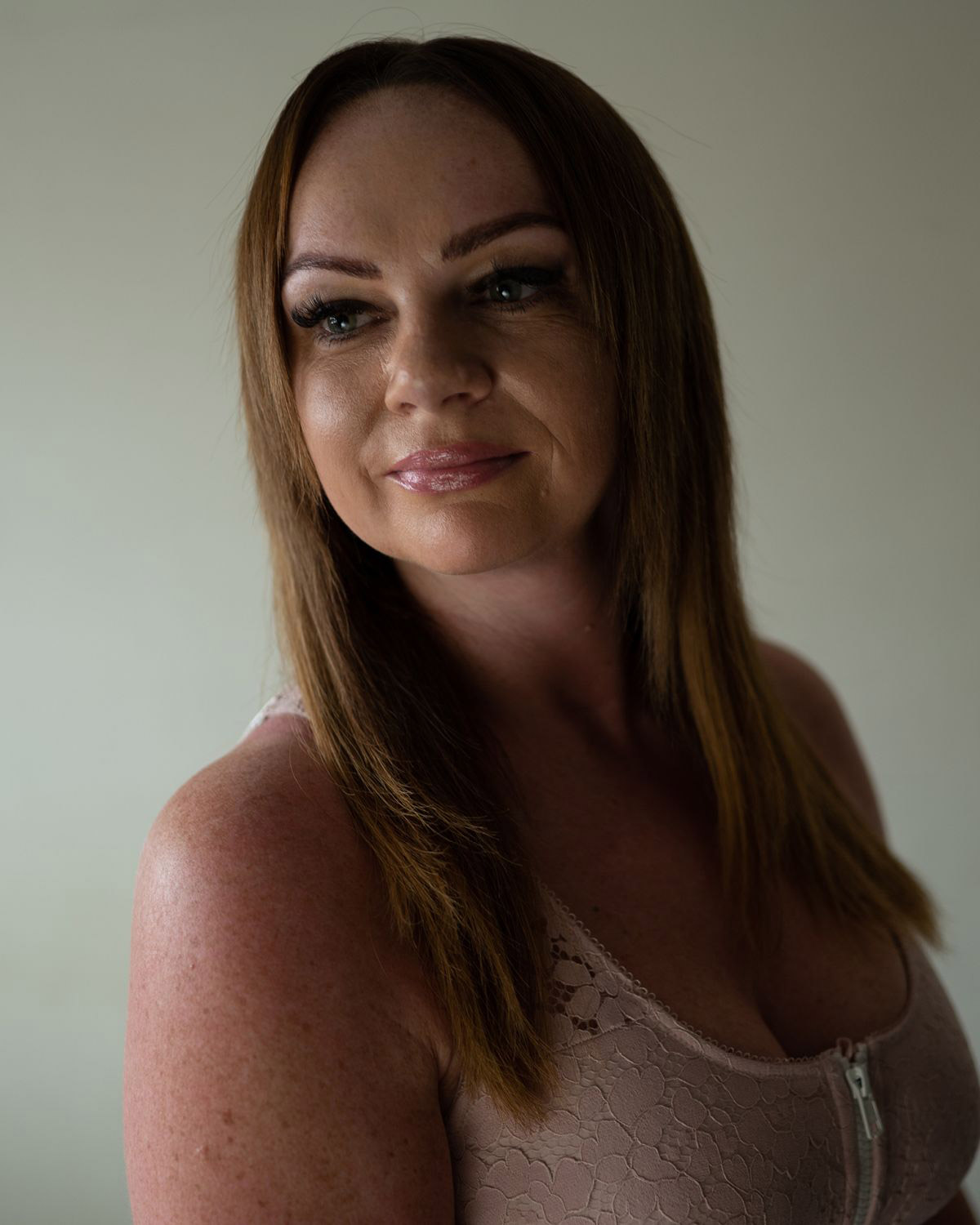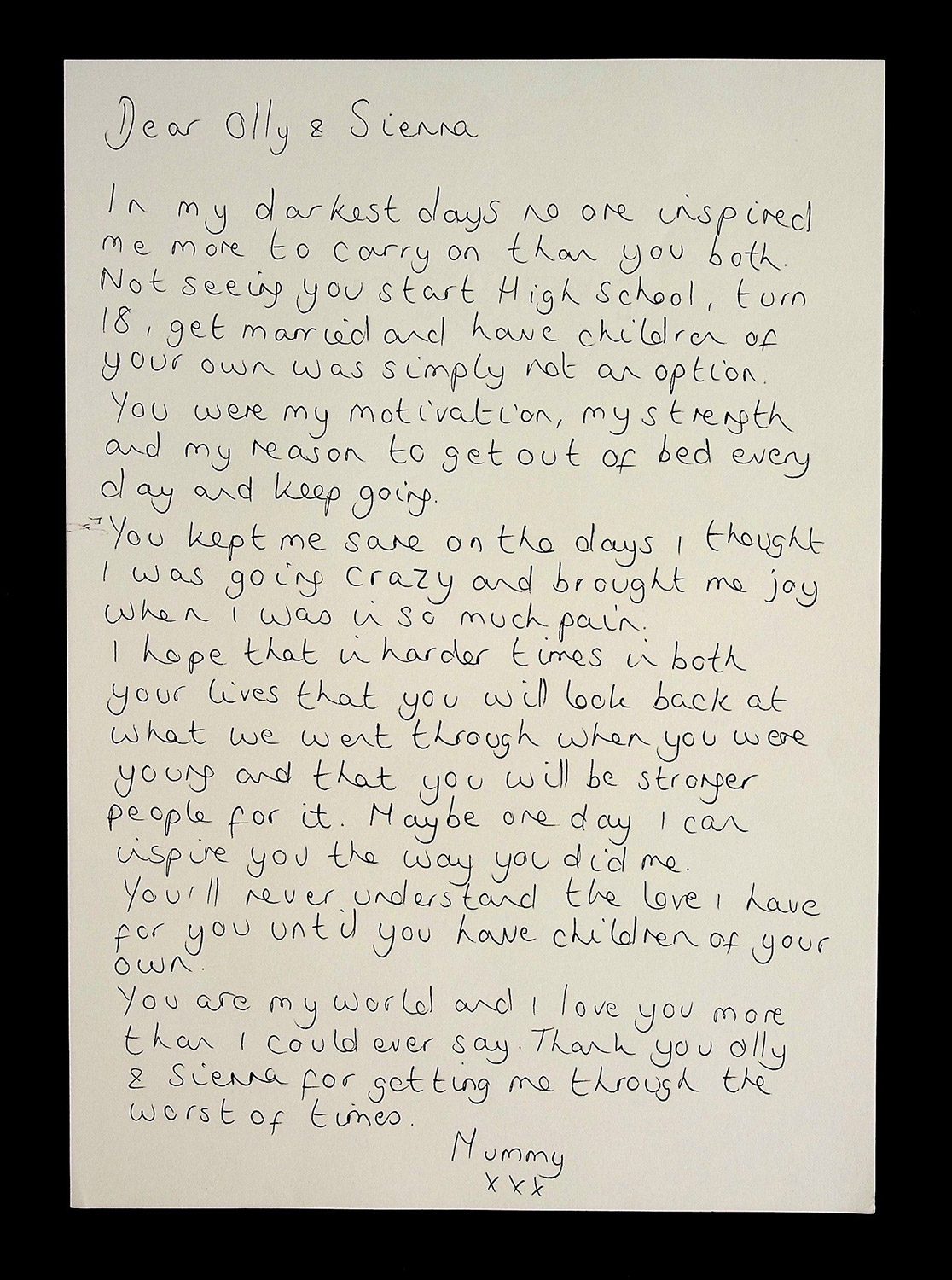 Gemma Longland
Longland had a mastectomy, reconstructive surgery, eight rounds of chemotherapy and 15 rounds of radiotherapy after being diagnosed with stage 3 breast cancer at the age of 35.
She wrote her letter to her two young children, Olly and Sienna.
"You kept me sane on the days I thought I was going crazy and brought me joy when I was in so much pain," she wrote. "I hope that in harder times in both your lives that you will look back at what we went through when you were young and that you will be stronger people for it.
"Maybe one day I can inspire you the way you did me."
Lynsey Addario is an award-winning photojournalist and author of the best-selling memoir "It's What I Do." You can follow her on Instagram, Facebook and Twitter.
More on Stella McCartney's "A Letter to My Loved Ones" campaign can be found on the fashion designer's website.
Editors: Brett Roegiers, Rebecca Wright, Sandee LaMotte