It was on a cloudy day one year ago that Donald Trump became the 45th President of the United States. It was a Friday that sent tears of worry down the faces of some, and drew smiles of pride across the faces of others.
The nation's new leader vowed to make America strong again and wealthy again and proud again and safe again. And, yes, as he said during his inaugural address, "We will make America great again."
We've heard a lot from President Trump over the past year. We've also seen a lot. CNN asked photographers who cover the White House to share stories about what they feel is their most memorable image from Trump's first year in office.
---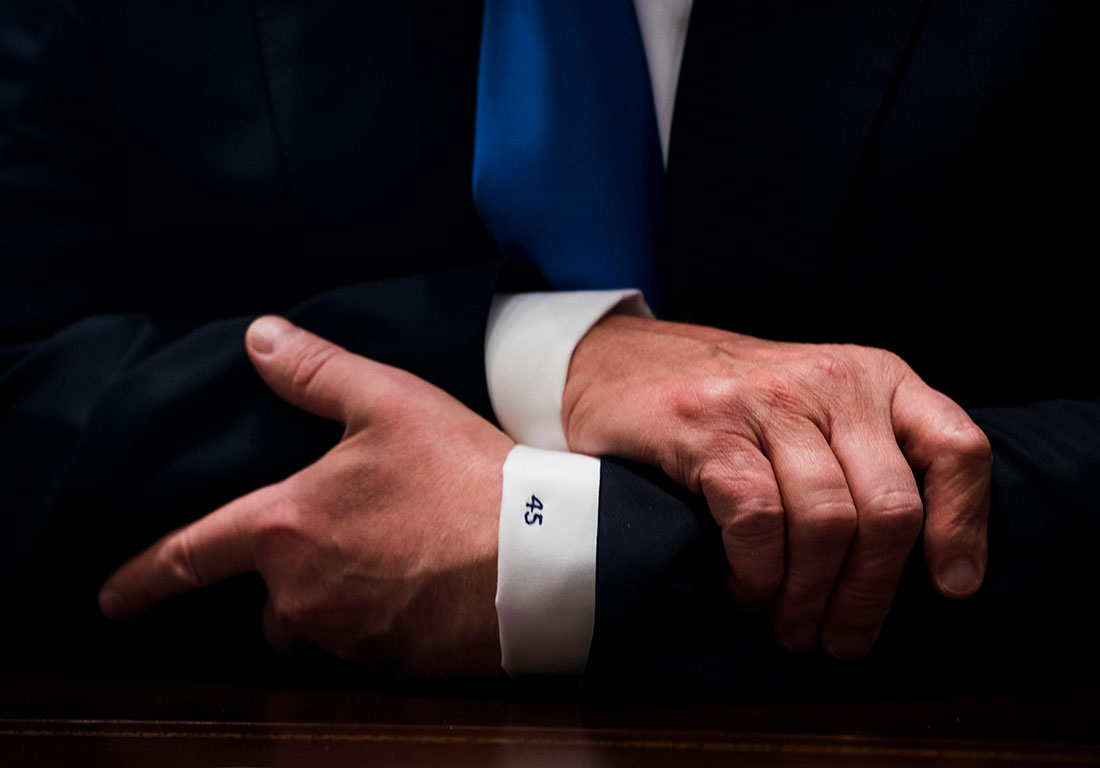 Doug Mills, The New York Times
"I've selected this very recent photo because I've been covering the President for the past year and I have never seen this on his shirtsleeve before. This photo was taken during what is now called a record-breaking photo op where the White House press pool was inside the Cabinet Room as the President met with bipartisan members of Congress about immigration. Clearly President Trump loves and is enjoying being the 45th President of the United States."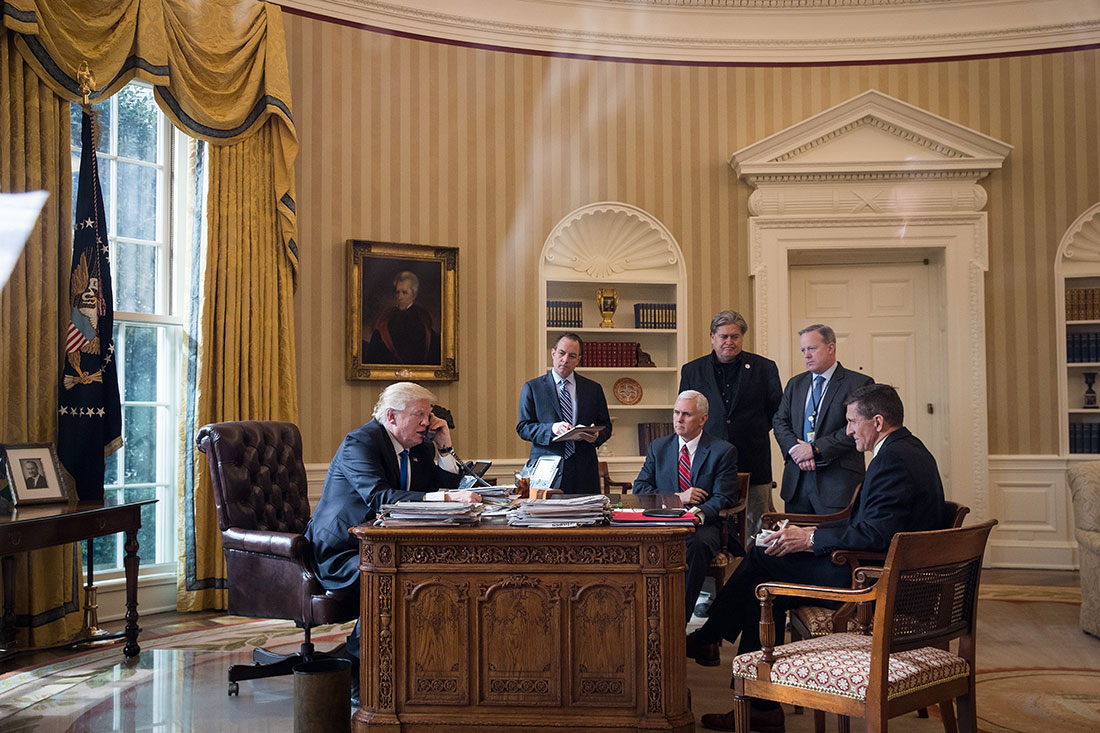 Drew Angerer, Getty Images
"President Trump had only been in office for about a week and he spent this Saturday calling a number of world leaders from the Oval Office. Photographers and reporters are usually not privy to these kinds of private phone calls. But on this occasion, the White House press office allowed photographers and a pool videographer to shoot through the windows from just outside the room while the President held phone calls with the leaders of Germany, Australia and Russia.
"I think it's an interesting and important picture for a few reasons. On a surface level, it's a nice peek behind the curtain of a president at work in the Oval Office, and it's the type of photograph that we usually don't have access to make.
"But I think the photo also speaks to a couple of larger themes of the Trump presidency. In this picture, he's on the phone with Putin. We still don't know the full extent of Russian interference in the US election and what kind of relationship Trump's team may or may not have had with Russian operatives during the campaign. The ongoing special counsel investigation has consumed much of the national conversation during Trump's first year in office. Are these men talking for the first time?
"Or have they known each other longer than we know of? You can't help but wonder what these two are discussing.
"Another important aspect of this photo is who else is in the room surrounding the President. With the exception of Pence, the rest of the staff members in the room have all since left the White House -- less than a year into Trump's presidency."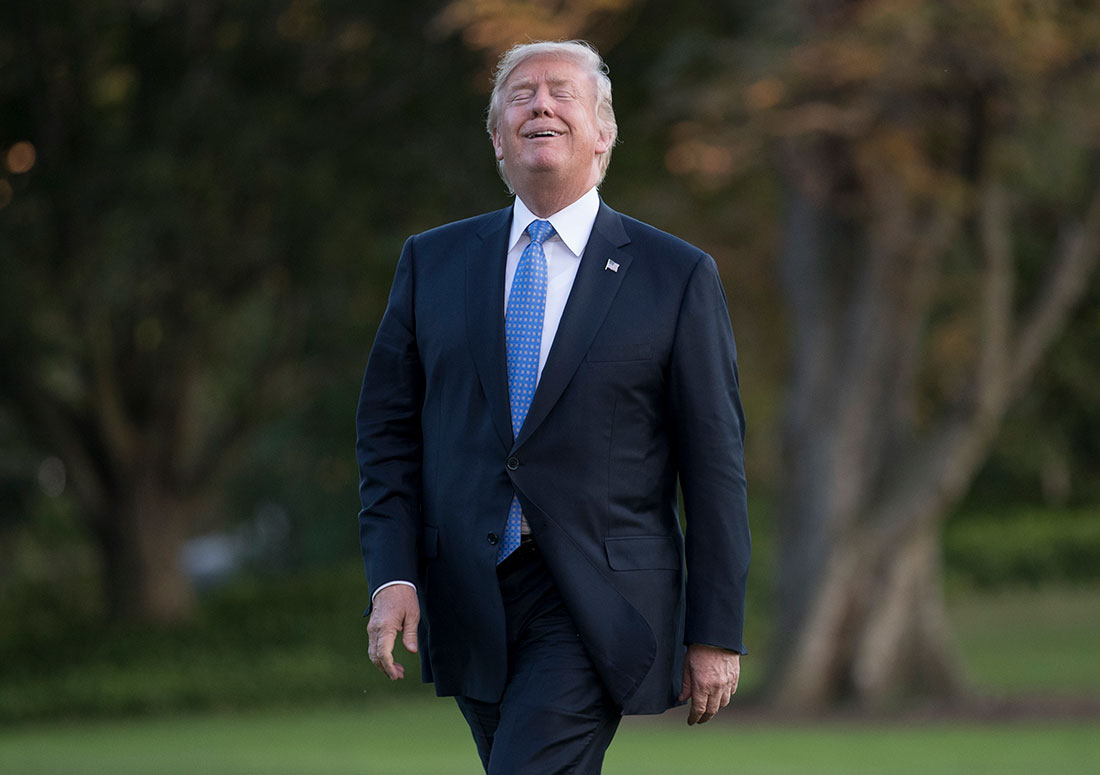 Carolyn Kaster, Associated Press
"Looking back at the first year of photographing Trump, in addition to telling the story of the day, my goal has been to show a more complete picture of the person. The news generated from this administration can feel constant. Being ready for compelling moments in the midst of the rush is key.
"This walk to the White House is routine, anyone covering the President can attest. He will often stop to talk or call out a comment to the media gathered in a confined area. Here, the President throws his head back and laughs in mid-stride. There is such a carefree quality; it shows an aspect of the President that we don't always see during the business of the day.
"I work to capture moments that show the subject unguarded and true, to show a more complete picture."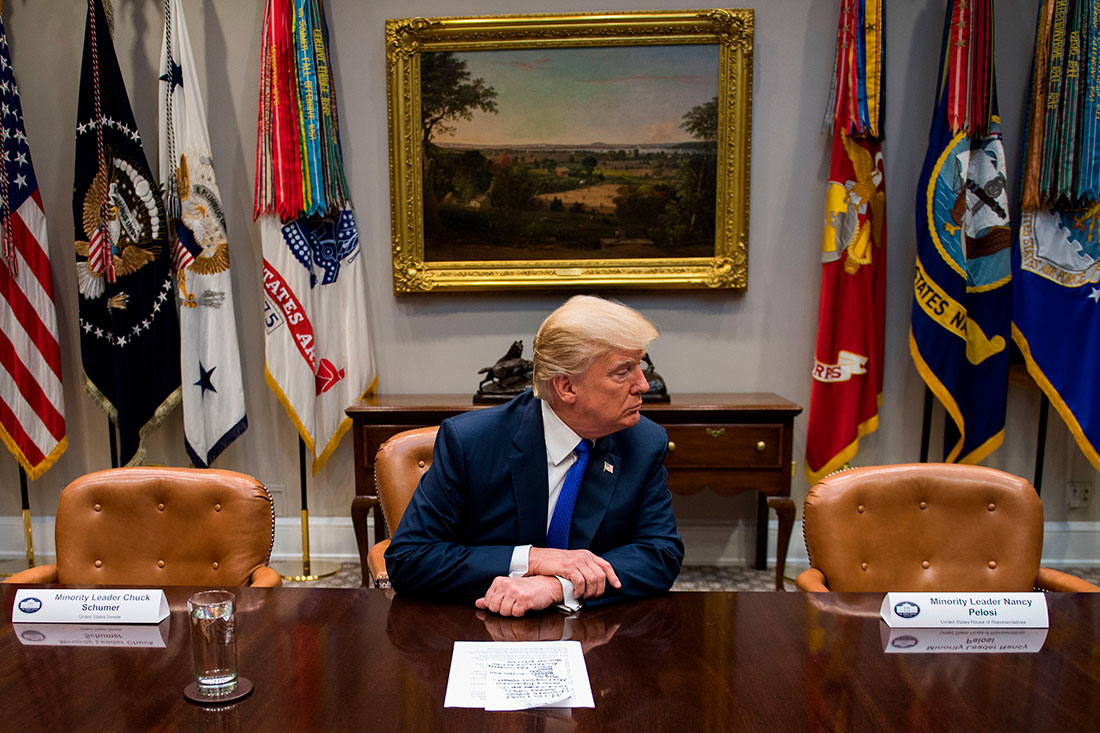 Jim Watson, Agence France-Presse
"America's 45th President has proven as unconventional in office as he was before entering the White House. Although a born showman, he can sometimes appear ill at ease in his new, unfamiliar surroundings.
"This photo was my first experience seeing the Trump administration using his showmanship to further their rhetoric about what they see as Democratic failures. When Schumer and Pelosi failed to show up for a previously closed-door meeting at the White House in protest of a Trump tweet, Trump used their absence to convey a clear message, using the media to deliver it in a classic political spin doctor move.
"To me, rather than showing that he is willing to work and they are not, it conveys the idea of how truly alone he is in his thought process on how to move the country forward.
"I remember after taking this photo that I really liked how alone he appeared to be, yet I also immediately saw that the White House Press Corps, including myself, had fallen into their messaging trap. So many of the events at the White House (like those of previous administrations) are used to further their agenda by using us to get out their message, and most of the time we can move past that and just report the news of the day.
"Yet at this event, it was clear we were being used to send a message to the public as well as the Democrats on the Hill."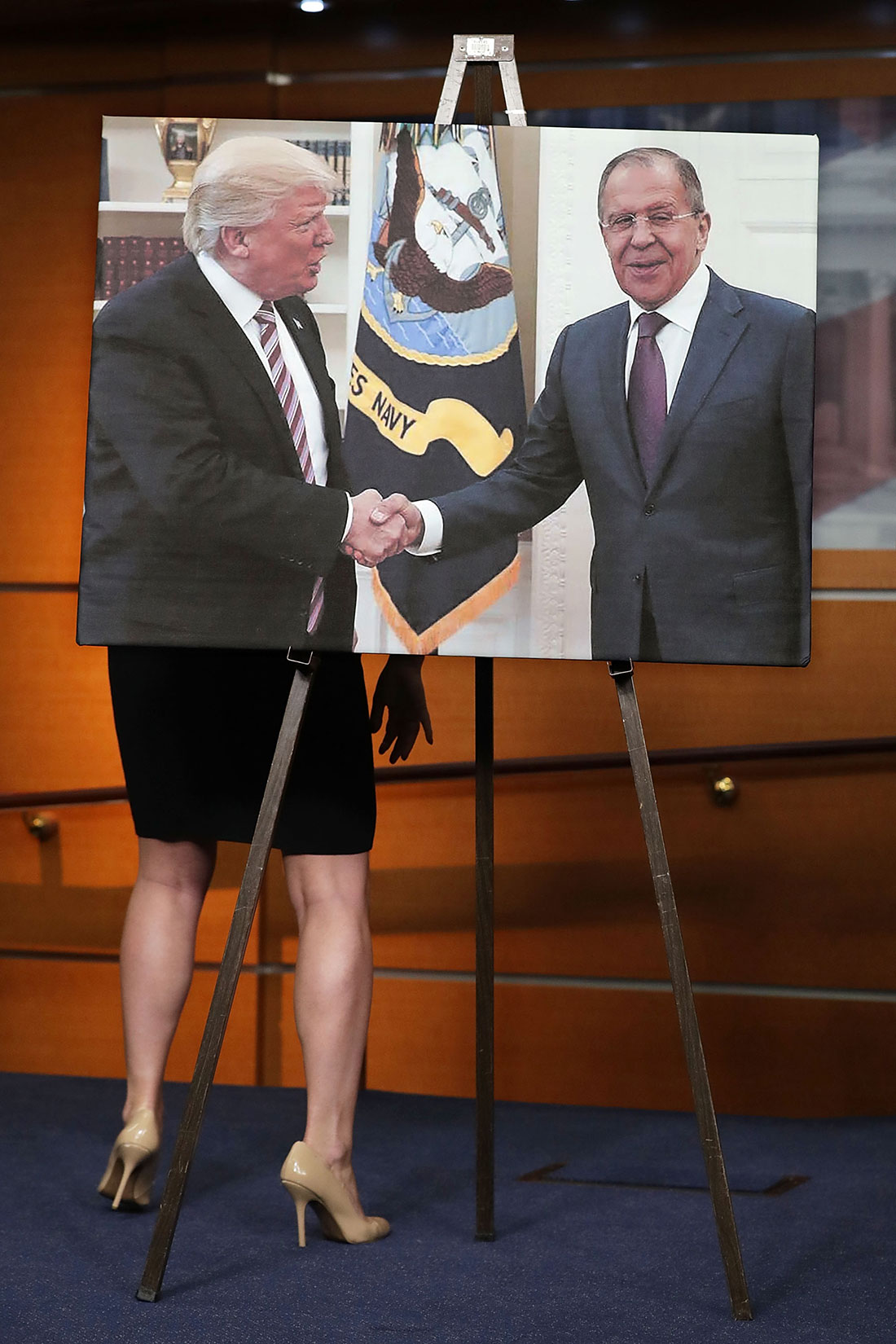 Chip Somodevilla, Getty Images
"In a news year filled with leaks, investigations, rumors, resignations, threats, sexual assault, overdoses, refugees and so much more, it can be nice to see just one photo that makes you laugh.
"In May, Democrats on Capitol Hill called a news conference to announce legislation to create an independent commission to investigate possible connections between Trump and Russian officials. The legislation was going nowhere, but to illustrate the point, Democrats displayed a photograph of Trump with Lavrov that had been taken in the Oval Office earlier in the year. During the conference an aide happened to walk right behind the photograph, lining her legs up with Trump's image.
"No matter who ended up wearing the heels, Trump or Lavrov, I think the image provided us all with a much-needed moment of levity."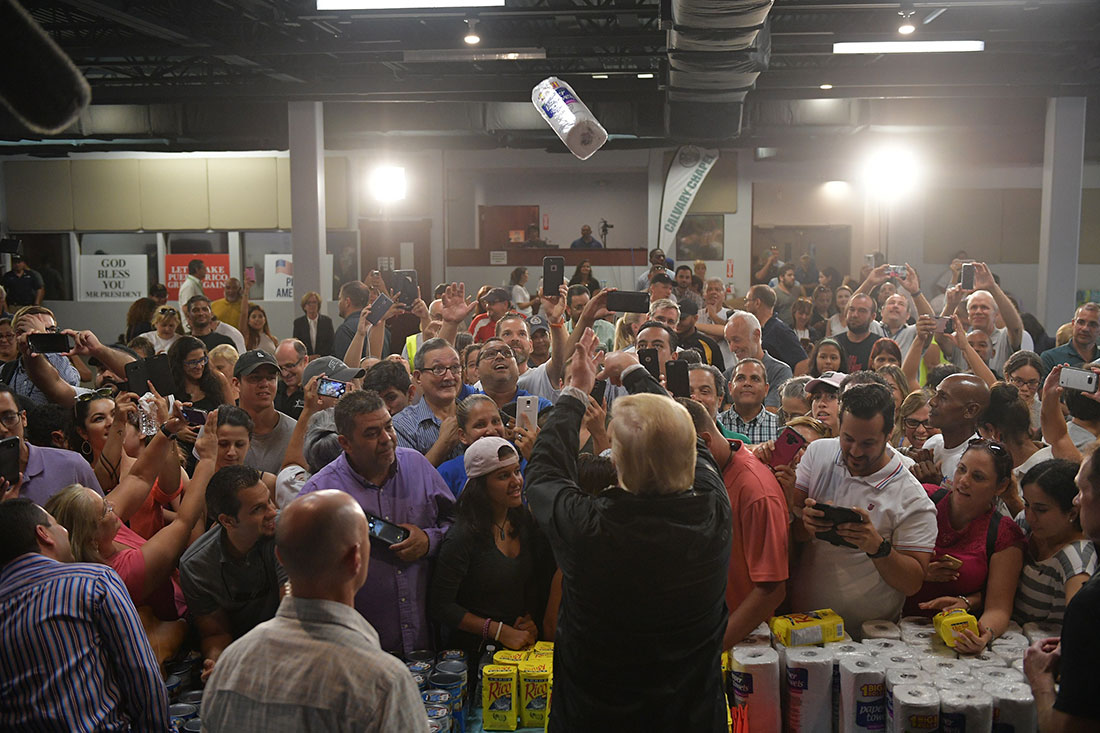 Mandel Ngan, Agence France-Presse
"It was a year of exceptional events at the White House, where one incident is surpassed by the next. One of the events that stands out was when Trump visited Puerto Rico in the aftermath of Hurricane Maria.
"He was making a stop at the Calvary Chapel in Guaynabo after visiting at a residential neighborhood to meet storm-affected residents. The chapel was set up as a relief center with basic necessities for local residents in need.
"The President shook hands and greeted the people gathered there. He then helped distribute supplies -- by tossing them into the crowd.
"It was a stressful day trip due to uncertainty about the communication situation. Luckily my colleague, photographer Hector Retamal, was on the ground and helped me with transmissions and sporadic network coverage, and the pictures were able to get out."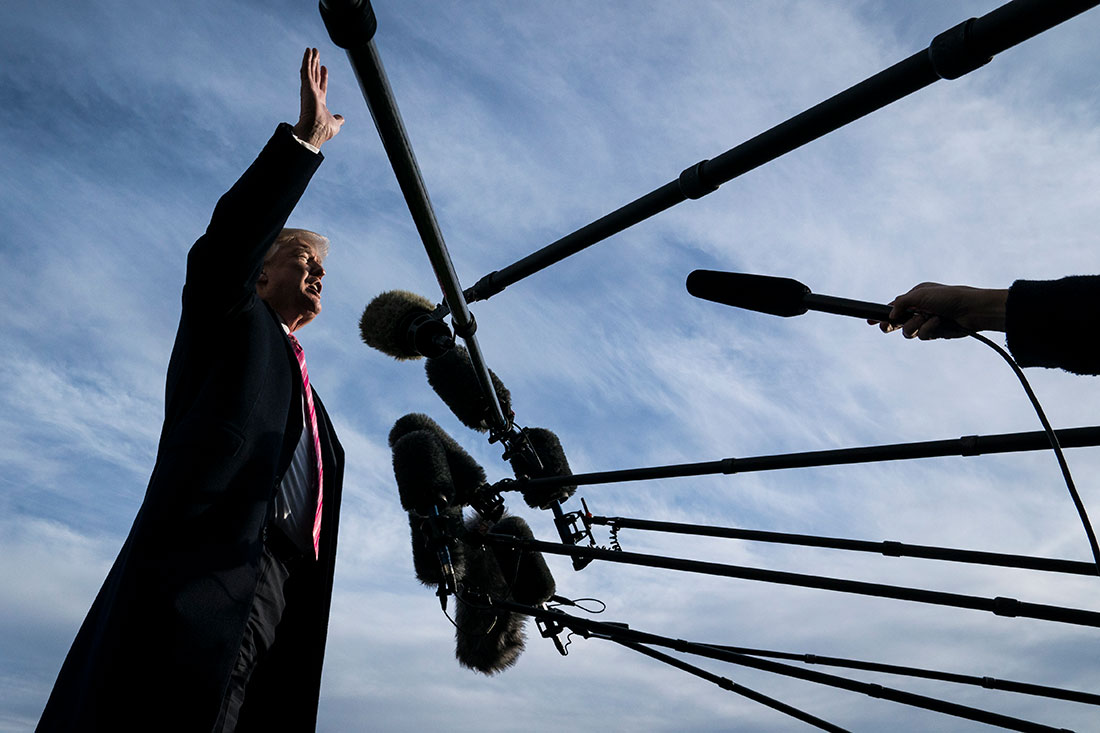 Jabin Botsford, The Washington Post
"Until the fall, Trump had rarely talked to the press in an on-the-record fashion. Lately, instead of having formal press conferences, he has started doing on-the-record gaggles as he departs the White House. I chose this photo because it not only depicts this practice, but it was taken the day Trump stood up for Roy Moore in spite of all the controversy surrounding him."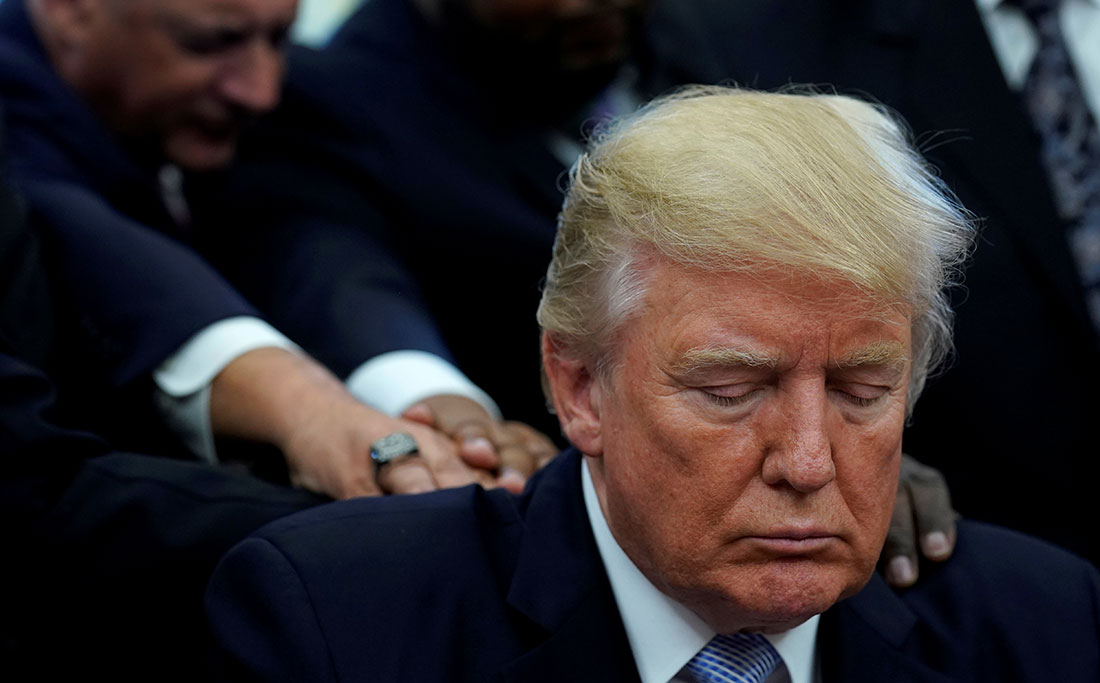 Kevin Lamarque, Reuters
"The White House pool photographers were summoned to the Oval Office for Trump's meeting with prayer leaders to designate a 'day of prayer' for Hurricane Harvey victims. As a prayer commenced, leaders reached out for Trump and put their hands on his shoulders. Cropping out the leaders themselves and just concentrating on Trump in this solemn moment led to a more powerful image."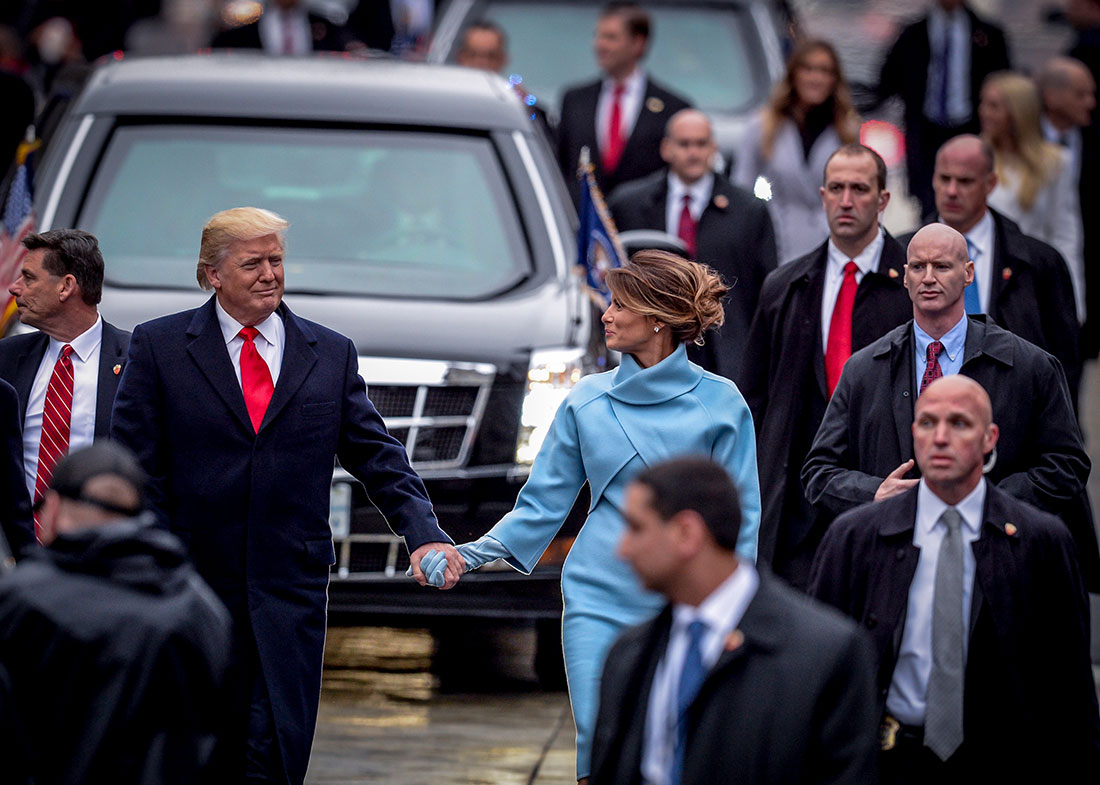 Mary F. Calvert, freelance photographer
"Washington is a town where the local news is often national news and we shoot a lot of situations that are highly scripted by our lawmakers and the President of the United States. It can be very difficult to capture genuine moments that go beyond the usual photo op. I like this photograph because of the glance between Trump and first lady Melania Trump. It was just such a tender little moment in the middle of all the security, pomp and circumstance."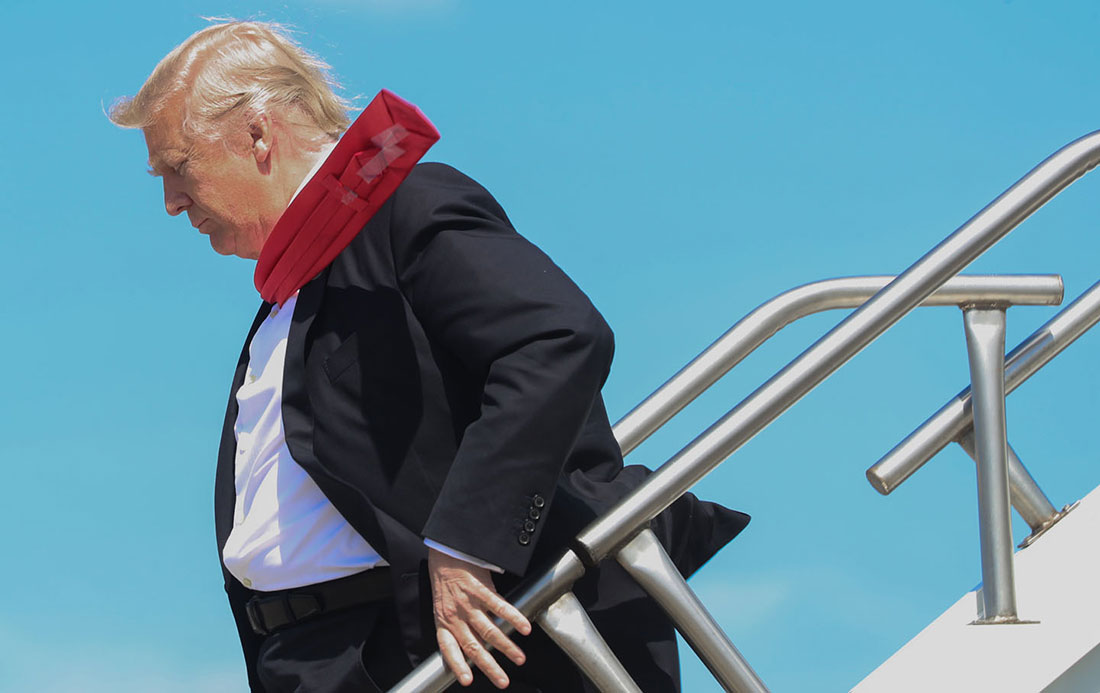 Stephen Crowley, retired, formerly The New York Times
"The Secrets of Supermen…"
"The media covering politics is used to the stagecraft behind the carefully produced photo ops that are presented by the White House. In the past, most events opened to the press in and around the West Wing lasted only a minute or two. Trump's roundtables or Oval Office 'sprays' often lasted as long as 15 minutes. Still, they offered only a thin glimpse of the fledgling administration. Last March, as Trump descended the stairs of Air Force One during a stop in Orlando, the wind revealed a bit more."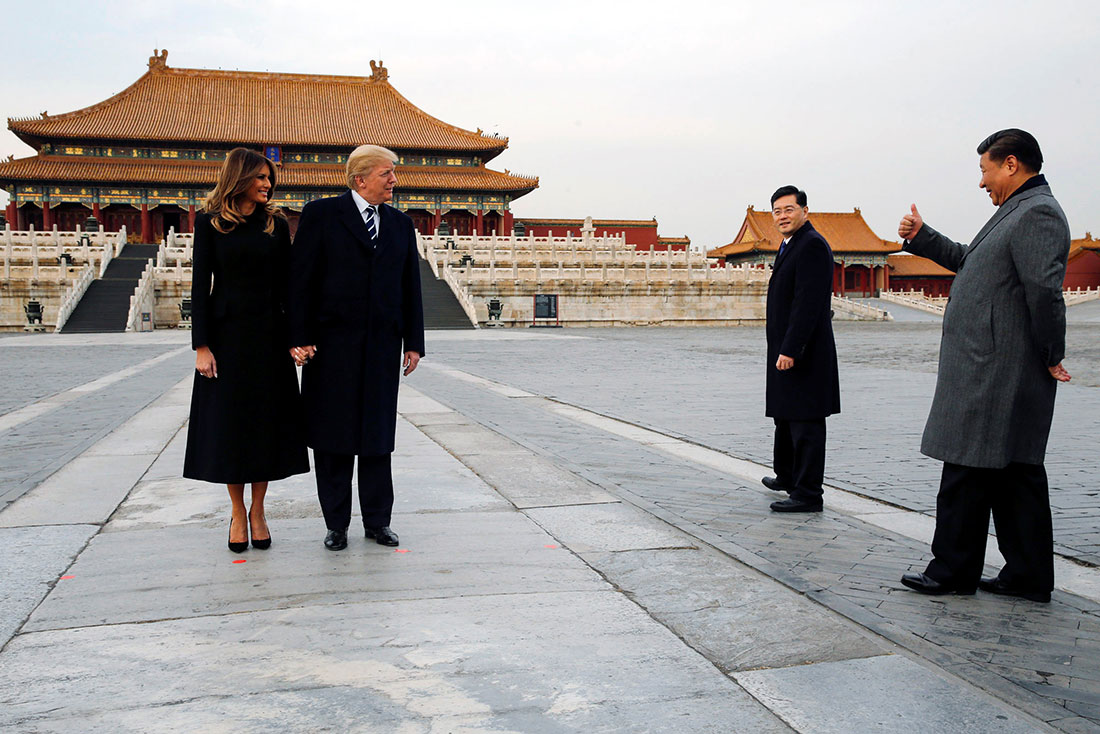 Jonathan Ernst, Reuters
"For me, some of the most interesting and revealing coverage from the first year of the Trump presidency is from his interactions on the world stage. For the most part, the President's domestic events have looked and felt very much unchanged from his campaign rallies in 2016. But when he's met world leaders, and especially when he's met them on their home turf, we have gotten a new window into who he is and how well he wears the hat of statesman.
"One of my favorite pictures of Trump abroad was from his visit to the Forbidden City in Beijing with Xi. As Trump and the first lady are just finishing a staged photo, Xi walked towards them with a thumbs-up and a smile.
"For all of the tough talk from the two leaders, what seems clear is that they're both on the same page when it comes to photo ops -- and that his fellow world leaders appear to enjoy giving Trump a taste of the same proudly effusive hotelier's welcome that is his own calling card."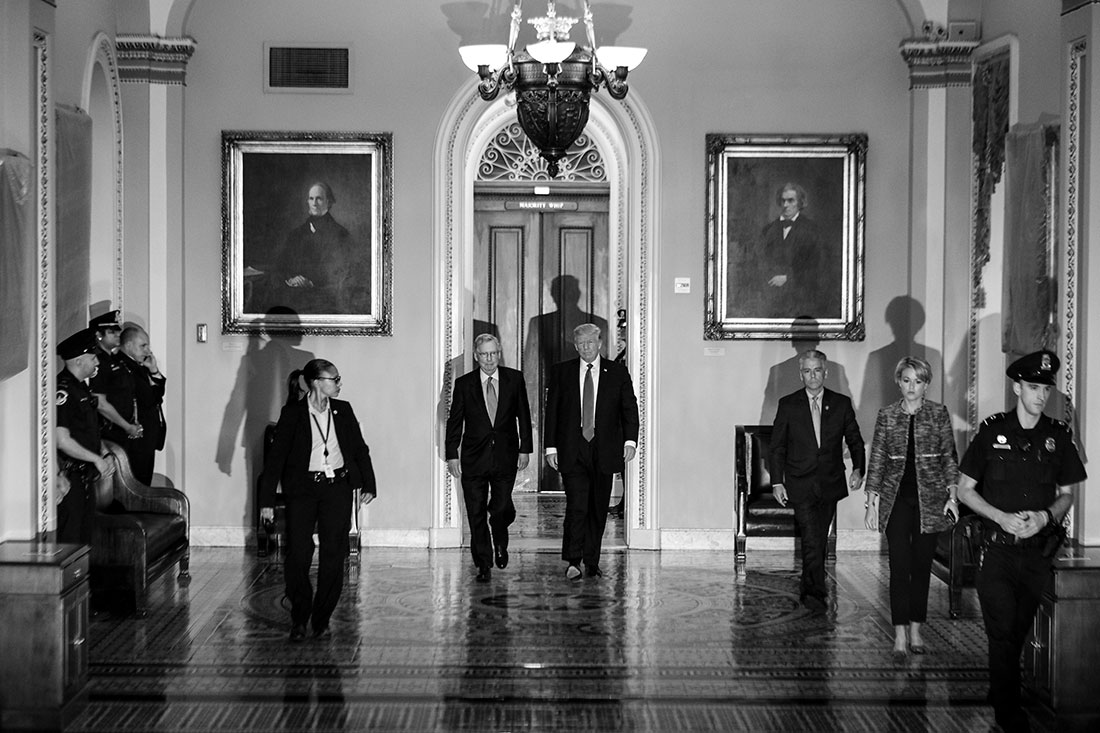 Gabriella Demczuk, freelance photographer
"The most significant legislation passed in 2017 was Trump's sweeping tax reform. As the year quickly came to a close and with very little to show of the promises made on his campaign, Trump and Republicans had everything riding on tax reform.
"During this time, Trump made regular appearances on Capitol Hill to persuade members of his own party to vote for the legislation. With no committee hearings, secret back-door dealings and last-minute handwritten amendments, there was much backlash from Democrats and the public about the true effectiveness of the nearly 500-page tax bill.
"This image shows McConnell and Trump entering the Ohio Clock corridor en route to a meeting with Senate Republicans. The light caught from another photographer's flash briefly illuminated the men, who had been legislating in the dark and out of sight from the American people."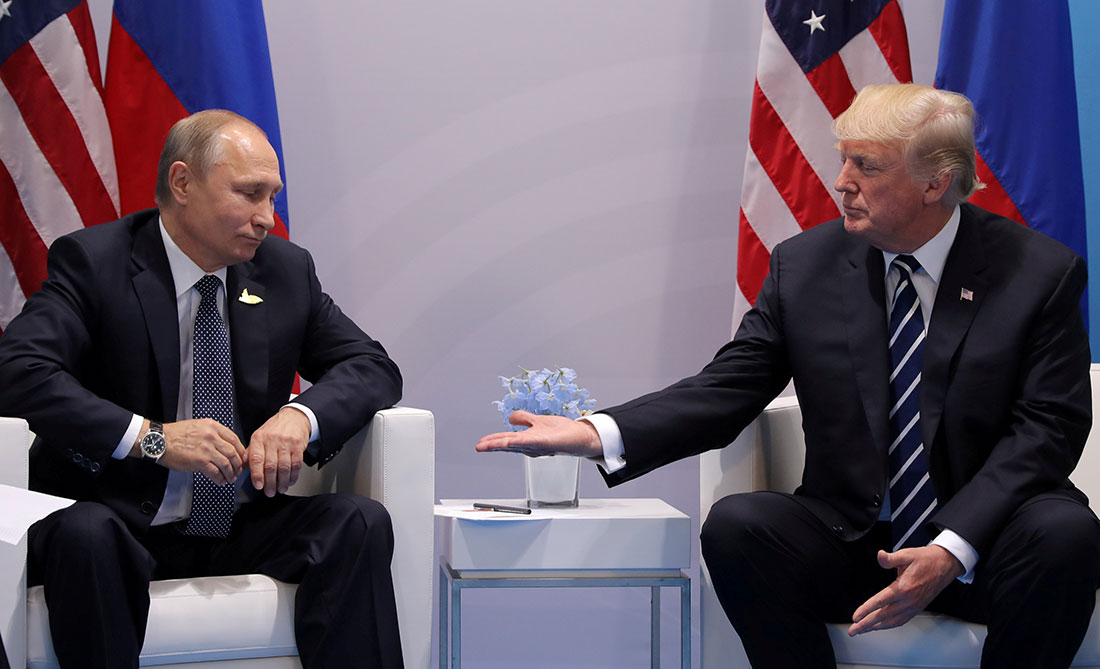 Carlos Barria, Reuters
"On July 7, I witnessed one of the most important meetings of President Trump's first year in office. The world's eyes were on these two leaders after speculation about Russian interference during the 2016 US elections. We entered the room for less than two minutes, where I took dozens of pictures. But there was this very interesting moment when Trump extended his hand to Putin for a handshake. Putin paused for a second and looked at Trump's hand. That was the type of picture that I was looking for: a little moment that seemed to say a lot."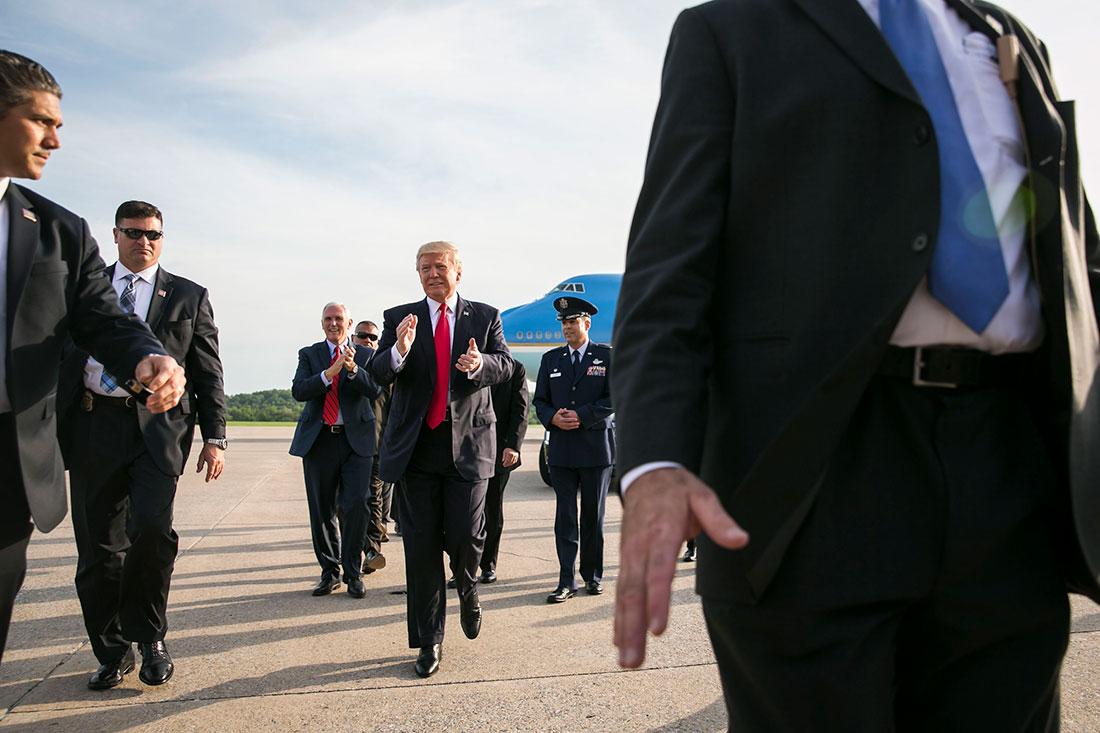 Al Drago, The New York Times
"This photograph was taken on Day 100 of Trump's presidency. We had just arrived in Pennsylvania for a rally and were told there would not be any greeters or viewing pen on the tarmac. When we walked off Air Force One I noticed a large group of supporters and military service members on the far side of the motorcade. I started slowly positioning myself near them and once the President walked down the stairs, he made a beeline to greet them.
"I like how this photo shows the security bubble that the President is always encased in. Regardless of what else is happening in the world or in the headlines, in Trump's circle he is always winning.
"It was a busy first year covering the President."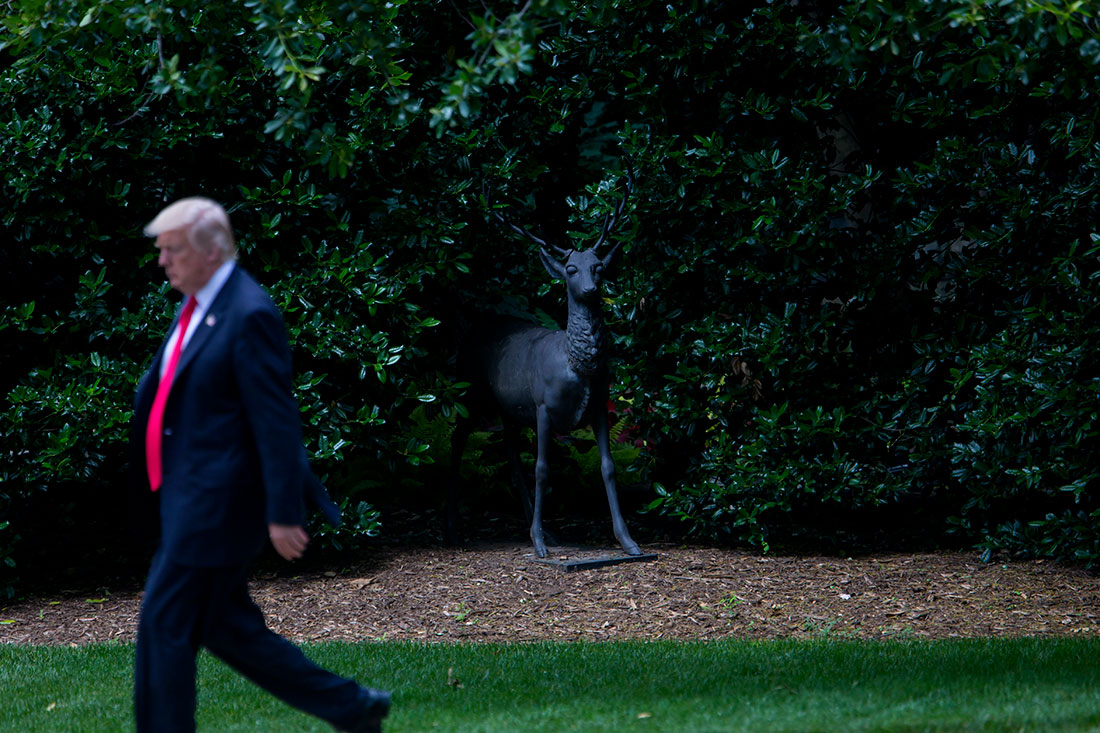 Eric Thayer, freelance photographer
"There is a surrealness to covering this, about being in some of these places and covering this story. I'm still pretty new to this, new to D.C., but have covered Trump for a while before he was elected President. There is an element of tradition that is irrefutable. The weight of all of it is ever present. I've been lucky enough to be a part of this story, and feel very fortunate to have been a part of this moment in time.
"On the surface there is documenting the day-to-day, but there are moments where you step away and try to either capture the overall by placing that moment into time or by capturing the surreal. It's always difficult to move away from the day-to-day coverage, but when you're able to make sense of any of this, it takes on a life of its own and can exist above you, above your subject and find its own place in history."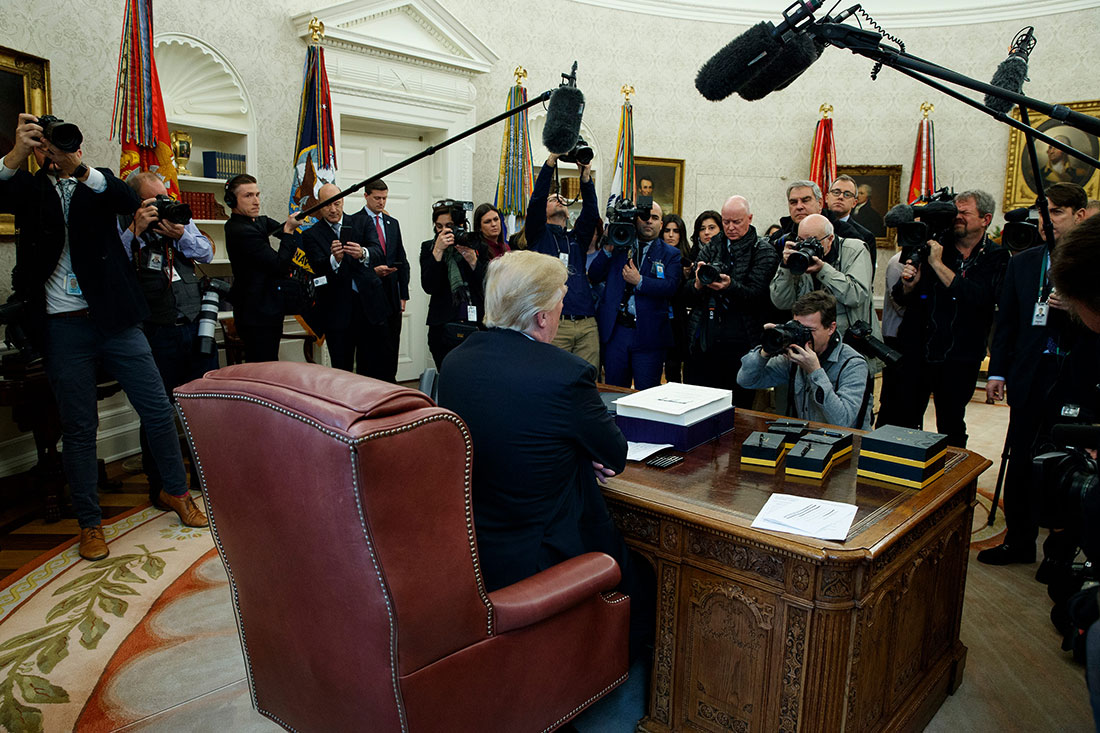 Evan Vucci, Associated Press
"One of my favorite images of 2017 came from the last event of the year in the Oval Office. Before departing for his Mar-a-Lago residence in South Florida, Trump signed the most important piece of legislation from his first year in office: the tax reform bill. Sitting at the Resolute Desk and surrounded by cameras and reporters, Trump seemed to end the year just as he started it: the center of attention."
Tom Brenner, The New York Times
"At this time during the President's first year in office, he had campaigned hard for several senators and members of Congress he had endorsed, some of whom lost their election bids. With a potential government shutdown looming and massive tax cut legislation on the edge, Trump was limiting his time in front of the microphones.
"I made this photo at night as he returned to the White House. Another photographer's flash caught the President at the same moment I made this photo, overexposing his face. The image rendered the President into a ghostly silhouette as he walked past journalists, ignoring their questions."
Photo editors: Bernadette Tuazon, Clint Alwahab and Benazir Wehelie
Top photo: Brendan Smialowski/AFP/Getty Images