I think about Deivis Perez every day.
We met on an overcast July day at a children's hospital in Caracas, Venezuela, the capital. He didn't say a word when I curled around the door on the dimly lit fourth floor. His big brown eyes just stared at me. I froze and tried to hold in a gasp. Deivis' skin was splitting open on his swollen face, his body covered in dark brown spots. I wear my emotions on my sleeve and Deivis saw past my thinly-veiled look of calm. Tears began to roll down his face as he buried his head in his hands.
Deivis needed dialysis treatment for his failing kidneys. But instead of getting relief, he got a deadly bacterial infection called sepsis, according to his doctors. The filters in the dialysis machines at the children's hospital no longer worked. Deivis received contaminated blood twice. He lost 22 pounds in two months. His 14-year-old body looked like that of a 7 or 8 year old. An ulcer in his throat made it too painful to eat so he could only digest liquids.
"I want everyone to see what's happening with us here. It's not just what you're seeing on TV -- the protests, the clashes. We are in the hospital suffering," Deivis' mother, Sandra Galindez, told me and my colleagues.
Venezuela is in a death spiral that shows no signs of healing. President Nicolas Maduro erased any remnants of democracy in late July, stripping political opponents of power and establishing a new legislature filled with his cronies. Dozens of nations, including the US, labeled Maduro's regime a dictatorship after the July 30 power grab. More than 120 Venezuelans have died since protests ratcheted up in March that sought – to no avail -- to prevent Maduro's consolidation of power.
But Maduro's cemented regime still faces the same problems it started years ago: An exodus of its educated class combined with mass shortages of food, medicine, money and -- most importantly -- time.
"
Nearly three-quarters of Venezuelans recently polled said they had lost at least 19 pounds last year
As the food shortages deepened, nearly three-quarters of Venezuelans polled said they had lost at least 19 pounds last year, one poll found.
Shortages of basic medicine and proper medical equipment – as in Deivis' case – are common. More than 750 women died during or shortly after childbirth in 2016, a 66% increase from 2015, according to the Venezuelan health ministry. Nearly 11,500 infants died, a 30% jump. Malaria cases soared to 240,000, a staggering 76% increase. That last one is especially telling: Venezuela had already eradicated malaria more than 50 years ago. I met three paramedics in a week who all said they're low or out of gauze, gloves and bandages.
Galindez, Deivis' mother, found a matching kidney to replace one of her son's failing ones. But it was a temporary victory: Doctors stopped performing kidney operations in April because they didn't have the resources needed for the operation, according to Dr. Belen Arteaga, the head of the nephrology unit at Hospital de Niños Dr. J.M. de los Ríos, where Deivis was treated.
The Trump administration, long critical of Maduro, has said the US "will not stand by as Venezuela crumbles." The US slapped sanctions on Maduro and over 20 of his surrogates. But so far, Maduro treats it like a joke. He gave 13 of the sanctioned leaders one of Venezuela's highest honors, the national sword.
The dramatic collapse here is all the more painful knowing what lies beneath the ground. Venezuela has more crude oil reserves than any other nation in the world. It was once Latin America's richest nation. It's no surprise, then, that Bill Clinton made Caracas -- a city of incredible physical beauty -- his first stop on a trip to South America in 1997.
In 2013, Maduro succeeded his mentor, the late President Hugo Chavez, who rode a wave of populist fervor to the presidency in 1999. Despite Venezuela's vast resources, it had become a nation of deep inequality by the 1990s. Chavez promised to end that with his socialist agenda.
Chavez, who is still revered in Venezuela, is perhaps most lauded for making housing affordable for many urban Venezuelans. But in doing so, he began a years-long spending spree, doling out subsidies to the poor while fixing prices on everything from coffee to corn to a tank of gas. He shored up ties with Russia and China while distancing his country from the US. His government also nationalized many industries, then mismanaged them, leaving them to rot.
The excessive spending was barely sustainable when Venezuela's only source of income -- oil -- was valued over $100 a barrel. But oil is now worth less than $50 a barrel. Maduro's regime continues to dole out heavily subsidized food and force some products to be sold for a pittance.
That domino effect has created a worthless currency. On July 24, the day I arrived in Venezuela, a dollar equaled 8,820 bolivars. As I write this on September 6, a dollar fetches nearly 20,000 bolivars. In other words, the bolivar is worth less than a hundredth of a penny.
Daily lives crumble under that kind of pressure. When I visited, a jar of Jiffy peanut butter cost 80,000 bolivars. The most you can take out of the ATM at a time is 30,000 bolivars. I saw people line up outside ATMs, hoping to get cash before it ran out, then rush to supermarkets to wait for hours in line there.
To make the wheels go round, Maduro's government has taken out far more debt than it can pay. It owes China, Russia, bondholders, oil companies and even airlines tens of billions. Venezuela only has $10 billion in reserves, and experts say a government default is a "when," not an "if."
Venezuela's debt troubles have created human suffering: In practice, Maduro seems to have decided to prioritize paying the bills over importing food, medicine and other essentials. Since the government allowed much of the nation's resources to decay, it must ship in nearly everything. As recently as March, Maduro called for the US to help his country with its medical shortages. But at other times, he has refused the aid Venezuela is offered. Maduro has said the severe shortages are part of an "economic war" designed to overthrow him.
Under those conditions, Venezuelans have been fleeing for years. Nearly 2 million have left the country since Chavez took power in 1999, according to Tomas Paez, a sociologist at the Central University of Venezuela.
In 2016, the United Nations predicted that next-door Colombia could expect an "avalanche" of refugees in the years to come. With more than 100,000 Venezuelans having illegally crossed the border into Colombia as of July, according to Colombia's customs agency, some would say that avalanche has already begun.
US President Donald Trump imposed new sanctionsat the end of August that effectively ban Venezuela and its state-run oil company from tapping US debt markets for money. But it's not a full ban on Venezuelan oil, which would quickly choke off Maduro's government. Several Venezuelans told me Trump should get on with it. Anything to strangle Maduro's power, they say.
But such a move cuts both ways. Plowing down Maduro's regime with an oil ban would almost certainly cut off what little food and medicine is coming into the country. And like many such measures imposed from afar, the impact is often strongest on those who can least survive it.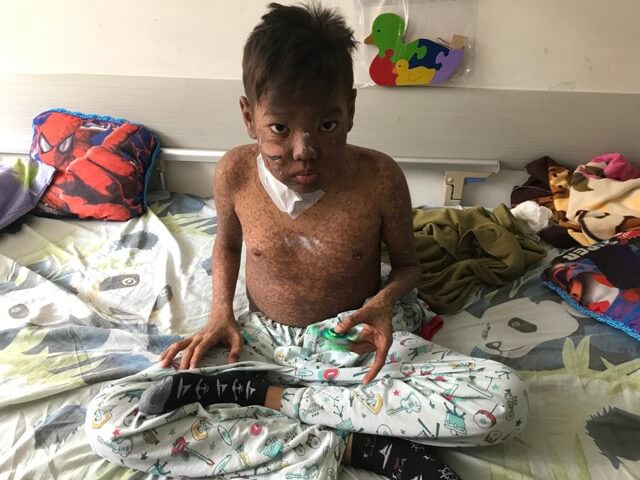 Galindez, Deivis' mother, burst into tears a few minutes into our conversation. Her son's eyes welled up more. It crushed me to keep asking questions. I felt like I was making the pain worse. Her last response hit me hardest. I asked her, "What's his dream?"
"He wants to be an international journalist," she replied.
I returned to my hotel, stood in the shower and sobbed. I buried my head in my hands like Deivis. What's so different between me and him? A country? A government? Fate? I would have given him my job if it meant he would be spared even one more moment of pain. But I couldn't stop the suffering.
Deivis died on the night of August 17 after going into respiratory arrest. Eight children, including Deivis, have died in the dialysis ward so far this year – four from a bacterial infection and the rest from general kidney failure. Three children died in the dialysis ward in all of 2016, according to the hospital director.
After his death, Galindez told me she feels "sadness, anger, an enormous emptiness in my heart, in my soul." She blames both the government and hospital staff for losing her son. She said the hospital allowed Deivis' condition to deteriorate and plans to take legal action against the facility and the health ministry with other mothers who've lost children.
"
It really hurts knowing that you bring your son (to the hospital) for one thing, he gets worse from others, then you get him back in a box
"It really hurts knowing that you bring your son (to the hospital) for one thing, he gets worse from others, then you get him back in a box," Galindez said.
Arteaga, the head of the hospital's nephrology unit, said they did everything they could but the hospital ultimately didn't have the resources Deivis required.
Galindez also said the government "knows that there's a health crisis and they haven't resolved anything."
She had blunt advice for Maduro: "Resolve all the crises in the country. And if he doesn't feel prepared to do that, then simply hand over power and others can resolve them."
Venezuela faces a lonely road ahead. Its children are dying and its men and women are starving or leaving. Most of its neighbors won't recognize its government.
Trump and other world leaders say they won't sit by while Venezuela collapses. But I'm afraid there isn't much more to save. And the only effective options stand to hurt those who've endured. Maduro's torturous regime is taunting them: How much does the world really care about Venezuela or about the next Deivis? Not enough, I fear.
Paula Newton and Marilia Brocchetto contributed reporting.