Donald Trump told Nikki Haley she could speak her mind. She's doing just that.
The UN ambassador is the breakout star of Trump's Cabinet. But will she succeed?
With contributions from Maeve Reston
Nikki Haley was under consideration to become Donald Trump's secretary of state when she flew to New York to meet the President-elect for the first time since his election victory.
The South Carolina governor was torn. The baggage from the 2016 campaign – she supported Marco Rubio in her state's all-important presidential primary and later backed Ted Cruz – didn't suddenly evaporate for Trump, who never forgets a slight.
But there was something more fundamental that bothered her: Her resume. Yes, Haley traveled abroad as governor and she was successful in bringing business into the state. But none of that could prepare her to lead American diplomacy in a world where North Korea was becoming more aggressive, the crisis in Syria was deepening, Venezuela was succumbing to a dictator and the war in Afghanistan showed no sign of easing.
She told Trump no.
"I'm very aware of when things are right and when they are not," she told me during an extensive interview recently. "I just thought he could find someone better."
Haley flew back to South Carolina planning to finish the final two years of her term. Reince Priebus, Trump's first – and short-lived – White House chief of staff, had other plans. He called Haley a few days after her meeting with Trump and asked her to consider being the US ambassador to the United Nations. She was intrigued, but had some conditions.
First, she told Trump she wanted to be a member of the Cabinet and the National Security Council, privileges enjoyed by her predecessors in the Obama administration. Perhaps most importantly, she wanted the latitude to be herself, to say what she wanted.
"In all honesty, I didn't think they were going to take me up on everything I asked for. And they gave me that. So how do you turn that down?"
"I said 'I am a policy girl, I want to be part of the decision-making process,'" she told me in recalling the conversation with Trump. "He said, 'done.' And I said, 'I don't want to be a wallflower or a talking head. I want to be able to speak my mind.' He said, 'That is why I asked you to do this.' In all honesty, I didn't think they were going to take me up on everything I asked for. And they gave me all that. So how do you turn that down?"
She said yes. And in her nearly eight months on the job, she has repeatedly spoken her mind, whether it's going further on human rights than many of her administration colleagues or denouncing racism at home.
Haley told CNN's "New Day" in August that she had a "personal conversation" with Trump about his widely criticized response to violence at a white supremacist rally in Charlottesville, Virginia, and would "leave it at that."
She was more specific in an email to her staff that I obtained in which she said the "horrible acts" in Charlottesville "took me back to sad days dealing with the Charleston tragedy in 2015." She was referring to the attack on Mother Emanuel African Methodist Episcopal Church by a white supremacist who killed nine parishioners and hoped to start a race war.
"Those who march spewing hate are few, but loud. We must denounce them at every turn, and make them feel like they are on an island and isolate them the same way they wish to isolate others."
"Those who march spewing hate are few, but loud," she wrote. "We must denounce them at every turn, and make them feel like they are on an island and isolate them the same way they wish to isolate others."
This is the sentiment she communicated to the President, according to one of her aides.
Haley's tough talk can occasionally go overboard, as when she recently said North Korea was "begging for war." Her communications savvy can belie the fact that she has the thinnest foreign policy background of any recent UN ambassador and sometimes misses the nuances of a complicated world.
Even her admirers question how much weight her smooth rhetoric carries with a president who sometimes veers in the opposite direction.
"The international community has to understand at the end of the day, it's not what she says, it's what Trump does," Sen. Lindsey Graham, the South Carolina Republican who occasionally spars with the President on foreign policy, told me. "I like what Nikki says, but sometimes I wonder if it's going to get done."
Still, she's undeniably one of the most prominent members of Trump's Cabinet. When Trump was in Virginia in August to deliver a speech on Afghanistan, soldiers were lining up for pictures with her – not the President. The next day, Haley made a blitz of television appearances praising the speech. More recently, it was Haley -- not Secretary of State Rex Tillerson -- making a case to step back from the Iran deal.
(For his part, Tillerson has kept an unusually low profile in favor of quiet diplomacy and hasn't yet delivered a major speech.)
Haley will be front-and-center again this month when she hosts Trump for his first address to the United Nations General Assembly. The annual meetings will be a crucial moment for Trump, who has angered many world leaders by withdrawing from the Paris climate accord and pursuing a controversial "America First" agenda.
Prominence is risky in Trump's world. He loathes sharing the spotlight and has no trouble showing aides the door when they get too comfortable in the public eye. But so far, Haley has smoothly navigated her celebrity status without crossing Trump.
She said Trump has "never once" called to say she went too far. She hasn't suffered anything close to the embarrassment of Priebus, Attorney General Jeff Sessions or other officials Trump has deemed disloyal.
Haley casts herself as a "bull in a china shop." But she and her aides stress she has a clear understanding of her role, and that the President encourages her to pursue his policies with her own style.
"I don't go rogue on the President," Haley said in our interview. "I'm a strong voice by nature. He's very aware of what I'm doing and he's very supportive."
The question is whether the United Nations is enough for a political player such as Haley. Tillerson is said to be unhappy in his post. Could she succeed him now that she's beefed up her foreign policy chops at the UN? While denying any knowledge of such a move, Rubio told me Haley enjoys the most bipartisan support of anyone in Trump's Cabinet.
"If she were to be nominated for another position in the administration, her confirmation would be the easiest of anyone serving," said Rubio, who has stayed close with Haley since she endorsed his presidential campaign.
Alternatively, is she laying the groundwork to be on a presidential ticket? As Politico first reported, the Democratic National Committee is already digging into the pasts of Haley, Vice President Mike Pence, Ohio Gov. John Kasich and Nebraska Sen. Ben Sasse – Republicans at the center of Washington speculation as presidential contenders if Trump isn't on the ballot for some reason in 2020.
Haley told CNN's Jamie Gangel in April she "can't imagine running for the White House." During our interview, she deflected questions about her future in or out of the Trump administration and said she's concentrating on "making the American people proud" in her current job.
While her conventional Republican positions endear her to many in the party, Trump loyalists inside and outside the White House grumble Haley doesn't really believe in Trumpism. They resent what they view as efforts to moderate the President to be more like the mainstream conservatives he beat in last year's primaries.
"He supports her until he doesn't. The danger will be when he doesn't feel she endorses his beliefs."
"He supports her until he doesn't," a former Trump campaign official who still advises the White House from outside the administration told me. "The danger will be when he doesn't feel she endorses his beliefs."
I met with Haley in New York at her office in the US Mission to the United Nations during an especially dramatic period for the administration. The week opened with the high of Haley's first major win at the UN, when the Security Council unanimously backed a resolution against North Korea (a victory that would be short-lived after the North launched a brazen nuclear test). It would end with the low of racial violence in Charlottesville and Trump's widely panned response.
The 45-year-old Haley, dressed stylishly in a black-and-white skirt and jacket, was relaxed and poised as we talked about everything from North Korea to her upbringing in an Indian-American Sikh family in the South. Her office overlooks the East River. It's as much a shrine to her former life in South Carolina as it is a space for diplomatic negotiations. Game balls and helmets signed by the coach of the Clemson Tigers line the shelves. She also displays a framed picture of Jeane Kirkpatrick, Ronald Reagan's tough-talking UN ambassador to whom Haley is often compared.
Even before she arrived in New York, many in UN circles were braced for big changes. On her first day on the job, Haley marched into UN headquarters and announced there was a "new US-UN" and warned "those who don't have our backs, we're taking names."
"I think the other ambassadors at first were leery. Everyone stood back and watched. But I think over time, they realized that my goal was just like the rest of them, which is how do you represent your country in a way that is strong and in a way that is helpful."
"I think the other ambassadors at first were leery," she remembered. "Everyone stood back and watched. But I think over time, they realized that my goal was just like the rest of them, which is how do you represent your country in a way that is strong and in a way that is helpful."
She admitted she faced a "massive learning curve" when she got to the UN.
"It was a lot of reading," she said. "It was a lot of deep dives."
One of her biggest goals when she arrived at the UN was to fight what she viewed as an anti-Israel bias. In December, the Security Council backed a controversial resolution condemning Israeli settlement activity. Under the direction of then-President Barack Obama, the US abstained from the vote, allowing it to pass.
In March, at their annual conference, she told the pro-Israel lobby AIPAC "there is a new sheriff in town," winning applause from the crowd.
She was welcomed as a superstar during a trip to Israel, where she met with Prime Minister Benjamin Netanyahu. She also toured the border with Lebanon, Syria and Gaza with top military commanders and visited the Yad Vashem Holocaust memorial.
Danny Danon, Israel's ambassador to the UN, credits Haley with "ushering in a new era of support for Israel at the UN" after she delivered a scathing speech at the UN Human Rights Council demanding a commission withdraw a report that described Israel as an "apartheid state." The UN later rejected the report and the Secretary General asked the commission to remove it from the website.
"The public support has made a huge difference for us," Danon told me. "I think that member states and the UN agencies now understand they should recalculate their approach."
Critics argue that Haley is simply pandering to pro-Israel groups that are important to GOP politics. More than one State Department official has rolled their eyes over what they call Haley's unabashed support for Israel. Even a senator who supports Haley said her work on the issue "is a bit much" for a UN ambassador.
But Haley told me she sees an expansive role for herself.
"It is what you want it to be," she said of the ambassadorship. "I've found this is a place where you can move foreign policy. I didn't not think that before. But this is a place where you can negotiate and this is a place where you can move the ball. I don't think that has been tapped as much as what I'm attempting to do."
There was already an expectation before Haley took office that the Trump administration would slash Washington's financial commitment to the UN. But the White House's proposed budget for the upcoming fiscal year – cutting nearly a third from US aid and diplomacy budgets – sent shockwaves both through the UN and Congress.
The UN Secretary General's spokesman warned cuts to UN agencies such as UNICEF and the World Food Program would "make it simply impossible" to continue programs feeding the hungry, assisting the sick and securing nations in conflict. Sen. Bob Corker, the Tennessee Republican who chairs the Foreign Relations Committee, declared the budget dead on arrival.
A former bookkeeper for her family's clothing business, Haley agreed with Trump's complaint that the US threw money at the UN without questioning the effectiveness of the programs.
"I didn't know much about the UN. But I knew my job was to show the American people why the UN mattered."
"I was very open and honest with everyone that I was here to show value in the UN, that I was here to reform it," she told me of her early conversations with diplomats in New York. "I didn't know much about the UN. But I knew my job was to show the American people why the UN mattered."
Beneath the feisty rhetoric, some UN diplomats see Haley presenting a positive message of engagement at a difficult time in US-UN relations. In April, she brought all 14 ambassadors on the Security Council to Washington to meet with Trump and congressional leaders. Over a lunch at the White House that was also attended by Ivanka Trump, the President berated the group for diplomatic failures before hailing the UN's great potential.
Turning to Haley sitting next to him, Trump asked his guests: "Does everybody like Nikki? Otherwise, she can easily be replaced." After some nervous laughter, Trump added, "she's doing a fantastic job."
In Washington, the joke was perceived as a not-so-subtle dig at an overzealous Cabinet member. But several ambassadors said they felt the episode demonstrated the strength of Haley's relationship with Trump.
Back at the UN, she boasted about cutting $600 million from the UN's peacekeeping budget, slicing 7.5% off America's bill. There's no denying the significance of the cut but it was down from the 10% cut the US initially proposed in part because of Haley's negotiations.
"What turned the tide at UN headquarters is that they thought we were going to be about slash and burn," she said. "When they saw us take mission by mission and they saw why we were doing what we were doing, we got complete support."
Graham, who introduced Haley at her confirmation hearing and talks to her frequently, called her a "bridge between those of us who believe the United Nations is necessary but needs to be reformed and those who just want to abandon it."
Haley has deployed something of a southern charm offensive to build relationships with her new colleagues who might otherwise be turned off by the aggressive US approach to the UN. Francois Delattre, the French ambassador who has come to know Haley well, called her "an ice breaker in a smooth way."
"She is refreshing. She is shaking up the system by trying to convince many parts of the bureaucracy to break out of their autopilot and forcing them to break out of their comfort zone."
"She is refreshing," he told me. "She is shaking up the system by trying to convince many parts of the bureaucracy to break out of their autopilot and forcing them to break out of their comfort zone."
Another top UN official told me the United Nations community's worst fears haven't been realized.
"That first morning of January 21, people were shell-shocked and expected complete mayhem and pandemonium," the official said. "So the fact that the relationship has not broken down, anything else is a victory. So we are pretty bullish on her."
North Korea is proving to be Haley's biggest diplomatic test.
After North Korea launched two intercontinental ballistic missile tests last month, Trump fueled anxiety across the world by breaking from the restrained rhetoric of his predecessors and aggressively suggesting the US might resort to military options. At a breakfast with Security Council ambassadors at the Egyptian mission four days after North Korea's second test, Haley told ambassadors that inaction was not an option.
"I told them 'we have talked until we are blue in the face,'" she recalled to me. "How many more ICBMs do we need before we do something?"
The Chinese ambassador, representing North Korea's closest ally, sat silently, according to multiple people. But everyone at the table ultimately agreed.
"They understood I wasn't looking for something small," she said. "I wanted harsh and I wanted it to make a point."
China's agreement was key to corralling the rest of the Security Council. She negotiated the text with the Chinese ambassador while Beijing and Washington weighed in. Five days later – near warp-speed in UN negotiations – the Council voted unanimously to slap North Korea with a one-third cut in its export revenue, the toughest sanctions to date.
She credits the Chinese for "stepping up where they needed to be."
The resolution demonstrated Haley's negotiating skills. But after North Korea conducted its largest test so far at the beginning of September, Haley had to return to the Council. This time, she pressed for an oil ban on Pyongyang, which is likely a non-starter for China, which supplies North Korea with the vast majority of its fuel.
Thomas Pickering, the US ambassador to the United Nations under President George H.W. Bush, said North Korea could determine Haley's sway on the Security Council.
"Being an ambassador has responsibility for formulating policy as well as implementing it," he told me. "It's not only about getting Washington to do something. It's about getting members of the Council to convince their capitals to support it. The ability to bring the council along with increasingly tough stands and take it over the line, to which China and now Russia are resistant, are becoming tougher tests in the UN."
Haley often seems to be the administration's lone voice when it comes to human rights. Trump hasn't championed them with the same vigor as many of his predecessors from both parties.
He invited Turkey's President Recep Tayyip Erdogan, who has been criticized for weakening democratic institutions and stifling basic human rights, to the White House in May.
The President has also invited President Rodrigo Duterte of the Philippines to the White House despite a bloody drug war that has killed thousands. Priebus, who was still Trump's chief of staff at the time, said human rights were important but argued the North Korean problem took precedence.
Tillerson has talked about the difference between American values and policies.
Haley doesn't seem ready to make that trade-off and is putting human rights at the core of her foreign policy. She's displayed portraits of Syrian children killed by President Bashar al-Assad's chemical weapons and insisted he must go. She denounced Venezuelan President Nicolas Maduro's "disregard for the fundamental rights of his own people." She's used some of the toughest language against Russia of anyone in the administration, telling CNN's Dana Bash in July that "everybody knows that Russia meddled in our elections."
When Trump was in Saudi Arabia in May telling Muslim leaders the US would no longer "lecture" their countries, Haley was captured by television cameras high fiving Syrian children at a refugee camp in Jordan and unpacking boxes of humanitarian supplies in Turkey.
Facing calls from advocates to denounce attacks on LGBT people in Russian-controlled Chechnya, she released a statement saying she was "disturbed by reports of kidnapping, torture and murder of people in Chechnya based on their sexual orientation and those persecuted by association."
"We are against all forms of discrimination, including against people based on sexual orientation. When left unchecked, discrimination and human rights abuses can lead to destabilization and conflict."
"If true, this violation of human rights cannot be ignored," she said. "We are against all forms of discrimination, including against people based on sexual orientation. When left unchecked, discrimination and human rights abuses can lead to destabilization and conflict."
"There is no doubt that both stylistically and from a policy perspective, she has been a stronger voice than perhaps the State Department has been, at this time anyway, with regards to defending democracy and human rights," Rubio told me.
In a time of deep political divides, this seems to be a point both parties agree on. Sen. Bob Menendez, a New Jersey Democrat who is a senior member of the Foreign Relations committee, praised Haley's "moral clarity." Sen. Chris Coons, a Delaware Democrat who also sits on the panel, said he's a Haley convert after initially being skeptical about her lack of foreign policy experience.
"I think she is serving the President well," Coons told me.
Haley was careful not to openly disagree with the President, dismissing suggestions that he is indifferent to human rights. She said her work on the issue represents the administration's views.
"When I talk about human rights, that is the administration talking about human rights," she told me. "It would be different if the administration was saying don't talk about that. But they encourage it."
Alongside the Clemson Tigers memorabilia in her office, there's also a picture of the Mother Emanuel AME church.
Haley attended the funerals of all of the victims of the shooting and catapulted to national prominence by delivering a powerful speech arguing that "the time had come" to remove the Confederate flag from the grounds of the state house.
"My hope is that by removing a symbol that divides us, we can move forward as a state in harmony and we can honor the nine blessed souls who are now in heaven," she said in the speech.
(Haley hasn't weighed in on whether it's appropriate to display Confederate memorabilia in the aftermath of the Charlottesville violence.)
Her decision to remove the flag in South Carolina was hailed at the time as an act of political courage by both parties. But her opponents say she equivocated on the issue for years before seizing a political opportunity that she knew would become a defining issue for her.
"I don't think she would be where she is today if it were not for the flag issue."
"I don't think she would be where she is today if it were not for the flag issue," said South Carolina state Sen. Darrell Jackson, a Democratic leader and pastor.
Haley's political star rose through a combination of luck, charisma and a self-styled reputation as an outsider beholden to no one. It was true in her first run for the South Carolina legislature in 2004, when she toppled the state's longest serving member, 30-year-incumbent Larry Koon. And it was true in her bruising 2010 run for governor, when she ran as a close ally of Gov. Mark Sanford, whose political clout imploded after he mysteriously disappeared in June 2009 on the pretense that he was "hiking the Appalachian trail." He later admitted he was visiting his mistress in Argentina.
(Sanford now represents South Carolina's coastal region in the US House.)
A year earlier, Haley had alienated herself from the leaders of her party by championing legislation to require on-the-record voting in the House, which was notorious for approving controversial measures, such as a retirement pay raise for themselves, by a simple voice vote.
"When she ran for governor, people laughed at her," said Bakari Sellers, a former Democratic state representative and CNN contributor who became friendly with Haley when they served in the state house together. "She had no support, no constituency, no one influential" with the exception of Sanford, he said.
"Nobody in leadership liked her," Sellers said. "She didn't play ball."
Nikki Haley's meteoric political rise
1998
1998
Named to Orangeburg County Board of Directors
2004
2004
Elected to South Carolina House of Representatives
2010
2010
Elected South Carolina governor
2012
2012
Considered by Mitt Romney as potential vice presidential running mate
2014
2014
Re-elected governor
2015
2015
Authorized the removal of the Confederate flag from state capitol grounds following the murder of nine people at an African-American church in Charleston
2016
2016
Delivered Republican response to President Barack Obama's State of the Union address
2017
2017
Confirmed by Senate to become United States ambassador to the United Nations
Those outsider credentials, however, were helpful with voters and aligned perfectly with the ascendant tea party movement. Her endorsement by former Alaska Gov. Sarah Palin as one of her Mama Grizzly network of conservative women in May 2010 rocketed her to the top of the field and provided a much-needed infusion to her fundraising efforts.
She weathered a vicious GOP primary campaign where the headlines were dominated by unproven allegations of infidelity that she said were completely false. She became South Carolina's first woman and minority governor at 38 years old.
Haley's political campaigns centered on government reform and business-friendly issues like lowering taxes and limiting government spending. But she also won over crowds with her stories about how she and her family overcame adversity and racism in her youth, drawing heavily on her own experience growing up Indian-American in the South.
In Haley's first run for the legislature a few years after 9/11, she dealt with questions about her heritage her religion and even whether she was part of the group associated with Osama bin Laden.
In her memoir, "Can't is not an option: My American story," Haley recounts a third-grade kickball game where the children on the playground divided themselves into white and black teams and said she could only play with them if she picked a side – white or black.
"I was in a panic," she wrote. "Which side could I choose? What was I? Then I saw a solution: Change the subject. I grabbed the ball from the girl and ran as fast as I could to the field. 'I'm neither!' I yelled. 'I'm brown.'"
The story is a key part of her narrative arc and potential appeal as a future nominee for the Republican Party.
"I am the daughter of immigrants. I understand the blessings of this country. I understand human rights. I understand the relationships we need to have with other countries and how to make those relationships work in a way that the United States is strong. And I just do it."
"It is me at the end of the day," Haley told me. "I am the daughter of immigrants. I understand the blessings of this country. I understand human rights. I understand the relationships we need to have with other countries and how to make those relationships work in a way that the United States is strong. And I just do it."
Some in the State Department describe Haley as playing for her own team in an effort to further future political ambitions. While the UN ambassador traditionally reports to the Secretary of State, Haley has used her Cabinet rank to deal directly with the White House. She is often in Washington meeting with the President and regularly attends NSC meetings, either in person or by videoconference.
"She doesn't feel subservient to the Secretary," one Tillerson aide said. "She's not asking for anyone's permission."
Another aide put it more bluntly, saying, "There have been times when her outside freelancing has hurt the process, but when she takes the time to learn the plan and play from the playbook, she has done a great job and added value to the situation."
This aide added: "She is figuring out now how to be part of the team and part of the process and be political at the same time instead of just being political."
Those political instincts, however, have served Haley well in navigating the politics of both the UN and the administration. While she praises the career staff at the UN mission, she keeps close counsel with a small group of trusted aides who worked with her in South Carolina, including Jon Lerner, a former pollster who now runs her Washington office.
Haley described an initial culture shock living outside South Carolina for the first time. She said she missed trees and didn't find Central Park to be an adequate substitute. But now she and her husband, Michael, are "having a good time" enjoying their new life.
"It's impossible to get a bad meal here," she said. "And there is always something to do. We are taking it for the opportunity it is."
New York has more advantages for Haley than just good food. She can network with the city's powerful political donors who could come in handy if she one day decides to seek higher office. She also enjoys a physical distance from the unending drama in Trump's Washington. Haley is the rare senior member of the administration to make it to the fall without being tarred by the various Trump scandals. In some ways, her reputation has blossomed during her time in office.
Even if a more prominent role such as secretary of state were to open up, some supporters said Haley would be better off in New York, especially if she has political ambitions.
"I don't think Trump gives a shit about the UN so what she says is not a big deal," said one senator who supports Haley. "But if she was secretary of state, she would own the Trump agenda. She needs to watch the role she plays because she can crash and burn."
John Negroponte, who served as UN ambassador under President George W. Bush, says the fact that the White House has been distracted with political chaos has worked to Haley's advantage.
"She's probably testing the limits as to what she can say," he told me. "As far as Washington is concerned, she isn't violating her instructions. So they are allowing her to be herself. But it remains to be seen how much she can be herself and still be acceptable to the President."
Illustration by Lucie Birant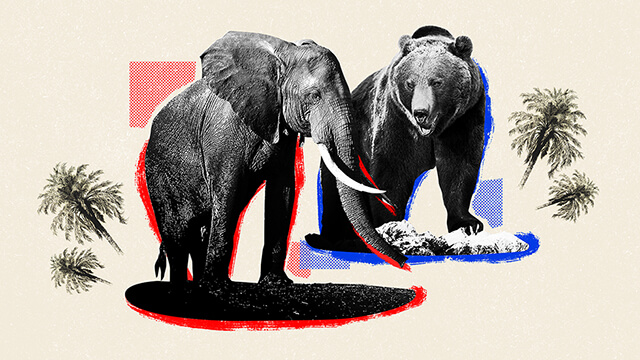 The California GOP's last gasp
It's easy to forget that this was once a Republican state that sent Richard Nixon and Ronald Reagan to the White House.
Read This Next →
Read This Next →