Brigantine, New Jersey --
Teri Gragg still chokes up when she talks about the monster storm that roared through this seaside community and upended her life. The memories are vivid: The overwhelming odor of dead fish and seaweed, the bridge from the golf course across the street that ended up in her front yard and roughly three feet of water inside an almost unrecognizable home.
The 55-year-old Gragg has been visiting this part of the New Jersey Shore since she was a child. She always wanted to live here and owned her home for 11 years as Superstorm Sandy took aim at the Garden State. Gragg was already facing plenty of challenges. Her husband was on unemployment and she supported her family by teaching art at a local elementary school.
We were struggling a little bit, but we were OK," Gragg told me recently. "Provided there were no major disasters, we were making it.
She added: "Then, there was a major disaster."
With an estimated $70.2 billion in damage, Sandy is the third costliest natural disaster in US history (it was second until being overtaken by Hurricane Harvey in August). The storm was responsible for at least 147 deaths in the Northeast United States, Canada and the Caribbean. A dozen people died in New Jersey alone.
The last five years have been full of frustration for Gragg and many Jersey Shore residents, dominated by battles with contractors and insurance companies. Gragg even enlisted then-President Barack Obama to help navigate the Federal Emergency Management Agency. As the destructive 2017 hurricane season winds down, the experiences here could be instructive for a new crop of Americans beginning the recovery process.
In short, the advice from New Jersey to the victims of recent storms: This is going to take awhile.
"
People told me it would be five years before we're back together. I thought, you gotta be kidding me. I'll be back by Christmas. Well, it'll be five years in October and we're not 100% yet.
"People told me it would be five years before we're back together," Laurel Haeser, a 69-year-old Brigantine resident, told me. "I thought, you gotta be kidding me. I'll be back by Christmas. Well, it'll be five years in October and we're not 100% yet."
She says of those affected by the recent storms: "That was us five years ago. They're just at the beginning."
Tumbling toward the narrow main road that separates the town from the bay, it's easy to see why people who don't want the Atlantic City experience would find solace in Brigantine. A community with one bridge to come on and off the island, it's the kind of place where people say hi to strangers passing by.
In some ways, the recent hurricanes seem to have revived the sense of trauma among residents here, reminding them that everything can be washed away in a moment. I spent a late August day with Regina Herz, a 68-year-old retiree, as Hurricane Harvey lashed southeast Texas with historic flooding.
The TV wasn't on, yet she still pointed to it, thinking about Harvey coverage. The images of the rising waters in Texas took her back to Sandy. She remembered the mad scramble to secure her home and find food for her parents.
"This is the biggest investment of your life, and you had no idea what was going to happen," she tells me.
After Sandy, Herz came back to 18 inches of water. She spent $18,000 raising her home further off the ground and took out another $40,000 loan that she will have paid off by the time she's 93.
"
You're always wary now. What's the plan? What am I going to do if this happens again?
"There are so many people who are still building and you hear stories from people about how there's no more grant money left," she tells me. "It makes me wonder, will there be grant money in the future for these disasters? You're always wary now. What's the plan? What am I going to do if this happens again?"
Herz grows angry and frustrated as argues that President Donald Trump should redirect his focus on a border wall to the relief that will be needed.
"There comes a point where you just totally run out of money," she says. "I'd love to do a hashtag if I knew how to do it – #HoustonInsteadOfAWall. Give the money to Houston! They're human beings. They're going to need it."
(Trump has generally garnered high marks for his response to storms that hit Texas and Florida. He has, however, faced withering criticism for his handling of Hurricane Maria, which has left much of Puerto Rico without water or power for weeks. A CNN poll conducted by SSRS this month found Trump's approval rating for handling the federal government's response to hurricanes dropped 20 points after Maria. The President has blamed poor infrastructure on the island for the response.)
Around 7:30 p.m. on the night before Sandy made landfall, Mike Lange and the majority of the Brigantine Fire Department were called in for what was being described as a "big event." Less than 24 hours later, when the "big event" started, it was all hands on deck. He's talked about those days repeatedly, but the moments when conditions worsened stay close to him.
"Once the tide started to come in," he says, his voice almost drifting off, "that's when the panic started to set in."
Speaking to me inside his home, which once belonged to his parents, Lange, 52, points to the front door and tells me how his residence was the only one in Brigantine higher than 10 feet to get water coming through the door. He pulls out binder after binder, filled with email correspondence with insurance adjusters and FEMA, pictures of the home at various stages of recovery, and receipts and bills for the costly cleanup. In total, he says, he spent about $176,000 of his own money to elevate his home in the years since Sandy. He looks out at the light drizzling rain and scoffs at it. "You see the weather today?" he asks. "That's absolutely nothing."
As part of the Brigantine Fire Department, Lange, took part in more than 200 swift-water boat rescues during and immediately after Sandy, going from home to home to save folks trapped by the floodwaters. He remembers a quadriplegic man with 10 inches of water in his room, a wheelchair-bound patient on the second floor of a building with four feet of water, and a 400-pound, bedridden woman who was placed on a surfboard to navigate through the few inches that were in her home. "It was organized chaos," he says. "You dealt with each rescue the best way you could and you moved on to the next one."
Hurricanes and politics inevitably collide, as Trump has learned in the aftermath of the recent storms. In 2012, Sandy took aim at the Northeast in the final days of Obama's campaign against Republican Mitt Romney. Some in Romney's campaign are still convinced that the storm helped sway the election as the media shifted virtually all of its attention to Sandy and Obama had an opportunity to appear presidential.
"It's just a meteor hitting," says Stuart Stevens, Romney's chief strategist during the 2012 campaign, of the unexpectedness of Sandy and its role on the campaign. "You go from having big and sweeping rallies where you're prosecuting an argument to sitting in hotel rooms and watching the President be presidential. That's hard. That's really hard."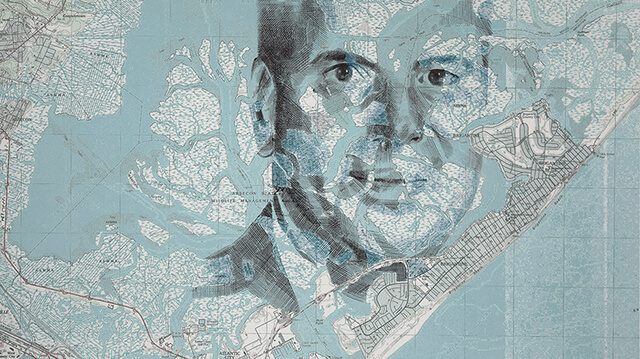 Inside his office, Brigantine's Republican mayor, Phil Guenther, still hangs a photo of Obama hugging marina owner Donna Vanzant, which became an indelible image in the storm's aftermath.
"After the water receded, you got a good picture of how bad it was. We literally had mountains of debris."
"One of the most striking things was when we were out you could see the area completely flooded and you saw streets underwater," Guenther tells me. "After the water receded, you got a good picture of how bad it was. We literally had mountains of debris."
"Christie did the right thing," says Herz, a self-described "die-hard liberal." "It might have been the only thing he ever did, but he said the recovery was for the citizens and he was right. This was for us."
Gragg, who declined to say whether she's a Democrat or Republican, told me she had supported Obama in the past. His visit solidified her vote in the fast-approaching election.
"It totally impacted my vote. He was there before I was there," she says, noting that she was still evacuated from the town. "The fact he cared enough to come and tour these areas immediately meant a lot to me as someone who was devastated by this event."
But in the weeks following the storm, the election – and Obama's decisive victory against Romney – receded in importance here. Gragg was busy trying to help save her family's home – no matter how grim it looked. She says the only relief her family received was a $2,000 check from FEMA. The questions swirling around how homes in Brigantine needed to be raised, and the uncertainty of how that was going to get done, only made an anxious situation even worse.
Residents worried about whether the town would survive if FEMA or private insurance companies forced them to dramatically home off the ground – an expensive prospect that could have created a logistical nightmare.
"We literally almost lost this community," says the Rev. John Scotland, pastor at Community Presbyterian Church in Brigantine. "There were times where I was like, 'This is it. I'm about to lose the investment in my house and the community is going to fold.'"
In March 2013, Rep. Frank LoBiondo, a New Jersey Republican, told then-FEMA Administrator Craig Fugate that the flood elevation maps proposed in Brigantine and other shore towns would need to be altered. Shortly thereafter, FEMA adjusted its flood elevation map to fall in line with what was needed in Brigantine and other municipalities that had to implement these modifications.
"It really saved the community," Scotland says of the efforts of LoBiondo, Guenther and others.
The years since Sandy have not been kind to Haeser and her husband, Bill. In their late 60s and early 70s, respectively, they say they're financially crippled and blame contractors for charging too much. Laurel Haeser points at railings that contractors told her cost $17,500. "For railings!" she says. The Haesers were later told they owed the contractors $25,000 for "extra stuff" that wasn't covered by insurance. "I asked them, 'Where is this going to leave me? I'm 70 years old,'" she says. "The person on the other line said, 'Oh, they will get their money.'"
"
We're not destitute, but there's no extra.
Laurel Haeser shakes her head in disgust when thinking of how much money she spent. "We really need to think twice about things," she tells me in her living room. "I plan accordingly. We're not destitute, but there's no extra. The contractors took all of our joy."
With his oxygen tank humming from the other room, Bill Haeser, whose dialysis runs at $12,000 a week, chimes in next to his wife: "We used to go out to eat once a week. Now, we go out once a month."
(Bill died on October 11 after I completed my reporting for this story.)
Gragg's husband was still out of work. The family had to pay for their home and a temporary apartment. What was once a two-income family doing alright was quickly turning into a one-income household looking for answers.
"It went from, 'We're OK,' to 'We're not OK at all.' We didn't have enough money for groceries or to pay the bills." She adds: "You go from, 'I can get that pair of jeans' to 'I don't have money for you to have shoes right now.'"
By the end of November 2012, Gragg, not feeling any closer to getting back to her home, sat down and wrote a letter. In the town hall meetings in the weeks and months that followed, Gragg says local leaders and volunteers recommended residents reach out to their elected officials to gain clarity on their situations. It was a note she never thought would make it to its recipient, but she had to do something.
Dear Mr. President,
My name is Teri Gragg. I'm a school teacher in the little town you were in, and I have two children. And I can't go home.
I can't go home because FEMA can't make up their mind. And that's not right. You need to help me because I need to know what I have to do so I can go home.
The day after Christmas 2012, emotionally drained from the weight of figuring out how to provide their twin daughters with a normal holiday, Gragg laid down for an afternoon nap. She was awoken when her phone rang. Groggy and half-asleep, she picked it up.
"Hello, Ms. Gragg," the person on the other end said. "This is FEMA calling from Washington, D.C. We'd like to speak to you about the letter you wrote to the president of the United States."
To say that the political landscape in New Jersey, and nationwide, has drastically changed in the five years since Sandy would be an understatement.
Frank Lautenberg, then the state's senior senator, died of viral pneumonia in 2013. Sen. Bob Menendez is currently on trial for bribery charges related to a campaign donor that could potentially force him out of office. Obama is almost 10 months into his post-presidency. The man who once tweeted that Sandy was good luck for Obama since he'd "buy the election by handing out billions of dollars" is now the President – and continuing to sort through the fallout of three major hurricanes within weeks of each other. And Christie, once one of the most popular Republican lawmakers in the country, saw his connection to the Bridgegate scandal and decision to adamantly support Trump's candidacy last year leave him with a 16 percent approval rating. By the time he leaves office in January, Christie will be New Jersey's least popular governor since the 1970s, the period in which approval ratings began to be tracked.
But those affected by Sandy paid the steepest prices – and remained in limbo in the months that followed. Although the government followed through on allowing FEMA to borrow nearly $10 billion almost immediately, the entirety of the $60 billion relief package wasn't put into motion until nearly three months after Sandy.
Inside her home on a rainy day, Gragg, like Haeser, shows me how a couple of her doors still don't properly close. Overlooking the street-level golf course, she points out the bridge that was once in her front yard. Above the mahogany wood kitchen is a crack from the storm, which stretches out about seven feet long. These are all minor items, she says, that will be the everyday reminders of how the storm is simply a part of them.
"I look at those cracks and it's almost like the stretch marks on my belly from the twins," she tells me inside her kitchen. "Part of the experience."
In the conference call scheduled following her letter, FEMA kept telling her she had to wait and that's "just the way it is." That wasn't going to fly for her. She told them she would not let anyone belittle her situation while not providing the guidance her family needed to start rebuilding. From then on, she was given the information she needed to start the rebuild.
"Writing to the president actually worked," Gragg tells me. "It got us started."
On the day before Thanksgiving 2013, after countless contractors and construction projects, the Graggs were given the greenlight to return to their home. After eating their Thanksgiving meal, the family spent returned to the house and spent their first night back in 13 months.
Things are more stable now for the family. Both girls are off at college and her husband has a job he loves. She knows she'll never be able to repay the people who were there for her family. Knowing what she knows now, the legacy of Sandy and the strength found through kindness and hard work, she says, is what people in Texas and Florida can hold on to as they begin to recover. She holds onto it tightly.
"It's not the end of our life," Gragg says. "It was a defining moment."