Just a couple days after North Korean leader Kim Jong Un threatened a potential strike on Guam, photographer Jun Michael Park was boarding a plane for the tiny US territory.
Park spent three days on the Pacific island and got to know many of the locals.
"As a South Korean, I was able to relate to the people of Guam because we are in a similar boat," he said.
North Korean threats are nothing new to South Korea, which has been dealing with them for decades. Park said people in his country have become "desensitized, almost indifferent" to North Korea's threats over the years.
But Guam is new to the spotlight.
"I think the people of Guam are probably a little more nervous (than South Koreans)," said Park, who was on assignment for CNN. "But at the same time, their general attitude and their lifestyle is more relaxed."
During his stay, Park also interviewed some tourists, many of whom were from South Korea. According to the Guam Visitors Bureau, more tourists have come from South Korea this year than any other country.
Here are a few of the people Park met, along with their thoughts on the North Korean threat.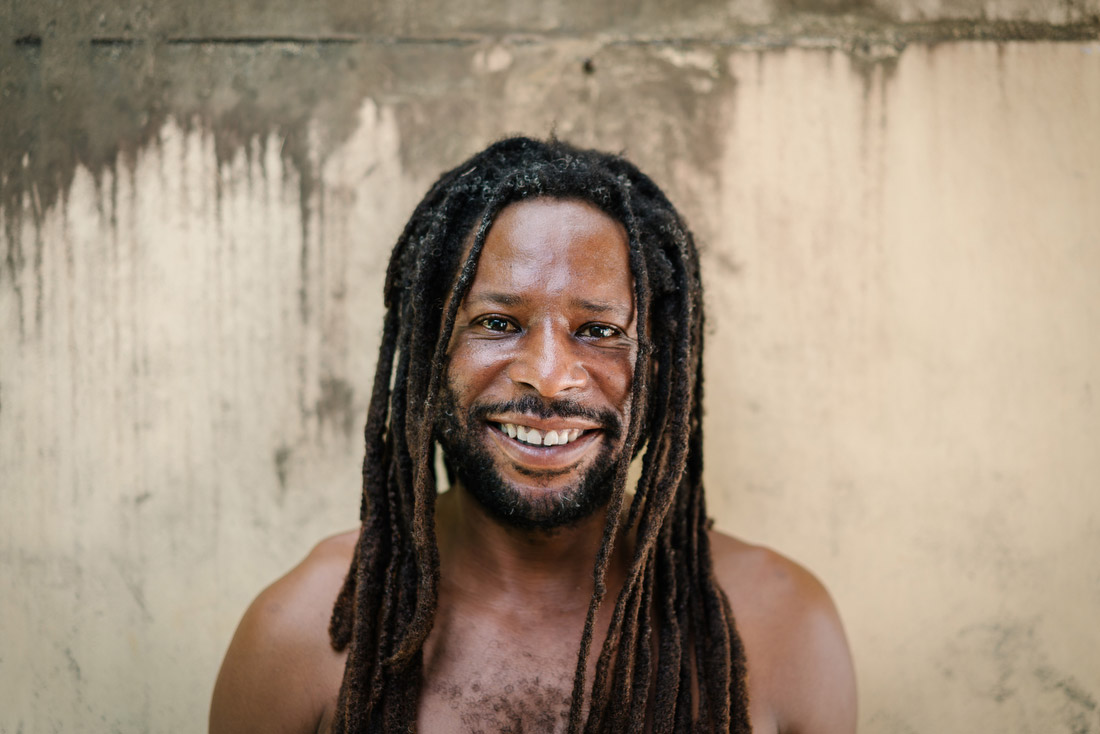 Dia Kuykendall, 46
"I'm hoping it's just talk. I don't really feel threatened at the moment. I don't feel any pressure. I think it's just words. I'm not even sure, is (North Korea's) capability there? Does Kim Jong Un have the capabilities yet, or is he still working on it?
"At the moment our military is pretty strong, we're pretty solid. And if (Kim) is to launch (a missile), I don't think it'll make it here. I have confidence in our defense system. …
"I haven't really noticed any effect on the tourism industry. As a matter of fact, there is actually quite a bit more South Koreans. Usually it's predominantly Japanese, but there's been a lot of Koreans coming lately. And I'm wondering if that's because of Kim Jong Un or it's just that time of year into the summer."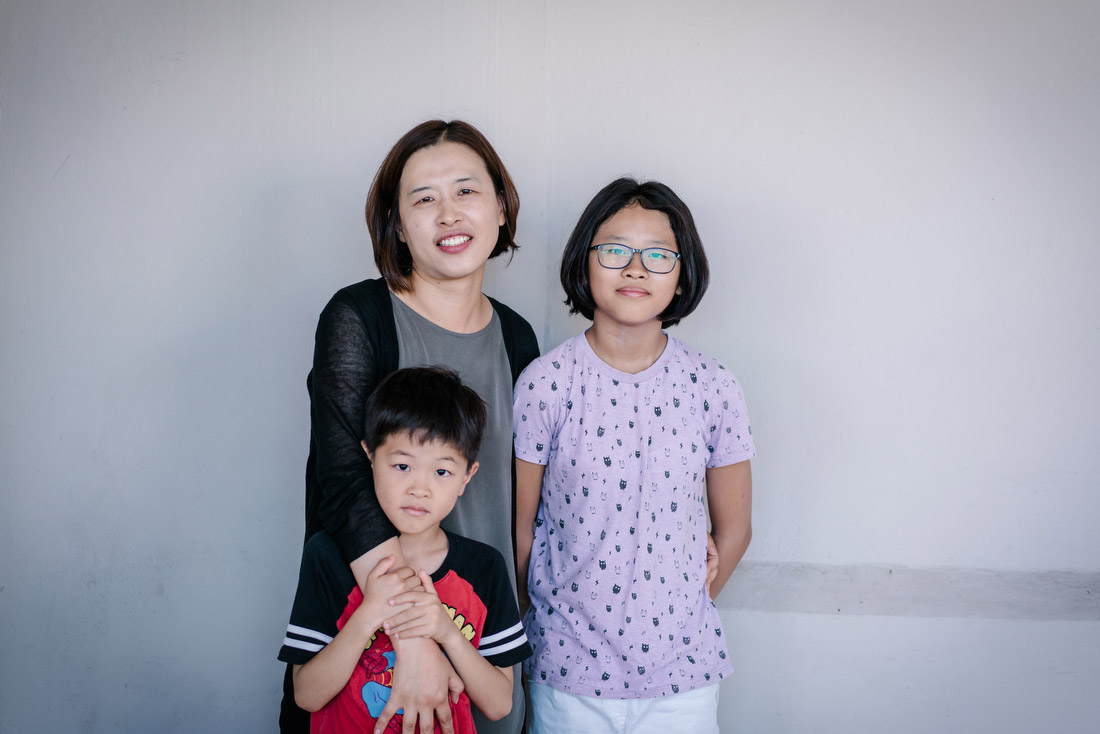 Yoo Ji-young, 39, and her children, tourists from Daejeon, South Korea
"We came to Guam in the beginning of August. We don't watch TV often here, but after the tension started escalating last week, my husband, who's back in Korea, got worried and called me. I don't feel much danger being here, but because now I'm paying more attention and reading news articles, I'm getting a little nervous.
"At first I shrugged it off, but as time went by, I found myself wondering what would happen if a war really broke out — and where nearby shelters are located. And if a war did break out, Guam would be a lot safer than Korea and I thought about the safety of my husband and my parents who live in Seoul. Of course we would be refugees without money or food, but the threat would be more real over there."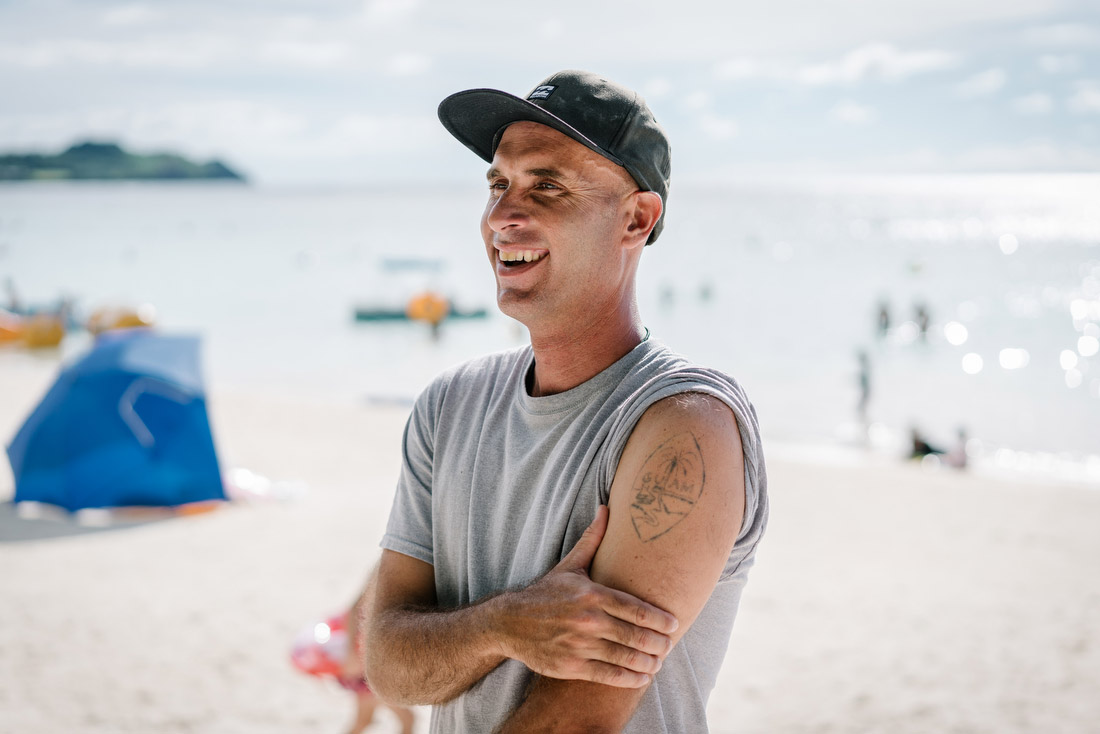 Tommy Wooley, 42
"I am fearful because I have two small children. I have a 5-year-old daughter and a 9-year-old son. We live here in Tumon, and they are getting ready for their school year. My son reads and stuff, and the newspaper and the media, it's scary. He asked me if everything is OK, and of course I don't want to get him scared. So I tell him: 'No worries. We got it under control.' But deep down inside, I'm a little bit fearful because you never know. …
"I was born on Guam, but I'm fully American. Both my grandparents on my mom's side and my dad's side served in the military. My mom's dad was in World War II; he was in Europe and he was in China. My dad's dad, he was a Navy pilot; he flew off aircraft carriers. That's kind of what brought my grandparents to Guam, and then my parents met and had me. … I grew up here on Guam and my heart's here. I love this island."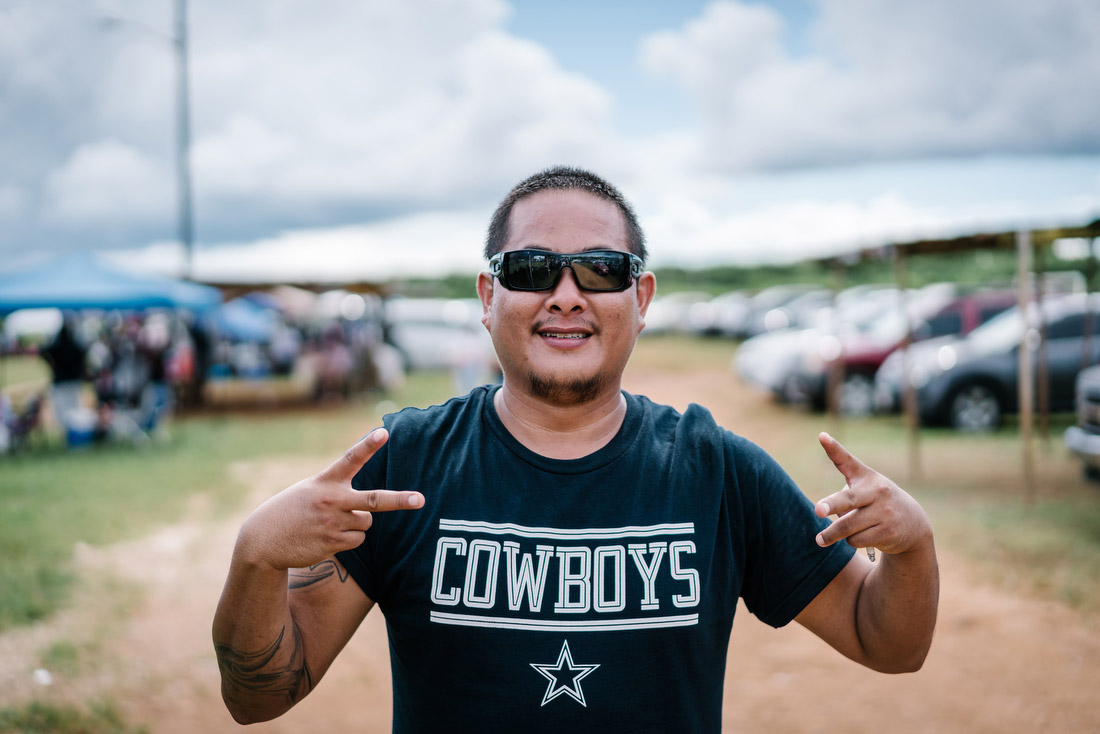 Joshua Ahn, 33
"I'm half-Korean, half-Chamorro, proud to be Guam. … My opinion (on the North Korean threats)? Give me a gun and I'll shoot them, too. … I represent the Chamorro, the island of Guam. That's it. Period. (Our safety) is the only thing that matters right now. … I'm not scared. I'm just worried. But I will fight, just to protect our island."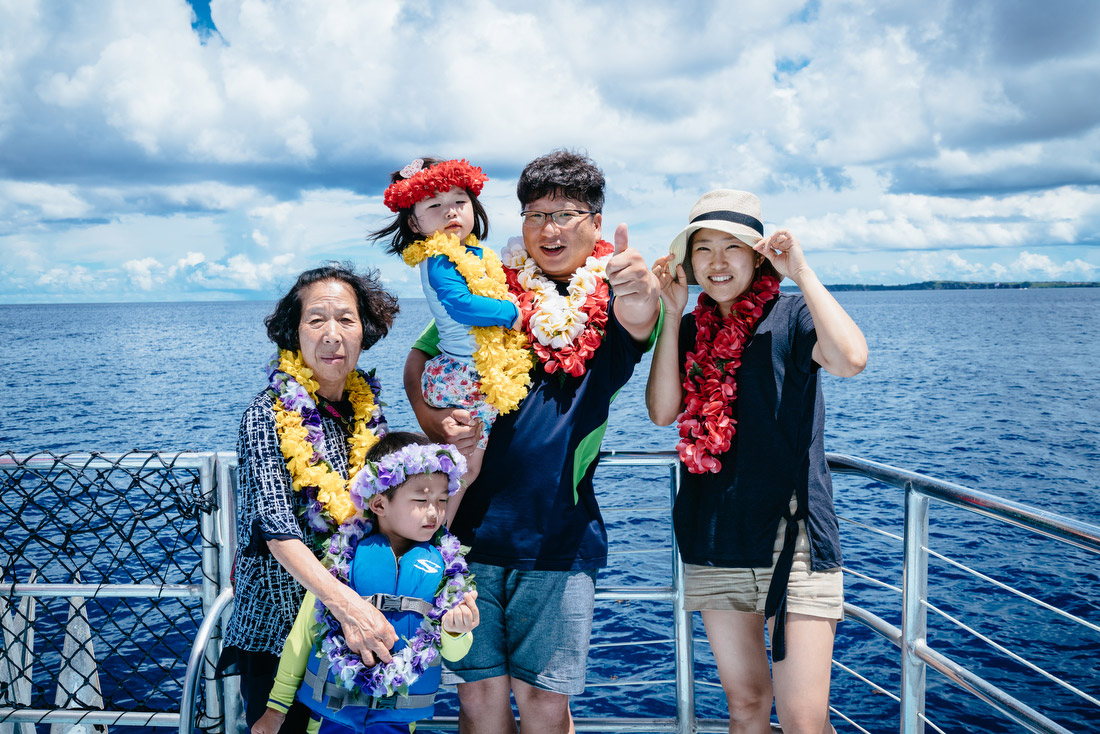 Kwon Woo-cheol, 42, and his family, tourists from South Korea
"We were worried and are still worried a little. But this political situation didn't influence us to cancel our trip. The major attraction of Guam is that you can enjoy leisure and shopping in one place. We got our hotel in the Tumon area, and it is easy to go on different tours and activities and come back to the malls afterward. Traveling with kids needs a lot of hands and care, but here it is quite convenient to walk around with the kids."
From left, Danilo Rapadas, 57, and John Taimanglo, 62
Rapadas: "We have no control over the North Korean leader's nuclear finger, but we do have control over our surroundings, our family, my kids, my wife. And those are the things that I think we have to remember daily, not what goes on out there someplace. We don't know anything about this guy, but we know what's around us, we know who we love, we know our family. And I think that's a more important thing that we have to think about. That gets us through any kind of crisis there is out there.
"For most of Guam, we do take it as a joke. But we understand there are some political ramifications. But it's really out of our control. But what you have, hold onto it, love it, praise it and live your daily life that way."
Taimanglo: "We never thought this time would happen. We never think about these things, but this is serious so it's a lot to take in. And we also have to be just mindful of our day-to-day life. But I hope nothing will happen because if it does happen, it's going to be worse for the other end."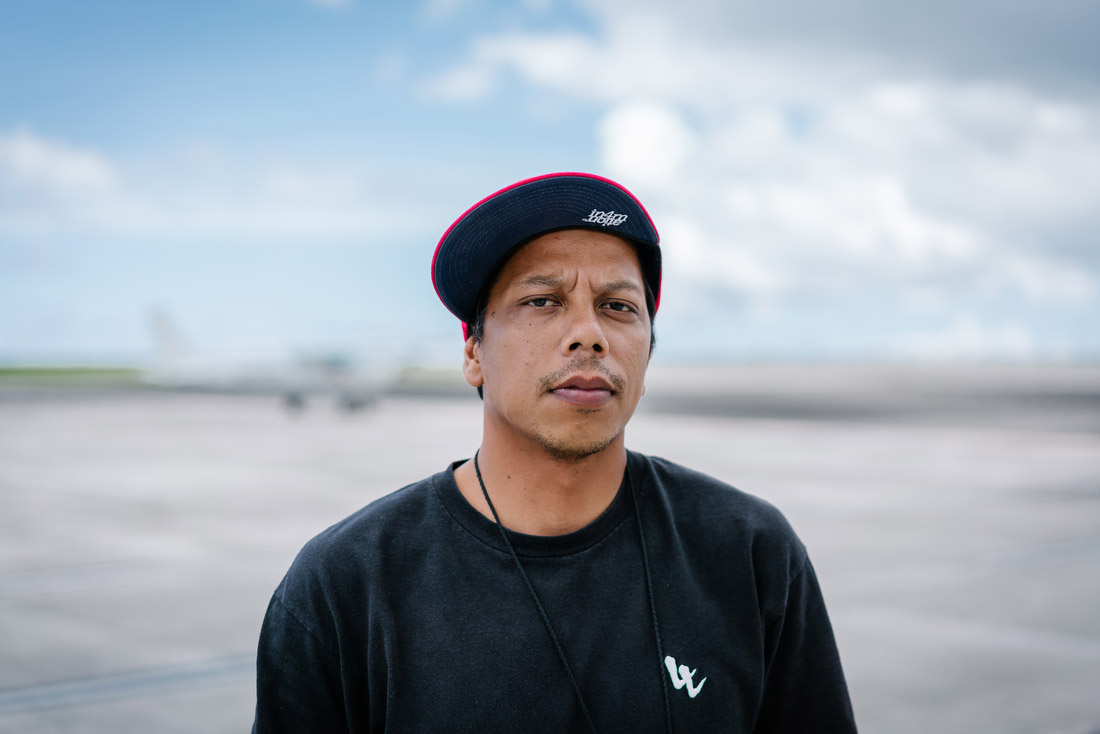 Tom Quitugua, 36
"We pretty much wholly depend on tourism. The economy is pretty much dependent upon that. I would say maybe like 70% of the middle-class people have a job in tourism — or whatever they are doing, it's directly related to it. So if there are no visitors here, there is no economy here. That's basically the way it works. …
"As far as the military part goes, I know we are safe on that because the whole island of Guam is basically a military installation. We are well-protected here.
"This is the second time (Kim) has threatened us, right? The first time that this happened, I was still working in the kitchen (as a cook). And it did have an effect on the visitors. It definitely had an effect on that for sure."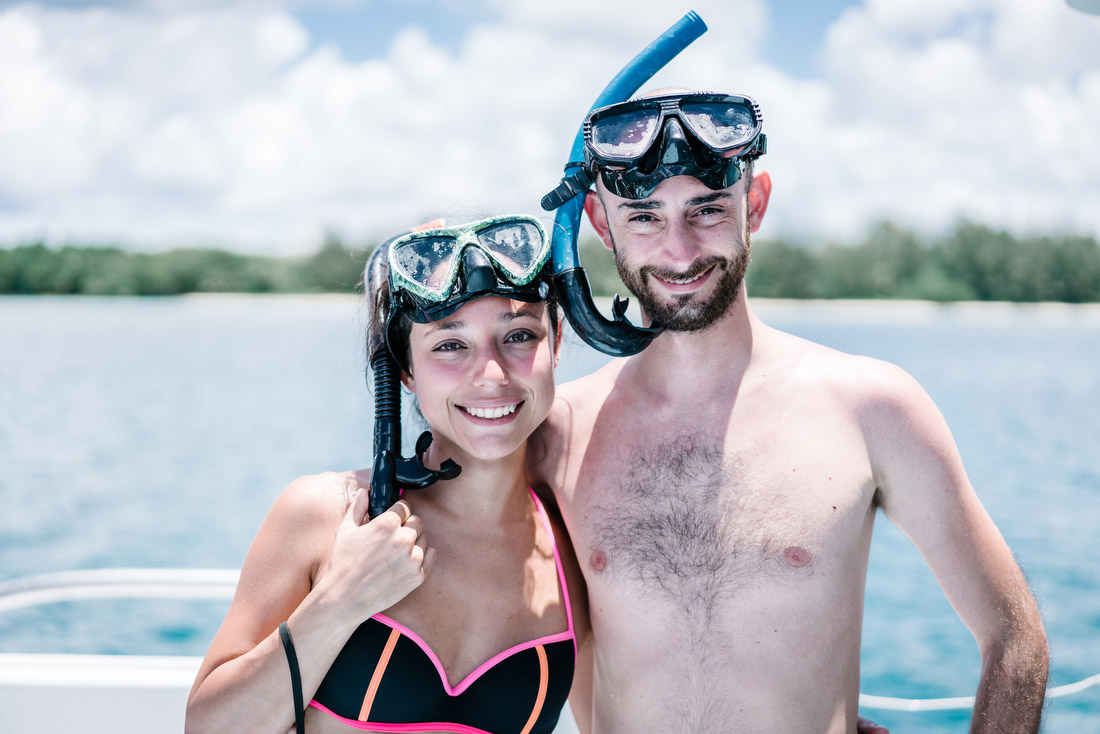 Natalina Bertelli, 29, and Daniele Caini, 34, tourists from Florence, Italy
Bertelli said they heard about the North Korean threats on the day they left for vacation. "At first we were little bit worried, but being here and everybody being so calm about it, we feel calm as well. We are still keeping our fingers crossed, but we're calm." She said what she likes most about Guam is "all the wildlife and the people. It's a beautiful atmosphere, really relaxing. Perfect for us."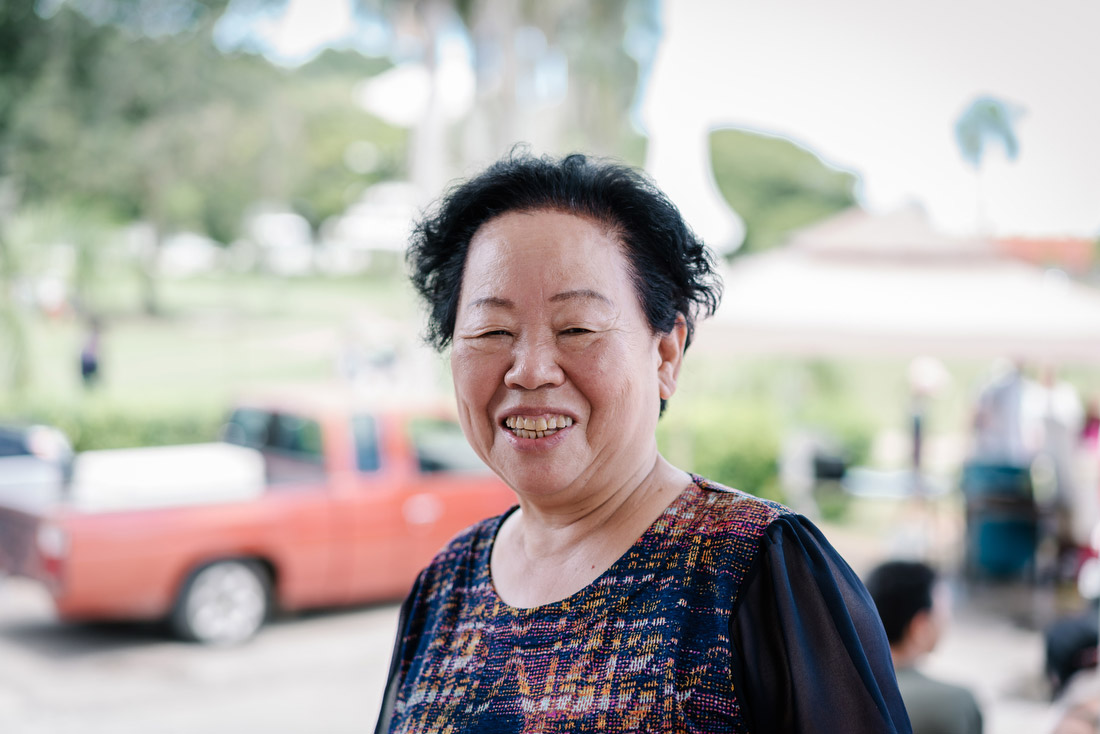 Lee Geum-soon, 72, tourist from Seoul, South Korea
"Our family of 10 people came here on a group tour. When the media started talking about the threats, my children got worried and asked if we should cancel the trip. But I read in the newspaper that the probability of a missile reaching Guam is miniscule. Yesterday my sister in Korea got worried and called us, and my son reassured her that if there is any danger, South Korea is probably in more danger than Guam.
"Everything is lovely here, and everyone is very friendly. I was just saying to our guide that even kimchi tastes better here in hotels and restaurants."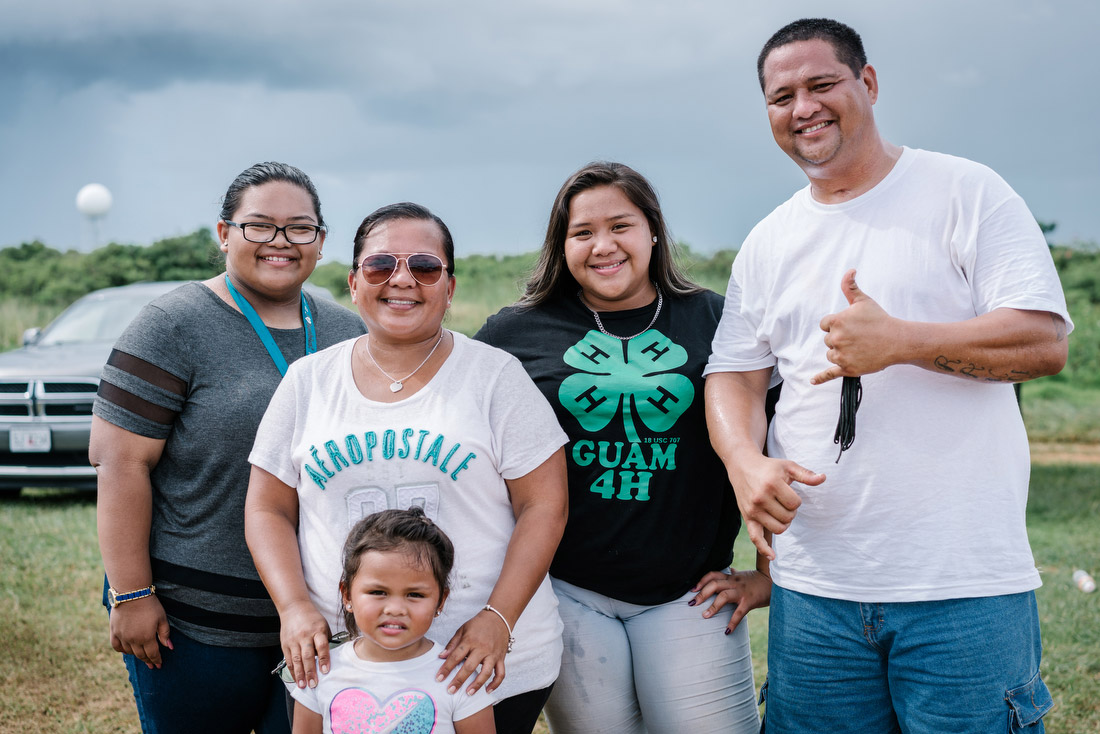 Lena Mantanona, 39, and her family
"It's scary, but what can we do? … We're really subtle people. Yes, there is crucial stuff that is going on around the world, but what can we do about it? We can't do nothing. That's why we have the government behind our backs. That's why we have the military, which I'm grateful that we have. That's why we have the United States. Because without all of this, we are technically nothing.
"I really just pray. What we have to do every day is pray. Pray that it all calms down, they come to an understanding, which is we should have peace around the world."
Jun Michael Park is a South Korean photographer based in Seoul. He is represented by Laif. Follow him on Facebook, Instagram and Twitter.
Photo editor: Brett Roegiers