When Hurricane Harvey slammed the Texas coast and flooded much of Houston, volunteers sprang into action.
Some have come from as far away as the Florida Everglades, boats in tow, ready to rescue people trapped in their homes. Some are firefighters from other parts of Texas or nearby Louisiana. Some are just Houston residents who chose to stick around to make sure their neighbors were able to get out safely.
"Everywhere I'm going, it's all private citizens and that's amazing," said photographer Timothy Fadek, who has been on assignment for CNN since Harvey came ashore.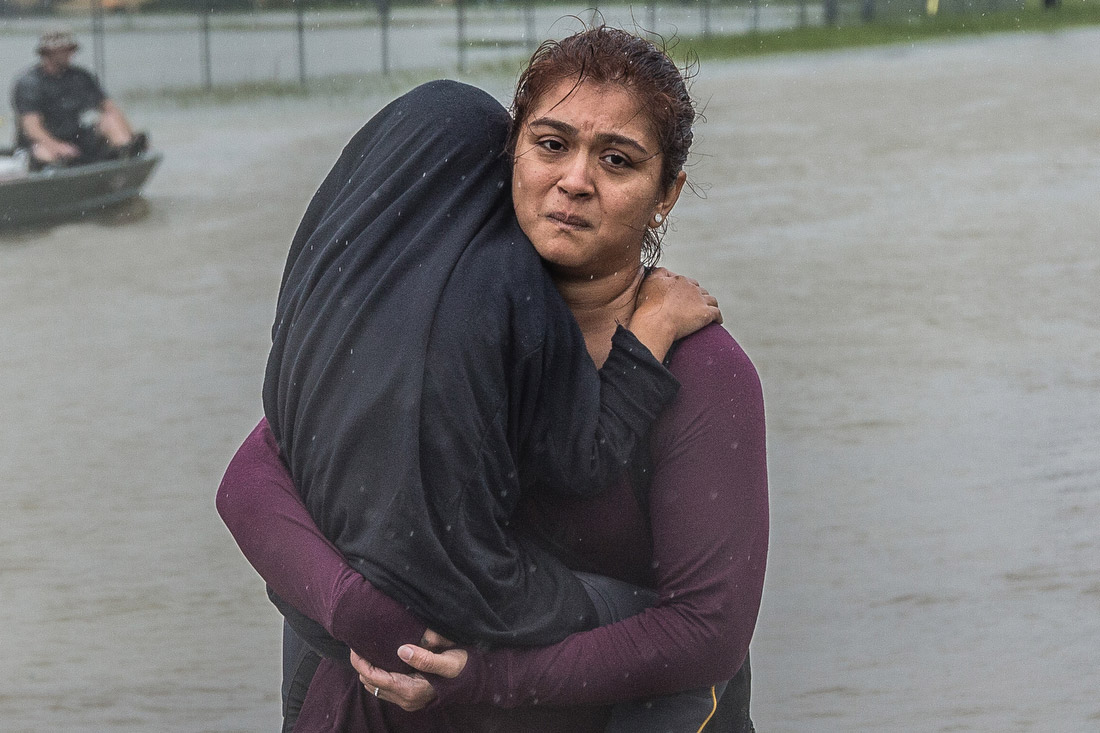 Local authorities, including police officers, firefighters and the Texas National Guard, have been spearheading the evacuation efforts — but they can't be everywhere at once, and Fadek was struck by the selfless response of everyday people.
"They all say pretty much the same thing: that they recognized immediately that the official rescue services were overwhelmed and that they had no choice. They had to. They felt compelled to," said Fadek, who has also covered Hurricane Katrina in 2005, the Haiti earthquake in 2010, and other disaster areas during his career.
He recalled one local volunteer who was going door to door, flagging down rescue vehicles and helping his neighbors get into them safely.
"He's risking his own life," Fadek said. "He could have just gone AWOL, got rescued and gone to higher ground and be having a nice steak meal, but no — he's staying behind. And I encountered that everywhere I went. …
"This other (volunteer), he can't even swim. He's wearing a lifejacket and a skater helmet, and I talked to him in Spanish. He had actually come from another part of Texas to check on the home of one of his relatives, and he ended up staying. His job was just to check the home, maybe gather some belongings or gather some valuables, and leave. But he decided to stay anyway to help with rescues."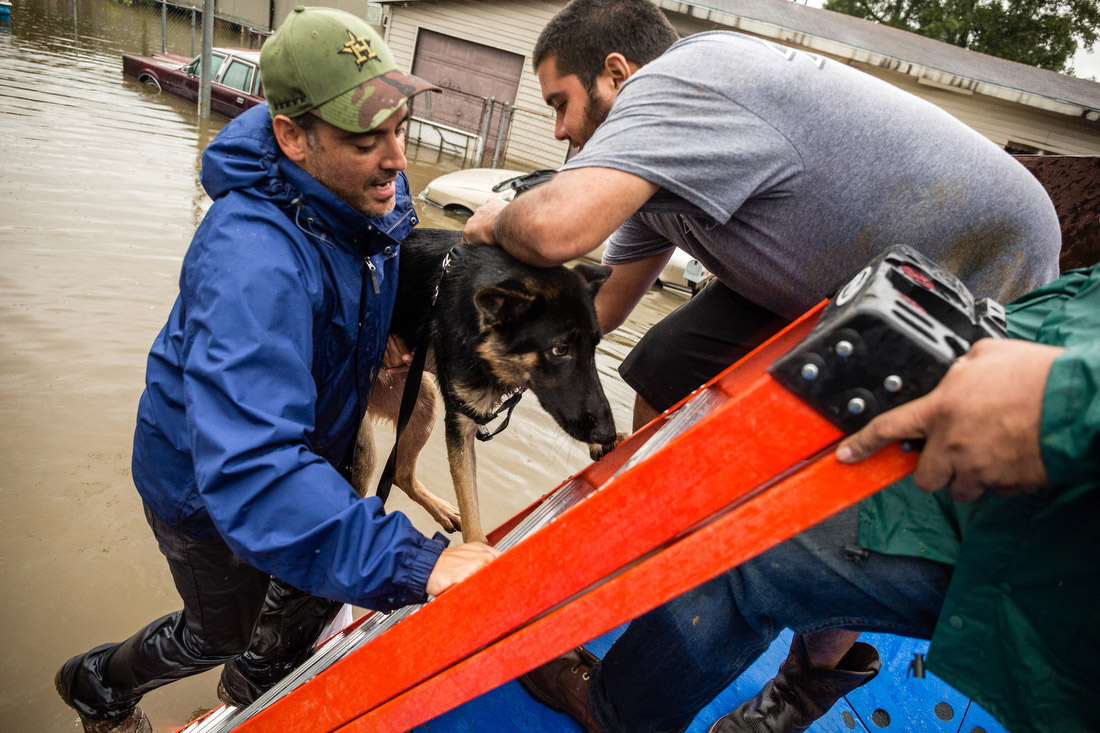 Volunteers are doing more than just rescuing people.
On Tuesday, Fadek visited the George R. Brown Convention Center where many evacuees have been given shelter.
"I saw this line of people — I thought they were a line of people waiting to get in to check in to the shelter — it turns out they were people wanting to volunteer," he said. "The volunteers line was longer than the line for people who wanted to take shelter."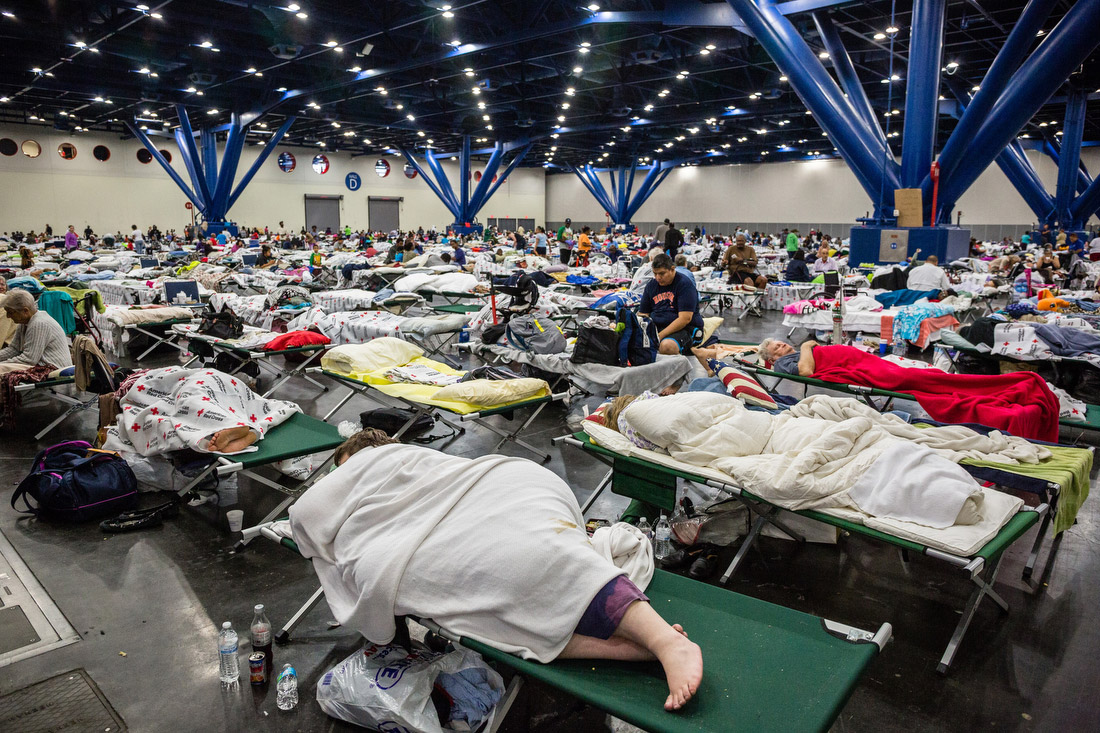 Rockport left in ruins
Fadek flew into Houston on Friday and grabbed some supplies, including water and 10 gallons of gasoline, before driving a rental SUV south to Rockport, a Gulf Coast city close to where Harvey was just making landfall.
It was a treacherous trip. Midway through, he came across heavy winds that had overturned a tractor-trailer and pushed some cars into ditches.
"I had to fight the steering wheel to keep on the road," he said. "It was right after the hurricane hit."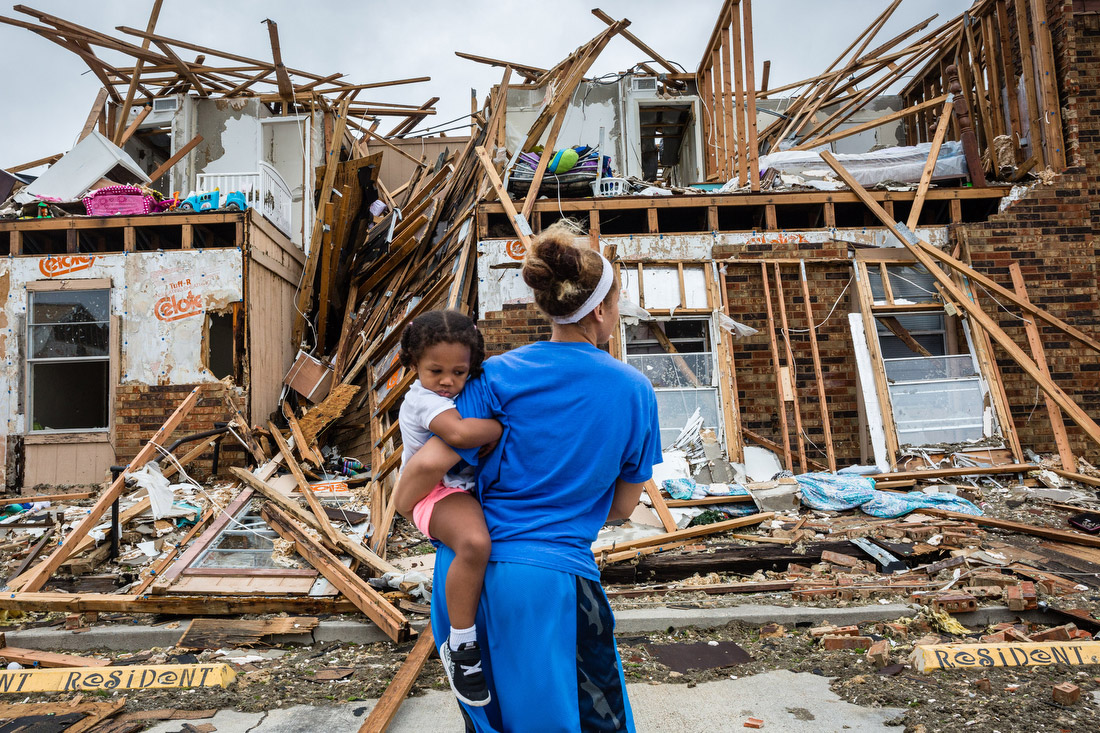 When Fadek finally made it to Rockport, he found a heavily damaged city with hardly any people. For about a 20-mile radius, he said, "pretty much everything I saw was completely flattened."
Buildings were demolished. Boats were piled up on top of one another. The next day, once people started streaming back into the city, Fadek photographed them staring in disbelief at what was left of their homes. He came upon one house where just the front had been ripped off by the storm.
"You can see these people's lives exposed, and there's something that's really haunting about that picture, because everything else is fine," he said. "The house is still standing, just the facade is gone."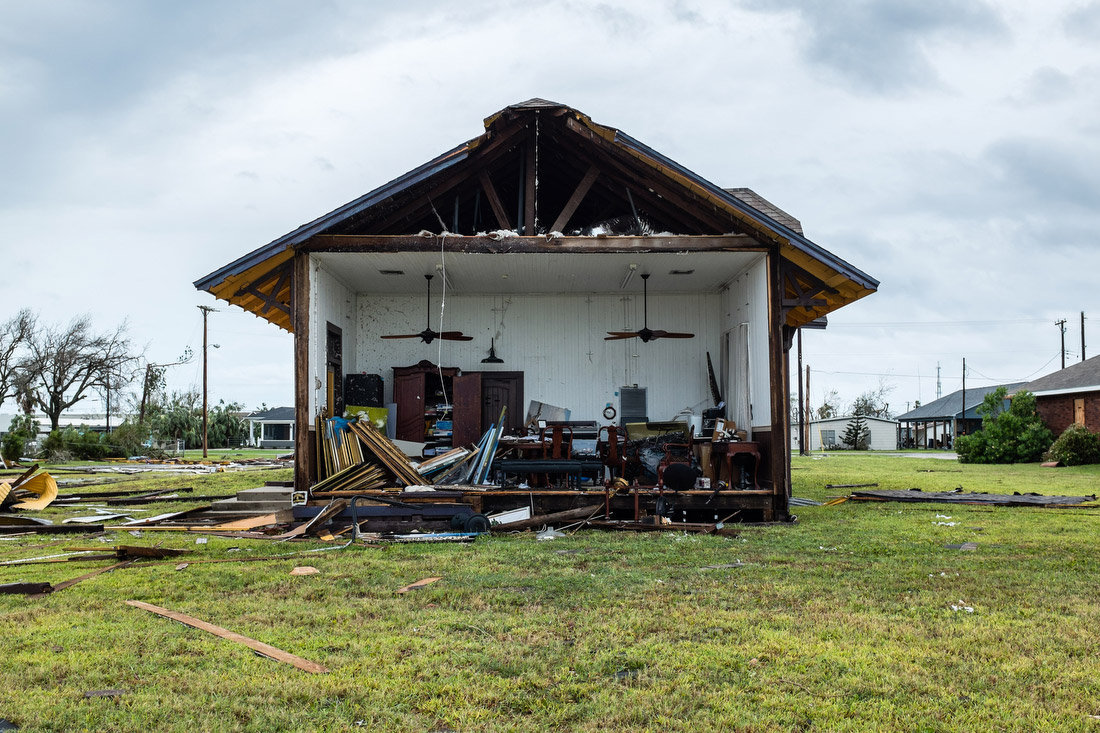 'The flooding is everywhere'
On Sunday, Fadek ventured back to Houston where the historic flooding was taking place. He found it difficult to get around — much more difficult than when Katrina hit New Orleans 12 years ago.
"With Katrina, the flooding was localized in only a few neighborhoods, like the Lower Ninth Ward, for example. ... You'd just drive up to the neighborhood, you'd get out of the car and you walk," he said.
"However in Houston, the flooding is everywhere. It's like the entire city except for the center and downtown. So yes, you can drive on the highway, you can drive on the ring road ... but you have to get off the road eventually and then it becomes an absolute maze. You drive three blocks, it's fine, and then you hit water. You turn right, you drive another three blocks, it's flooded."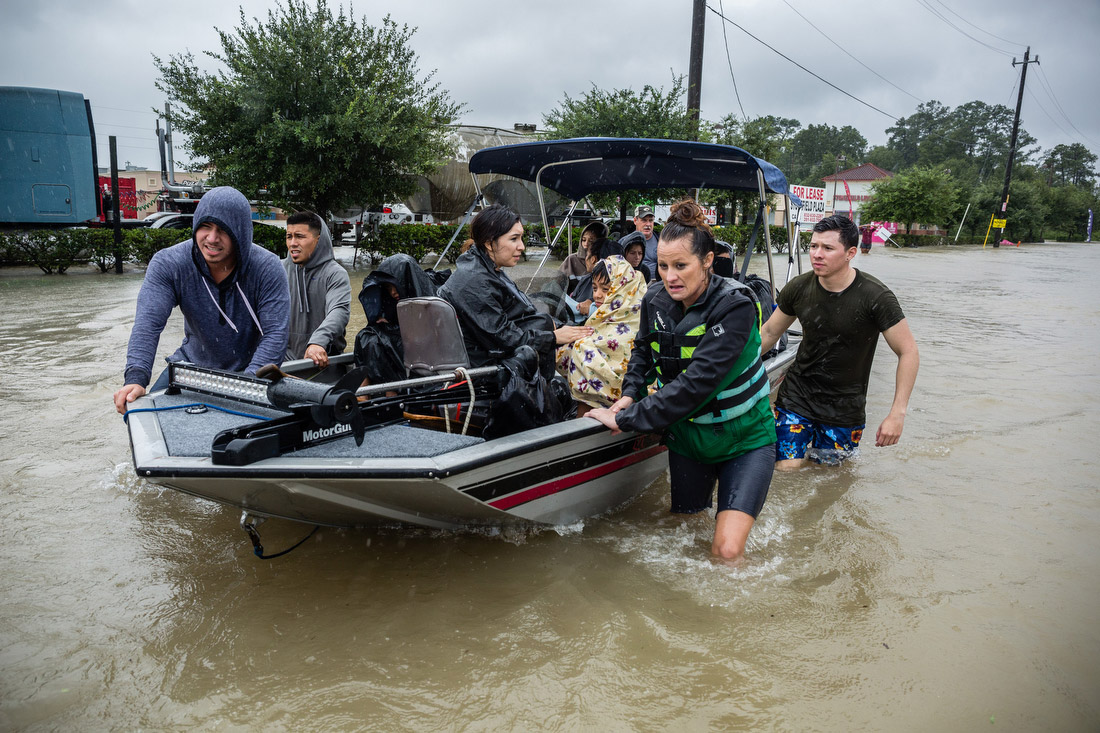 The nonstop rain — five days straight — was another challenge for Fadek as he tried to capture the scene on the ground. Water was constantly on his camera lens, and it was impossible to keep it dry all the time. One of his cameras even stopped working.
"Even though I had a protective plastic cover over the body, it got wet and it crapped out," he said.
But one camera is nothing compared with the losses suffered by those in Houston.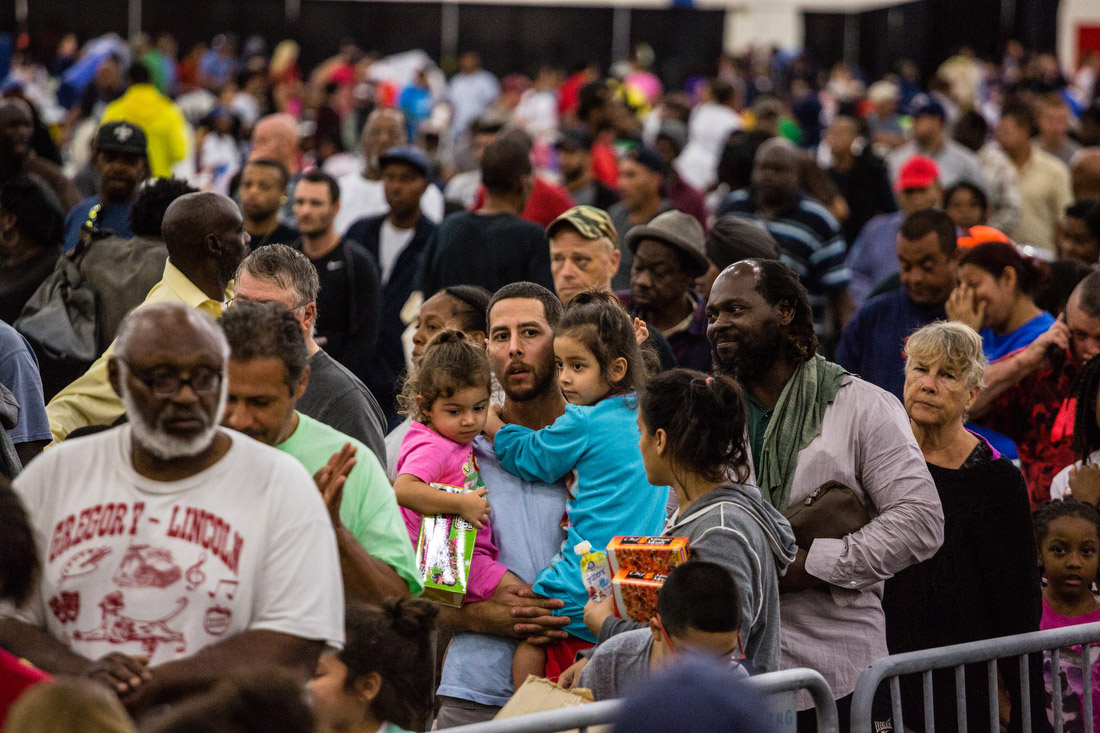 "There were scenes that I shot in Houston today and yesterday, especially, that really visually reminded me of developing countries — Haiti after the earthquake or some kind of refugee camp," Fadek said on Tuesday. "The convention center is a perfect example. Although it was very organized — the Red Cross, they know their stuff — there were lines and lines of people receiving their water and their food. It reminded me of a refugee camp somewhere."
Fadek spent three hours Tuesday traveling on the back of a massive rescue truck that volunteers were driving around a neighborhood. Floodwaters were rising there, and authorities had ordered a mandatory evacuation.
"The entire neighborhood had no electricity. There's no running water, of course. These people were running out of food," Fadek said.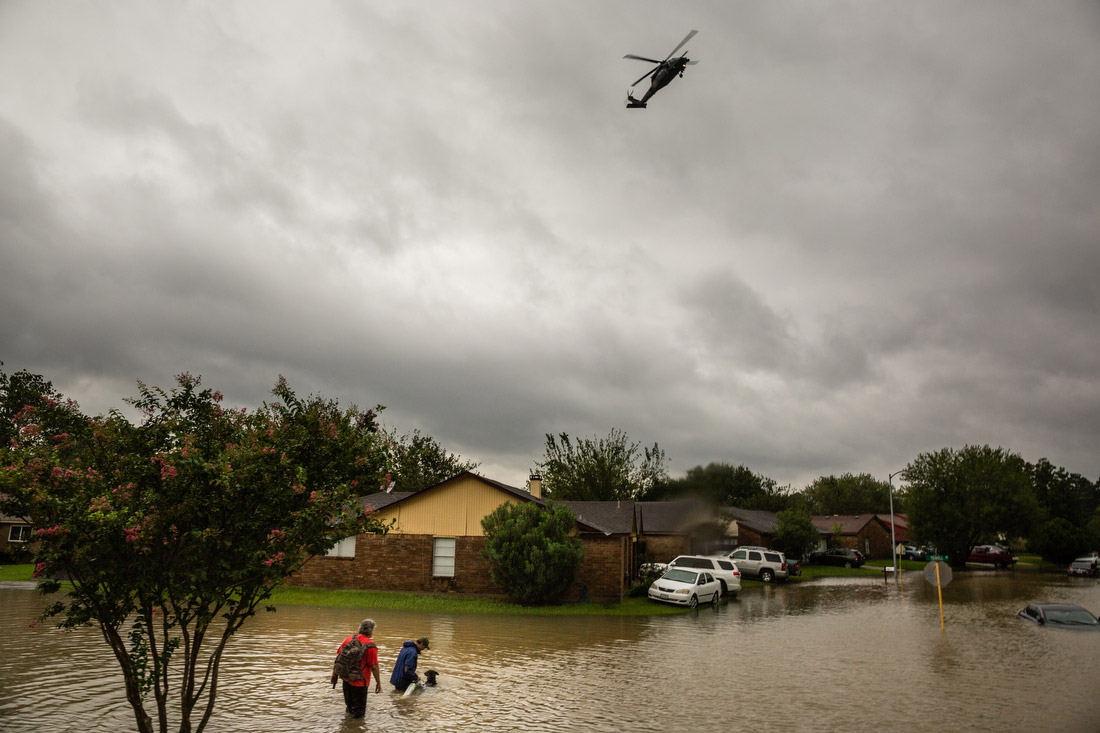 Despite the dangerous conditions and the heavy flooding, some people didn't want to leave. They had to be persuaded. Fadek overheard one resident say that the water was in her living room but that it was "not so bad." She eventually was talked into the rescue truck, along with her four daughters and the family cat.
The back of the truck had muddy water about ankle-deep, and it was slippery, Fadek said. The walls were curved, too, so it wasn't easy to hold on and brace yourself. Fadek tried to help a couple of young children on the truck, demonstrating to them how surfers stand to keep their balance.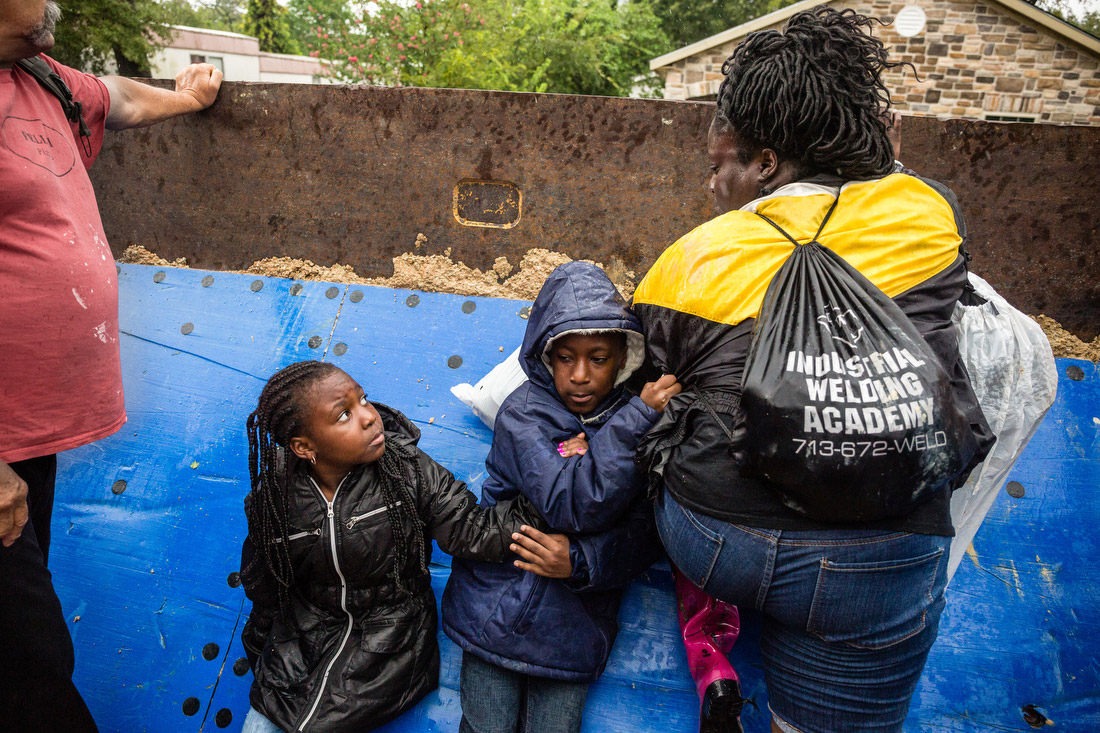 At one point, up to 30 people were crammed in the back. And there were pets, too: a couple of dogs, a couple of cats. "It was like Noah's Ark," Fadek said.
The truck then took everyone to a highway underpass, where various organizations were set up to help evacuees get to one of Houston's many shelters.
"When you see these people being rescued or these people on the food line, even though they're unhappy of course, you can tell that they are grateful that they're alive," Fadek said. "You just sense it. Everywhere I've ever photographed a disaster, you sense it."
Timothy Fadek is a photographer based in New York. He is represented by Redux Pictures. Follow him on Facebook, Instagram and Twitter.
Photo editors: Brett Roegiers and Bernadette Tuazon