Mbale, Uganda (CNN) — Nakira Manjeri carried her baby boy in her arms from her home in the Ugandan village of Pallisa to the eastern city of Mbale. His head was swollen like a balloon about to burst and was three times larger than his twig-thin body.
This is her second trip to the hospital run by CURE, an American faith-based organization that specializes in treating children like Manjeri's son who suffer from hydrocephalus. It's a condition in which excess cerebral fluid builds up in the head and causes immense pressure and pain. Sometimes it's referred to as water on the brain.
It's been described like a plumbing problem: The fluid the brain produces cannot be absorbed normally and begins pooling in the child's head. If left untreated, it can cause permanent brain damage, even kill.
Manjeri's baby, only 6 months old, is restless; Aramazani cannot shut his eyes and has the vacant stare of the dead.
Manjeri says Aramazani's head began to swell a few weeks ago. Then he grew hot with fever and wouldn't stop crying. The village doctor told her it was serious, that she should go to Mbale.
Over the past 15 years, this hospital has treated more children with hydrocephalus than any other hospital in the world, according to CURE. About five to seven children undergo surgery here every day.
Hydrocephalus can be congenital. For instance, children who are born with spina bifida, a defect in which the spinal cord does not fully form at birth, are prone to fluid buildup in their brains. In the United States, one out of every 500 births results in hydrocephalus and is the No. 1 reason for brain surgery in children, according to the National Hydrocephalus Association.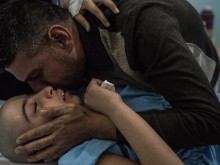 The dreams of 'Baby Noor'
Her smile melted hearts, and Americans saved her life at the height of war. Now 11, the Iraqi girl heads to a hospital in Uganda to face another crisis — with hope.
Other times, hydrocephalus develops from viral infections, sepsis and meningitis. Most of the cases here in Uganda fall into that category.
There are an estimated 400,000 cases of hydrocephalus in the world every year; more than 300,000 of them are in developing nations, and 90% will be fatal without surgery.
Even though there's a lack of specialty surgery in poor nations like Uganda, it's still preferable to treat children here than take them to the United States or Europe, says Tim Erickson, executive director of the CURE Uganda Children's Hospital.
This way, he says, there's at least a chance for follow-up care, though it doesn't always happen. It's a big problem, especially if a child has a shunt — or plastic tube — implanted to help drain the excess fluid.
"What happens if the shunt fails?" Erickson says.
Whenever possible, the doctors here instead try to treat children with an innovative shuntless procedure, which costs less and makes the child far less prone to future infection. Dr. Benjamin Warf, who was medical director when CURE first opened here in 2000, won a McArthur Genius grant for developing the technique.
Like a majority of the mothers here, Manjeri received no prenatal care when she was pregnant with her son. She wishes she had known how to care better for her baby. Maybe, she says, Aramazani would not be suffering now.
Still, she feels lucky: At least her husband is still with her. Nurse Annet Kirunda says men often blame their wives for their children's predicament and abandon their families.
The patient ward is full on this day with 34 hydrocephalus patients. Manjeri waits with other mothers with babies with big heads.
They wait for doctors to save their children.
Andrew Renneisen is an American photographer based in Nairobi, Kenya. Follow him on Facebook, Instagram and Twitter.
Photo editor: Brett Roegiers