Donald Trump raised his right hand and vowed to preserve, protect and defend the Constitution of the United States. His wife, Melania, stood by his side.
Politicians and past presidents surrounded the country's new leader. Americans near and far listened carefully to his words. And at noon on Friday, January 20, Trump became the 45th President of the United States.
Photographers Mary F. Calvert, Mark Kauzlarich, David Hume Kennerly and Landon Nordeman were on the ground in Washington to cover the presidential inauguration for CNN.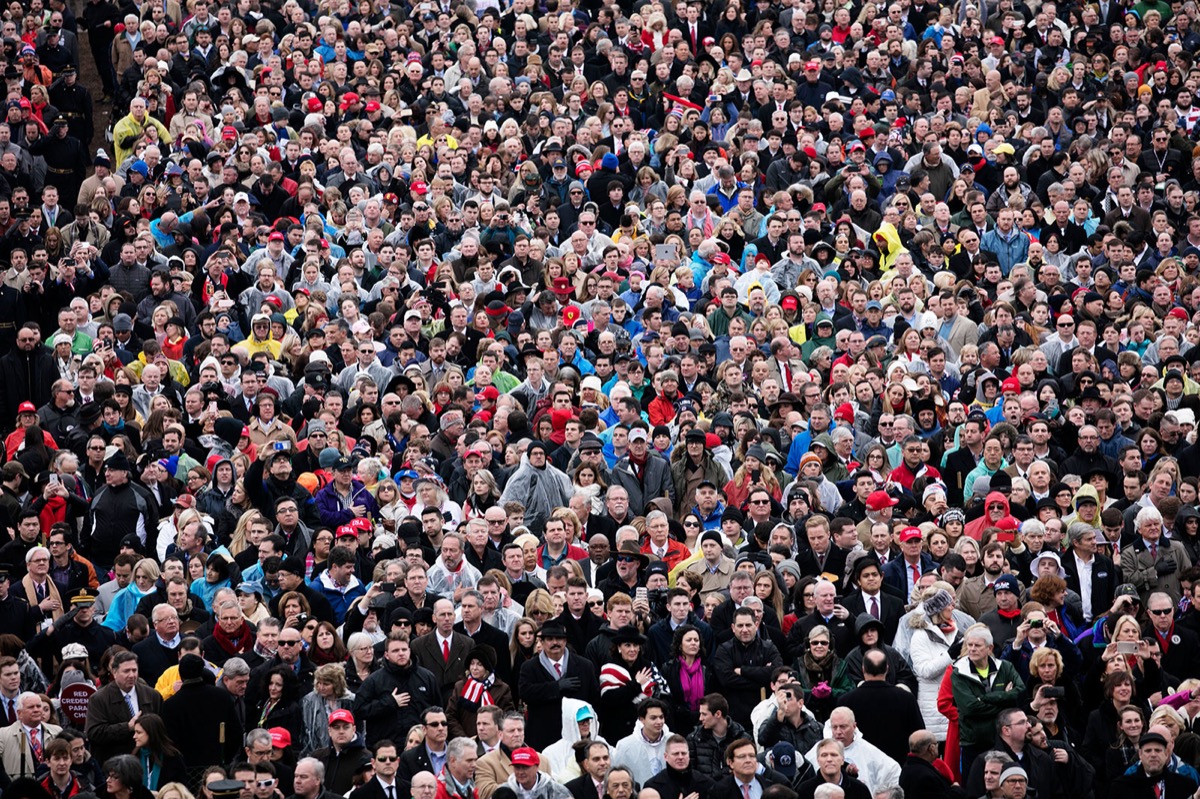 Kennerly has covered five decades of presidential politics and was President Gerald Ford's official White House photographer. At Trump's swearing-in ceremony, he said he had an almost cinematic vantage point.
From where he stood, he could see the eight Supreme Court justices. Trump will be nominating someone to replace the late Justice Antonin Scalia, "so that's a story within the story," Kennerly said.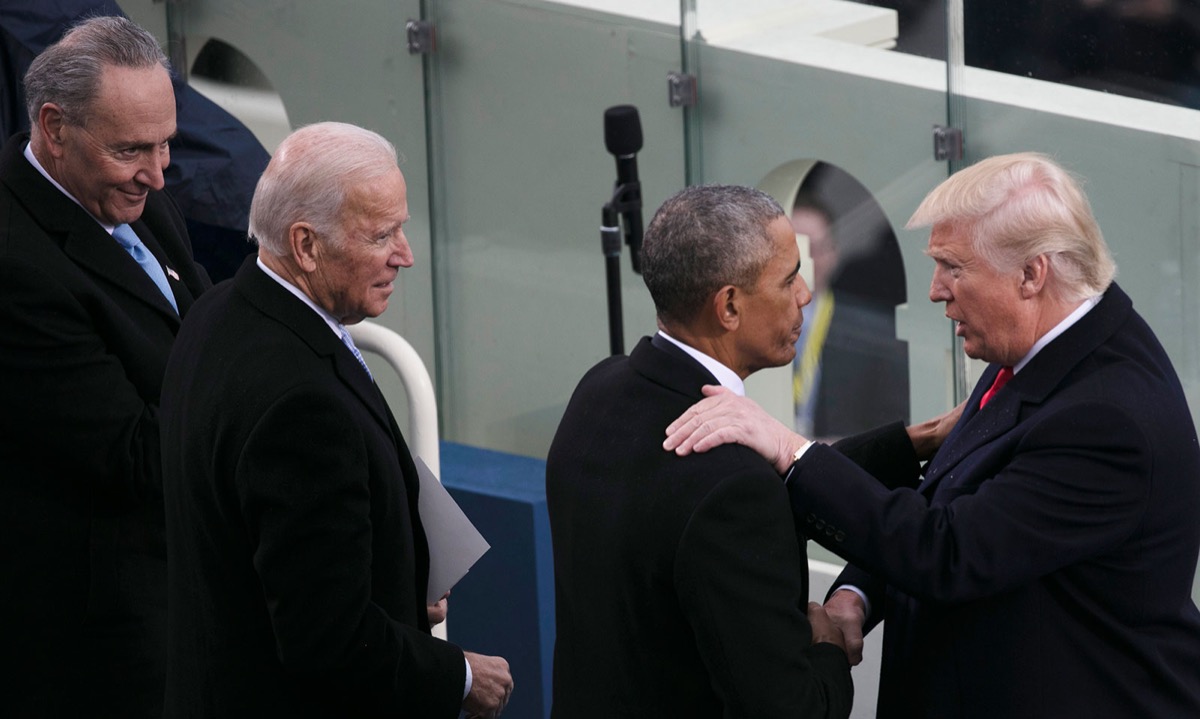 Kennerly could even read the oath of office printed in bold black letters on a white page held by Chief Justice John Roberts. And he watched as President Trump placed his hand on the shoulder of Barack Obama, who had just become a former president.
"My whole career is about catching moments like that," Kennerly said. "They don't necessarily have to inform you exactly what someone was thinking, because we can't know that, but it gives you insight into the character and into something that's just happened. … Any photographer who wants to tell a story will try to give you some clues about different personalities."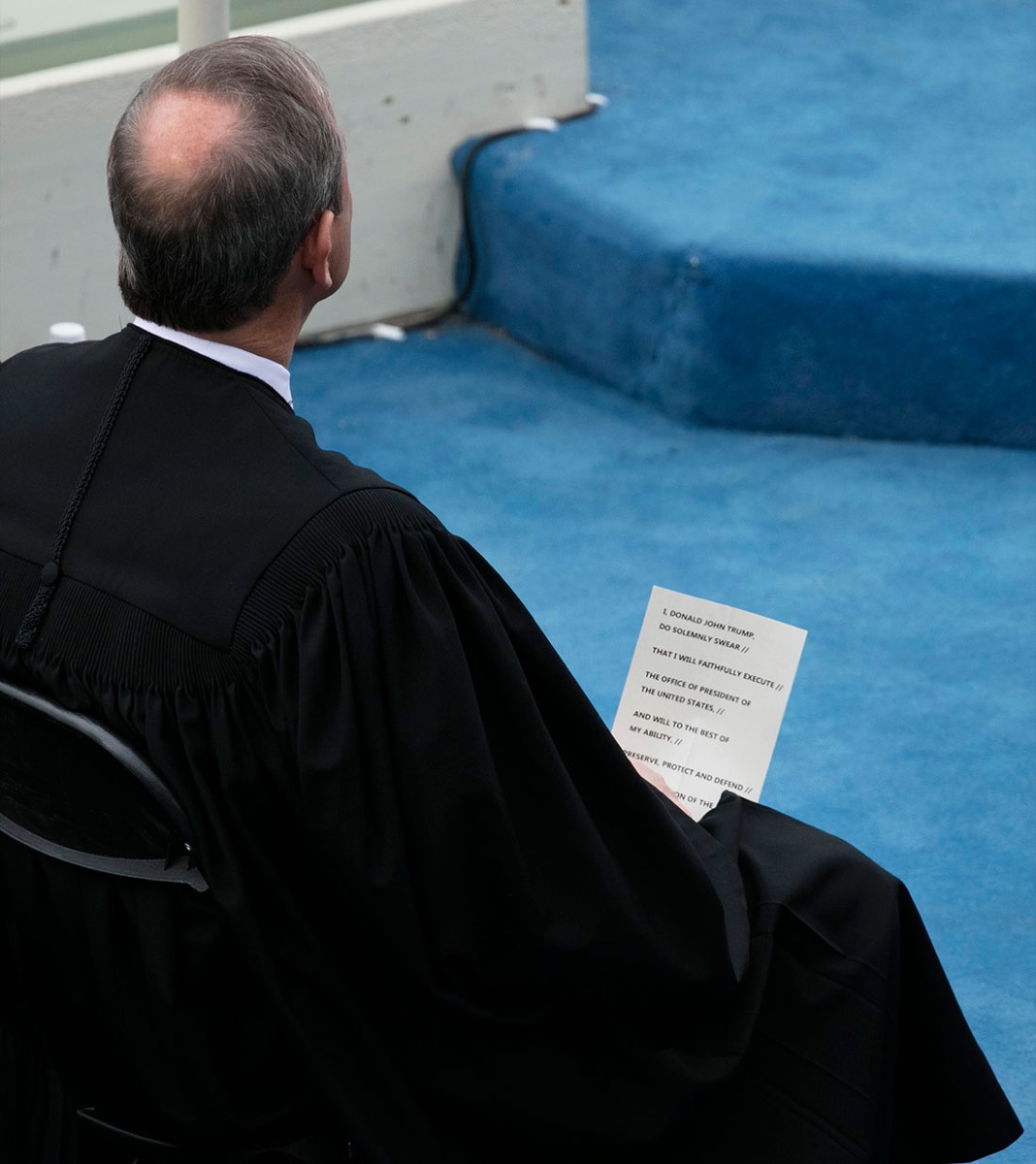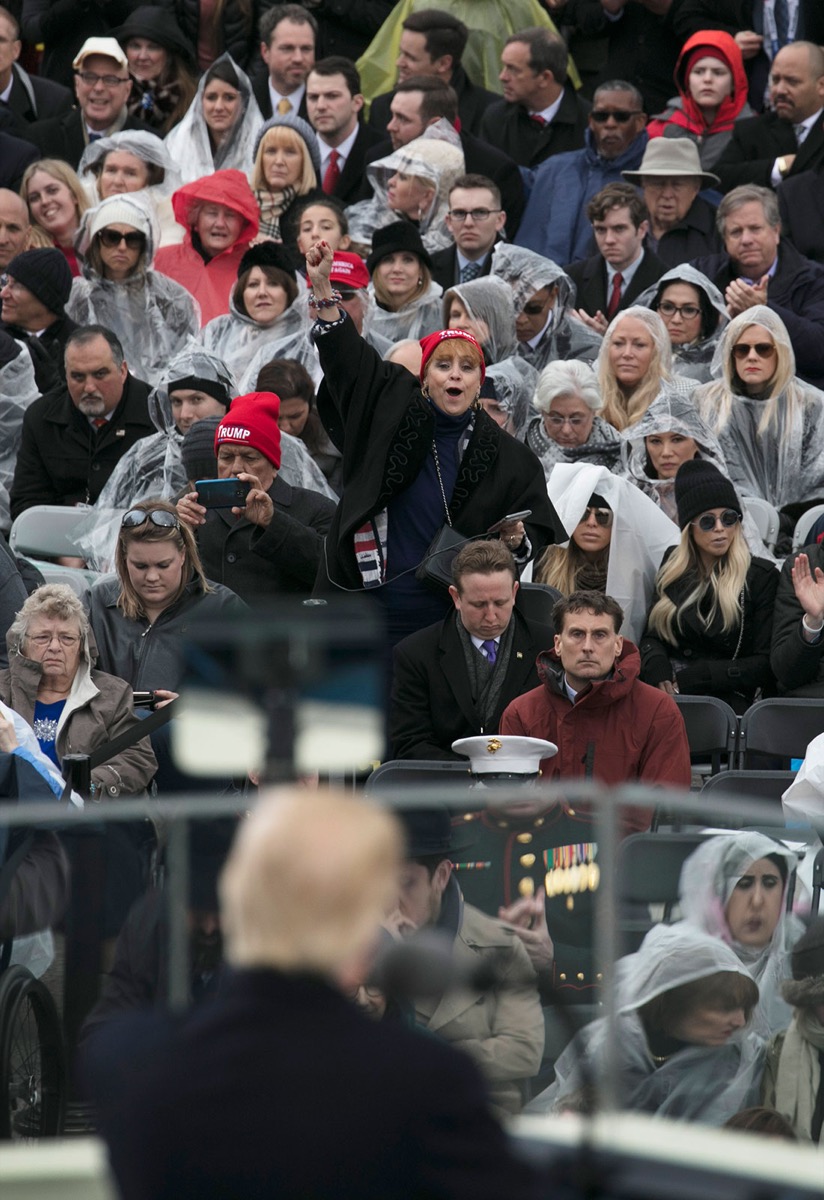 For Kennerly, the inauguration had a family feel to it; it was a big moment for the Trumps.
"It's a unique American celebration, and this is no different," Kennerly said. "I love watching democracy at work -- whether you like who got elected or not. That's how we do it. It's done not through the barrel of a gun, but through peaceful measures. And that's one of the great things about our country."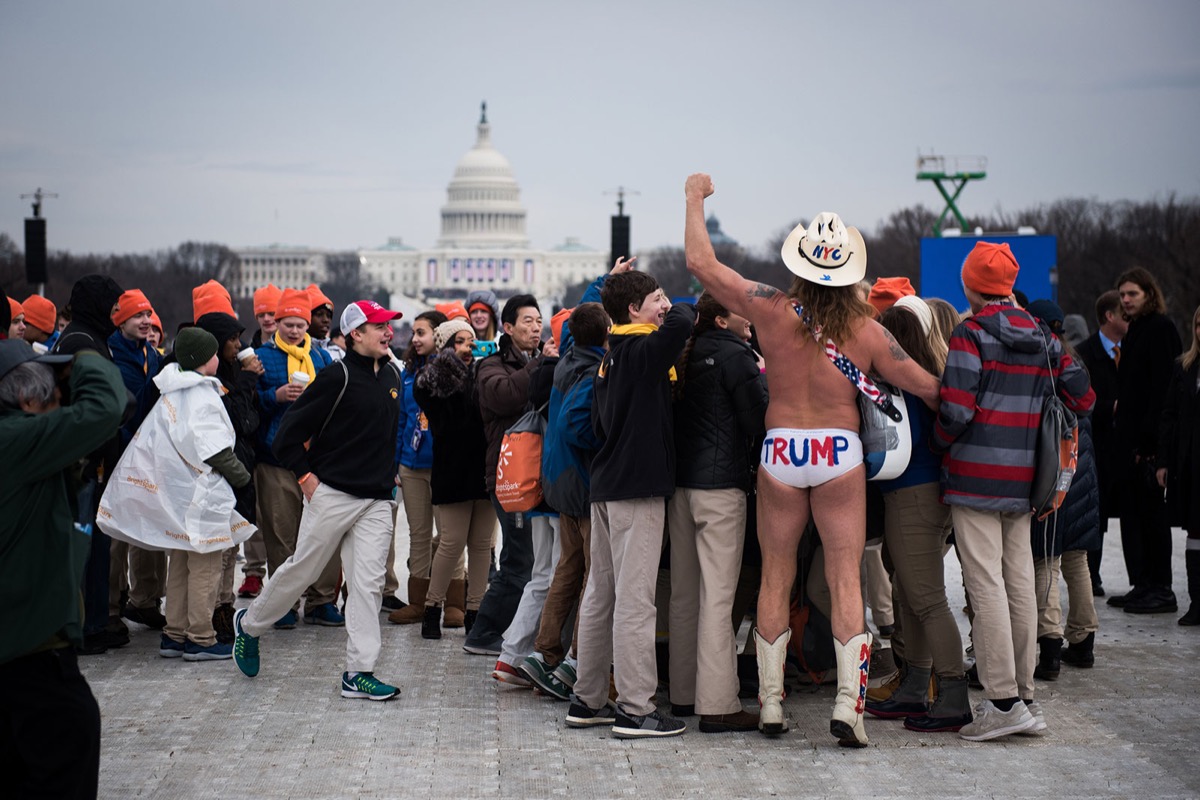 Calvert said the people at the inauguration looked happy to be there, to witness this peaceful transfer of power.
"It's a day that brings out a lot of emotion in people," the photographer said. "It's a day where people look at the new person who has come into office and they kind of take ownership of them. It's where the New Year begins in Washington."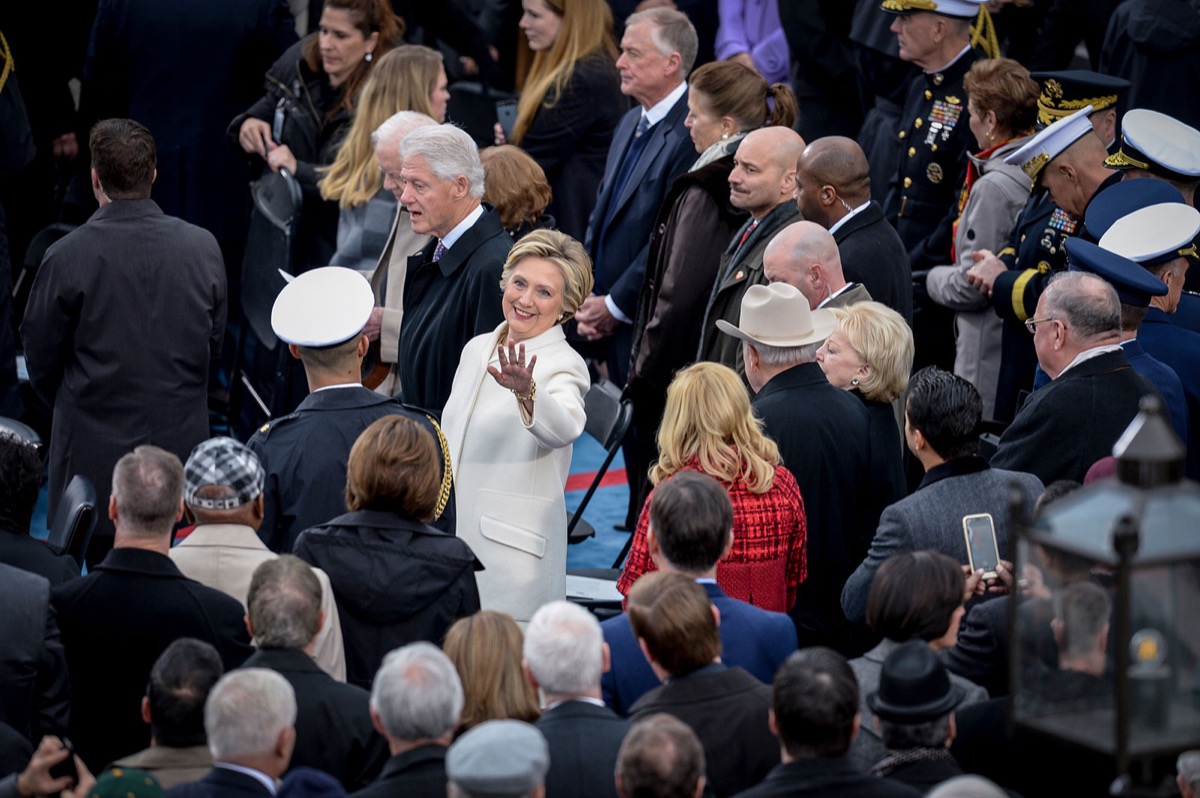 What Calvert found memorable was watching Obama as he listened to Trump's speech. "He was listening very intently and you have to wonder what he was thinking," she said.
She also photographed the inaugural parade as Trump rode in the presidential motorcade.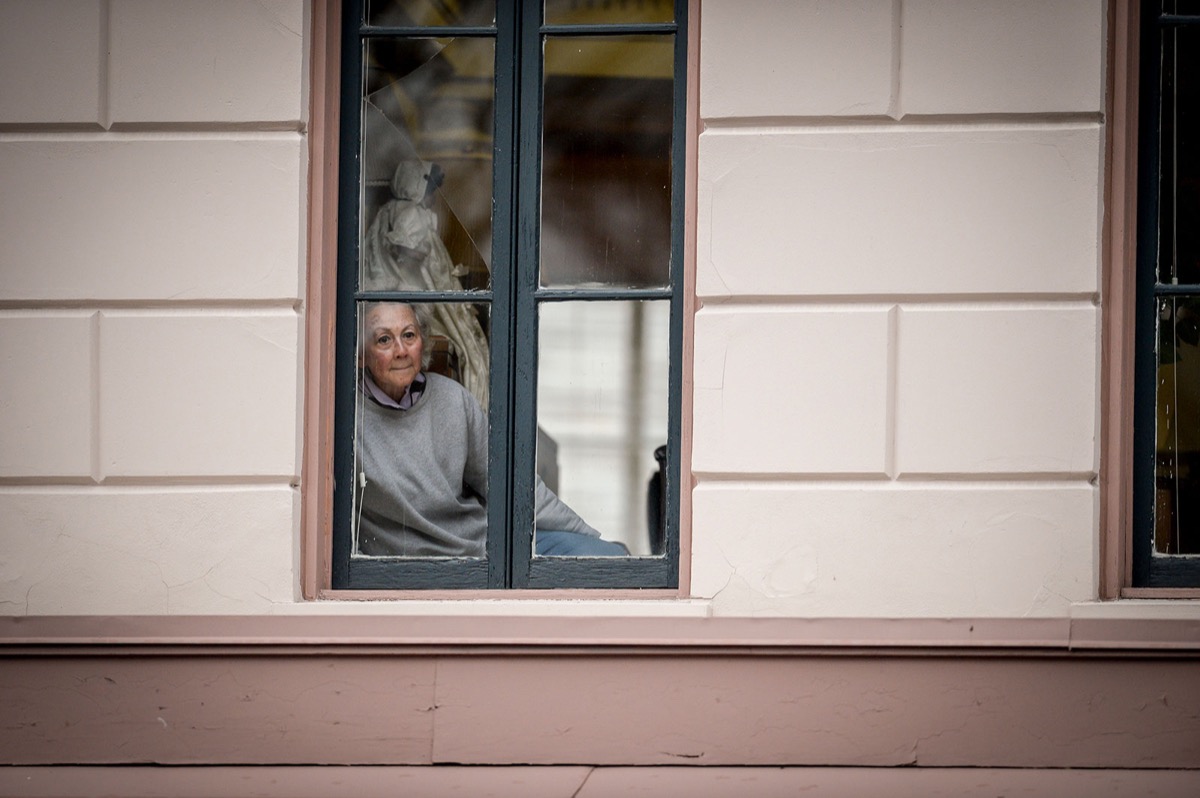 "I suppose Trump always had a lot of attention and all that," she said. "But when you suddenly find yourself President of the United States, and you're walking down Pennsylvania Avenue surrounded by Secret Service agents and motorcycles and cars and lights -- whether or not you're a Democrat or a Republican -- I imagine it's a very profound moment."
But the day wasn't just celebratory. When she covered Obama's inaugurations, Calvert said it seemed the majority of people there were excited about their new leader, and there were few protesters. "But today it was different," she said.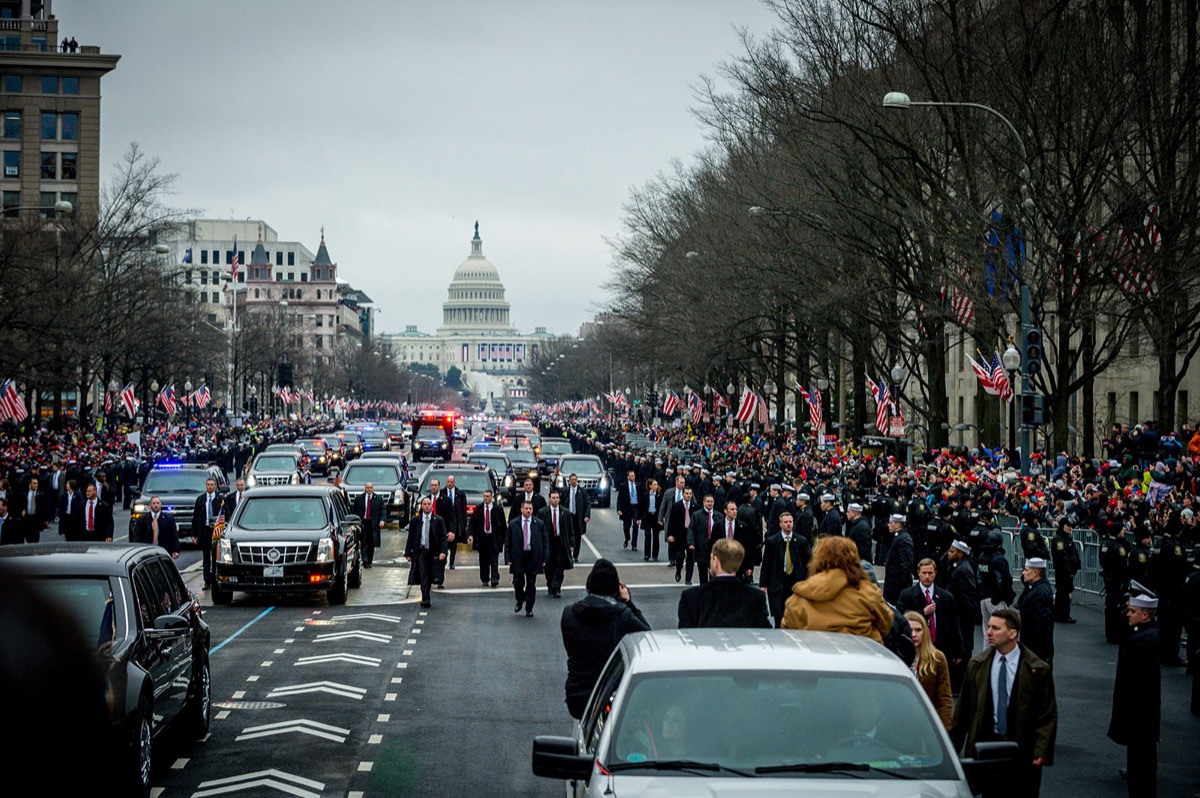 Kauzlarich spent part of his day photographing some of the demonstrations. The majority of protesters were peaceful, but there were some who expressed their frustrations with violence. They threw bricks at police officers, broke the windows of businesses and set vehicles on fire.
"A very, very small number of people were doing these things," Kauzlarich said. "I saw protesters squaring off against police, largely peacefully, although there were some self-described anarchist protesters."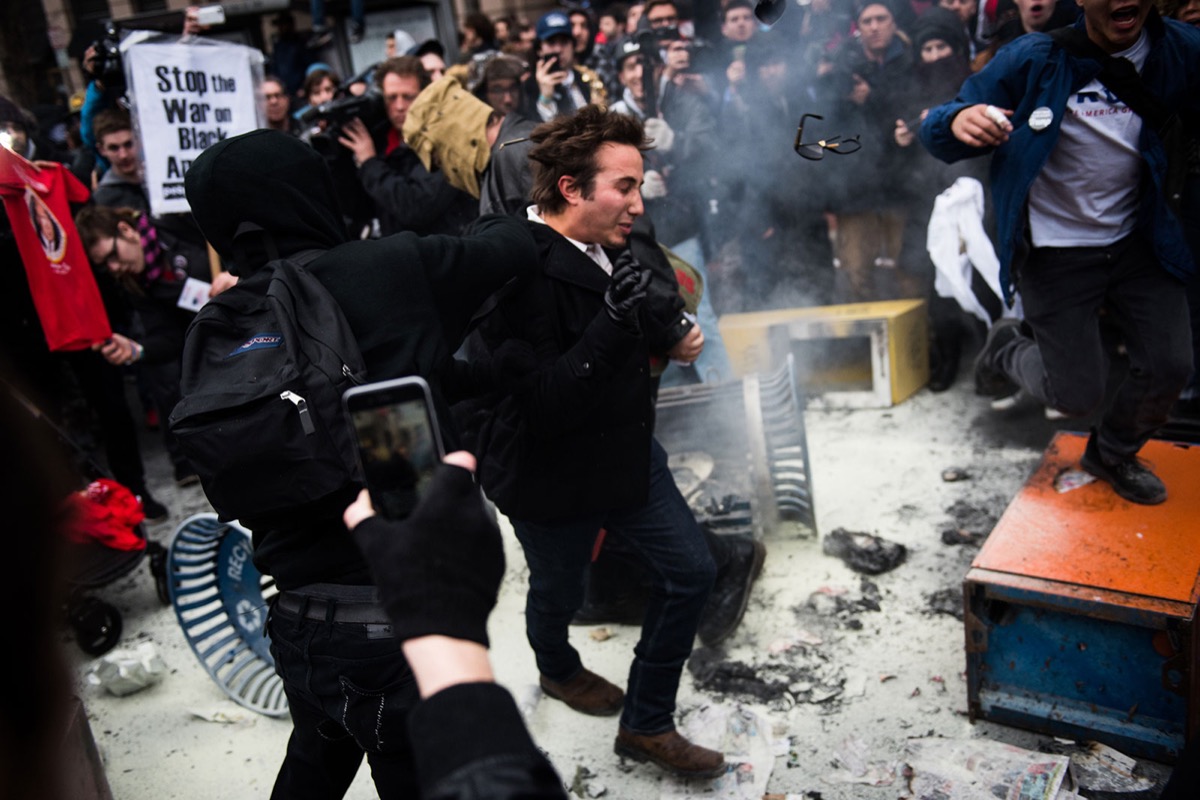 For a period of time, it was quite intense. A group of protesters wearing black masks lit a limousine on fire. Police had to release what Kauzlarich said were probably flash grenades and pepper spray to get people away from the area.
"There was this huge fire coming out of the limousine and a lot of protesters and a lot of media standing around it -- and a lot of chance that that could go very poorly," Kauzlarich said.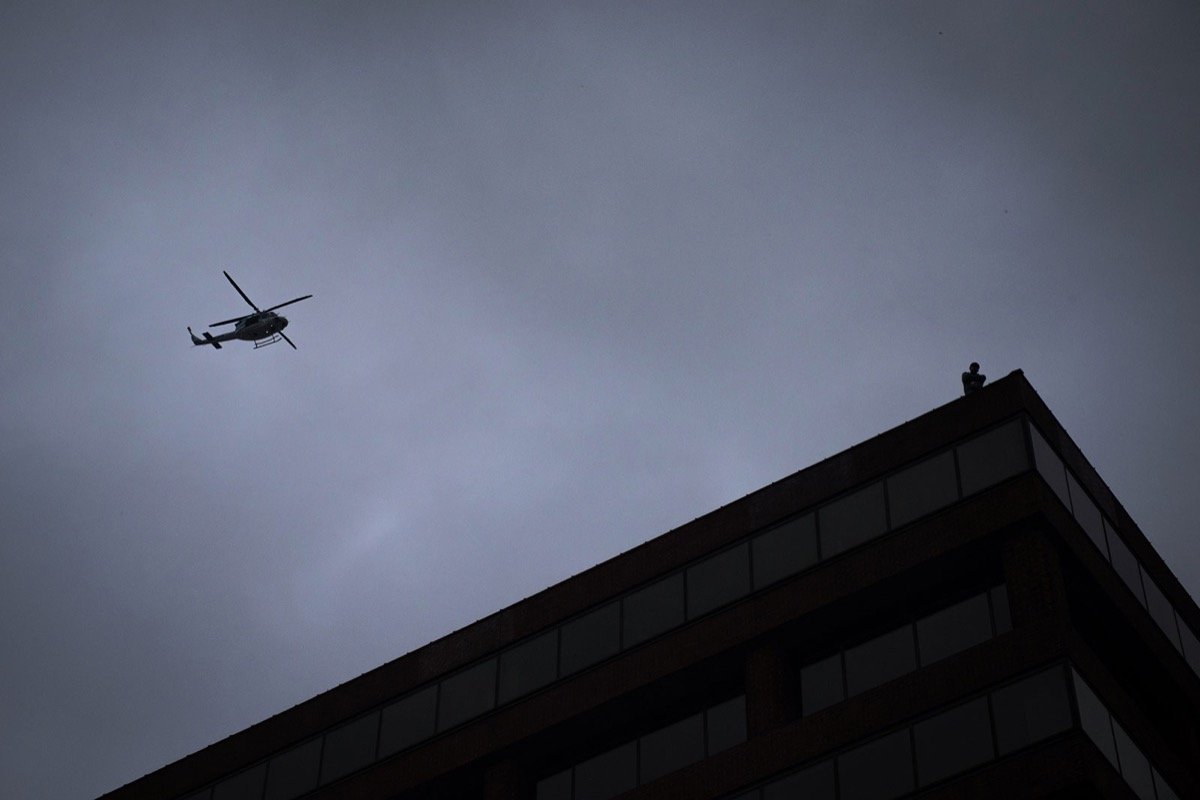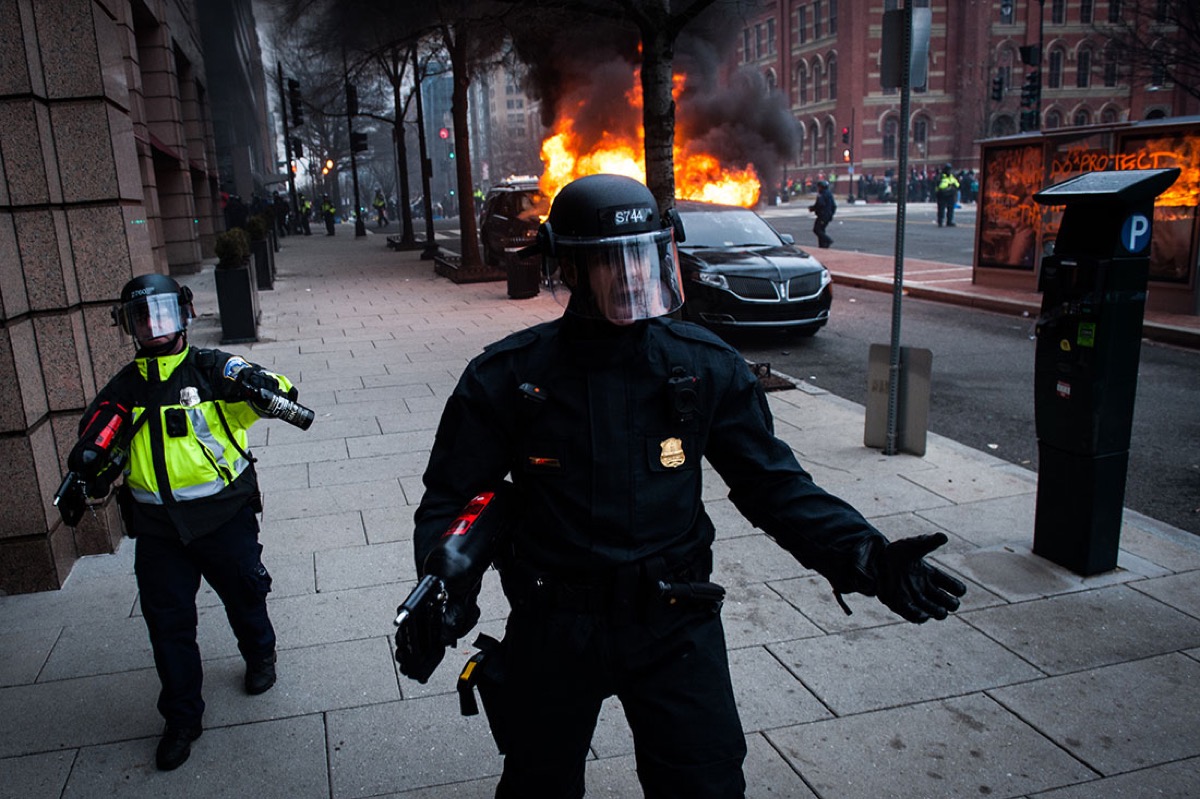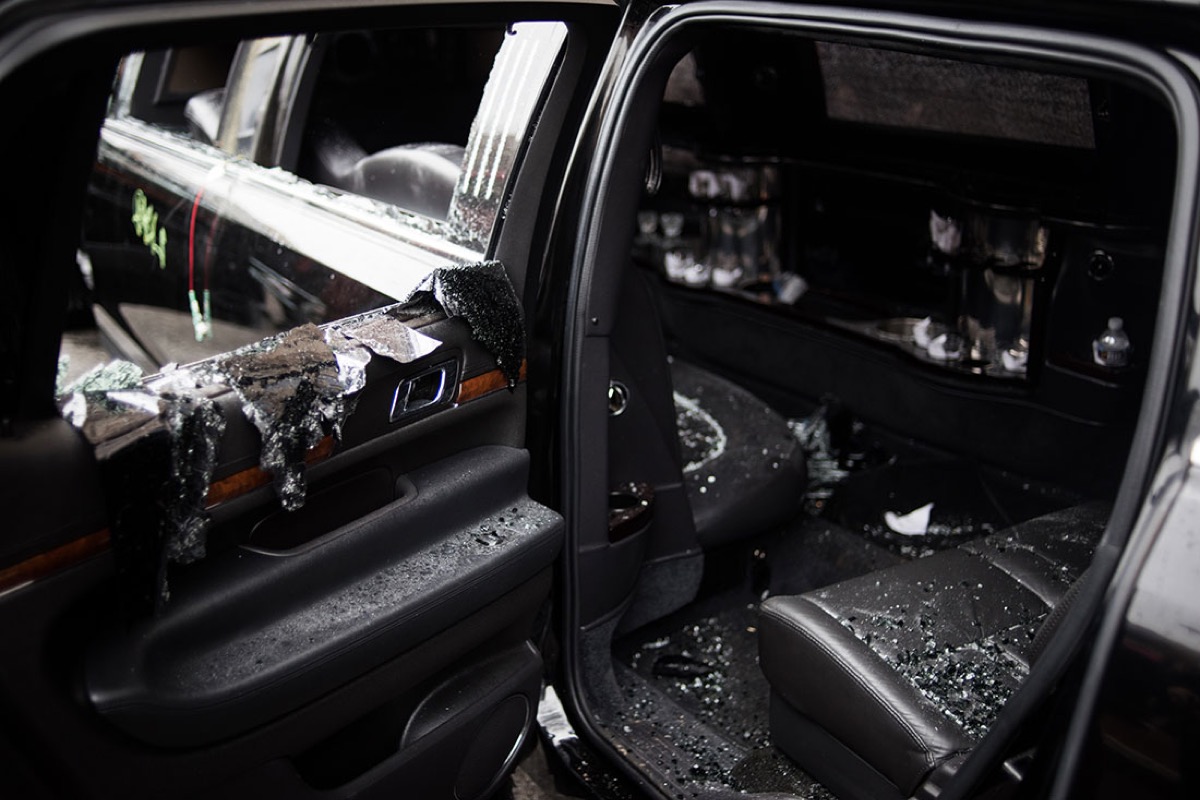 But there were efforts to create a sense of calm and understanding even in the more tense situations. When one police officer seemed to get a bit forceful with the protesters, Kauzlarich said a commanding officer stepped in. And later, another officer came over and started a dialogue, apologizing for the earlier the incident on behalf of the police.
"There's a lot of room for dialogue and discussion and moderation, and sometimes one thing might happen that leads to another," Kauzlarich said. "While a small group of protesters might have invited some things today, just like a number of Trump supporters might have made some inappropriate comments or inappropriate jokes while I was around them, that doesn't necessarily represent all of either group."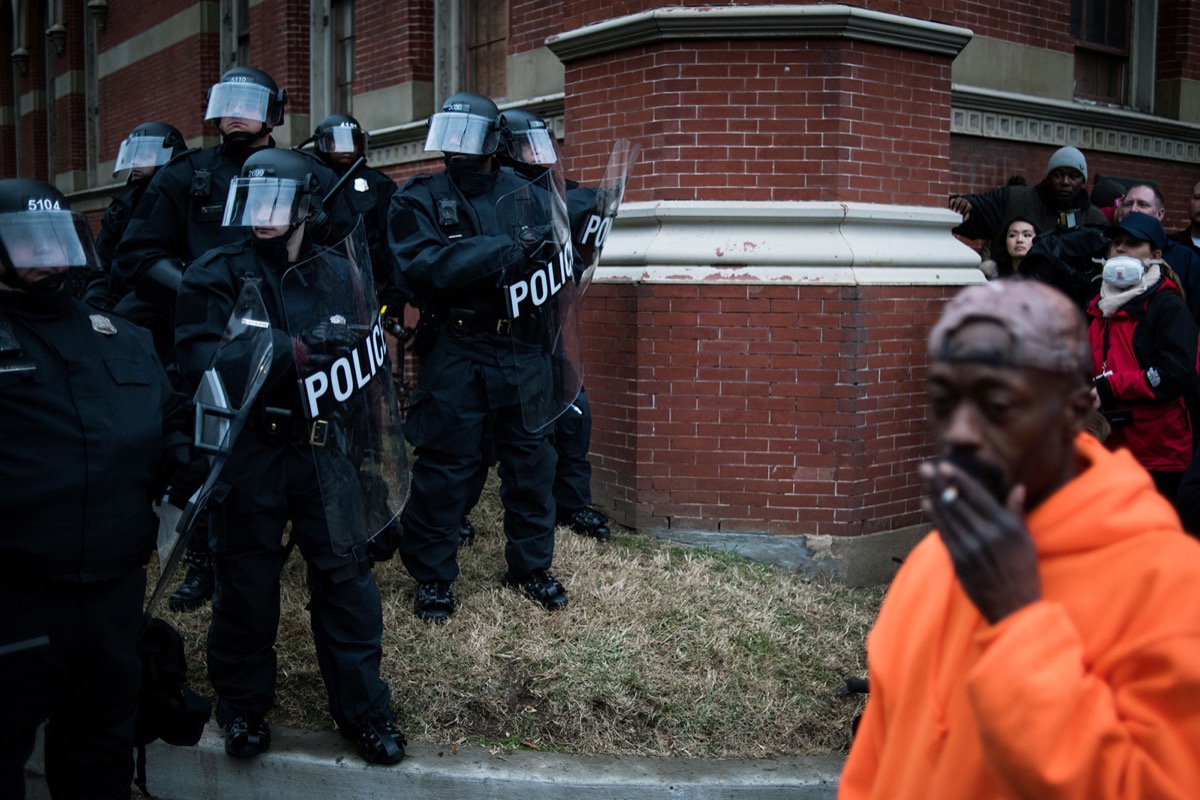 Kauzlarich added that there were a lot of people, whether at Trump's inauguration ceremony or at the protests against Trump, who were there simply to observe.
"Maybe some people are just in a period of time where they're not quite sure what to say or do and they're just figuring it out by observing," he said. "I did hear a number of parents kind of having discussions with their children -- in both environments -- about civics. … They were talking to their kids about voicing your concerns and your opinions and using that as a way to take part in democracy."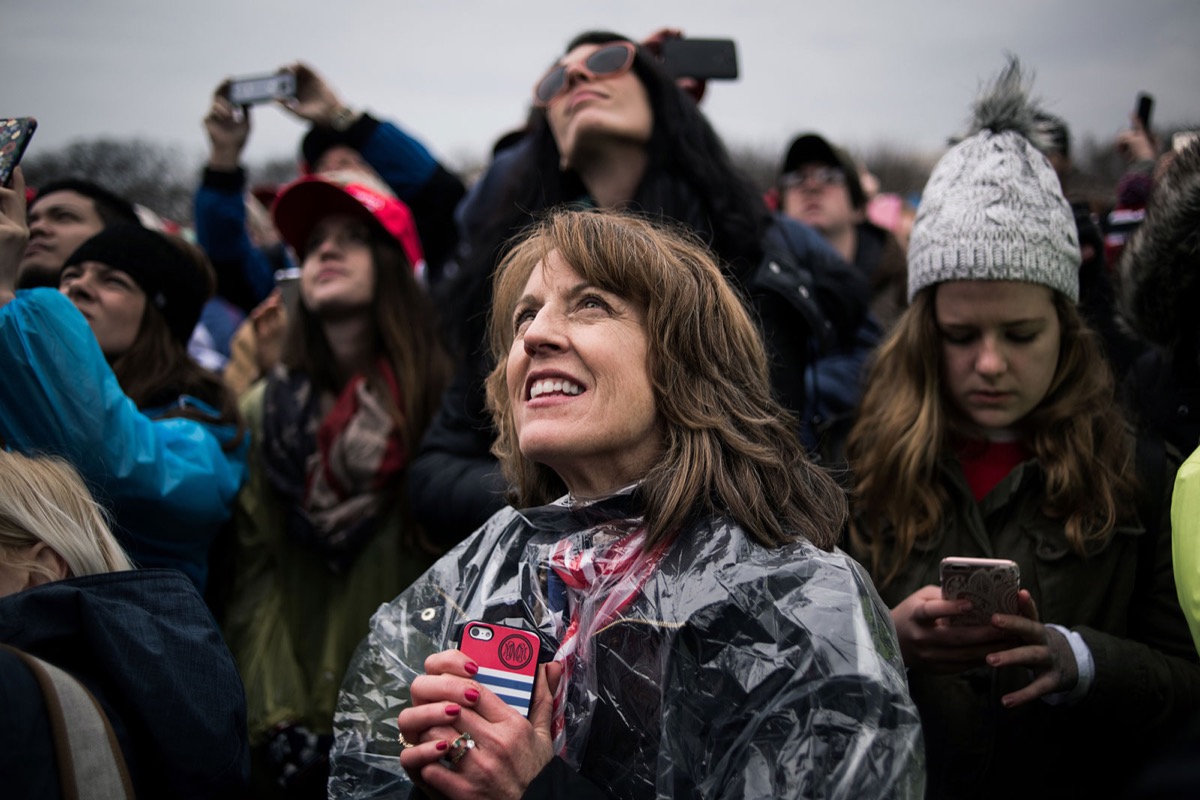 Nordeman did not witness the protests firsthand, and only saw images of what happened later on. He spent the day photographing the inauguration ceremony and one of the night's inaugural balls.

"There's something about being here today that really hit home for me," Nordeman said. "This idea of the way our news that we consume is so subjective and so selective."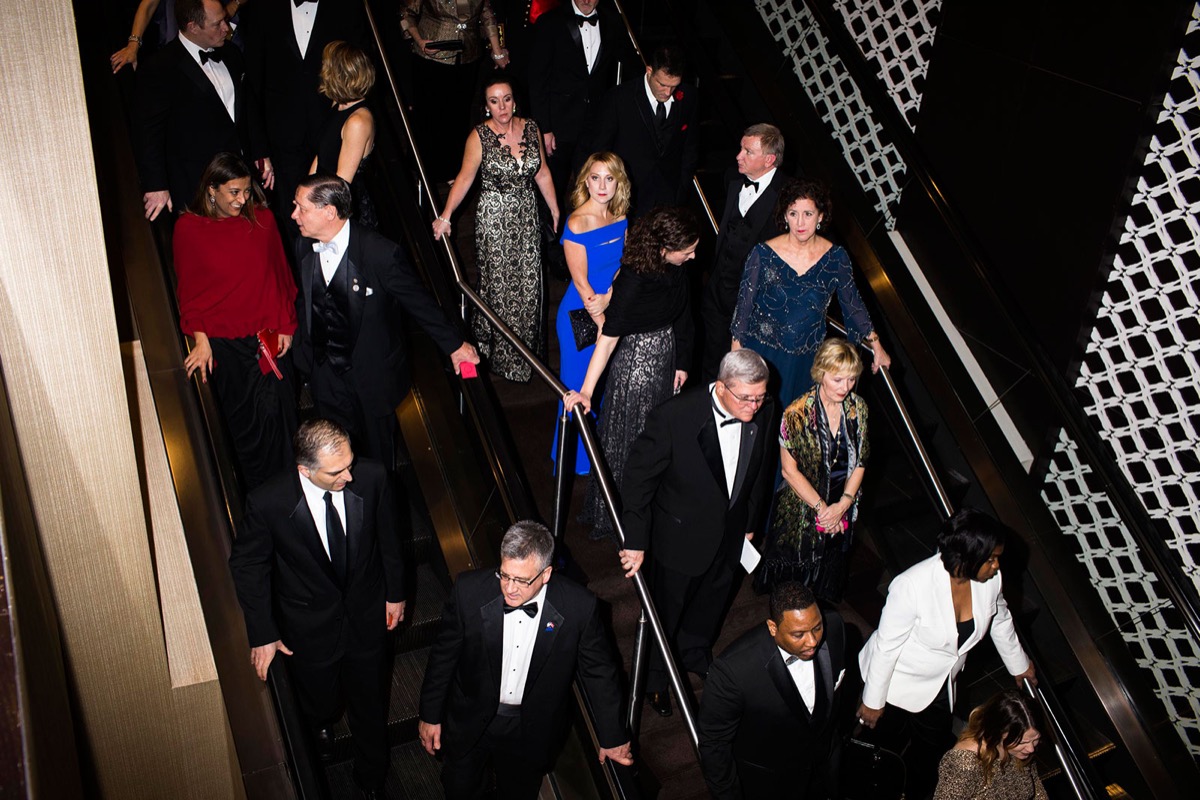 In the evening, he attended the Veterans Inaugural Ball. The event, also called the Salute to Heroes ball, paid tribute to veterans and Medal of Honor recipients. Nordeman said the mood there was celebratory.
The first couple didn't attend this particular ball, though, and Nordeman felt it was less about the President and more about celebrating veterans.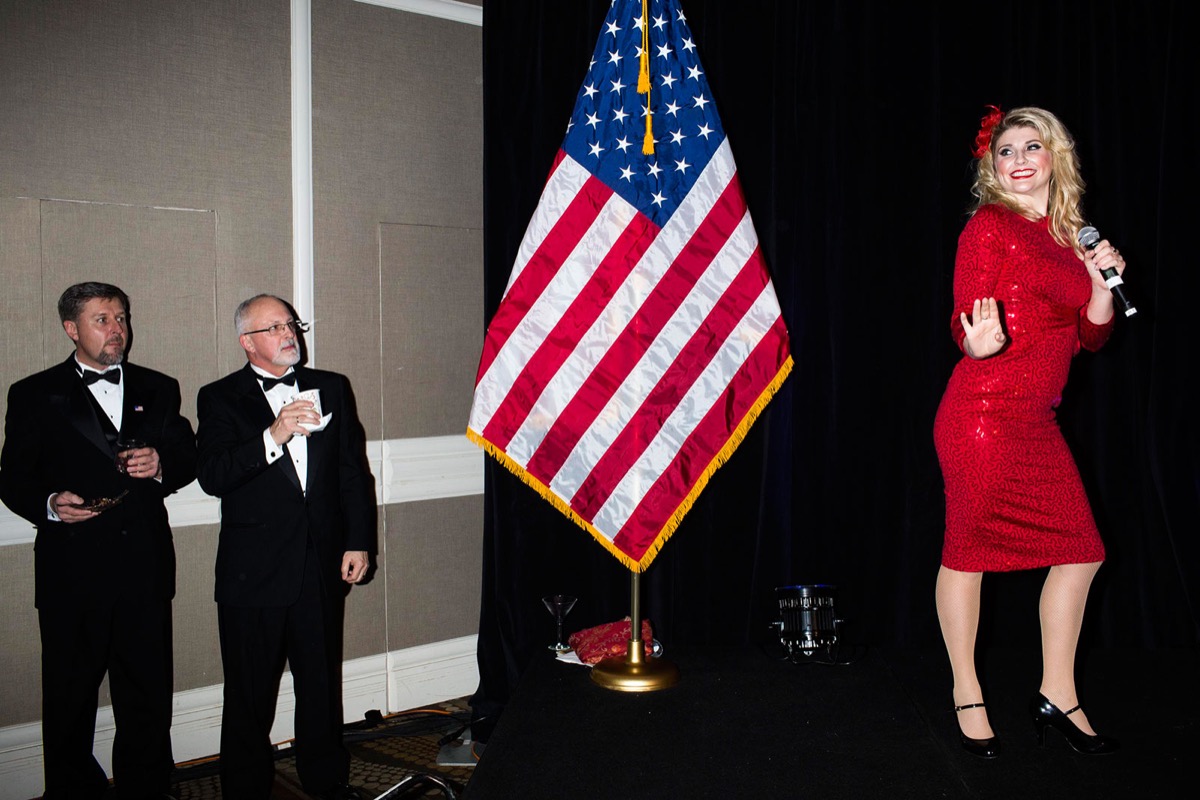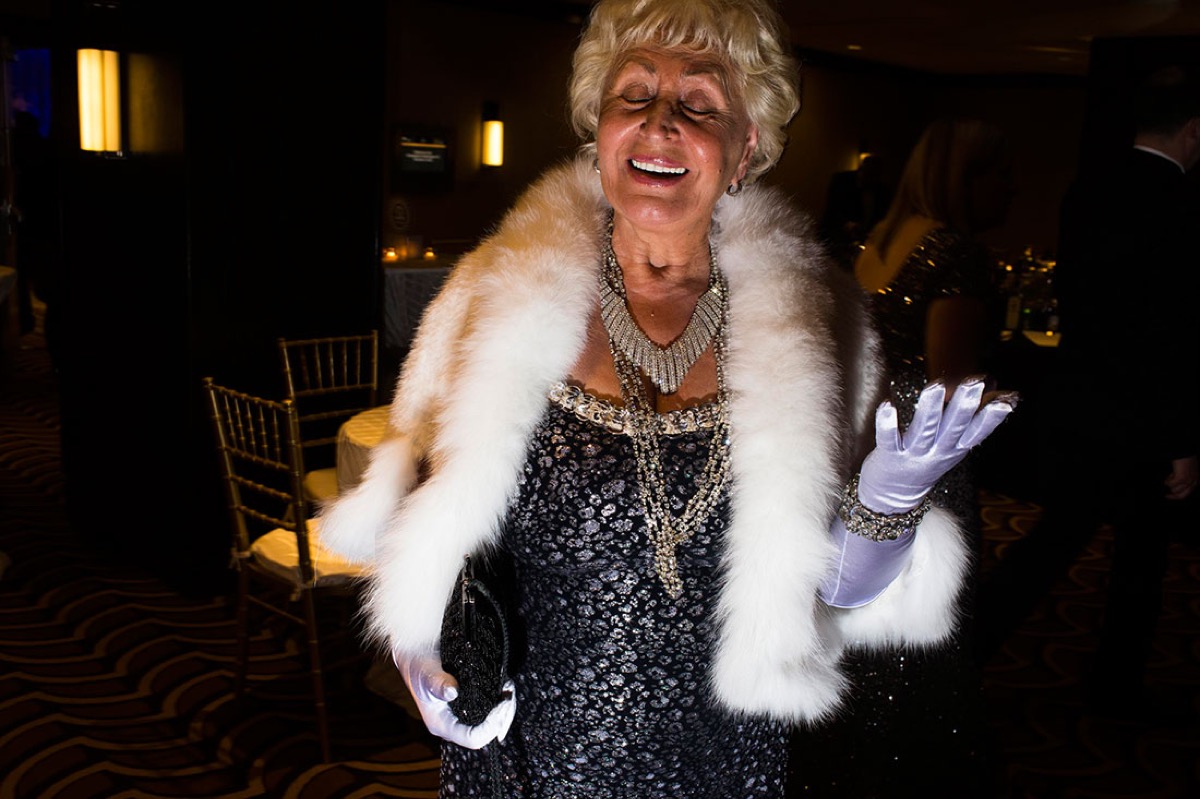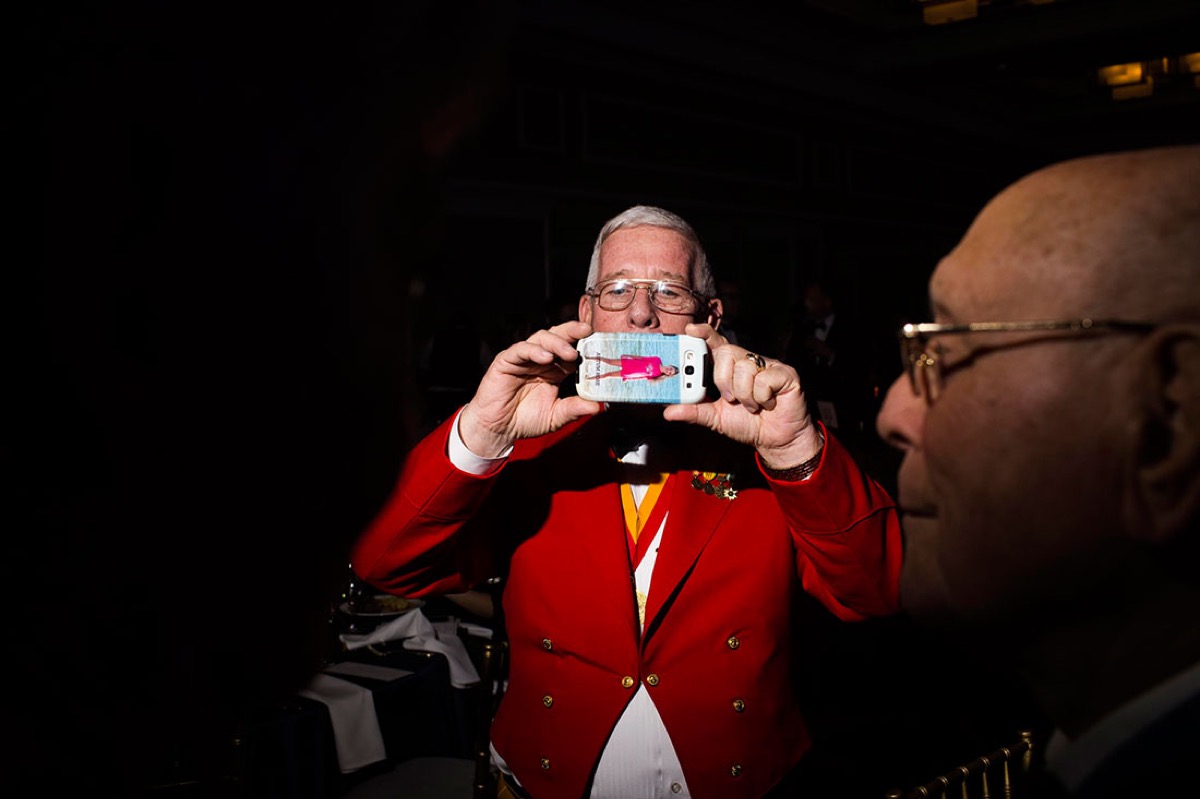 Earlier in the day, Nordeman watched the new president being sworn in. He described the crowd at Trump's ceremony as flat, and was surprised by the lack of emotion expressed by some who showed up.
 

"I've photographed Trump before, during the campaign, and whenever I did, it was always very high energy," he said. "I felt like his crowd and at his rallies, there was a real sense of enthusiasm and spirit and real fervor for him. And I just didn't get that sense today."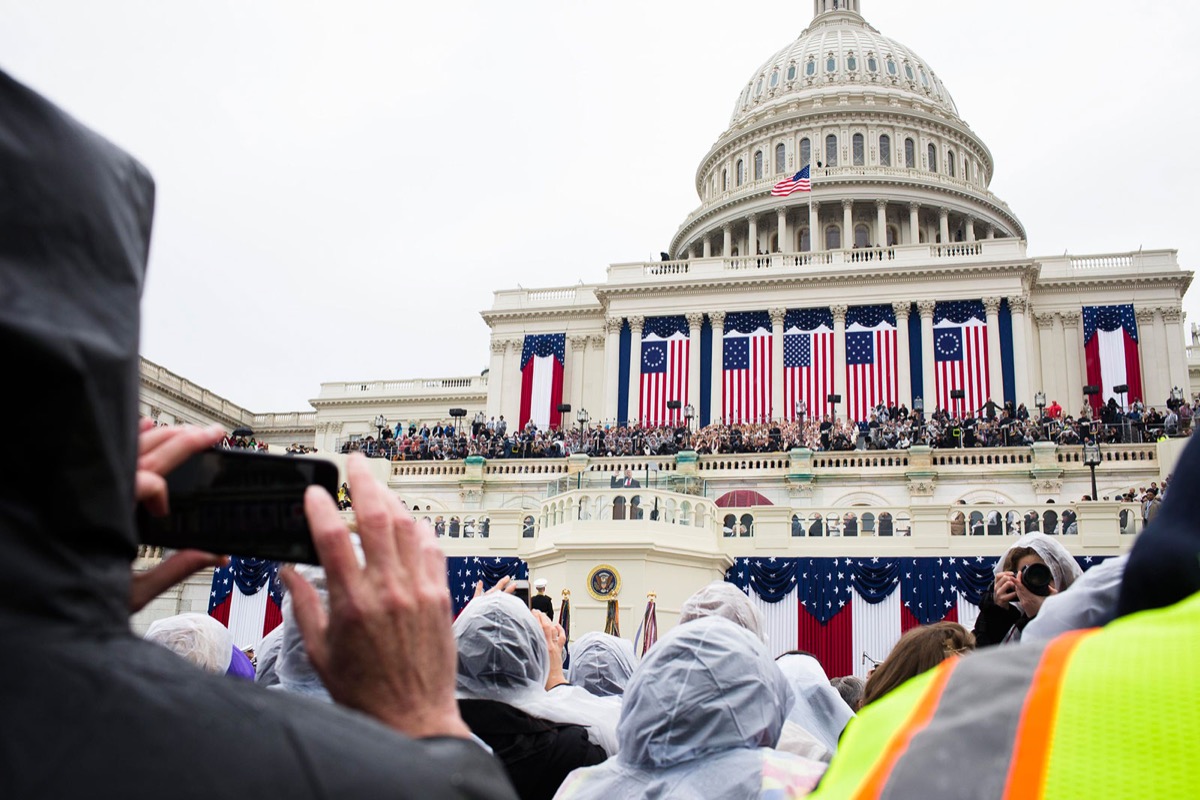 During his inaugural address, Trump focused on the themes that propelled his successful bid for the presidency.
"What truly matters is not which party controls our government, but whether our government is controlled by the people," Trump said. "January 20, 2017, will be remembered as the day the people became the rulers of this nation again. The forgotten men and women of our country will be forgotten no longer. Everyone is listening to you now."
Photo editors: Brett Roegiers and Bernadette Tuazon