She knew Iowa would be a dogfight. Knew she might lose again. Knew she had to win, because she was going to lose New Hampshire, which could lead to a loss in Nevada, and nobody won the nomination by losing the first three states. This was not a coronation. Anyone who thought so was forgetting three things. Iowa had an unusual number of hard-core liberals. Iowa's hard-core liberals could not wait to caucus for Bernie Sanders. And in five of the last seven competitive primary cycles, Iowa had predicted the Democratic nominee.
It did in 2008, the last time Hillary Clinton campaigned there, when a political upstart came out of nowhere and ruined her plans. What struck her 2016 Iowa state director about Clinton was her willingness to learn from mistakes, her fierce resolve not to repeat them. Even if she had trouble admitting them in public, she was honest with herself. Matt Paul could see that when he met with her in New York in March 2015, eleven months before the caucuses. Paul knew Iowa well from past campaigns and his work in state government, and her diagnosis of 2008 sounded right to him. That campaign was too big, too impersonal, too staged. She wanted to go back to the formula that helped her win her first Senate race in New York in 2000: small events, face-to-face interaction, actually listening to voters. She might have to win them over one at a time.
One advantage Clinton had was the caucus system itself, and the strange and byzantine protocol by which it awarded delegates to the national convention. It would function as a check against liberal students and their visions of a President Sanders.
Like all self-perpetuating social orders, the Iowa Democratic Party knew how to keep newcomers in their place. In the early 1970s, still horrified by the national convention riots of 1968, party elders made a plan to diminish the influence of young radicals. Their system rewarded longstanding voters by giving each county more "delegate equivalents" in the current election for higher turnout in past elections. In a rural county, where residents were more likely to show up for midterm elections, a caucus vote might be worth double the statewide average. In a college town it might be worth half.
If this sounds like a system that could have swayed the closest vote in caucus history, it might have done just that. And if the Iowa results of 2016 seem to fortify a host of conspiracy theories, well, Sanders always said the game was rigged.
Two candidates won the 2016 Democratic primaries, at least in the grander scheme. Clinton believed in playing the game as it actually was, reaching for every possible advantage. She had to beat Sanders. For the realist, there are no moral victories.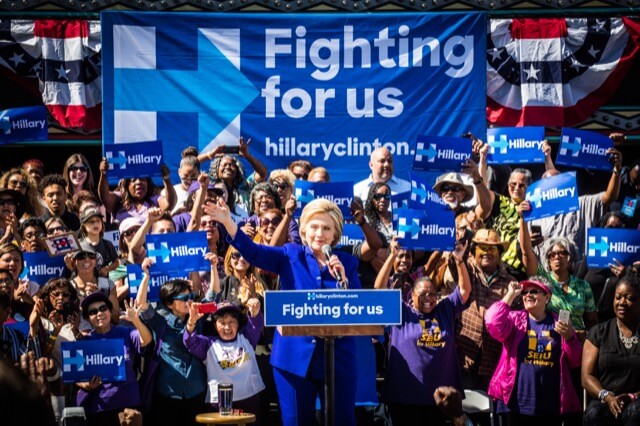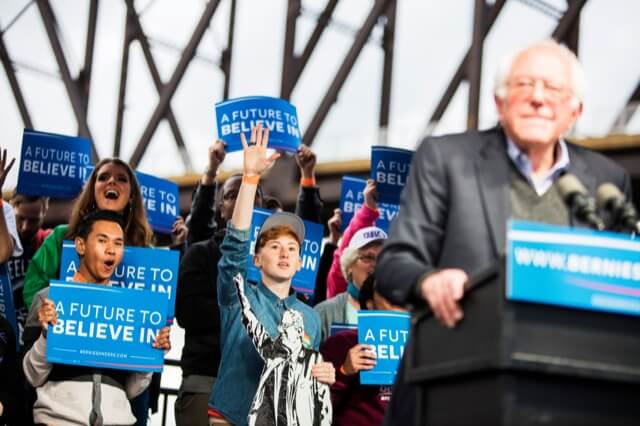 Sanders had to lose in order to be right. If the economy and the political system were rigged against the average worker, they could not be rigged in favor of the candidate demanding their liberation from the billionaires. And if the billionaires were as powerful and corrupt as he claimed, they would never let Sanders become president. Rein in Wall Street? Not on their watch. Single-payer health care? The drug and insurance companies would fight back. No one knew that better than Clinton did.
Sanders in 2016 resembled Clinton in 1994, when she was first lady and her health care proposal met its bitter end. Then, she was the idealist colliding with hard political reality. During a CBS News debate on November 14, 2015, Clinton looked at her opponent and caught a glimpse of her younger self:
SANDERS: It will not happen tomorrow. But when millions of people stand up and are prepared to take on the insurance companies and the drug companies, it will happen, and I will lead that effort. Medicare for all, single-payer system is the way we should go.
NANCY CORDES, CBS NEWS: Secretary Clinton, back in 1994, you said that momentum for a single-payer system would sweep the country. That sounds Sanders-esque. But you don't feel that way anymore. Why not?
CLINTON: No. Revolution never came. I waited and I've got the scars to show for it.
They were still waiting for revolution in Iowa City, home to the University of Iowa, the seat of a county unofficially known as the People's Republic of Johnson County. Two nights before the caucuses, at a rally on campus with the liberal philosopher Cornel West and the rock band Vampire Weekend, Sanders sang along with the anthem of American socialism: Woody Guthrie's "This Land Is Your Land."
Clinton had many celebrities on her side too, but her Iowa campaign was fairly unglamorous. No more helicopters. Not so many mega-rallies. Iowa voters wanted to get to know their candidates, and Clinton obliged. She held medium-size events in school gymnasiums and small meet-and-greets at private homes. "She dug in and worked," Paul said.

Clinton also had one of the best field operations in caucus history. Hikers for Clinton. Kayakers for Clinton. Quilters for Clinton. Organizers searched Twitter for people talking about Clinton, invited them for coffee and then recruited them as precinct captains, according to Marlon Marshall, Clinton's director of state campaigns and political engagement. Marshall said a good field operation could move the needle by 3 to 5 points in a caucus state like Iowa. And Clinton would need every last point.
Mary Hoyer, chair of the Henry County Democrats in rural southeastern Iowa, did not support Clinton. But she couldn't help noticing the campaign's systematic pursuit of voters.
"I swear," she said, "they hit every single house in town, in Mt. Pleasant, like three or four times."
On caucus night, Clinton and her aides watched the returns come in from a suite on the tenth floor of the Savery Hotel in downtown Des Moines. She had a concession speech written, just in case. Hours passed with the race too close to call. A blizzard was approaching. Clinton held a razor-thin lead. The party had not called the race. But she needed to leave for New Hampshire to beat the storm. "You should go out and speak," her campaign manager, Robby Mook, told her. Clinton made a decision: She would declare victory, and hope she was right.
They edited her speech in the car on the way to Drake University, but she ignored the teleprompter and spoke from the heart: "As I stand here tonight, breathing a sigh of relief—thank you, Iowa!" Someone held up a giant pair of red boxing gloves. A few supporters sang along with her anthem, "Fight Song," by Rachel Platten, but many were too shocked by the closeness of the race to do much celebrating.
On the plane to New Hampshire, she ate ice cream. She did not find out about her narrow victory until after she'd touched down.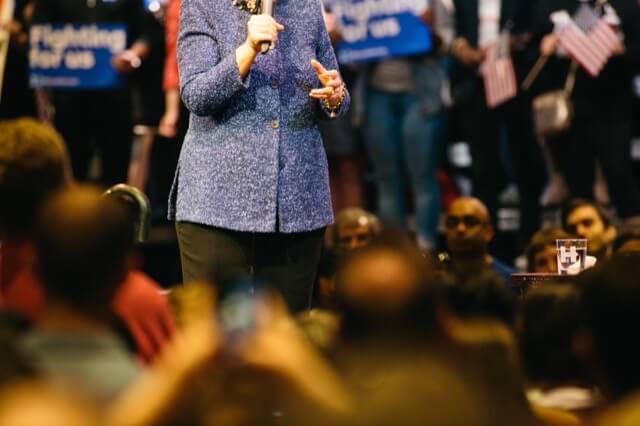 Clinton won the vast majority of rural and exurban counties, many with more than 60 percent of the vote. These counties were crucial to her statewide victory, in part because each rural vote was worth more than each college-town vote under the state delegate equivalent system.
Meanwhile, in the People's Republic of Johnson County, turnout was even higher than it had been for Barack Obama in 2008. Liberal students and their liberal professors flooded the caucuses for Sanders, their dream candidate, helping him beat Clinton there by almost 20 points. But as caucus expert John Deeth later calculated, the average Johnson County voter counted about half as much as the average Iowa voter did.
According to the Iowa Democratic Party, 171,517 votes were cast on caucus night. At the national convention, these votes would translate into twenty-three pledged delegates for Clinton and twenty-one for Sanders. But Ben Foecke, executive director of the Iowa Democratic Party, told CNN that the party did not know how many votes were cast for each candidate, because some smaller precincts awarded delegates by voice vote.
Deeth and David Redlawsk, a Rutgers University professor who studies the Iowa caucuses, agreed on this point: If the raw numbers could be known, they might show that Sanders won the popular vote. But it didn't matter. Sanders had his chance. The experts said he might have won if he'd spent more time in rural Iowa, courting the voters whose party loyalty gave them outsize influence. His supporters wondered about the influence of the party chairwoman, Andy McGuire, whose neutrality was called into question by a vanity license plate that said HRC 2016. (According to Foecke, McGuire already had the plate before she was elected chairwoman. He said she removed the plate and remained neutral during the caucuses.)
Clinton had been earning her victory for nearly fifty years, the length of her membership in the party. The caucuses did what the Democrats had intended. They kept power within the establishment, and kept the revolution outside the gates.
✦ ✦ ✦
If there is one constant in American history, it is the rigging of the system against African-Americans. Even after slavery ended, Democrats spent most of a century excluding them from democracy by all available means: poll taxes, literacy tests, cross-burnings, murder.
Then a Democrat restructured American politics. President Lyndon Johnson had spent much of his twelve-year senatorial career voting with white supremacists for political convenience, but he came to believe that segregation was both un-Christian and dangerous to the republic. A swaggering bully who stood six-three and weighed 210 pounds, Johnson was legendary for his persuasive ability. He needed all his power to ram through the Civil Rights Act of 1964 and the Voting Rights Act of 1965. In the Randall B. Woods biography, "LBJ: Architect of American Ambition," Johnson's aide Jack Valenti recalled the president's strong-arming of Sen. Richard Russell Jr., the segregationist from Georgia.
"Dick, you've got to get out of my way. I'm going to run over you. I don't intend to…compromise."
"You may do that," Valenti remembered Russell replying. "But, by God, it's going to cost you the South and cost you the election."
So be it, Johnson responded.
The Democrats did lose the South, but they gained the loyalty of the same voters they had once persecuted. African-Americans did not just become reliable Democrats. They became an indispensable part of the Democratic establishment—the same Democratic establishment that Bernie Sanders wanted to dismantle.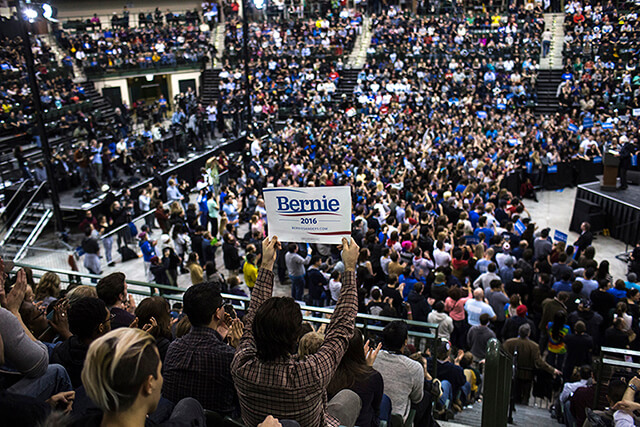 This was the fatal contradiction of the Sanders campaign: He ran for president as a Democrat, but he thought he was better than the Democrats. And for many party loyalists, especially African-Americans, it seemed an odd time to call for revolution. Here was a white man from a white state condemning the system that had just put a black man in the White House for the first time.
Black Democrats' rejection of Sanders in 2016 is a lesson in the distance between high ideals and the facts on the ground. He'd been fighting for civil rights since he was a student at the University of Chicago in the early 1960s, when he went to jail for protesting segregated schools. He stood on the National Mall in Washington in 1963 as Martin Luther King Jr. told the nation about his dream. Twenty-five years later, when the Rev. Jesse Jackson ran for the Democratic nomination, very few elected Democrats endorsed the man who could have been the nation's first black president. But Jackson did win the Vermont caucuses, thanks in part to support from Sanders, the independent mayor of Burlington. By his own admission, it was the first time Sanders had voted in a Democratic caucus. Some Democrats complained about his intrusion. One woman slapped him in the face.
This tension followed Sanders throughout his career as a progressive independent in the House and Senate. He usually voted with the Democrats. But he stood outside the party, a lonely prophet raving about compromise and corruption, isolated geographically from black voters and politically from black politicians. Like him or not, the man had nerve: No Democrat in his right mind would have publicly encouraged a primary challenge to Obama in 2011 for his alleged betrayal of the progressive cause.
Clinton had her own trouble with progressive activists in 2016, much of it regarding her husband's centrist policies of the 1990s. Given the party's leftward drift in recent years, his support for welfare reform and her complaint about young criminal "super-predators" made easy retroactive targets. Young Democrats of all races blamed Bill Clinton's crime bill for mass incarceration and sentencing disparities between the predominantly black users of crack cocaine and the predominantly white users of powder cocaine. But Democrats of a certain age remembered the complex reality of 1994: the rampant crime in major cities, the long list of black victims, the black mayors and pastors who supported the bill, the black legislators who gave it their votes. (Sanders voted for it, too.) The Clintons had worked alongside black Democrats for decades. And if the crime bill had a host of unintended consequences, they belonged to the entire Democratic establishment.
Given her connections to the last two Democratic administrations, Clinton was the establishment, for better or worse. She knew what worked and what didn't. She knew policy in granular detail. But in the winter and spring of 2016, detailed realism could be a hard sell compared to the grand promise of free college and single-payer health care. Clinton needed a way to turn Sanders's idealism into a disadvantage. She found one just in time.
In the debates, Sanders often cited Clinton's $675,000 in speaking fees from Goldman Sachs as evidence that she wouldn't get tough with the big banks. Clinton struggled to answer the charge. She tried invoking 9/11 and loyalty to her home state of New York to explain her connections to Wall Street, but that made no sense. She agreed to release the speech transcripts "when everybody else does," but Sanders had none to release. She finally hit on a winning response at the NBC News debate in Charleston, South Carolina, on January 17.
"He's criticized President Obama for taking donations from Wall Street, and President Obama has led our country out of the Great Recession," Clinton said. "Senator Sanders called him weak, disappointing. He even, in 2011, publicly sought someone to run in a primary against President Obama.…I'm going to defend President Obama for taking on Wall Street, taking on the financial industry and getting results."
Sometimes Clinton's message got lost in the weeds. Not here. I'm with Obama. Sanders is not. It was clear, simple, devastating, a blunt instrument to swing whenever her challenger got too close.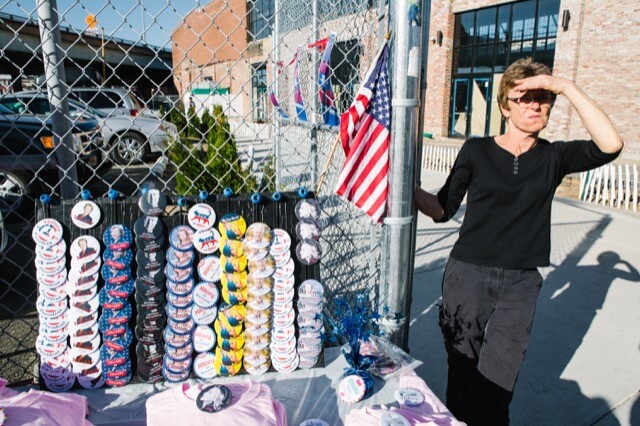 Despite constant attacks by the Republicans, Obama's approval ratings increased in February and March—making the alliance even more valuable to Clinton. According to her spokesman, Brian Fallon, this was "neither a change election nor a stay-the-course election." Her message split the difference: She gave Obama credit for bringing the country out of the Great Recession, but frequently mentioned American workers' stagnant wages as a way to acknowledge there was still work to do.
For eleven fleeting days in February, Sanders held the lead. He nearly tied Clinton in Iowa. He won a landslide in New Hampshire, as expected in the state that bordered his own. And when the eleven days ended on February 20, he kept it close in Nevada, where CNN entrance polls showed he had won the Latino vote. But her aides didn't worry. Those Nevada entrance polls held a clue to what lay ahead: Clinton won African-Americans by 54 points.
In a span of three days, from the South Carolina primary on February 27 to the Super Tuesday primaries across the South on March 1, black voters gave Clinton a lead she would never relinquish. The African-Americans of the Democratic Party did not want a revolution. They had real power within their party, and they were not looking for a Democratic socialist to blow it up. They knew Hillary Clinton, who went undercover to expose illegal school segregation in Alabama in the 1970s and had been working for racial justice ever since.
Exit polls from Alabama said a lot about these voters. They were not like the young Sanders voters, many of whom had never voted before, many of whom weren't even Democrats. In Alabama's Democratic primary, there were more women than men. More old than young. Thirty-seven percent were black women, and they broke for Clinton by 88 points. Nearly half called themselves moderate or conservative. Three in five attended church at least once a week. Most said the next president should continue Obama's policies, and Clinton won that group by 76 points. Nearly one-third said Sanders was too liberal, and Clinton won that group by 90 points.
In Union Springs, Alabama, the seat of a county where Clinton won 2,451 to 178, Mayor Saint T. Thomas explained why he voted for Clinton. When black voters turn out in Union Springs, one thing they vote for is the preservation of their voting rights—the right for which Medgar Evers gave his life, the right for which John Lewis spilled his blood on the Edmund Pettus Bridge, the right Hillary Clinton spent much of her career protecting.
"The name 'Clinton' rings a bell," the mayor said. "And Sanders doesn't."
"I just don't have a history with him, per se."
"I have to go with what I know."
✦ ✦ ✦
To understand why the Nevada Democratic State Convention nearly became a riot—why people screamed obscenities, why a man waved a chair like a weapon—it helps to go back nine months to a slightly more civilized gathering. On August 28, 2015, at the Democratic National Committee's summer meeting in Minneapolis, a presidential candidate accused the DNC of rigging the nomination process. This was not Bernie Sanders.
"Think about it," former Maryland Gov. Martin O'Malley said. "The Republicans stand before the nation. They malign our president's record of achievements. They denigrate women and immigrant families, they double down on trickle-down and they tell their false story. And we respond? With crickets. Tumbleweeds. A cynical move to delay and limit our own party debates."
There was silence, then tentative applause, then a few loud cheers.
"Four debates," he said, holding up four fingers. "Four debates? Four debates?" He gave a look of disgust, as if tasting an expired oyster.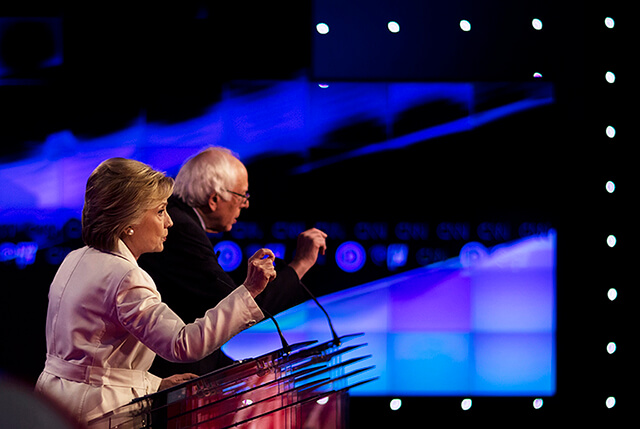 O'Malley did not call out Congresswoman Debbie Wasserman Schultz by name. Nor did he explicitly say the DNC's chairwoman was biased toward Clinton, whose presidential campaign Wasserman Schultz co-chaired in 2008. The DNC's charter required that Wasserman Schultz remain neutral in the nomination process. She repeatedly denied any favoritism. But speaking on condition of anonymity, a former senior DNC official voiced the suspicions of many Democrats:
"If anyone thinks Debbie Wasserman Schultz was neutral, I have land to sell you."
Here the notion of rigging gets complicated. If the DNC meant to help Clinton, the DNC may have actually hurt Clinton. If party leaders thought fewer debates would deprive her competitors of publicity and keep Clinton in the lead, that strategy also kept Clinton from taking back the narrative. More than two months passed between the first Republican debate and the first Democratic debate, and for those two months it seemed as if everyone but Clinton was setting the agenda. Only after the first debate—which, by many accounts, Clinton won—did her recovery begin.
But the narrative of a rigged system had already taken hold. Sanders made sure of that. Thus, to many of his revolutionaries, every loss felt like a conspiracy—even when the evidence pointed elsewhere. The events at one Nevada Democratic caucus site on February 20 signified a party that could barely perform its basic functions, much less commit grand electoral theft. Outside the William V. Wright Elementary School in southwestern Las Vegas, where voters from eleven precincts lined up beneath a clear blue sky, the Democratic machine chugged along with lurching imprecision.
Voters were told to arrive by noon. At noon, a party official walked to the end of the line and gave its last occupant a red card that said END OF LINE. In theory, no one arriving thereafter would be allowed inside. But by 12:18, five people stood behind the red card.
"It's the democratic process," said a man who identified himself as Joe Gordon, professional gambler. "They're not gonna shut anybody out."
Moments later, the party official returned and told the stragglers they were too late. Some left. Some did not.
"I was here—I was just in the wrong line," Gordon said with an adequate poker face. The official did not call his bluff. As he sauntered inside, guarding his candidate preference like a pocket ace, more cars pulled into the parking lot. A Sanders supporter named Sharifa Wahab frantically called friends and relatives, imploring them to come vote for Sanders. Thirty minutes past deadline. Forty. Fifty. They kept showing up. They kept getting in. They voted in Precinct 6540, which Sanders won by eight votes. If the Democrats rigged it for Clinton, they did a horrendous job.
But the more states Clinton won, the more Berniecrats felt cheated. When Bill Clinton was seen campaigning for his wife near a polling place in Massachusetts on March 1, more than 100,000 people signed a petition calling for his arrest. When Clinton won Arizona by 18 points on March 22, Sanders supporters blamed long lines and voter-registration discrepancies. They were fighting the system now, as well as Clinton, and they were not inclined to believe those who said Sanders was too far behind to catch up.
Clinton's chief strategist, Joel Benenson, believed the race was mathematically over after March 15. He knew that more campaigning would sharpen Clinton and give her a head start on organizing in such battleground states as Pennsylvania.
"But there are concerns, too," he said in an interview. "You worry about using up too many resources. You worry about getting attacked too much. You worry about unifying the party."
In late March, Sanders started winning again. He won blowouts in Idaho, Utah, Alaska, Hawaii and Washington state. He took Wisconsin and Wyoming. But Clinton kept the overall delegate lead, which increased when the pro-Clinton superdelegates—party leaders and elected officials—were taken into account. Which also displeased the Berniecrats. Nerves frayed. Tempers flared. Clinton and Sanders had spent months in a civil and restrained contest of ideas, partly because Sanders had refused to attack Clinton on the issue of her emails. But now they were sick of each other. She narrowed her eyes with contempt. He widened his with indignation. She agreed to more debates. At their ninth, in Brooklyn on April 14, one verbal clash led moderator Wolf Blitzer of CNN to interject, "If you're both screaming at each other, the viewers won't be able to hear either of you."
What did Clinton want the Democrats to hear? That she knew ten times more than Sanders did about foreign policy. That one vote against the Iraq war fourteen years earlier didn't make him an expert on the Middle East. That she had plans not just for what she would do but for how she would do it. That Sanders didn't. That he talked all the time about breaking up the banks but did not appear to actually know how. That her many contributions from Wall Street didn't mean she couldn't get tough with Wall Street. That when she went to George Clooney's house with Jane Fonda and Ellen DeGeneres and Steven Spielberg for a fundraiser that cost as much as $353,400 per couple, it was an acceptable means to a worthy end: big money in politics could help put Clinton in the White House and thus help overturn Citizens United and remove big money from politics.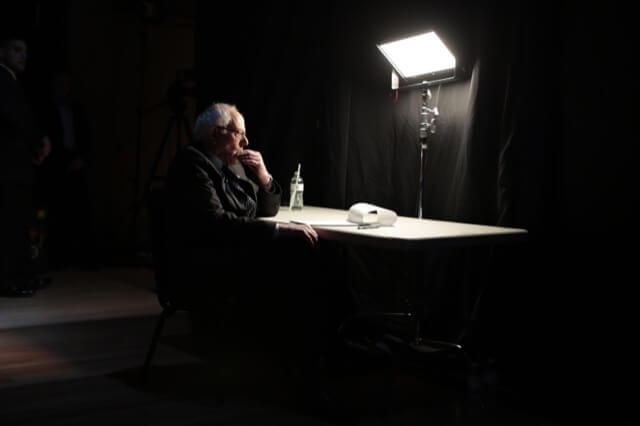 Clinton's decisive victories across the Northeast in the second half of April effectively ended the contest. Sanders was undeterred. He was not really a Democrat, after all, and so he ignored the Democrats who told him that his continued presence in the race would ultimately help the GOP nominee.
In Nevada, his operatives began a complex series of maneuvers that would use the county and state conventions to change the results of the caucuses and cut into Clinton's delegate lead. It was all within the rules, but it seemed to run counter to his theory of upholding the will of the people.
Clinton's operatives struck back. They checked a list of delegates against a statewide database. The party determined that fifty-eight were ineligible to represent Sanders at the Nevada state convention on May 14. Some were not registered Democrats. Some were not even registered to vote. And while this number was a tiny fraction of more than 2,000 Sanders delegates to the state convention, the disqualifications gave the Sanders camp another reason to cry foul. A Sanders ally took the stage and read a "minority report" protesting the delegate purge.
"And that was like the match on the gasoline," said Annette Magnus, a Clinton supporter who was there. "And people in the room went nuts."
Whatever irregularities might have prevailed at the Nevada state convention, the net result was a twenty-to-fifteen pledged delegate lead for Clinton—an accurate reflection of the popular vote.
What happened in Nevada was a microcosm of the Democratic race. Sanders ran as the candidate who best represented the average Democrat. And when average Democrats gave Clinton an overwhelming lead in the popular vote, he talked about trying to win the nomination by winning over the superdelegates, whose very existence he previously wanted to abolish. Sanders tried to work the system, and failed.
But if the DNC wanted party unity, it created the opposite. And at the Nevada Democratic State Convention, Magnus saw the consequences up close. When she told Sanders supporters they were too late to get in, they yelled obscenities in her face. Inside the convention hall, they raised middle fingers toward the stage. A man picked up a chair, as if considering its use as a projectile. Barely two months before their national convention, the Democrats were still fighting each other. Sanders would keep fighting until mid-July, more than a month after Clinton clinched the nomination, and finally offer a reluctant endorsement even as supporters pledged to write in his name in November.
For all their turmoil, the Republicans had their presumptive nominee a month before the Democrats did. Trump saw the Democratic chaos, and it pleased him. System rigged in Clinton's favor? He liked the sound of that. Millions of people already believed it. Trump would take it from here.
✦ ✦ ✦
Throughout the primaries, Clinton kept an eye on Trump. She was the first candidate in either party to denounce his angry rhetoric, the week after he became a candidate. She didn't mention Trump by name, but there was no mistaking her subject when she said, at a Democratic dinner in Virginia, "Recently, a Republican candidate for president described immigrants as drug dealers, rapists and criminals. Maybe he's never met them." She ran her first ads against Trump in New York in April, before either of them clinched the nomination. And when the last of Trump's rivals dropped out in early May, Clinton and her aides looked past Sanders and hustled to prepare for her next opponent.
One day her spokeswoman Christina Reynolds was listening to two policy aides talk about the flaws in Trump's plans on taxes and the economy. It reminded her of something that happened in 2000, when she and others working at the DNC referred to a George W. Bush proposal as "Bush's risky tax scheme." And she realized that by debating Trump's proposals, the Clinton campaign was normalizing him. "You can't do that," Reynolds said in an interview. "And we would have meetings to talk about the idea that we can't run against him as if he's Mitt Romney, because he's not. And the moment that we let him be Mitt Romney or John McCain or George Bush, then he is acceptable to a group of people who should not find him acceptable."
Trump presented an unusual challenge: There were too many possible angles of attack. "We saw that Republicans were so frustrated in their primary that nothing ever seemed to work," said Mook, Clinton's campaign manager. "There was sort of a food fight where they were just throwing everything they could left and right." Or, as Oren Shur, her director of paid media, put it, "It's infinite. We could run against this guy for ten years and just scrape the surface of his vulnerabilities."
They decided they needed to approach Trump in a different way entirely. The race was less about the issues than about Trump's character, his qualifications, his fitness to do the job. He was not Mitt Romney or John McCain or Bob Dole or any other Republican of elections past. He was, they thought, uniquely unqualified. They didn't just disagree with him on issues, as they might with a different Republican. They thought he was unstable, dangerous. The challenge was how to convince voters of that, to distinguish him from more typical opponents, to raise an unusual alarm.
"We said look, let's get eventually to a place where we're calling him unfit," Mook said. "Let's start with some half-measures."
Her advisers were being cautious—something Clinton is often accused of being. But as she prepared for her first TV interview after Trump became the presumptive nominee, Clinton herself decided to raise the stakes.
In a briefing memo, her staff had advised her to answer questions about Trump's qualifications or fitness by saying, "You have to let the people decide," senior adviser Mandy Grunwald said in an interview. "But she said, 'No, I have to say he is unfit, he is unqualified, he shouldn't be president of the United States. I don't want to build up to that conclusion a couple of weeks from now, or months from now. I'm going to say that today because I do not think he should be president of the United States.'"
Still, Clinton's staff struggled for weeks, trying to figure out a better way to make their case. Something was missing, they thought. But they weren't sure what it was.
Finally, digital director Teddy Goff hit on it. The description of Trump as unfit needed a modifier. And so it was that in the words of the Clinton campaign, Trump became temperamentally unfit. This would be the core of Clinton's argument against Trump for the next five months: that someone of his mental and emotional tendencies was unequal to the task of leading a global superpower. She would press this argument at her convention, at the debates, in numerous ads and speeches. All along the campaign trail, Trump would help her make that case.