Strange things happen in politics. The actor who played Stuart Smalley on "Saturday Night Live" later won election to the U.S. Senate. The actor who played a homicidal cyborg in "The Terminator" served two terms as governor of California. The actor who starred alongside a chimpanzee in "Bedtime for Bonzo" went on to become the most hallowed Republican president of the last fifty years. These career evolutions are best understood through the following principle: All politicians must be performers, even when they're telling the truth.
Every good role demands a good player. A great politician finds her best self and plays that character whenever possible, on and off the stage, until her best self and her truest self become inseparable in the minds of the voters. When Hillary Clinton has done this—when she has most closely resembled the woman she wants the nation to see—she has come across as a crusader for women and children, an advocate for the poor and oppressed, a public servant driven by her long-held Methodist imperative to do all the good she can.
But in the spring and summer of 2015, at the start of her second campaign to become America's first woman president, the ideal Hillary Clinton was rarely visible. What voters saw more often was a candidate caught in a cycle of skillful evasion and lawyerly dissembling, even as she went about the business of campaigning. Late in August, when Quinnipiac University polled 1,563 voters about Clinton, only 34 percent said she was honest and trustworthy. When asked for the first word that came to mind for Clinton, their most common answer was liar.
Through her own words and actions, Clinton had caused this crisis. But it could also be seen as the latest battle in a two-decade war with a force she sometimes called the Vast Right-Wing Conspiracy: a network of conservative politicians, media figures and activists united in pursuit of her annihilation. They imagined a Hillary Clinton presidency as something akin to nuclear winter: a disaster to be averted at all costs. They knew their enemy, understood her vulnerabilities. And for the first six months of her campaign, they watched her make the same mistakes again and again.
"It almost seems like she's being a little secretive this time," a 56-year-old Clinton supporter named VaLinda Parsons said in late July before a campaign event in Ames, Iowa. "I'm like, 'Hillary, get out there. Gosh! Maybe there's a reason your polling numbers are going down.'"
That reason went something like this: When the Vast Right-Wing Conspiracy unearthed one of her secrets, Hillary Clinton responded with the worst version of herself.
✦ ✦ ✦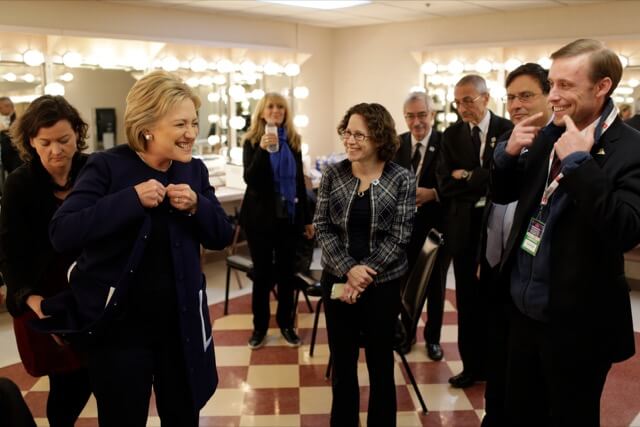 On the phone with a friend before it all started, Clinton shared a thought about the campaign ahead.
"I've really come to peace with the fact that I am who I am," she told her longtime ally Hilary Rosen. "I'm just going to be myself. And if that's good enough, great. And if it's not, that's OK. But I think I'll be a better candidate, because I'm just going to put myself out there."
This would not be easy. Something in Clinton had changed twenty-three years earlier, during Bill Clinton's first presidential campaign, when she spoke up in defense of her law practice. "I suppose I could have stayed home and baked cookies and had teas, but what I decided to do was fulfill my profession, which I entered before my husband was in public life," she said in March 1992. The backlash, particularly from women who had made other choices, was immediate and severe. Clinton was taken aback. She had trouble grasping the notion that she had offended anyone. By the next day, her guard was up. And that's where it stayed.
"She herself has said she has tried to walk the line between controlling her emotions and keeping steady while not seeming 'walled off,'" her spokeswoman Kristina Schake said.
For much of 2015, Clinton was a front-runner, playing not to lose. Hacked emails released by WikiLeaks would later show it took her campaign a full day to agree on the twenty-three words of a single tweet. In April, progressives wanted her to join their quest for a $15 minimum wage. One staffer proposed a signed tweet from Clinton saying, "I stand with fast food workers in the #fightfor15." A policy adviser shot down the idea, saying, "Don't want her to come out for $15 at this stage. Instead of standing with them, better to applaud them?" It went on like that for almost twelve hours, with input from at least nine people, before they settled on an uncontroversial message: "Every American deserves a fair shot at success. Fast food & child care workers shouldn't have to march in streets for living wages. -H"
When Clinton was cautious, she was being herself. In the months before she joined the race, when she had no obvious competitor for the Democratic nomination, her aides brought in marketing specialists to talk about her image. Conversation around the "Clinton Brand" made her seem like a consumer product, a best-selling classic in need of one more redesign. First lady, senator, presidential candidate, secretary of state and now presidential candidate again. But when The Washington Post published a story about "Hillary 5.0" in February 2015, her chief strategist, Joel Benenson, was horrified. "But this is by far the most damaging story and most damaging type of story we can have," he wrote to campaign chairman John Podesta in an email that was later hacked and released by WikiLeaks. "…I think we need a paradigm shift in how this world operates (sic) we have to convince HRC (Hillary Clinton) and probably WJC (Bill Clinton) that her meeting with 200 people doesn't help her. Hiring corporate wizards has never been a successful strategy in campaigns."
How would the latest incarnation of Hillary Clinton appeal to voters? Her allies had a few ideas. She would campaign as a mother, a grandmother, a daughter of the Midwest. She would be warmer, funnier. As in past campaigns, she would spend time listening to everyday people, winning them over one at a time.
In April 2015, Clinton told advisers she wanted to take a road trip to Iowa. She would ride in a van nicknamed Scooby, with only a few aides and no reporters, so she could interact more naturally with people she met along the way. Her staff scheduled a departure on April 13—a Monday—but Clinton's superstitions got in the way. She left on Sunday, April 12, instead. "She wanted to drive there and stop along the way wherever she felt like stopping, and just talk to people in rest stops and restaurants and then get to Iowa and be able to have un-herded time just listening to and connecting to people," Schake said in an interview. One of the planet's most famous people tried to go incognito—and initially succeeded. As she ordered a chicken burrito bowl at a Chipotle in Maumee, Ohio, no one seemed to recognize her.
But Clinton had already lost control of the narrative. What defined her campaign before it began was the disclosure in The New York Times on March 2 that she had used a private email server to conduct official business as secretary of state, an apparent violation of federal rules and possibly federal law. This revelation came from the Republican-controlled House Select Committee on Benghazi, whose investigators were seeking emails from the State Department about the 2012 terrorist attack that left four Americans dead. In short, Republicans trying to pierce Clinton's veil of secrecy had found even more secrets.
This predilection for secrecy had often worked against Clinton. She sometimes came across as a woman too convinced of her own virtue to accept the public scrutiny that attended high office. When the first lady wanted to overhaul the nation's health-care system so that everyone would have insurance, she raised suspicion by developing her plan in secret. When she decided that free-roaming reporters might find out too much from gregarious aides, she limited their access to the press secretary's office in the West Wing. These tactics backfired, as did the Clintons' refusal to cooperate with The Washington Post on a story about their past financial dealings in Arkansas. That controversy, known as Whitewater, ultimately led to the appointment of a special prosecutor, the discovery of Bill Clinton's dalliance with an intern and his impeachment by the House.
In March 2015, Clinton had some explaining to do. According to one senior adviser, even her aides were caught off-guard by the news that she had a private email server. "Almost none of us knew about it," the adviser said. But her press conference on March 10 only raised further questions. The more reporters examined her statements, the less reliable they seemed. She said she had "fully complied with every rule," but a subsequent inspector general's report said her unconventional use of a private email server did not comply with department policy. She said she had turned over all email that "could possibly be work-related," but work-related emails from other sources contradicted that claim. Echoing her husband's classic "There is no improper relationship" quote from the 1998 Monica Lewinsky scandal, she said, "There is no classified material," which in fact there was. And when she claimed to have done the whole thing "because I thought it would be easier to carry just one device for my work," Republicans gleefully cited her recent statement to the contrary: "I'm like two steps short of a hoarder. So I have…an iPad, a Mini iPad, an iPhone and a BlackBerry."
Her aides always said she'd have to fight for the nomination, but they hadn't bargained for this. Where was the champion of the working class who won the 2000 Senate race in New York? The undaunted fighter who battled into June for the nomination in 2008? It seemed as if she were running against herself, and losing. A candid news conference might have slowed the drip-drip-drip of email stories. But she truly believed she'd done nothing wrong. She evaded, and then refused to talk about it, and then tried joking about it, with an inexplicable reference to Snapchat and the messages that "disappear all by themselves." In Nevada on August 18, when asked if she had "wiped" the email server, she said, "What, like with a cloth or something?"
If this was the new Hillary Clinton, it was time for a product recall.
✦ ✦ ✦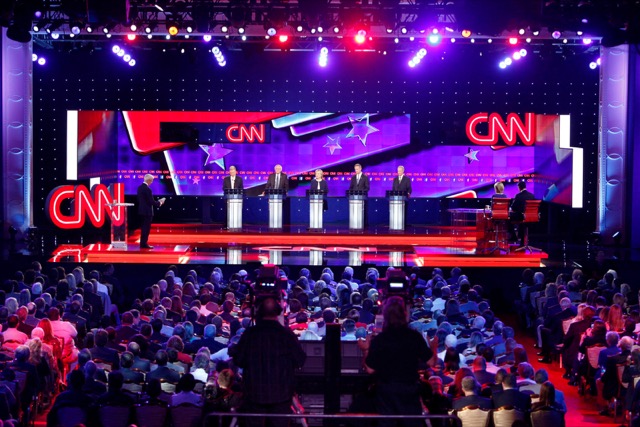 First Democratic debate, Las Vegas, October 13, 2015, just before closing statements.
ANDERSON COOPER, CNN MODERATOR:Franklin Delano Roosevelt once said, "I ask you to judge me by the enemies I have made." You've all made a few people upset over your political careers. Which enemy are you most proud of?
CLINTON: Well, in addition to the NRA, the health insurance companies, the drug companies, the Iranians—probably the Republicans.
As Democrats in the audience cheered, Clinton wore a brilliant smile. This was significant. Not only did a major party's front-runner call the opposition her enemy, she was proud of it, thrilled about it, as if it felt wonderful to share a self-evident truth.
The American voter longed for a transcendent figure, a personality large enough to bridge the partisan divide. This is part of why Clinton lost in 2008. Leading by double digits in national polls less than two months before that year's Iowa caucuses, she told the Democrats at the Jefferson-Jackson Dinner in Des Moines that it was time to turn up the heat on the Republicans. She and her allies kept saying it: Turn up the heat, turn up the heat. But the speech that won the night came from a freshman senator who dreamed of a new majority, a higher purpose, a nation healed and a world repaired. "I don't want to pit Red America against Blue America," Barack Obama said. "I want to be president of the United States of America."

Seven years after Obama's election, it seemed fair to say that his vision of the presidency had been far less realistic than Clinton's. The pitting of Red America against Blue America had only intensified. His achievements turned up the partisan heat. Grand rhetoric gave way to frustration with a Republican Congress intent on blocking his every move. That, in turn, gave way to the unilateral exercise of power through executive orders on such issues as immigration and the environment. Innocence and idealism disappeared again. Just as Bill Clinton pledged to run the "most ethical administration in the history of the republic" before lying to the nation about his affair with Lewinsky, Obama promised unprecedented openness in government before becoming what New York Times reporter James Risen called "the greatest enemy of press freedom in a generation." As it had with Bill Clinton, Obama's White House became a Democratic fortress under Republican siege.
Hillary Clinton had survived both sieges. She was no stranger to bipartisan compromise, especially in the Senate, but she knew the limits of playing nice. Enemy of the Republicans? With each partisan battle in Washington, that sounded more like the job description of any Democratic president. If she ever got back to the White House, Clinton could play that role to the hilt.
✦ ✦ ✦
The late U.S. Sen. Daniel Patrick Moynihan once said, "Everyone is entitled to his own opinion, but not to his own facts." This quote, from the New York Democrat Hillary Clinton would succeed, made intuitive sense. It often resurfaced in partisan debates. But it did not quite account for the parallel worlds that Democrats and Republicans had come to inhabit. It was possible on either side to select the facts that pleased you most, the ones that fortified your own righteousness, and ignore or deny everything else.
When it came to Hillary Clinton, people saw what they wanted to see. This was true when she kept her family name, Rodham, during her husband's first term as Arkansas governor. It was true when the couple was investigated, but never implicated, over their role in a real estate deal known as Whitewater. And it was true in the aftermath of the terrorist attack on the American diplomatic compound in Benghazi, Libya, on September 11, 2012, when Clinton was secretary of state. The attack had killed Ambassador J. Christopher Stevens and three other Americans. It had already reverberated through one presidential election. And now it would figure into another.
Democrats appraising the House Select Committee on Benghazi in 2015 pointed out several actual facts about it, including these: No fewer than seven congressional committees had already examined the incident. A former investigator for the Republican-led committee went on CNN to allege that he'd been fired after resisting a directive to explicitly target Clinton. And Republican House Majority Leader Kevin McCarthy made a statement on Fox News that Democrats took as an accidental revelation of the truth: "Everybody thought Hillary Clinton was unbeatable, right? But we put together a Benghazi special committee. A select committee. What are her numbers today? Her numbers are dropping."
Republicans had their own facts on the matter, some regarding Clinton's evasions, some concerning Obama's lack of transparency, many pertaining to the failure of seven prior congressional committees to find some pretty interesting stuff that the House Select Committee uncovered, especially Clinton's private email server. Now the Select Committee had a few questions for Clinton. They summoned her to Capitol Hill. Late in October, with the nation watching, the Democratic front-runner would match wits with the Republicans who were trying to bring her down.
✦ ✦ ✦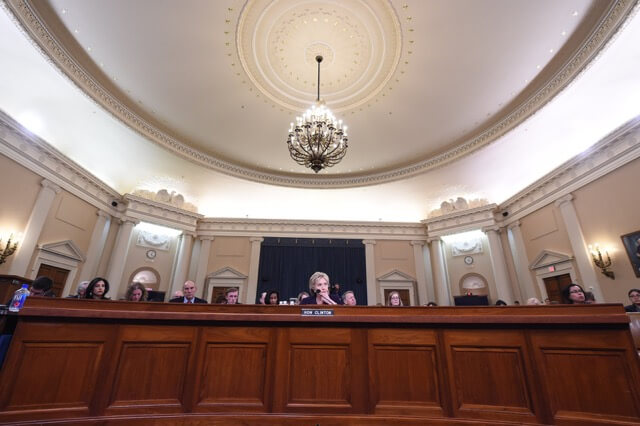 In the season premiere of "Saturday Night Live" on October 3, the actor Kate McKinnon played the role of Hillary Clinton. The real Hillary Clinton was also in the sketch, playing a Bartender named Val. Clinton had seen McKinnon's impersonation of her before, and thought it was hilarious, and now she could see it up close. She had immersed herself in the "SNL" experience, rehearsing with McKinnon in the dressing room and attending the writers' meeting before the show. She met cast member Pete Davidson, whose father, a firefighter, was killed on 9/11; and Colin Jost, whose mother—Kerry Kelly, chief medical officer for the New York City Fire Department—Clinton knew from her time as a senator. Clinton may have grown up near Chicago and spent much of her adult life in Arkansas, but now she felt at home in New York.
"Hey, bartender," the fake Hillary Clinton said, slapping the bar. "Keep 'em comin'."
"Rough night?" said the real Clinton, otherwise known as Val the Bartender.
"Yeah," the fictional Clinton said, "you could say that."
All along the campaign trail, the secret email server followed her like a ball and chain. Voters wanted contrition, but the real Hillary Clinton had none to give. "At the end of the day," she told NBC's Andrea Mitchell in early September, "I am sorry that this has been confusing to people and has raised a lot of questions, but there are answers to all these questions."
Allies watched in disbelief. "I was like, 'She just called the American people stupid!'" said Patti Solis Doyle, one of Clinton's 2008 campaign managers and a 2016 surrogate for her former boss. "What about that is good?"
Finally, around the time a Quinnipiac poll showed that Sanders was drawing even with her in Iowa, political considerations won out. "I'm sorry about that," Clinton told ABC's David Muir on September 8. "I take responsibility."
Meanwhile, Washington buzzed with rumors that Vice President Joe Biden might soon join the race. Maybe he'd run and lost twice before; maybe he often misspoke and was almost as old as Sanders, but he had compelling reasons to run again, including the dying wish of his son Beau. An election was still a popularity contest, a quest to make people like you, and that October it was pretty easy to like Uncle Joe.
"Oh, Val," the fictional Hillary Clinton said to the real one. "I'm just so darn bummed. All anyone wants to talk about is Donald Trump."
"Donald Trump?" the bartender said. "Isn't he the one who's like, 'Uhhhhh, you're all losers?'"
To recap: Here was Hillary Clinton, playing Val the Bartender, doing a middle-school impression of Donald Trump. And somehow it came across as authentic, as if playing a fictional character liberated Clinton to be herself in a way that was impossible in the guise of a presidential candidate. On a hot day in August at the Iowa State Fair, she told reporters, "I'm just havin' a good time," which seemed unlikely, given the dust and horse manure and endless questions about her email. But now she was having an excellent time. No one asked Val about her email or her poll numbers in New Hampshire. No one asked Val for one of those insufferable campaign selfies where you have to put on this giant smile and keep it frozen in place while someone keeps pressing the wrong button.
"I wish you could be president," the fake Hillary Clinton said to the real one.
"Me, too," the real one said.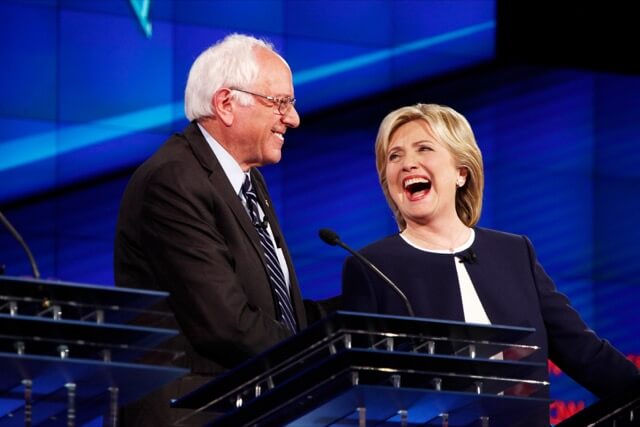 It was hard to say whether a woman who had spent her adult life in mansions and private jets could still relate to the problems of women like Val the Bartender. The populist appeals of Sanders were luring some white working-class voters away from Clinton. Her millions in speaking fees from large corporations and investment banks were not helping to bring them back. In her campaign video, she said the deck was stacked in favor of those at the top. Her Democratic opponents thought the deck was stacked in favor of Clinton. They were pretty sure the Democratic National Committee had tried to help her by scheduling only six debates and putting some in obscure time slots, like Saturday nights during football games. But this theory was based on the assumption that debates would hurt Clinton. And that turned out to be incorrect.
Clinton understood that debates were a special kind of performance. She read voraciously to prepare her arguments, but she couldn't rely solely on her mastery of the issues. She had to master her emotions as well. In previous campaigns, Clinton's aides found a way to help her do that.
"In debate preps I've been involved with, she gets really angry and loses it," Patti Solis Doyle said. "But it's obviously better for her to get angry with staff in a small group of people than it is to lose it onstage, so that's how we did it. We just started and threw the worst things we could think to throw at her first and let her get through her anger and then we could focus on nuance in the answers."
Clinton was the last of five candidates to arrive at the Wynn Las Vegas for the first debate on October 13. CNN had a lectern off stage and ready for Biden, just in case, but he didn't show. A hot and dry afternoon became a cool dusk, the desert wind rolling across the parking lot, the golden windows of Trump Hotel reflecting in the distance. Clinton had ten minutes to get miked up and take her place, which she did, but something was wrong with the microphone.
"Apollo, we have a problem," she said as four sound technicians tried to fix the wiring.
"You can have my microphone," Sanders said, apparently half-kidding. "I only want to hear from you anyway."
A technician escorted her to the green room and fixed the problem just in time. "It's always something," she said, preparing to go live for her first debate in almost eight years.
"Secretary Clinton," said the moderator, Anderson Cooper, "I want to start with you. Plenty of politicians evolve on issues, but even some Democrats believe you change your positions based on political expediency. You were against same-sex marriage. Now you're for it. You defended President Obama's immigration policies. Now you say they're too harsh. You supported his trade deal dozens of times. You even called it the 'gold standard.' Now, suddenly, last week, you're against it. Will you say anything to get elected?"
Clinton did not have her husband's charisma or Obama's gift for soaring rhetoric. But Benenson, her chief strategist, said she and her advisers had developed a kind of debate playbook—a set of possible responses to almost any question imaginable—and those answers were ready when she needed them.
"Well, actually, I have been very consistent," she said without hesitation. "Over the course of my entire life, I have always fought for the same values and principles, but, like most human beings—including those of us who run for office—I do absorb new information. I do look at what's happening in the world."
As the debate went on, Clinton showed easy command of domestic and foreign policy. Sanders railed against Wall Street and the billionaires. The other three men faded into the background. As expected, Cooper asked Clinton about her emails—and about the congressional testimony she would give the following week. Clinton blamed partisan politics. Cooper reminded her of the FBI investigation. Clinton said she would answer every question. Cooper gave Sanders a chance to respond.
"Let me say something that may not be great politics," Sanders said. "But I think the secretary is right, and that is that the American people are sick and tired of hearing about your damn emails."
"Thank you," Clinton said. "Me, too. Me, too."
This would become a pivotal moment in their year-long contest. Sanders could have attacked, but he held back. She took a deep breath, perhaps a sigh of relief, and reached over to shake his hand. Her strongest opponent had just delivered the line of the night, a line about Clinton, and he sounded like a cranky old priest absolving his parishioner. Clinton had regained her footing. She walked offstage and saw a friend, the Democratic strategist Donna Brazile, and they clasped hands in celebration. This was the campaign they'd been waiting for.
Eight days later, citing grief over the loss of his son earlier in the year, Biden announced he would not enter the race. But he had some implicit advice for Clinton.
"I believe that we have to end the divisive partisan politics that is ripping this country apart," he said. "And I think we can. It's mean-spirited, it's petty and it's gone on for much too long. I don't believe, like some do, that it's naive to talk to Republicans. I don't think we should look at Republicans as our enemies. They are our opposition. They're not our enemies. And for the sake of the country, we have to work together."
It seemed conciliatory, even patriotic. And exactly the kind of thing you say when your last campaign is behind you.
✦ ✦ ✦
Near the end of Cormac McCarthy's novel "No Country For Old Men," the protagonist shares some advice from his father:
My daddy always told me to just do the best you knew how and tell the truth. He said there was nothin to set a man's mind at ease like wakin up in the morning and not havin to decide who you were.
There are Republican facts and Democratic facts, and there are lies that both sides tell. But apolitical truth still exists, and telling it requires no creativity.
It is not partisan to say that Glen Doherty, one of the four Americans killed in Benghazi, loved his younger sister, Kate Quigley, and that he inspired her to be her best self, and that his talent for friendship was so immense that after he died, as many as forty people told his sister the same thing: "Glen was my best friend."
Nor would it be fair to place Kate Quigley—a political independent who would choose Biden for president if given the chance—anywhere near the so-called Vast Right-Wing Conspiracy. She felt neutral about Hillary Clinton before September 14, 2012, the day they met at Joint Base Andrews in Maryland, the same day seven Marines walked off a cargo plane carrying the flag-draped casket of Doherty, the CIA contractor and former Navy SEAL who'd been killed by mortar fire when terrorists attacked the compound in Benghazi. His sister liked Obama, who gave her children M&M's; and she liked Biden, who lightened the mood with a joke about his thinning hair; and she liked the Libyan diplomat who told her, "We're going to get the terrorists."
But Kate Quigley got a different vibe from the secretary of state. She says Clinton told her how to feel—that she should feel sorry for the Libyan people, because they're uneducated, and being uneducated breeds fear, and fear leads to violent protests. Looking back on it later, Quigley was convinced that Clinton used a meeting with a bereaved family member to put forth a convenient explanation that she knew to be false. She came to believe the same thing the Republicans believed: that Clinton lied about the cause of the attack on the compound because the truth—that Libya was descending into chaos—might have hurt Obama's chances for re-election.
Quigley was at work on October 22, 2015, the day Clinton testified before the House Select Committee on Benghazi, so she missed the live coverage. But she did not share the Democrats' admiration for Clinton's performance during the eleven-hour hearing.
"If she just told the truth," Quigley said, "she could have testified for twenty-five minutes."
✦ ✦ ✦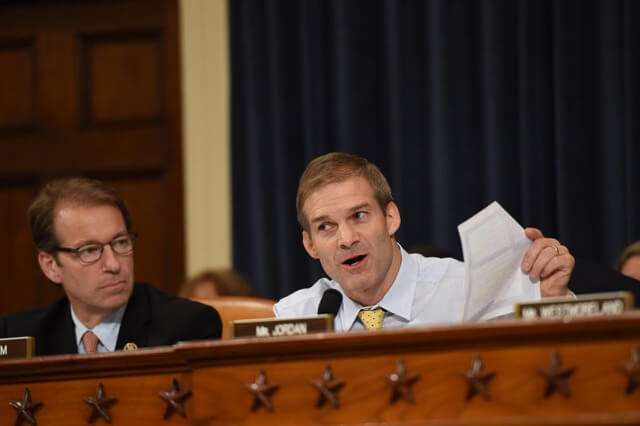 Clinton had battled Republicans in Congress before, and not always won. In 2013, under hard questioning from Sen. Ron Johnson of Wisconsin about the cause of the Benghazi attack, she waved her hands and raised her voice and said, "With all due respect, the fact is we had four dead Americans. Was it because of a protest? Or was it because of guys out for a walk one night who decided they'd go kill some Americans? What difference, at this point, does it make?" Her supporters liked this bold show of emotion. To them, Clinton had sliced through the partisan rhetoric to make the most important point: Four Americans were dead. But her question—what difference, at this point, does it make?—would appear in countless memes and videos as a kind of shorthand for what her enemies hated about her. To them, it made her look flippant, insensitive, as if she considered the inquiry a waste of her time.
Now she had another chance to face the Republicans. The warrior had flailed a little too much. This moment seemed to call for a different strategy. In between several days of preparation and mock interrogations with aides at her home in Northwest Washington, she got advice from another battle-hardened Democrat. According to two Clinton aides who recounted the conversation later, Bill Clinton told his wife not to react if the Republicans lashed out.
The Republican facts that surfaced on the day of her testimony included phone calls and an email indicating she knew that the fire at the Benghazi compound was caused by a coordinated terrorist attack—not by a spontaneous protest in response to a crude anti-Muslim video posted on the Internet by an Egyptian-born Christian living in California, as Clinton's prepared statement seemed to imply. "So if there's no evidence for a video-inspired protest, then where did the false narrative start?" asked Rep. Jim Jordan, a Republican from Ohio. "It started with you, Madam Secretary."
The Democratic facts included Clinton's steadfast denial that she misled anyone at Joint Base Andrews or anywhere else in the aftermath of the fire in Benghazi. The video was real and offensive to Muslims, some of whom scaled the walls of the U.S. Embassy in Cairo and tore down the American flag. "Congressman," Clinton told Jordan, "I believe to this day the video played a role." The Republican facts included a rare bipartisan consensus that the attack could have been prevented if the compound had adequate security. But that conclusion had come from the Senate Intelligence Committee nearly two years earlier, giving credence to Democrats' assertion that the Republicans were recycling old information.
"I take responsibility for what happened in Benghazi," Clinton said, ten hours before the hearing was over.
A pattern emerged as the day went on. Certain Republican Congress members—especially Lynn Westmoreland of Georgia and Mike Pompeo of Kansas—addressed Clinton as one might address a criminal defendant on the witness stand. The optics of this were not improved by the nonpartisan fact that she was a woman and they were men. After Clinton gave a moving description of the diplomatic security officers' heroism during the attack, Pompeo resumed his interrogation.
POMPEO:Ambassador Stevens did not have your personal email address; we've established that.
CLINTON:Yes, that's right.
POMPEO:Did he have your cell phone number?
CLINTON:No, but he had the twenty-four-hour number of the State Operations in the State Department that can reach me twenty-four/seven.
POMPEO:Yes, ma'am. Did he have your fax number?
CLINTON:He had the fax number of the State Department.
POMPEO:Did he have your home address?
CLINTON:No, I don't think any ambassador has ever asked me for that.
POMPEO:Did he ever stop by your house?
CLINTON:No, he did not, Congressman.
Through Pompeo's open disdain and Westmoreland's repeated interruptions, the Republicans seemed intent on provoking Clinton into another outburst. It did not work. For much of 2015, they had succeeded in bringing out the weakest Hillary Clinton. Now they brought out the strongest. What the voters saw on television was a woman who appeared unflappable. As the provocative questions continued, she projected a mystical calm. "I would imagine I've thought more about what happened than all of you put together," she said. "I've lost more sleep than all of you put together."
She seemed defiant at times, occasionally evasive, but never angry. In the tenth hour she had a coughing fit that lasted nearly a minute. She cleared her throat, drank some water, wiped her nose and got back to work.
"I want to thank you for your patience," Gowdy told her at the end, just before the best online fundraising hour of her campaign to date. Some voters would never be convinced. Clinton had driven Kate Quigley into the arms of the Republicans. But for now, her fellow Democrats had been reassured. Multiple polls would soon show Clinton leading Sanders by more than twenty-five points.
It was a complex thing, this battle with the Republicans. Sometimes they seemed to need her, a physical emblem of all they stood against, and they often played the same role for her. What might have been the Vast Right-Wing Conspiracy's finest hour—catching her husband in a salacious lie and voting for his impeachment—ended with an acquittal in the Senate and a stunning loss in the court of public opinion. The inquisitors had turned the culprit into a victim. In a Gallup poll conducted December 19 and 20, 1998, the day of and the day after his impeachment, Bill Clinton's approval rating reached an all-time high of 73 percent.
Now the Republicans were attacking another Clinton. They had given her a miserable seven months. Then they gave her a gift: a chance to show her best self, a televised audition for the role she wanted most.