Editor's Note: To Border Patrol agents, local police officers, mayors, landowners, workers, farmers and conservationists living in the lower Rio Grande Valley, and interviewed by CNN over a week this spring, the prospect of the wall is either a non-starter or an afterthought -- a geographic impossibility, diplomatic disaster and social unraveling tied up in a political debate that rarely invites their voices.
The candidate had a question.
Nearly six weeks earlier, in June 2015, Donald Trump kicked off his Republican primary campaign by accusing the Mexican government of flushing its most dangerous criminals north into the United States and promising to build "a great, great wall" to stop the flow.
Now he was in Laredo, Texas, sitting across from its mayor, Pete Saenz, in the backseat of an SUV as it sped toward a border crossing.
"He asked me whether I knew whether or not Mexico had a policy, direct or indirect, of sending bad guys over here," Saenz recalled from behind his desk in city hall, almost a year after their brief meeting.
"No," he told Trump, "I really haven't heard that."
"I guess he wanted confirmation or verification of some sort," Saenz said, suggesting Trump had been fed the story by "the Border Patrol folks."
At the core of Donald Trump's chaotic presidential campaign, there has been one very consistent pledge: If elected, he will build a "big, beautiful wall" to seal the US border with Mexico.
Saenz is in his mid-60s. He's spent most of his life in Laredo. Parts of his family have been in present-day South Texas for more than a century, his mother's side even longer, for five generations. As mayor, he presides over a city that, by the grace of NAFTA, is home to one of America's largest inland ports. Laredo in this decade has emerged as the beating heart of a customs district that runs south to Brownsville, where the Rio Grande meets the Gulf of Mexico, and did about $280 billion in business -- about 7% of all US trade -- in 2014.
Trump had come here, the candidate told reporters gathered in Laredo International Airport last year, despite the "great danger" that surrounded him. But he was greeted with only minor protests and some passing curiosity -- a white Republican, Saenz noted, in a city of brown Democrats.
The men rode together in a Chevy Suburban with a police escort through downtown, to Laredo's World Trade Bridge, a freight crossing that connects the United States to Mexico, where Trump again held court, this time for only a few minutes.
"You have to have the wall," the candidate said a few times before thanking reporters and returning to the airport and his private jet. The whole thing had lasted only about three hours. For Saenz, Trump's pit stop created a minor crisis. He'd greeted the billionaire with a smile, he said, hoping to catch his ear, to speak like businessmen, to discuss the economics, the riches being imperiled. But nothing changed, Trump carried on, and Saenz took a political bath.
He put his finger to his lips
A 15-minute walk south from Laredo City Hall puts you on the muddy banks of the Rio Grande, a thin strip of grass called Los Dos Laredos Park. There had been some shade here once, but the trees were pulled up to give the Border Patrol a better view of the river. The lot is typically empty under the scorching midday sun, but a small crowd begins to trickle in at dusk, when the heat breaks.
Laredo "born and raised," 35-year-old Raquel Moncivais arrived with a friend after dinner. Like a dozen or so others, they looked lazily down across the river, about a dozen steps from Mexico, where you can walk right up to the water. On the US side, it is about 15 or 20 feet down from the park. There's no wall here. The only thing separating the US from Mexico is a narrow, winding spit of the Rio Grande.
The Rio Grande is a natural border, has been since 1848, and the ties between cities and towns on either side are strong. Trade in the region is booming and citizens of both countries move between them with relative freedom.
Tonight is quiet and the river is too, but Moncivais remembered a more eventful one, when she saw three men emerge from the river, plastic bags with dry clothes in hand, and walk into the United States.
"Here I am," she said, pointing down, "sitting on a bench, doing a crossword puzzle and all of sudden, I saw someone floating and I looked around, like, where are the border patrols?"
The officers, in their green uniforms and yellow badges, are a constant presence here. They linger, sometimes a few hundred feet downstream, under a bridge, or in trucks, skirting the river, up and back and up and back, like clockwork.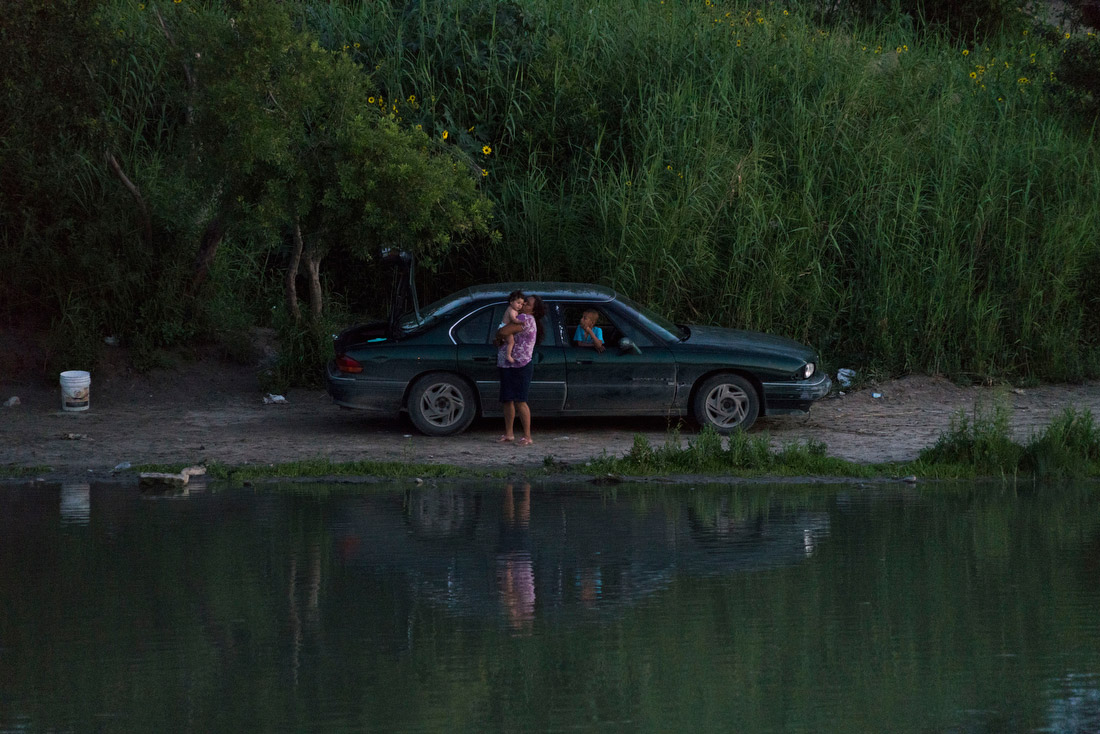 Sometimes, though, they can be too precise.
"The Border Patrol change shifts around 7 p.m.," Moncivais explained. The men timed their move. "Two of them climbed up and sat next to me. One, he put his fingers to his lips. Don't make a noise. I said 'You need to move before I flag somebody.' He said, 'No need,' then a pickup truck pulled up and they all jumped in the back."
She told the officers, who rolled up a minute later, that three people had piled into a Chevy Avalanche and sped off. They left. She finished her crossword.
And yet, Moncivais yawned at the mention of a wall.
"Here? I can't imagine," she said. "For me, they'll take the beauty -- the beauty of the river. I like nature, I like hiking. For me this is beautiful. All this is beautiful. Can you imagine me sitting down and seeing a wall?"
She grinned -- and suggested a better plan: "No. They need to start planting trees again. It's still nice, but it's better with trees and some shade."
We bury them here
Off US Route 83, about 50 miles south and east of Laredo, Zapata County's small cemetery emerges, hazy under the blazing sun. Roberto, a gravedigger, is in a T-shirt, boots and heavy jeans. It's a little before noon and he's piling dirt high on a plot reserved for a cremation. It will flatten over time.
A few rows over, there are a string of five short iron crosses set on otherwise unmarked land.
There are, in 2016, some 700 miles of fence along the 1,933-mile international boundary, which ranges from the Pacific Ocean to the Gulf of Mexico. More than 1,250 miles of the border are in Texas, but the state has only about 100 miles of man-made barriers.
"John Does," he said, nodding in their direction. "Usually people that come from across the border."
When a body turns up in Zapata and can't be identified, the local police send it north to Laredo for an autopsy. After that, a return trip.
"If they die here in Zapata County, we bury them here in Zapata," Roberto said.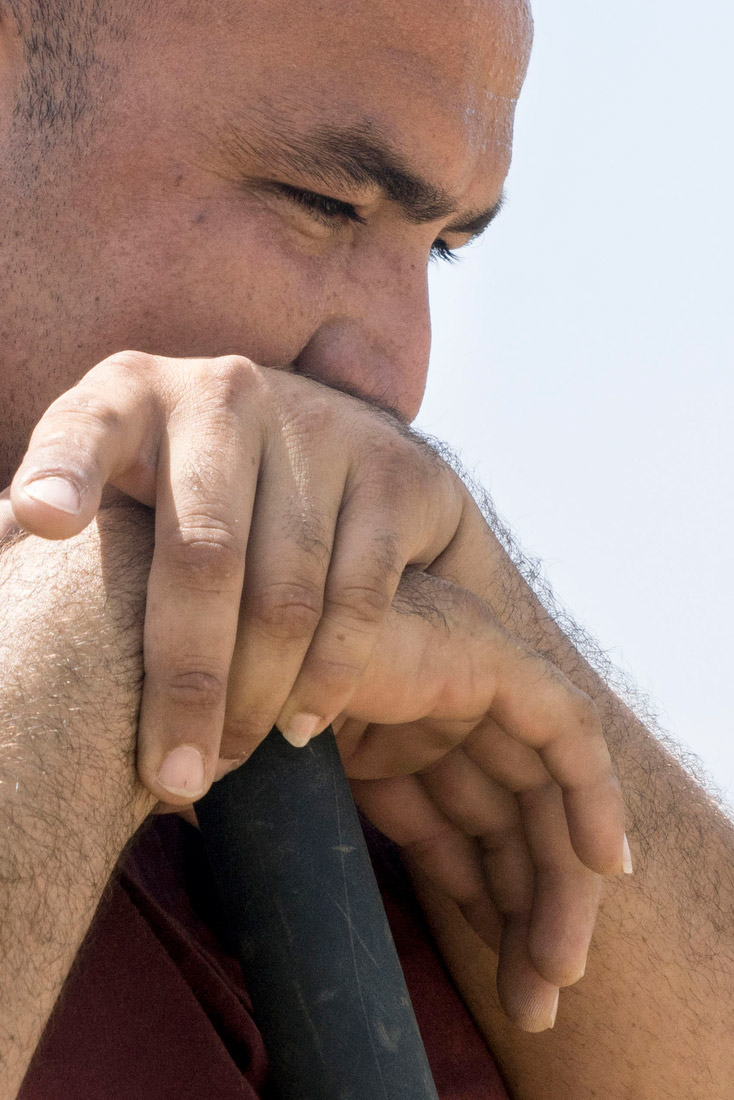 Shifting migrant patterns and an improving Mexican economy have meant fewer deadly crossings -- here, at least -- in recent years.
"This year we haven't had any," he said. "In 2015, I think we had one. It's been less and less. Maybe they changed locations? The border down in Mexico, it's too dangerous. From what I know, (the cartels) are charging them more than they used to before."
Five strangers on the side of the road
As the Border Patrol have become larger and more sophisticated, so too have the coyotes, the professional smugglers who move people -- many of them unaccompanied children fleeing violence and unrest in Central America -- across the border.
But there are no guarantees.
Pulled over on a stretch of commercial road in Pharr, about an hour west of Brownsville, is a Champagne-colored van with Minnesota tags. At least five squad cars and Border Patrol trucks have swarmed the vehicle, cutting off a lane of traffic and inviting rubberneckers.
South Texas understands acutely, because it has to, what so much of the country chooses to ignore. The wall is not a construction project; it is an ideology.
Facing the curb, their backs propped up against the van, are five young men. A Border Patrol officer said he believed they had recently crossed over from Mexico. But he couldn't be sure. The driver? Gone. He'd bolted after pulling over, fleeing into a dense field behind the storefront just feet from the road.
"It happens a lot," an officer from the Texas Department of Public Safety told us. When the sirens go up, the smugglers cut and run. There is no manhunt here, or suggestion of one. The officers are more interested in trying to determine if the men he left behind know each other.
After asking a few questions, mostly in Spanish, it's become clear: They do not. Five strangers caught.
"These guys were part of the package deal," another officer said. "If they're minors, they'll probably get released. If they have family here. They usually don't send them back to their country, for humanitarian reasons."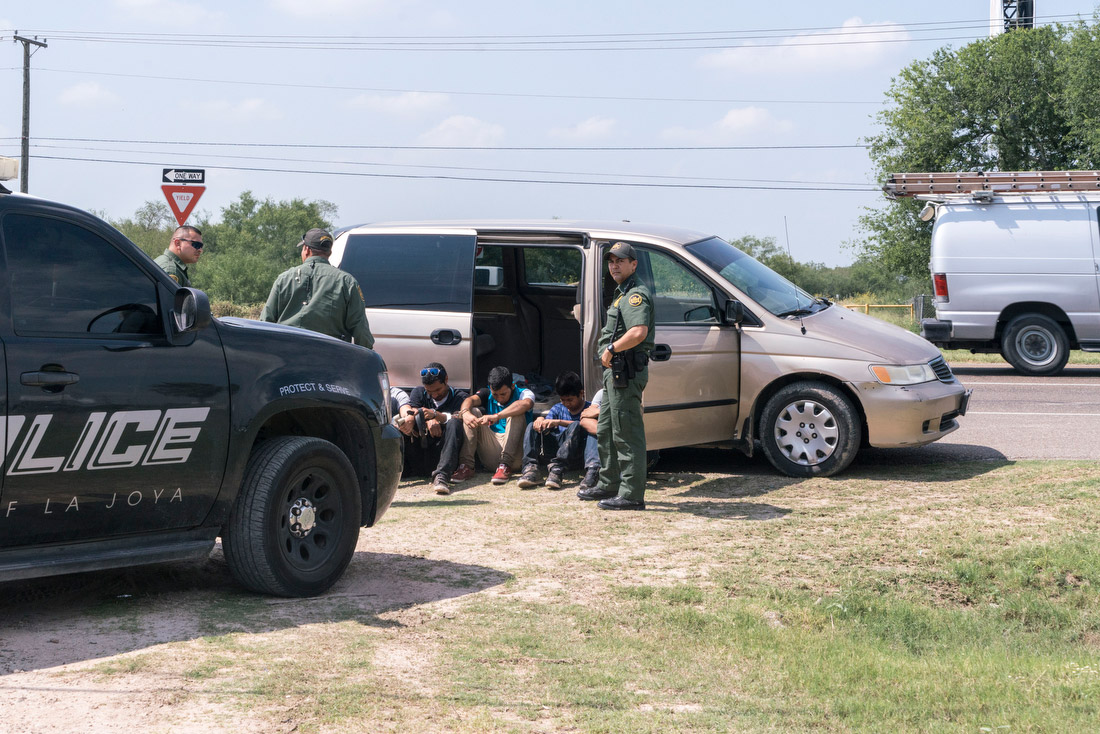 The officers linger after the men are bundled, one by one, into a Border Patrol truck and rolled off into what one called "the system." One of the Border Patrol agents agreed to answer a few questions, so long as we didn't identify him by name or rank.
How often does this happen?
"Three, four times a day."
What happens when Trump builds his wall?
"Honestly, I don't think it will change. We will still be here. It's a mouse and cat game, in my opinion. We just have to be quick about it. The crossing, the human trafficking, is a moneymaker for the cartel, so it's not going away. They'll use another way of crossing in."
Is that a popular opinion among your colleagues?
"Pretty much. When they first made 'a wall' here it was just a levee and roads and they just came over at will. And everybody thought a fence, a wall, it's going to slow it or stop it. It didn't. They haven't stopped, just slowed them down a little. Because the wall is on private land, they have to give the landowners access. So they had to make gates -- but they didn't put gates there, they just left openings. So we have to go in and man the openings and sometimes there's not enough of us."
They don't like us
Coming into range of Brownsville, the fence, with those rust-colored iron slats -- 18 feet high in most places -- pops up with increasing frequency. It cuts across farmland and thickets of manicured foliage. There are homes in its shadow, some in its path; little houses with children's toys in their green yards and driveways occupied by luxury vehicles run parallel.
Miriam De La Garca's home, in San Benito, would be unremarkable if not for the concrete and iron barrier that cuts across its backyard. The scene is, as they say around here, pure South Texas Gothic. De La Garca was born nearby and used to work in Brownsville. Now she commutes across the border, into Matamoros. Standing at her front door, a young daughter wrapped around her leg, she insisted that 2016, this presidential race -- this rowdy, acid and unprecedented clash! -- had mostly bored her.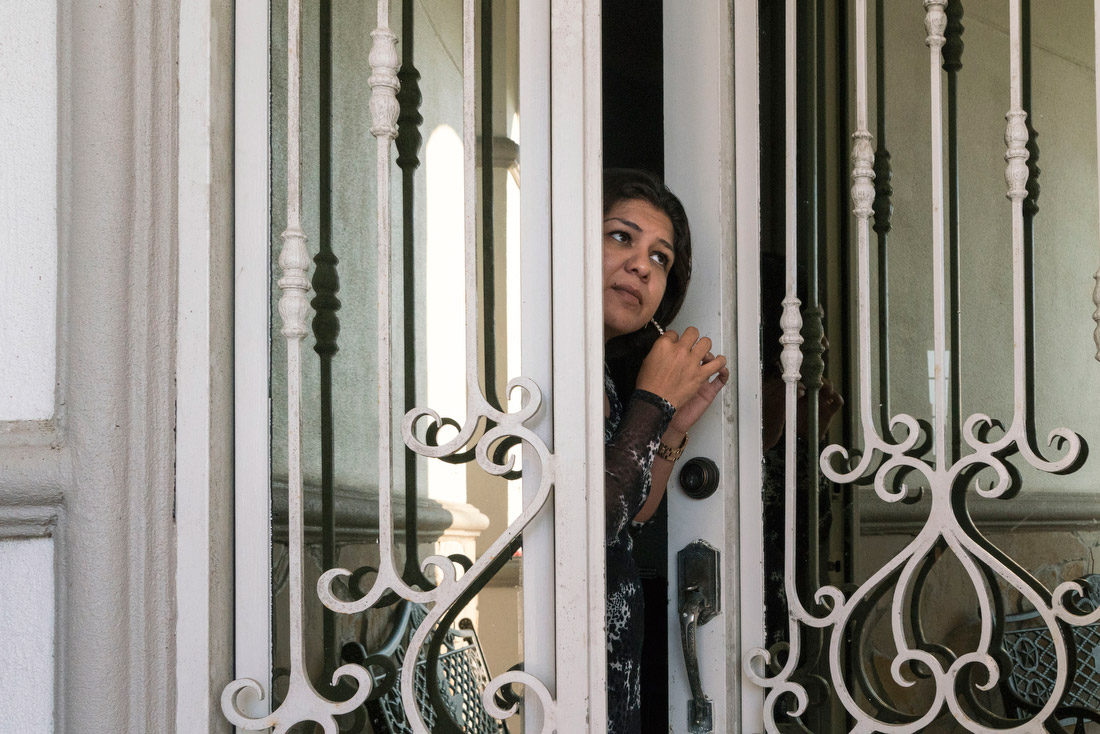 "You tell me about Trump, I really don't care," she said. "How can he make it worse? How?"
"Well, what his critics say is that --"
She's annoyed by this manner of questioning, rolls her eyes, and begins again.
"Why is Trump winning? Because they don't like us. That's why he is winning," she explained, slowly, in the guiding tone of an elementary school teacher. "That's the reality, they don't like us because we are a different color. Right now (his supporters) have the opportunity to say it, because the people are saying what they wanted to say for a long time."
A living laboratory
In 2006, President George W. Bush signed the "Secure Fence Act." The legislation mandated a quick round of construction. Farther west from here, the task was easier. Most of the boundary outside of Texas is flat and easy to build on. There is fence that spills into the Pacific and long stretches of reinforced wall along the Arizona-Mexico border.
To prevent the Bush law from contravening a 1970 treaty with Mexico that prohibited construction inside the Rio Grande flood levees, the federal government built much of the Texas fence on top of them, in many places two miles or so back from the river -- the actual border.
In a nod to the migratory crises the new barrier would cause for untold numbers of animal species accustomed to having mostly free movement over this track, designers carved out "cat holes" into the fence. They are nearly imperceptible from more than a few steps away, but are meant to allow passage for wildlife like the ocelot, an endangered wildcat that ranges from as far north as Arkansas down to Central and South America.
Sonia Najera, the grassland program manager for The Nature Conservancy in Texas, helps oversee the Lennox Foundation Southmost Preserve, a swath of a thousand often dense, jungle-like acres along the Rio Grande. She's never seen an ocelot -- which can be as large as 30 pounds -- pass through one of the holes and, like her colleagues, puzzles at their actual purpose.
"I don't know," she said, "I've never seen any wildlife go through there. A domestic cat maybe could?"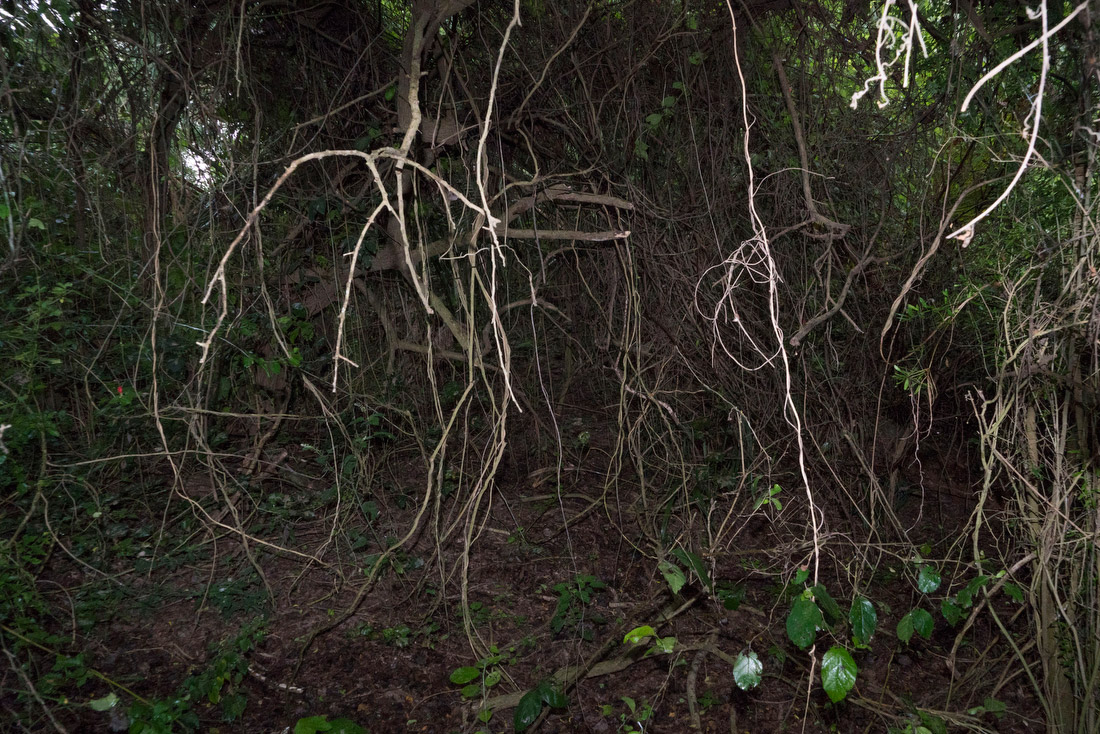 Her colleague, Vanessa Martin, the Nature Conservancy's Austin-based communications director, is along for the ride. She shrugged and made a bowl with her hands the size of basketball: "The holes are essentially this big."
The preserve, which is privately owned, spent four years in litigation with the federal government arguing that the fence would not only reduce land value in the short-term, but diminish the potential for their work to produce new revenue over coming decades. Martin wouldn't say how much they were ultimately awarded, only allowing that it was greater than the initial offer of a few hundred thousand dollars.
"This is a living laboratory," Najera said, rare and potentially lucrative. "We had a lot of universities that, prior to the fence being constructed, would stay out here, students and grad students working out here. We still now get university classes coming, but we do have to disclose that we are on the south side of the fence. Is that going to be an issue?"
For many, it was. Staff that lived on the preserve full-time moved north of the fence amid uncertainty over access -- whether there would be a gap in the wall or a remote-control gate, or none at all.
Push in from the fence and toward the river and there's dense foliage. Rare, native sabal palms wash our van as it treads deeper into what looks like a jungle mist. At the water, there's the detritus of a recent border crossing: a torn plastic bag and sodden shoes.
I can't speak for animals
"This was an inexpensive means to satisfy a congressional appropriation," said Max Pons, the preserve's manager. "In 2006, when they passed the fence act, they went forward with that -- this is the best they came up with. A lot of this was done in an office."
Pons first visited the property in 1980 and moved to Brownsville in 1986 while doing his master's research. He is well clear of 6 feet tall, full of opinions -- the conservancy had initially asked we direct any questions for him through their communications apparatus -- and stories.
In his pickup, zipping toward the very end of the fence, he played tour guide and shared the latest gossip on the landowners in the area. Ray Loop's wild turkey purchase, he said, had gone bust. The birds lacked certain self-preservation skills and were duly gobbled up by other creatures.
Another Loop, a cousin or brother named Tim, whose family raises a variety of crops, from cotton and corn to sugar cane and citrus on both sides of the fence, offered a more deadpan assessment when we spoke earlier on the phone.
"It's a like a gated community," he said, assessing their unusual set-up. "There's a keypad entry. As long as we can have access when we want and how we operate the gates, we've been able to work with it."
There are 13.2 miles of fence in Brownsville, ending about 15 miles shy of the Gulf, in an open, grassy field. The only sign of life there were tire tracks, probably from the Border Patrol. The final slat had a message scratched into it: "F--k Trump."
This had all been here well before the 2016 presidential election whirled into focus. Packs of wildlife, especially larger herbivores like a herd of white-tailed deer who had seen their grazing corridor split in two, had been effectively trapped inside the fence.
"Now, when you come up over the levee you hit that" -- Pons pointed to the adjacent ramparts -- "well you can't get through that. Well, I'm hungry, so I'm gonna go that way" -- he nodded to a parallel route -- "because I've already been where I've been. So we have these animals with us now. When they got to us they said, 'Well we don't have to leave. There's more here than what we've been living off of!'"
He stopped.
"But that's a little anthropomorphic. I can't speak for animals."
North of the border, south of the fence
The Rio Grande is both a natural barrier and an implacable enemy of construction. The river winds and stutters, sometimes jumping its path as the desert plains of El Paso and Marfa give way to the stormy "lower valley" and its tropical frontier. Much of the land running up to the river banks is privately-owned.
Pamela Taylor has become something of a local celebrity. The 88-year-old English-American widow lives in a small house with her daughter and son-in-law on a larger piece of property, south of the fence and north of the border. She has an odd story and a disarming accent.
"I was told that the fence was going to go right through the middle of my living room in the beginning," she said during a long conversation on her living room couches. When representatives from the US Army Corps of Engineers agreed to move the fence plan back, farther north, her son-in-law noted that the "fix" would effectively trap Taylor, cutting her off from emergency medical vehicles and the police.
The family contacted the Department of Homeland Security, eventually getting a line through to its boss, then-Secretary Michael Chertoff, who responded directly, telling Taylor, "we all need to give up something."
In the end, they struck a deal. There would be a large gap in the fence north of her property. It would be manned by the Border Patrol agents that run up and down her land and along the river.
The effect, Taylor said, is that her property has now become a preferred corridor for migrants who cross the river overnight before pushing north toward the known opening.
"Because there are gaps in that fence," she said, "these two acres are used as a funnel. So they come in spurts, usually with a full moon."
Taylor leaves buckets of bottled soda and water at the bottom of her driveway. It's for those midnight travelers, but not, as some reports suggest, an act of solidarity or kindness.
"It saves them knocking on the door at night," she explained, "because we are not going to let them use the telephone, that's for sure." In the hallway leading into her bedroom, there is a Border Patrol vest and rifle hanging from a hook. For anyone looking in through a window from outside the back of the home, it's impossible to miss.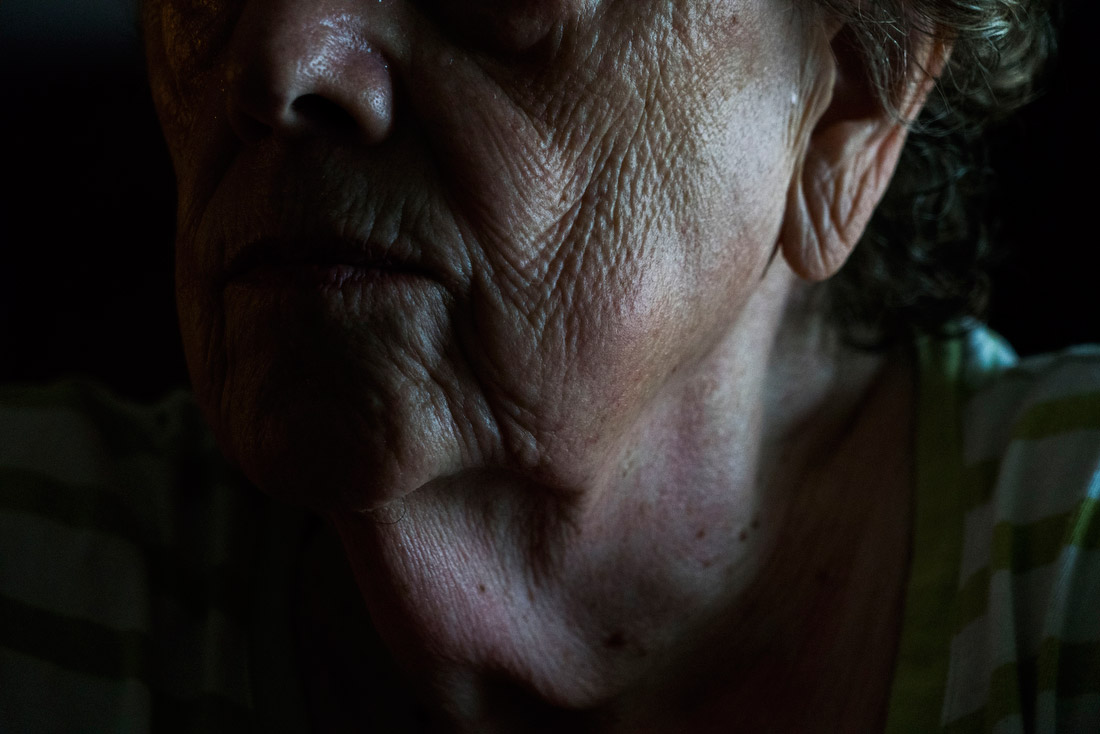 "I don't have sympathy for them," she added, nodding her head, knowing how that might sound. "When I came into America, you have to understand, I went to an Army hospital. And when I did I was checked from stem to stern to make sure I wasn't carrying any kind of disease. I had to talk to a counselor in case I was a little bonkers, upstairs, OK? I had to have two sponsors that, in case my marriage didn't work, they would be my sponsors. All of this has gone out the window.
"What makes these people so much more important than I was at that time?"
You get a wall
Back in town, Brownsville Mayor Tony Martinez mused on the particular set of circumstances that has attracted a steady flow of national reporters to his city -- now one of the safest in all of Texas.
He is taken with the absurdity -- at times, the cruelty -- of this border. Geography is mostly immutable. But the boundaries and barriers we build, they come and go. The river was an afterthought when the Spanish throne doled out land grants to European settlers. But colonial curiosities, as they do, often lay the groundwork for modern political conflict. Before long, policy meets bureaucracy and, well, you get a wall.
Or, parts of one.
"They put gates and they put openings and they put gates that open and close and there's gates that don't open and there's openings that don't close -- it sort of defies logic, at its very best," Martinez said. "But we're at that time in our history where people want answers and the answers that are given might not solve that problem -- they're just answers."
Like so many others in the region, Martinez regards the ongoing debate over Trump's would-be wall and the threat of mass deportations as less of a realistic threat than an impediment. Elon Musk's SpaceX is building a launch site -- with the Loop family's soil -- at the end of Highway 4, just outside the city. That, he says, is a better story. Perhaps next year.
"Some of the younger generation think there's always been a wall there," Martinez said. "But you can suppress people for only so long. They say you can't cover the sun with one finger. It's going to find ya."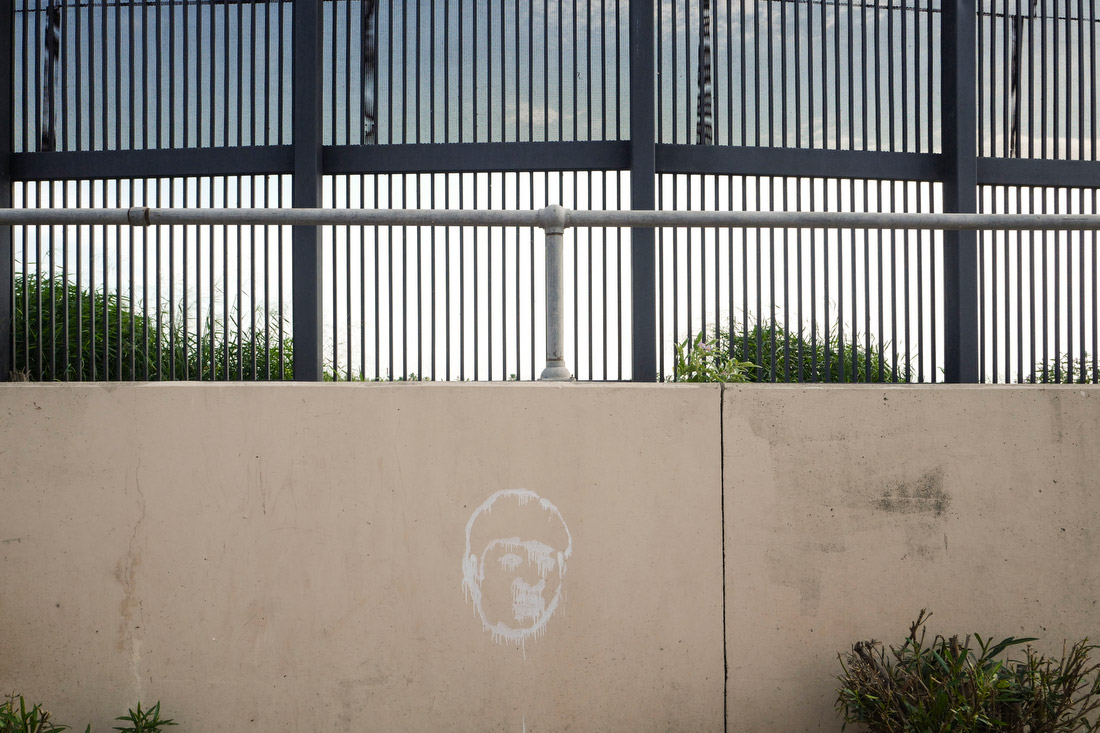 Photo editor: Brett Roegiers
Developer: Curt Merrill