Kathmandu, Nepal (CNN)
Sadly, the earth's rumbling seems so fresh here. Debris lies stacked like grim monuments to shattered lives.
The 7.8-magnitude earthquake hit almost a year ago, on the morning of April 25. It turned out to be the worst natural disaster of 2015. Then, on May 12, a 7.3 aftershock rocked this Himalayan nation again. In all, more than 8,000 people died and millions of homes cracked or collapsed.
In places such as Sankhu, about an hour's drive from Kathmandu, the quake destroyed or damaged 750 of the town's 960 houses, says Jagannath Kharel, who works with the international charity World Vision.
"The government has not been able to provide support," Kharel tells me as he walks narrow lanes on an assessment mission. "It is a terrible situation. Hardly anything has changed."
Nearby, the International Organization for Migration pays 100 Sankhu residents about $7 a day to clear bricks, chunks of concrete and dirt so that people then can finally start rebuilding their homes.
"Sankhu is being cleared slowly. The government wants someone else to do the job," says Dipendra Shrestha, the group's local manager, whose own house fell to the ground in the earthquake.
READ: From the darkness of disaster, a ray of hope for one girl in Nepal
Many buildings here survived a 1934 quake, which until last year was the worst natural calamity to hit Nepal. But they did not survive in 2015.
All across Nepal, people fear what will happen if the earth shakes again. That worry has been aggravated by months of acute shortages of medicine, gas needed for cooking and petroleum for vehicles -- the result of a blockade last fall of the main border crossings with India by minority groups demanding greater representation in the country's new constitution.
The blockade was salt on the earthquake wound. It weighed heavily on the minds of Nepalis as they rang in their new year last week. Joy tempered by memories of suffering. It has been a hard 12 months.
It has been especially hard for those who are still homeless.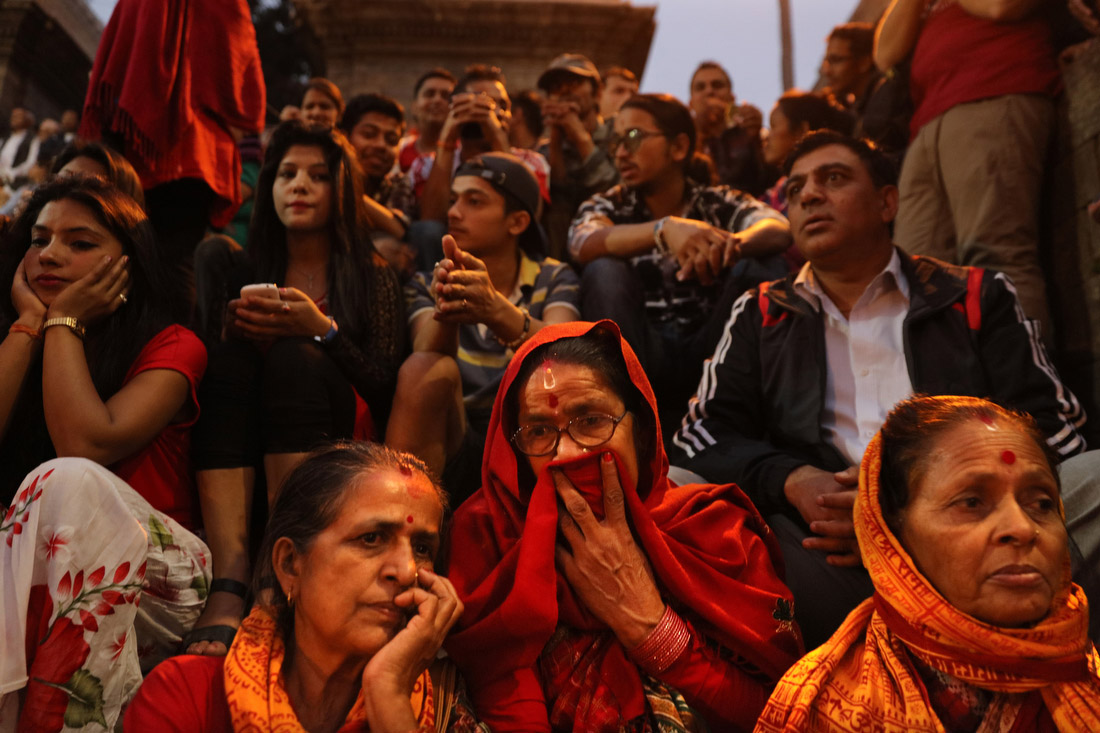 There are no definitive numbers, but Oxfam, the international organization that works to fight poverty, estimates most of the 660,000 families who needed shelter are still living in temporary or unsafe accommodations one year later. Another 26,000 people remain displaced in camps, under plastic tarpaulins or corrugated metal sheets.
One camp in Kathmandu has more than 500 tents, numbered by rows, and about 2,000 residents. Water is delivered in the afternoons by private agencies. There is no electricity. People manage with battery-operated emergency lights. They live in constant fear of the upcoming monsoons.
I wander around the camp, crisscrossed with shallow ditches designed to collect the rain. A 12-year-old girl named Shanti approaches me. "The government didn't help us."
"UNICEF. NCV," she says, uttering the acronyms of humanitarian organizations that supplied essentials to the camp. (NCV stands for Noble Compassionate Volunteer group.) The food stopped awhile ago. Now there's only water.
The tent city reminds me of Haiti after the 2010 earthquake when hundreds of thousands of people were forced into temporary shelters. Some remained there for years. Do the Nepalis face the same sad future?
Some people in this Kathmandu encampment tell me that the neighborhood has been agitating to see them gone. Bharat Bhattarai isn't sure where he will go if he is evicted.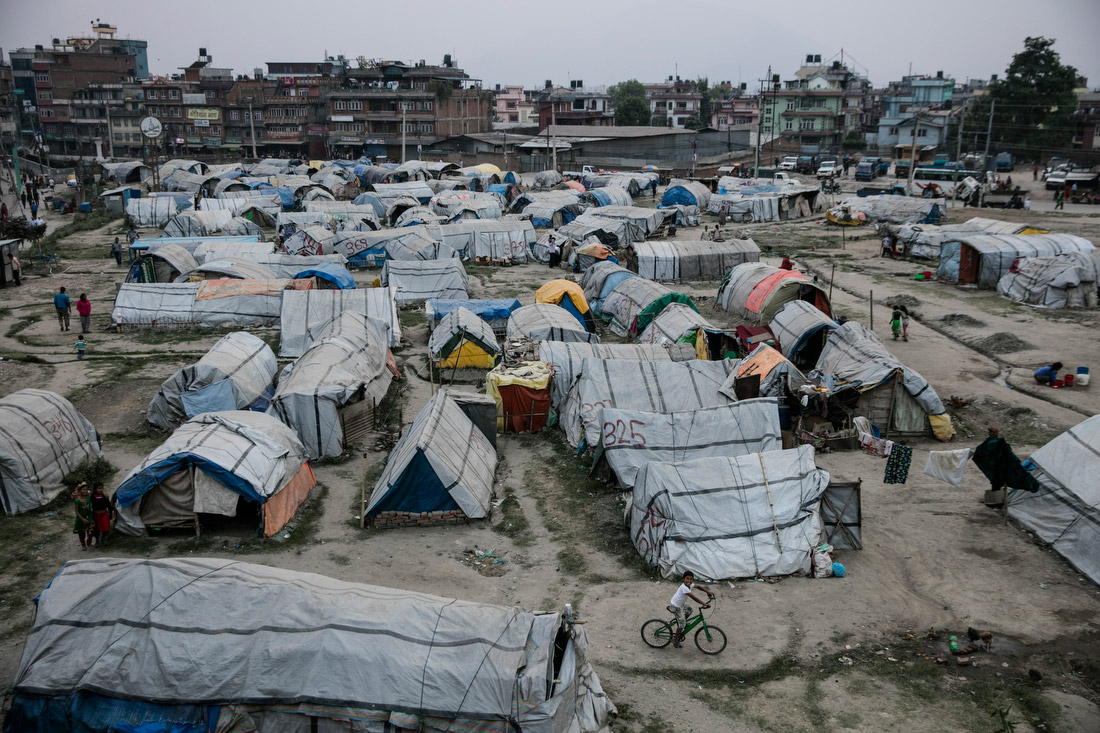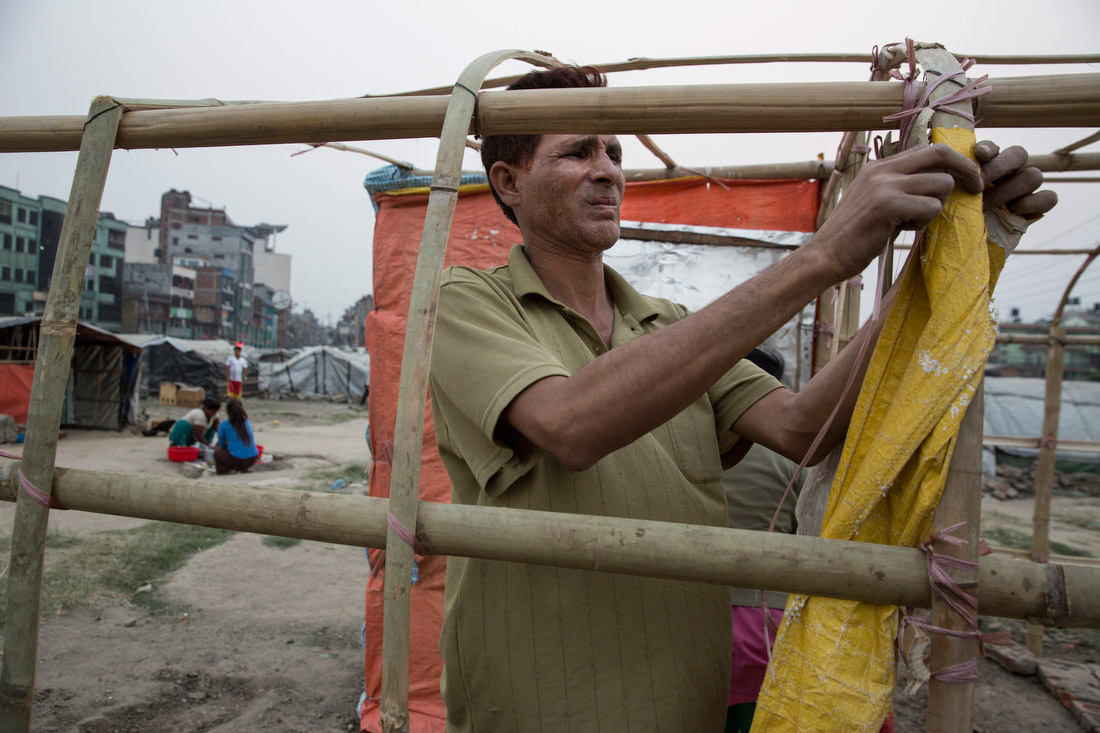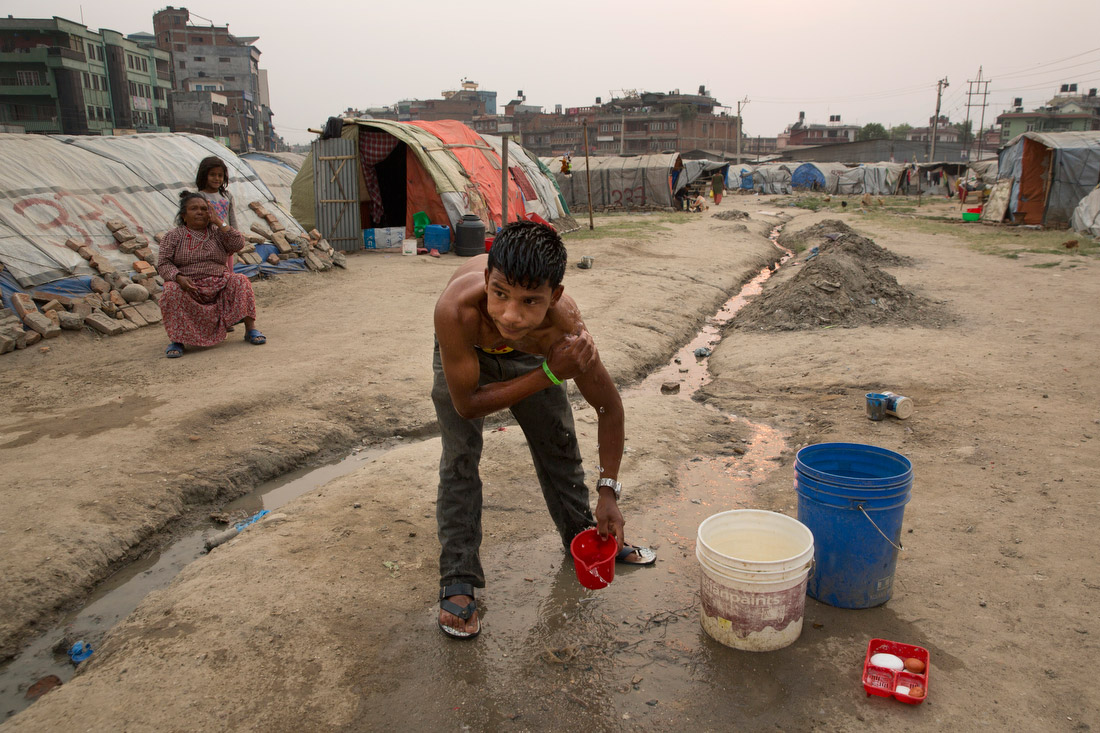 I speak with him as he builds a fresh frame for a larger tent. The people who occupied this space left, and he claimed it, put bricks down so that he and his wife, Ranjana, wouldn't have to lie down on dirt.
Bhattarai had his own business composing legal documents in his home district of Sindhuli. He sold it and arrived in Kathmandu two years ago, hoping to fare better financially. The apartment he rented in the city came tumbling down last April 25, and he and Ranjana have been eking out an existence under bamboo and plastic ever since.
He tells me he wants to move but hasn't been able to find an affordable place, although not everyone in Kathmandu would be sympathetic. Some residents tell me the tent dwellers stay put just to save money.
"It's not comfortable here, but I don't have an option," Bhattarai says.
He's thought about returning to Sindhuli, but his house there was damaged. He's thought about bringing his children to Kathmandu, but he doesn't want them to live in the tent city. The latrines are crowded and smelly. Imagine having to sleep every night with the stench. The only place to bathe in private is inside his tent.
Bhattarai says he is part of a delegation of tent city residents who are planning to take a message to the Prime Minister: "Help us."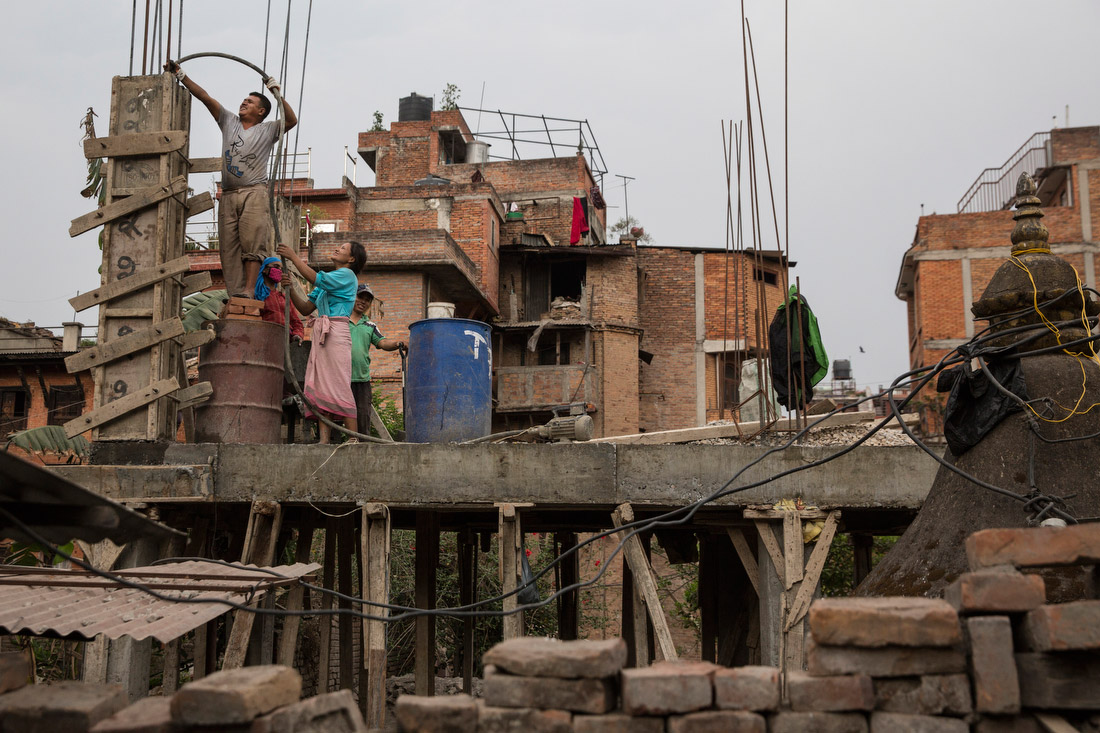 Some Nepalis want to rebuild but have not even been able to claim the 15,000 rupees (about $145) the government promised as immediate relief. Rasmila Awal is one of them.
She was walking home from the store when the earth began moving under her feet. She saw her family's four-floor ancestral home collapse, her children inside. She screamed. She cried. And then she went numb.
After 22 harrowing hours, her daughter Soniya, 10, and baby boy Sonies were pulled from the rubble. Awal was immeasurably happy. That joy became memory, though, as life got harder and harder without a home.
She and her husband, a truck driver, and their two children lived first in a tent and then in a rented room that's a five-minute walk from the rubble of their home. She doesn't want to pay stiff rent and wants to rebuild the house she loved.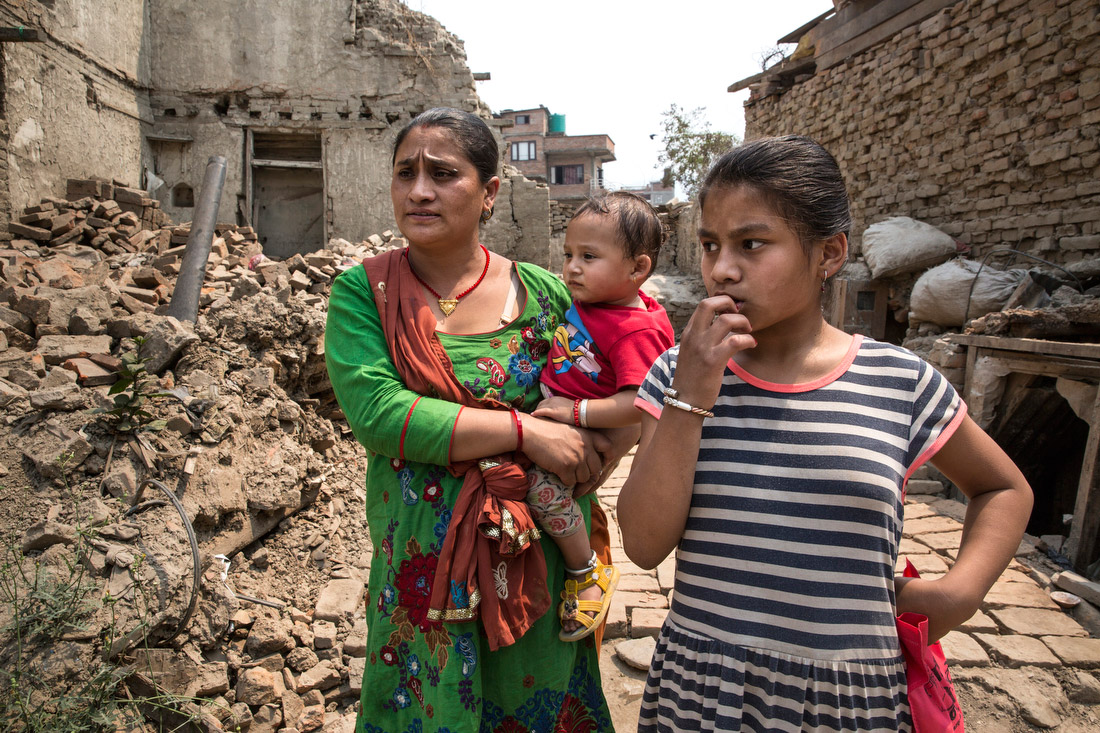 The government said it would give each family 200,000 rupees (about $2,000) to rebuild, but proof of ownership is required, and the Awals do not possess a land deed. That's not uncommon in this part of the world. Houses get passed on from one generation to the next without proper paperwork. Oxfam estimates as many as 40,000 Nepalis lacked land documentation before the quake.
"I haven't received a single rupee from the government," Awal says. "I get angry, but what can I do? At least God saved my son. But I look at his face and know that I have to raise him, send him to school. Where will I get the money?"
Others say they would rebuild without government assistance but new homes must meet stricter construction standards intended to make them more earthquake proof. And that requires more money.
I call National Reconstruction Authority spokesman Ram Prasad Thapaliya to ask about these complaints. He confirms the rules for receiving earthquake assistance and tells me the Nepalese government is doing what it can.
He admits the recovery process has not been as fast as he would have wished. In the months after the quake, constitutional reform created political tension and led to the blockade of essential goods at the Indian border. It also delayed the creation of the reconstruction agency.
Thapaliyia assures me that in the coming weeks, the pace of recovery and rehabilitation efforts are likely to pick up.
"We are moving in the right direction," he says.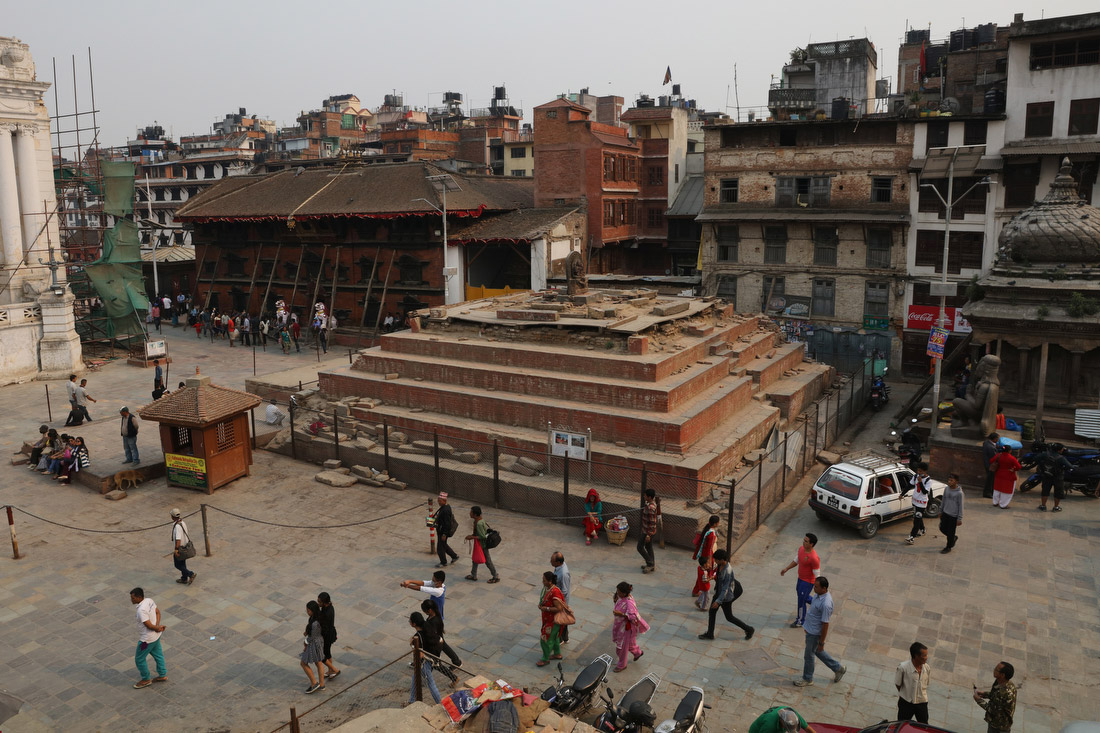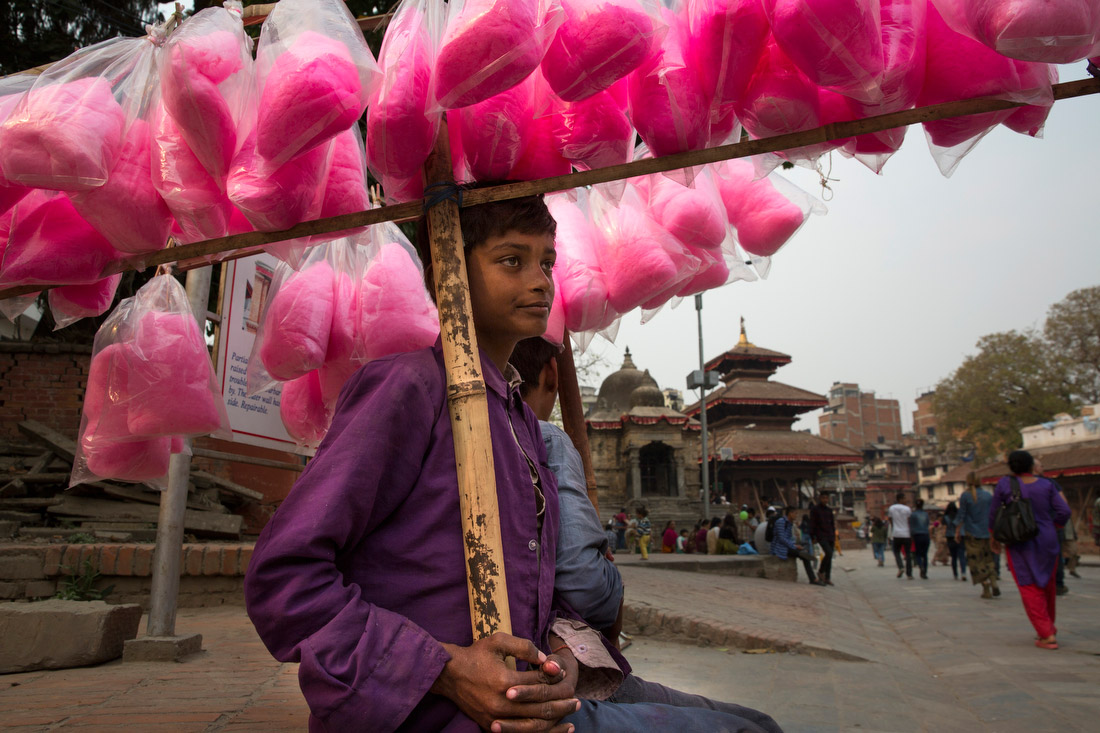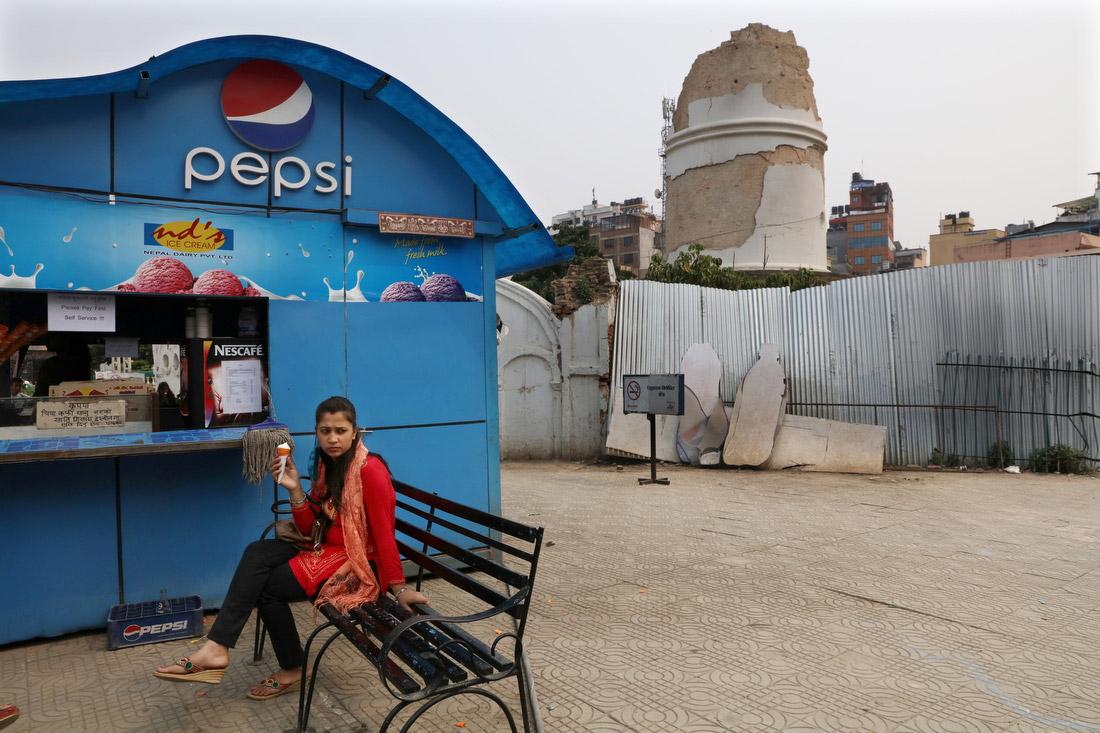 But a year is a long time to wait when you have lost everything.
In Kathmandu, the lack of progress is most apparent in the heart of the city, in Durbar Square, where centuries-old temples and palaces once stood in their majesty. Now they are splintered with cracks and reduced to piles of red bricks.
The government has positioned wooden beams against the ancient buildings as supports. They hardly seem adequate, like a Band-Aid on a gushing wound. Green signs say: "Safe Zone." Red signs, "Restricted." But there is no enforcement. People defiantly ignore the red signs and climb up steps of heavily damaged buildings that could crumble at any moment.
Tourists flocked to Durbar Square before the earthquake. On this day, I see far more Nepalis than foreign faces, though a group of Koreans are noticeable for their selfie sticks poking up high in the air.
Desperate tour guides are relentless in their sales attempts. As are the vendors who sell trinkets, T-shirts and souvenirs. "Business is down and we are hurting," they tell me. "Please, sister. I have good prices."
It's hard to walk away without buying anything, but I have few Nepalese rupees in hand and can only afford a couple of postcards. Or maybe the neon pink cotton candy a teenage boy is peddling.
Tourism -- Nepal's lifeblood -- is anemic. The quake abruptly ended the tourist season two years in a row. In 2014, a giant block of ice broke free and crashed down just above Everest Base Camp, killing 16 Sherpas.
No one has exact numbers, but Kathmandu entrepreneur Phurba Sherpa, who owns a Himalayan trekking company, estimates business decreased by as much as 70% after the quake and just as things were about to get better, the blockade started. Flights into Nepal had to carry twice as much fuel since none was available here and that meant carrying far fewer passengers. Many airlines canceled flights, and there was no gas for buses and cars.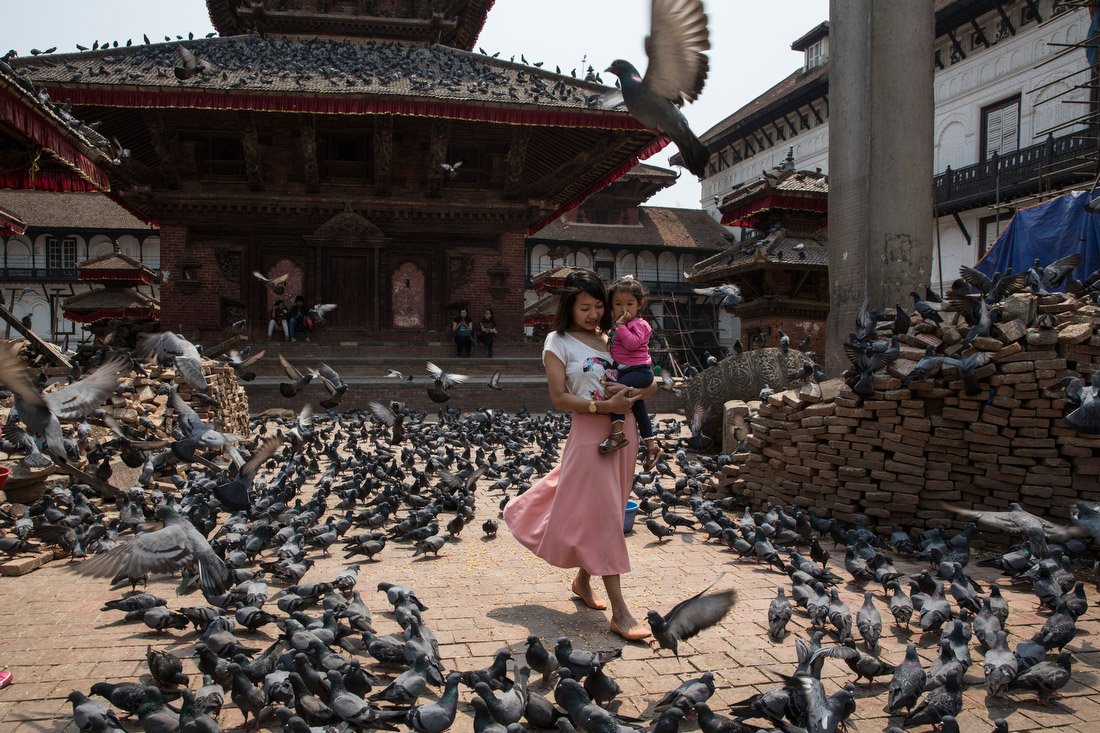 Nepalis wondered if tourists and trekkers would ever consider coming back to a nation of such risk and sorrow.
Nathan Price-Lloyd did. I come across him in Durbar Square and ask why he chose to visit Nepal from his home in the United Kingdom. He says he wanted to do his part in reinvesting in the country's tourism industry. "It was the right thing to do," he says.
His remarks remind me of Ganga Maya Shrestha, whom I met earlier in the day. She is 73 and lives alone in a tent on a patch of land near her house, which sustained major damage in the earthquake. Shrestha told me she married young, was never able to have children and says her husband abused her before he died 13 years ago. She didn't smile often but when she did, I saw that her front teeth were all missing.
"He asked for forgiveness before he died," she said.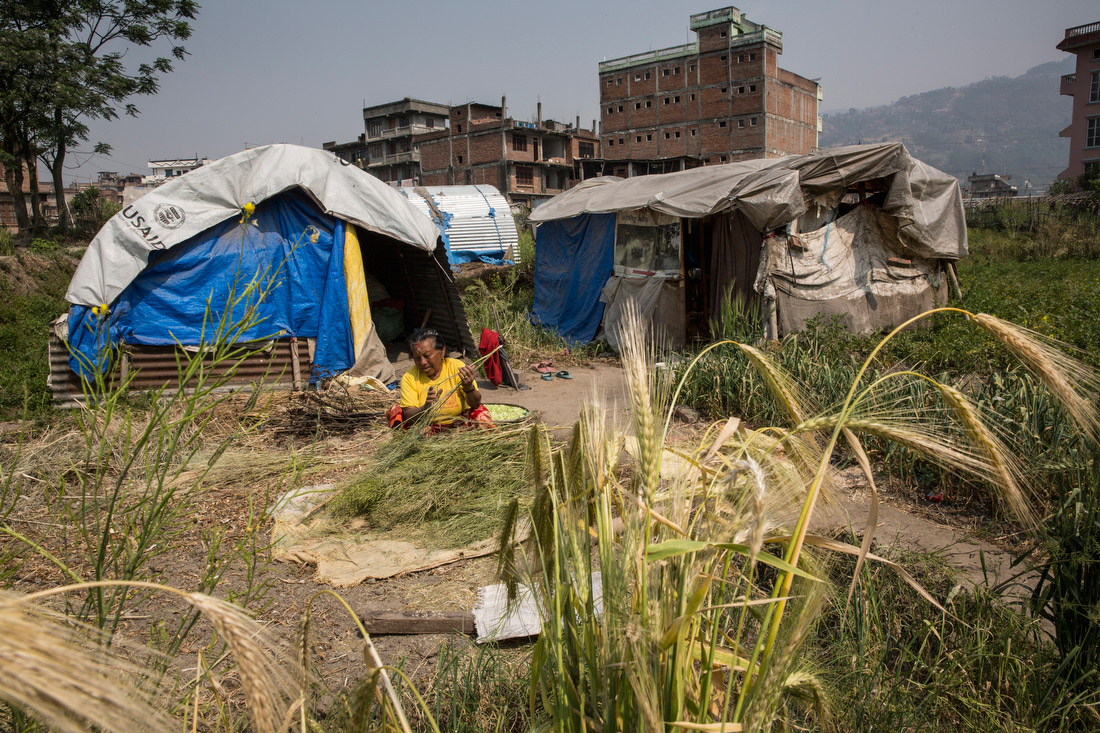 She did not have much inside her tent: a stove, two woks, a few other kitchen utensils. In an adjacent makeshift tent was a sleeping area with bamboo mats and a couple of blankets. She pointed to some tired greenery; she grows potatoes to eat.
"My neighbors want me to tear down my house," Shrestha told me. "It is severely damaged with deep cracks. They think it is a danger."
"But I cannot."
I asked why and when she answered, I felt rather small.
She worked as a construction laborer and as a field worker to save enough money for a house.
"I built that house with my blood, sweat and tears," she said.
It was the only thing Shrestha had. And the earthquake took it away.
Nepal may recover one day, though it still has a long way to go. But it's doubtful Shrestha will ever own a house again. There are probably many others like her, the poorest of the poor in one of the poorest nations in Asia, survivors of the earth's violent shaking but destined to never be the same.
Not one year later, not ever.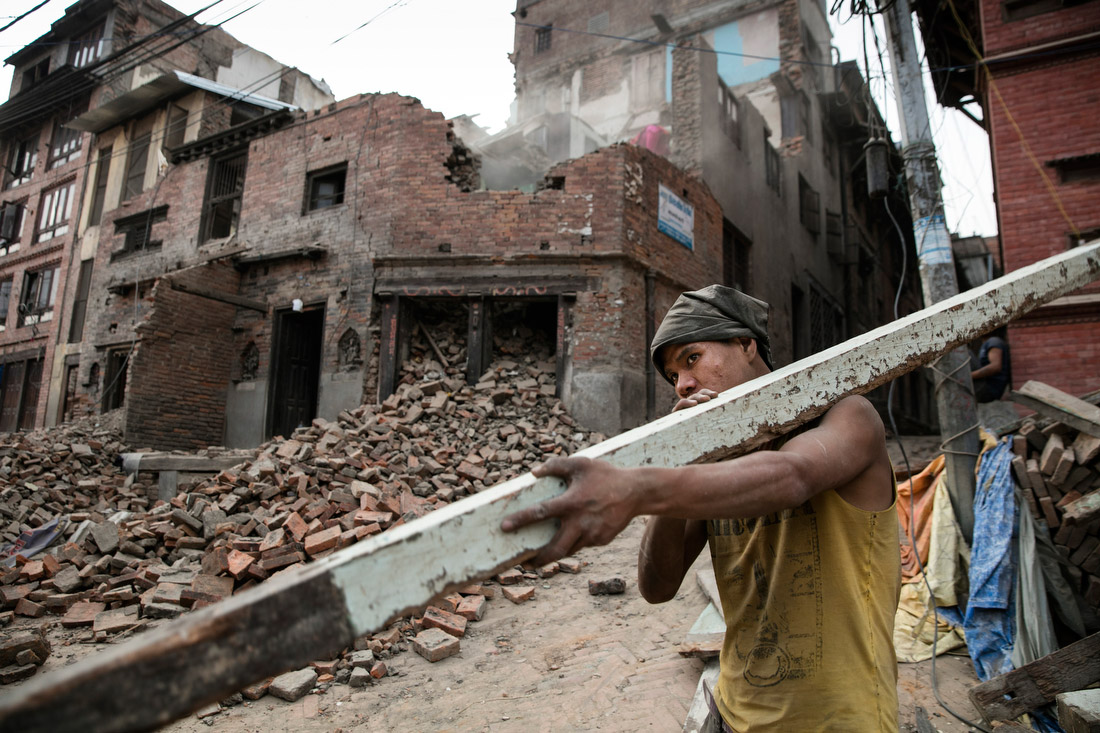 Moni Basu and photographer Paula Bronstein both covered the immediate aftermath of the Nepal earthquake a year ago. They returned there together for this story. Basu is a senior enterprise writer for CNN. Bronstein is represented by Getty Images Reportage and based in Bangkok, Thailand.
Photo editor: Brett Roegiers
Developer: Sean O'Key