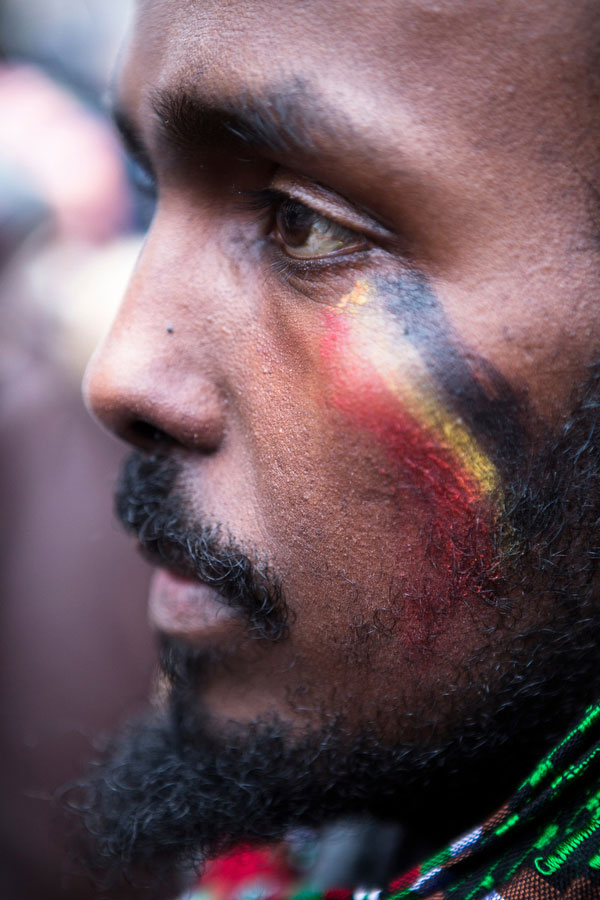 Issa Willo, 32
Willo was born in Brussels, but most of his family lives in Eritrea. He wears shoes with the logo of the Belgian national soccer team. He is proud to be a Belgian and a Muslim. In his eyes, the terrorists are not Muslims, and he feels no connection with them.
Sam Torrini, 28
Torrini took the day off from work to come to the memorial at Beursplein. "I have to see; I have to feel; I have to understand," he said. Two of his friends were injured in the attacks at Brussels Airport. He believes this is only the beginning; there is more violence to come. But he won't allow the terrorists to make him afraid.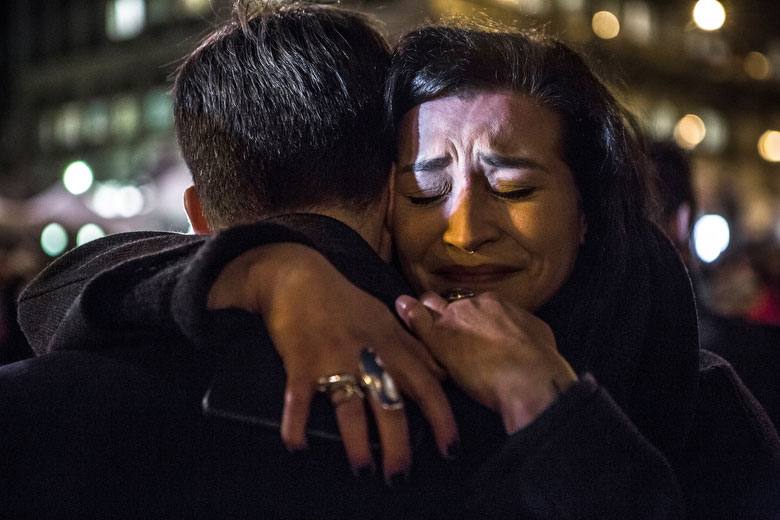 Anne Manteleers, 28
Manteleers, who works for a Flemish broadcaster, was drawn to visit the memorial four times Wednesday because of the atmosphere. "Everybody should come together and stay positive," she said.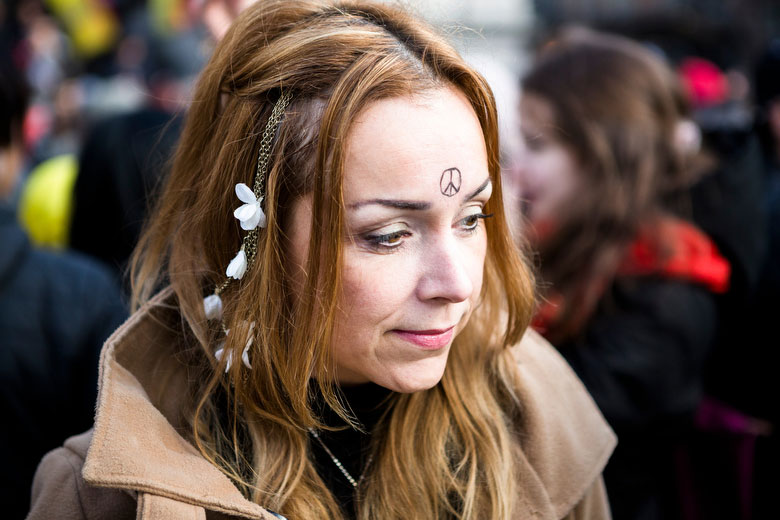 Delphine Chaliaud, 38
The day of the attacks, a friend texted Chaliaud the horrible news, since she doesn't have a TV. She was in shock and couldn't stay alone in her apartment in Woluwe, so she spent the rest of the day with her best friend. "Love is bigger than hate," she said.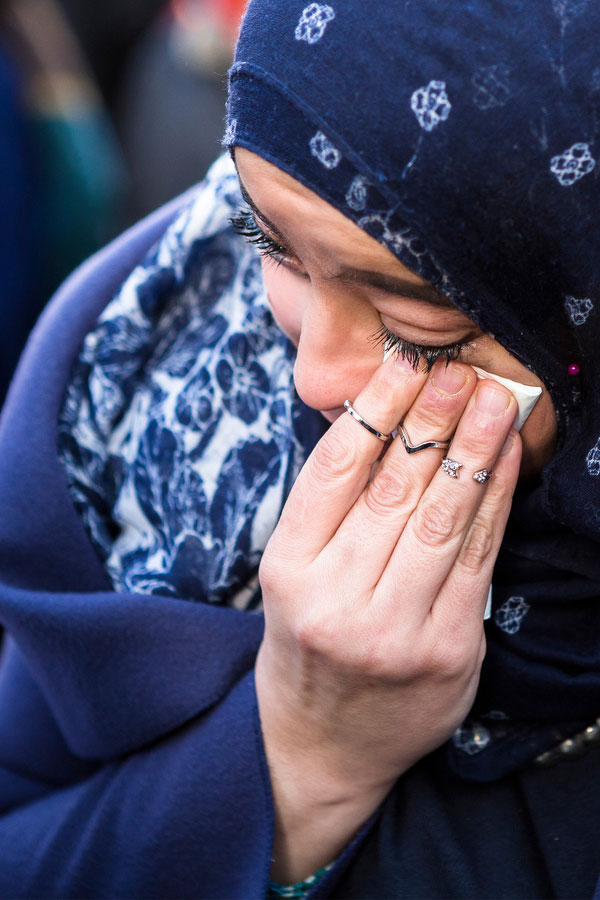 Chaïma Yahiaoui, 18
Yahiaoui felt a need to be at the vigil site, where she and her friend Gwendolyne struggled for understanding. After Paris, people in Brussels expected something to happen, she said, but you can never truly be prepared for such a thing. Her brother was at the Maelbeek metro station when a bomb exploded in the subway, but he escaped safely.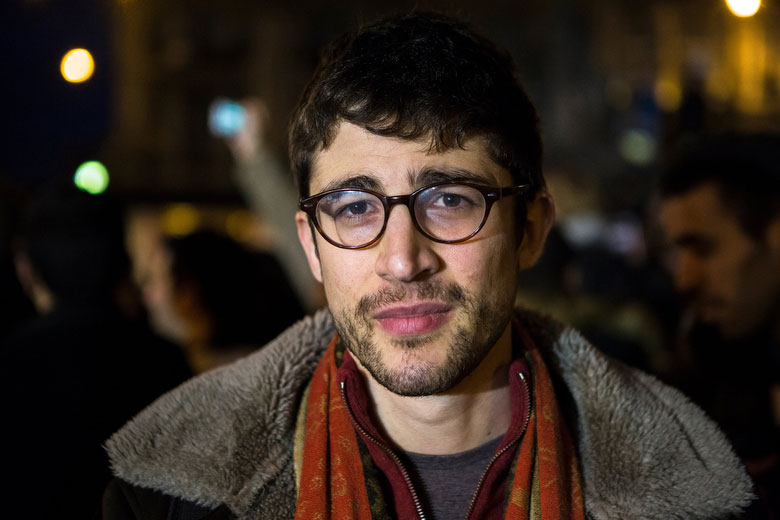 Sacha Gaucherot, 25
Gaucherot is heartbroken, he said. After the attacks in Paris, he became more and more upset. He expects more violence, more extremism, maybe even a third World War. But Gaucherot finds support in his faith: He became a Christian after reading the Bible a year ago. Trusting God is his only hope, he said.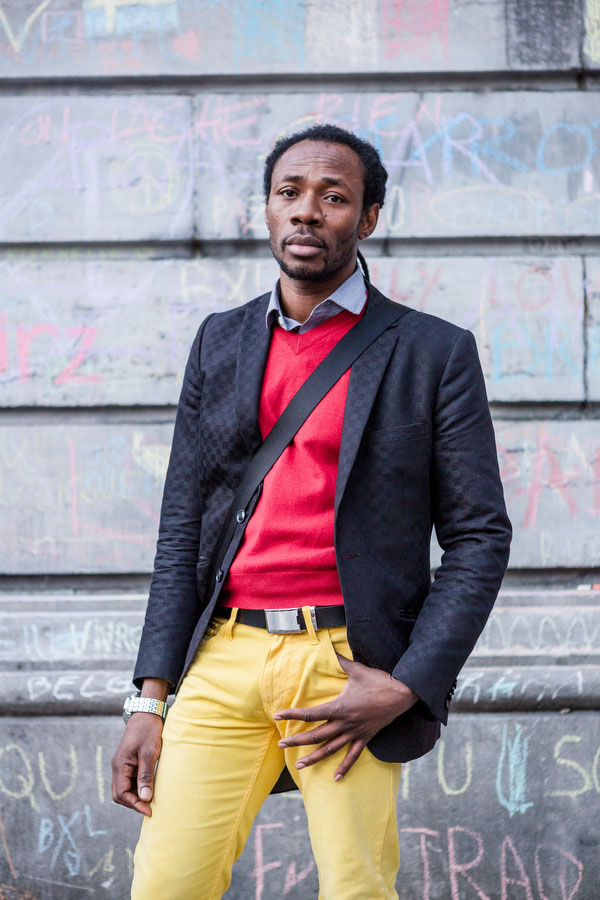 Sako Mamadou, 41
Mamadou wears the colors of the Belgian flag. He lives in Brussels, but most of his family lives in Ivory Coast. On March 13, gunmen from al Qaeda's North African branch killed 16 people on the beach in Ivory Coast. "We are all people. Nobody is safe (from) terrorist attacks." Mamadou wants people to keep looking in each other's eyes without fear. And keep on smiling.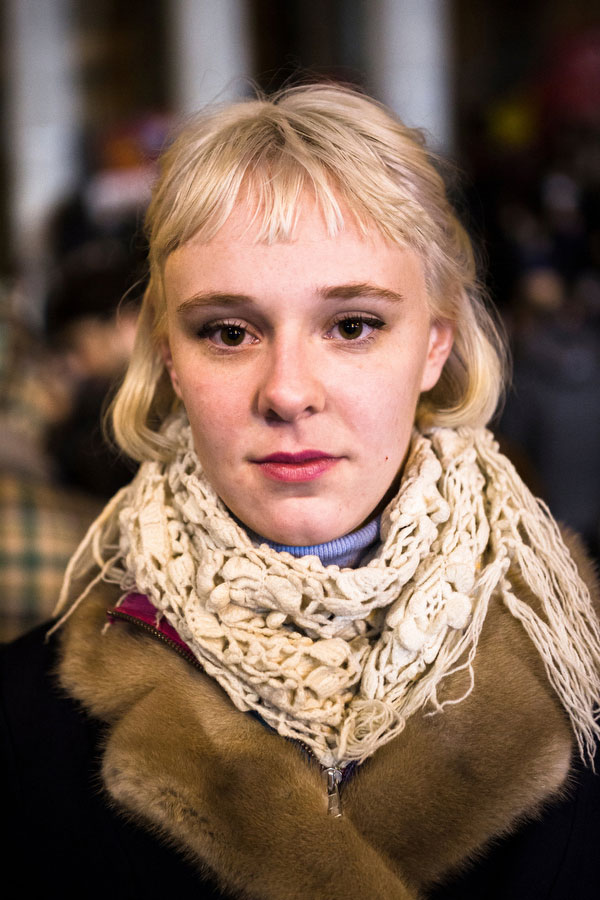 Kim Karssen, 20
Karssen, of Maastricht, Netherlands, is in Brussels for the first time to visit a friend. She was amazed by all the cultures represented at Beursplein. But the events made her realize that what she has seen on TV was real and that the threat is getting closer to Holland.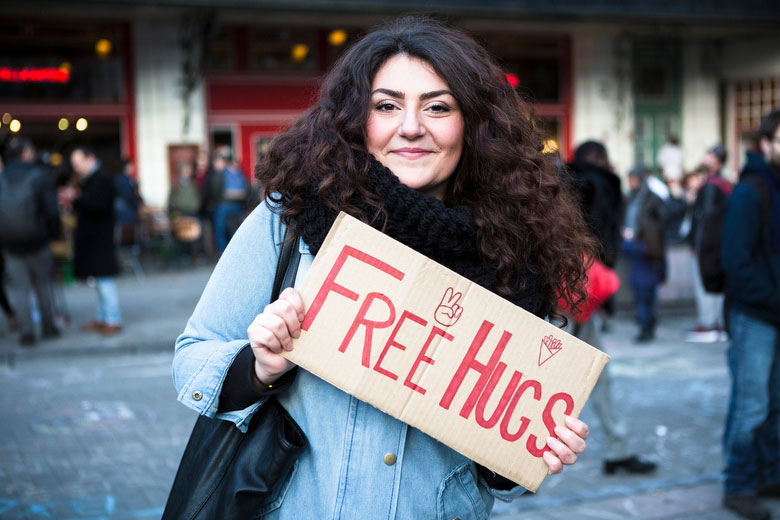 Yara, 20
Yara, who didn't want to give her full name, came to the square to show that she is not afraid. She is happy to see so many other people who believe that violence is not an option. Violence against violence is senseless, she said. Only love can overcome.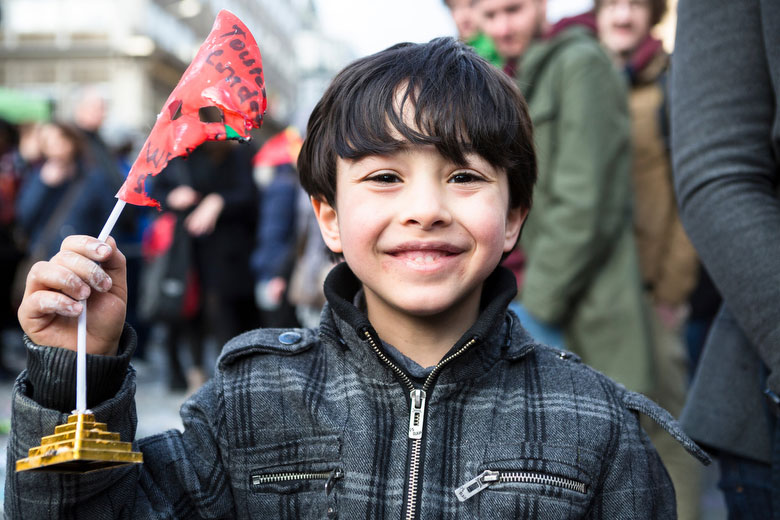 Mohammed, 5
Young Mohammed spent his time at the memorial playing with chalk and candles, unaware of the significance of recent events. His father, Mohesin, 37, said the boy needs to know about tolerance, because it's the only way to live together.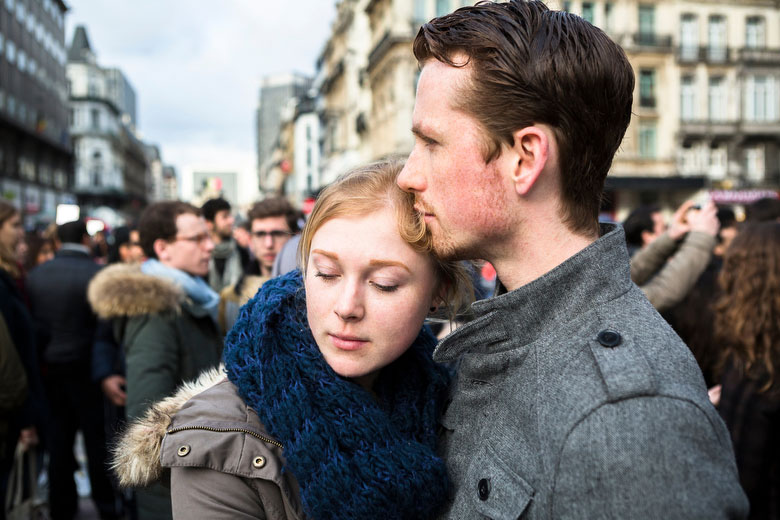 Olivia Smith, 21
Smith came to Brussels as an exchange student and met her boyfriend, Toon, in a bar. Soon after she arrived, terrorists struck Paris. There was a security lockdown in Brussels: Schools, bars and public transit were closed. Smith expects the same measures again in the next few weeks. Then, she said, things will get back to normal, like in her hometown of London after the terrorist attacks of 2005.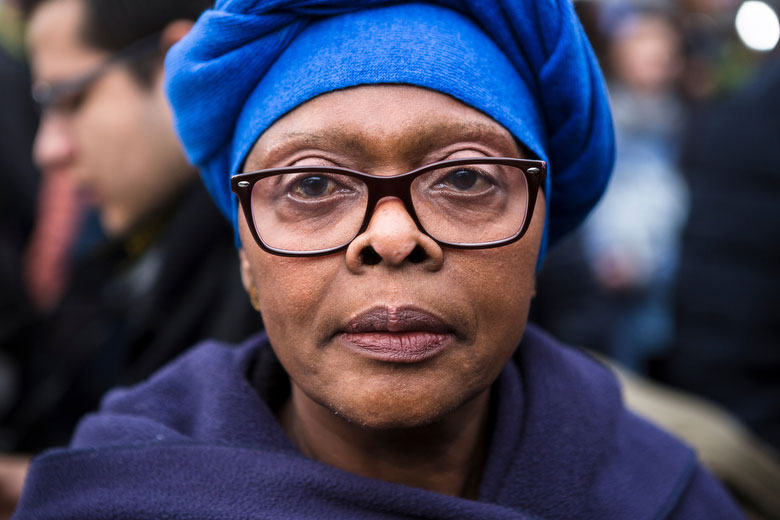 Bibi Amisi, 65
Amisi, who is retired, was watching TV at home when she heard about the attacks. She was scared that day, but being a part of the crowd at the memorial makes her feel at ease. For Amisi, life is like the seasons: After winter comes spring.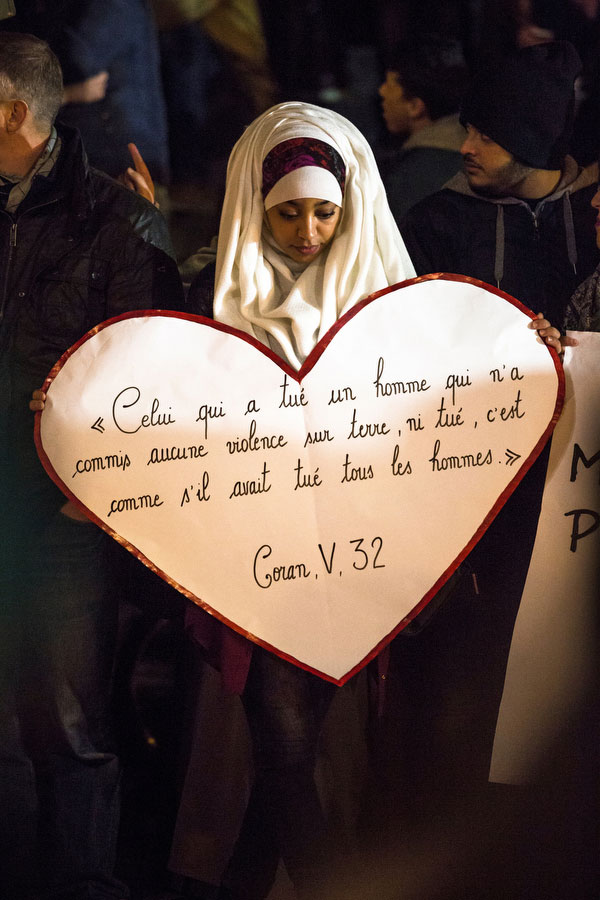 Fatima Daly, 24
Daly holds a big sign with a quote from the Quran: "Whoever kills a person, it is as though he has killed all mankind." Her former teacher was killed in the subway attack. Like the suspected bomb-maker, she has Moroccan roots. But that's the only thing they have in common, she says: "Islam is a religion of love."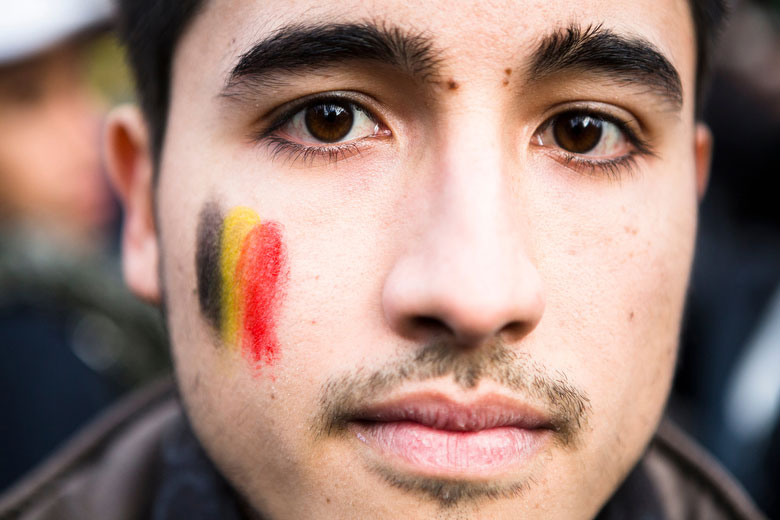 Jean-Pierre Lopez, 22
Lopez, who's from Ecuador, is studying French and English in Brussels. He was in the Maelbeek subway station 10 minutes before the bomb went off. The attacks occurred when it was still night in Ecuador, and his family was asleep, so he was able to reassure them of his safety before they could start worrying.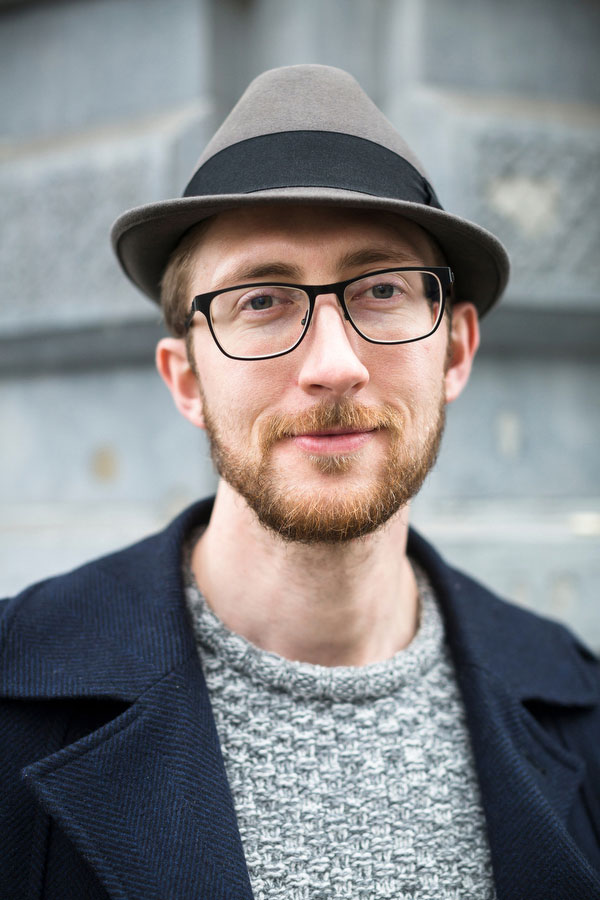 Matevž Pajek, 30
Pajek moved from Slovenia five years ago to work as an interpreter for the European Parliament in Brussels. It took him some time to acclimate, but now he adores the city. In spite of recent events, he wants to stay. "I'm optimistic about the future. People will stick together, like today," he said.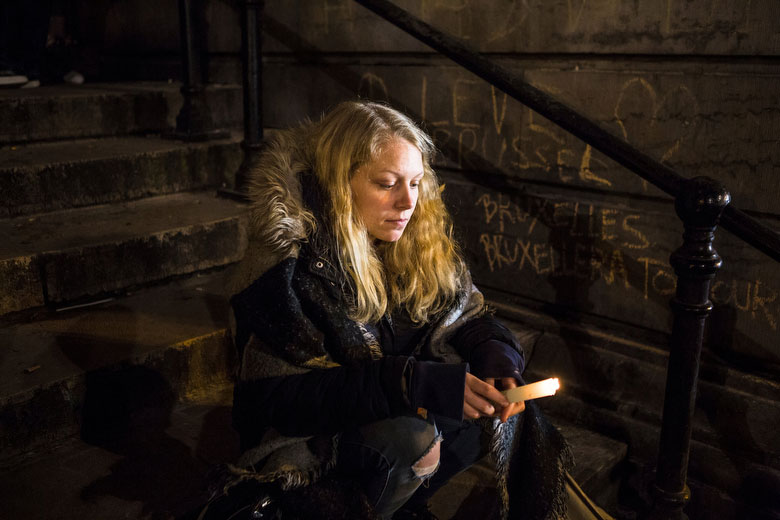 Julie Herion, 20
Herion holds a candle as a symbol of hope. She thinks another attack is probable. She wants to become a primary-school teacher, and her policy with young children is, don't talk about it if they don't ask. "We need to protect the little ones from our fears," she said.