Snapshot of the Year
In January, CNN launched on Snapchat Discover — a platform within the Snapchat app that shares content from different media publishers. The articles are shorter, the artwork is bolder and nothing lasts longer than a day; it's the news, but probably not as you've seen it before. In the CNN channel, you'll find the headlines that are shaping your world, from gun control to the occasional outbreak of runaway llamas. Each story – called a "snap" – is crafted by an in-house team, and then rounded up into a daily news edition that publishes at 5 p.m. ET. We hope to see you there!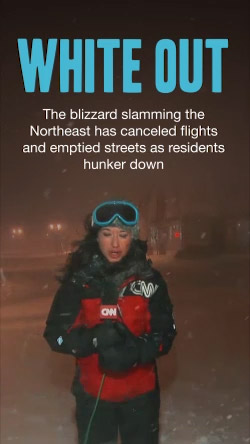 First snap ever
Snow day
January 27
The first major snowstorm of the year hit the Northeast.
January 27 — At the start of 2015, it seemed the snow would never stop. The first big storm of the year arrived in late January, canceling thousands of flights and causing a mad rush at grocery stores. While it turned out to be more like "snowperbole" for some, others saw record amounts of snowfall.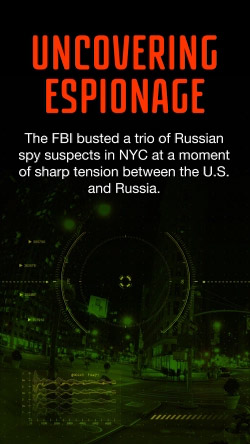 The big picture
It's complicated
January 28
From Russia and China to Cuba and Iran, here's a look back at some of the trickier global relationships the U.S. navigated in 2015.
January 28 — Russian spies in New York City? According to the FBI, yes. Near the start of 2015, authorities arrested a man who they say posed as a Russian banker while actually working for the SVR, Russia's foreign intelligence agency. Two other Russians, ostensibly diplomats in Russia's U.N. mission in New York, were accused of being handlers. News of the trio came at a sensitive moment in U.S.-Russia relations as President Barack Obama and Russian President Vladimir Putin had been in a standoff over a number of issues.
May 7 — This spring, CNN was granted a sit-down interview with Park Yong Chol, the deputy director of the DPRK Institute for Research into National Reunification and a high-ranking member of North Korea's inner circle. The conversation was nearly two hours, and no topic was off-limits. We discussed alleged large-scale rights abuses and North Korea's nuclear program, with Park saying his country does have the missile capability to strike mainland United States and would do so if the U.S. "forced their hand."
July 14 — For nearly two years, the U.S. and five other countries worked on a deal with Iran to limit that country's nuclear program. It was a process that involved marathon sessions, extended deadlines, tons of debate and probably a lot of wrinkles and gray hairs for world leaders. But in July, we learned that a historic deal was in place to limit Iran's nuclear activities in exchange for relief from sanctions.
August 14 — On this August Friday, Secretary of State John Kerry visited Cuba to raise the American flag over the U.S. Embassy for the first time in 54 years. The embassy was reopened as the U.S. restored diplomatic ties with Cuba, and the ceremony was the most potent symbol of the shift in the relationship between the two countries.
September 29 — With Obama and Putin at odds over conflicts in Ukraine and Syria, all eyes were on a meeting the two were scheduled to have at this fall's U.N. General Assembly. Their sitdown came after each leader criticized the other's method for handling crises like the Syrian war, which only added to the tension. The mood was perhaps best captured by a picture from a lunch Obama and Putin shared before the meeting, which caught the two grimly locking eyes with one another during a toast.
October 2 — As China's President Xi Jinping visited the White House this fall, more eyes were on the U.S.'s relationship with China. It isn't all roses and sunshine, but there are some shared interests, with big ones being trade, climate change and counterterrorism. But there are also troubling issues, such as cyberattacks and differences over territory in the South China Sea.
October 15 — Washington Post journalist Jason Rezaian has been detained in Iran since July 2014, and this fall, he was sentenced to prison for spying. His story brought further attention to the tense relationship between the United States and Iran, including that the controversial nuclear deal reached in July didn't include the release of any detainees. In response to criticism, Obama said that his administration was "working diligently to try to get them out."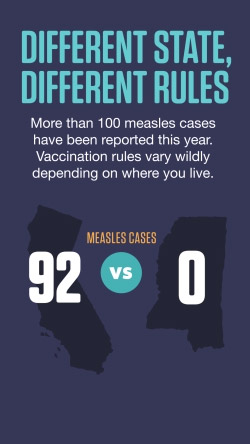 Case of the Measles
February 3
A measles outbreak in California put a new focus on vaccinations and the parents who choose not to participate.
February 3 — Measles usually isn't a disease that Americans spend time worrying about, but a rash of cases near the start of the year put the highly communicable respiratory disease in the spotlight. By January 30, there were 102 cases reported in 14 states, with the majority being related to one outbreak linked to Disneyland in California. The outbreak raised awareness of the fact that states have varying regulations regarding vaccinations; some states, like Mississippi, are very strict about the practice. Others, like California and Arizona, allow parents to skip vaccinations for medical reasons or personal beliefs.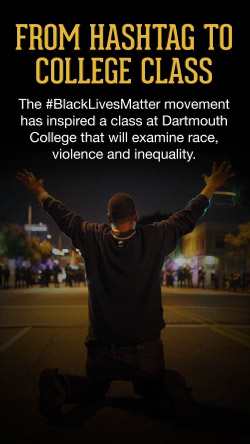 The big picture
After Ferguson
February 5
Race in America and treatment by police remained a major issue in 2015.
February 5 — The #BlackLivesMatter movement turned into a college course this spring at Dartmouth College. Through curriculum put together by 10 professors, the course aimed to examine race, violence and inequality through current events and throughout history. "We felt very much moved by, incited by (and) inspired by a lot of the activists' work following the failure to indict Darren Wilson after the events in Ferguson," said Aimee Bahng, an assistant professor of English at Dartmouth.
March 12 — The August 2014 death of Michael Brown in Ferguson, Missouri, was the start of a long, difficult road for the city. In March, that road took another turn when the Justice Department released a report revealing a pattern of racial discrimination by the Ferguson Police Department and the city's municipal court. The city's chief of police stepped down, but protesters were calling for the entire force to be disbanded.
April 9 — Less than a year after the death of Michael Brown, another police-involved shooting grabbed national attention. Video filmed by a bystander showed South Carolina police officer Michael Slager fatally shooting Walter Scott, a 50-year-old African-American man who was unarmed and running away from the officer when he was killed. In the Ferguson case, it took six days to identify the officer involved. South Carolina officials apprehended Slager within two.
April 29 — When a person dies at the hands of police, prompting media attention and protests, body camera makers like Taser and Digital Ally see their stocks surge. Law enforcement is adopting this technology more and more as early studies show that body cameras have helped reduce complaints and use of force.
August 9 — In the year after the shooting death of Michael Brown, the deaths of several other unarmed black men at the hands of police officers also gained attention. And with each headline, outraged protesters demanded change. All of this sparked a larger conversation about how to change the relationship between law enforcement and people of color. For example, in New York, Mayor Bill de Blasio announced a three-day police retraining program, and President Barack Obama called for ways to improve the trust between law enforcement officers and the communities they serve.
February 20 — After the police-involved deaths of unarmed men like Michael Brown in Missouri and Eric Garner in New York, everyday citizens have started to film police encounters more often. Experts say it's perfectly legal to do so, as long as you're not interfering with their work.
July 23 — Most people feel at least some anxiety when they see those flashing lights behind them. And in the midst of headlines about contentious, and sometimes deadly, confrontations with police, more people wanted to know what police can and can't do during a traffic stop. It turns out that police can briefly detain a driver during a stop, and they can order a driver out of the car. But the driver also has the right to film the entire encounter.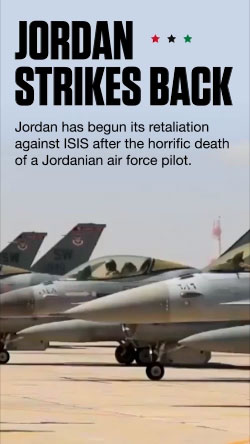 Jordan's revenge
February 6
After ISIS brutally killed a Jordanian air force pilot, the fight against the terror group shifted in the Middle East.
February 6 — Jordanian air force pilot Lt. Moath al-Kasasbeh was captured by ISIS during an anti-terrorism mission in Syria in December. He was later burned alive, leading to outrage in Jordan and a vow to get revenge. The country began by launching its own airstrikes against the terrorist group.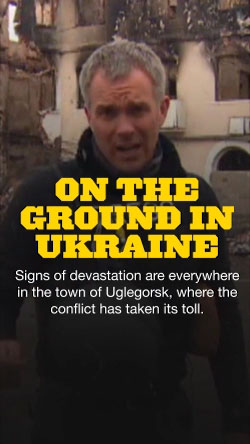 Inside Ukraine
February 9
CNN was on the front lines of the conflict that cost thousands of lives and created a humanitarian crisis.
February 9 — The months-long conflict between Russia and Ukraine continued its spiral in 2015. CNN's Nick Paton Walsh went to the front lines in Uglegorsk, a town that was ravaged by fighting so awful, it pushed civilians underground for days. A ceasefire went into effect in February, but there was still violence along Ukraine's front lines in May.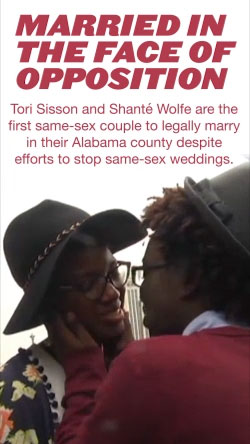 The big picture
The marriage vote
February 10
The Supreme Court made history this year with its ruling to legalize same-sex marriage across the country.
February 10 — In January, a district court judge struck down Alabama's gay marriage ban, and the Supreme Court said it wasn't going to intervene. That made Alabama the 37th state (plus the District of Columbia) to permit same-sex marriages. Shanté Wolfe, 21, and Tori Sisson, 24, were the first same-sex couple to legally marry in Montgomery County, Alabama.
March 27 — Gov. Mike Pence started a firestorm when he signed into law a bill that could allow businesses to turn away gay and lesbian customers in the name of "religious freedom." The legislation was swiftly and widely criticized, with the biggest concern being that businesses could use the law as a means to discriminate. Within a week, Indiana lawmakers provided a legislative fix to ease those concerns.
April 28 — Should same-sex marriage be legal across the nation? That was the question presented to the justices of the Supreme Court this spring. When the arguments were presented in April, same-sex marriage rights had surged nationwide, with 37 states allowing same-sex matrimony.
May 25 — The U.S. wasn't alone in considering the legalities surrounding same-sex marriage. In Ireland, voters overwhelmingly chose to change their nation's constitution and passed a landmark referendum to legalize same-sex marriage. With that vote, the Emerald Isle became the first country to do so through popular vote.
June 26 — Roughly two months after the Supreme Court began to hear arguments on same-sex marriage, the judges handed down a landmark ruling and made same-sex marriage legal in all 50 states. "No union is more profound than marriage," Justice Anthony Kennedy wrote for the majority. "Their hope is not to be condemned to live in loneliness, excluded from one of civilization's oldest institutions. They ask for equal dignity in the eyes of the law. The Constitution grants them that right." The ruling made the U.S. the 21st country to legalize same-sex marriage nationwide, including territories.
September 4 — Not long after the Supreme Court's historic decision legalizing gay marriage nationwide, a Kentucky county clerk named Kim Davis decided to take a stand against the new law. She refused to give marriage licenses to same-sex couples, saying that doing so would violate her Christian beliefs. Davis was jailed for refusing to issue the licenses and in the process became a new face in the struggle between same-sex marriage and faith.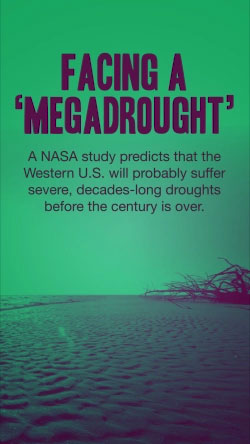 The big picture
The climate effect
February 16
This year, world leaders made a milestone agreement on climate change as the rest of us examined its impact.
February 16 — The western half of the United States is no stranger to droughts. But the Central Plains and the Southwest have never faced anything like the "megadroughts" NASA warned of this year. A new study showed that if greenhouse gas emissions stayed on course, that part of the U.S. would likely face droughts that could last for 20, 30 or even 40 years.
June 18 — Public opinion may be split on climate change, but the experts who study the topic overwhelming agree that it's happening. To be exact, 97% of climate scientists agree that climate change is real and that it's occurring because of humans.
September 1 — Glaciers are melting at an unprecedented rate all over the planet, and glacier melt is a significant contributor to sea level rise. To capture what's happening, scientists and photographers set up time-lapse cameras at some of the world's fastest-retreating glaciers. "These pictures … are eyewitness evidence of how climate change is reshaping our world," said Extreme Ice Survey Founder James Balog.
October 4 — Would you stop eating beef to save the planet? That's the question CNN's John Sutter asked after a trip to the heart of Texas beef country, where he learned more about how beef consumption contributes to climate change. Eating about half a kilo (about 17 ounces) of beef has about the same effect of global warming as driving a car more than 100 kilometers (62 miles).
November 29 — As the world gathered for the U.N. climate change summit in Paris, known as COP21, others were already seeing the effects of a warming planet. This summer, CNN's John Sutter visited the Marshall Islands, where everybody had a story to tell about rising seas and disappearing beaches. If seas rise, even just a meter or two, scientists say, this country will vanish.
December 11 — At this year's COP21, where world leaders made an historic agreement to limit global warming, CNN's John Sutter got the opportunity to chat with Microsoft's Bill Gates. He asked the tech giant one of the questions he received on Snapchat: What one technology on the horizon could help us beat the 2 degrees Celsius target for global warming? Gates' response was that we should be examining a few different possibilities, including the idea of turning solar energy into liquid fuel.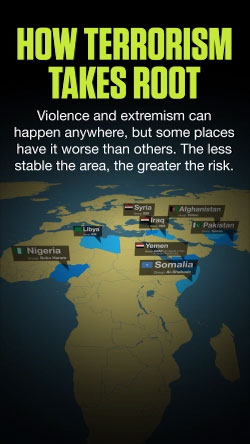 The big picture
The war on terror
February 19
The fight against ISIS stepped up this year, but that wasn't the only extremist group causing concern.
February 19 — As we saw in 2015, terrorism can happen anywhere. But some places are on the front lines. Violent extremist organizations tend to gravitate toward less stable, more turbulent areas -- countries where they can operate more freely, recruit from a desperate population and build up resources and momentum.
February 25 — When three teen British girls reportedly traveled to Syria to join ISIS, it put a new focus on how the terrorist group recruits young adults, especially women. Kids and young people can be seen in ISIS propaganda, and the group has cultivated a sophisticated strategy to target youth through social media. Analysts say ISIS can appeal to young people's religious idealism and to a desire to escape the frustrations of life in the West.
February 27 — Everyone knew of "Jihadi John," the masked ISIS militant seen in a series of gruesome beheading videos, but only by his voice. That mystery came to an end in late February, when U.S. officials confirmed that the hauntingly familiar presence in those clips was actually Mohammed Emwazi. A Kuwaiti-born Londoner, Emwazi grew up middle-class and received a college degree in computer programming in 2009.
April 21 — ISIS sees itself as a government and has the ambition of becoming an Islamic caliphate that claims sovereignty over the world's Muslim community. In Iraq and Syria, ISIS governs its territory as a state. Despite its medieval sense of justice, terror experts say that in many ways, it runs a surprisingly modern bureaucracy. For example, there are fully operational hospitals, complete with maternity wards; babies are given official ISIS birth certificates when they're born.
September 29 — Afghanistan was able to drive the Taliban out of its capital city in the aftermath of 9/11, but it wasn't able to stamp out the group all over the country. That become crystal clear in September, when the Taliban overran the city of Kunduz. The U.S. aided Afghanistan forces in taking back the city with airstrikes. During an airstrike in October, a Doctors Without Borders hospital was hit, killing at least 22 people.
October 18 — In the Kurdish armed forces, there's an all-female unit called The Sun Brigade that's determined to take down ISIS. The women aren't battle-tested, and most had never held a gun before they signed up. But there is no shortage of volunteers: "We are Yazidi. We are women. And we will destroy (ISIS) and anyone who touches our women and dirties our lands," one of the new recruits said.
November 19 — With its reign of terror in the Middle East and its claims of responsibility in atrocities like this year's Paris attacks, ISIS often commands global headlines. But according to a report from the Global Terrorism Index, Boko Haram, which is based mainly in Nigeria's northern states, overtook ISIS to become the world's deadliest terrorist group last year.
December 10 — In light of the Paris attacks, the U.S. and other countries have revved up the fight against ISIS. But the coalition's Arab members -- all of them much closer geographically to the terrorist group than their Western partners -- appear to be drawing down. It seems there are a couple of reasons for this, including fears of retaliation and already being involved with the conflict in Yemen.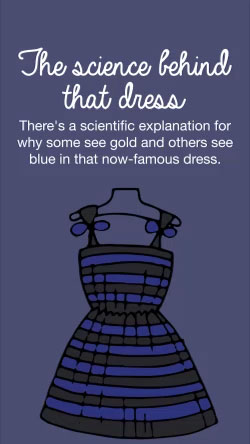 Color theory
February 27
Otherwise known as The Great Dress Debate of 2015.
February 27 — For about 24 hours in February, most of us were awestruck by a conundrum plucked from the Internet: The true color of a now-famous dress. Whether you saw white and gold or black and blue actually had a scientific explanation -- as one ophthalmologist explained, our eyeballs perceive colors in a slightly different way, depending upon our genes.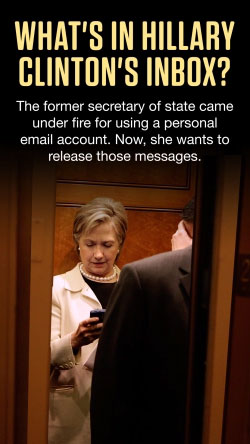 The big picture
The year in scandals
March 4
This year wasn't short on controversy, from business and politics to entertainment.
March 4 — This year, it was revealed that Hillary Clinton used a private -- rather than official -- email account and server while she was running the State Department. Clinton explained that she did so out of convenience and that "nothing nefarious" was at play, but that didn't quiet critics who began raising questions about security risks, transparency and whether Clinton broke any rules. Ready to move on, Clinton quickly said she'd be happy to let the public read her emails, but the saga continued into her presidential campaign.
Ordinarily, allegations that top-ranking Secret Service officials went out drinking and then plowed their government car into a barrier at the White House would be shocking. But after security breaches and a scandal involving Colombian prostitutes, this March investigation simply brought another round of disappointed head-shaking.
May 27 — Just days before its own presidential election, FIFA -- the powerful organization that oversees soccer around the globe -- came under investigation by the U.S. on charges of corruption. And that was just the beginning: There was also another investigation being led by Swiss authorities into how the locations for the 2018 and 2022 World Cup were awarded. Months later, the organization is still dealing with the fallout, which includes criminal charges and a widening probe.
July 7 — Rape allegations against Bill Cosby had been in the news for months when documents stemming from a civil lawsuit were released. According to the documents, Cosby admitted to getting prescription Quaaludes to give to women he wanted to have sex with. It was a bombshell revelation that brought renewed attention to the Cosby saga. More than 40 women have publicly accused him of sexual misconduct over the past 40 years; Cosby has never been criminally charged and has vehemently denied wrongdoing.
July 21 — When the cheat-on-your-spouse website Ashley Madison was hacked, it was a reminder that your personal information won't always stay private online. Hackers calling themselves the "Impact Team" said they would release sensitive data if the site was not shut down and then proceeded to reveal in a series of data dumps the names, partial credit card numbers, email and physical addresses, and sexual preferences of 32 million customers.
September 23 — This fall, Volkswagen revealed that it had found significant emissions discrepancies in 11 million diesel vehicles worldwide -- meaning cars were emitting a larger amount of pollutants than shown through emissions testing. The global scandal rocked the carmaker, costing the company its CEO and severely damaging trust with customers caught in the middle.
September 24 — It was tough enough to learn that the federal Office of Personnel Management had been hacked, compromising the information of 21.5 million people. But then came the news that 1.1 million fingerprints had been stolen, too -- the kind of theft that could pose serious security risks. Yet the scope of the breach still wasn't fully in picture. Instead of that original estimate, the Office of Personnel Management said hackers stole 5.6 million fingerprints it had on file.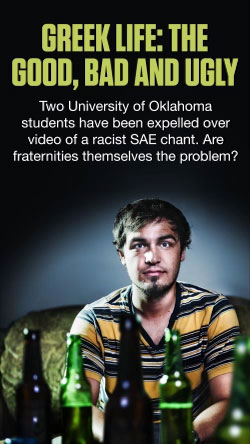 Are frats the problem?
March 11
That was the question asked across the U.S. asked after two University of Oklahoma students were expelled over video of a racist chant.
March 11 — A nine-second video clip of Sigma Alpha Epsilon members singing racial slurs led to fallout at the University of Oklahoma and beyond. The campus SAE chapter was shut down, the university severed its ties to the organization and two of the student members were expelled. But elsewhere, incidents of racist behavior by fraternities were brought back to light, raising the question of whether the organizations are fundamentally flawed.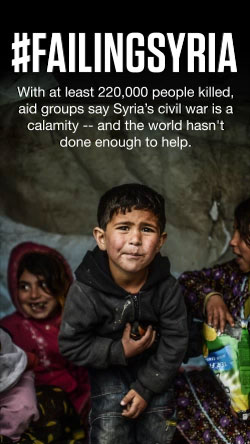 The big picture
Syria in the spotlight
March 12
The conflict dragged on for a fourth year, adding new players as the world searched for solutions.
March 12 — The conflict in Syria began in March 2011 as an uprising against the regime of President Bashar al-Assad; from there, it splintered into a civil war. With more than 220,000 people killed in the violence and millions more in need of help, a report from more than 20 aid groups called for action around the fourth anniversary of the conflict. "Every time I've visited the #Syria region, I've thought it cannot get any worse," tweeted Jan Egeland, secretary general of the Norwegian Refugee Council. "And then it does. We are #FailingSyria."
May 8 — Syria's also facing the threat from ISIS. Months of fighting the terrorist group in Kobani ended in victory, but it also left the town in shambles. This drone footage showed what residents of the community were greeted with as they started to return to rebuild.
May 21 — In the spring, ISIS performed a swift and destructive takeover of yet another city in its quest to expand its caliphate. Within days of seizing the Iraqi city of Ramadi, ISIS moved into Palmyra, an ancient Syrian city that's also a UNESCO World Heritage Site. Destruction of Palmyra, British historian and novelist Tom Holland said, wouldn't just be a tragedy for Syria. It would be a loss for the entire world.
May 22 — In the past five years, the life expectancy in Syria has dropped by nearly two decades, primarily because of weapons of the conflict like "barrel bombs." The rusty old barrels are packed with explosives and hurtled out of helicopters onto large neighborhoods, and if you're hurt, you can't just call 911. Instead, you can look for help from the White Helmets, a group made up of everyday civilians trained to deliver medical and rescue care to those in need in Syria.
October 7 — The complexity of the Syrian conflict includes the sheer volume of key players. There's the Syrian Arab Army, which is loyal to Assad. Then there's the Free Syrian Army, which opposes Assad. On their side, there's Saudi Arabia and Turkey, and Western countries like the U.S. and Britain. In the middle of this are the Kurds, who want autonomy, and then there's ISIS, which is trying to establish a caliphate in Syria.
October 30 — A political solution to the conflict hasn't been an easy thing to find. But in October, the world's top diplomats rose to the challenge by holding talks about Syria, hoping they'd be able to carve out a path toward peace. They weren't able to come to an agreement that day, but "the fact everyone is able to sit at the same table is significant," one top diplomat told CNN.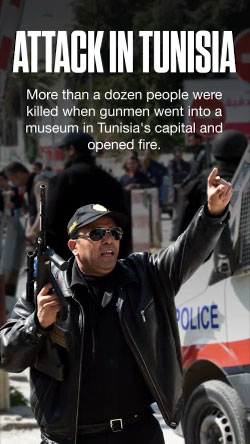 Attack in Tunisia
March 18
The North African country was hit by terror attacks more than once this year.
March 18 — The Bardo Museum in Tunisia's capital came under attack in the spring when gunmen opened fire on tourists in a siege that also forced the evacuation of the neighboring Parliament. ISIS claimed responsibility for the violence, which killed 23 people. Later this year, the terror group said it was also behind two more attacks in Tunisia: one in June, which claimed the lives of at least 38 people at a seaside resort hotel in Sousse, and a bus bombing in November.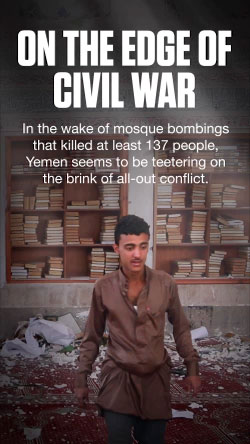 Yemen on the brink
March 23
This year, Yemen has grappled with an internal conflict and threats from terror groups.
March 23 — Yemen, an impoverished Middle Eastern country, was teetering on the brink of all-out conflict in the spring. Houthi rebels had taken over the presidential palace and the country's president had resigned, and in March, Saudi Arabia and other Arab nations joined the fray. In the midst of that conflict, there was also al Qaeda in the Arabian Peninsula and ISIS to contend with. It hasn't gotten better in the months since, with the U.N. estimating in November that some 5,700 people have been killed.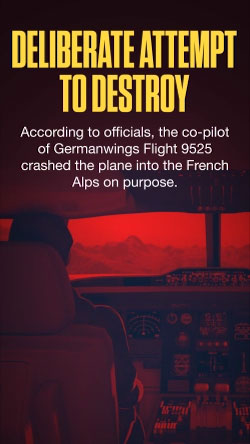 The Germanwings crash
March 26
Two days after a Germanwings Airbus A320 crashed in the French Alps with 150 people on board, investigators said the incident was deliberate.
March 26 — Germanwings Flight 9525 was carrying 150 people when it took off from Barcelona, Spain, on March 24. The flight was en route to Dusseldorf, Germany, and had reached cruising altitude before it began to drop for eight terrifying minutes, eventually crashing in the foothills of the French Alps. Two days later, investigators revealed that the co-pilot, 27-year-old Andreas Lubitz, purposely crashed the plane.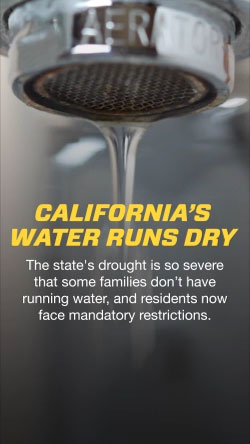 California's new normal
April 2
Residents, businesses and farms all had to adjust when California Gov. Jerry Brown imposed mandatory water restrictions for the first time.
April 2 — Faced with the effects of a relentless drought, California's been forced to conserve water. Gov. Jerry Brown mandated that businesses, residents and farms reduce their water usage by 25% in an attempt to hold on to what they do have. "We're in a new era," Brown said. "The idea of your nice little green grass getting lots of water every day, that's going to be a thing of the past."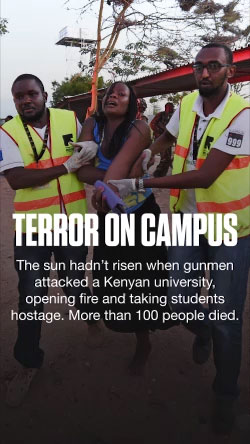 'A very sad day for Kenya'
April 2
More than 100 people were killed in an attack at a Kenyan university in April.
April 2 — In the early morning hours of April 2, gunmen burst onto the campus of Kenya's Garissa University College. The militants shot students and took others hostage during early morning prayers, setting the stage for the deadliest terror attack in Kenya since the U.S. Embassy was bombed there in 1998. The Islamist militant group Al-Shabaab claimed responsibility for the assault, which killed 147 people.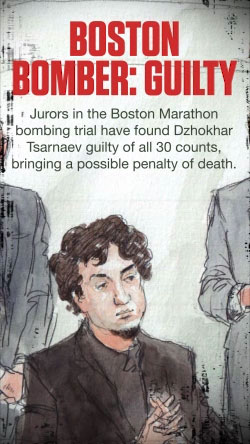 Thirty-two times
April 8
That's how often the word "guilty" was said in the verdict for Boston bomber Dzhokhar Tsarnaev.
April 8 — It took 26 minutes for the jury to announce the verdict in the trial of Dzhokhar Tsarnaev, the 21-year-old who was convicted of 30 charges related to the deadly 2013 bombing of the Boston marathon. Tsarnaev didn't skate on a single count. He was later sentenced to death.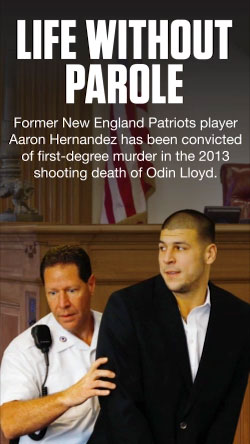 Off the field, on to prison
April 15
Aaron Hernandez's fall from grace ended with a life sentence without parole.
April 15 — Aaron Hernandez, the former New England Patriots player who once enjoyed a $40 million contract, was convicted in the 2013 murder of onetime friend Odin Lloyd. Hernandez, who was released from his team less than two hours after his arrest on first-degree murder charges, was sentenced to life in prison without parole.
The marijuana revolution
April 19
From medicine to politics, attitudes about marijuana are continuously evolving. Here's what we noticed this year.
April 19 — THC is the chemical in weed that gets you high, making you feel lightheaded, giddy or relaxed. Note that not all cannabis is going to get you stoned.
April 19 — Across the country, some states are taking steps to legalize marijuana. The rules are still hazy -- in some states you can legally buy it; in others, it's OK only to use marijuana recreationally, and it gets even more complicated for those who want to sell it -- but here's what is clear: The question of whether to legalize bud is increasingly one for voters.
April 19 — The federal government considers marijuana a schedule 1 narcotic, which means it has a higher potential for abuse than cocaine and meth. But it might not be as bad as two legal substances: alcohol and tobacco.
April 19 — In "Weed 3," Dr. Sanjay Gupta traced the history of medical marijuana all the way to 2730 B.C., when an emperor regarded as the father of Chinese medicine explored the benefits of using marijuana to treat various ailments.
April 19 — To get a glimpse into the way the marijuana revolution could impact business, we followed a Colorado couple that's cashing in on the state's legalization of weed. For Brian Rogers and Caitlin McGuire, who run a medical dispensary in Breckenridge, Colorado, this is a once-in-a-lifetime business opportunity.
April 19 — Public perceptions about marijuana have changed, but a celebrity discussing their smoking habits will still make headlines. Consider this quip from Seth Rogen: "Everyone's been with someone who's bought weed or knows someone who's sold weed or gone and bought weed themselves."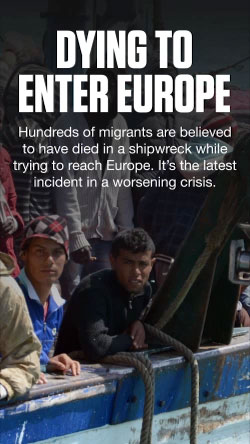 The big picture
Seeking refuge
April 20
This year, Europe faced its largest migrant and refugee crisis since World War II as thousands came to its shores hoping for new opportunities.
April 20 — A ship packed with hundreds of migrants capsized in frigid waters as it made its way from Libya to Europe. The week before this tragedy, there was an incident in which 400 refugees and migrants died in the Mediterranean.
September 3 — In the fall, as Europe's migrant and refugee crisis continued to grow, one image in particular shook the world. It was a photo of a drowned 2-year-old Syrian refugee whose body had washed ashore on a Turkish beach. A photojournalist captured the horror, and the picture of the little boy stirred outcry in Turkey and beyond.
September 7 — Germany was the main goal for many refugees because it's where they could find a strong economy and democracy. But Germany, and other European nations like Austria, warned in September that they couldn't carry the weight of the crisis on their own and called on other countries to help.
September 18 — Hungary is along the path that many migrants and refugees take, but by mid-September, the country began to tighten its borders. A razor-wire barrier was established along Hungary's border with Serbia, and Hungarian riot police began using tear gas and water cannons to turn people back.
October 2 — A years-long war and the rise of ISIS in Syria have forced 4.1 million refugees to leave their homes, contributing to this year's grave refugee crisis. One Syrian refugee, 29-year-old Milad, spoke with CNN to give a better sense of what that experience is like. "The war ruins everything in the country," he explained. "With bombs over your head, and when you hear a lot of shooting, and you can't find work and get money to live, it's not an easy thing."
November 17 — While the U.S. government has said that 10,000 Syrians would be allowed to enter America in the next fiscal year, several governors have said those refugees aren't welcome in their states. The issue made its way to Capitol Hill, where the House easily passed a bill that would suspend the refugee program until national security agencies certify that the refugees don't pose a risk.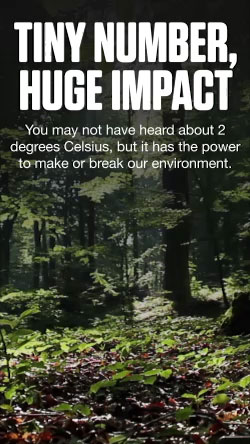 Two degrees of separation
April 26
Ahead of the climate talks in Paris, a large focus this year was on one small but significant number: 2 degrees Celsius.
April 26 — Ahead of the U.N. climate talks in Paris in December, CNN's John Sutter embarked on a climate-specific mission: to raise more awareness about 2 degrees Celsius, a threshold for global warming that experts say we don't want to go past. It's so significant, Sutter argued, that he made it the focus of his reporting for most of 2015.
April 26 — Think of 2 degrees like a speed limit or a zone of increased risk. No one knows exactly what happens at, say, 2.1 degrees, but policy experts agree that 2 degrees is certainly risky territory. For example, scientists expect a post-2-degree world would see an increase in wildfires in the U.S., a decline in the availability of freshwater and an increased risk of extinction for a range of species.
April 26 — Humans have never lived in a post-2-degree world, but we know we don't want to find out what that looks like. Because if we warm the world more than 2 degrees Celsius (3.6 Fahrenheit), we greatly up the odds of climate catastrophes, such as super droughts and mass extinctions. One key aspect to climate change is that, as experts point out, not everyone will be affected in the same way. Experts say that those with money may be able to buy their way out of climate change's impact. But what about low-income people in developing countries?
April 26 — Polar bears may be the poster children for climate change's effect on animals, but many other species -- including birds and reptiles – are under pressure, too. For example, the golden toad of Costa Rica and other Central American countries has already gone extinct.
April 26 — With climate change, one of the biggest concerns for coastal cities is rising sea levels that increase the risk of floods and storm surges. In the U.S., cities like Miami, New York and New Orleans are at risk of facing costly damage by 2050, according to a 2013 report by the science journal Nature Climate Change.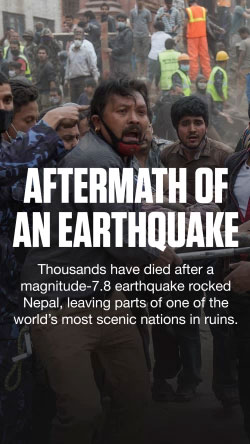 Shattered by a quake
April 27
One of the world's most scenic nations was left in ruins after a powerful quake hit, killing thousands.
April 27 — Within two days of the earthquake, the death toll in Nepal had reached 4,000, with more than 7,000 injured. Rescue and aid workers faced an uphill battle as they tried to dig through the rubble, perform surgeries in makeshift operating theaters and scour the notoriously difficult terrain for victims.
April 27 — The earthquake in Nepal not only rattled cities like Kathmandu and Pokhara, it caused avalanches at Everest and nearby peaks. One climber, Jost Kobusch, happened to be recording at the time one of the avalanches hit.
April 27 — There were so many people in need after the Nepal earthquake that CNN's Dr. Sanjay Gupta was asked to assist. "I've seen a lot of situations around the world, and this is as bad as I've ever seen it," Gupta said at the time. "They're barely able to keep up right now. It's part of the reason they asked me (to help); I think they're asking anybody to try to pitch in."
April 27 — In the aftermath, CNN's Sumnima Udas explored why Nepal wasn't more prepared. "Experts had always warned that every 60 to 70 years, there will be a major earthquake in Kathmandu," Udas reported. "Even though Nepalese have been aware of this so-called impending earthquake, no one actually believed that it would happen, maybe," Udas reported.
April 27 — Nestled in the mountains between India and China, Nepal was already facing problems before it was hit by the devastating earthquake. An early estimate from IHS Global put the cost of rebuilding as potentially reaching $5 billion -- a price tag Nepal would need the world's help to afford.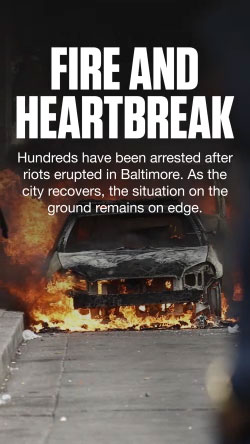 Unrest in Baltimore
April 28
In the wake of Freddie Gray's death on April 19, unrest erupted in the city.
April 28 — On April 19, 25-year-old Freddie Gray died of a spinal injury while in the custody of Baltimore police. His death sparked protests against police in Baltimore, and the protests later turned into riots. On April 27, Gov. Larry Hogan declared a state of emergency and activated the National Guard to address the unrest.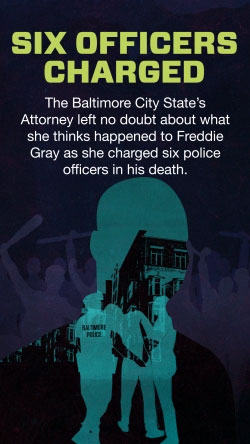 Six officers charged
May 1
In early May, six police officers were charged in connection with the death of Freddie Gray.
May 1 — With a speech that grabbed the attention of social media, Baltimore City State's Attorney Marilyn Mosby brought charges against six Baltimore police officers in connection with the death of Freddie Gray. The charges ranged from misconduct in office to second-degree depraved-heart murder.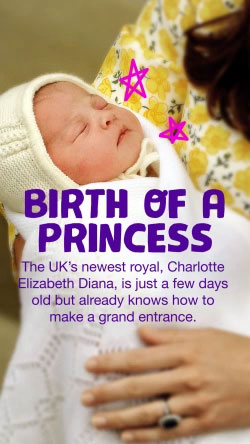 Welcome to the family
May 4
The arrival of a royal baby created plenty of fanfare in the UK (to put it lightly).
May 4 — Between the crowds, the cameras and the salutes, Princess Charlotte Elizabeth Diana might have had the best welcome home party ever. The second child of Prince William and Catherine, Duchess of Cambridge, Princess Charlotte arrived on May 2 and made her debut in front of the camera shortly after.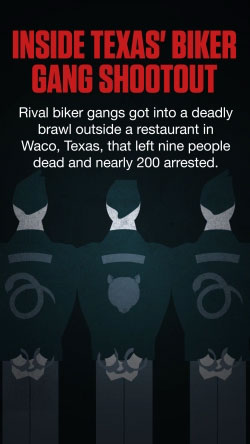 Texas biker brawl
May 18
On a Sunday afternoon in May, rival motorcycle clubs were involved in a deadly brawl outside a Waco, Texas, restaurant.
May 18 — It was about noon on May 17 that one of the deadliest afternoons in the history of motorcycle clubs unfolded at a Twin Peaks restaurant in Waco, Texas. Amid the shooting, stabbing and fighting, nine bikers were killed. Once the gunfire stopped, police recovered 480 weapons from the scene, and 177 bikers were arrested.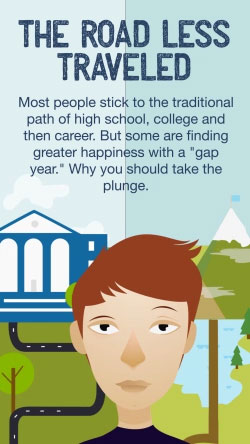 Special edition
The best advice
May 31
What's the best piece of advice you've ever received? Here, we shared some of the tips we think are pretty great.
May 31 — If you ask billionaire hedge fund manager Michael Novogratz, skip the internship and take a gap year instead. In his experience, taking time off from the traditional path before starting college or a career makes for a more interesting future employee.
May 31 — For Ed Sheeran, it's been a long road to becoming one of pop's newest faces. He first started playing guitar at 11, and his dad told him point blank, "If you want something, you have to work for it." That advice stayed with Sheeran, who says today that he knows "I've worked hard, and that's why I'm here. … This happened because I made it happen."
May 31 — With all of our apps and digital devices, you might find your skills at meeting someone in real life to be a little rusty. With that in mind, we rounded up advice on how to take dating offline. Tip No. 1? Stop staring at your phone. Yes, it is that simple.
May 31 — Cory had Shawn; Cher had Dionne; Drake had Josh. Even if you're the loner-est of loners, everyone needs a partner in crime. But, knowing that being a good friend is harder than it looks, we brushed up on the do's and dont's by drawing inspiration from pop culture's famous friendships.
May 31 — Most advice you'll read on strengthening your brain involves treating it like any other part of the body: Eat a balanced diet, get enough sleep, and avoid substances like alcohol and nicotine. But for author and physician Deepak Chopra, you need to change the way you think to see it improve.
May 31 — When you hear smart advice, it sticks with you. So we asked six entrepreneurs, who've touched on everything from MySpace to Pinterest, to share the words of wisdom that fueled them to build empires. For Sam Yagan, the founder of OkCupid, it comes down to two rules: "1. Never give up. 2. Don't believe the press/hype about you/your own company."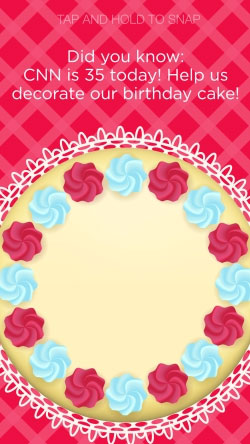 35 Years Young
June 1
To celebrate CNN's 35th anniversary, we created an epic blooper reel.
June 1 — CNN turned 35 on June 1. To help mark the occasion, we asked our Snapchat readers to get creative. We provided them with this birthday cake to decorate and they supplied the messages.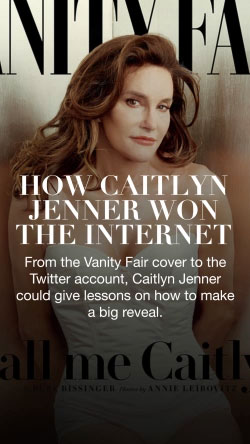 Meeting Caitlyn
June 2
Caitlyn Jenner proved that she knows how to nail an entrance with her debut on the cover of Vanity Fair.
June 2 — This summer kicked off with a stunning cover from Caitlyn Jenner, previously known as the athlete Bruce Jenner. Vanity Fair had barely posted its tweet announcing the image before Jenner began to dominate conversations from Instagram to iMessage. Within four hours, Caitlyn Jenner had reached 1 million followers on Twitter.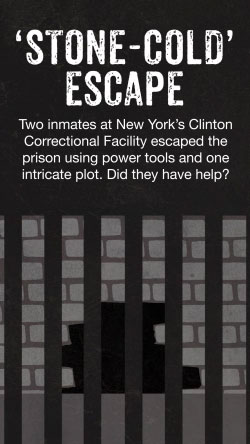 Prison break
June 8
When two inmates at New York's Clinton Correctional Facility escaped in early June, it spawned a manhunt that lasted for weeks.
June 8 — The escape was so outlandish, it sounded like the plot of a summer thriller, except it was all too real. Two convicts, Richard Matt and David Sweat, escaped New York's Clinton Correctional Facility before morning count at 5:30 a.m. on June 6. They used power tools to make their escape. Police searched for roughly three weeks before finding the two in upstate New York on June 26. Matt was shot and killed that day, and Sweat was shot and apprehended two days later.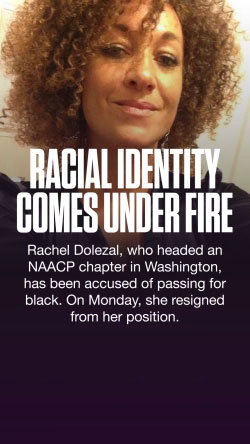 Question of Identity
June 15
The president of a Washington chapter of the NAACP resigned amid allegations of lying about her race.
June 15 — For years, the president of the NAACP's Spokane, Washington, chapter, Rachel Dolezal, identified herself as at least partly African-American. But then came the allegations from Dolezal's parents that she was presenting herself as black when she was not. Dolezal's Montana birth certificate showed that she was born to two parents who say they are Caucasian. Dolezal stepped down from her job amid the controversy; by fall, she said that although she was biologically born white, she identifies as black.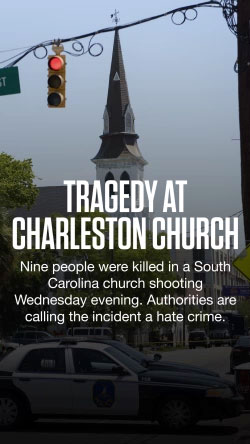 Nine lives lost
June 18
A massacre unfolded inside a historic African-American church in Charleston, South Carolina.
June 18 — On the evening of June 17, 21-year-old Dylann Roof walked into Emanuel African Methodist Episcopal Church in Charleston, South Carolina, and joined a Bible study. After an hour at the historic site, police say Roof opened fire on those in the room, killing nine people. The cold violence of the act shook the nation, leading to conversations about gun control and race in America, as Roof said he intended to start a race war. After the shooting, there was a push for South Carolina to remove the Confederate flag from the Capitol grounds, and the state did so in July.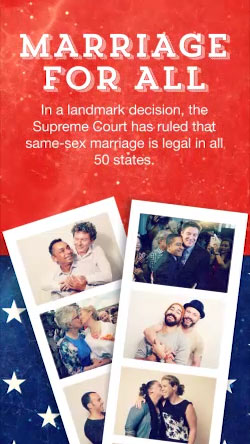 All 50 states
June 26
In late June, the Supreme Court voted to make same-sex marriage legal across the country.
June 26 — Do you remember where you were and what you were doing on June 26? That's the day the Supreme Court handed down a landmark opinion that made history. After much debate across the country, the court ruled that same-sex couples can marry nationwide, establishing a new civil right and handing gay rights advocates a major victory.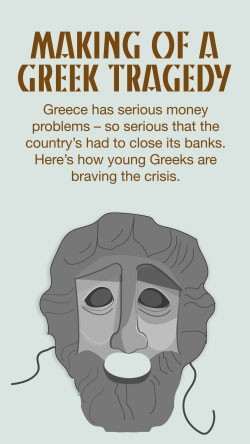 More debt, more problems
June 29
This summer, Greece scrambled to prevent its financial system from going belly-up.
June 29 — The news out of Greece this summer was anything but sunny. Carrying a crushing amount of debt, Greece found itself forced to close its banks and restrict daily withdrawals from ATMs. This summer, Greece and Europe agreed to a bailout that would keep the nation in the eurozone and away from financial collapse.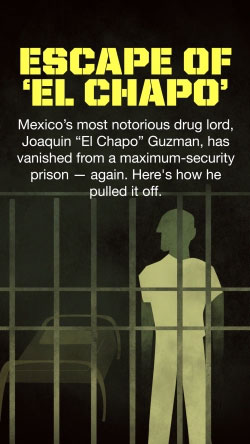 The search for 'El Chapo'
July 13
Authorities are still hunting for Joaquin "El Chapo" Guzman after he escaped from prison in July
July 13 — Call it the summer of the prison escape. Over the weekend of July 10, Joaquin "El Chapo" Guzman vanished from a maximum-security prison in Mexico. Officials say he made his escape using a tunnel that he accessed through a hole inside the shower of his cell. To rub salt in the wound, this was the second time Guzman had escaped from prison. At the time of this writing, he was still on the run.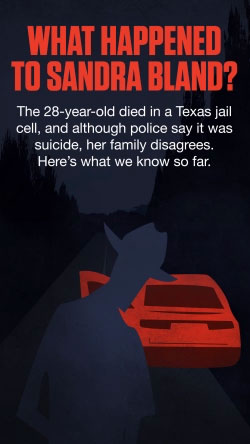 The death of Sandra Bland
July 22
On July 10, Sandra Bland was arrested during a traffic stop. Three days later, she was found dead in police custody -- and the public demanded answers.
July 22 — On July 10, 28-year-old Sandra Bland was pulled over in Texas for allegedly failing to use her turn signal. She was accused of assaulting an officer, and was arrested and taken to jail. Three days later, she was found dead in her cell, and the question of how she died plagued authorities, her family and the public. Twitter and Facebook were flooded with hashtags like #JusticeForSandy. Her death was ruled a suicide, but Bland's family maintained that they didn't believe she would take her own life.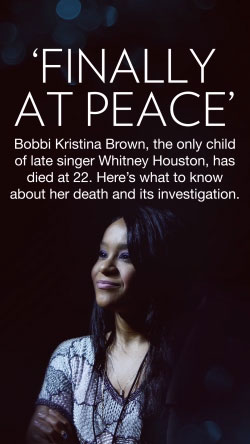 Gone at 22
July 27
The only child of singer Whitney Houston died nearly six months after being found unresponsive in her home.
July 27 — In late January, Bobbi Kristina Brown, the daughter of singers Whitney Houston and Bobby Brown, was found face-down, unresponsive and not breathing in the bathtub of her Roswell, Georgia, home. Family members said she had "global and irreversible brain damage," and Bobbi Kristina was placed in hospice care. She died on July 26 at the age of 22.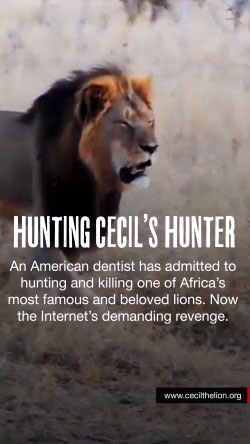 Roar of revenge
July 29
An American dentist went from hunter to the hunted after he admitted to killing a famous Zimbabwean lion.
July 29 — Hell hath no fury like the wrath of the Internet. When Minnesota dentist Walter Palmer admitted to hunting and killing a beloved lion named Cecil, he quickly found himself on the receiving end of insults, threats and protests. Palmer, along with local guides, lured Cecil out of a national park and shot him before skinning and beheading him. Palmer said he didn't know that Cecil was a well-known favorite. Zimbabwe decided not to press charges.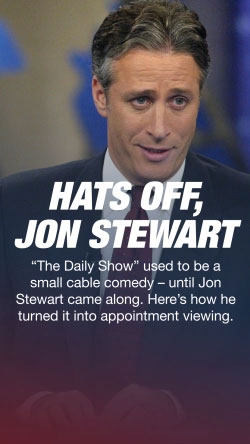 Changing of the guard
August 6
After more than 15 years as the host of "The Daily Show," Jon Stewart signed off.
August 6 — Late night TV went through some big transitions this year, from David Letterman departing CBS' "Late Show" to Jon Stewart stepping down from Comedy Central's "The Daily Show." His departure was feted by some of the biggest names in the business, who acknowledged Stewart for turning "The Daily Show" into appointment viewing. Trevor Noah took over as the new host in the fall.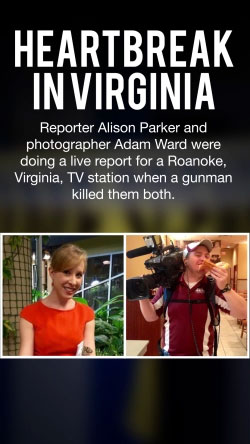 Witnessing a tragedy
August 26
Two employees of a Roanoke, Virginia, TV station were shot to death during a live early morning report.
August 26 — On the morning of August 26, reporter Alison Parker and cameraman Adam Ward, both employees of Roanoke, Virginia, TV station WDBJ, were shot to death as they reported live on TV. Parker, 24, and Ward, 27, were conducting a routine interview about a local story when the massacre happened; the gunman could be seen on tape approaching the duo and opening fire. Police later determined that a former reporter for that station, Vester Lee Flanagan II, known on-air as Bryce Williams, carried out the attack. Flanagan died of a self-inflicted gunshot wound.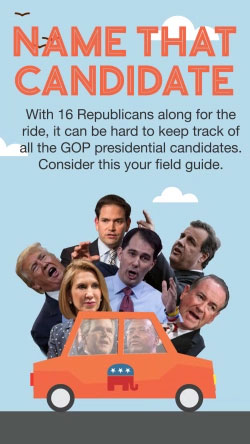 The big picture
Road to 2016
September 16
From the impressive number of candidates to the controversies, the 2016 election has already been a wild ride.
September 16 — There were so many Republicans campaigning to be president, they couldn't all fit on the stage for the GOP primary debates. And if you weren't Donald Trump, it became increasingly difficult to stand out from a crowd that at one point included Wisconsin Gov. Scott Walker, Louisiana Gov. Bobby Jindal and former Texas Gov. Rick Perry. Still, even as the field grew smaller, there were 13 candidates playing the field going into 2016.
August 26 — From the start of his campaign, Donald Trump has been controversial. It began with verbal attacks on immigrants from Mexico and then escalated throughout his campaign with contentious remarks and social media posts about women, African-Americans, Asians, Muslims and Sen. John McCain, among others.
October 13 — The first Democratic debate featured five candidates, with former Secretary of State Hillary Clinton and Sen. Bernie Sanders as the two sparring partners who everyone was waiting to watch.
September 9 — Hillary Clinton's use of a private email server when she was secretary of state raised a whole host of questions for the Democratic presidential candidate. Clinton tried explaining it -- she said she used it out of convenience -- as well as joking about it. But as the controversy continued to trail her campaign, Clinton offered something else: an apology.
October 23 — It wasn't just Hillary Clinton's emails that were stirring the pot. As the former secretary of state, Clinton was also due for a day-long congressional hearing that wanted to dig into what happened during the 2012 Benghazi attacks. While the House Benghazi committee took its best swings, Clinton was calm as she listened (and listened, and listened) to the day-long discussion.
October 29 — For many of the Republican candidates, the CNBC-hosted debate in October was a chance to climb the ladder. And with that opportunity dangling in front of them, they showed up ready to play to win -- sometimes roasting CNBC's moderators in the process. That sentiment carried over into an attempt to totally rebel against the way debates are held, but the sense of unity didn't last long.
November 6 — Republican presidential candidate Ben Carson talked openly this campaign season about having a violent past. According to him, it was divine intervention that helped him transform into the person voters see today. But reporters, including some from CNN, had trouble corroborating Carson's story, putting the candidate on the defense.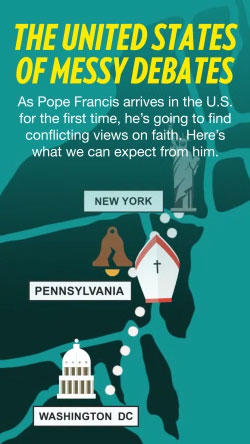 Pope Francis in America
September 22
There's a reason they call Pope Francis the rock star pontiff. When he made his first visit to the U.S. in the fall, crowds showed up in droves.
September 22 — Pope Francis did a mini-tour of America in September, stopping in Washington before heading to New York and Philadelphia. Polls predicted that he'd receive a warm welcome: 74% of Catholics view the Pope favorably, and 61% of non-Catholics see him in a positive light, too.
September 22 — Jorge Bergoglio, the man we know now as the Pope, grew up lower-middle class in Buenos Aires, Argentina. His childhood friends remember him as an ordinary kid, one who loved reading and dancing. But he also displayed from an early age a concern for others.
September 22 — Pope Francis' supporters come from all walks of life, as he's won admirers among Catholics and atheists alike. When the Pope made his first visit to the U.S., we asked a diverse group of people what they respect most about him.
September 22 — When CNN's Rosa Flores traveled with the Pope this fall, she got the chance to meet the pontiff himself aboard the papal plane. Their time together was brief, but it was powerful as the Pope offered Flores his blessing.
September 22 — These questions were harder than they looked. For example: Did you know that Pope Francis starts his days at 4 a.m.?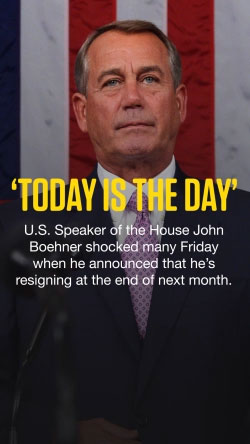 John Boehner resigns
September 25
John Boehner abruptly announced that he was resigning from his post as Speaker of the House.
September 25 — When he made his announcement, John Boehner described his decision to resign as something that happened in the moment. "Last night I started thinking about this and this morning I woke up and I said my prayers -- as I always do -- and I decided today's the day I'm going to do this. As simple as that," Boehner said during an emotional September 25 press conference, one that came a day after he had a moving encounter with Pope Francis.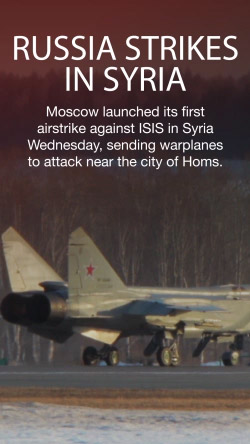 Into the Fray
September 30
Russia launched its first airstrikes in Syria after building up a military presence in the war-torn country.
September 30 — This fall, the U.S. kept a close eye on Russia's movements in Syria. As the devastating conflict in the country continued, Russia was noticeably increasing its military presence there. Then, without much warning, Russia decided to step up its support of its ally, Syrian President Bashar al-Assad, and launch airstrikes against ISIS in support of Assad's government.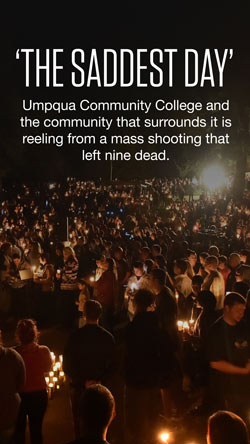 Shooting at Umpqua Community College
October 2
A massacre at a school in Roseburg, Oregon, left nine people dead.
October 2 — Umpqua Community College in Roseburg, Oregon, prides itself on providing "a peaceful, safe atmosphere" on campus. But that peace was shattered in October by a shooting that killed nine people and left another nine wounded. The gunman also died.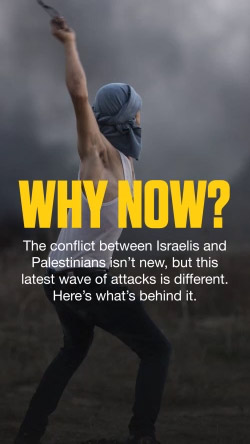 On edge
October 16
The conflict between Israelis and Palestinians isn't new, but it reached a boiling point this fall.
October 16 — Palestinians and Israelis have been in conflict for decades, but this fall saw an outbreak of violence that was different from the rocket attacks or suicide bombings of the past. There was a wave of attacks involving knives and other weapons; in the span of a month, eight Israelis died in such incidents, and many more were wounded. Palestinians too were scared, as some were dying in reprisal attacks and shootings by security forces.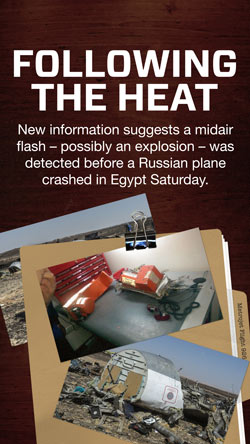 Crash in the Sinai Peninsula
November 3
When a Russian passenger jet crashed in Egypt, killing all those on board, investigators turned to a midair heat flare as a clue.
November 3 — On October 31, a Russian passenger jet was en route from an Egyptian resort to St. Petersburg, Russia, when it crashed in Egypt's Sinai Peninsula. All 224 people on board were killed. As the investigation picked up, officials carefully examined each and every detail, including a midair heat flash that suggested there was a catastrophic in-flight event. ISIS claimed responsibility for the plane crash, and Russian and U.S. officials have said they believe it was a bomb that brought down the plane.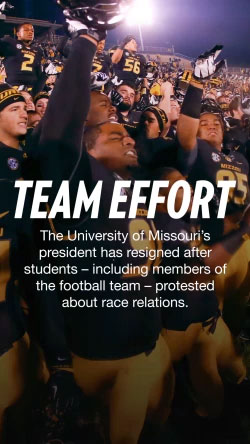 United front
November 9
Student protests led to resignations at the University of Missouri.
November 9 — Student organizations at the University of Missouri were successful in pushing for change this fall. Under pressure from those who said Mizzou's leadership hadn't taken action in confronting racism on campus, the university system's president and the university's chancellor both stepped down. One student launched a hunger strike over the issue, and his effort was supported by football players at the school, who threatened not to practice or play again until the university's president was removed.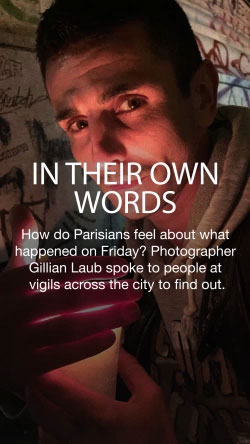 The most read story of the year; The most shared story of the year
A city shaken
November 16
Six coordinated attacks terrorized Paris on the night of November 13.
November 16 — Resilience, shock and disbelief: That was the gamut of emotions that photographer Gillian Laub heard from her subjects as she snapped photos at vigils in the wake of the Paris attacks. "I came here to pay my respects to the people who we lost," said 20-year-old Carla Crenn. "I felt like everyone was staring at me as if I was a terrorist. There is a big difference between being a practicing Muslim and a terrorist. ... I had friends here last night who were killed. That could have been me."
November 16 — Information moved quickly after Friday's attacks, which left 130 people dead. By the time Monday arrived, authorities knew that three teams of terrorists had carried out the violence and that ISIS had claimed responsibility for the bloodshed.
November 16 — The victims of the terror attacks came from France and from all around the globe, from Chile and the U.S. to Italy and Spain. The six attacks targeted places where people would be gathered, including the Bataclan concert hall, where the band Eagles of Death Metal was performing. Those killed that night were students and journalists; music fans and architects; siblings, spouses, significant others and parents who didn't make it back home.
November 16 — Seven of the attackers behind the violence in Paris were killed, either shot by officers or blown up by their own suicide vests. The ringleader of the bloodshed, Abdelhamid Abaaoud, was killed in a raid following the attacks. There's also an international manhunt for one suspect who'd managed to slip past authorities at least once before. That suspect, Salah Abdeslam, is still on the run.
November 16 — As the death toll continued to climb on the night of the attacks, there was one image that came to symbolize unity. Called "Peace for Paris," the simple but affecting artwork combined the Eiffel Tower with a peace sign and was quickly shared by millions. "I wanted to draw something that could symbolize peace and solidarity," said the image's creator, 32-year-old French graphic designer Jean Jullien. "I can't feel pride or happiness because it is such a dark time. ... I'm just somehow glad people made use of it."
A long 13 months
November 24
Just over a year after a black teenager was fatally shot by a police officer in Chicago, the city released dashcam footage of the incident.
November 24 — In October 2014, 17-year-old Laquan McDonald was shot 16 times by Chicago police officer Jason Van Dyke. The incident was caught on dashcam, and when the footage was finally released -- 13 months after it happened -- it sparked angry protests and calls for Mayor Rahm Emanuel to resign. Emanuel's said he's not stepping down but in response to the unrest has created a police accountability task force.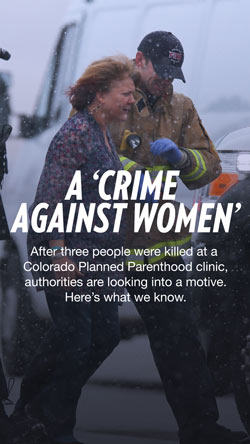 Shooting at Planned Parenthood
November 30
Three people were killed when a gunman went into a Colorado Springs, Colorado, facility and opened fire.
November 30 — The day after Thanksgiving, Americans were confronted with another story of gun violence, this time at a Colorado Springs, Colorado, Planned Parenthood. The shooting suspect, Robert Lewis Dear, is accused of killing three people in the rampage. At a hearing in December, Dear made a series of outbursts about the shooting, including claiming that he was "a warrior for the babies."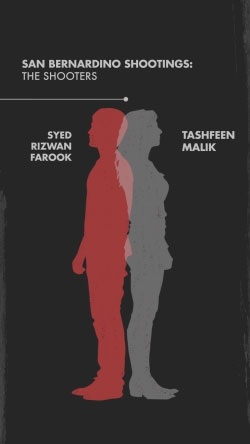 Mass shooting in San Bernardino
December 3
Fourteen people were killed and nearly two dozen were injured when a couple walked into a holiday party and opened fire.
December 3 — Before noon on December 2, Syed Rizwan Farook and his wife, Tashfeen Malik, walked into a holiday party held by Farook's employer, the San Bernardino County Health Department, and opened fire. The attack killed 14 people and left 21 injured, but it still isn't clear what motivated the violence. Authorities believe Farook and his wife may have been self-radicalized, and the investigation is ongoing.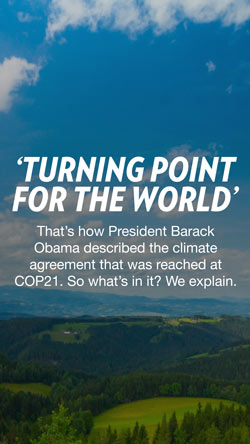 Agreeing on climate change
December 14
Several countries find accord in an agreement to limit global warming.
December 14 — This month, leaders from more than 100 nations came together to talk about climate change at a conference called COP21. The hope was that they'd be able to walk away from the negotiating table with a legally binding agreement to limit global warming. It came down to the wire, but the countries pulled it off, creating a landmark treaty. "I believe this moment can be a turning point for the world," President Barack Obama said of what's being called the "Paris Agreement." It's "the best chance we have to save the one planet that we've got."