CNN.com celebrates 20 years
On August 30, 1995, CNN Digital was born. A website was delivered to you, the audience, and has since grown into mobile, apps, social and more platforms.
To celebrate the website's 20th birthday, explore this retro homepage, inspired by the 1995 design (yes, bad fonts, Netscape navigator frame and all). We've added 20 bits of trivia, surprises and Easter eggs about CNN and the '90s: Some are obvious (think story links); some are a little off the beaten click-path.
Can't find them all? Here's the complete list.
In 1995 ...
During the Million Man March, then President Clinton issued his own challenge all Americans to "clean your house of racism."
Read more from the 1995 story: Clinton: Racial rift 'tearing at heart of America'
CNNMoney origins
Shortly after CNN.com's launch, CNNfn was launched to cover business news. The site morphed over the years and now lives on as CNNMoney.
No biz like Showbiz
Get a peek at what the Showbiz page looked like in 1995, complete with "Home Video" section and a review of Brad Pitt and Morgan Freeman in "Seven."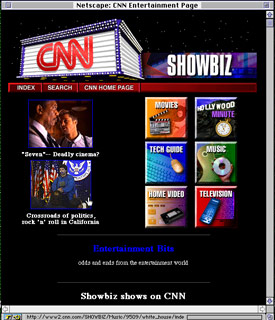 Hurricanes
A few days after launch, Hurricane Felix hit the East Coast.
Read some of the coverage of the aftermath: Felix's Antics are hurting business
Health & technology
Almost from the beginning, the web has offered guidance — and misinformation — on health matters.
See some of the early debate on cyberspace's role in health: On-Line Medicine: Cures in our computers?
Bosnia
Global coverage was key even in CNN.com's infancy. Bosnia was in the headlines and CNN.com had a special page devoted to the topic: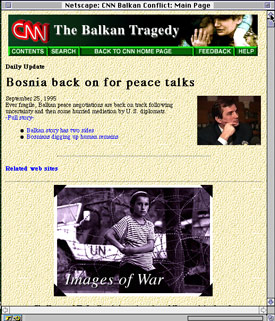 World Series champs
Read and listen about the Atlanta Braves' World Series win in 1995. (And the audio still works.)
The more things change ...
Flashback to 1995's budget battle, when Congress debated the budget, Republicans and Democrats negotiated and the public tried to make sense of it all.
And a bonus: Check out the candidates page for the 1996 Election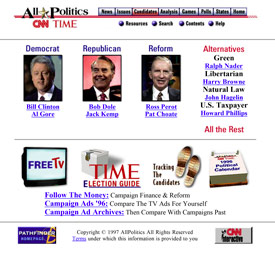 'Brace yourself'
As this story in 1995 reports, "Yes, they're finally here: recordable blank compact discs."
'The Rachel' coverage
It was all the rage in 1995 and CNN's Style section covered the frenzy over Rachel's haircut on TV's "Friends."
Video, anyone?
Video has always been core to the site. See what one of the first video archives looked like.
We've had a few names ...
Before we launched on the web, we were distributed on CD-ROM via mail. While we kept the name CNN Interactive when we launched on the web, we eventually dropped it in favor of simply "CNN.com."
Now, we go by CNN Digital to better encompass the various places you'll find us on the Internet through sites, apps and devices.
About that GMT
We actually have two primary versions of our flagship site: one focused for our U.S. audience, and another international version tailored to a more global audience.
Our U.S. version is produced and edited at CNN's world headquarters in Atlanta 24 hours daily. Our international edition (we sometimes call it "edition") is edited by staffers in London, Hong Kong and Atlanta.
Of course, both versions are supported by staff around the globe.
Our birthday!
We officially went live on the internet on August 30, 1995.
¿Se habla español?
We do! In addition to a Spanish site, we also now deliver the news in Arabic and a host of other languages, in addition to our International edition of the site.
Check out a few of them:
CNN Arabic | CNN Español | CNN Philippines | CNNj
Our signature
A lot has changed in 20 years, but one thing has remained largely the same: Our logo. Here's a sampling of some of the incarnations:





Welcome!
We've always loved hearing from our audience — thoughtful opinions and your own stories. But sometimes, especially in the early years, the messages were, well, odd.
To honor our first year online, the staff rounded up some of the most interesting feedback.
HED goes here
Blurb goes here.
Link of the day
Part of being a good web citizen from the start was linking to other sites.
Enjoy some of these with a long web history:
Remember Netscape?
A few months before we launched, Netscape 1.1 was launched and was the most popular browser on the web at the time.