Lakewood, Colorado (CNN)
It's election season here at the golden gateway to the Rockies, and the political talk is all lady parts, all the time.
Day in and day out, a seemingly endless stream of political ads hounds voters with what two men have to say about so-called women's issues. It's inescapable; the ads even come up on Google searches and the Words with Friends app. Indeed, it's such a barrage of rhetoric that one would think abortion, an issue the U.S. Supreme Court decided in 1973, is on the ballot.
Not quite.
Abortion, birth control and "personhood" – another way of saying life begins at conception – are indeed front and center in Colorado's U.S. Senate race between incumbent Mark Udall, a Democrat, and challenger Cory Gardner, a Republican who gave up his seat in Congress to run.
And, since the abortion debate rarely takes a time out, there's a ballot measure seeking to change Colorado's criminal code to allow prosecutors to file homicide charges in cases involving the deaths of pregnant women — and their unborn children.
Intimate topics usually shared only with a gynecologist have become so much a part of this campaign that pundits have dubbed Udall "Mark Uterus." A spoof "Mark Uterus" Twitter account boasts 324 followers.
About this series
Women candidates, women voters and women's issues could decide which party controls the U.S. Senate next year. CNN travels to three battleground states — New Hampshire, West Virginia and Colorado — to explore the age-old question: What do women want?
Vajayjay politics has some women in Colorado fired up. Others are fed up.
The reaction depends on whether the fight is seen through a baby boomer's eyes, or a millennial's. A boomer remembers when abortion was illegal and her contemporaries marched and burned their bras; a millennial isn't interested in ancient "herstory."
What so far seems to have eluded both Senate campaigns is that there are other issues of concern to women: Good schools and jobs, equal pay for performing the same work as men, the ability to set a little money aside for the future, decent opportunities for the kids and grandkids. Most want to see the next generation live as well as they do but question whether that's possible.
Nowhere is that more evident than in suburban Lakewood, a sprawling mashup of gated subdivisions, office parks and working-class ranch houses in the heart of Jefferson County, just west of Denver. There's prosperity here, with few outwardly visible signs of hard times. One might not find a cutesy-pie village, but the city's Belmar Center boasts a Whole Foods Market with its own multilevel parking deck.
JeffCo, as it is locally known, has become ground zero for the U.S. Senate. Half a million people live here, including 181,303 active female voters who are of no small significance because in past elections, they always showed up.
The Colorado Senate race is now a dead heat, making JeffCo the biggest swing county in the biggest swing state in the nation. This place could actually decide whether Democrats or Republicans control the Senate.
"The classic logic has always been as goes JeffCo, so goes Colorado and as goes Colorado, so goes the nation," says Kelly Maher, a 31-year-old political consultant from Denver. She went to high school in Jefferson County, leans to the right, and sparred with "The Daily Show" host Jon Stewart and survived.
Maher invited me to The University Club, a members-only haunt a block or two from the state Capitol in Denver, for some tea and spin. She is convinced that Jefferson County could be The Decider.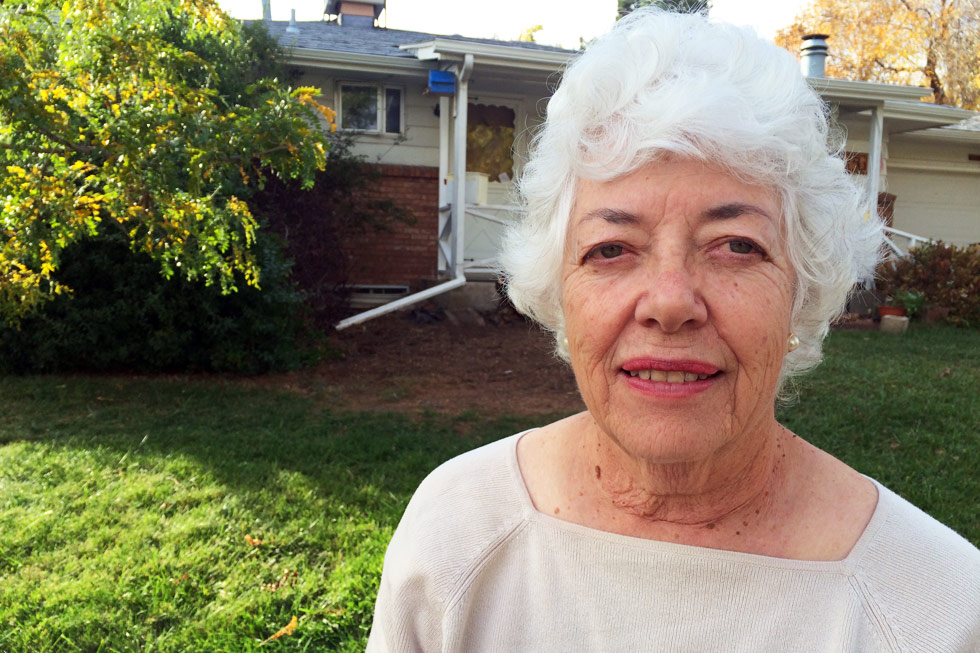 This is so ignorant, it just drives me crazy. It is so wrong. They shouldn't have the right to tell any woman what she should decide. That should be between a woman and her doctor.
Raised four children on her own, working as a nurse after her husband died
Worries about the planet and whether resources will be left for her grandchildren
Lifelong Democrat voting for Sen. Mark Udall
"It's an interesting place to be," she said between sips.
Perhaps, but I didn't see hide nor hair of either Senate candidate last week in Lakewood. Battleground, schmattleground. Time to get out there and meet these swing state women for myself.
As I plotted my visit, Udall, with his entourage of Planned Parenthood and other abortion rights supporters, played to his base; he mainly stuck to Boulder and Denver, including an event on Tuesday with Hillary Clinton.
Gardner also tended his base in conservative western Colorado, with the occasional appearance in Denver. But at least Gardner, who favors over-the-counter birth control but opposes abortion, had plans to go to a Jefferson County event.
Udall handily won JeffCo when he last ran in 2008. That year, 73% of the women eligible to vote in Colorado registered, and 69% actually went to the polls. Two years later, JeffCo also went for another Democrat, Mike Bennet, Colorado's junior senator.
Ah, but is change in the air?
Republicans are hoping to gain traction from what Maher and others see as an "Obama backlash" and a second-term president's declining popularity. They also hope to capitalize on dissatisfaction with the sluggish economy and jitters over the Ebola virus and a volatile situation in the Mideast.
Indeed, the Republican and unaffiliated female voters I met cited Ebola and ISIS as top among their concerns, while the Democrats talked about the environment and sustainability. The issues of education and the economy crossed party lines.
In many ways JeffCo is Colorado in microcosm. Its voters are 37% unaffiliated, 32% Republican and 30% Democrat. The county has voted for every U.S. Senate winner since 1992.
The quest to learn what Jefferson County's women really want began with get-out-the-vote worker Natalie Menten. You want to take the pulse of the suburbs? Go to the dog park, she advised.
There, along with the bulldogs, Labrador retrievers and huskies, I found Mary Lovit, 39, an unaffiliated voter who favors Udall, and Ammorette Trujillo, 21, a single mom and Democrat who says she's so turned off by the ob-gyn nature of the ads invading the morning shows that she won't be voting.
Menten isn't your stereotypical country club Republican. She drives an older red compact festooned with libertarian bumper stickers. So it comes as no surprise that the women she knows aren't suburban Stepford wives. Her next stop was a candidate meet-and-greet night for Jane Barnes, a former JeffCo school board chair who's running for state representative on the Republican ticket.
Colorado leads the nation in electing women to the statehouse, with 41%. But the state has never seen a woman serve as governor or U.S. senator.
Menten, Barnes and three of her supporters huddled around a table and talked long after the event at the restaurant ended. Barnes was the only Republican; the others were defecting Democrats who don't always toe the party line. They'd recruited a newly registered voter with no party affiliation.
All in their 50s and 60s, they called themselves "the Saturday night bridge club" because the restaurant stood in the shadow of what locals call the Sixth Avenue Freeway.
Their "bridge" was an overpass.
Among them, they have five kids, all grown. Two of the women are newly retired and have been counting pennies for too long. They expected to enjoy the fruits of a lifetime of hard work by now. But things keep getting harder. This isn't what they signed up for.
Lois Florkey, who runs a pest control company with her husband, and Susan McConnell, a retired middle school secretary, voted for Barack Obama and Mark Udall the first time around. They say they've been disappointed.
McConnell was the first to defect and cross the party line as the recession kicked everyone in the teeth. She voted for Mitt Romney in 2012. Now she's bringing her friends with her to Gardner.
"I want grandkids. I want security. I don't want to worry about paying the bills," she said. She remembers being inspired by Gloria Steinem and the feminists of the 1970s and counts herself among them. But, she says, Udall is "pandering on the choice issue, trying to scare women. I don't scare anymore. I'm beyond that."
Florkey also considers herself a feminist, but that is no longer her primary issue.
"I am a pro-choice woman," she said. "Perhaps at a point in my life, that was a No. 1 issue for me. But in the last 20 years it has become more and more about the economy and education."
A few days later, I came across another gathering of JeffCo women, this time on the back porch of state Rep. Brittany Pettersen. At 32, she is the youngest woman in Colorado's statehouse. She worked her way up, practically raising herself with help from her teachers and grandmother. She put herself though college by working as a cocktail waitress.
Her first campaign cost close to $1 million, but she beat a popular male candidate. She's seeking a second term in a swing-prone district heavy with older voters.
The group of loyal Dems assembled on her patio ranged in age from 30 to 70. All favored a woman's right to choose whether to have an abortion.
Christine Laursen, a 51-year-old teacher with a master's degree, is single but feels like she works nonstop just to pay the bills. She's always looking to pick up freelance projects to earn a little extra cash. Statewide statistics might help explain why she always feels like she's about to slip underwater: Women make 20% less than men doing the same work.
Women make up half of Colorado's work force, but a third of them would qualify as working poor.
Seated next to her was Cindy Lay, 66, a hospital emergency room trainer who represents another of Colorado's grim statistics: One in four women over 18 has been raped.
When she was 36, Lay says, several men abducted her, kept her in a closet for days and repeatedly raped her at knifepoint. She never saw their faces, and police never brought charges. But afterward, she became a fierce advocate for Planned Parenthood and other groups fighting for abortion rights.
"It's the next civil rights issue in this country – women getting and continuing our rights and not having them be jeopardized every time somebody wants to make a political point," she declared, before leaving to make more cold calls to voters.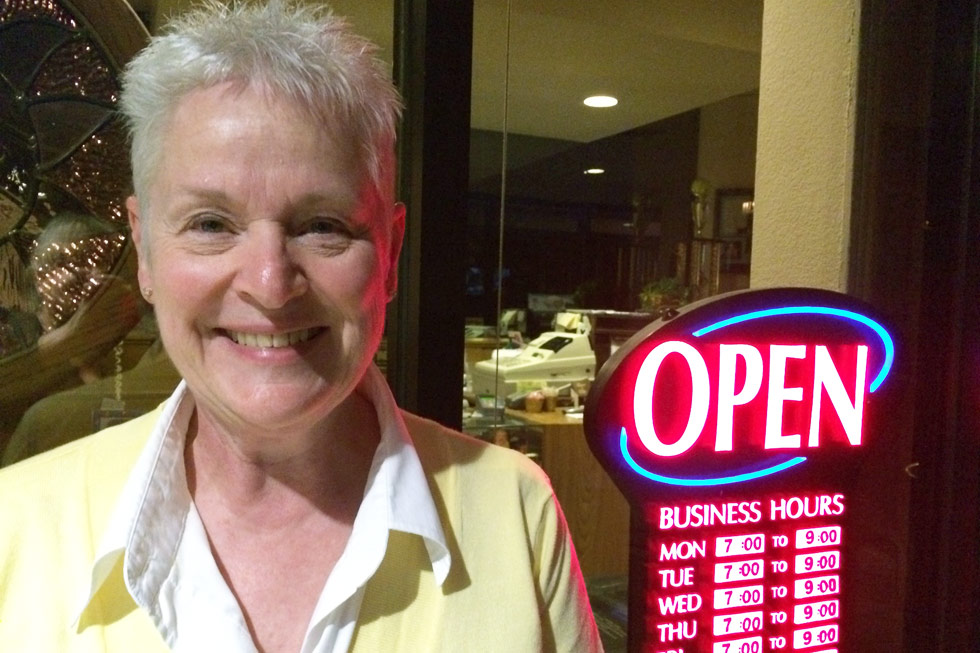 I think we're seeing for the first time families that aren't sure if their children are going to have a better life than they did.
Democrat, voted for Udall in 2008
Partner with her husband in small pest control company
Considers herself and her husband feminists but says Udall campaign's focus on "war on women" is a misfire
Her top issues are education and the economy
Voting for Republican Cory Gardner for Senate
And then there was Kathy Tolman, 70, a retired nurse who worked two jobs to raise four kids on her own after her husband died. The statistics say she supported those kids on 63% of what she would have earned if she were a single dad.
Not surprisingly, her political concerns focused on survival – economically, environmentally and geo-politically. She is horrified by what she views as the racism that dogged President Obama and wonders whether the country is ready for a woman at the helm. "Hillary, what would she be up against? Would it be insurmountable?"
She is disgusted by the Senate commercials and the focus on abortion. "This is so ignorant, it just drives me crazy," she says. "It's none of their business. That should be between a woman and her doctor."
Where were the Republican women who opposed abortion?
The search took me to a leafy section of Denver and the very calm, likable 30-year-old Meghan Marsden. We met for conversation and cucumber bubbly water at the uber-cool Denver Bicycle Café.
Originally from Minnesota, Marsden hails from a long line of Democrats going back to FDR and JFK. "I think that is a different Democrat than it is today," she says, opening my eyes to a millennial reality. Where are today's inspirational figures?
Hailing as I reluctantly do from the South, where highway billboards feature cute babies and aborted fetuses, I relaxed immediately in Marsden's calming presence. Yes, she is a Christian and her faith is a big part of her life. That was no secret, given the tiny gold chain that circled her neck with the word "blessed" in a graceful gold script.
She is a Republican, believes life begins at conception, and opposes abortion.
But Marsden says she came to her position after lots of thought. It's personal, not dogmatic. It's also not her only issue, although she's firmly in Gardner's camp. She also likes what he has to say about small businesses.
The first member of her family to graduate college, Marsden still believes in the up-by-your-bootstraps dream. It is her family's story.
"My parents worked up from nothing to be upper middle class people, and that's why I am who I am," she says. "I believe in the American dream, small business, if you keep your head down and work hard, it will happen.
"I think it's still possible, but it's harder than it has ever been. It's not the 1980s."
Ask Marsden about feminism, and it's not the 1970s, either. Like many women her age, she thinks the word is outdated and carries too much baggage.
"When I think of the word 'feminist,' I think of the '70s. I think of textbook history," she says. "I think being a strong woman is more descriptive than being a feminist. I think there are strong negative connotations to being a feminist, still, that it was this bra-burning movement that happened before my time. I don't think there's a modern equivalent for what that word is meant to mean. I don't think that word exists yet."
She also thinks women are unnecessarily competitive.
"There is no old girls' network," she says. "I think a lot of it is based on fear, fear that there is only one spot for a woman. I'm competing against that one woman, instead of saying, 'That's awesome you got there; teach me how you got there.'
"It's still a man's game, you just can't say it. I think it might even be harder today."
Women's issues in
the Centennial State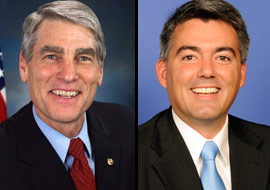 The contenders
Sen. Mark Udall, Democrat (incumbent)
Rep. Cory Gardner, Republican
Udall family résumé
Father is the late longtime U.S. Rep Mo Udall of Arizona
Uncle is the late Stewart Udall, who served as secretary of the Interior in the Kennedy and Johnson administrations
Cousin Tom Udall is a U.S. senator from New Mexico
Served Colorado's 2nd Congressional District for 10 years before running for Senate in 2008
Gardner key stats
Representing Colorado's 4th Congressional District since 2011
Served in the state House for five years before running for Congress
Previously worked for U.S. Sen. Wayne Allard, whose retirement led to Udall's election
Women in charge?
Never had a woman governor or U.S. senator
Has sent only four women to Congress
Best known is former Rep. Pat Schroeder (1973-97)
Diana DeGette is the only woman in the state's congressional delegation (1997-present)
Betsy Markey and Marilyn Musgrave preceded Gardner in the 4th District (2003-11)
Ranking among states
No. 29 for female representation in all elected offices
No. 1 for percent of women in state legislatures – 41%
No. 10 for women's full-time median salary – $40,000
No. 14 in gender pay gap – women make 80 cents for every $1 made by men for full-time work
No. 13 for percent of women in the labor force – 63.2%
No. 11 for percent of working women in managerial or professional jobs – 42.1%
No. 14 for percent of women living above poverty – 86.7%
No. 29 for percent of women without health insurance – 17.8%
No. 15 for percent of women living in a county without an abortion provider – 23%

Sources: Representation 2020, Institute for Women's Policy Research, National Women's Law Center, candidate websites
Kelly Maher, the 31-year-old political consultant, moves easily along the corridors of male power and considers herself a feminist, although she doesn't dwell on it.
"I don't wake up every morning and think, 'I am woman, hear me roar,'" she says. "I believe I'm equal to a man and as good as a man at doing the same things. And I'm disappointed that the term feminist has been taken over by people who want to inherently weaken my gender."
Sister, say what?
It's Maher's opinion that the Udall campaign's focus on women's issues is actually condescending to women. She thinks it's pandering, a page ripped from a two-year-old campaign playbook.
Clearly, I needed to learn more about the millennial mindset. It was just the two of us, liberal boomer and conservative millennial, sharing a bottomless pitcher of iced tea on the terrace of a members-only club that used to cater to Denver's old boys' network. The sun was shining and golden leaves were falling from the trees. It was the perfect afternoon for a primer on Millennial She-Politics.
Once upon a time, not so long ago, Maher explained, Colorado was as red as a state could be. Then came the backlash after the two terms of the second President Bush; by 2010 both U.S. Senate seats, the governor's office and five of the seven representatives in Congress were Dems.
Almost overnight, Colorado wasn't even purple; it was blue.
Women's issues played a huge role in the 2010 Senate race, with Republican Ken Buck, a Princeton grad and former prosecutor and abortion opponent, portrayed as "too extreme for Colorado." Dem Michael Bennet won big with women and Team Blue got a page for its playbook.
Udall has always received support from women's and abortion rights groups. When Gardner, who had backed "personhood" bills in the past, tried to distance himself from the issue, Udall's campaign zeroed in with laser-like focus on women's issues and hasn't let up. Maher believes that strategy may ultimately backfire.
Indeed, The Denver Post endorsed Gardner and slammed Udall over an "obnoxious one-issue campaign" that the newspaper called " an insult to those he seeks to convince." The Post received dozens of letters from readers; liberal, women's and abortion rights groups pressured the paper to reconsider, and other pundits poked fun.
"Everyone is just running on the uterus issues, if you will," Maher says. "The Senate race is going to be a really good litmus test for whether or not that has jumped the shark. I believe it has, especially with millennial women."
She explains a key millennial tenet: "Trying to carve out special rights and look for some kind of special consideration by virtue of your gender is inherently anti-feminist."
She also explained why Meghan Marsden so surprised me. She was thoroughly modern Meghan. There was absolutely nothing backward about her.
"Millennial women are more pro-life than our parents," Maher explained. "You can't look at a girl who always had access to birth control, who grew up with a mother who was on the pill and say, 'XYZ is going to come and take away your birth control.'"
Whoa! Boom. In the blink of an eye, the spin of a Senate race switched from abortion to the pill.
It's no longer 1973. It's, like, 1960.
As Yogi Berra once said: It's déjà vu all over again.
More in this series:
• In New Hampshire, cut from the same cloth but torn by politics
• In West Virginia, glass ceiling shatters but shards remain