Say you step off a train in a new city and need to get to your hotel, about a mile away. Most taxi drivers don't want to take people such a short distance. But with your luggage, it's too far to walk.
Someday, there may be a third option: Urban transit systems built around small electric vehicles, or pods, that drive themselves.
Supporters of these driverless pods say they take up less space than cars, cut down on urban noise and produce zero emissions. And they offer more flexibility: Instead of relying on a set schedule, riders can summon these pods for private, individual trips.
Since 2011, a fleet of such pods has been transporting passengers between terminals at London's Heathrow Airport, eliminating more than 50,000 bus trips a year on crowded nearby roads. The Heathrow system runs mostly on elevated tracks.
Now, Milton Keynes, a small city 45 miles northwest of London, wants to be the first in the world to put a network of pods on pedestrian walkways. The vehicles would connect the city's train station with its downtown shopping district a mile away.
Riders can reserve pods using their smartphones. Or they will find a fleet of pods waiting for them outside the railway station or other popular spots, said Geoff Snelson, director of strategy for Milton Keynes Council.
Early designs show a small, stubby vehicle with two seats and a large, plunging windshield. Anticipating unease with driverless vehicles, the project's backers want the pods to look sleek, modern and unthreatening.
"We want people to be curious about using them," Snelson said.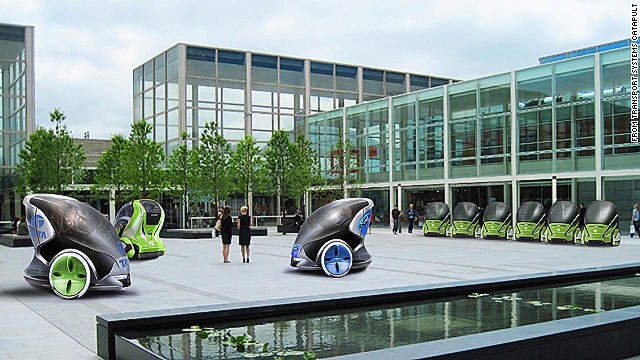 This illustration imagines a row of pods parked outside a destination, waiting for riders. (From Transport Systems Catapult)
British engineering firm RDM Group is working on three prototype pods fitted with autonomous-driving systems from Oxford University's Mobile Robotics Group. To start, they'll have a steering wheel, an accelerator, a brake and a human driver, although future models are expected to be fully autonomous.
Packed with cameras and sensors, the pods will know when to turn and brake to avoid collisions with pedestrians, cyclists or teens on skateboards.
"The focus has to be on safety," said Neil Fulton with Transport Systems Catapult, a British public transit advocacy group.
The city plans to begin testing the two-seater pods in the spring, with the hope of gradually integrating larger models into its transit system by the end of 2015. Other municipalities worldwide are watching Milton Keynes' plans with an eye on adopting similar systems. But first, laws must be drawn up to allow driverless cars on roads in the UK.
"There's huge interest in this," said Fulton. "We're trying a completely new mode of transport."