Atlanta, 1996
'I had to keep moving'Fallon Stubbs
Centennial Olympic Park bombing
If she could talk to her younger self, Fallon Stubbs would insist the girl not pretend to be a normal teenager when she wasn't. She needed someone to talk to, likely a professional, after one summer night changed everything.
Maybe then she wouldn't have felt so alone.
It was nearly 18 years ago when Stubbs stood amid the late-night mobs in Atlanta's Centennial Olympic Park taking in the celebratory spirit that swirled around her. Already her mother, Alice Hawthorne, had thrown her the sort of 14th birthday party back home in Albany, Georgia, that people would talk about for years. Now, a couple days later, the young athlete was given this gift – a weekend at the 1996 Summer Olympic Games.
Courtesy The Atlanta Journal-Constitution
They'd been sitting in the family store — Fallon's Hot Dog & Ice Cream Parlor, which Hawthorne had named for her youngest daughter — when the pair decided to take off. They left Stubbs' stepfather to mind the store, over-stuffed the Corvette as they always did, and made the 180-mile drive north to Atlanta. It was the sort of impulsive fun the mother-daughter duo loved to share.
It didn't take long for them to bump into friends from home. "I don't care where you are in the world, you always see people from Albany," says Stubbs, now 31.
It was about 1:25 a.m. on July 27 when the teenager pulled out her disposable Kodak camera. Her mother stood in front of her. She was about to capture the moment — the last, it turned out, that the two would share alive — when a 40-pound pipe bomb blew, rocking the park.
"It was quick," Stubbs says. "One moment you're standing, and the next you're not."
The aftermath
She jumped up and ran. It felt like she traveled five miles before falling again, but Stubbs knows it was just a few feet.
The shrapnel that shredded her right arm and thigh, and nearly blasted off her left index finger, wasn't yet a reality. She didn't feel a thing. She only thought of her mother.
As she laid on the ground, she peered through the legs of the three or four people who surrounded her and saw a crowd of up to 15 encircling her mother. Stubbs knew her mom had to be in bad shape.
"That was the last time I saw her," says Stubbs, who was rushed off to a nearby hospital.
In what felt like a surreal, out-of-body experience, she looked down on herself in the ambulance and finally felt pain. She stayed conscious, though, until doctors at the hospital put her under.
Only when she woke up after surgery and saw her father and stepfather crying did she learn the news. Her mother, 44, had died instantly.
Navigating a new, bumpy road
She stayed in what was then Georgia Baptist Medical Center for about 10 days, and returned about seven more times over the next two years for follow-up procedures, skin grafts, and other cosmetic surgeries.
The hospital staff became like family. One nurse, who had children about Stubbs' age, didn't leave the hospital at all during the teen's first stay.
"She was my savior," she says. And if she saw her again, "I'd cry today."
Doctors reattached her finger, which she says "was hanging on by a thread." All these years later, it still doesn't bend properly. Large scars remain where the shrapnel hit her right side. One runs deep along her upper arm; she describes another on her thigh as "probably as big as an economy-size jar of peanut butter."
But it was the emotional damage that hurt most.
"Nobody will ever care for you like your mother," she says. "And that's something you don't know until you don't have a mother."
It's not that others didn't love her or try to be there for her, but the sudden void brought on by loss was filled with anger. Stubbs could manage it at school or on the basketball court or track, all of which she viewed as safe havens. But at home – where her world had turned upside down – she was at a loss.
"My family got the brunt of it," she says. "I was as horrible as they get, I am sure."
Her parents had split up when she was 5, and she hadn't spent more than a weekend at a time with her father. Now, all of a sudden, she was moving in with him and her stepmother – leaving Albany, the only home and community she'd ever known, to go to Cordele, Georgia, about 40 miles away.
"I love my stepmom to death," she says now, "but then it was a forced relationship."
And while in the beginning there was an outpouring of support from strangers, the truth is Stubbs felt very much alone. She wasn't sure who to talk to. She didn't know a soul who could relate to her experience.
Finding her way
Stubbs, who now works as a pharmacy technician and dabbles in real estate development, suspects she would have benefited from therapy but it was never presented as an option. In the black community, she says, counseling is often viewed as taboo.
There was also no support network knocking on her door – virtually or otherwise. Unlike today, when survivors can find and help one another through social media, she never benefited from that possibility.
"I just literally had to find my way," she says. "I had to keep moving and find my own footing."
Part of that meant becoming just Fallon Stubbs, and not the daughter of a woman killed in the Olympic Park bombing. (A second victim, Turkish cameraman Melih Uzunyol, died of a heart attack as he rushed to the scene. More than 100 others were injured.)
For a while, she tried to convince herself that she was a regular 14-year-old.
"But you're not regular," she says, looking back. "You're in a magazine. You're featured on the news. You have a problem deciphering if people want to be around you for you."
Olympic athletes visited her in the hospital soon after the bombing. She still has memorabilia given to her by the 1996 U.S. basketball "Dream Team," including a signed jersey from her favorite athlete, Charles Barkley.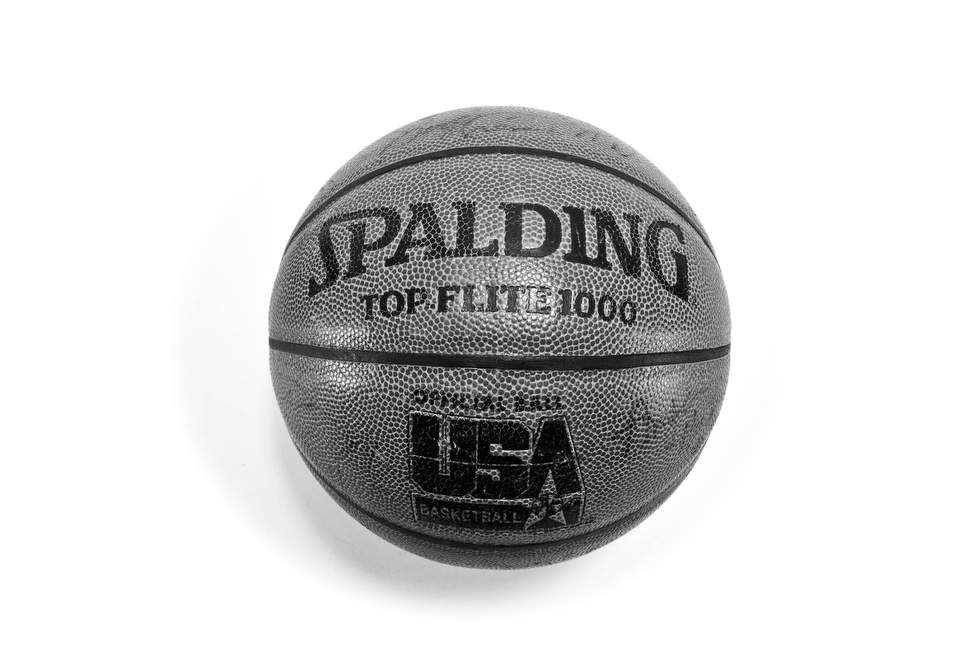 Fallon Stubbs planned to attend Olympic basketball games the weekend of the bombing. Instead, the U.S. men's "Dream Team III" would later visit her in the hospital. She still has the ball the players signed and gave her.
And, with time, she learned to take what her own family could give her.
People in Albany, where she returned for college and stayed, say she's the spitting image of her mother. Her youngest niece bears a name that combines her and her mother's names: Falice. After years of feeling alone, angry and lost, she's found peace.
She's been back to the site of the bombing on multiple occasions, she says. It's easier for her to go there than it is to her own mother's grave. At the park, she sees kids squealing as they run through the fountain. It's full of life, exactly as it should be.
For a long time, her healing was on hold, she says, because the man responsible for her mother's death remained at large. She marvels at how quickly Boston police found their culprits.
Eric Robert Rudolph, who was behind explosions at two abortion clinics and a lesbian bar in addition to the Olympic Park bombing, was arrested in May 2003 — nearly seven years after Stubbs' life changed and her mother's ended. He was later sentenced to four consecutive life terms.
She appeared at Rudolph's sentencing hearing in 2005 and read a statement in which she credited him with making her a more tolerant person and said she forgave him — for her own sake.
"And if I cry, it's not for me. It's not for my mother," The New York Times quoted her as saying. "It's for you."
"That was my turning point," she says now. "That was my moment when I felt like it was all over."
The day of the Boston bombing
Over the years, whenever she's seen footage, photographs or stories of bombings, Stubbs has placed herself in the latest victims' shoes. She knows the force of a blast, how it can rip you off your feet. She knows the shock, the inability to immediately feel, the compulsion to want to help others when you need help yourself.
All of this ran through her mind when she got home last April 15 and turned on ESPN's SportsCenter. She'd heard about the Boston Marathon bombing while at work at Walgreen's earlier in the day, but she had to see for herself.
"You literally understand," she says. "You've been there."
Even so, she refrained from reaching out to survivors. She prayed for them instead.
"When you're in that situation, the people you need at that moment are right there around you," she says. "They'll be there when the cameras are off."
— Jessica Ravitz, CNN
New York City, 1993
'You're not expected to forget'Thomas McHale
First World Trade Center bombing
He knows how life can change on a dime. How one cruel act can alter one's fate and that of so many others. And how a split-second decision can spell the difference between life and death.
It was shortly after noon on February 26, 1993, when Thomas McHale – then a police officer with the Port Authority of New York and New Jersey – stopped to buy a copy of the New York Daily News.
He scanned the paper as he stood on the concourse of the PATH rail station below the North Tower of the World Trade Center. He wanted to read an article about an investigation of a New York police anti-crime unit.
A man asked him where to catch a northbound train. McHale pointed him in the right direction, and the man headed off toward a stairwell.
Seconds later, everything shook. Terrorists had parked an explosives-laden rental truck in the World Trade Center parking garage, which backed up to the PATH station concourse.
"When the bomb goes off, the walls blow out," McHale recalled. "The exterior walls of the garage come crashing down into the PATH concourse. The guy who just asked me directions gets crushed by concrete."
McHale was at the World Trade Center that day to receive treatment for a sprained ankle. He'd been at a doctor's office in the massive complex.
When the bomb went off, any pain in his ankle immediately disappeared.
McHale moved into first-responder mode.
The immediate aftermath
It was eerily silent, almost like a dream in slow motion. The blast was so loud he could hardly hear. The concourse filled with a rust-colored haze. A black stain formed around his lips – from a chemical compound in the bomb, he would learn later.
The first person he tended to was the man who asked for directions. Shards of concrete wounded his head and chest. The man fell in and out of consciousness. McHale cleared cinderblocks and other debris off of him. A priest appeared "from nowhere," ready to perform last rites. All McHale knows is that the man survived.
McHale noticed his own nose and throat were burning. He got to a nearby room where emergency supplies were kept and grabbed an air pack and first aid kit. He then made his way through the bowels of the blown-up building, along with maintenance officers and other first responders. Some people were dazed, others were seriously wounded.
McHale confirmed one of the six fatalities: Monica Rodriguez Smith, an immigrant from Ecuador who had never missed a day of work in her 11 years with the Port Authority. She was pregnant, and February 26 was her last day before she was to begin maternity leave.
A firefighter fell into a gaping pit where flames leapt into the air. Pipes burst amid the frigid cold, spewing water that froze on contact with the floor. McHale and other first responders delicately navigated the sheets of ice as they got the firefighter on a gurney and evacuated him to safety.
At some point — McHale doesn't remember when — he checked in with his wife and told her he was having trouble breathing and was going to the hospital.
But he soon learned a group of school children was trapped on the 94th floor. He doesn't recall how long it took him to climb 94 floors on his sprained ankle. It was as if time stopped.
Rescuers sorted through the wounded and scared. Lights were out; it was dark. The children and others were escorted down the stairs. McHale helped arrange helicopter transports for 23 people, including a pregnant woman and people with past cardiac problems. It was around 9:30 p.m. before the last person was airlifted.
The day's events finally caught up with McHale. He was taken to a hospital in Jersey City, where he was placed in intensive care. He suffered from smoke inhalation. His blood oxygen level was critically low, causing respiratory distress and heart problems. His organs began to fail.
McHale was transferred to Saint Barnabas Medical Center in Livingston, New Jersey, where he remained in critical condition for a week.
At one point during his hospitalization, he received a phone call from the office of the New York police commissioner. McHale thought it was his fellow officers playing a prank. Nice try, knucklehead. He hung up.
When the phone rang again, he realized it wasn't a joke. He apologized profusely.
Coping and healing
The events of the 1993 bombing shaped his life in ways big and small. He had nightmares and sleepless nights, tremors and flashbacks. He suffered from skin lesions and blisters, post-traumatic stress disorder and an array of breathing and heart problems. Anytime he came down with an ailment, he wondered if it was a result of the bombing, maybe toxins he ingested.
"That's always on your mind."
He and his wife had welcomed their fourth daughter to the world just a few months earlier. She was born with a lump in her chest, and the hospital bills were mounting. His family already knew the pain of a loved one struggling to live.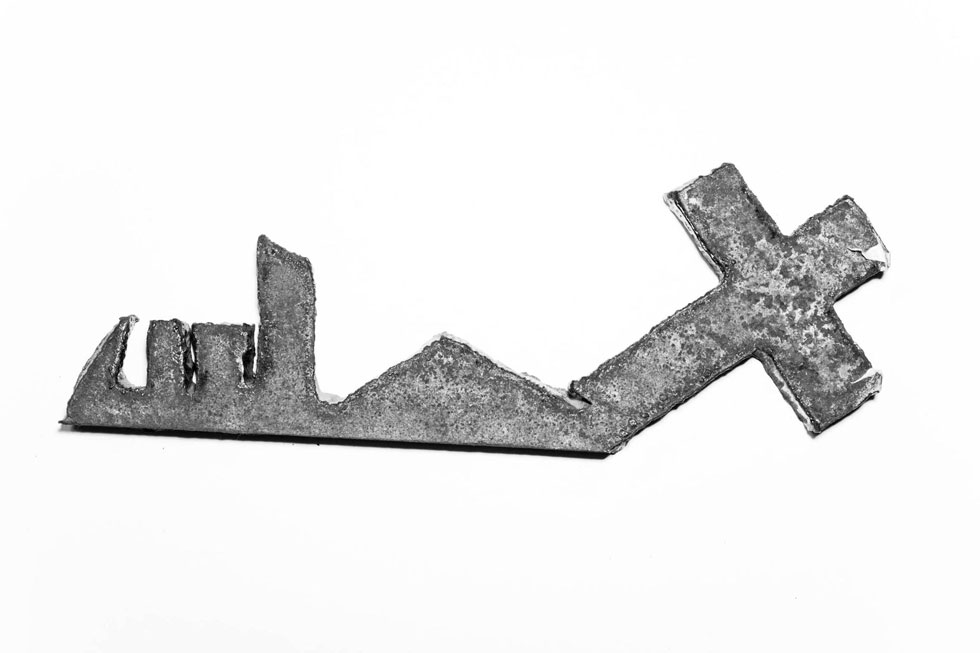 A union ironworker, Thomas McHale began to make sculptures from pieces of metal pulled from the wreckage. He made this piece for himself, which is about a foot long, out of metal found while working at ground zero.
Yet none of that curbed his resolve to fight terrorism. If anything, it was strengthened. By October 1993, he testified at the trial of four men accused in the bombing, Mohammed Salameh, Ahmad Ajaj, Nidal Ayyad and Mahmoud Abouhalima. "Those despicable cowards," he says. All were found guilty and sentenced to life in prison.
How did McHale cope with surviving such a catastrophic event?
A police officer who had been blinded trying to defuse a bomb acted as a peer counselor. He stepped McHale through the stages of dramatic mood swings. They only spoke a couple times, but the conversations made a huge impact.
"Just talking with him helped (with) the whole roller coaster of emotions – the feeling sorry for yourself," McHale says. "You bounce all over the place."
When the Oklahoma City bombing happened two years later, he felt for the first responders there, because they dealt with the deaths of 19 children.
"To see and remove deceased children, I don't know if I could deal with that," he says. "You have to find somebody who's been through that. I didn't go to college, don't have any degrees, but I'm speaking from experience."
For his efforts in 1993, McHale was awarded the World Trade Center Individual Acts of Valor Medal and, by 1995, he was assigned to the elite FBI Joint Terrorism Task Force. By then he had dedicated his life to pursuing terrorists.
He would face terror again at the World Trade Center. He and his team were dispatched to the towers almost immediately after the 9/11 attacks began. McHale didn't leave ground zero for the next 10 days, working around the clock as part of the recovery efforts. "When we found intact bodies," he says, "that was a good day."
He has traveled to Afghanistan five times in joint operations with the military and FBI to track down those behind 9/11. According to the National Law Enforcement Officers Memorial Fund, McHale is one of the nation's most decorated law enforcement officers.
The Boston bombing
When the bombs went off at the Boston Marathon last year, McHale was doing what he has done for two decades: He was arresting a man suspected of bomb making and possession of explosives material. He's not allowed to elaborate further on the operation.
He knows that if it hadn't been for the 1993 bombing, he probably wouldn't have been on that raid. His survival and career are that inextricably linked. He remains married to his wife of 32 years, and his four daughters are now grown. He also remains a member of the Port Authority police and just retired from the FBI terror task force.
At 53, he still thinks about that first bombing, how he stopped to buy that newspaper and how the man in front of him asked for directions. He's wondered about him in the years since, but has never met him. "I would've been on those exact stairs," McHale says.
Every February 26, he thinks most about the six who "were killed that day and what they went through. Just, you know, their loss will never be forgotten."
For those remembering the Boston bombing after just one year, he offers these words: "Time is kind. Nightmares subside. You're not expected to forget."
— Wayne Drash, CNN
Oklahoma City, 1995
'You have the world on your side'Helena Garrett
Alfred P. Murrah Federal Building bombing
Helena Garrett speaks about her son's death in stark terms.
"I never say that I lost my son. He didn't get misplaced," she says. "I don't sugar-coat it. He was murdered."
That is reality, she says. Focusing on the brutality of the act has helped her cope all these years, since 1995.
That Wednesday morning, Garrett woke up Tevin, only 16 months old, a little after 6 to get him ready for day care.
It was the 19th of April, and the day began on a note befitting spring. Fresh blooms burst open under a sunny sky.
Garrett worked as a clerk in downtown Oklahoma City, putting paper documents on film for the state Regents for Higher Education. She was running late but managed to drop off Tevin at America's Kids, a day-care center across the street in the Alfred P. Murrah Federal Building.
She saw that Chase and Colton Smith were already there. So were Dominique London and Zack Chavez. And Elijah and Aaron Coverdale. She knew most of the kids. They were all 2, 3 or 4 years old.
Tevin clung to his mother and cried when she left.
Courtesy The Daily Oklahoman
At 9 a.m., a Ryder truck pulled up in front of the Murrah building and parked beneath the day-care center, its second-floor wall of glass lined with baby beds. Two minutes later, Garrett heard a thundering boom. She screamed. Ceiling tiles were falling on her.
She ran down a stairwell and managed to get outside. Glass was everywhere. She looked up and saw the Murrah building and tried to go in. A policeman stopped her.
"You can't go over there," he said.
"My baby's in there," she cried.
Garrett took off running to another side of the building, desperate to find a way to Tevin. All she saw was rubble. And bloodied people. Some were lying on the ground.
"Tevin! Tevin!" she yelled.
She closed her eyes and imagined the building the way it was. And counted the floors. "One, two..."
"Two" was where Tevin was. She began climbing the debris. But here, too, she was stopped. She ran to another part of the building.
"There's a day care in there. My baby's in there," she said to two men she encountered. The men went inside.
A few minutes later, rescuers started bringing out children.
Rebecca Denney. She was covered in blood. Then, Nekia McCloud. For a terrifying moment, Garrett forgot she had taken her 5-year-old daughter Sharonda to her kindergarten in another part of town. For a moment, she thought Nekia was Sharonda.
The rescuers brought out more children and laid them on the ground, over shards of glass, by Garrett's feet. She didn't want to move. She couldn't leave the babies. Soon, the line of babies grew long and stretched away from her. But she still couldn't see Tevin.
"Please don't lay our babies on the glass," she cried.
She didn't realize they were all dead.
She spent the next three days hoping Tevin had survived under the rubble. But the baby who came into her world on a Thanksgiving Day was gone.
His body was identified that Saturday with fingerprints taken from his high chair and a Mickey Mouse mirror. It hung over Tevin's crib and he liked to stand up, look at himself and touch it. The funeral home advised Garrett not to look at her son's head. She kissed his feet and legs.
In the days that followed
Garrett was a single mother and only 26 when Tevin died. She was in shock for days after the bombing.
But she had to stand strong for her daughter. Garrett recalls how she had wanted to take Sharonda to Tevin's day-care center that day because she was running late for work, but Sharonda insisted on going to her kindergarten.
"No, Mama," she said. We have to practice graduation."
She thought about how she might have lost both her babies.
Garrett says she did not want to talk to anyone about what she'd been through.
"Just because people want to hear about it doesn't mean they have a right to hear it," she says. "For me, on April 19, 1995, a new life started. I had to pick up the pieces and go on."
Her relationships with her family, friends and even God changed. She wanted to be by herself. She became afraid to get close to anyone new. What if they were taken from her too?
For many months after the bombing, few people knew that Garrett had been at the scene of an act that shocked America and was, at that point in history, the worst terrorist attack to take place on U.S. soil. Among the 168 killed were 19 children. Another 850 people were injured.
The world learned her story almost two years later, at the trial of Timothy McVeigh. At first, Garrett didn't want to appear in court in Denver – it was too painful.
"It took a lot for me to testify," she says. "I didn't want to hurt anyone – other mothers or loved ones."
Going on with life
Tevin was so young when he died that Garrett did not have many photographs of her son. She put away his Lion King bike and other things that felt like knives in her gut. Someone painted a portrait of Tevin as a gift. Garrett couldn't hang it up at first.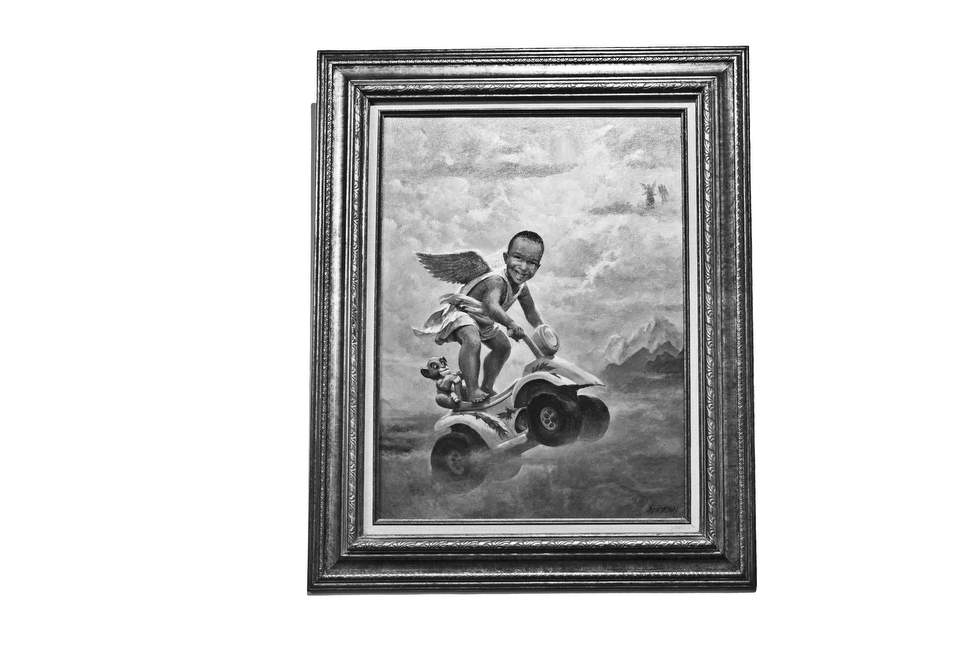 Andy Thomas painted this portrait of Helena Garrett's son, Tevin, on his Lion King bike and gave it to her a few weeks after Tevin died. Garrett lost her mother and sister before the bombing and they are represented in the painting by two small angels watching over Tevin.
She found comfort speaking with Aren Almon, a co-worker whose daughter Baylee also died in the bombing and was the subject of the most well-known photo of the Oklahoma City bombing: a baby in a firefighter's arms.
Some people find comfort in surrounding themselves with family and friends. But Garrett says she didn't like always having people around. Everyone had advice, everyone had ideas on how she should act.
"It was like a man telling (a woman) how to push in labor," Garrett said. "How would they know?"
Yet loneliness, she says, has such a loud voice that it can take over.
She wanted someone to answer the question that haunted her. "Why?"
Garrett finds some solace in visiting the memorial that was erected for the Oklahoma City victims. She feels comforted in the presence of others who can understand her grief. She has gone there almost every anniversary of the bombing.
"I go every year for one reason," she says. "For Tevin."
A year ago
Garrett was at home on the day of the Boston bombings. She followed the news on TV. When she heard it was a bombing, the first thought that entered her mind was that evil still lurks in the world.
Garrett mostly stayed quiet about her experience. Many people who were on the marathon route that day may be doing the same.
"If I had to go through it again, I would not allow fear to keep me silent," she says.
"You can't pretend that it didn't happen."
She wants Boston's survivors to remember that the bombing was the choice of two people. That it wasn't the choice of the world.
"You have the world on your side," she says.
She has learned to stay away from certain questions in her mind. What would Tevin be like today? Would he like basketball? Would he be a good student? What would he look like?
"Hypothesizing," she says. "That's endless. And will drive you pretty much crazy."
And to the parents who lost children in Boston, Garrett says:
"Never think you are alone. Never think you are the only one thinking of your child. Your child will always be on someone's mind. You may never meet all these other people. You may never cross paths with them. But your child will never be forgotten."
— Moni Basu, CNN