About 40 minutes after taking off from Kuala Lumpur, Malaysia, on Saturday, March 8, a Boeing 777-200ER jetliner with 239 people on board went missing while flying to Beijing. The flight is believed to have ended somewhere in the southern Indian Ocean, according to a statement from Malaysia's Prime Minister Najib Razak on March 24. Below is a brief summary of what we know about the search for flight 370. Full coverage »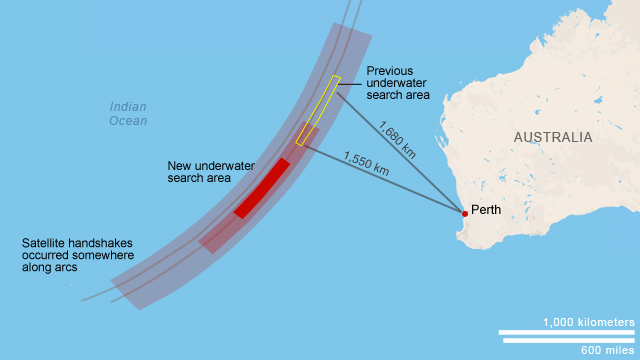 A refined search area
Australian authorities announced a southward shift in the underwater search area for Flight 370 on Thursday, June 26. The Australian officials said Thursday they believe the plane was on autopilot throughout its journey over the Indian Ocean until it ran out of fuel. They cited the straight track on which the aircraft flew, according to electronic "handshakes" it periodically exchanged with satellites.
The hunt for the plane has already become the "biggest search operation in history, covering 4.5 million square kilometers of ocean surface," according to Australian Deputy Prime Minister Warren Truss.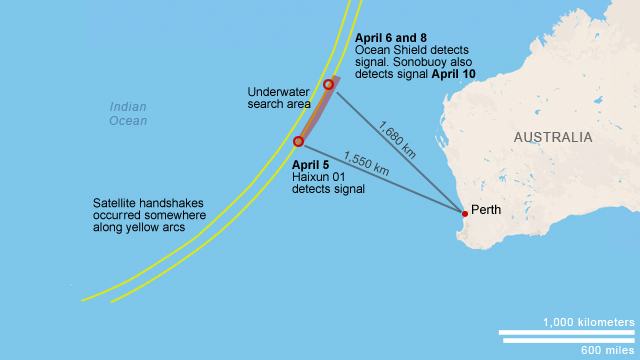 Signals detected
Pings at the center of the search for Flight 370 are no longer believed to have come from the plane's black boxes, a U.S. Navy official tells CNN.
The Australian ship Ocean Shield first picked up two sets of underwater pulses in early April. It heard nothing more until two days later, when it reacquired the signals twice. The four signals were detected within 17 miles of one another. Ocean Shield's first discovery came a day after the Chinese ship Haixun 01 says it detected a pulse signal about 600 kilometers to the south.
March 18 search area

March 19 search area

March 20 search area

March 21 search area

March 22 search area

March 23 search area

March 24 search area

March 25 (search suspended)

March 26 search area

March 27 search area

March 28 search area

March 29 search area

March 30 search area

March 31 search area

April 1 search area

April 2 search area

April 3 search area

April 4 search area

April 5 search area

April 6 search area

April 7 search area

April 8 search area

April 9 search area

April 10 search area

April 11 search area

April 12 search area

April 13 search area

April 14 search area

April 15 search area

April 16 search area

April 17 search area

April 18 search area

April 19 search area

April 20 search area

April 21 search area

April 22 search suspended

April 23 search suspended

April 24 search area

April 25 search area

April 26 search area

April 27 search suspended

April 28 search area
Surface search areas

Watch how the search area has changed
After seven weeks of intense but fruitless searching, the international air effort to find the plane ended in late April, shifting the focus to an underwater search.
Australian-led search teams had been looking for signs of the missing jetliner in the southern Indian Ocean since March 18. The areas of focus changed as new satellite images and new analysis of data became available.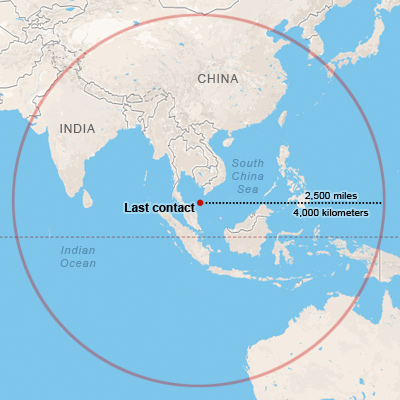 How far could it have gone?
Flight 370 was fueled for a trip to Beijing. Based on fuel estimates, the aircraft could have flown an additional 2,500 miles after the point of last contact.
Malaysian authorities said March 13 they believe several "pings" of data from the airliner's service data system, known as ACARS, transmitted to satellites in the four to five hours after the last transponder signal, a senior U.S. official told CNN.
This information, combined with known radar data and knowledge of fuel range leads officials to believe the plane may have made it to the Indian Ocean.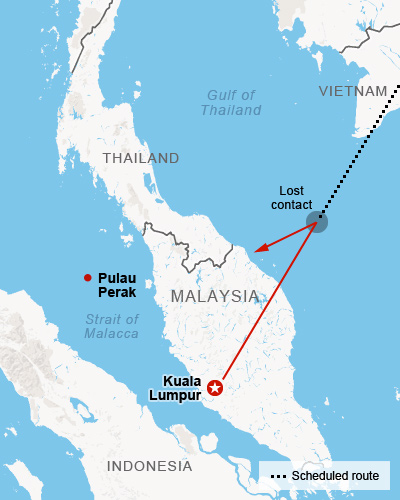 Lost contact, apparent course change
Around 1:30 a.m. on March 8, air traffic controllers in Subang, outside Kuala Lumpur, lost contact with the Boeing 777-200ER over the sea between Malaysia and Vietnam. The plane's transponder, which identifies the aircraft and relays details like altitude and speed to controllers, stopped transmitting.
A senior Malaysian air force official on Tuesday, March 11 said the flight was hundreds of miles off course and traveling in the opposite direction from its original destination. It was last tracked over over Pulau Perak, a tiny island in the Strait of Malacca at about 2:40 a.m., over an hour after air traffic controllers in Subang lost contact with the aircraft.
At a news briefing the next day, however, Gen. Rodzali Daud, head of the Malaysian Air Force, and other officials said it isn't yet clear whether the object that showed up on military radar flying over the sea northwest of the Malaysian coast early Saturday was the missing plane.
Thailand's military was receiving normal flight path and communication data from the Flight 370 until 1:22 a.m., when it disappeared from its radar, the Thai government announced on Tuesday, March 18. Six minutes later, the Thai military detected an unknown signal, a Royal Thai Air Force spokesman told CNN. This unknown aircraft, possibly Flight 370, was heading the opposite direction. This bolsters the belief that missing Flight 370 took a sharp westward turn after communication was lost.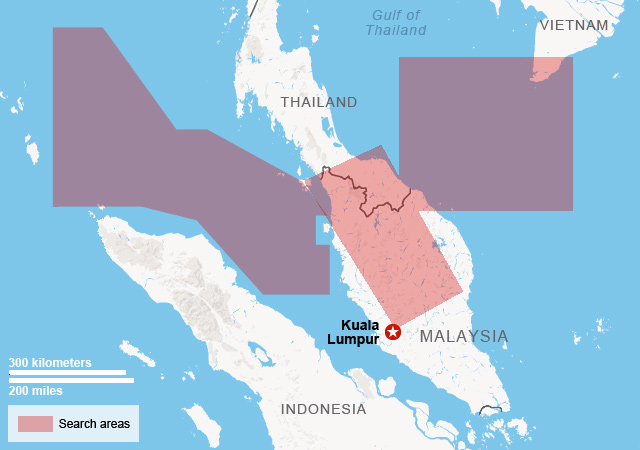 The initial search areas
Several planes, ships and search crews from 14 countries initially began scouring the South China Sea near where the plane was last detected. After debris in the area and an oil slick turn out to be unrelated to the plane, the search area is expanded to include the waters west of Malaysia. China's State Administration for Science, Technology and Industry for National Defense release satellite photos of possible wreckage, but later announce that the release was a mistake, and the debris in the photos was unrelated to Flight 370.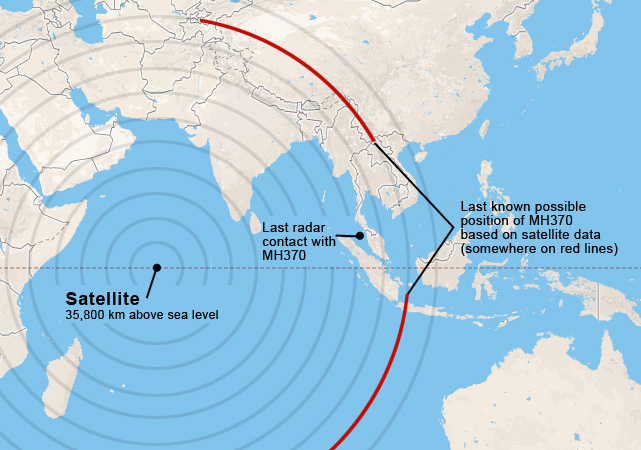 The expanded search area
The map to the left, based on a handout from the Malaysia Prime Minister's office, highlights an expanded focused search area.
While official contact was lost with Flight 370 about 45 minutes after takeoff, officials believe a combination of military radar data and a satellite-based system called ACARS provide hints regarding the path of the plane.
Though no actual data was transmitted via satellite, it still appears to have made contact through hourly 'handshakes,' the last instance being at 8:11 a.m. local time somewhere along the red lines. Further analysis of the satellite data has since shifted focus to the southern red arc.
Sources: Malaysia Civil Aviation Authority, Malaysia Prime Minister's office, CNN, flightradar24.com, Australian Maritime Safety Authority, Google Maps