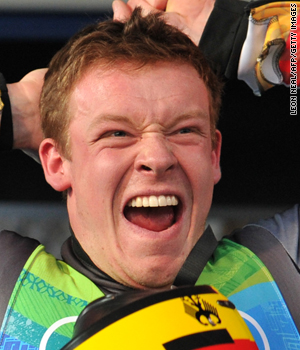 The German had already made waves in the luge before his Olympic debut, becoming the sport's youngest world champion in 2008, aged just 18, as well as setting a world-record speed of 95.68 mph. Two years later in Vancouver, he was crowned the youngest champion in Olympic history when he secured gold, clocking the fastest time in all four rounds. But the event was overshadowed by the tragic death of Georgia's Nodar Kumaritashvili during a training run on the notoriously fast Whistler track. Loch later attended a memorial service to the fallen luger.
Now 24, he has gone from strength to strength since his Olympic triumph, completing a "double double" by winning the overall World Cup and the world championships in both 2012 and 2013. Coached by his father Norbert, who represented East Germany in the luge at the 1984 Games, Loch counts his mentor as Georg Hackl -- a three-time Olympic luge champion.
Loch has a genuine chance to match the Bavarian's feats, starting in Sochi, if he can block out the pressure on his shoulders using his favored technique, in which he goes into his own "mind tunnel."