Ever since high school, Misty Martin has felt the hard stares of others as she and her now-husband Kareey Flournoy would hold hands or go out for dates in their town of Shongaloo, Louisiana.
The couple started dating back in 2000. Martin was a cheerleader and Flournoy was a basketball player. They'd been friends for five years and soon started talking regularly on the phone. Their conversations centered around school and their dreams for the future and friendship eventually blossomed into love.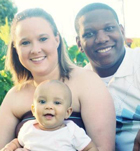 Misty Martin
Springhill, LA
Before dating Flournoy, Martin had one other African-American boyfriend, but as far as she knew, she was the only one in her rural town who was in an interracial relationship. Her friends at school never said anything about her being with Flournoy, but their parents were a different story. "A few of my friends were not allowed over my house because their parents didn't know if [Kareey] would show up," she said.
Through the years, she's faced plenty of antagonism over her relationship. While visiting family friends, her mother's boyfriend at the time teasingly asked her if she was dating anyone. "You date a little white boy or black boy?" he asked. Martin, who recently started college, told him she was seeing a black man. He initially dismissed her comment, walking away before circling back to see if she was kidding.
"Do you intend to marry him?" he questioned her. "Yes, sir," she said. "Do you intend to have children with him?" he went on. She nodded. "Do you know what they would be?" he asked. "Mixed?" she asked. "Yes, and unloved and unaccepted," he replied back. Martin, angered, said in response, "I will love them."
But he wasn't the only one to comment on her relationship. The 30-year-old has faced black women accusing her of "stealing our men." White men have commented that her husband is "not the right color." And she'll never forget when a stranger confronted her in public and threatened to burn a cross on her yard for dating a black man.
Despite the hostility, the high school sweethearts married in May 2012 and are now parents to 18-month-old Kaylee, a little girl with caramel skin who knows how to say "love you," "no" and "mama." Watching her baby girl grow up just 15 minutes from where she and her husband first met, Martin hopes she can instill the same life advice given to her by her mother who taught her to love indiscriminately.
"My mom has encountered people who've asked her why I dated a black man. She's told them, 'I just want her to be with someone who treats her right,'" Martin said.
And Flournoy certainly does, Martin said. "I love his sense of humor and charm – even though I tell him he isn't charming," she joked. "And I melt when I see him playing with our child." She admits there are challenges to being an interracial couple, but says it's worth it.
"If I wasn't a strong person, I would have broken up with Kareey, but I am strong," she said. Despite the stares, comments and threats, she says she's never thought about leaving his side.
Martin hopes to teach her daughter to stand up to racism, to be proud of being biracial and, most importantly, to not let society dictate whom she falls in love with.
"I hope she grows up knowing that [no matter who] she dates that we will love her," she said. "I was raised that you love who you love."