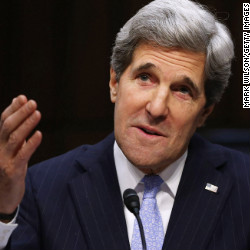 Secretary of State
John Kerry
The former senator from Massachusetts replaced Hillary Clinton at the State Department. Kerry brought in deep experience in international affairs as a former chairman of the Senate Foreign Relations Committee and had a long Senate record of accomplishments and investigations in the area. A decorated Vietnam veteran who was the Democratic nominee for president in 2004. He was first elected to the Senate in 1984. Before that, he was lieutenant governor of Massachusetts. Priorities include reviving Mideast peace talks; Iran's nuclear ambitions and Syria. He was confirmed easily.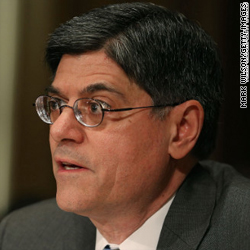 Treasury Secretary
Jack Lew
Obama's former chief of staff replaced Tim Geithner as treasury secretary. Geithner stepped down at the end of Obama's first term. As a former budget director for Presidents Obama and Bill Clinton, Lew has overseen budget talks in times of deficits and also surpluses. As the secretary of the Treasury, Lew will run U.S. domestic financial policy and is charged with collecting federal taxes and managing public debt, among other duties. He was confirmed easily. Priorities include the ongoing political wrangling over deficits, taxes and spending as well as joblessness associated with the slow U.S. recovery from recession.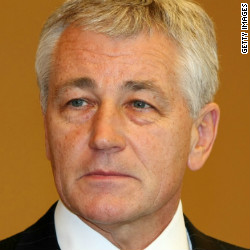 Defense Secretary
Chuck Hagel
A former Nebraska senator, it looks as if he will become the lone Republican in Obama's Cabinet once Ray LaHood steps aside. He succeeded Leon Panetta at the Pentagon. Hagel is a decorated Vietnam veteran and a former investment banker. He sat on the Senate Foreign Relations and Intelligence committees, before retiring from the Senate. Hagel is responsible for overseeing the wind down of U.S. combat operations in Afghanistan as well as any military related options for dealing with Iran's nuclear ambitions, the Syrian civil war or North Korea. He was confirmed after a fierce partisan fight.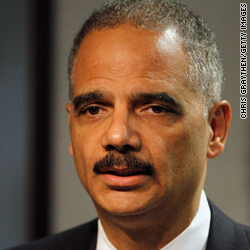 Attorney General
Eric Holder
Holder is keeping his options open but decided to stay on for the time being in Obama's Cabinet. Holder was appointed in 2009 after serving as a judge in the Superior Court of the District of Columbia and as a U.S. attorney. He is the first African-American to hold the top post at the Justice Department. Holder has been a staunch proponent of the legal rights of the president during the war on terrorism, defending the legality of the operation that killed al Qaeda leader Osama bin Laden and the drone strike that killed U.S. citizen Anwar al-Awlaki. The Justice Department must decide whether to seek the death penalty in the Boston Marathon bombing prosecution.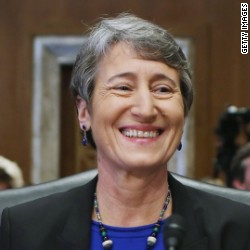 Interior Secretary
Sally Jewell
Jewell was president and chief executive of REI, a popular outdoor recreation company. An engineer who started her career at Mobil, Jewell has a long history of involvement in the administration's environmental efforts. She helped create and implement the president's Great Outdoors program. Jewell replaced former Sen. Ken Salazar, who served in the post during Obama's first term, leading the administration's management of the Deepwater Horizon explosion and the BP oil disaster in the Gulf of Mexico in 2010. Jewell was easily confirmed.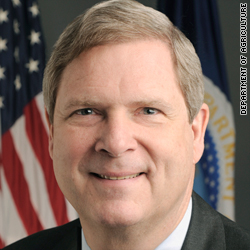 Agriculture Secretary
Thomas J. Vilsack
Vilsack decided to stay on for now. A former two-term Iowa governor, he has committed his time to a variety of issues from food stamps to resource conservation to first lady Michelle Obama's Let's Move initiative. Vilsack also spent considerable time pushing Congress to approve long-term farm legislation. Vilsack was considered a possible Democratic Senate candidate in 2014, but said in February he would not run. But there are some who want him to run again for governor.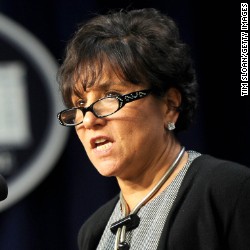 Commerce Secretary
Nominated:

Penny Pritzker

Obama nominated Chicago businesswoman Penny Pritzker to serve as his commerce secretary on May 2. Pritzker is chief executive of the Pritzker Realty Group and is one of the wealthiest women in America. She is a major Democratic donor who was national finance chair of Obama's 2008 campaign and was a campaign co-chair in 2012. The agency has been without a full-time head since John Bryson resigned last June.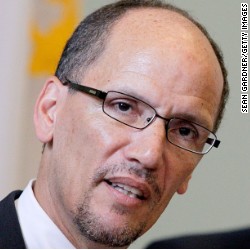 Labor Secretary
Nominated:

Thomas Perez

Obama has nominated Thomas Perez, the assistant attorney general for civil rights. His nomination sparked immediate pushback from Republicans. At the Justice Department, he investigated cases at the center of controversy, including a probe into the law enforcement tactics of Maricopa County, Arizona, Sheriff Joe Arpaio. If confirmed, he will replace Hilda Solis, the nation's first Latina Cabinet member. His confirmation has been delayed and is due to come up in May.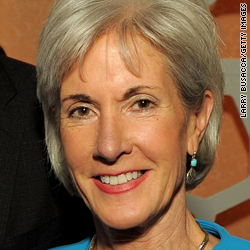 Health and Human Services Secretary
Kathleen Sebelius
Sebelius is not expected to leave in near future, a White House official told CNN. A former governor of Kansas, Sebelius has been tasked with implementing the Affordable Care Act. Sebelius has been vocally pro-choice in regards to abortion and thus received pro-life opposition during her nomination. In 2012, the Office of Special Counsel charged Sebelius with violating the Hatch Act, making a political statement during an official government event. Sebelius' office reimbursed government funds and changed the event from official to political.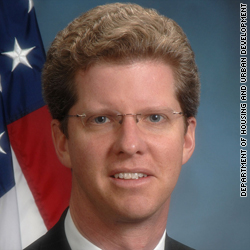 Housing and Urban Development Secretary
Shaun L.S. Donovan
Donovan, who was sworn in during the home foreclosure crisis, has taken an increasingly large role in the administration. He was most recently appointed the point person for the Hurricane Sandy reconstruction effort after immediate emergency needs were met. Donovan served as Commissioner of the New York City Department of Housing Preservation and Development before accepting his current position.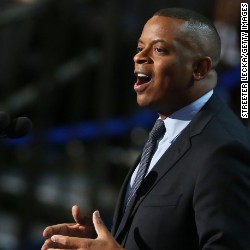 Transportation Secretary
Nominated:

Anthony Foxx

Obama nominated Foxx, the mayor of Charlotte, to serve as his transportation secretary on April 29 to replace Ray LaHood, who had served in his first term. Foxx, first elected mayor in 2009, helped lead last year's Democratic National Convention in Charlotte. He also championed the completion of an additional runway at the Charlotte/Douglas International Airport, though Foxx doesn't have any specific experience as a transportation executive. Earlier this month, he announced he wouldn't seek re-election.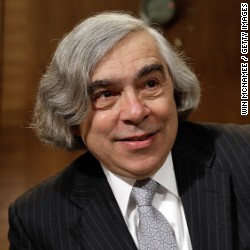 Energy Secretary
Nominated:

Ernest Moniz

Moniz, a former undersecretary of energy in the Clinton administration, is a nuclear physicist who received his Ph.D in theoretical physics from Stanford. He has served on the Massachusetts Institute of Technology and was appointed to Obama's Science and Technology Advisory Council in 2009. He would replace Steven Chu, who resigned after Obama's first term. Moniz is awaiting a Senate vote.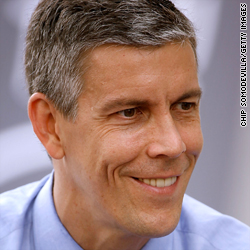 Education Secretary
Arne Duncan
Duncan, appointed by Obama early in his first term, will likely stay on for the foreseeable future. During his four years, Duncan worked on initiatives expanding Pell grants, education reform and promoted investment in innovation. He also worked on labor relations at a time when unions came under attack from the right. Before taking the top education spot, Duncan was CEO of Chicago Public Schools. He is a personal friend of Obama's.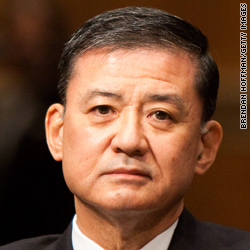 Veterans Affairs Secretary
Eric K. Shinseki
Shinseki is staying on for Obama's second term. Before taking the top job at the VA, Shinseki was active duty Army from 1965-2003, retiring as Army chief of staff. Shinseki has faced a number of challenges in the job, especially from veterans from Iraq and Afghanistan returning from war dealing with injuries, a tough job market, and health care issues.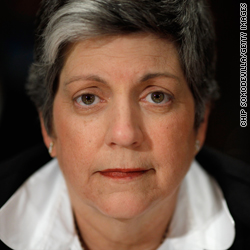 Secretary of Homeland Security
Janet Napolitano
Napolitano will stay on for Obama's second term. In her first term, she was among those considered for the Supreme Court seat to which Obama appointed Sonia Sotomayor in 2009. Napolitano is a former Arizona governor and represented Anita Hill during Supreme Court Justice Clarence Thomas' confirmation hearings.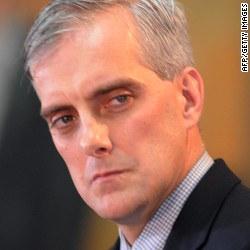 White House Chief of Staff
Denis McDonough
Deputy National Security Adviser Denis McDonough replaced Jack Lew as chief of staff. McDonough was No. 2 on the National Security Council staff as well as a senior foreign policy adviser in the 2008 campaign. He headed communications in the early days of the administration. He is a former House International Relations Committee aide before becoming a senior policy adviser to former South Dakota Sen. Tom Daschle.