India election 2019: latest updates
1:47 a.m. ET, April 11, 2019
India's smallest electorates
Two of India's smallest constituencies are voting today.
Lakshadweep, an archipelago located off the southwestern coast of India, is the country's smallest in terms of electorate, with 54,266 people registered to vote in the 2019 polls. A total of 49 polling stations have been set up.
Another region voting today, the Andaman and Nicobar Islands, is the country's third smallest electorate. A total of 294,435 people are registered to vote across 406 polling stations.
An archipelago of 572 islands located hundreds of miles from mainland India in the Andaman Sea, the region attracted worldwide attention late last year when a US missionary landed illegally on North Sentinel Island and was killed. The isolated island is occupied by an indigenous tribe who are protected from outside interference by Indian law.
1:07 a.m. ET, April 11, 2019
Voting for five decades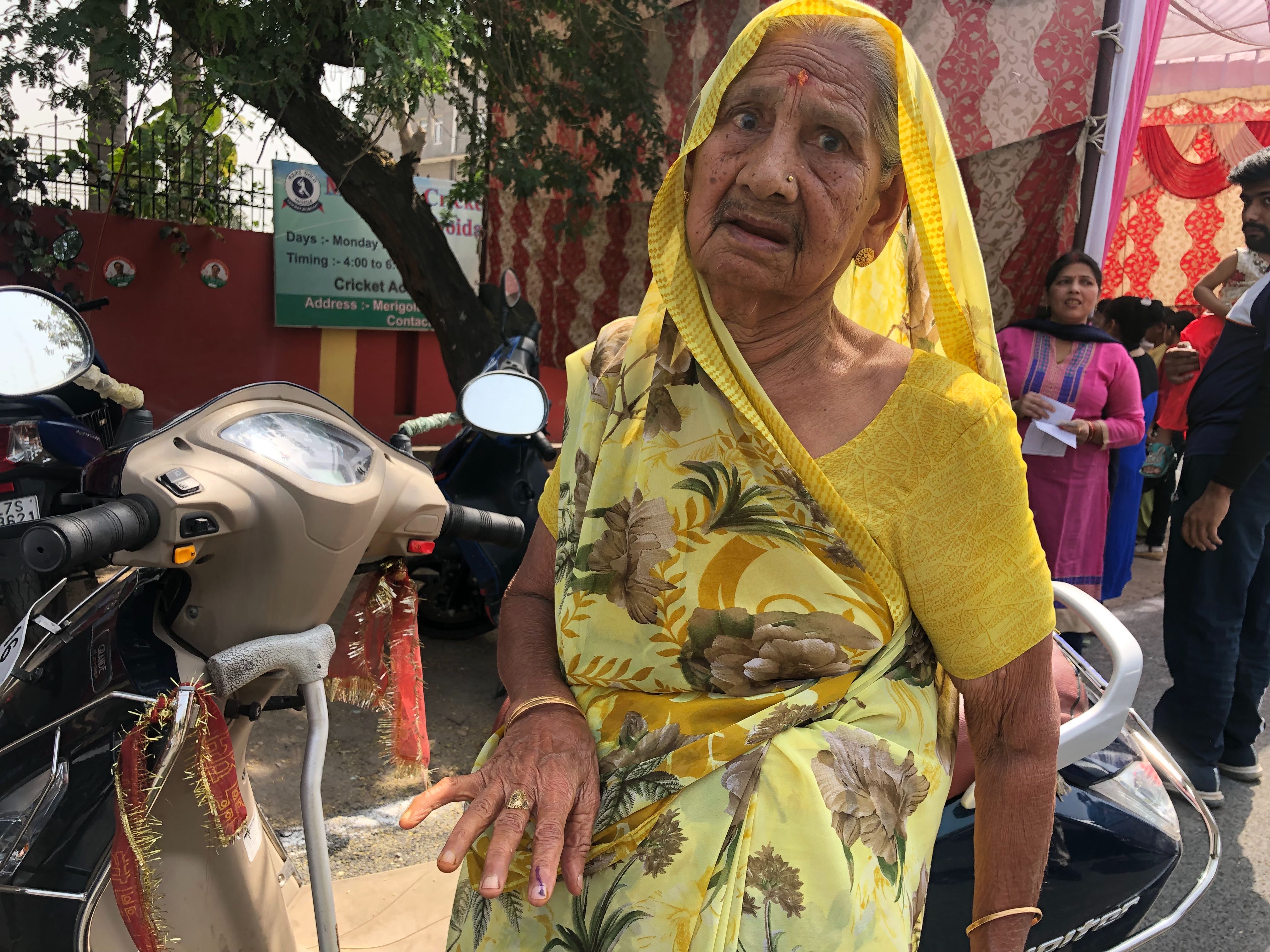 Krishna Goyal spoke to CNN in Noida, Uttar Pradesh. The 90-year-old said she has voted in every election for the past 50 years.
Dozens of people were queuing up to vote this morning in the town in the western edge of the state, India's most-populous and most-electorally important region.
12:33 a.m. ET, April 11, 2019
Key election battleground: Uttar Pradesh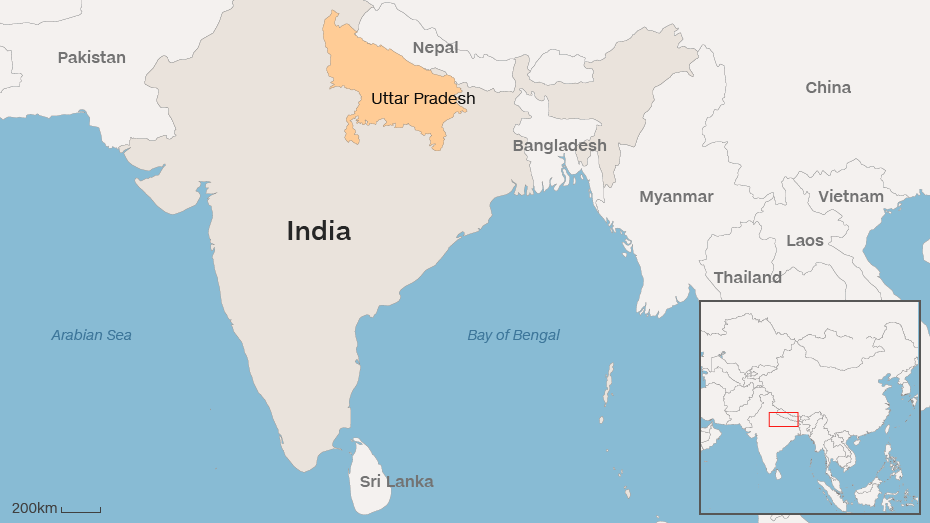 The northern state of Uttar Pradesh (UP) is where Indian elections are won and lost.
At 200 million, it is India's most populous state, and if it were a country it would be the fifth largest on the planet. Due to the state's size, voting is spread across several stages, the first beginning in western UP on April 11.
It also accounts for 80 seats in the Lok Sabha, the lower house of Parliament, making winning the state key to forming a national government.
In the 2014 election, the BJP won 71 of those seats, compared to just 2 for Congress, which will have to perform much better this time around if it hopes to form a national government.
The BJP stormed state-level elections in UP in 2017, but last year at local elections in other parts of the country, incumbent BJP governments were kicked out of power.
BJP-appointed UP chief minister and Hindu religious leader Yogi Adityanath is a divisive figure, known for his provocative rhetoric against Muslims. Adityanath's hardline religious bonafides may pay off with the state's largely Hindu population, but equally he could be symbolic of the type of Hindu nationalism that has turned off some voters from Modi's party.
12:00 a.m. ET, April 11, 2019
Voting begins!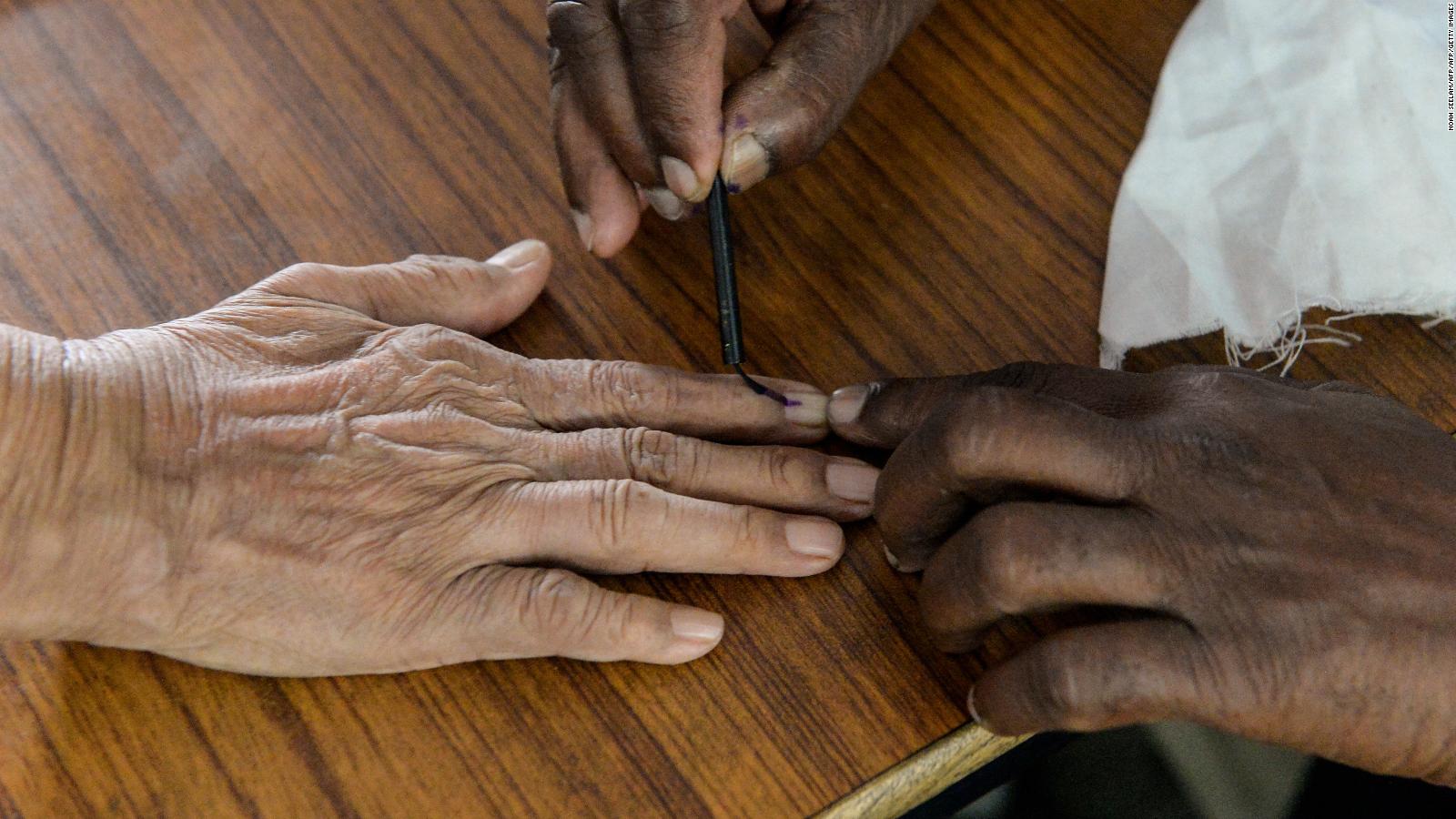 Voting has started in parts of India, as the month-long election process gets underway.
Polls opened Thursday in 91 constituencies, including in Hyderabad, in the southern state of Telangana. The photo above shows a woman in the city having her finger marked with indelible ink after casting ballot.
11:23 p.m. ET, April 10, 2019
India's massive election, explained
India heads to the polls today, for the world's biggest exercise in democracy. And out of a total of 900 million eligible voters, a staggering 84.3 million -- including 15 million aged 18 or 19 -- will be casting ballots for the first time.
In many ways, the election is set to be a referendum on the leadership of incumbent Prime Minister Narendra Modi, who is seeking a second term. His Bharatiya Janata Party (BJP) scored a massive landslide in 2014, but its fortunes are looking shakier this time around.
Just catching up? Here's everything you need to know.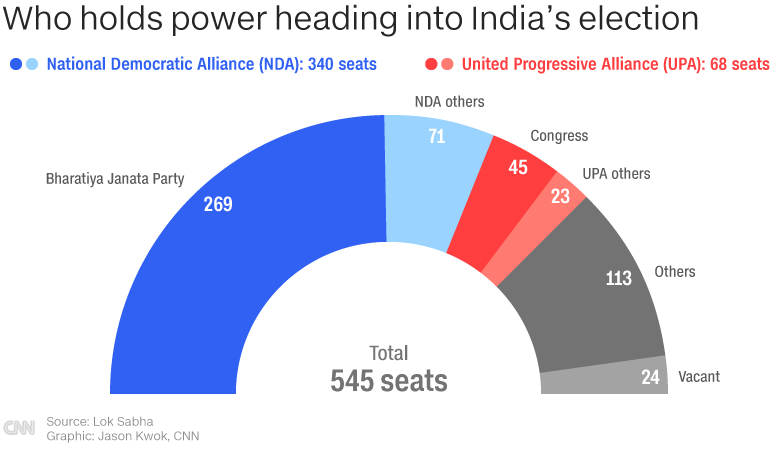 What are people voting for?
Around 900 million eligible voters will be electing 543 members of the country's lower house of parliament, the Lok Sabha.
Whichever party or coalition wins more than 272 seats in the Lok Sabha will go on to form a government, with the leader of the biggest party typically becoming Prime Minister.
Who are the main parties?
While there are a host of parties and candidates across the country, the only two with a real chance of leading the next government are the Bharatiya Janata Party (BJP), and the Indian National Congress Party.
BJP leader Narendra Modi has been India's Prime Minister since 2014 and his party is currently the largest in parliament.
Congress has historically dominated Indian politics, but at the 2014 election the party only won 44 seats, down from 206 in the previous election.
What's the process and how long does it take?
India likes to boast that it is the world's largest democracy -- but that level of organization takes time.
Millions of election officials will be running the more than 1 million polling stations around the country, with voting take place in seven stages between April 11 and May 19:
April 11: 91 seats
April 18: 97 seats
April 23: 115 seats
April 29: 71 seats
May 6: 51 seats
May 12: 59 seats (including New Delhi)
May 19: 59 seats
Votes are cast via a battery-powered electronic voting machine, which the country's Election Commission assures is non-hackable and protected against sabotage.
After they have cast their ballot, voters' fingers are marked with indelible ink to prevent them voting again.
When will we know the result?
After almost a month of voting, election officials will begin counting ballots on the morning of May 23. Counting continues until it is finished, but we should have a good idea of who is the biggest party by around 12 p.m. that day.
That party may be able to form a government if it has enough seats. If it doesn't, it could come together with other, smaller parties to pass the 272 seat margin.
Those negotiations could take a long time, especially if the vote is extremely close and both of the main parties -- BJP and Congress -- have a decent chance of building a governing coalition.
6:24 a.m. ET, April 10, 2019
Electoral Commission halts Narendra Modi biopic
The Election Commission of India was halting the release of a controversial Bollywood biopic of Indian Prime Minister Narendra Modi.
The move comes less than a week after the film's producers announced its release was postponed after it failed to get a censor's certificate in time.
In an order issued Wednesday, the ECI states that complaints claimed that "such creative contents are a kind of surrogate publicity by the candidate or the political party".
It added that "any biopic material in the nature of biography/hagiography subserving the purposes of any political entity or any individual entity connected to it, which is intended to, or which has the potential to disturb the level playing field during the elections, should not be displayed in electronic media including cinematograph during the operation of the Model Code of Conduct."
The movie, in which the prime minister is played by Indian actor Vivek Oberoi, depicts moments throughout Modi's life, including him selling tea on the railways as a child, his two-year spiritual stint in the Himalayas as a teen and leading the Nationalist Bharatiya Janata Party (BJP) to a landslide victory at the polls in 2014.
Last month, the main opposition Congress Party slammed the release of the movie, labelling it propaganda and suggesting its forthcoming release contravenes the country's election laws.
In a petition to the Commission, the Congress Party demanded the release be delayed until after the country's elections, which kick off on April 11 and will last for about six weeks.
Modi's BJP has distanced itself from the film, saying "independent artists, influenced by the lifestyle of Prime Minister Narendra Modi, created the film but the BJP is in no way involved in it. There is no content related to the election which can be banned under the model code of conduct," as reported by CNN affiliate, News 18.
In India, any material that serves as a political advertisement is banned during the weeks leading up to an election, unless it is approved by the Election Commission.
5:19 a.m. ET, April 10, 2019
Rahul Gandhi files nomination to run in Amethi, center of family dynasty
Rahul Gandhi, president of India's main opposition Congress party, has filed his nomination to contest the elections from the district of Amethi, in northern Uttar Pradesh state.
Hundreds of supporters lined the streets on Wednesday to greet Gandhi and his sister Priyanka Gandhi Vadra, who took on a formal role within the party earlier this year.
Amethi is considered the home constituency of the Gandhi-Nehru political dynasty. In the 2014 elections, Gandhi won the seat with a margin of more than 100,000 votes.
Gandhi is the son of former Prime Minister Rajiv Gandhi. His grandmother, Indira, was India's first female leader, and his great grandfather, Jawaharlal Nehru, was the country's founding Prime Minister.
Gandhi has represented the constituency for three consecutive terms since his first election in 2004. The Congress announced last month that Gandhi would contest from Amethi as well as Wayanad in southern Kerala state, for which he filed his nomination last week.  
The ruling Bharatiya Janata Party's Smriti Irani, India's minister for textiles, is Gandhi's main opposition in Amethi.